What's better than spinach and artichoke dip you might ask? Well Spinach and Artichoke Pinwheels of course!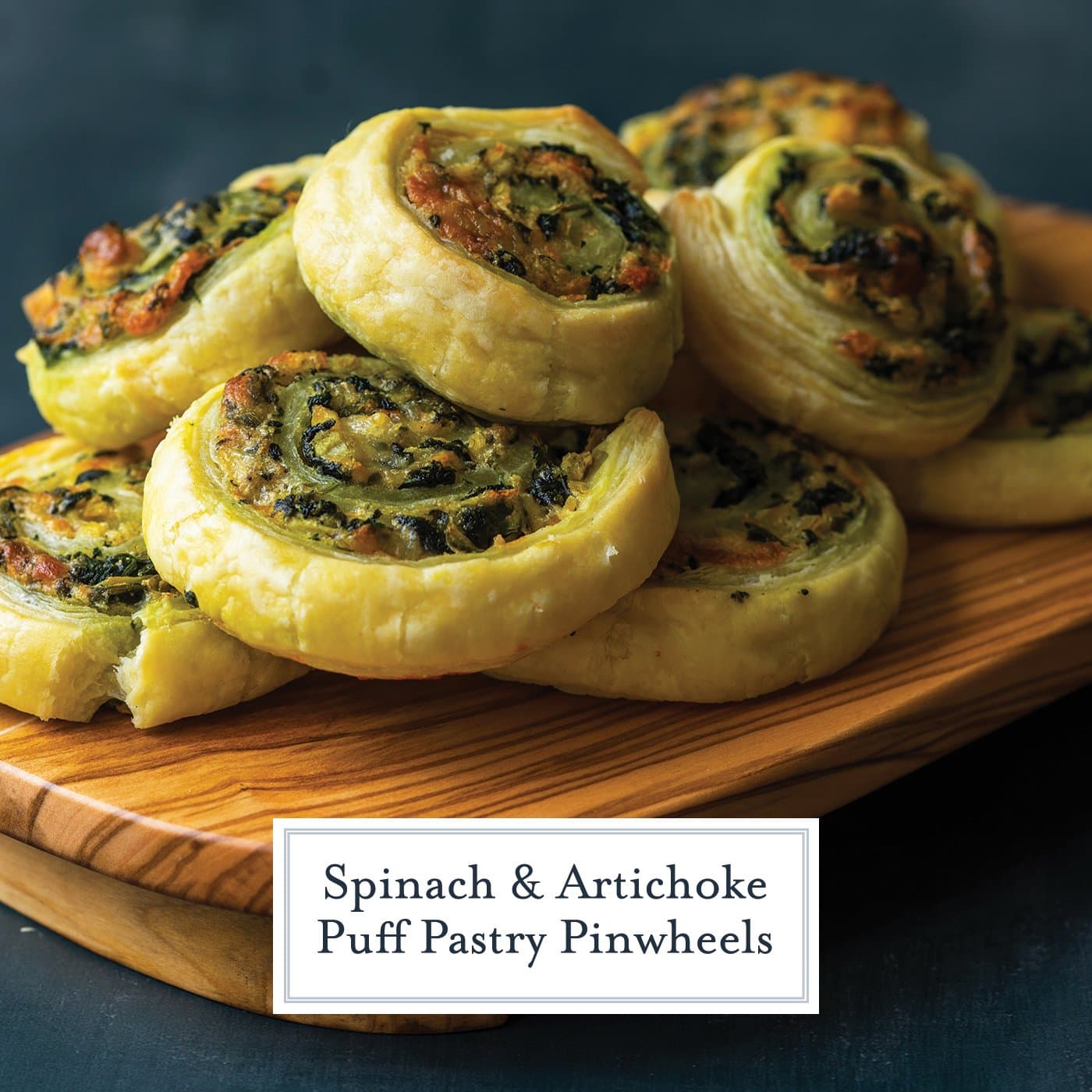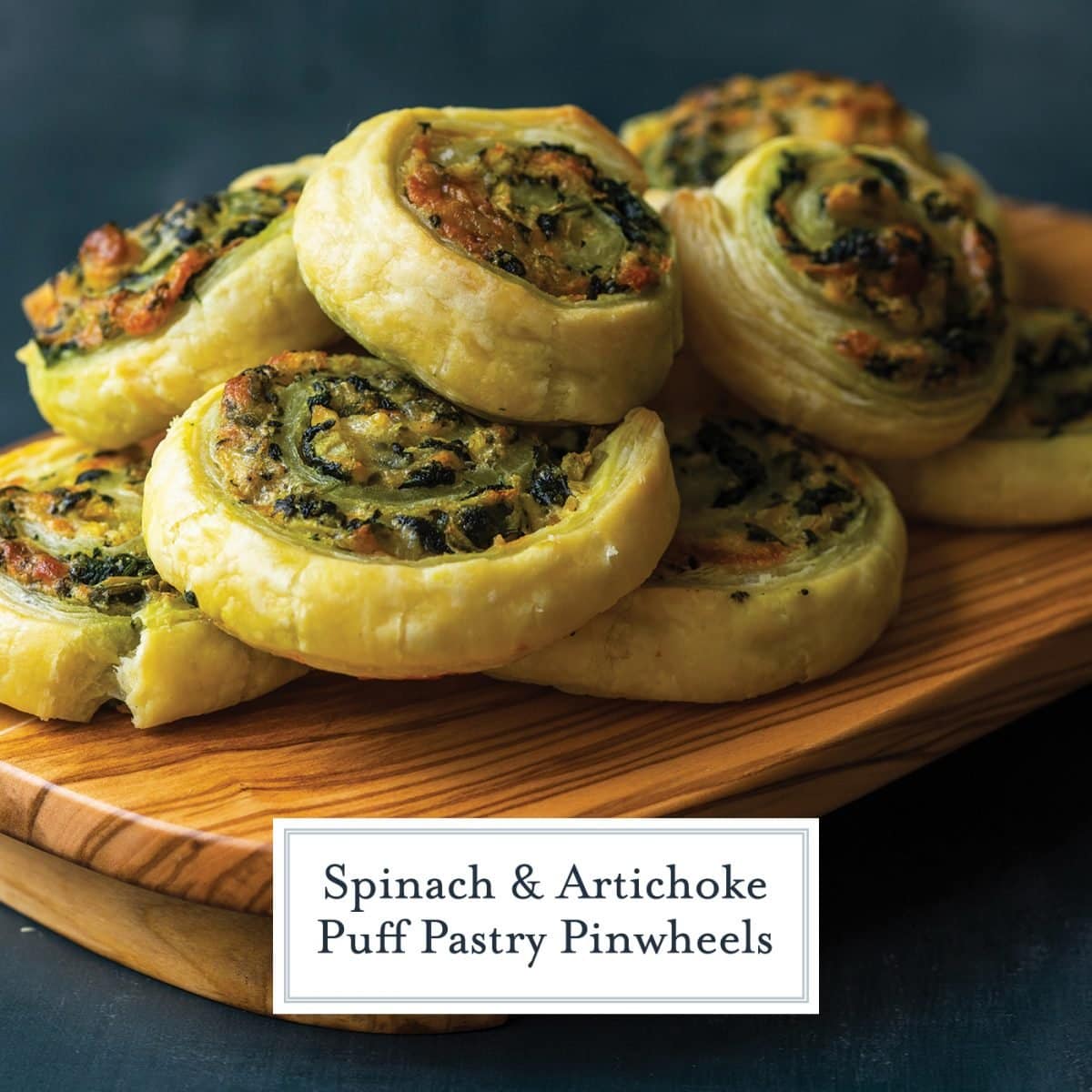 Pinwheel food comes in all shapes and sizes- some are made with tortillas, others rolled bread, many with cream cheese and some, like this, with puff pastry.
They are an easy party appetizer of creamy dip rolled in buttery puff pastry and baked until crispy. Hand held spinach dip, really.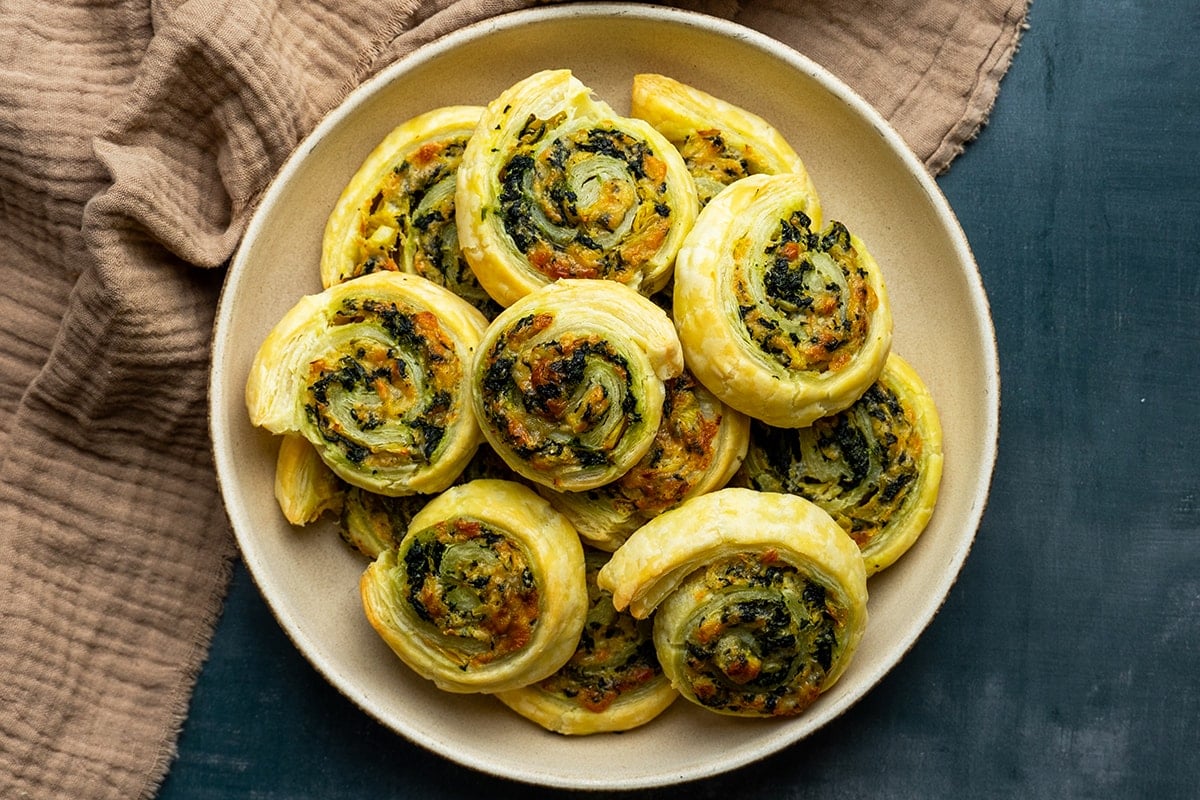 Puff Pastry Pinwheels
Puff pastry is my best friend and is should be yours too. I always keep a few sheets in the freezer for quick appetizers and meals. Nearly anything can be baked into the flaky pastry sheets and *BOOM* it is gourmet.
Small amounts of leftover dip, shredded cheese, soft cheese, chocolate, marshmallows. Literally anything.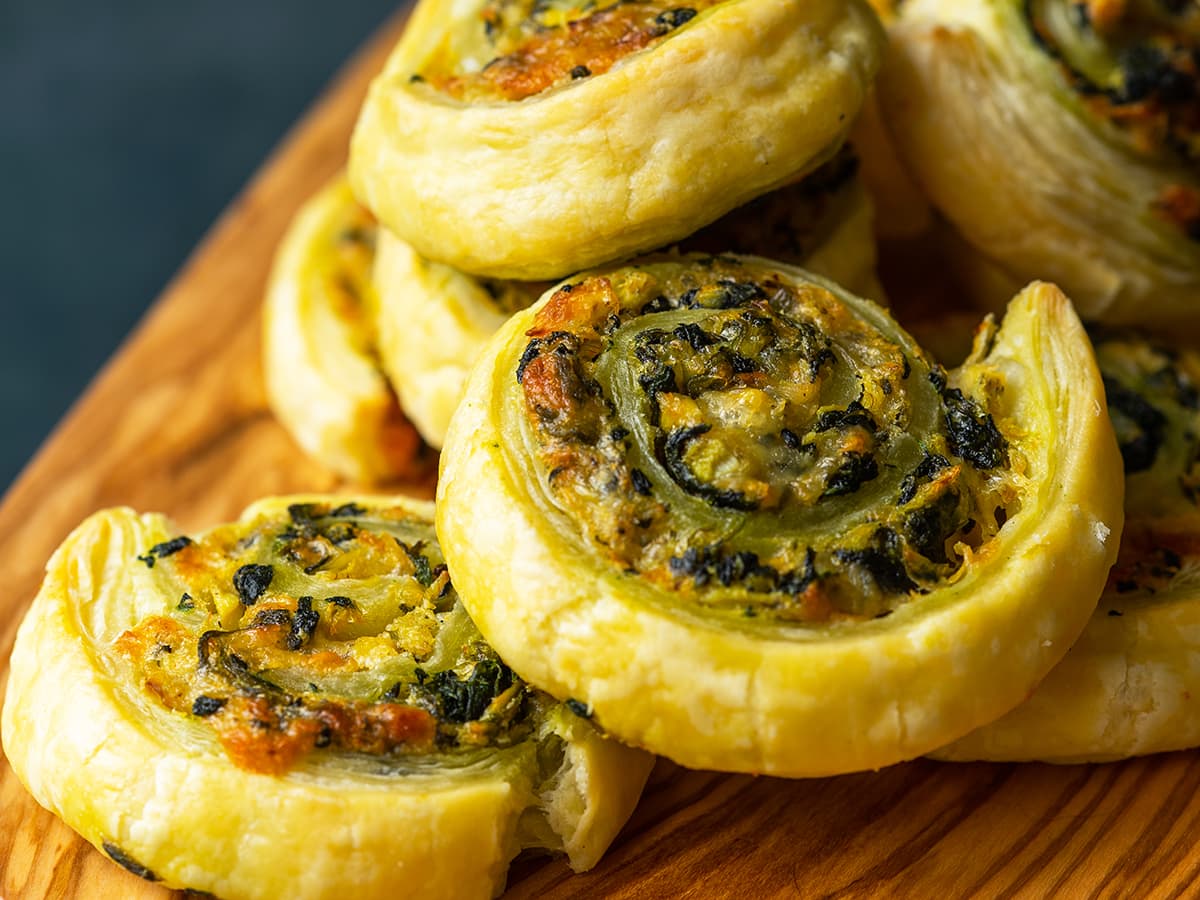 Ingredients
Puff Pastry– This is usually frozen and one box has 2 sheets. Make sure it is fully defrosted according to package directions. Keep it cold until you use it though, it gets quite sticky and hard to work with as it warms.
Mayonnaise- Full fat works best just because it is thicker. If you use light, reduce the amount to a scant quarter cup.
Parmesan & Muenster Cheese– I love using a different cheese- everyone expects mozzarella or Swiss, but Muenster is buttery and mild enough to let the other flavors shine through.
Onion powder, garlic powder, white pepper and salt- The seasonings are customizable, so feel free to adjust according to preference.
Frozen Chopped Spinach– Make sure it is thawed and as dry as you can get it! I wring mine out in a tea towel.
Artichoke Hearts– For fun you can also use hearts of palm, no they are not the same.
Extra Virgin Olive Oil– for basting. Melted butter can also be used.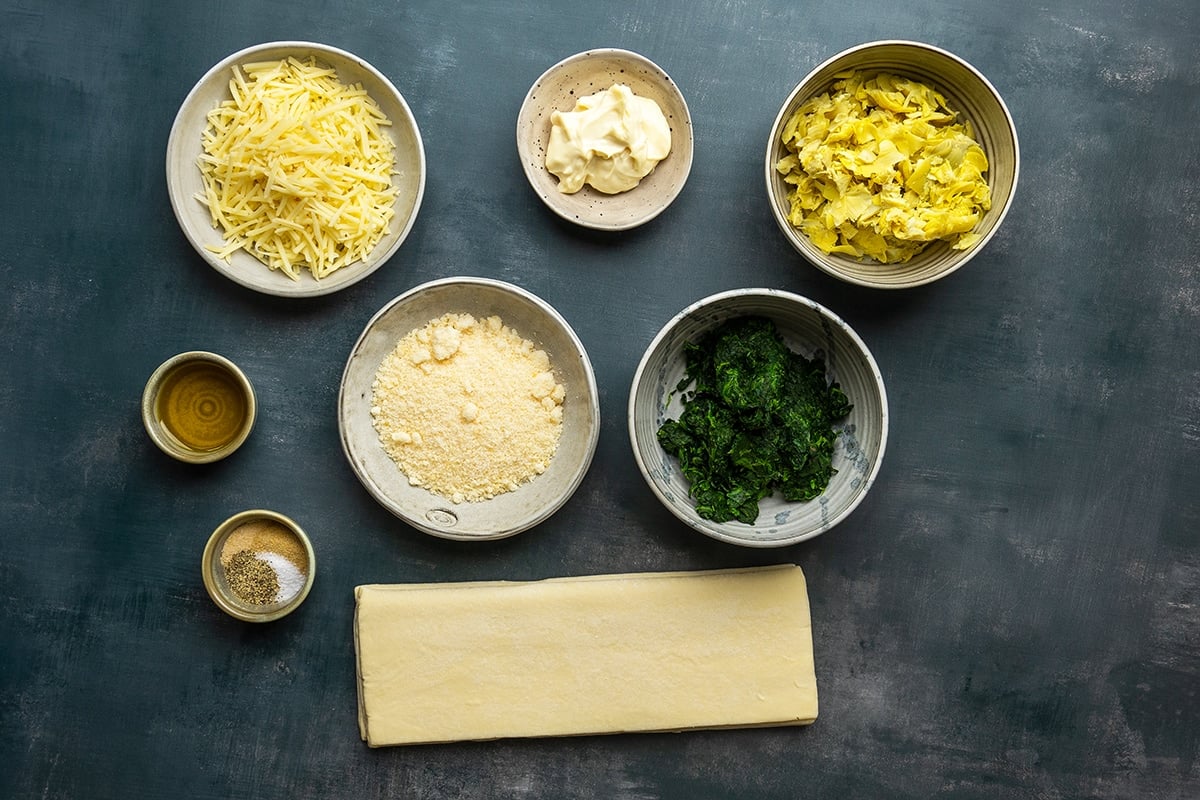 How to Make Pinwheels (Step-by-Step)
Making these is easy and you can use pre-made dip if you want. Just make sure whatever you are using isn't too thin, or it will just melt out. It needs a good amount of cheese to give it structure and glue it together.
If you are starting from scratch with my recipe, start at step #1, but if you are using your own dip, start with step #3.
To start, the spinach and artichoke hearts need to be as dry as possible. Thaw and drain in a colander and then press excess water out. Sometimes I even wring it in a tea towel or roll it on paper towels.
Stir together the rest of the ingredients except the olive oil and puff pastry, making sure it all gets blended evenly.
Roll out one sheet of puff pastry, brush it with olive oil and then add half of the spinach mixture, spreading until almost the edges. Roll it up super tight and then secure it with plastic wrap. Repeat with the second sheet of puff pastry.
Place the wrapped rolls in the freezer for 20-30 minutes- this gets them solidified just enough to make it easy to slice. Otherwise it can get weird and blobby. You want to keep that beautiful pinwheel spiral! Don't keep them in there too long or else you run the risk of them getting so hard you can't slice at all.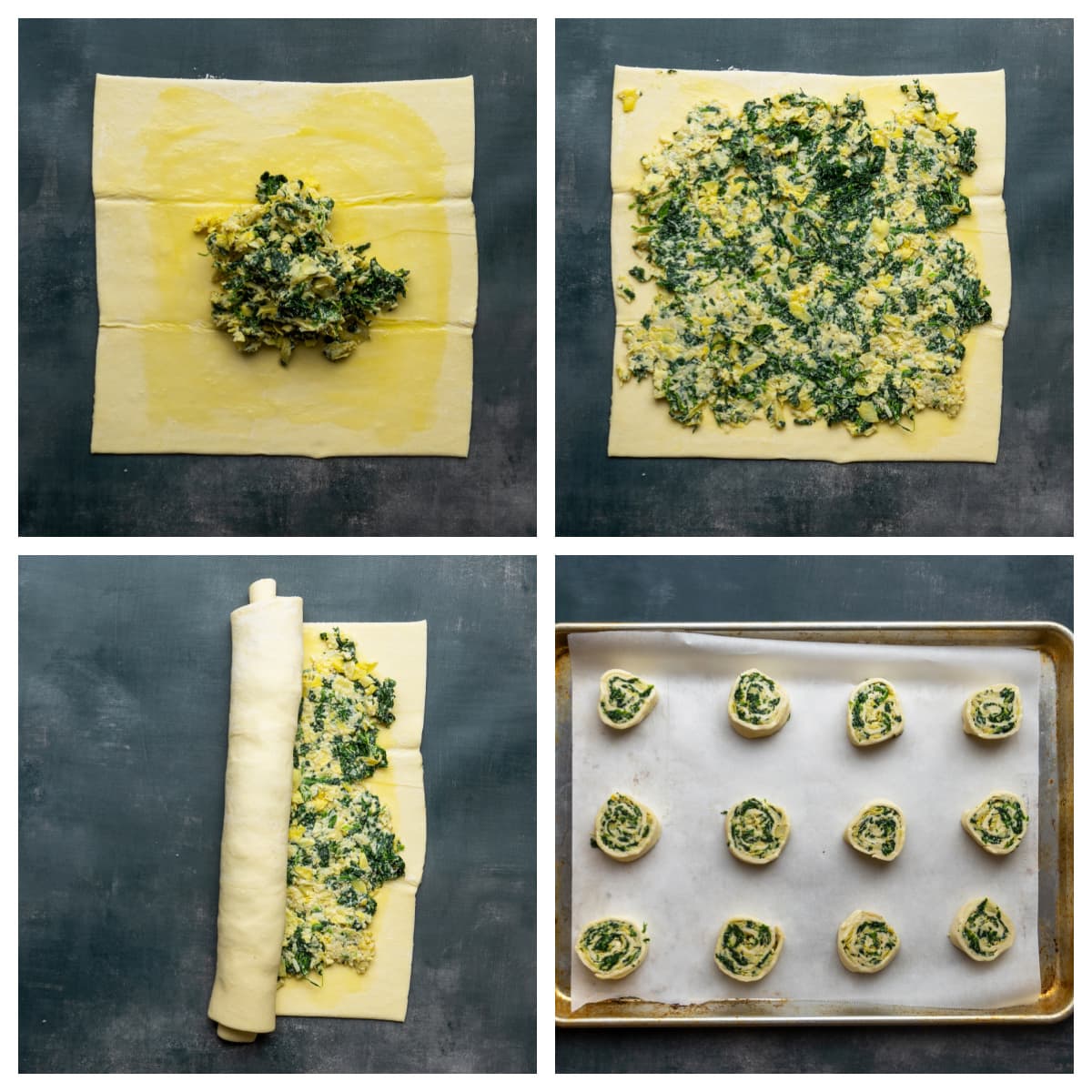 After they are cut, you can bake them immediately or freeze the slices uncooked. If you do plan to freeze them at this stage, cut into discs then freeze- don't freeze the whole roll.
Place your slinces onto a baking sheet. I like to line mine with parchment to prevent sticking. The cheese can be a nuisance.
Bake until puffy and golden brown. Enjoy them hot from the oven, cool or room temperature.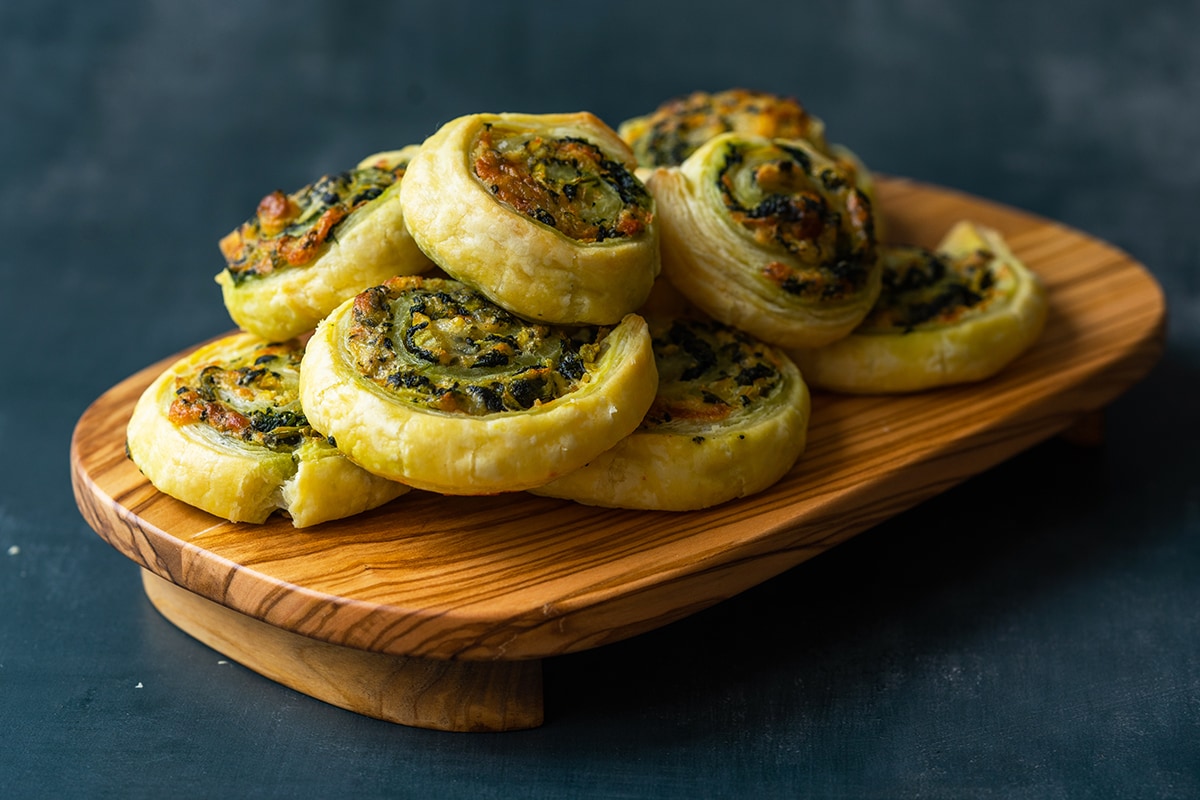 Storage, Leftovers and Freezing
These were also great to make ahead of time and freeze. Two puff pastry sheets come in each box and it is virtually impossible to re-freeze just one. Go ahead and make one full batch and freeze half for surprise guests or a quick snack.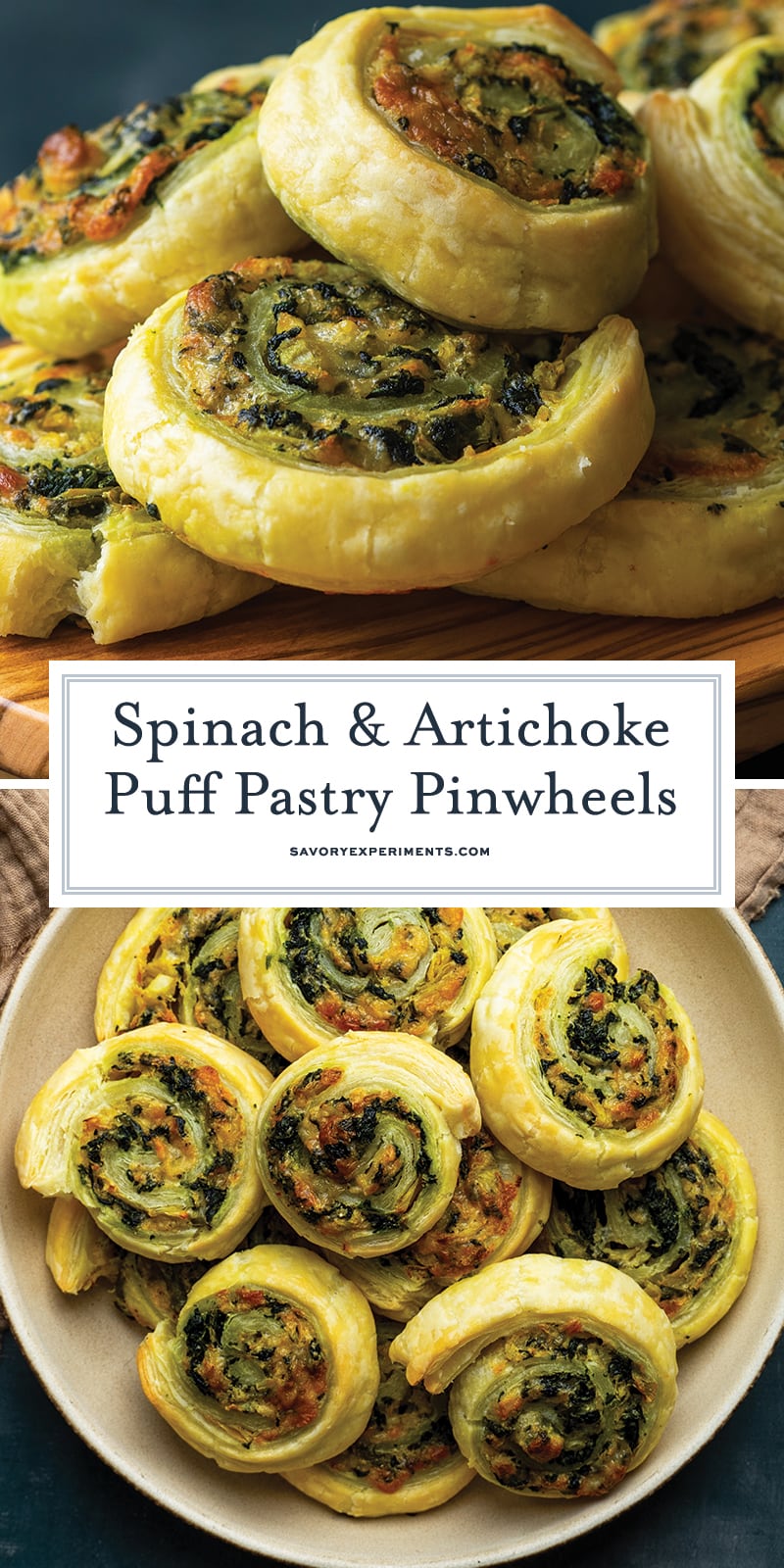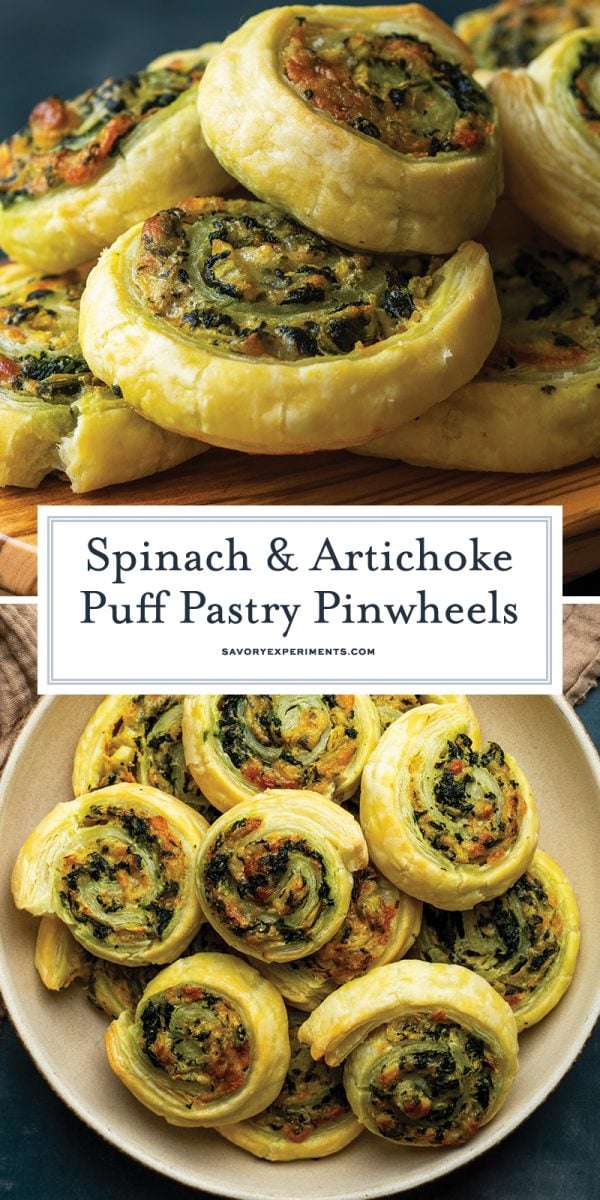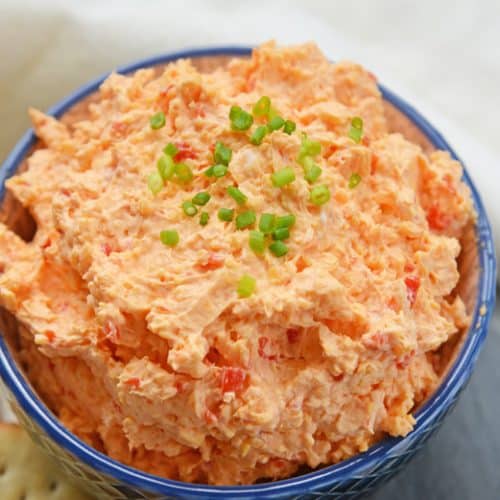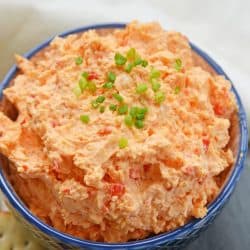 Pimento Cheese Spread
A popular southern dish, this EASY Pimento Cheese recipe is made with only 6 ingredients and tastes great spread onto crackers or in a grilled cheese!
See The Recipe!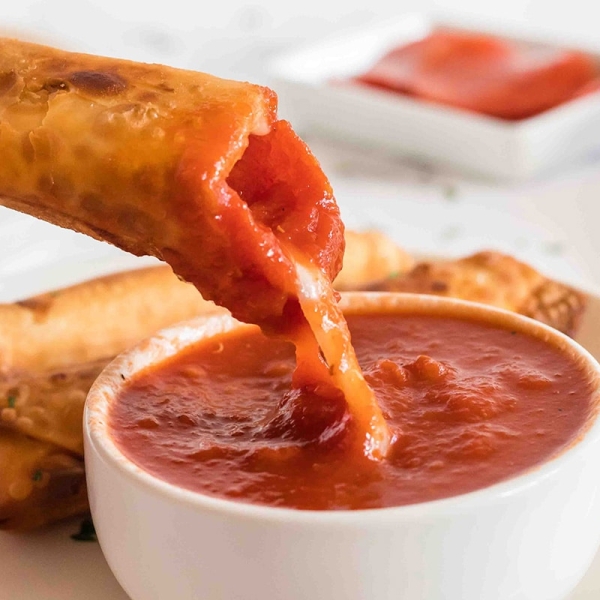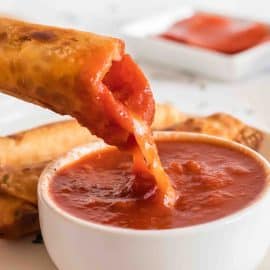 Pizza Logs
Crispy egg roll wrappers stuffed with gooey mozzarella cheese and zesty pepperoni, fried to a golden brown and dipped in marinara sauce.
See The Recipe!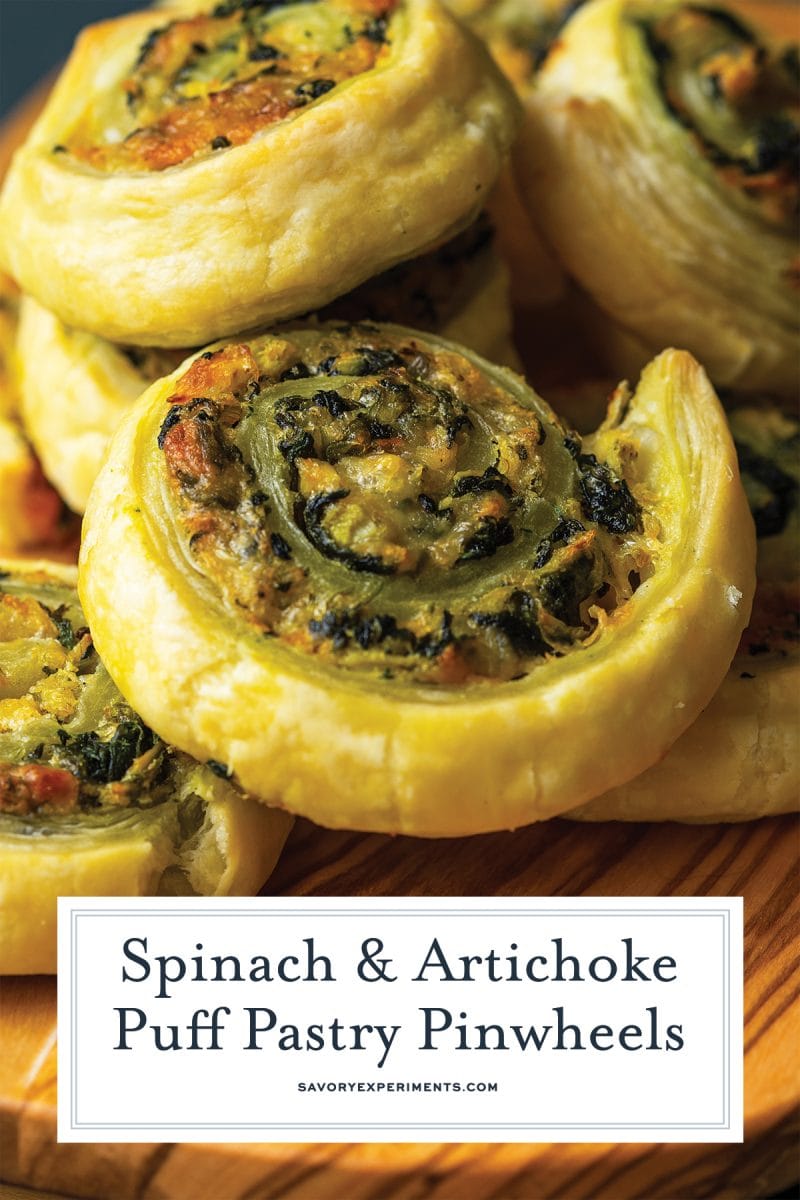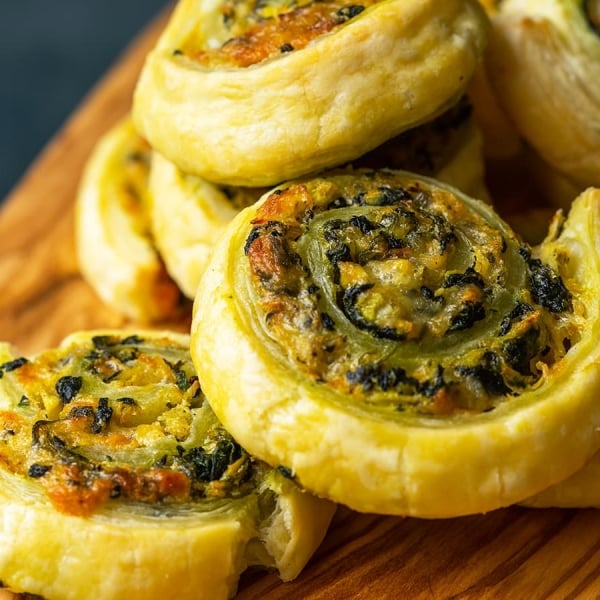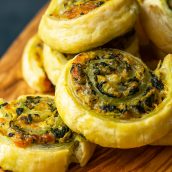 Spinach and Artichoke Pinwheels Recipe
Spinach and Artichoke Pinwheels are an easy party appetizer that everyone will love. Creamy dip rolled in buttery pastry and baked until crispy.
Instructions
Stir together the artichoke hearts, spinach, mayonnaise, cheeses, onion powder, garlic powder, white pepper, salt. Set aside.

Roll out one sheet of the puff pastry. Brush the extra virgin olive oil over the puff pastry sheet. Spread half of the spinach mixture onto the puff pastry sheet leaving a one inch margin on each side.

Roll up sheet tightly. Wrap in plastic wrap.

Repeat with second puff pastry sheet.

Place in freezer for 20-30 minutes. Just long enough for the ingredients to solidify, but not so hard you can't cut through it.

Preheat oven to 400°F. Remove rolls from the freezer and cut into 1-inch thick slices (approximately 12 per roll).

Place slices onto a rimmed baking sheet lined with parchment paper.

Bake for 15 minutes or until puffy and lightly browned. Allow to stand for 3-5 minutes before serving.

If you've tried this recipe, make sure to come back and let us know how it was in the comments or ratings.
Nutrition
Calories:
125
kcal
,
Carbohydrates:
6
g
,
Protein:
2
g
,
Fat:
9
g
,
Saturated Fat:
2
g
,
Cholesterol:
5
mg
,
Sodium:
216
mg
,
Potassium:
80
mg
,
Vitamin A:
1325
IU
,
Vitamin C:
6.8
mg
,
Calcium:
66
mg
,
Iron:
0.7
mg