A batch of homemade Cajun Fries are just the ticket to satisfy that crispy, potato craving. With steps to prepare homemade french fries however you like and a quick and easy cajun seasoning, bring those gourmet diner fries home anytime you like.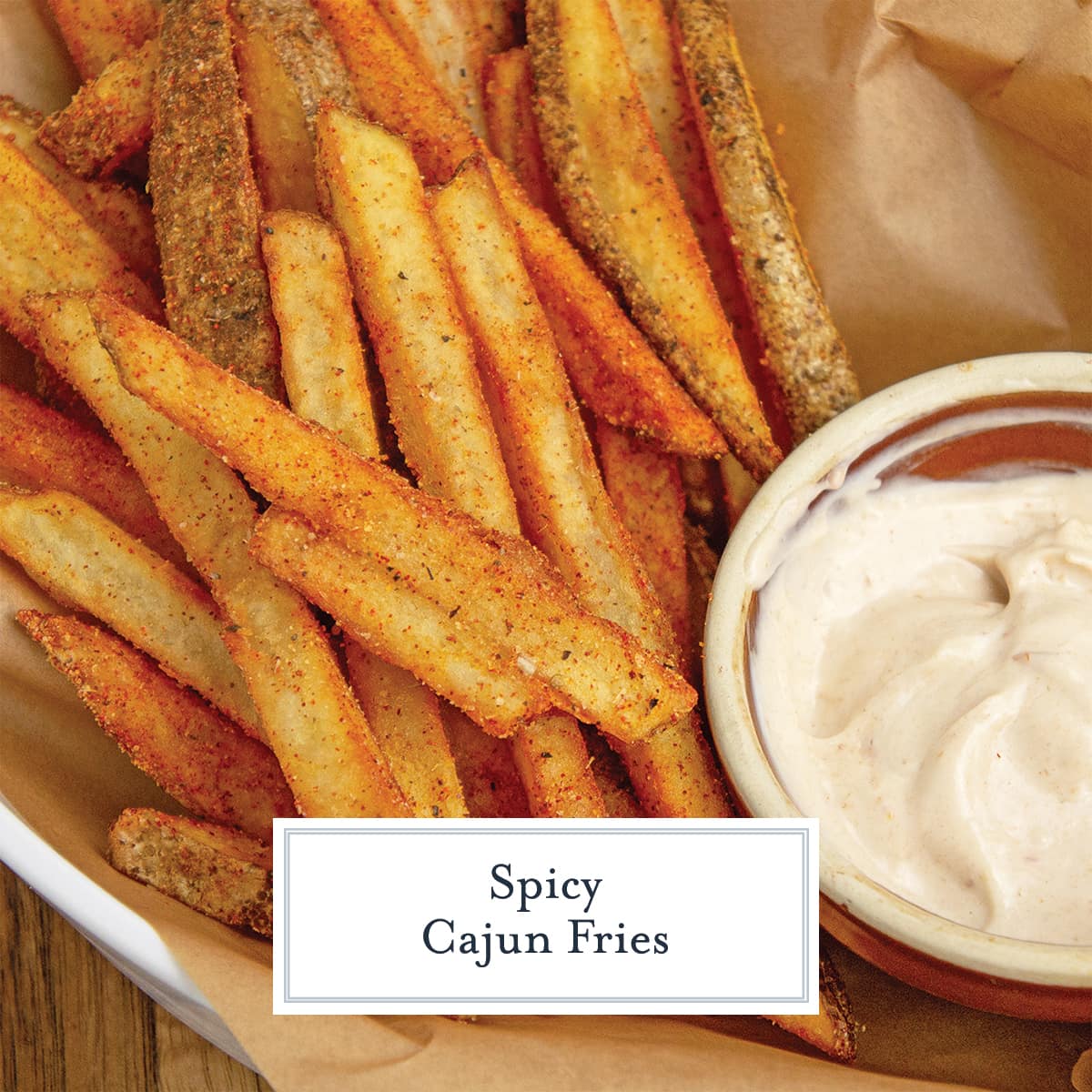 Cajun Fries
Crispy, delicious Cajun Fries are easy to make at home with a quick homemade cajun seasoning. Go for fried, baked, or even frozen potatoes for cajun fry perfection!
Oh homemade fries how I crave you! Full truth, a batch of homemade french fries, deep fried to crispy golden perfection, is one of my ultimate cravings. Toss those in a ridiculously easy homemade cajun seasoning, and my favorite burger bar just popped up in my home kitchen.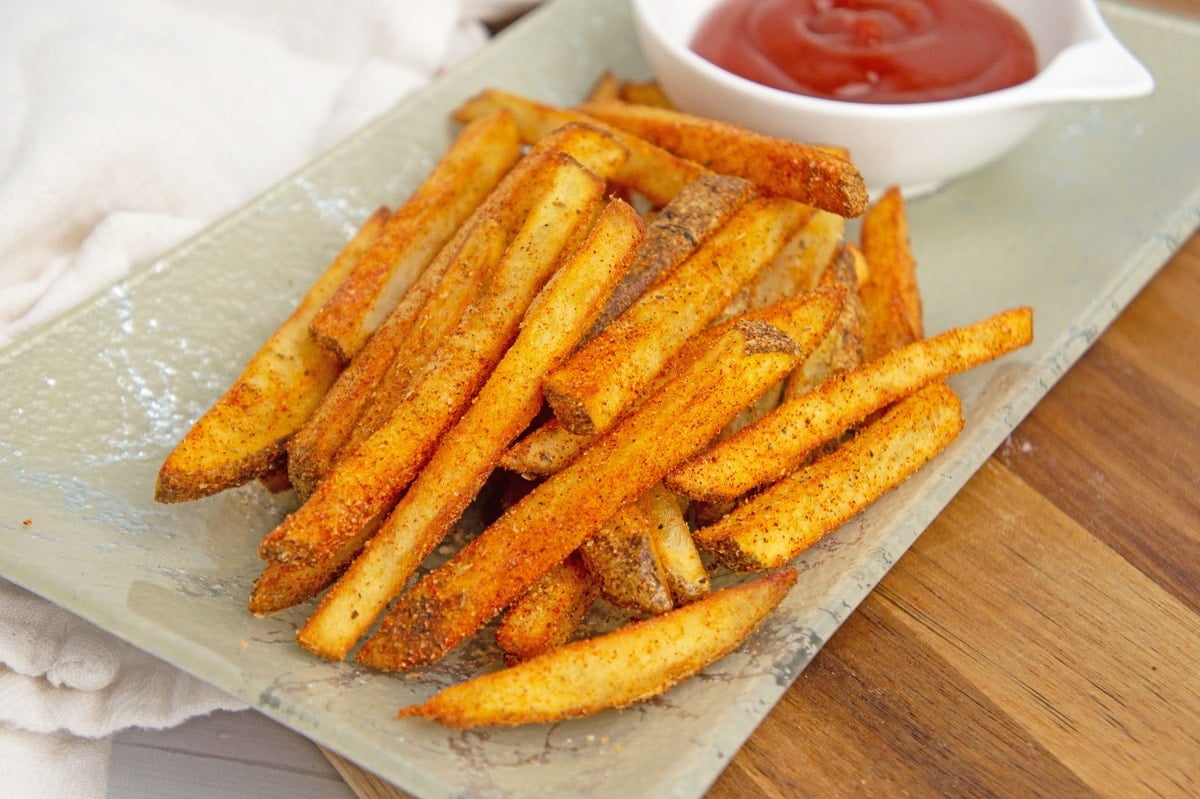 Homemade fries are actually a lot easier to make than you may think! Once you have your potatoes cooking and crisping, making them into cajun fries is as easy as tossing on the seasoning. One good finger lick later, and you'll be craving these just like I do.
Best Potatoes for French Fries
Before we get into the cooking and seasoning, successful homemade french fries start with the right potato. There are SO many options to choose from when it comes to potatoes, it can be hard to know what to choose!
For french fries I have always found that regardless of frying or baking, I prefer a high starch potato like Russet or Idaho varieties. These are the potatoes that get fluffy and light when cooked, and that makes for the best french fry bite.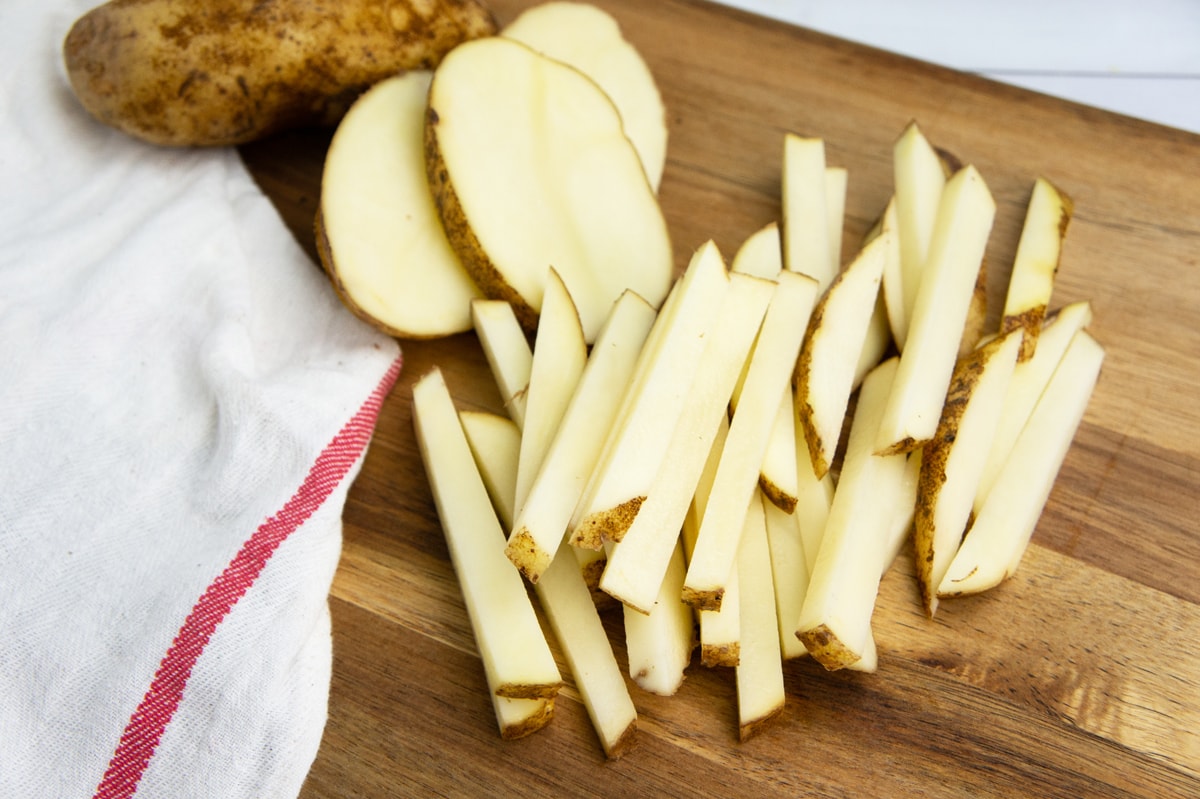 When choosing your spuds, go for as evenly shaped potatoes as possible to avoid irregular fries that cook unevenly. Also look for firm, evenly colored skin whenever possible.
Want to make cajun fries and only have a bag of frozen fries in the freezer? Go for it! The homemade seasoning is easy to sprinkle on whatever makes your heart happy!
Pro Tip: Wondering how much to buy? I estimate one medium potato per person for a generous, you won't have to share, serving.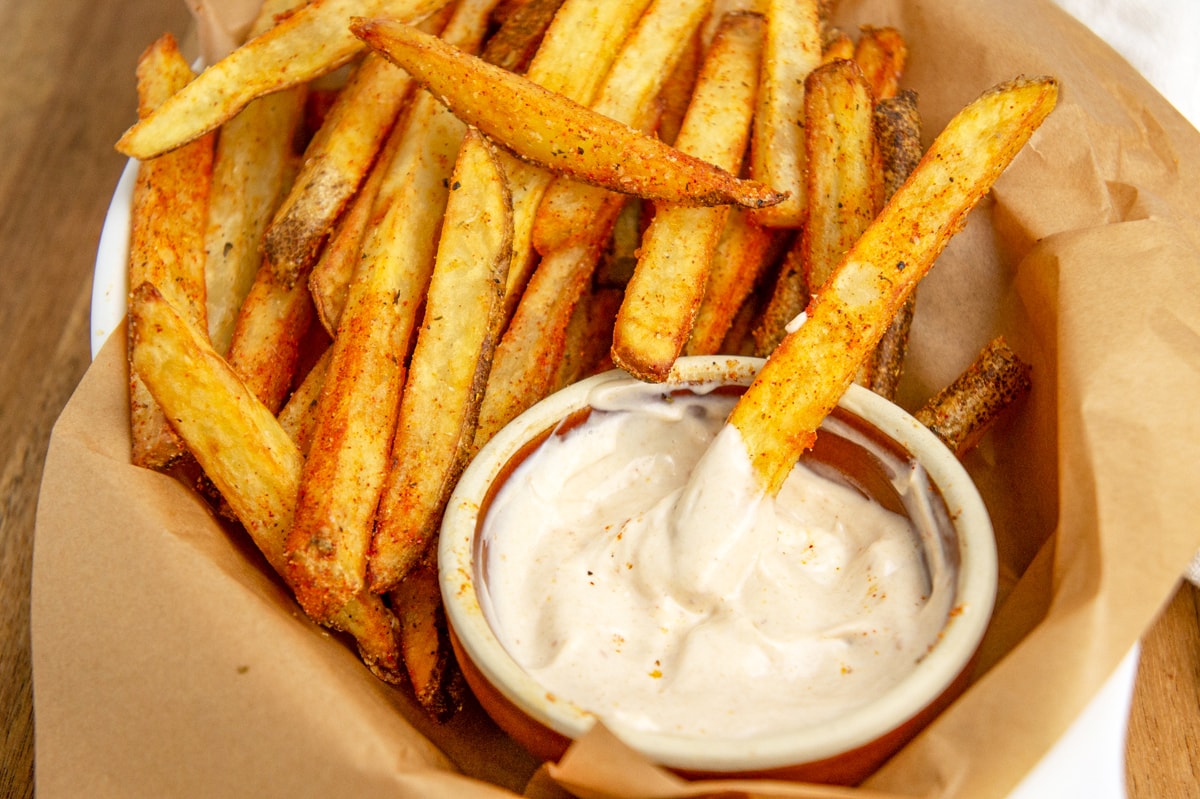 How to Fry Cajun French Fries
With spuds in hand, onto the cooking. There are many ways to make them, my preference is of course, frying them!
To successfully deep fry your cajun fries, you'll need to follow these simple steps.
Heat your oil to 325°F in a deep, heavy bottomed pan.
Slice your potatoes into even flat slices on it's long edge. Aim for between ½ and 1 inch thick. Slice each plank into sticks.
When your oil is hot, drop your fries in carefully for 2 to 3 minutes, using a spider strainer or tongs to gently move them in the oil and prevent sticking.
Remove from the oil to a paper towel lined baking sheet or plate and heat the oil to 375°F.
When the oil is hot again, gently return your fries to the oil and cook until golden brown and crispy.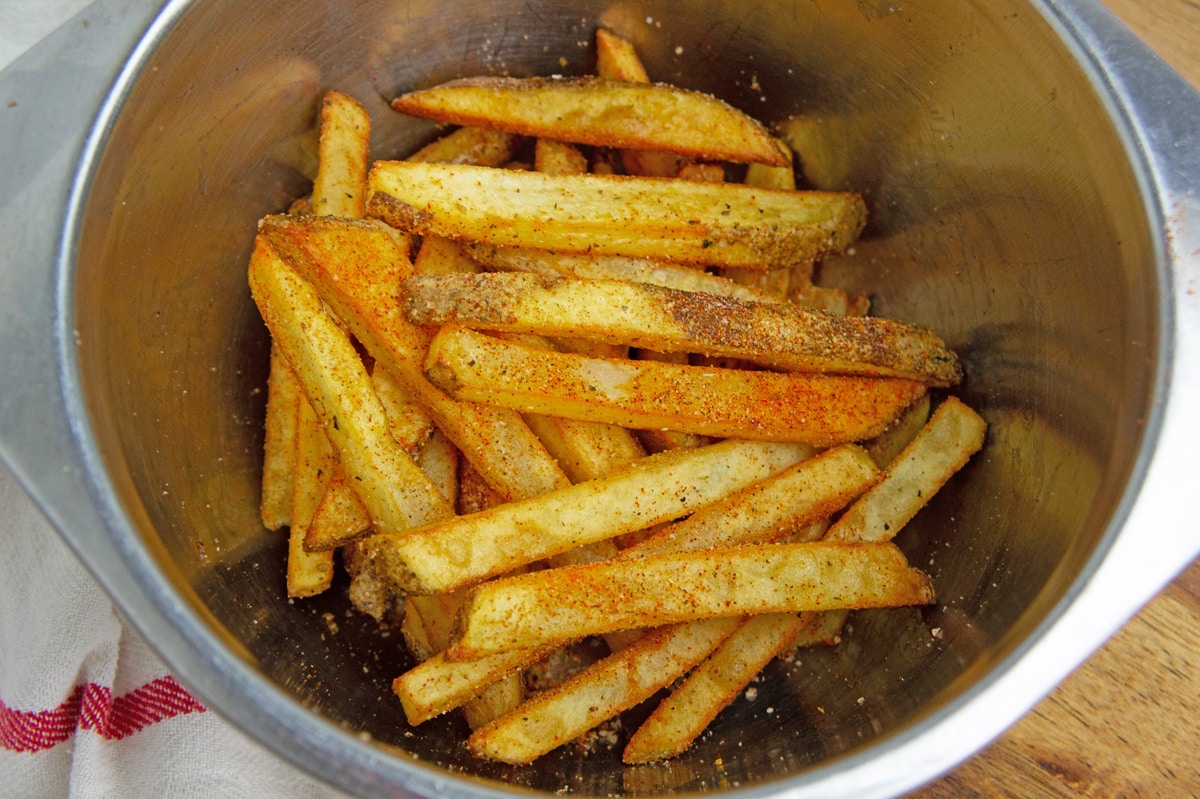 Once your fries are cooked, simply blot and season, then enjoy! You may find that when you're working with more than 1 or 2 potatoes that it's best to work in batches. Frying too large a batch at once can drop your oil temperature too quickly and lead to oily, greasy fries.
Pro Tip: To keep homemade cajun fries crispy while you fry a second batch, preheat your oven to 200°F before you start frying. Place a large baking sheet in the oven and when you've seasoned your fries, place them on the baking sheet in an even layer. The low temperature oven will keep them hot and crisp until you're ready to serve.
How to Bake Cajun French Fries
If deep frying isn't for you, making oven baked cajun fries is just as tasty. The process is very simple, though it takes a bit longer to arrive at crispy fry perfection. But, just follow these key steps and you're sure to have crispy cajun fries in just over an hour!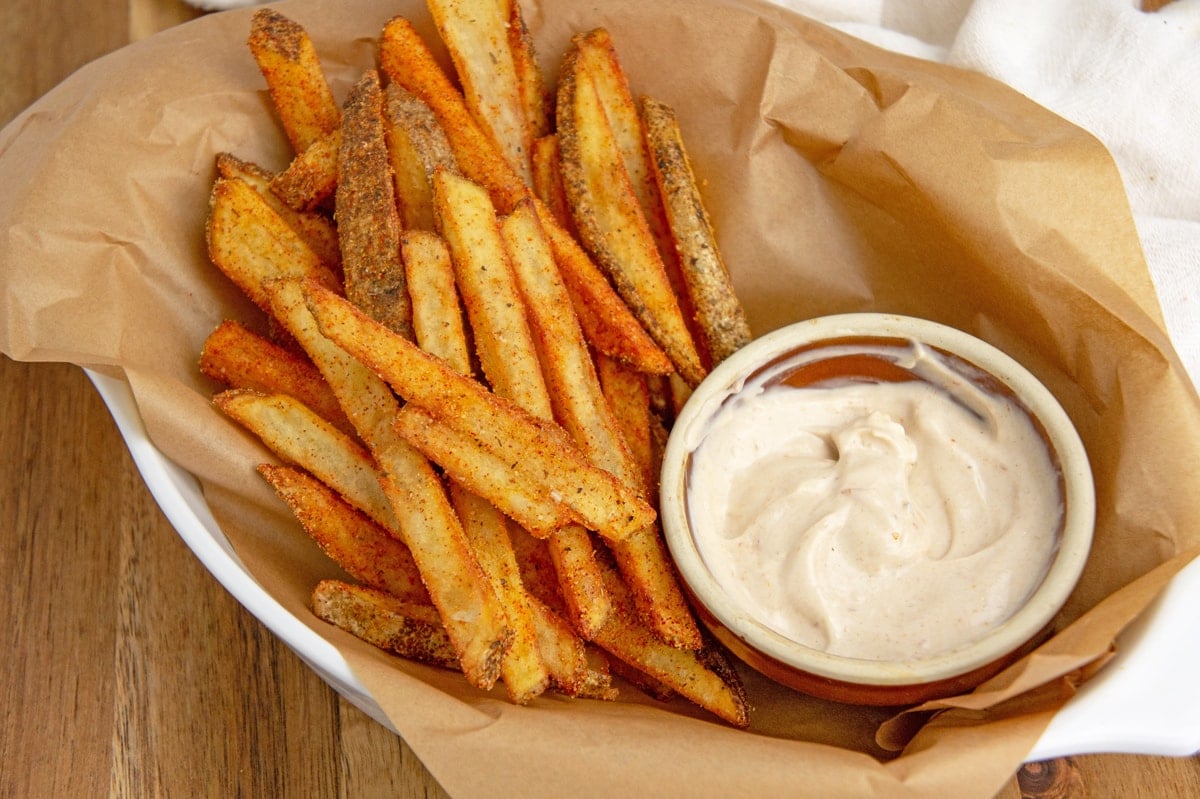 Cut your potatoes into your desired fry shape. Immerse all your cut potatoes in a large bowl of very cold water and let them soak for 30 minutes.
Preheat your oven to 375°F
Remove the fries from the water and blot them dry very thoroughly.
Place on a parchment or silicone mat lined baking sheet in a single layer.
Oil liberally, so the fries are coated completely, and toss with cajun seasoning.
Bake for 20 minutes then crank the temp up to 450°F and bake until they are the desired crispiness.
You'll find that tossing and mixing the fries every 10 minutes allows more even browning.
The Best Oil for Frying French Fries
When prepping for your deep fried cajun fries, choosing the right oil is really important. Choosing an oil with too low of a smoke point, such as olive oil, will lead to unpleasantly flavored fries and burning, smoking oil – nobody wants that!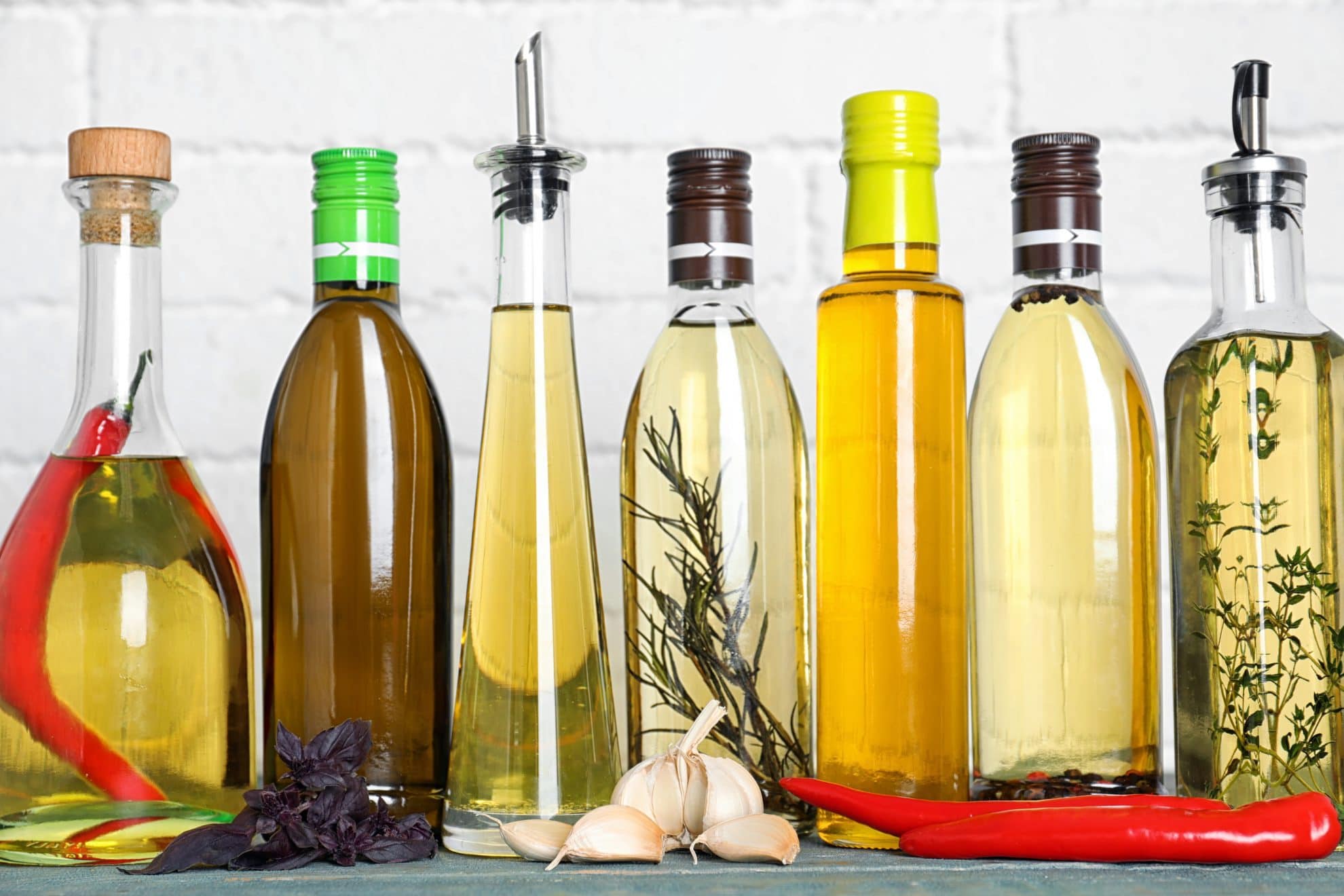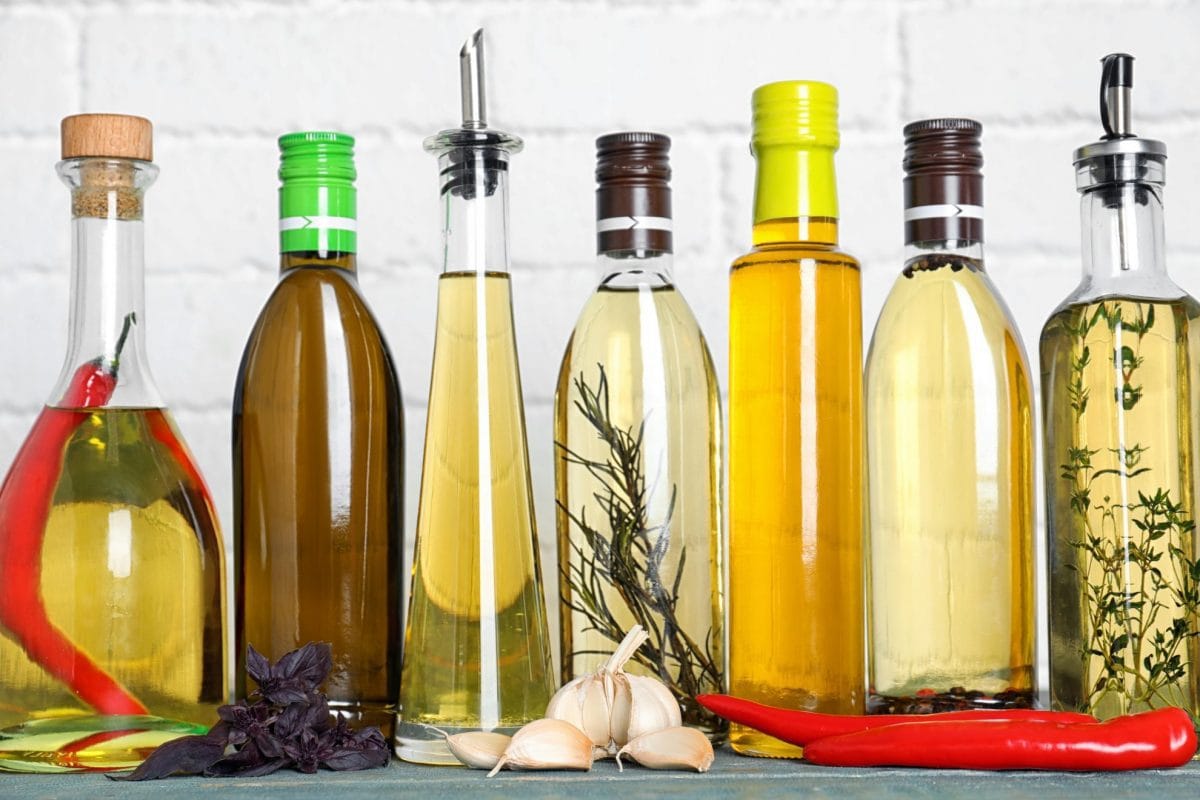 The solution is to simply choose an oil with a high smoke point, or an oil that can tolerate a higher temperature of heat before it begins to degrade and burn. My two top oils for frying are a simple canola oil or a grapeseed oil.
Since baking french fries also requires a high temperature, I'd choose those for the oven baking method as well. There are actually many oils you could choose, and you can read all about oils and their smoke points here.
Quick and Easy Homemade Cajun Seasoning
Knowing how to make perfect crispy fries is a good start, but next is the all important seasoning blend.
This is super easy to make at home with just 7 very common pantry spices, but there are also some delicious cajun seasoning spice mixes you can buy. I find making it myself is cheaper, and since a spice mix will last in your cupboard for several months, prepping in bulk is a great idea!
Garlic Powder
Onion Powder
Black Pepper
Smoked Paprika
Dried Oregano
Kosher Salt
Cayenne Pepper
For me this blend creates a delicious blend of salty, spicy, and smoky. Finding smoked paprika is pretty key, so definitely get it if at all possible. If not, you can use a standard sweet paprika, but may find you want to increase the spice. It is similar to blackening seasoning too.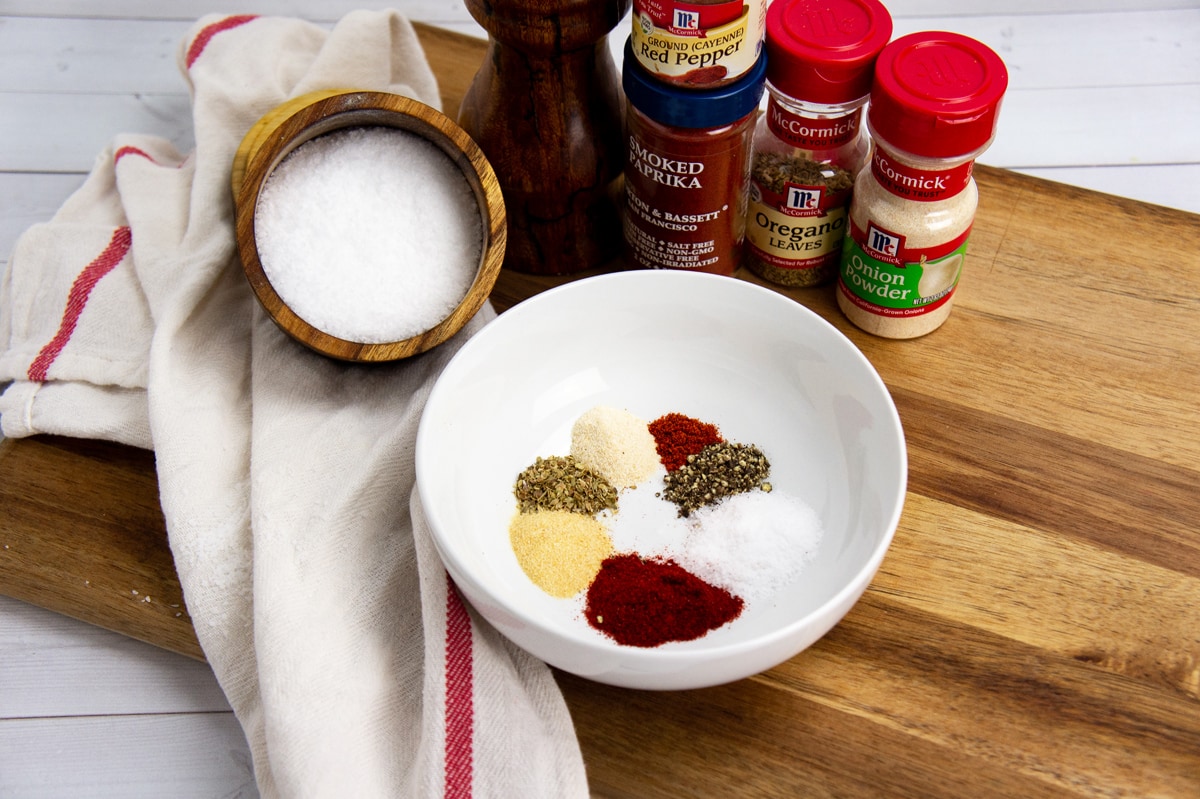 Cayenne is also optional and adjustable. When I made these for my son, I added just a tiny pinch, for my husband and I, we added much more to enjoy the kick of cajun flavor.
Pro Tip: I use kosher salt almost exclusively, and table salt is saltier per volume. If using table salt, reduce the salt by one third. For long term storage, I recommend blitzing your spice blend in a spice grinder for consistent, even mixing.
Cajun Fries in the Air Fryer and Reheating
You sure can use your air fryer to make these! Just follow the instructions for your model to cook the french fries, then season and enjoy!
As far as reheating, they never quite recover that freshly fried or baked texture, but you can reheat fries in a pan, the oven, or a toaster oven.
Combine with a little oil in a preheated saute pan until crispy if you choose that method. Be careful, the cajun seasoning, if already on the fries, can burn.
For the toaster oven or conventional oven, simply lay on the baking sheet with a very light coating of oil, and bake at 375°F until warm and crispy. I also often use the 'toast' cycle on my toaster oven, and it works just as well!
Dipping
You know I like to add sauce to nearly everything and fries are no exception. While ketchup is a totally acceptable choice, Cajun fries also taste fabulous with aiolis or a fry sauce.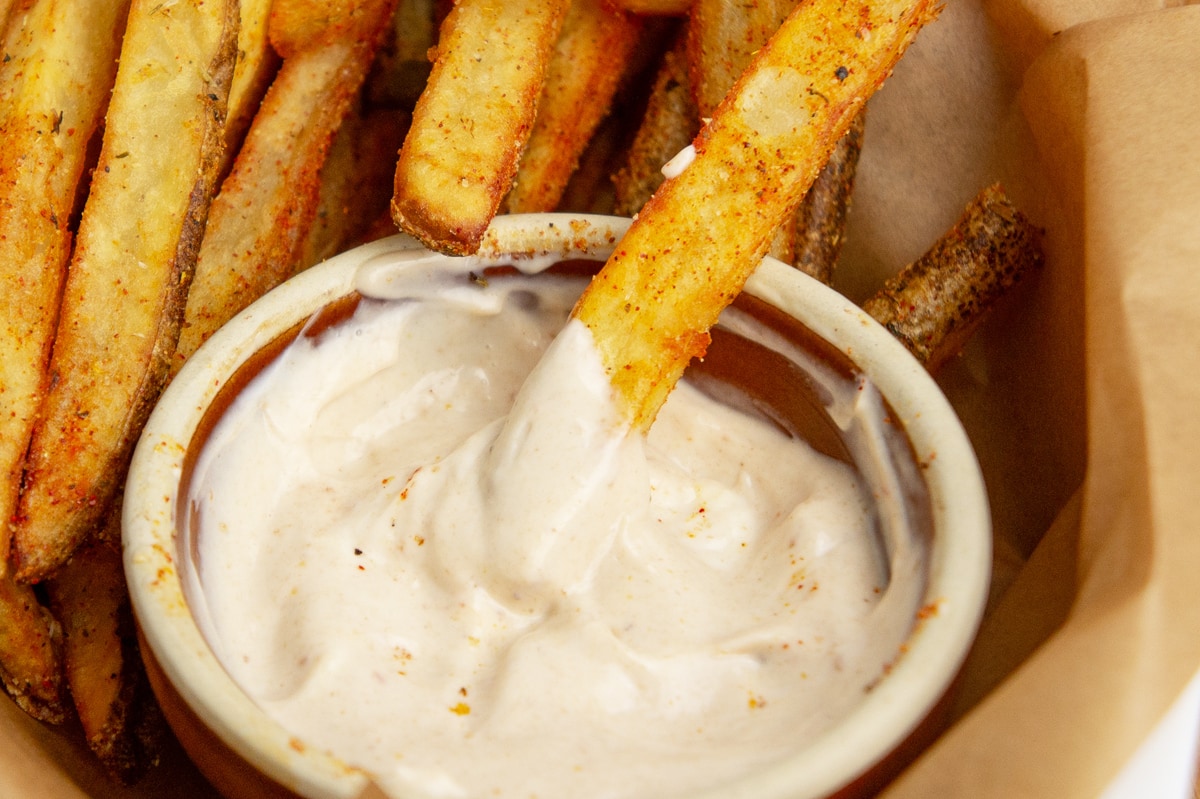 Here are more favorites: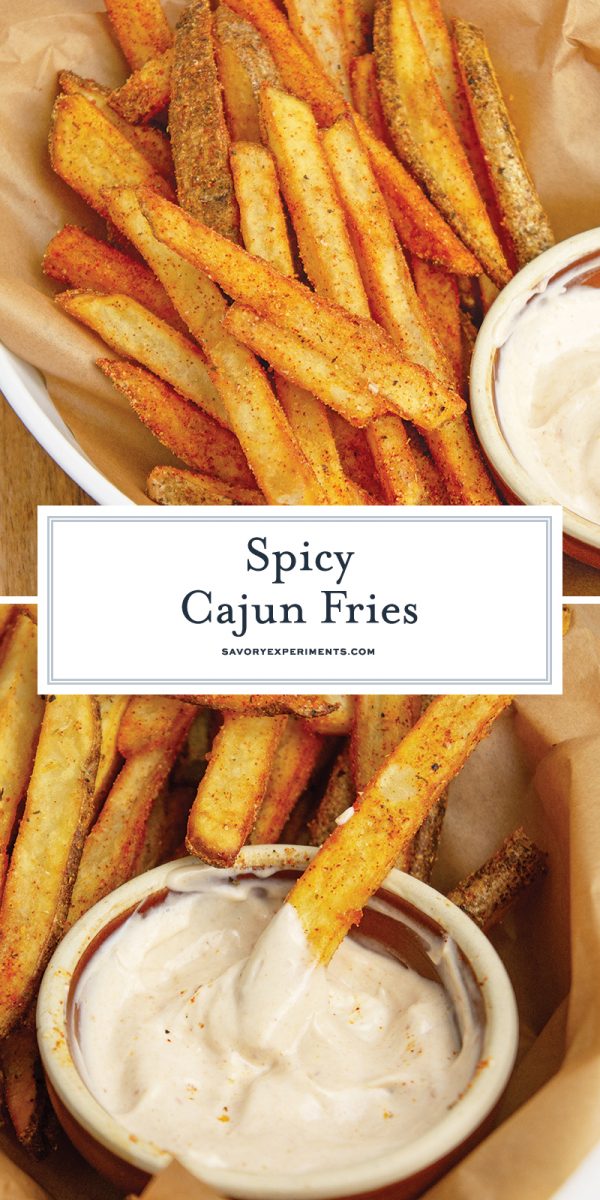 More delicious side dishes: