Who doesn't love a great crispy chicken cutlets recipe? Crunchy, golden brown breading on the outside and a juicy, succulent chicken on the inside.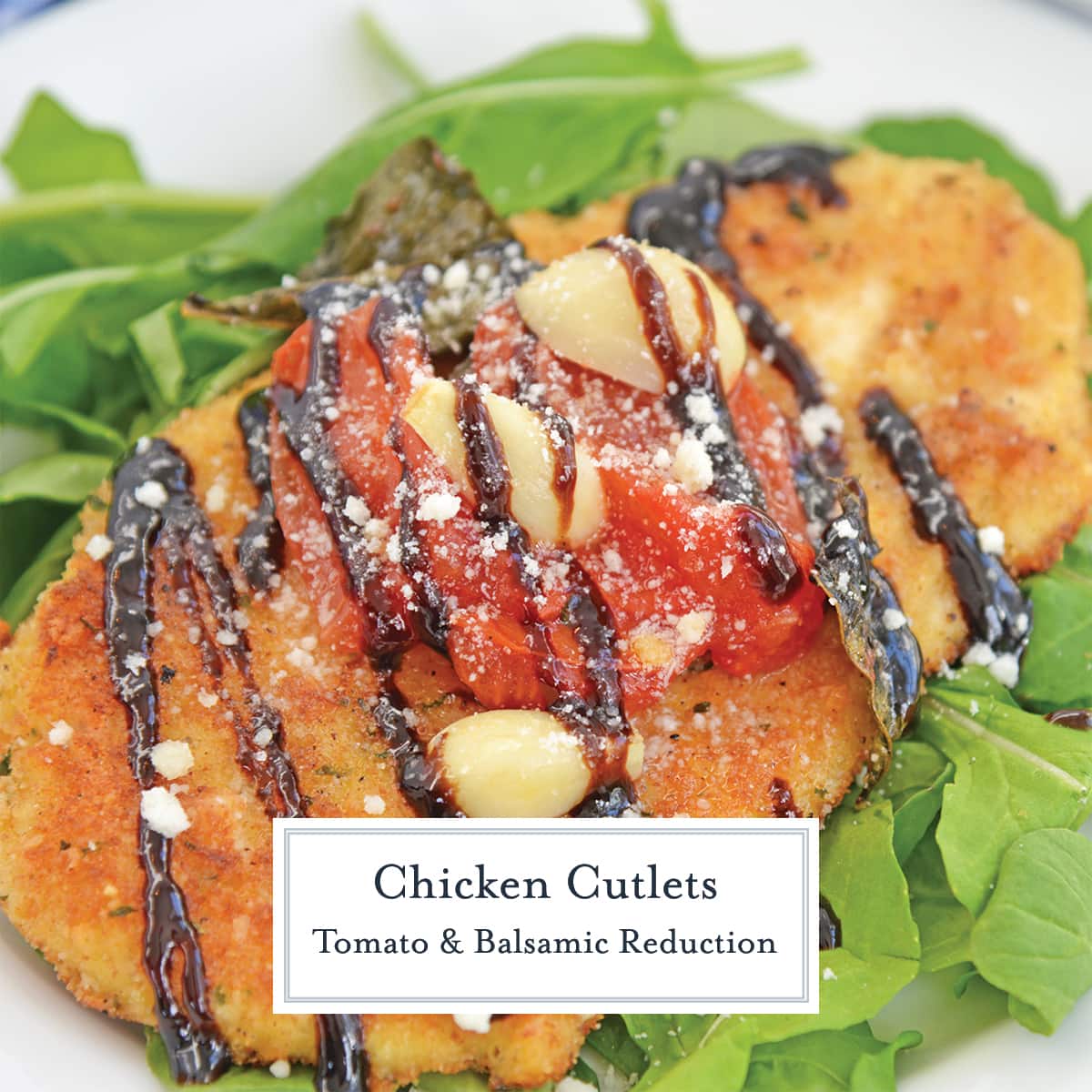 What are Chicken Cutlets?
A pan-fried chicken cutlet is technically just a thinly sliced piece of chicken breast. These can be cut thin OR they can be tenderized manually using a mallet to give them a uniform thickness. You'll sometimes see them called Italian chicken cutlets, Italian chicken, chicken parmigiana, or as a kid I called them pounded chicken breasts. LOL.
The term chicken cutlets usually refers to breaded chicken cutlets. They are thin-sliced chicken breasts coated in seasoned breadcrumbs and either lightly fried or even baked.
Either way, they are absolutely delicious! I like to serve mine with tomatoes and a balsamic reduction.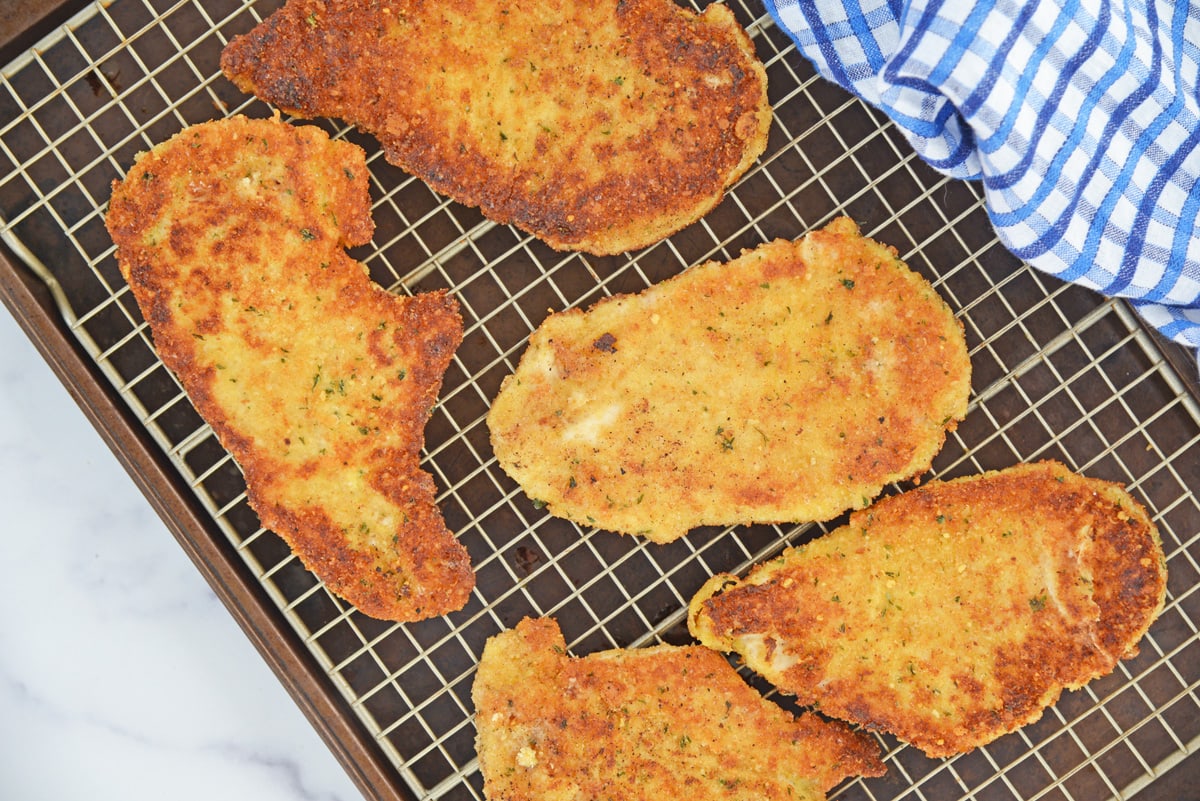 Chicken Cutlets vs Chicken Parmesan
Chicken Parmesan, is an Italian-American dish brought to the States by Italian immigrants. It originated in the Northeast. It is traditionally thin, breaded, and lightly fried chicken breast smothered with tomato sauce and topped with melted cheese.
The recipes are similar in that chicken cutlets are a component of chicken. However, chicken cutlets are most often paired with things like fresh arugula, balsamic dressing, and fresh tomatoes versus marinara and melted mozzarella.
I incorporate cheese into my chicken cutlets in the breading. Parmesan is a hard, nutty cheese that fries up nicely and when you add a dash of nutmeg to the mix, it really amplifies the flavor.
To top mine, I use a roasted tomato and garlic confit seasoned with basil, olive oil, and balsamic reduction. I like mine over a bed of peppery arugula. I borrowed from a famous Italian joint in Atlantic City called, Chef Vola's. Order their Chicken Milanese and you will see what I mean.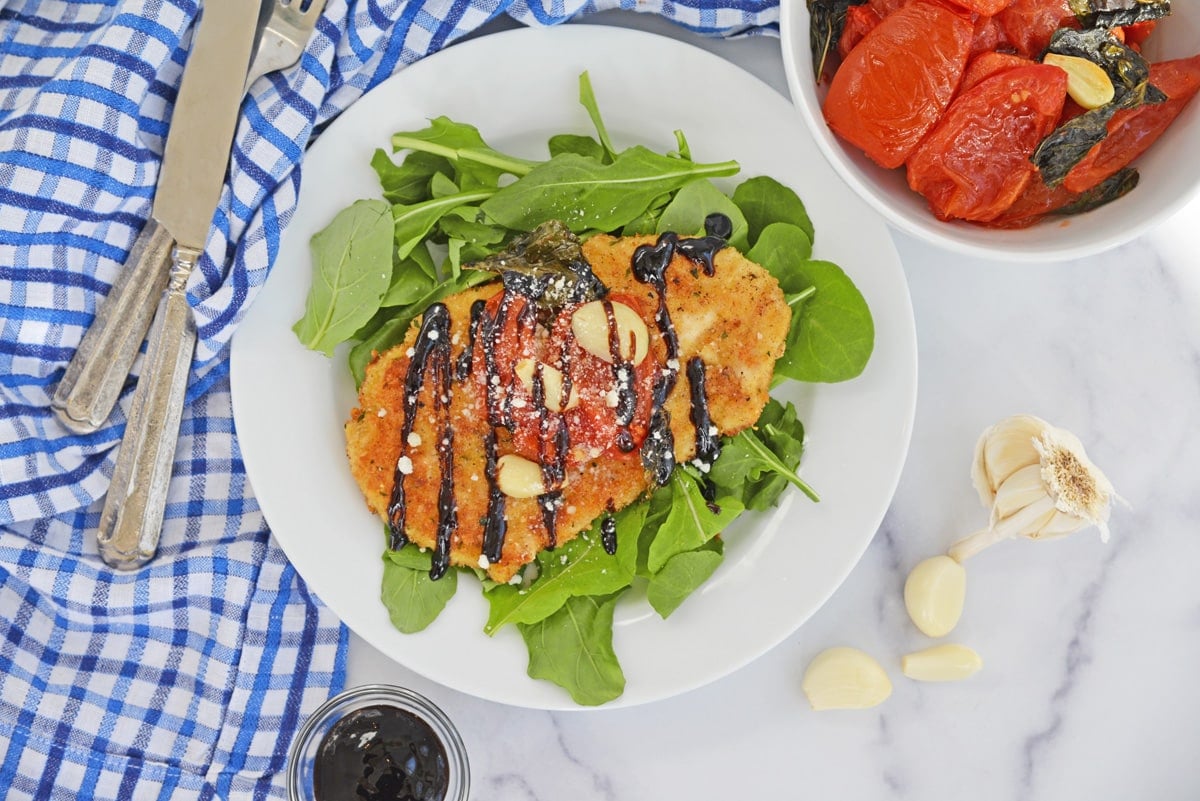 What You Need to Make Chicken Cutlets
The ingredient list for this chicken cutlet recipe is short and everything on it is easy to find.
Chicken Cutlets – Buy whole chicken breasts and slice them thin or cut the breasts into two or three pieces before pounding them thinly with a mallet or a rolling pin. Whichever you choose, be sure the thickness is even so they cook evenly in the pan. Boneless chicken breast are great, but it you can find thin cut breasts, this will save you a step.
All-Purpose Flour – Nothing fancy here! This helps to set up the breadcrumb coating on your chicken cutlets.
Grated Nutmeg – Provides a nuttiness and an aromatic quality to the chicken breading. You can omit this or swap it with garlic powder for even more garlicky tang or even dried Italian seasoning.
Breadcrumbs– We used seasoned Italian bread crumbs, but panko breadcrumbs can also work. Panko bread crumbs are just a larger crumb.
Kosher Salt and Black Pepper – Seasoning properly is a must!
Eggs – The glue for your breadcrumbs to stick to your chicken cutlets.
Parmesan Cheese – Not only does this give your breadcrumbs some seasoning and umami, but it also gives it a roasted/nutty quality as it fries up. Plus, it adds to the crispness and golden brown coloring.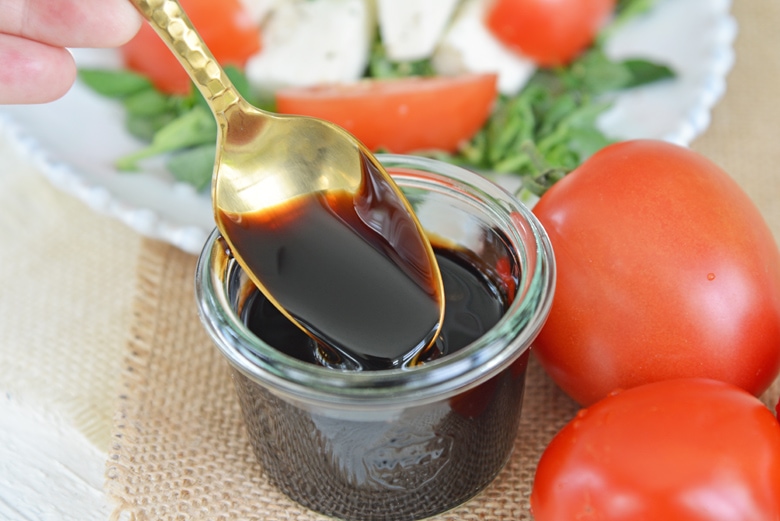 Vegetable Oil or Canola Oil – You want a neutral oil that has a high smoke point so that it doesn't burn or give the chicken an overwhelming flavor. You can use extra-virgin olive oil, but it is more expensive. Anything with a high smoke point.
Balsamic Reduction – Easily made at home by simmering balsamic vinegar until a syrup forms OR purchased already made in the store. It packs in intense acidity that helps cut though the richness of the dish.
Arugula – A peppery green that pairs perfectly with the chicken. If you want a more neutral green go ahead and grab the baby spinach.
How To Make Chicken Cutlets
Making chicken cutlets is easy! I find that they are a great base. After you have made them once or twice, you can make them for the rest of your life.
The other great part? You can pair them with so many sauces. Sometimes I do mine with a chutney. I even have a Mexican version. Or you can make them in the air fryer.

Pick the Chicken. The key is having super thin and even pieces of chicken. If you are skilled with a knife, you can cut them super thin. If not, use some cling wrap and a mallet to pound them to an even thickness. Sometimes I buy them sliced at the store and other times I'm using a breast for the freezer for a crispy chicken hankering.
Tenderize. To tenderize your chicken cutlets, use a cutting board and place a sheet of wax paper or plastic wrap over the chicken and beat it with a meat mallet or rolling pin. They will get pretty thin and big, so I highly recommend cutting them into two or even three pieces to keep each one manageable. They still need to fit in the frying pan! You can even cut them into thinner strips for chicken tenders.
Prep Dredging Pans. Prepare three shallow bowls or pie plates with the mixes you'll need to dredge. Having these set up ahead of time will ensure your success. In one, place the egg wash, next the flour mixture and the other, bread crumbs.
Batter & Dredge. Use one hand for the wet egg mixture and one hand for the dry breadcrumb mixture and be sure to shake off any excess drip from each cutlet after each stage of the dredge. Do flour, egg and then breadcrumbs. The flour helps the egg stick and the egg helps the bread crumbs stick.
Fry. This is a shallow fry and you want to be sure your oil is at the proper temperture. Check this by sprinkling a touch of flour into the oil. If it bubbles, you are ready. Fry in hot oil at medium-high heat on each side for 3-4 minutes or until lightly browned. Add oil as needed and always remember, your oil temp will drop each time you add more chicken.
Drain & Rest. Place the cutlets on a wire rack or a plate lined with paper towels to help drain any excess oil and put them in the oven to keep warm while you fry in batches.
Serve. To serve, put the chicken on the greens of your choice and finish with the sauce and the balsamic reduction. Sometimes I just use a spritz of fresh lemon juice.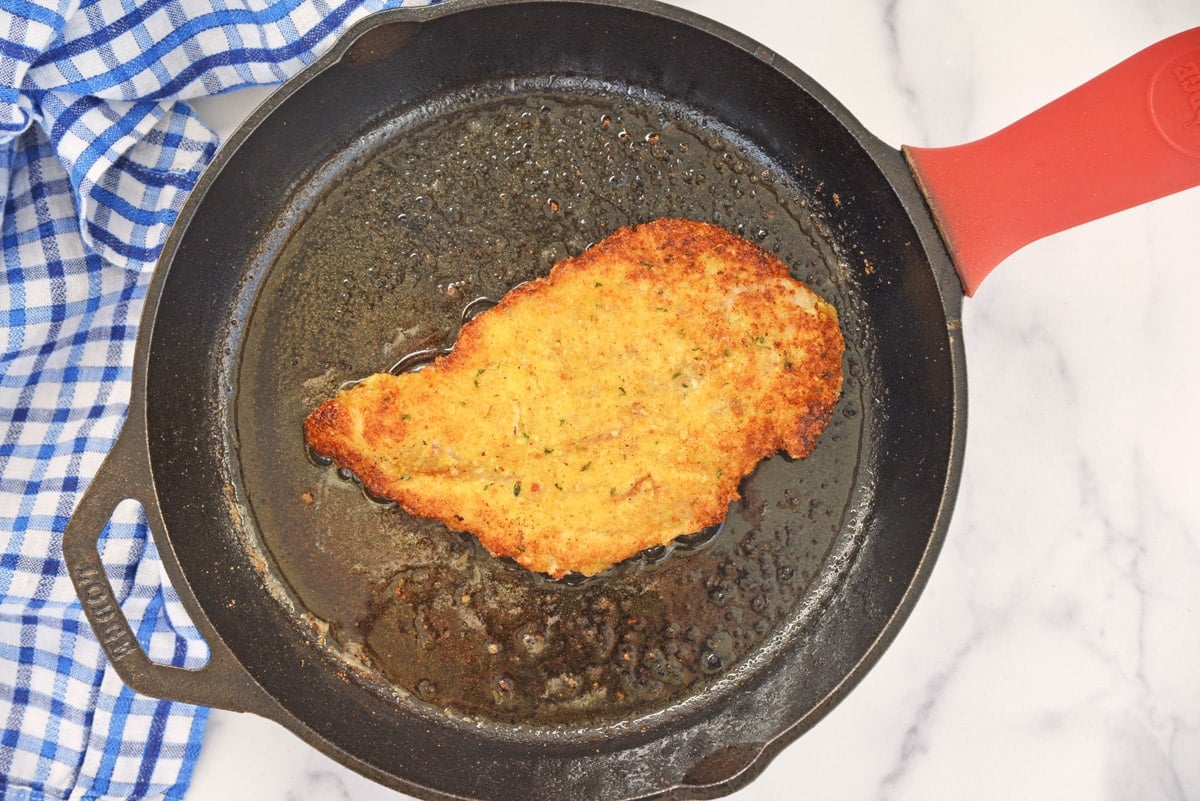 What You Need to Make The Sauce
Plum Tomatoes – Oval in shape, these tend to have fewer seeds than their round counterparts. If you can't find them, any medium-sized tomato will do.
Garlic – Whole garlic cloves are best for oven-roasting as they caramelize slowly giving them a deep sweetness and getting rid of the bite they normally pack.
Extra Virgin Olive Oil – Made from the first pressing of the olives, this oil will have bold flavor that will, in turn, make for a tastier sauce.
Coarse Kosher Salt – A go-to for seasoning almost anything well and evenly.
White Pepper – This has an earthier punch than the spicer black peppercorn making for a less intense flavoring.
Fresh Basil Leaves – who doesn't love fresh herbs!? Fresh basil leaves really make this recipe.

How to Make The Sauce
Sometimes dishes are best in their simplicity and this is one of them. I like to slow-roast tomatoes and garlic in the oven because this helps to bring out their natural sweetness with caramelization. It gives you the garlic without the bite.
Prep Tomatoes, Basil & Garlic. Quarter your tomatoes and push out the pulp and seeds. This will allow them to roast up more quickly and that is exactly what you want. Leave your garlic cloves in their skins so they won't burn. Place everything in a single layer on a rimmed baking sheet lined with aluminum foil, coat it with olive oil, and season with salt and pepper.
Roast. Roast for 60 minutes and allow the steam to escape the oven every ten minutes or so.
Mix. Dice the tomatoes and remove the garlic cloves from their skins. Place everything together in a bowl with the basil and you are all set.
Pair this with a balsamic sauce or a balsamic reduction and it is pure heaven. Making a balsamic reduction is quite easy, but if you aren't in the mood just grab a bottle at the store.
Make Ahead & Reheating
Can I Make Chicken Cutlets Ahead of Time?
Like any type of fried food, easy chicken cutlets are best enjoyed right after cooking or shortly after if kept warm in the oven. They can be stored in an airtight container for up to 5 days in the refrigerator.
How to Reheat Chicken Cutlets
If you do make them ahead or just have leftovers, there are three optimal choices: oven, quick fry or Air Fryer.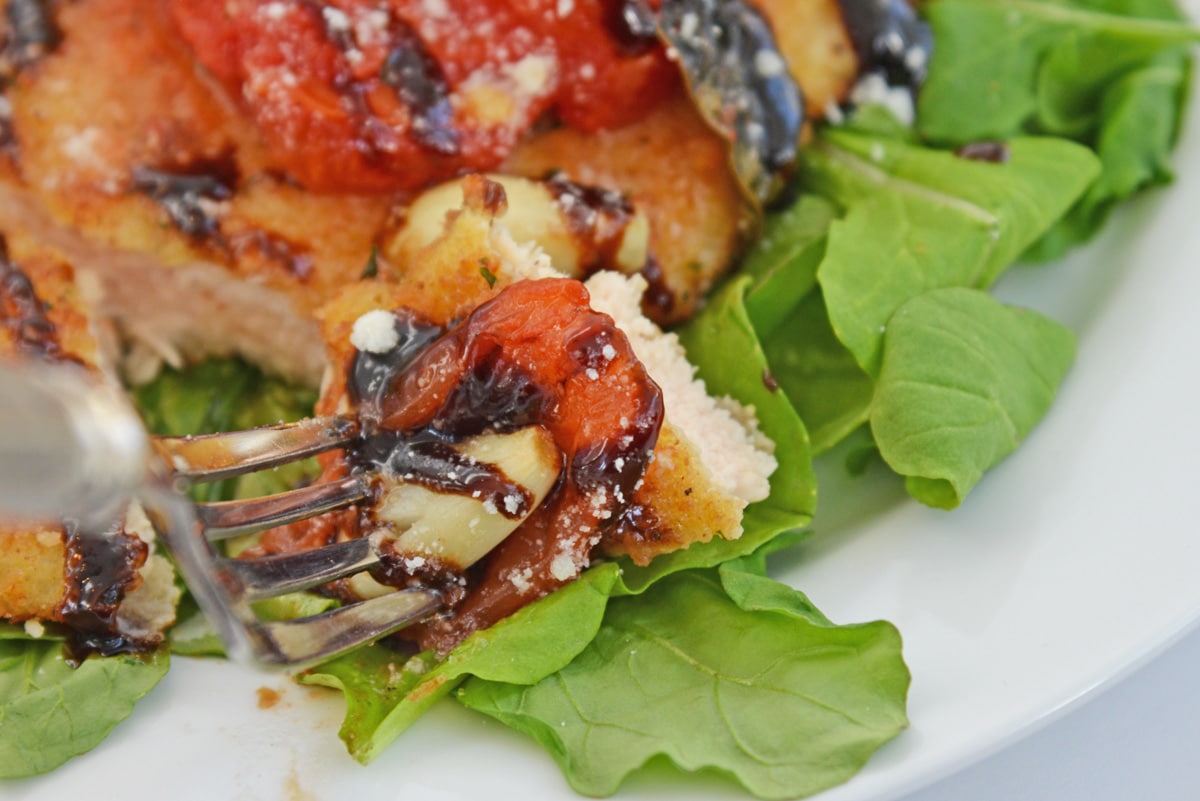 Reheat cutlets in the oven at 350°F for 5 minutes or until warmed through. On the stove, heat a small amount of oil in a skillet over medium heat and quickly heat cutlet on each side for 1-2 minutes.
I am 100% certain you can cook chicken cutlets in the Air Fryer from the start, but I haven't experimented with this yet, so stay tuned. I do know you can easily reheat them and get a nice crunch with just 1-2 minutes on each side at 350°F.
While microwaving is sometimes a necessity, it will undoubtedly make the breading soggy and not as good.
Godere! (Enjoy)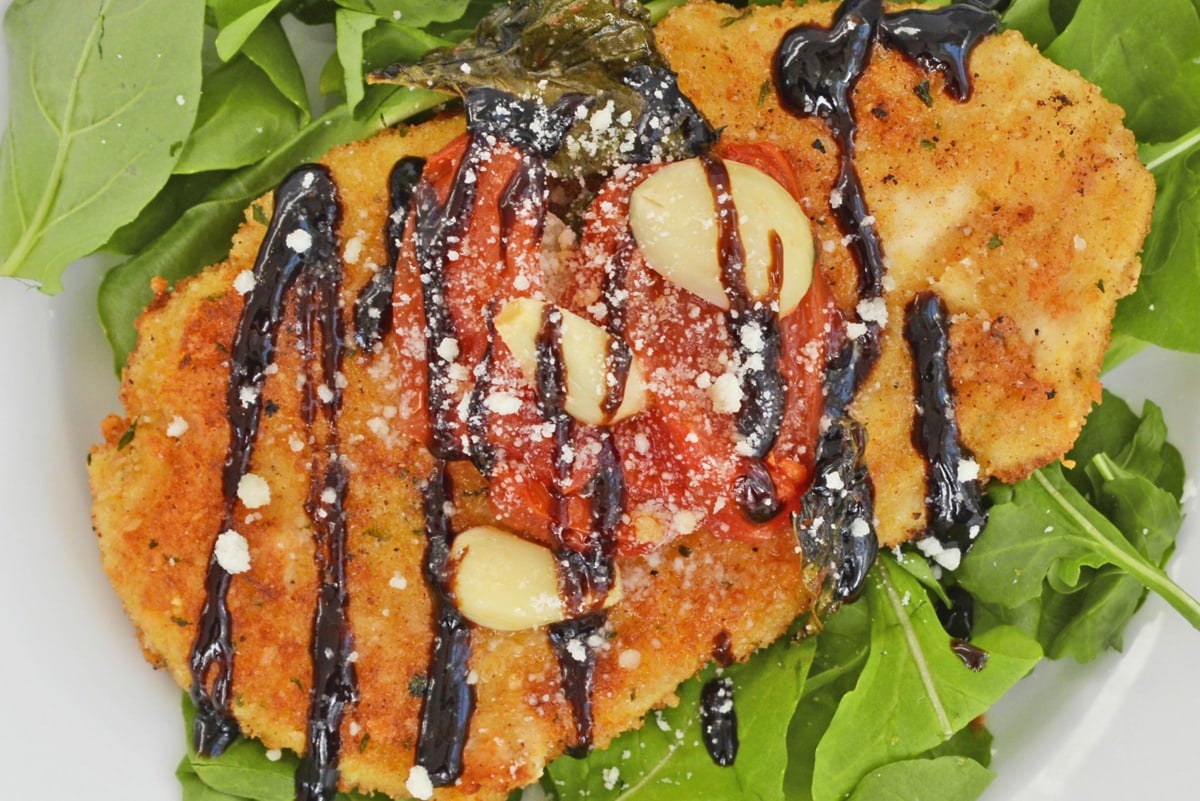 Questions About Chicken Cutlets
What Cut of Chicken is a Chicken Cutlet?
Chicken Cutlets are made from boneless, skinless chicken breasts that are either sliced in half horizontally into thin pieces OR portioned out and pounded into thin even pieces.
What is the Difference Between a Chicken Cutlet and a Chicken Breast?
A chicken breast is a whole breast of a chicken. A chicken cutlet is a thinner piece cut from a whole chicken breast.
What is the Ordering for Breading Cutlets?
Each cutlet is dipped in seasoned flour and the excess is shaken off. They are then dipped into beaten eggs allowing any extra egg to run off. Last but not least, each cutlet is dipped into seasoned breadcrumbs making sure each and every bit of them is covered in the mixture.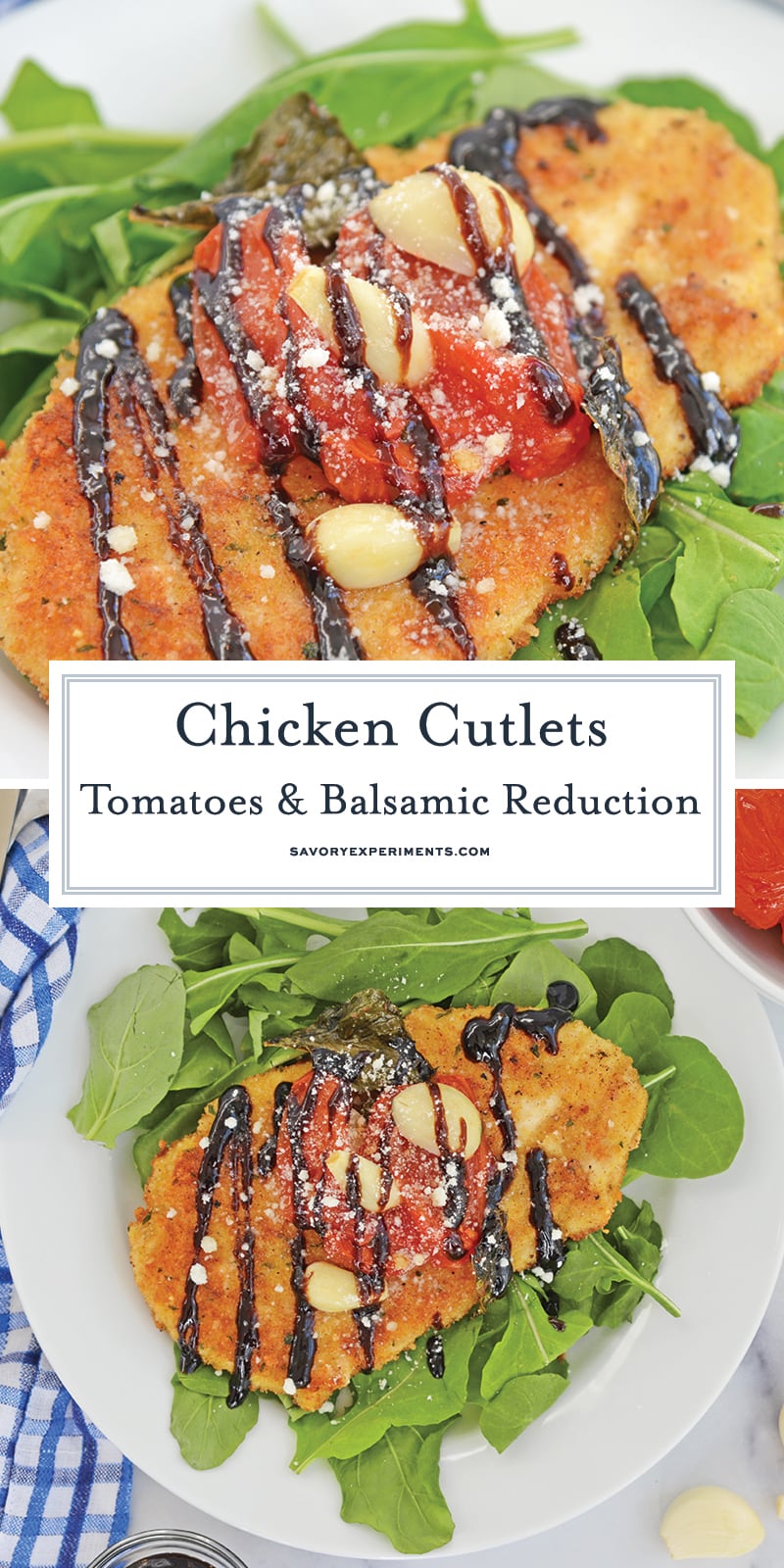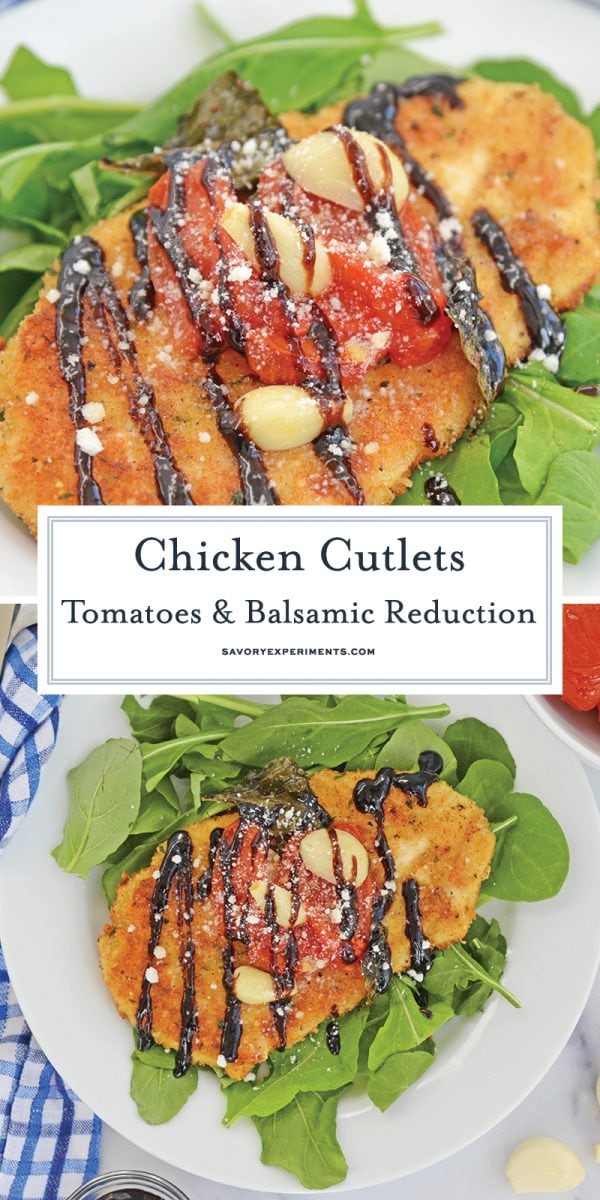 More easy chicken recipes: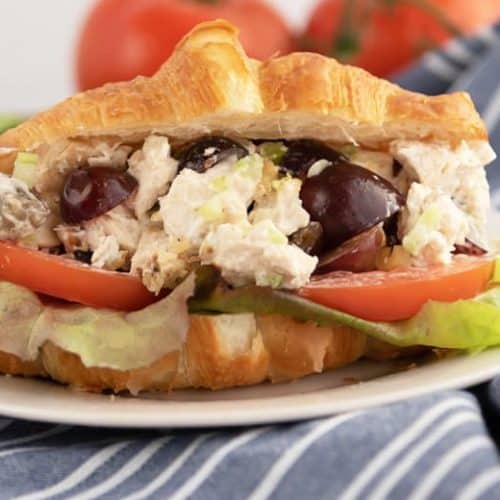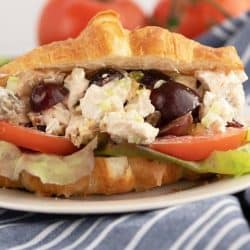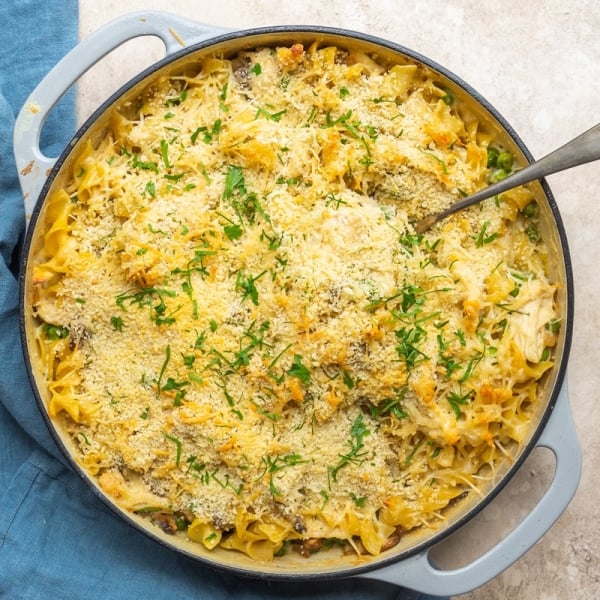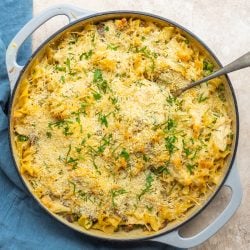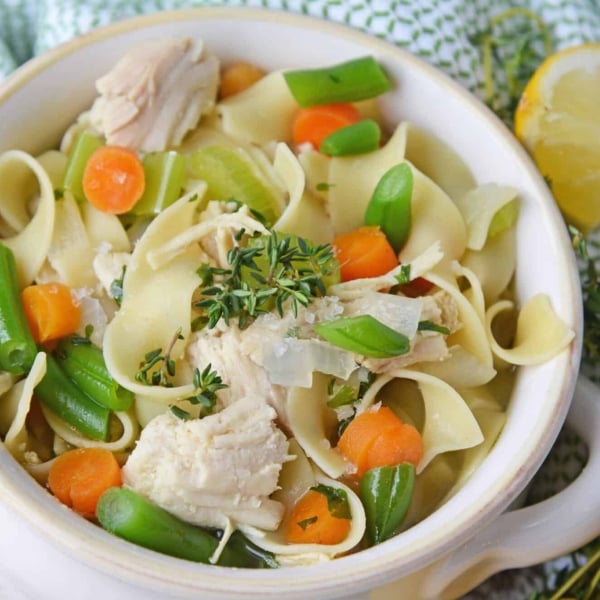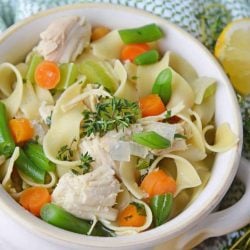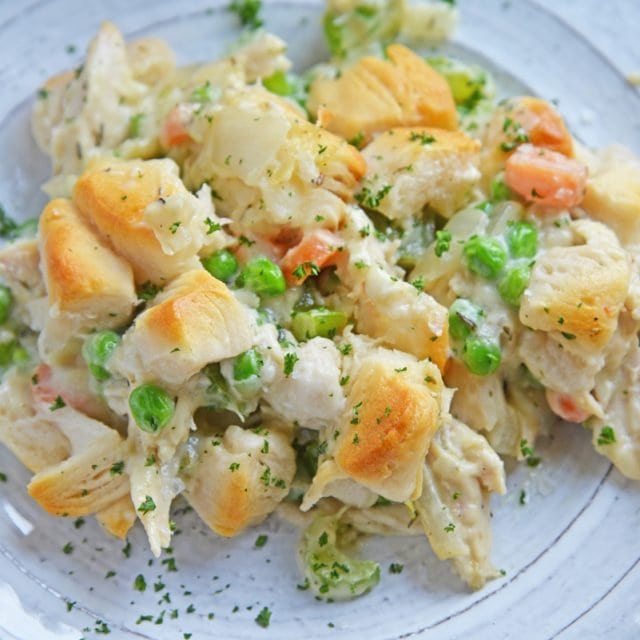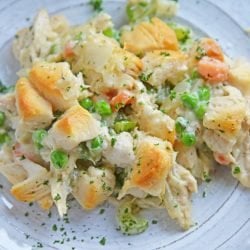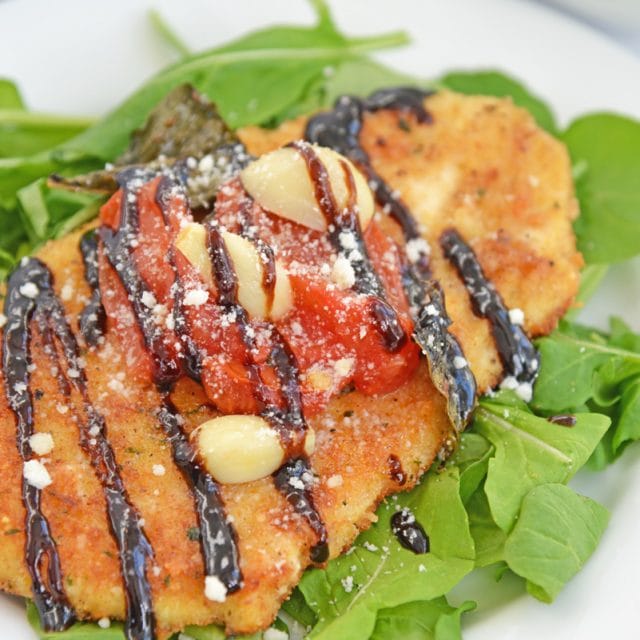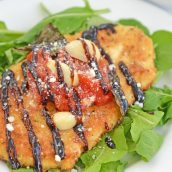 Chicken Cutlets with Roast Tomato & Garlic
Breaded chicken cutlets with a roast tomato and garlic topping and balsamic sauce served over arugula.
Instructions
Make Roast Tomatoes & Garlic:
Cut tomatoes in quarters, remove woody stem and using your fingers, push out pulp and seeds. If you don't want skins (they don't bother me) follow our instructions for how to peel a tomato.

Line a large rimmed baking sheet with aluminum foil. Toss peeled garlic and tomatoes with olive oil, salt and white pepper. Spread in a single layer on baking sheet.

Roast for 60 minutes, opening the door every 10 minutes to release built up steam.

Dice tomatoes and transfer whole garlic cloves, basil and remaining liquid in the baking sheet to a bowl. Set aside. You can remove tomato skins during this step as well (optional).
Make Chicken Cutlets:
Preheat oven to 200°F or use the "warm" setting.

In 3 shallow dishes or pie plates. In bowl #1, mix flour, nutmeg and season with salt and pepper. In bowl #2, beat two eggs. In bowl #3, mix bread crumbs and Parmesan cheese.

Dredge chicken in flour mixture, then egg mixture and finally bread crumb mixture. Pressing bread crumbs into the breast. Allowing breading to sit for 10-15 minutes before proceeding to frying.

Heat 1 inch of vegetable oil in large frying pan over medium-high heat.

Place into hot frying pan. Fry for 3-4 minutes on each side or until medium brown. Continue with remaining chicken breasts.

Place completed cutlets into the oven while you continue to fry. When complete, remove from oven.

Plate chicken on top of arugula or baby spinach and top with roasted tomatoes and garlic and balsamic reduction sauce.

If you tried this recipe, come back and let us know how it was in the comments or ratings.
Notes
The trick here is having super thin pieces of chicken which can be achieved by slicing thin or tenderizing. Sometimes I buy them sliced at the store and other times I'm using a breast for the freezer for a crispy chicken hankering. To tenderize, place a sheet of wax paper or plastic wrap over the chicken and beat it with a tenderizer. They will get pretty thin and big, so I highly recommend cutting them into two or even three pieces to keep it manageable.
Nutrition
Calories:
710
kcal
,
Carbohydrates:
62
g
,
Protein:
54
g
,
Fat:
26
g
,
Saturated Fat:
6
g
,
Trans Fat:
1
g
,
Cholesterol:
200
mg
,
Sodium:
3072
mg
,
Potassium:
1072
mg
,
Fiber:
5
g
,
Sugar:
5
g
,
Vitamin A:
1289
IU
,
Vitamin C:
19
mg
,
Calcium:
287
mg
,
Iron:
5
mg