Who doesn't love a great chicken cutlet recipe? Crunchy, breaded outside nicely browned and maybe even sizzling and inside, juicy chicken.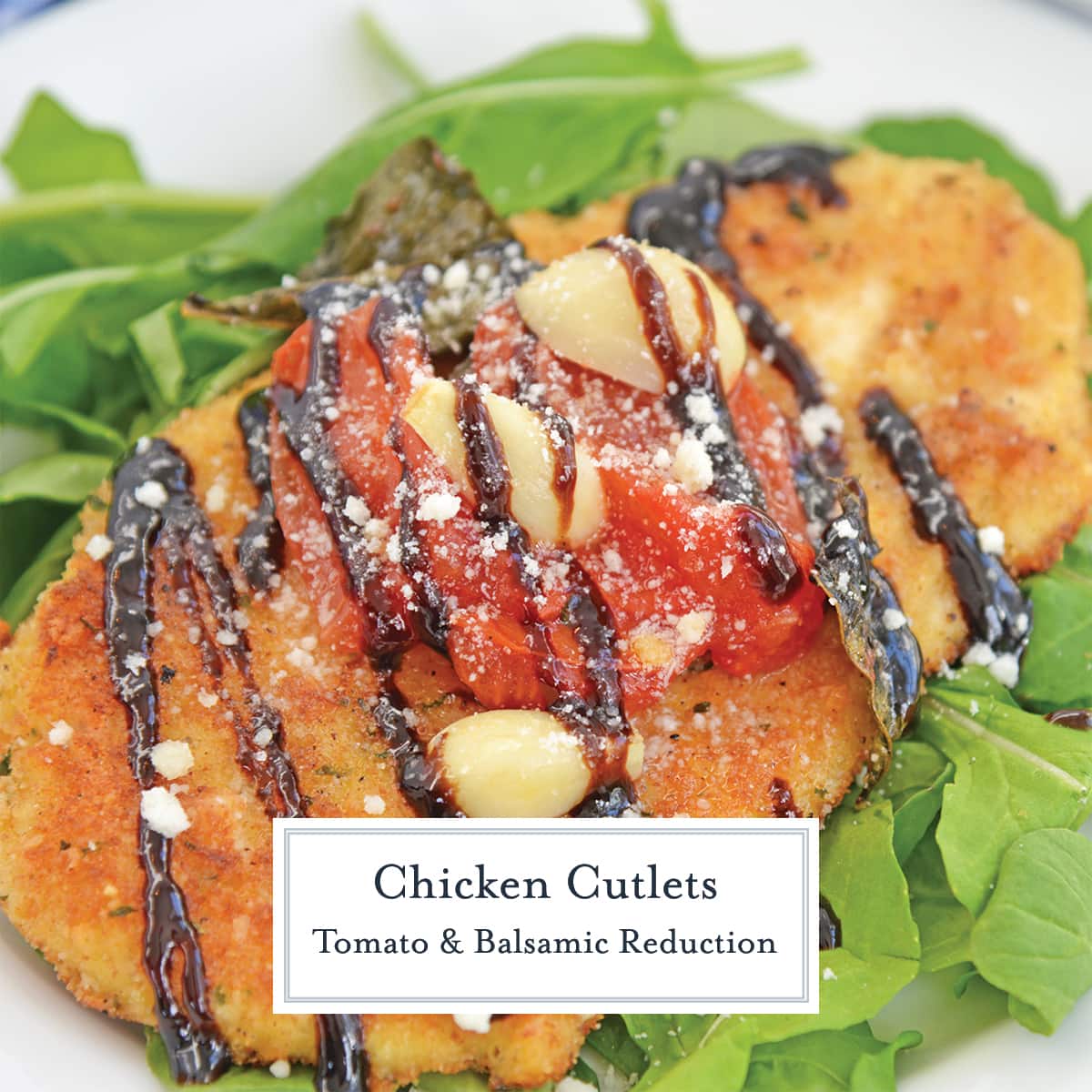 What are chicken cutlets?
A pan fried chicken cutlet is technically just a thinly sliced piece of chicken breast. Alternately to being cut thin, it can also be tenderized using a mallet to a uniformly thickness.
However, chicken cutlets usually refer to breaded chicken cutlets. Chicken with a seasoned bread crumb crust and lightly fried, although there are baked versions out there.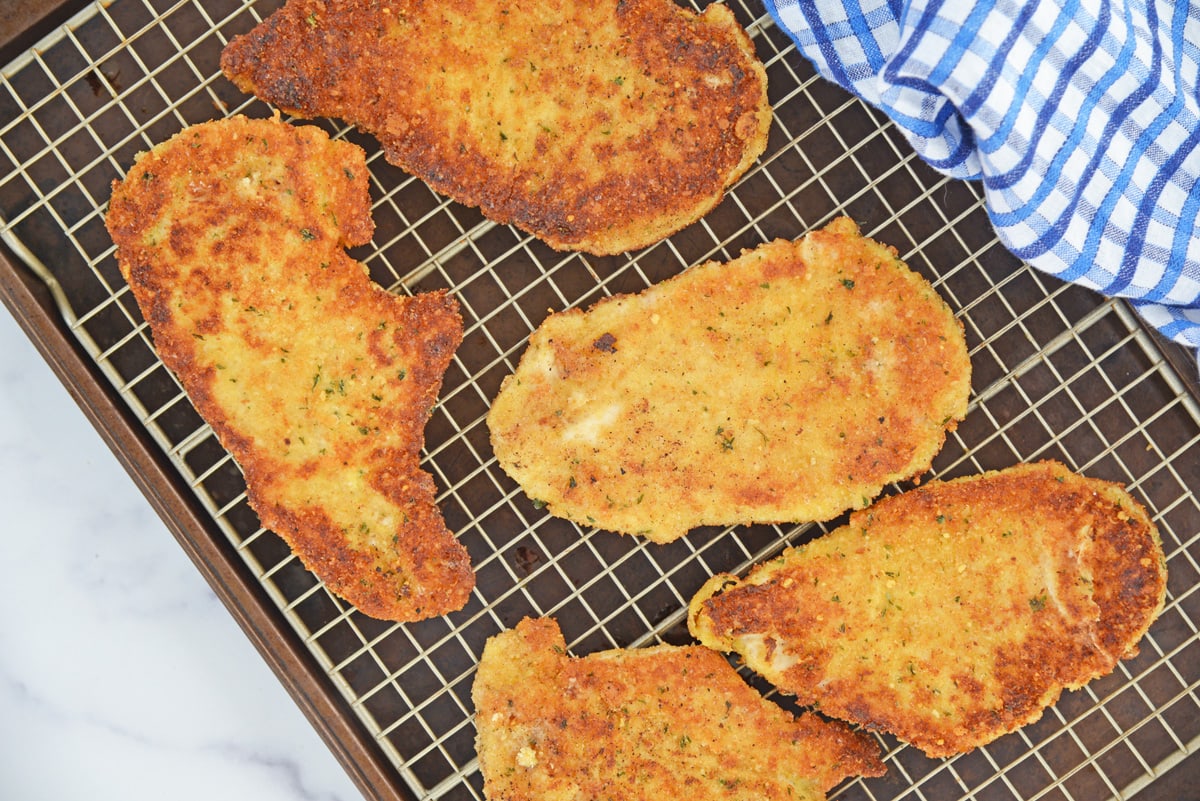 Chicken Cutlets vs Chicken Parmesan
Chicken Parmesan, which hails from Southern Italy is traditionally thin, breaded and lightly fried chicken breast smothered with cheeses, vegetables and sauce.
This recipe is similar, but not really traditional because I'm not using a marinara or cheese. Instead of throwing a slab of mozzarella on the top, I used Parmesan and incorporated it right into the breading.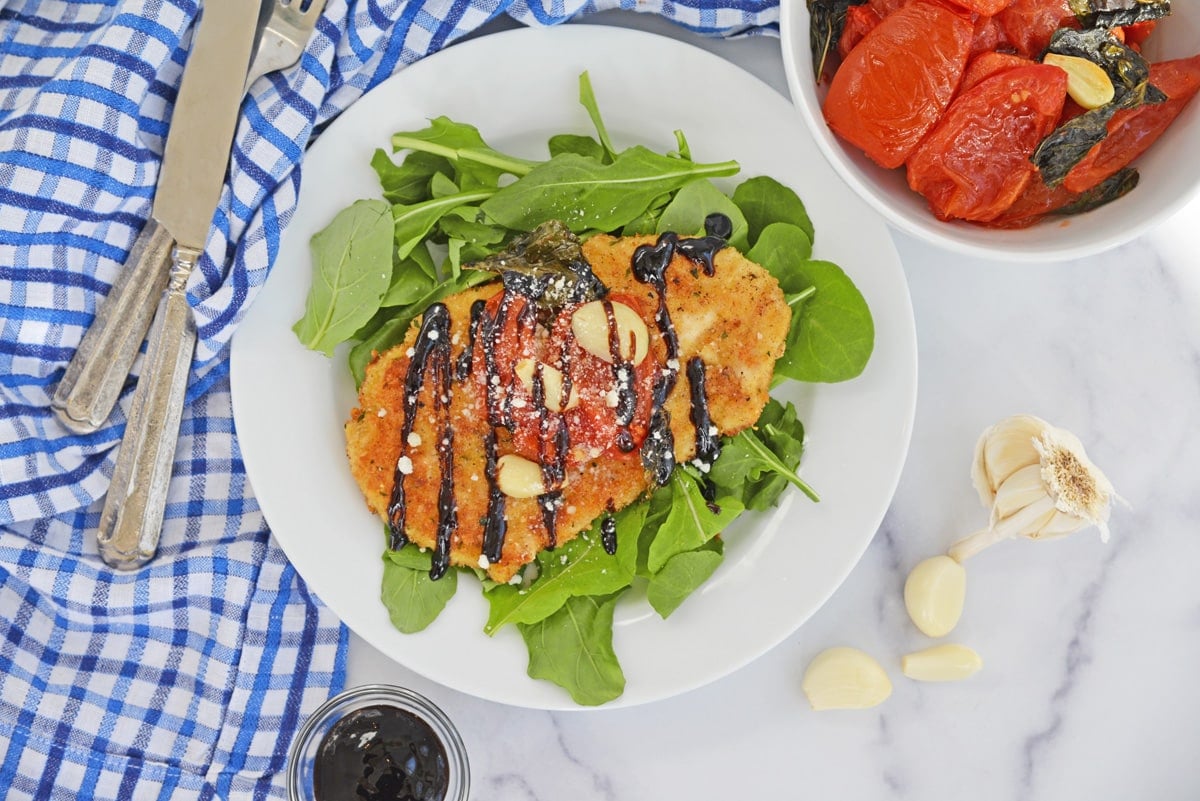 Parmesan fries up to a crunchy crust with a nutty flavor, so a dab of nutmeg helps amplify the flavor.
To top, I used a roast tomato and garlic confit seasoned with basil and olive oil and balsamic reduction. I serve mine over a bed of arugula, an idea I borrowed off of a famous underground (literally) Italian joint in Atlantic City called Chef Vola's and their Chicken Milanese.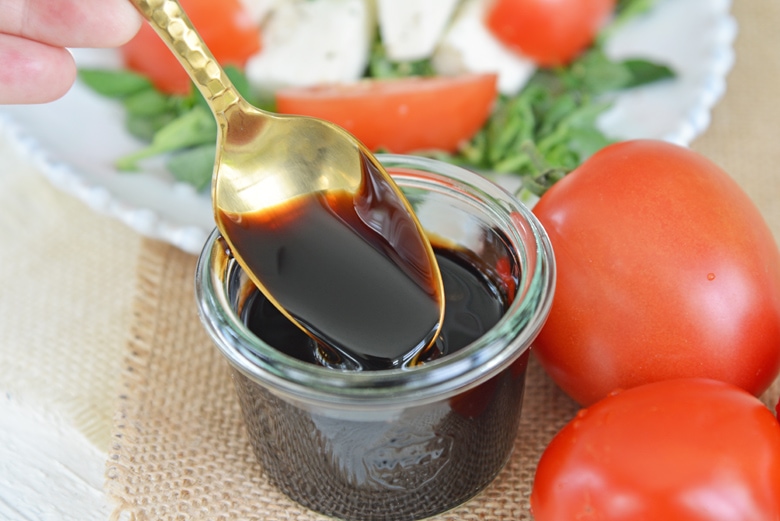 How To Make Chicken Cutlets
Making the sauce is easy, and honestly so it making breaded chicken cutlets. After you've done it once or twice you can make nearly any sauce or chutney to it, I even have a Mexican version.

The trick here is having super thin pieces of chicken which can be achieved by slicing thin or tenderizing. Sometimes I buy them sliced at the store and other times I'm using a breast for the freezer for a crispy chicken hankering. To tenderize, place a sheet of wax paper or plastic wrap over the chicken and beat it with a meat mallet or rolling pin. They will get pretty thin and big, so I highly recommend cutting them into two or even three pieces to keep it manageable.
Prepare three shallow bowls or pie plates with the mixes you'll need to dredge. The first is flour seasoned with nutmeg (my secret ingredient), salt and pepper. The second is just egg and the third is bread crumbs blended with parmesan cheese.
Dredge chicken in the flour mixture, then the egg and finally the bread crumbs. Set aside to settle. This helps the breading stick and become more cohesive.
Heat a neutral oil with a high smoke point to 325°F-350°F. Use a deep frying thermometer to monitor oil temp.
Fry on each side for 3-4 minutes or until lightly browned. Keep the oil temperature steady, which might mean adjusting the heat while cooking. Chicken will be golden brown.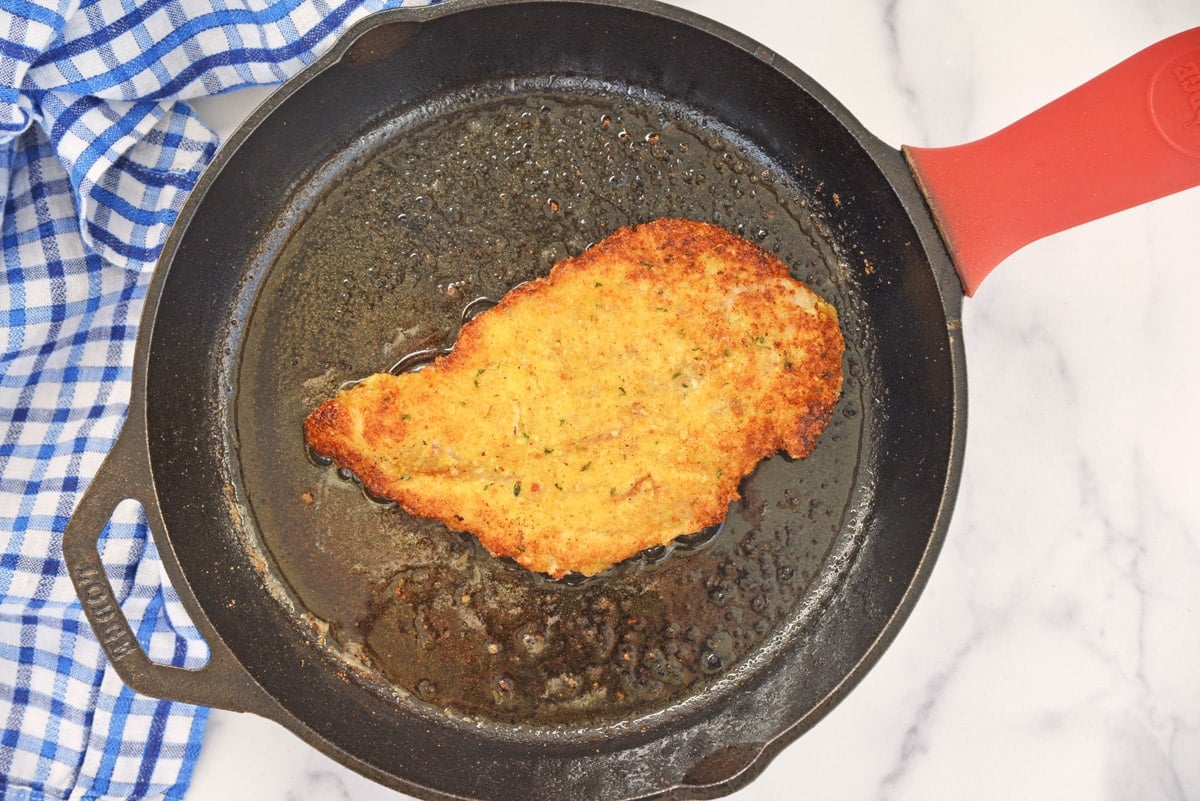 Remove to a wire rack to drain excess oil. Place in a warm oven and repeat with remaining chicken cutlets.
The Sauce
Sometimes dishes are best in their simplicity and this is one of them. I prepare the tomatoes and garlic in the oven with a slow roast. This brings out natural flavors and caramelizes the onion so you don't get an overwhelming garlicky tastes when you eat a whole clove.

Pair this with a balsamic sauce and it is pure heaven. Making a balsamic reduction is quite easy, but if you aren't in the mood just grab a bottle at the store.
Make Ahead & Reheating
Like any type of fried food, easy chicken cutlets are best enjoyed right after cooking or shortly after if kept warm in the oven.
If you do make them ahead and need to reheat, or just have leftovers, there are three optimal choices: oven, quick fry or Air Fryer.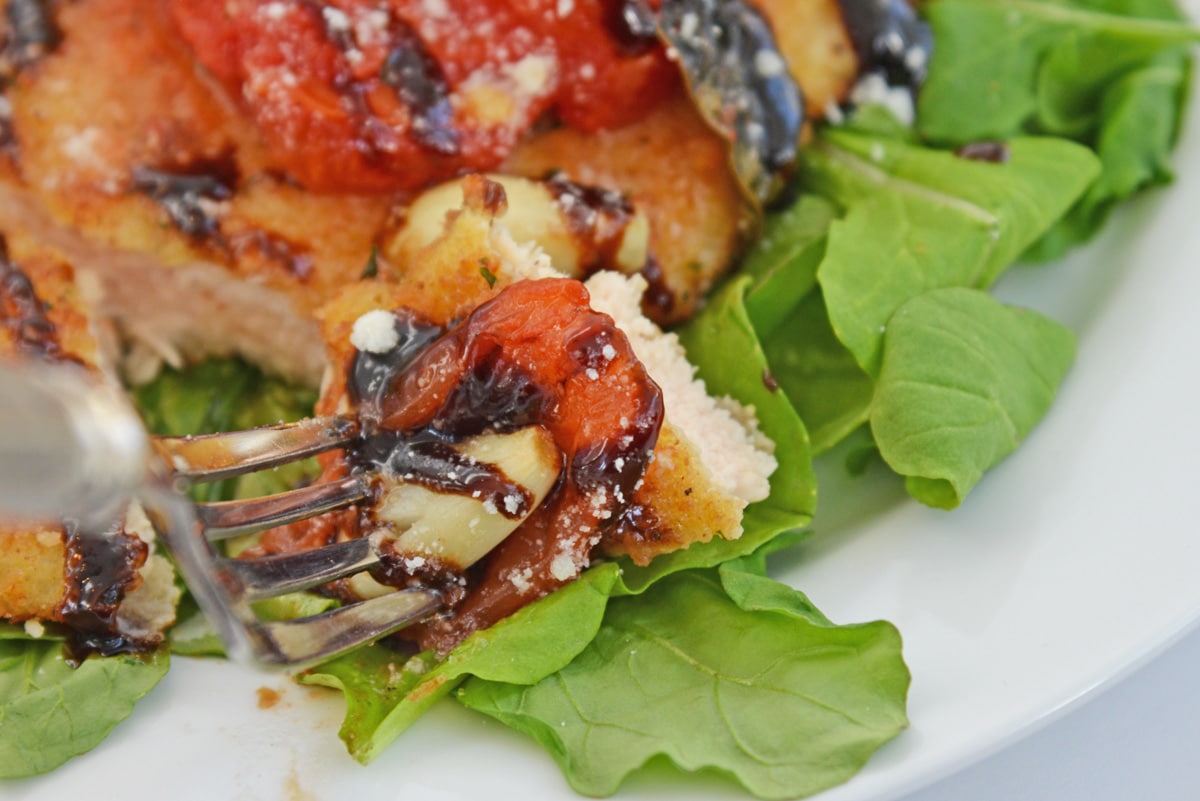 Reheat cutlets in the oven at 350°F for 5 minutes or heat a small amount of oil in a skillet over medium heat and just quickly heat on each side for 1-2 minutes.
I am 100% certain you can cook chicken cutlets in the Air Fryer from the start, but I haven't experimented with this yet, so stay tuned. I do know you can easily reheat them and get a nice crunch with just 1-2 minutes on each side at 350°F.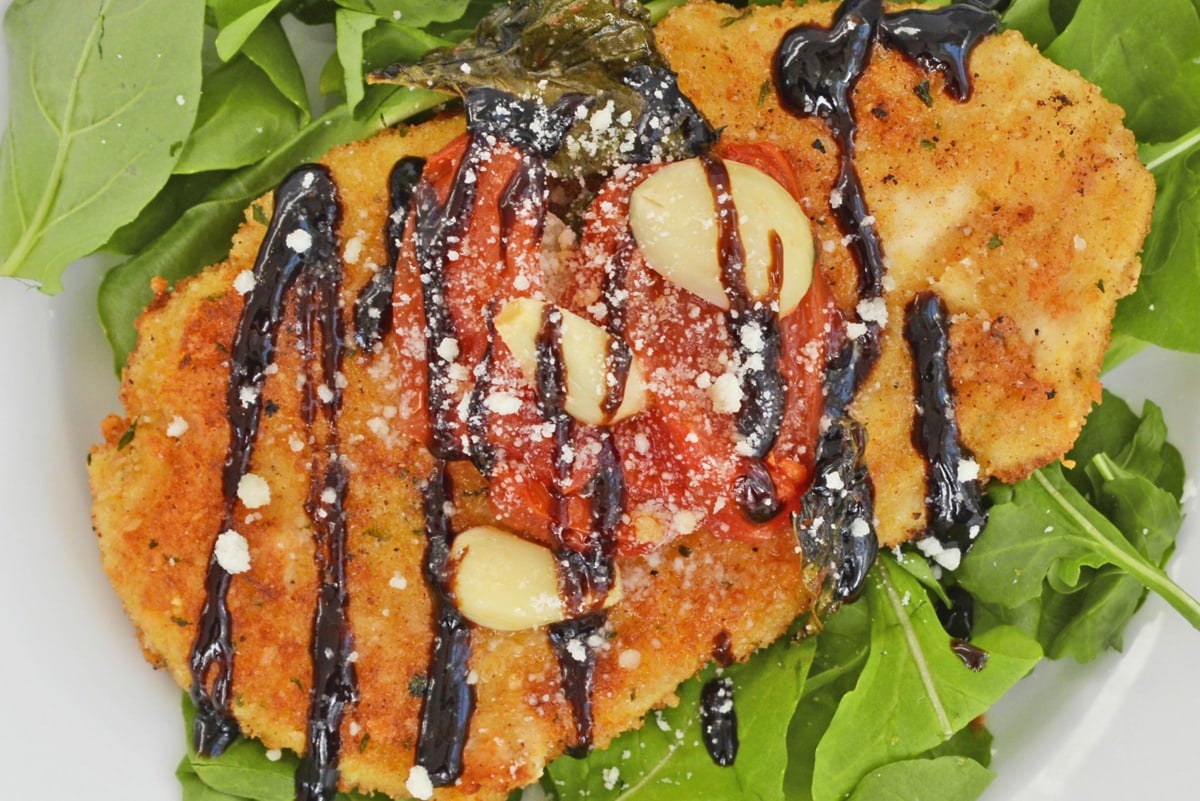 While microwaving is sometimes a necessity, it will undoubtedly make the breading soggy and not be as good.
Godere! (Enjoy)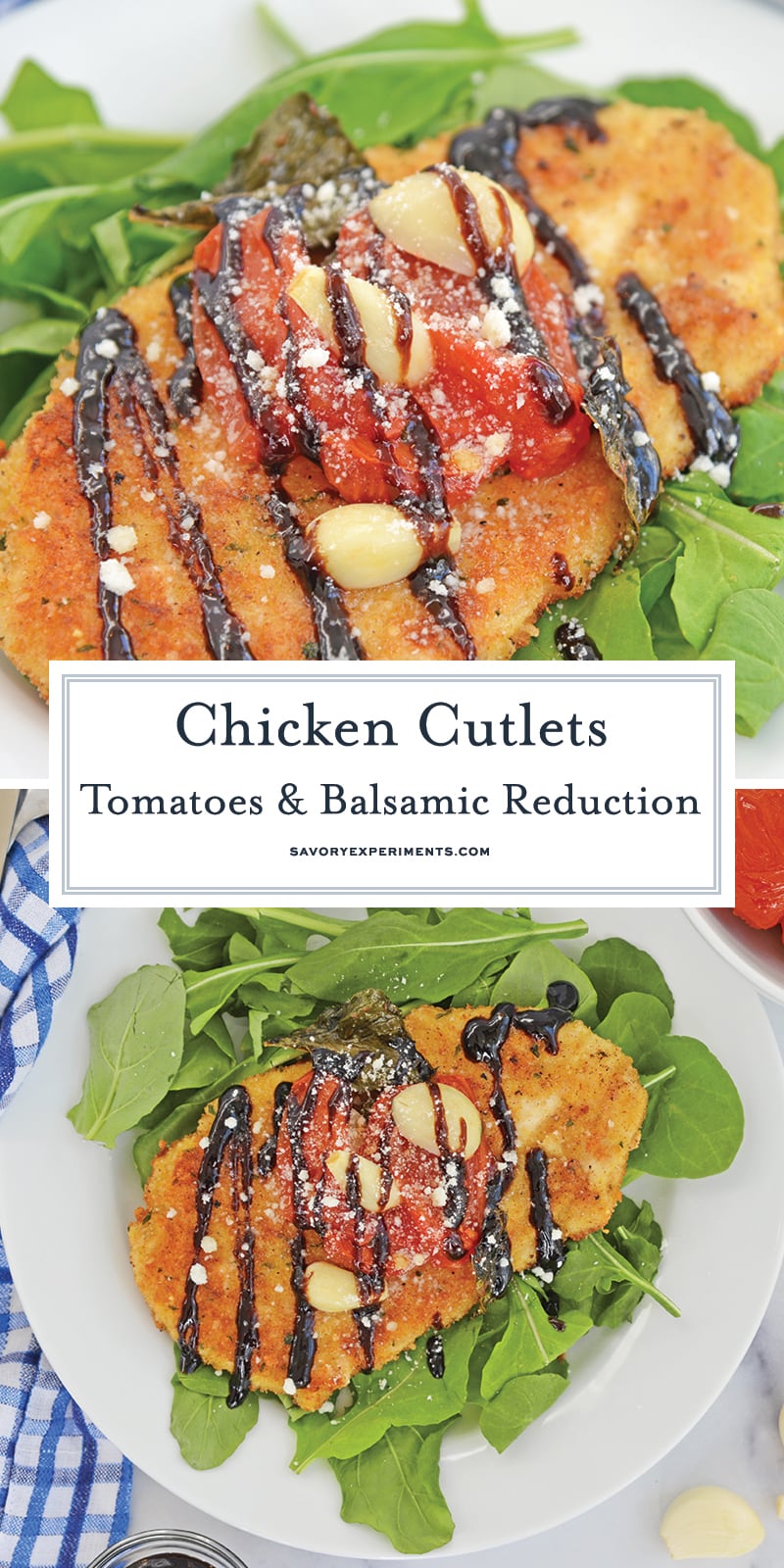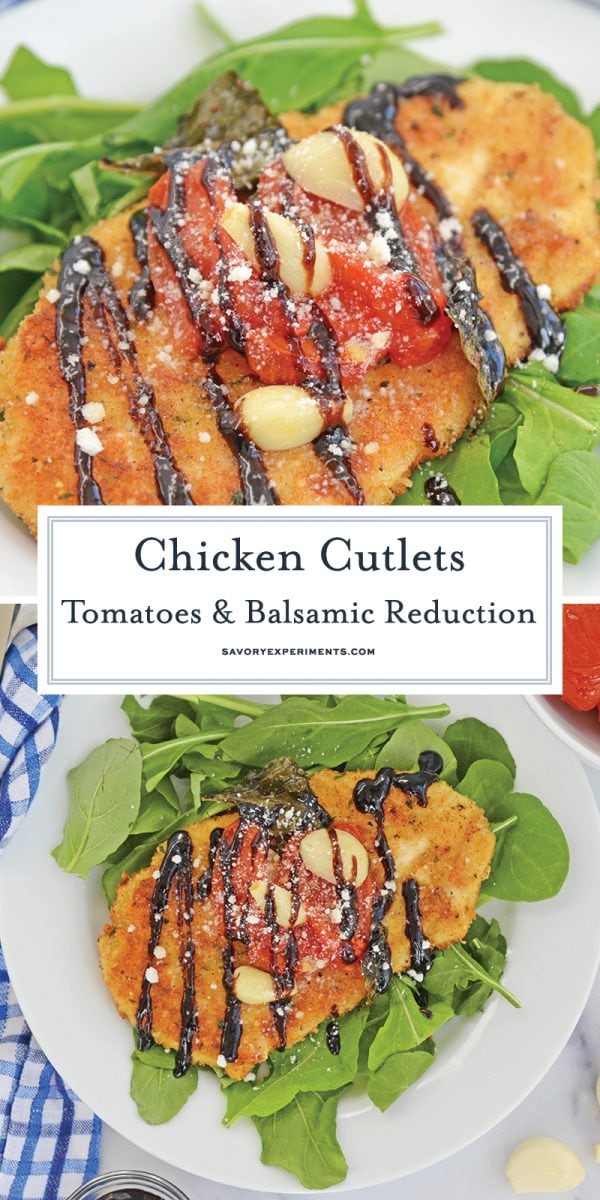 More easy chicken recipes:
CONNECT WITH SAVORY EXPERIMENTS!

Be sure to follow me on social media, so you never miss a post!

Facebook | Twitter | Youtube
Pinterest | Instagram

Get our FREE 8 Day E-Course on How to Be a Better Home Cook. Sign up HERE!