Ok hear me out. We all love the chicken and waffles trend. So why not take that sweet and savory combo to the next level and make a Donut Chicken Sandwich!?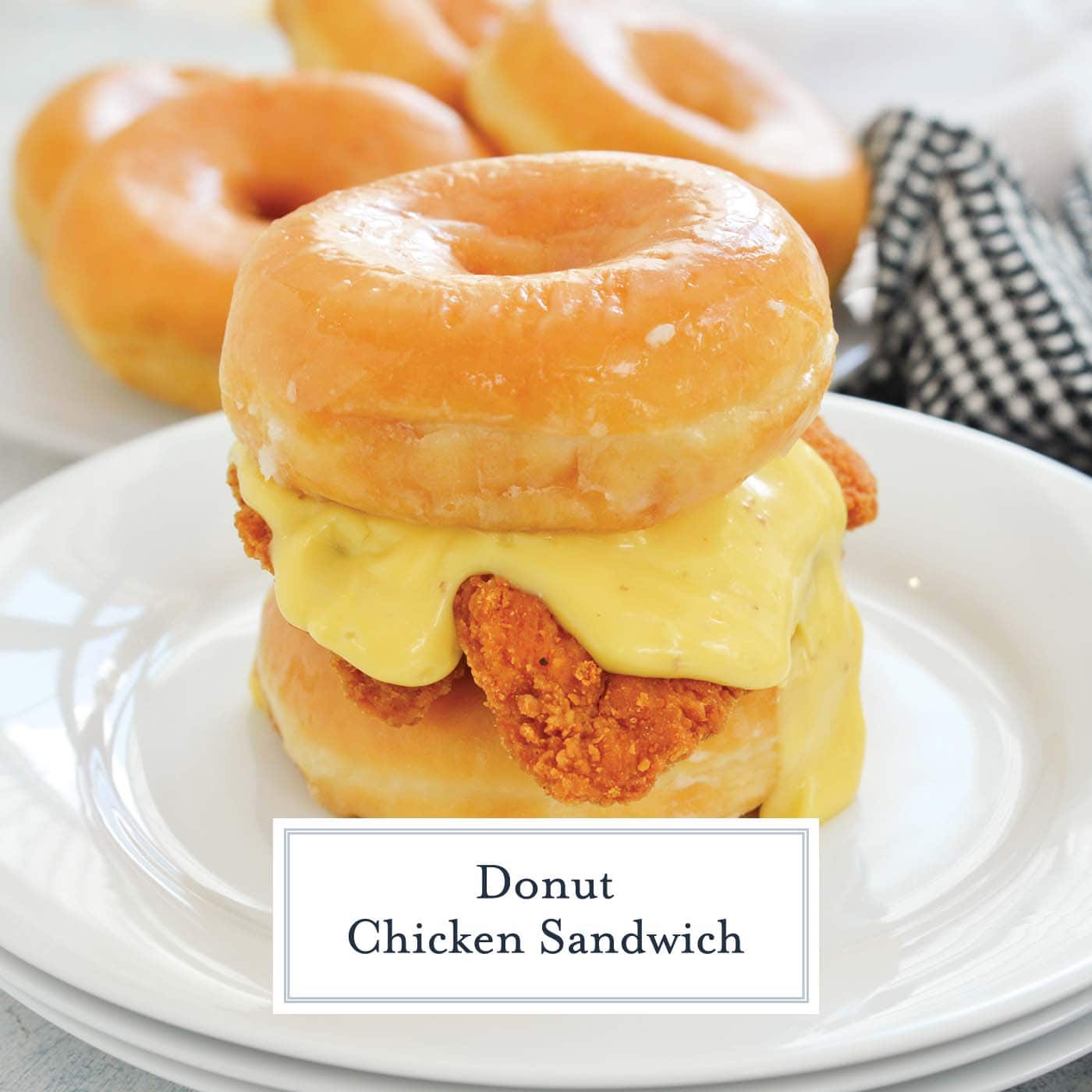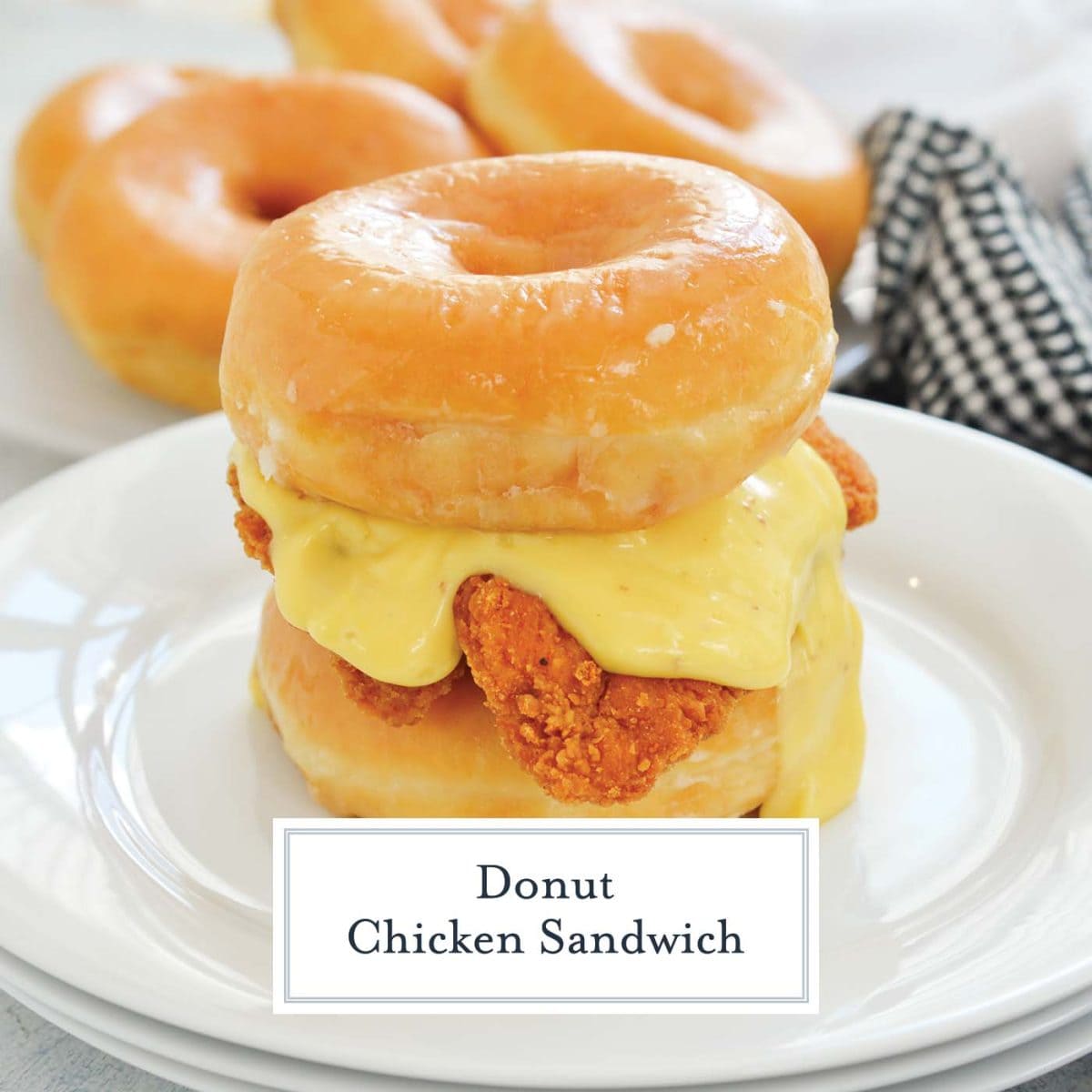 If you've ever been to KFC (or even watched TV,) you've probably seen or heard about their donut chicken sandwich. Perfectly crispy fried chicken sandwiched between two halves of a sticky, sweet glazed donut. Are you drooling yet?
It was the start of the chicken sandwich wars, the newest fried chicken trend- you know when Kentucky Fried Chicken, Popeyes, TGI Fridays and every other fast food chain decided to come up with some over the top fried chicken breast sandwich. My first impression was EWWWW, but the sweetness of the donut combined with a chicken filet made sense to me. The doughnut sandwich it was!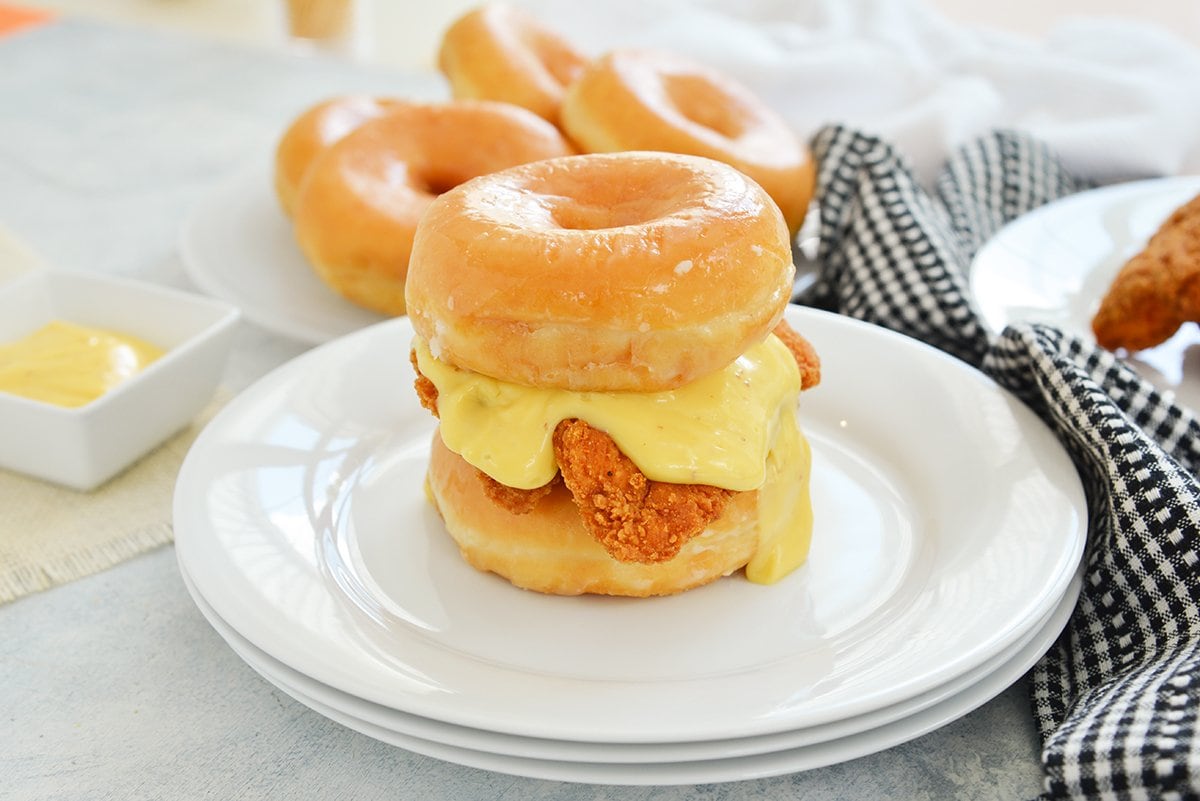 Donut Chicken Sandwich Ingredients
There isn't really much to these sandwiches (besides a few ingredients and deliciousness, that is!)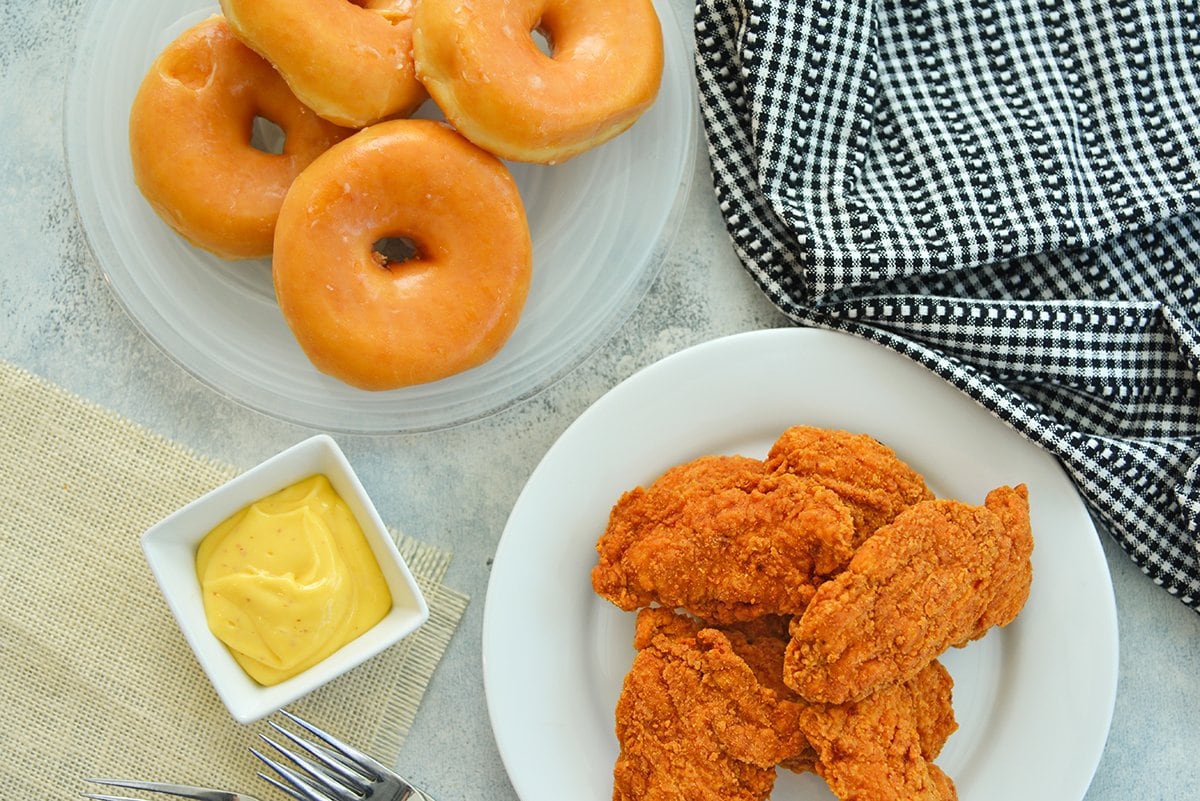 Donuts– You can't really have a donut sandwich without donuts, right? I like to stick with just a simple yeast glazed donut for this recipe. You don't want to use something like a jelly donut because that will get very messy when you try to cut it in half. The plain, neutral flavor of a glazed donuts allows you to appreciate the crispy, salty flavor of the fried chicken. Krispy kreme is the ideal donut, but your standard grocery store glazed is probably larger and will hold the chicken best.
Fried chicken tenders– chances are if you're reading this recipe about a donut chicken sandwich, you aren't trying to be particularly health conscious. I guess in theory you could substitute grilled chicken, but the crispness and flavor of fried chicken is what really sets this sandwich apart. Use leftover fried chicken, grab some hot and ready at your local grocery store or heat up frozen chicken according to package directions.
Honey mustard– No good sandwich is complete without the perfect sauce! Although simple, honey mustard in itself is both sweet and savory, so it is the perfect complement to this sandwich. It has just enough tang to really bring all of the flavors together.
Our spicy food lovers might also swap the sauces for Nashville Hot Sauce, honey habanero pickles and spicy mayo. Other might add American cheese, cheese sauce or sharp cheddar cheese. Some prefer a beef patty, and who am I to judge considering one of my favorites it pulled pork?
No matter how you make it, have napkins ready because they are messy and make sure to share it to social media, because it is sure to create a buzz.
Make It!
The biggest decision of this sandwich is whether to use one donut or two. Either slice one in half and use it as a top and bottom or sandwich it all between two donuts. I usually slice one more because the sandwich gets too big for me to eat.
Place hot, cooked chicken strips on the donut and smother with honey mustard.
Top it off and enjoy it!

Make Ahead & Storage
I'm going to give it to you straight- these aren't the best as a make-ahead item OR leftovers. Enjoy them hot and fresh. They are a novelty item and they honestly don't take a long time to make or assemble.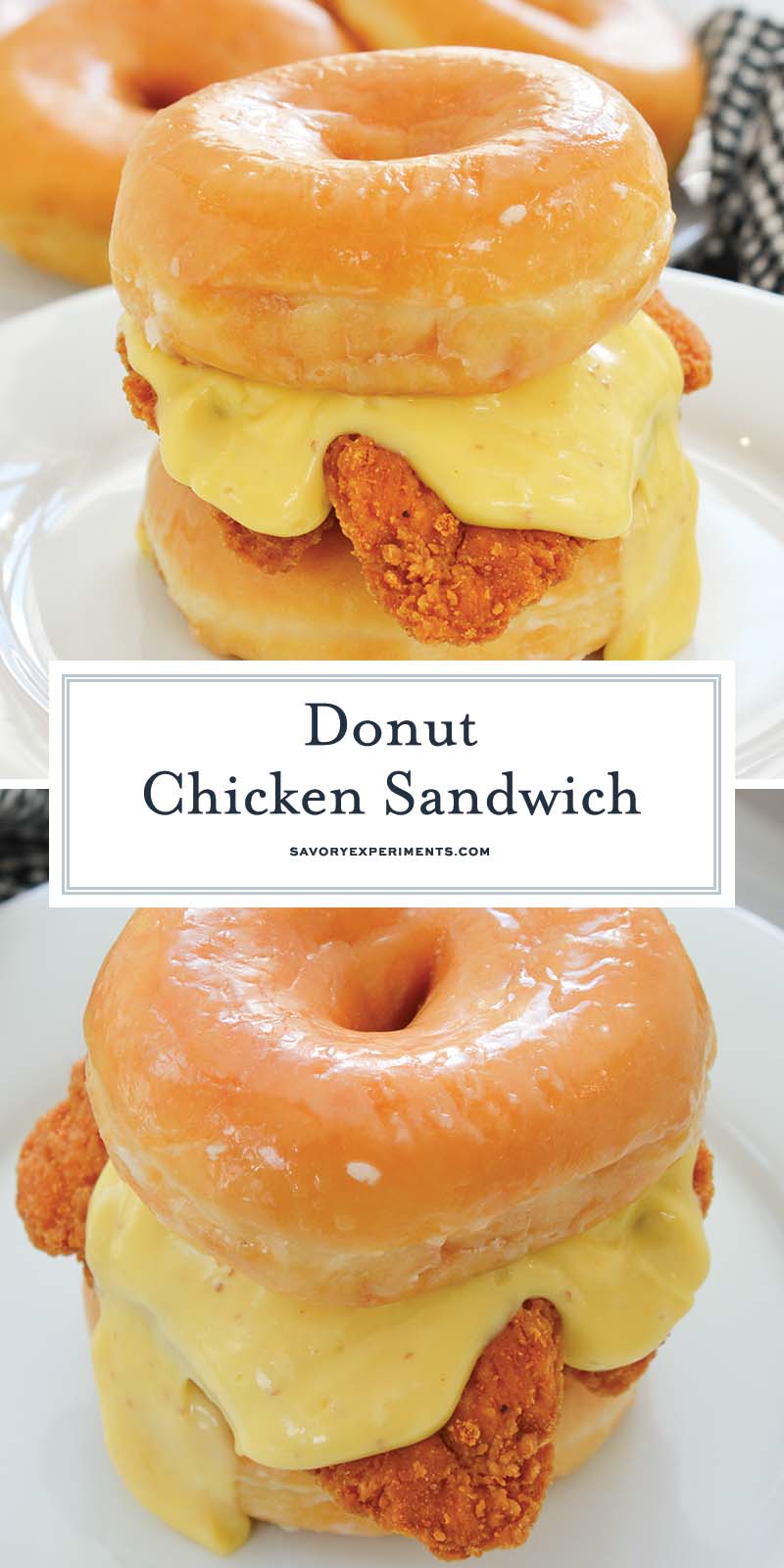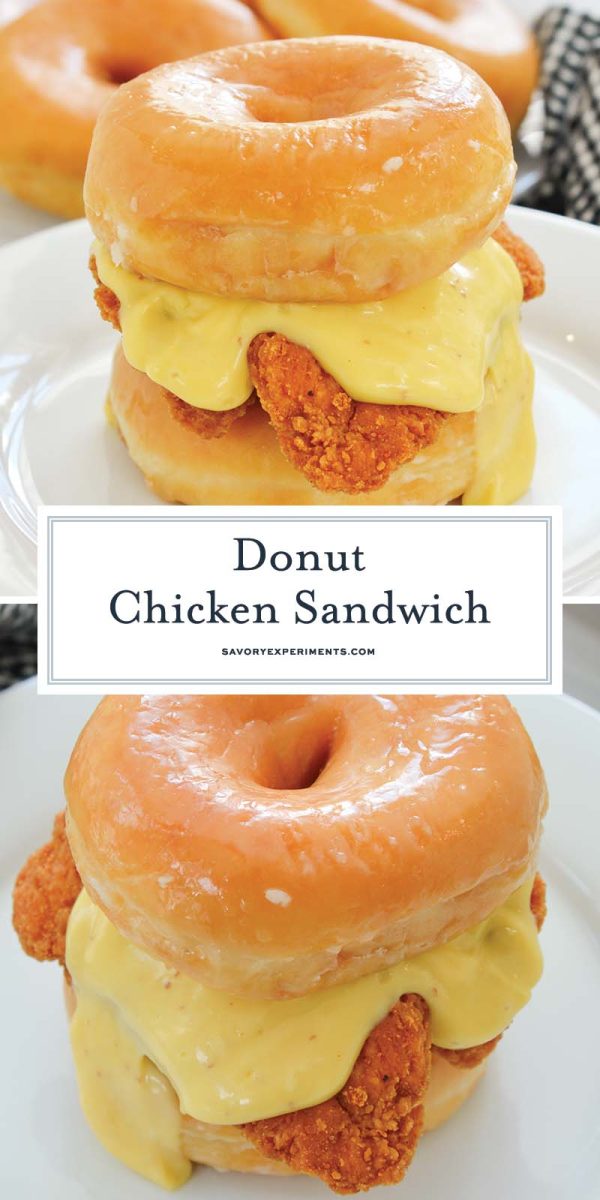 More fun donut recipes: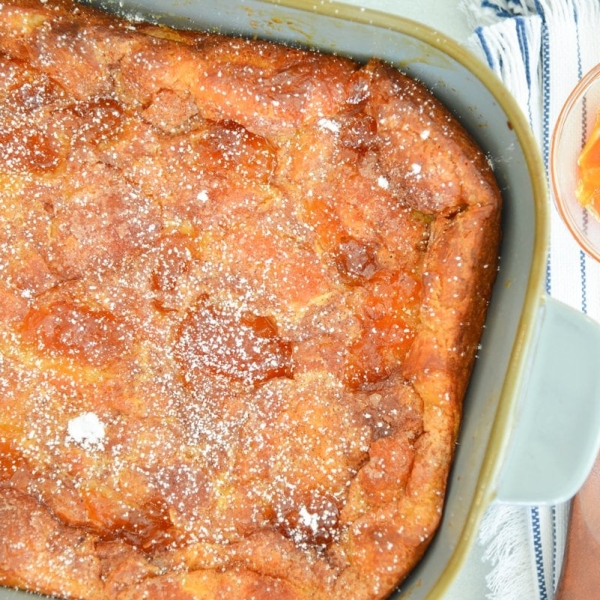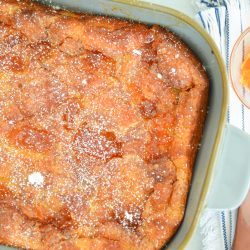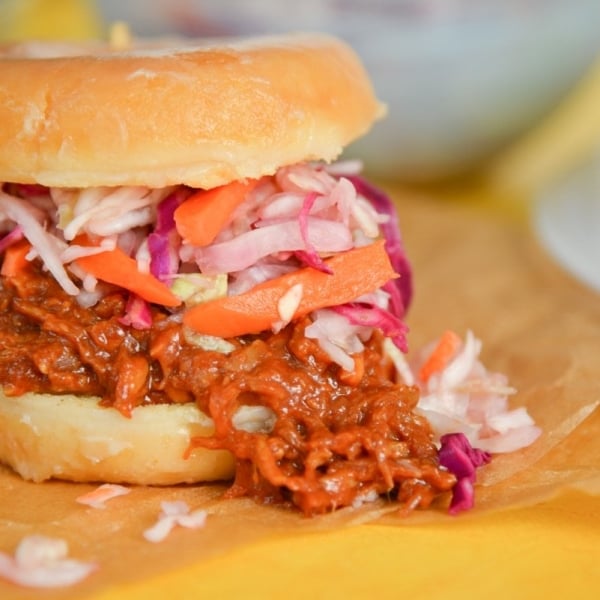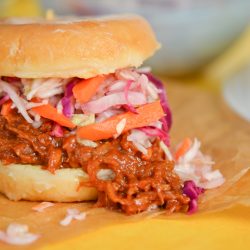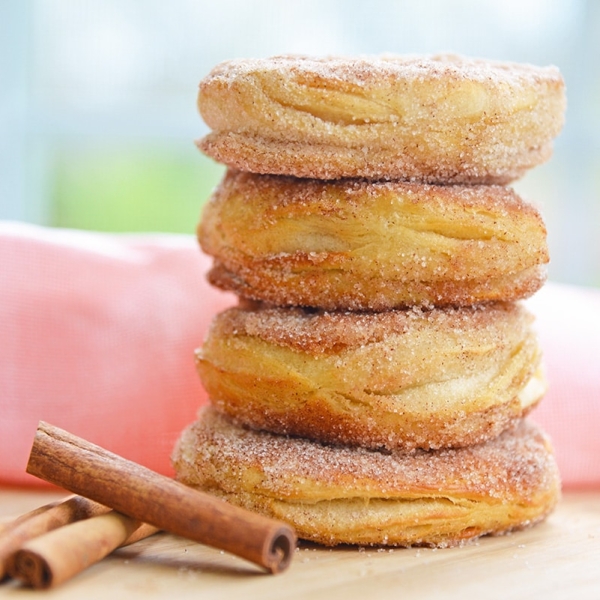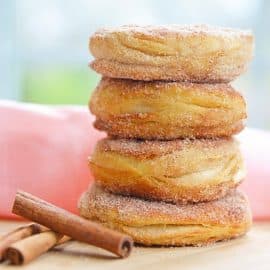 Air Fryer Donut Recipe
Buttery and delicious Air Fryer Donuts in just 10 minutes and using only 4 ingredients. Coated in cinnamon sugar, these are going to be your new favorite!
See The Recipe!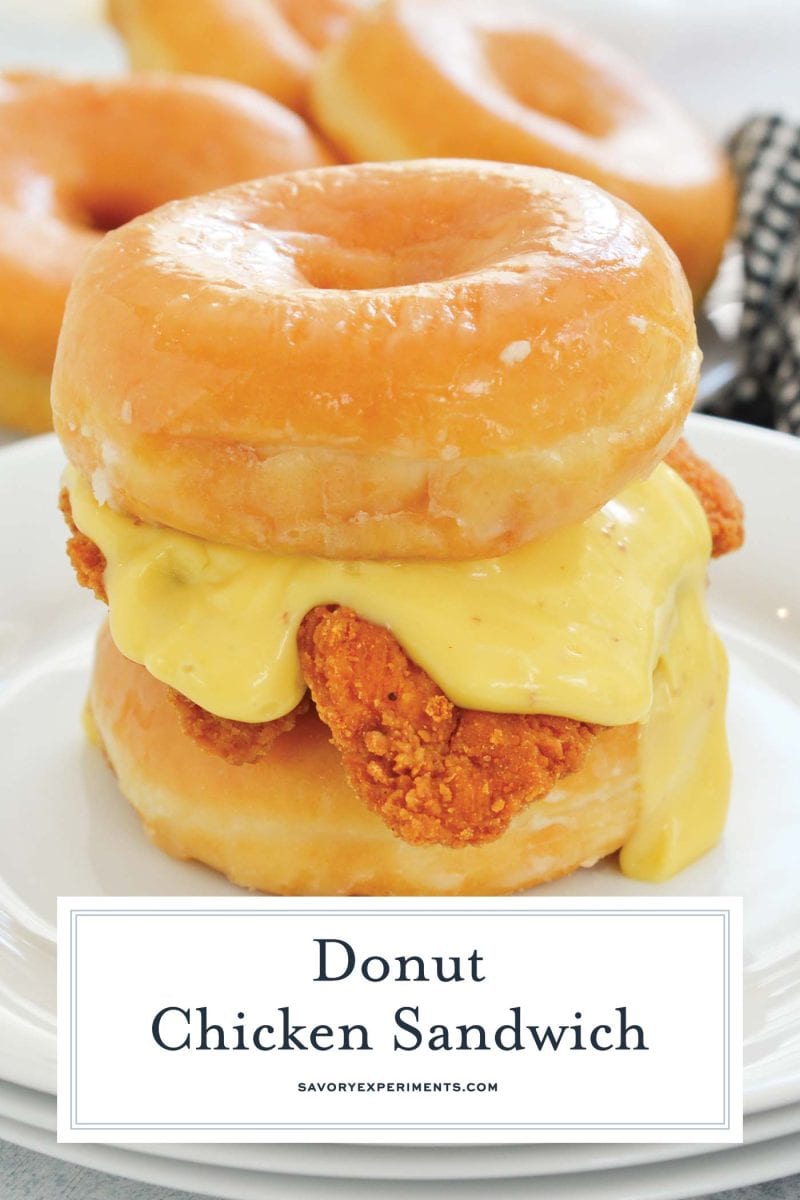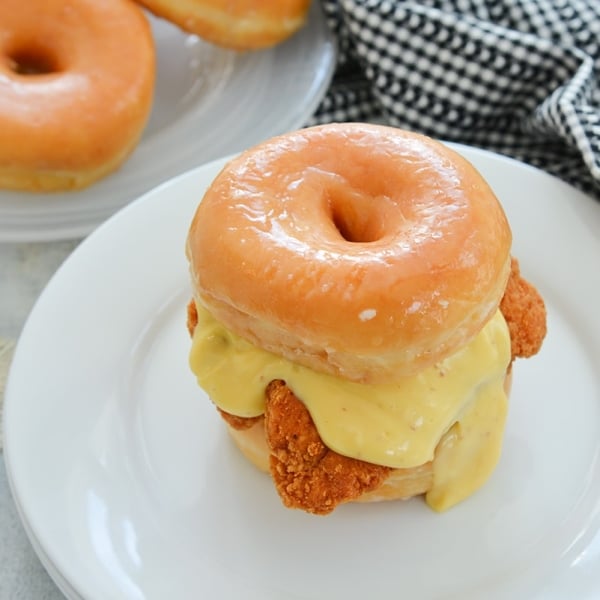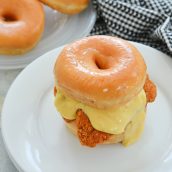 Donut Chicken Sandwich
Crispy fried chicken sandwiched between a sticky, sweet donut makes this Donut Chicken Sandwich the ultimate sweet and savory!
Ingredients
1

glazed donut

, cut in half

3

pieces

chicken strips

, hot and cooked

1

tablespoon

honey mustard sauce
Instructions
Place chicken stips on one half of the cut donut.

Smother with honey mustard sauce.

Top with other half of donut.

If you've tried this recipe, come back and let us know how it was in the comments or ratings.
Nutrition
Calories:
293
kcal
,
Carbohydrates:
26
g
,
Protein:
1
g
,
Fat:
9
g
,
Saturated Fat:
3
g
,
Polyunsaturated Fat:
1
g
,
Monounsaturated Fat:
1
g
,
Cholesterol:
5
mg
,
Sodium:
78
mg
,
Potassium:
11
mg
,
Sugar:
33
g
,
Vitamin A:
1
IU
,
Vitamin C:
1
mg
,
Calcium:
1
mg
,
Iron:
1
mg