Custard pie is classic dessert that features a silky-smooth custard filling. This creamy treat is easy to make and perfect for all seasons. Enjoy it on its own, sprinkled with cinnamon or topped with cream and fresh fruit.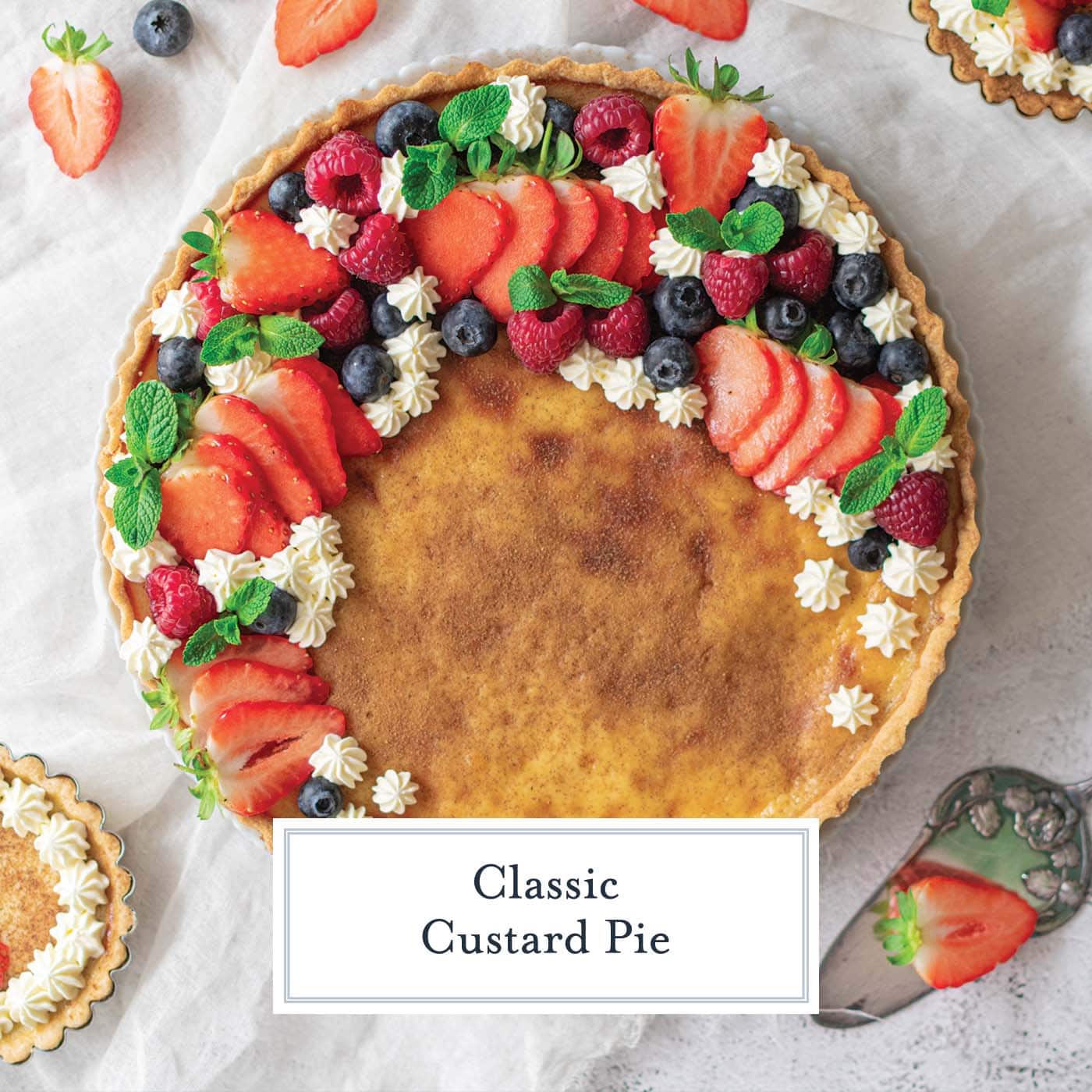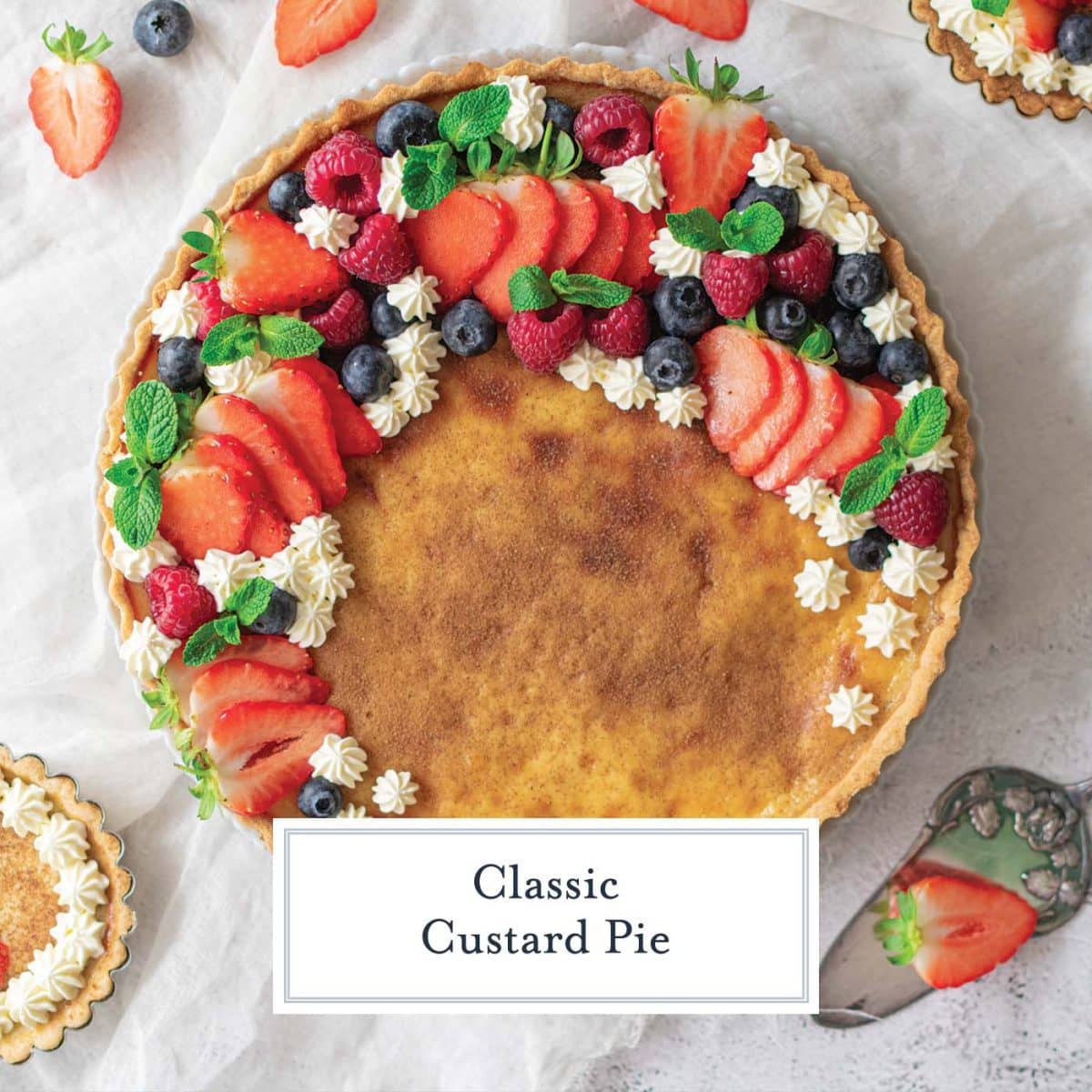 Custard pie is a good old-fashioned dessert that's no fuss, but extremely delicious. This pie proves that sometimes simplicity is key in making a decadent dessert. Similar to a sugar cream pie or chess pie, but slightly different.
Egg custard pie only needs a few simple ingredients that can be found in most pantries: milk, eggs, vanilla, and sugar. Yep, it's that simple! And did I also mention that you only need a few minutes to make it?
Depending on how much time you have, you can make this pie with either homemade or store-bought pie crust. I recommend taking a bit of extra time and making a homemade crust, as the flavor is way superior. Follow my highly trusted homemade pie crust recipe to make an ultra-flaky and buttery pie.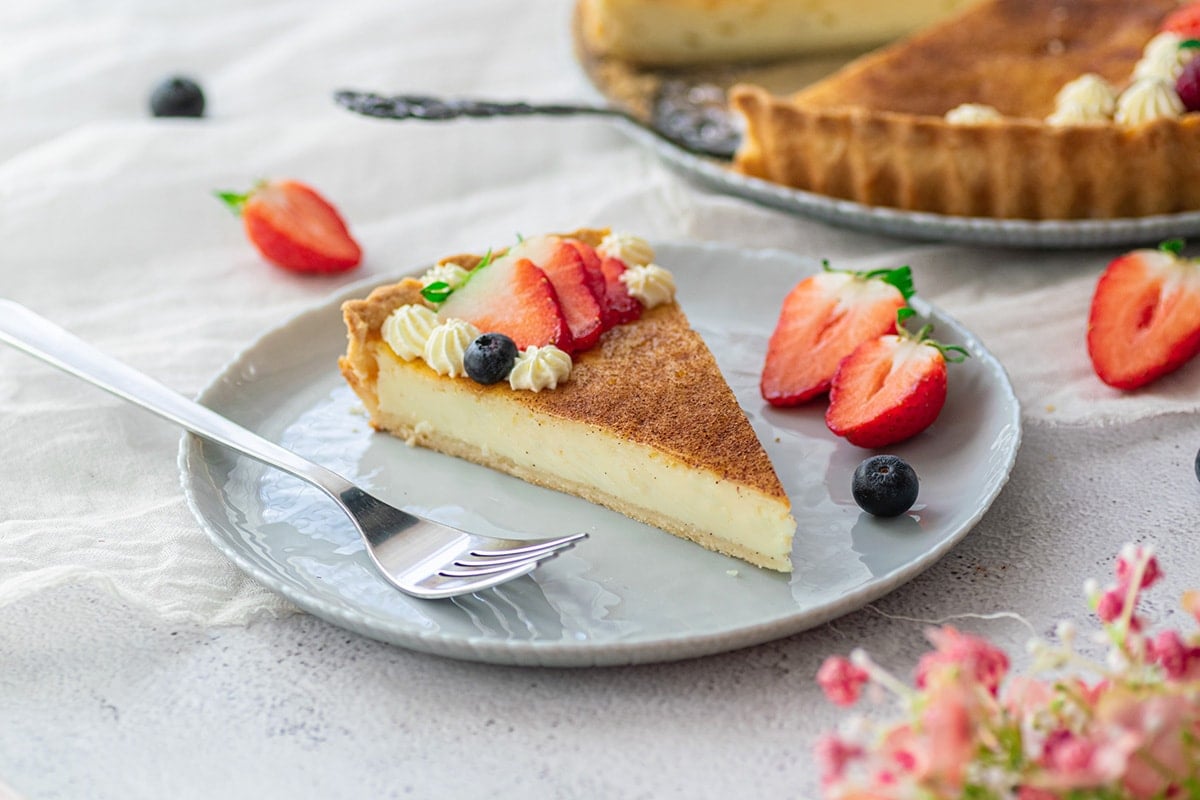 This custard pie recipe is great to make in any season, as it can be served both hot and cold. For summer, have this egg custard pie topped with whipped cream and fresh fruit. In winter, dust with cinnamon or nutmeg and enjoy with a hot cocoa.
Why This Pie Is The Best
This custard pie is one of my favourites to make because:
It's simple and fuss free
Can be made with ingredients already in your pantry
Takes only minutes to prepare
Can be served all year round
Is silky smooth and rich
Can be turned into a new dessert by adding flavours or toppings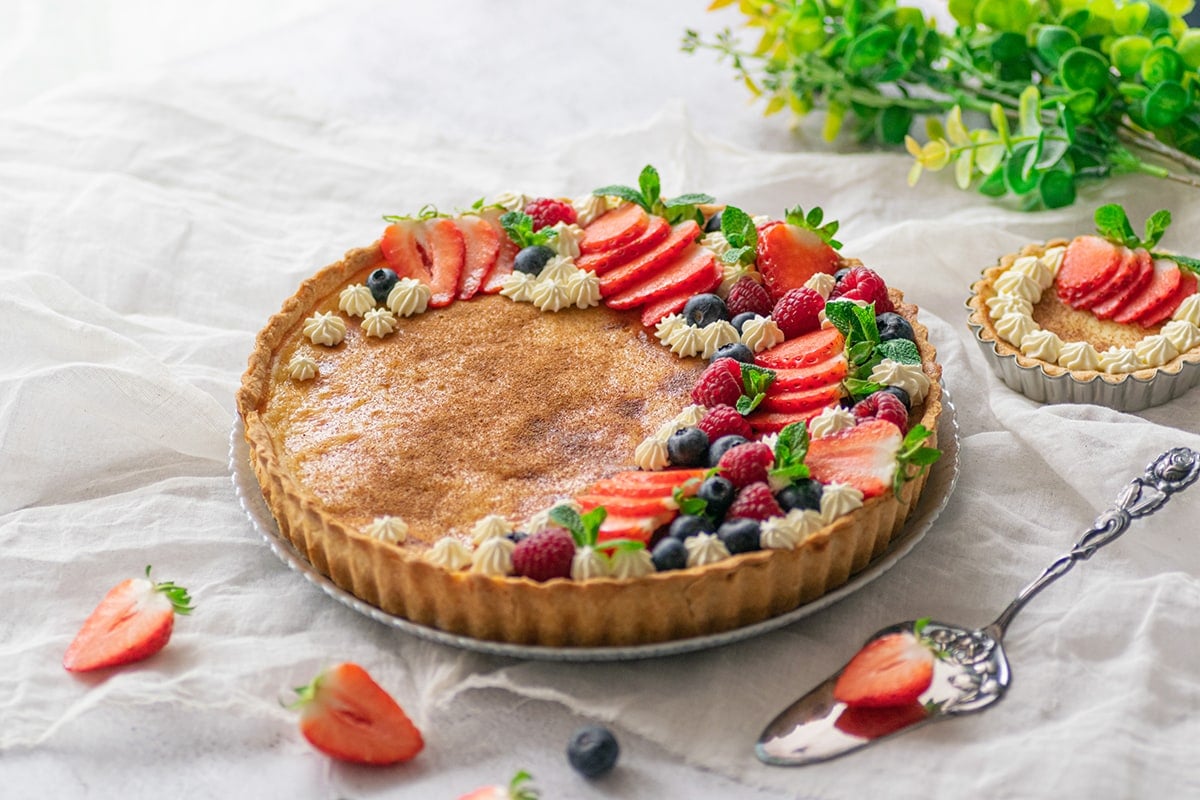 Custard Pie Ingredients
There are two main components to egg custard pie – the pie crust and custard filling. Let's take a closer look at the custard filling ingredients:
Milk – the main 'base' for the custard. I recommend using full fat milk for a creamier custard. For a richer flavour, I recommend scalding the milk – see below.
Eggs – are what make the custard set into a creamy consistency. This recipe calls for large eggs, preferably organic.
Sugar – I like to use granulated plain sugar, but you can also use brown sugar for a more caramelised flavour.
Vanilla – the main flavour of the custard pie. I recommend using a real vanilla bean pod if possible, but you can also use vanilla bean paste or vanilla extract. If using vanilla extract, make sure to add this at the end when preparing the custard filling.
Lemon zest – optional, but highly recommended. The subtle lemon flavour cuts through the sweetness and makes the vanilla flavour pop even more.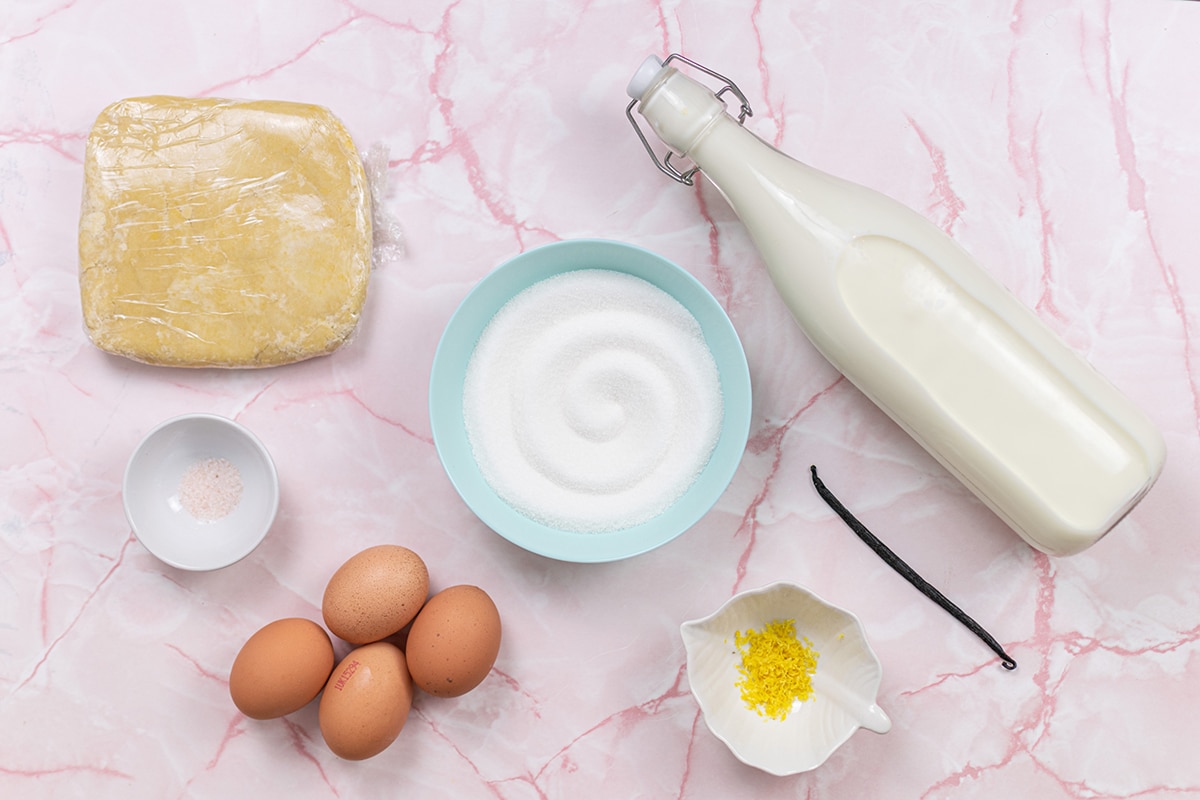 Homemade Pie Crust
Although making your own pie crust takes slightly longer than pre-made, I strongly recommend it. Here's why:
Homemade pie crust is much flakier and buttery
It melts in your mouth
It's much more delicious than store-bough crust
Can be improved by adding flavours (cinnamon, nutmeg, chocolate)
Prepping the homemade pie crust takes only 5 minutes, but you do need to let it chill for at least 1 hour. For best results, make the pie crust a day before you plan to bake the custard pie.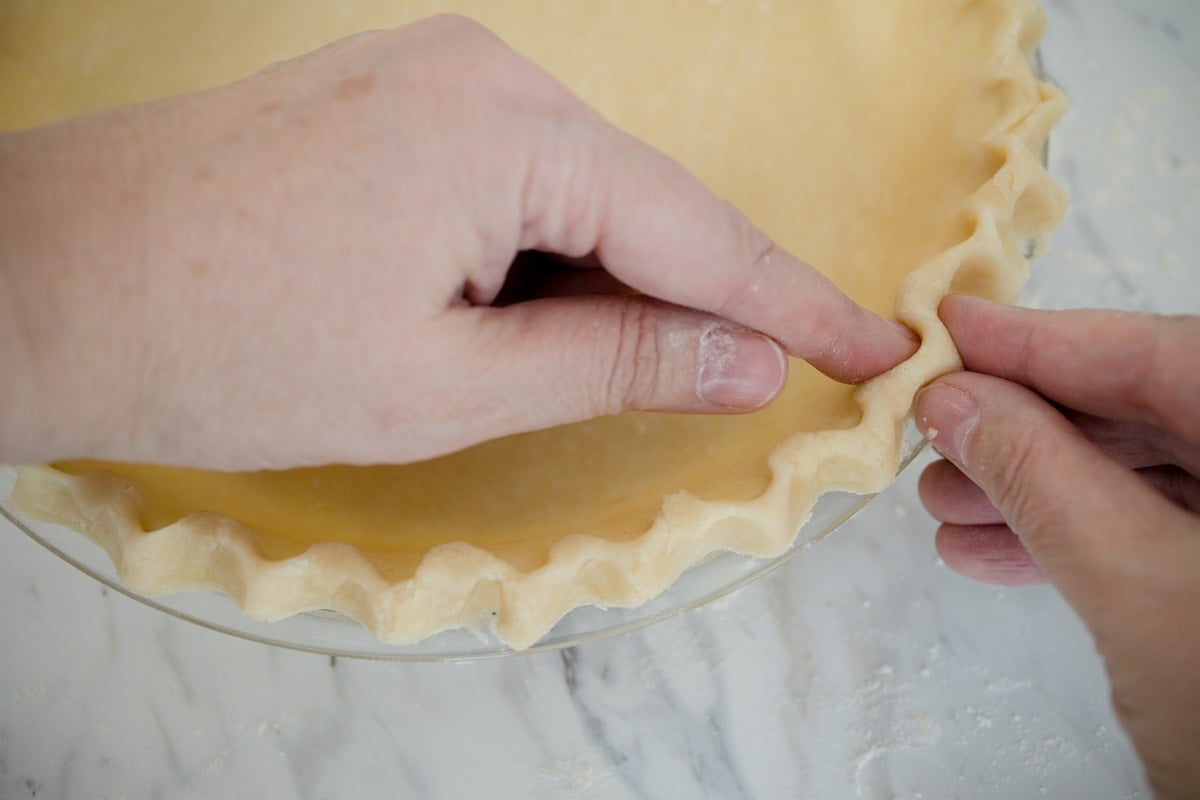 Importance of Scalding Milk
Before pasteurised milk was introduced, milk was scalded to kill off any bacteria. Nowadays, however, milk is scalded to enhance flavour or texture.
Scalding milk is important when making custard because it yields a much richer and creamier texture. For this custard pie recipe, we are infusing the custard filling with vanilla. Adding the vanilla bean pod into the milk while scalding ensures maximum flavour.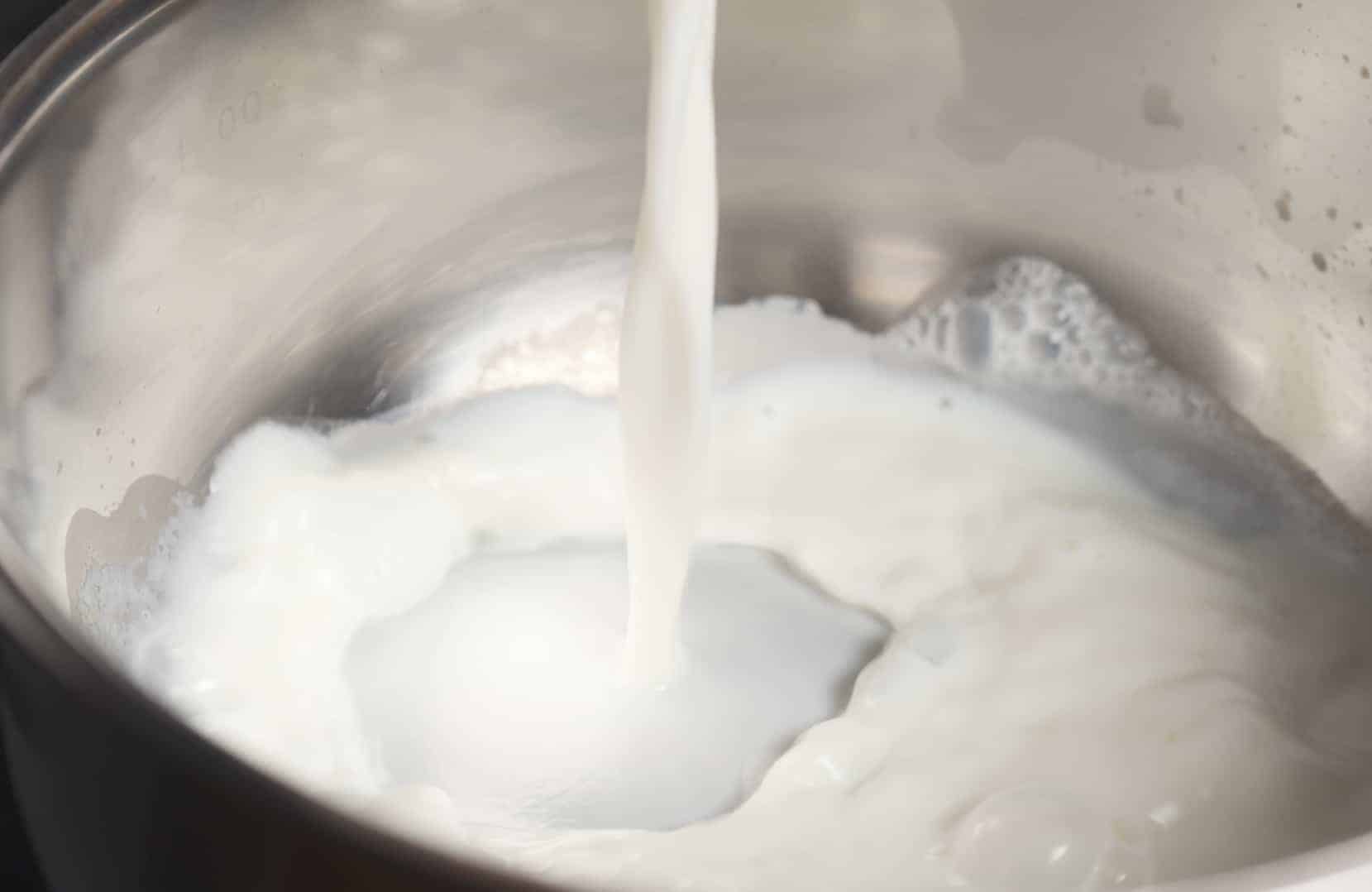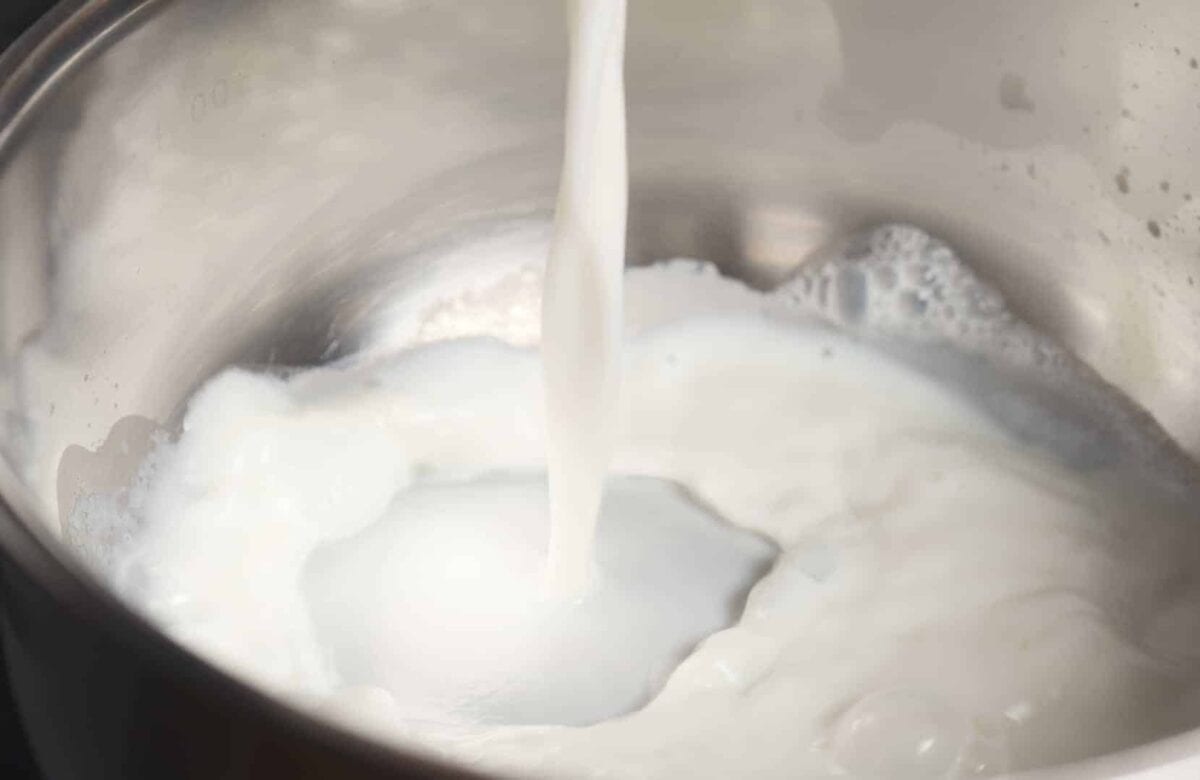 When scalding milk, milk is slowly heated, but not brought to boiling point. I recommend using a kitchen thermometer, as the milk should be heated to 180°F (or 80°C). Read my comprehensive post about how to scald milk for more details.
How to Make Custard Pie
Before preparing the custard filling, make the crust. Let the pie dough chill for at least one hour before making the custard filling. Once chilled, roll out the pie dough to ½ inch thickness, then place it in a pie dish. Press it into shape with your fingers.
To make the egg custard filling, start by scalding the milk. We've discussed above why this is important, so please don't skip this step.
Scald the milk whilst infusing it with vanilla bean pod and seeds. This will give the custard maximum flavour.
Separately in a large bowl beat together the eggs, sugar, and lemon zest.
Slowly pour the hot milk over the egg mixture, whilst mixing continuously.
Pour the custard filling into the pie crust, then bake for 45-50 minutes or until set.
Pro Tip: Ensure the eggs are at room temperature before using.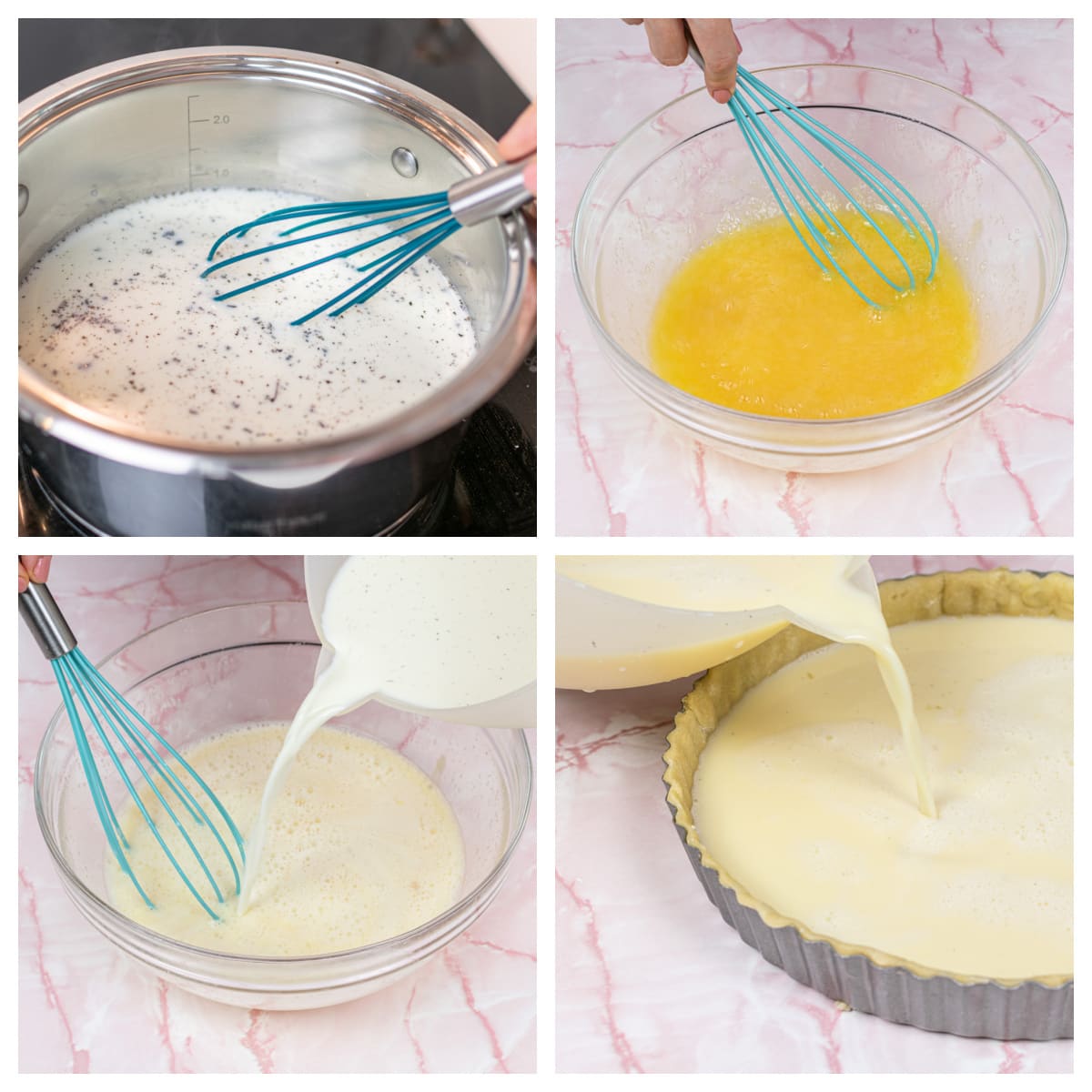 Serving and Storage
Egg custard pie can be served both warm and cold, depending on preference. If serving it warm, let the pie cool down for at least 20 minutes before serving, so the custard can set.
When served cold, let the custard pie cool down to room temperature, then chill in the fridge for 1-2 hours.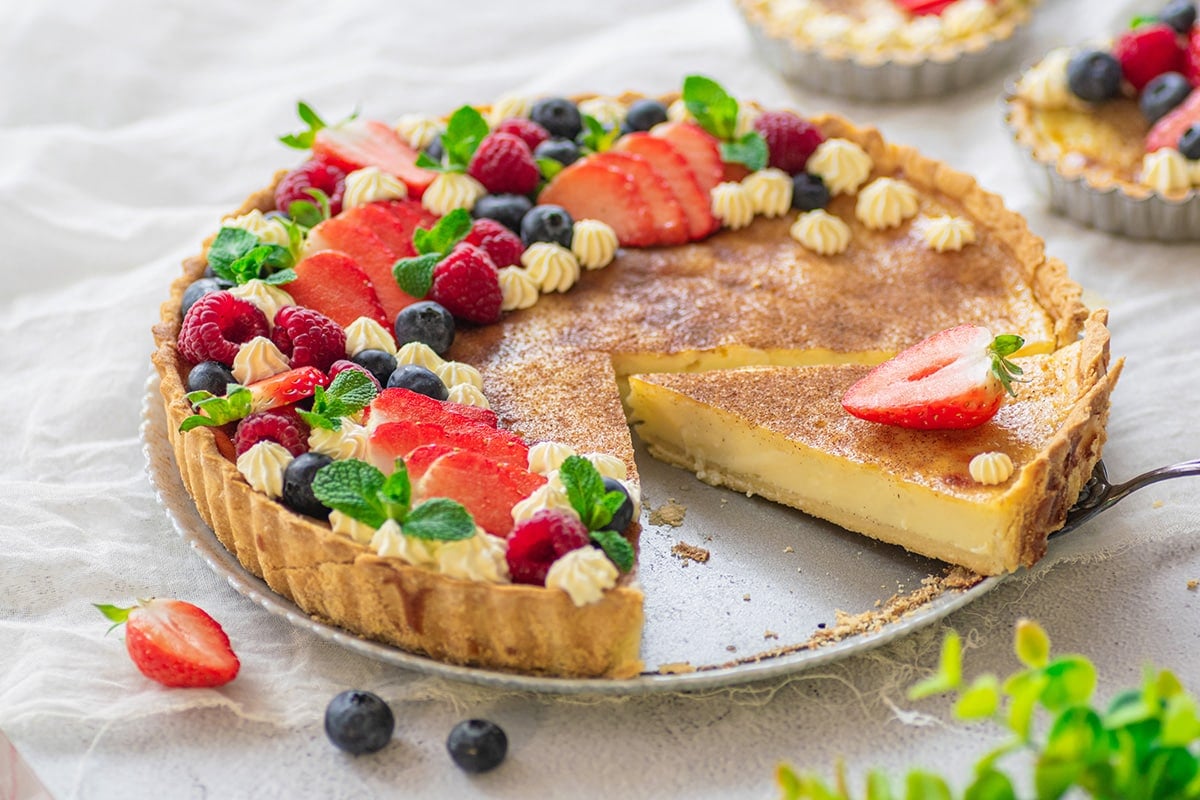 Here are some of my topping ideas for serving custard pie:
Cinnamon or nutmeg powder
Icing sugar
Cocoa powder
Fresh fruit (peach slices, strawberries, raspberries)
Egg custard pie contains egg and dairy, so it needs to be stored in the fridge. To store, cover the pie dish with plastic wrap and refrigerate for up to 2 days.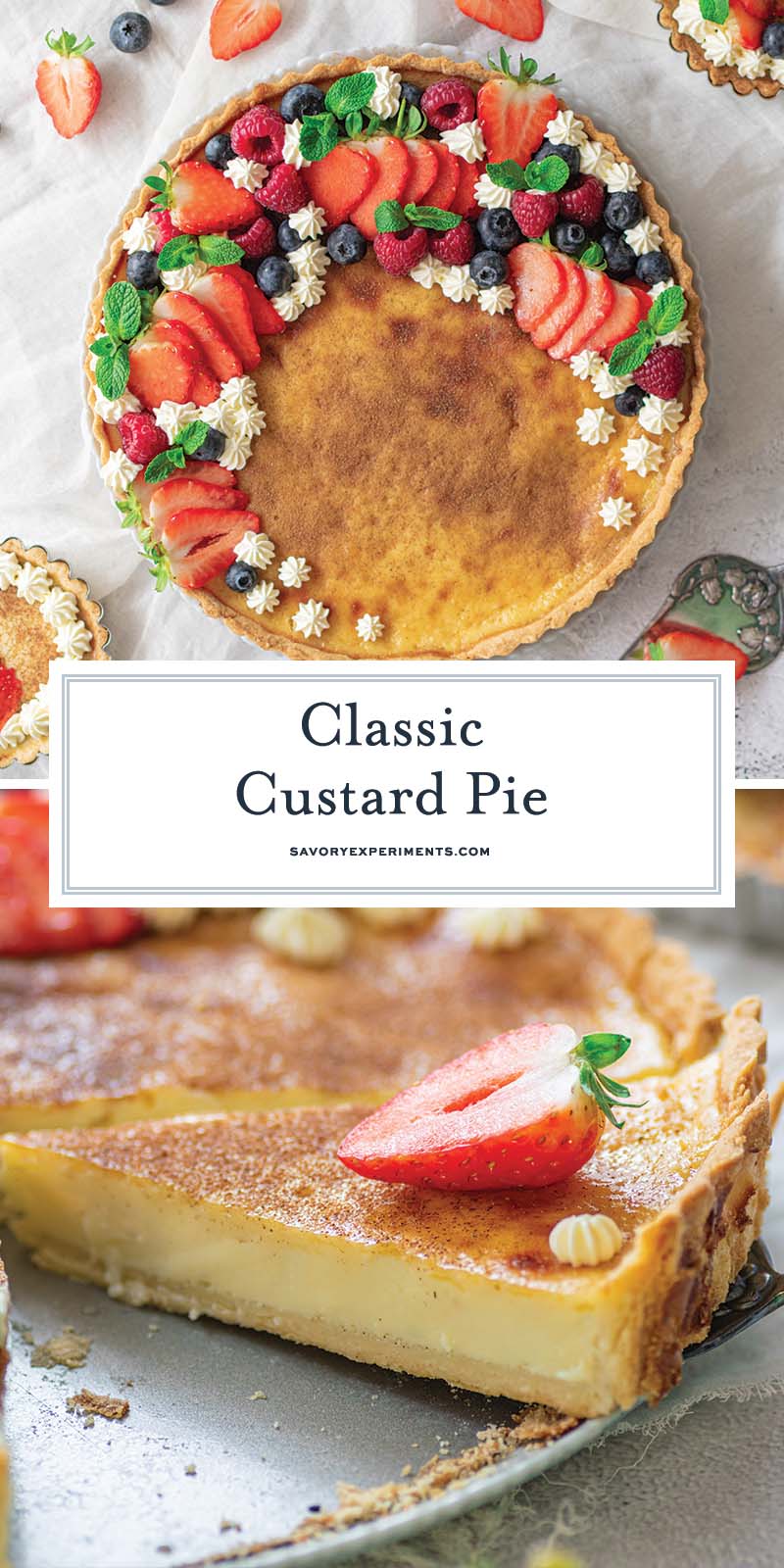 More delicious pie recipes: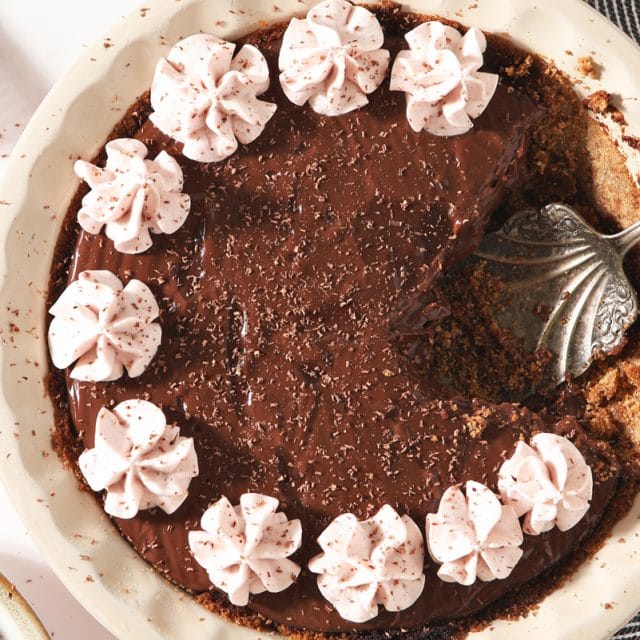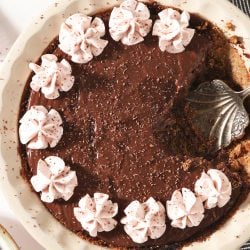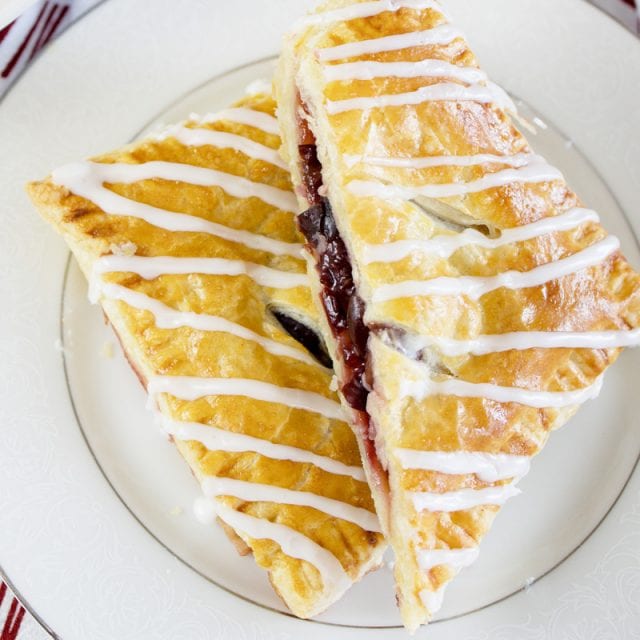 Cherry Hand Pies
Cherry Hand Pies use 6 easy ingredients to make a quick and delicious cherry dessert. Can be made with fresh or frozen cherries.
See The Recipe!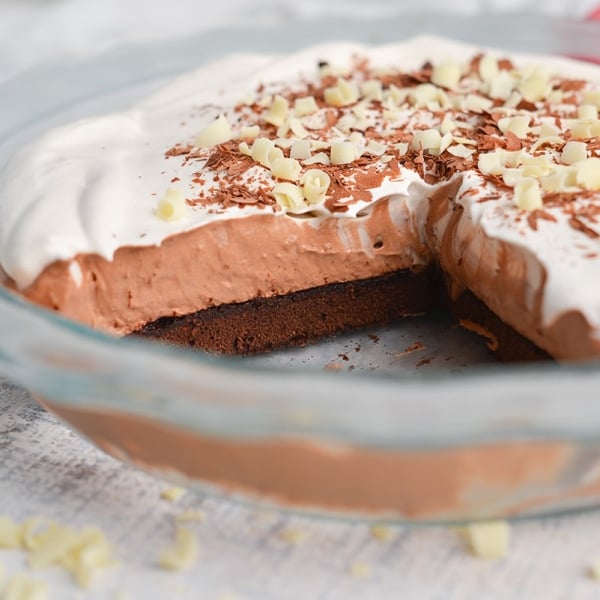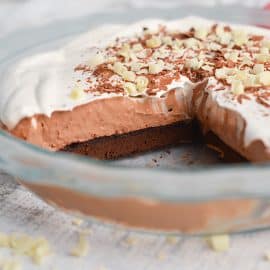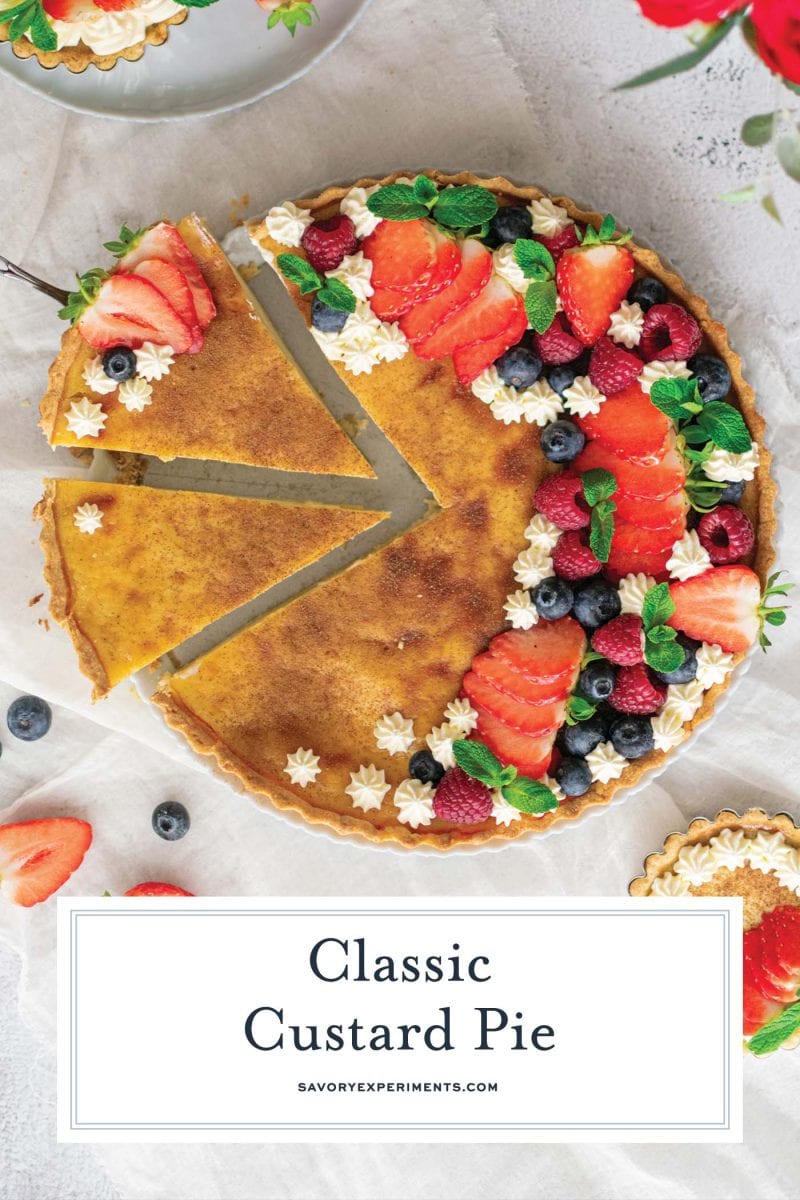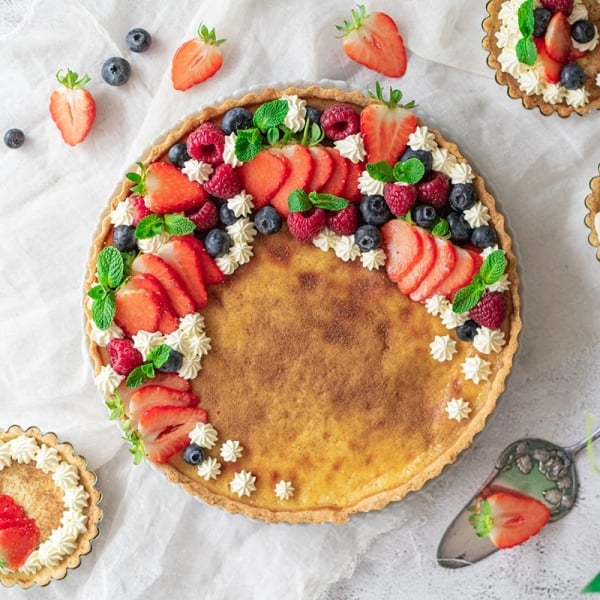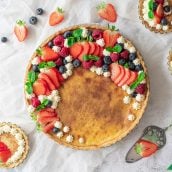 Classic Custard Pie
With a silky-smooth custard filling, this Custard Pie is easy to make and perfect for all seasons. Top with cinnamon, whipped cream or fruit!
Instructions
Prepare the pie dough following my homemade pie crust recipe. Let the dough chill in the fridge for at least one hour before using.

Pre-heat the oven to 400°F. Roll the pie dough to ½ inch thickness, then place it in the pie dish. Press the crust down into the dish, then crimp the edges for a more traditional look. Chill the crust in the fridge.

Cut the vanilla bean pod in half and scrape out all the seeds. Pour the milk into a heavy-bottomed saucepan, together with the vanilla seeds and pod.

Scald the milk by slowly heating it to 180°F. Remove and discard the vanilla pod after scalding the milk.

Beat together the eggs, sugar, and lemon zest. Once frothy, pour in the hot milk slowly whilst whisking continuously until smooth.

Pour two thirds of the custard mixture into the pie shell, then place the pie dish into the oven. Pour the remaining custard mixture over, almost until reaching the brim of the dish.

Bake for 45-50 minutes or until the custard is set. Cover the sides of the pie with aluminum foil if they begin to burn.

If you've tried this recipe, please come back and let us know in the comments or ratings.
Nutrition
Calories:
374
kcal
,
Carbohydrates:
40
g
,
Protein:
6
g
,
Fat:
21
g
,
Saturated Fat:
8
g
,
Polyunsaturated Fat:
4
g
,
Monounsaturated Fat:
7
g
,
Trans Fat:
2
g
,
Cholesterol:
77
mg
,
Sodium:
287
mg
,
Potassium:
118
mg
,
Fiber:
1
g
,
Sugar:
20
g
,
Vitamin A:
366
IU
,
Vitamin C:
1
mg
,
Calcium:
72
mg
,
Iron:
2
mg