A lemon meringue pie recipe is something that every baker needs up their sleeve. It might look intimidating, but let me show you some tips and tricks to make it easier and then as long you have a tangy filling and fluffy meringue on top, you are good to go!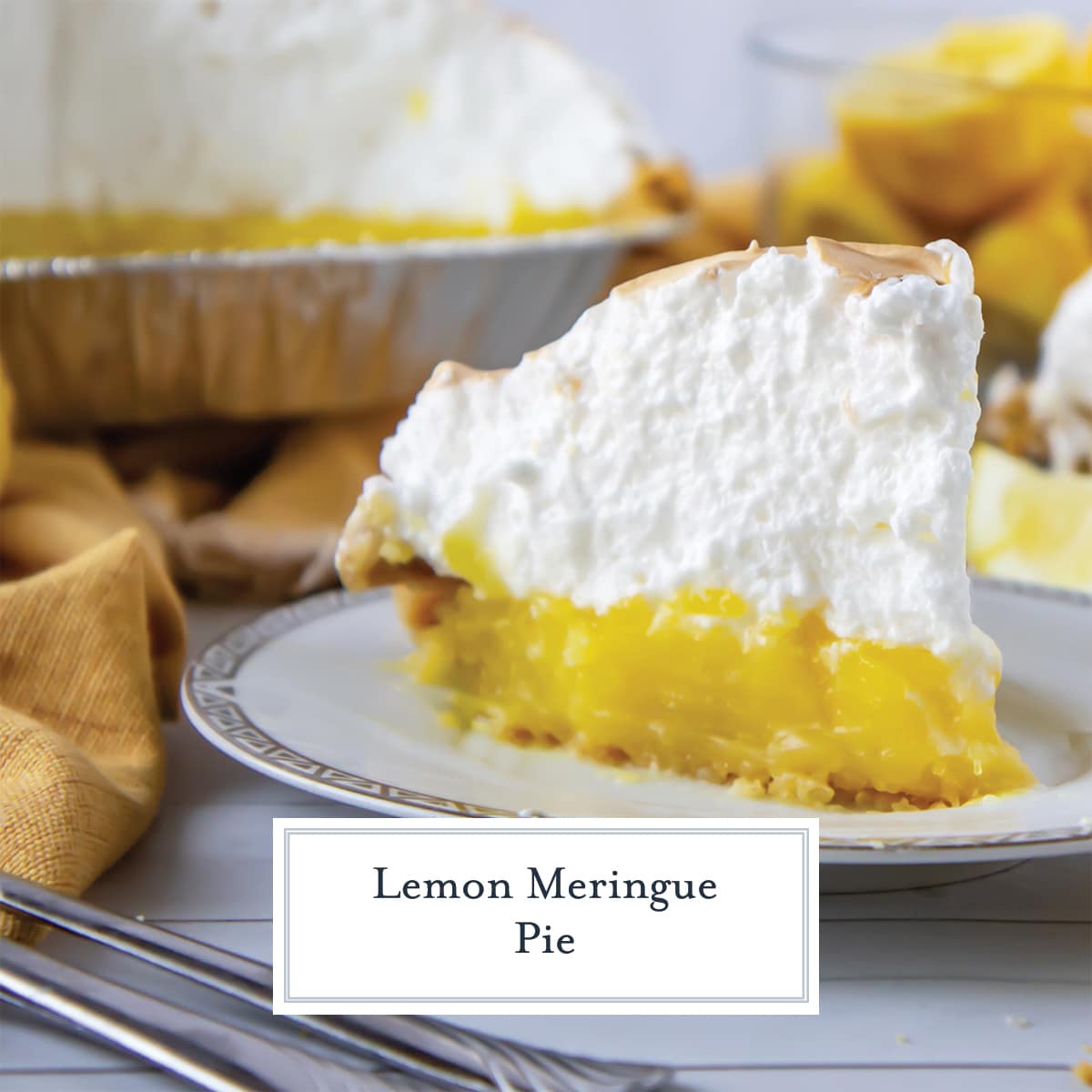 Lemon Meringue Pie
Lemon meringue pie has a reputation of being a complicated and difficult dessert to perfect. I'll be honest…it can be! But I have great news too, with this easy recipe it can become a dessert that you love to make.
With the essential tips and tricks that I've discovered through many versions of homemade lemon meringue pie, you can avoid the common problems and produce a beautiful pie.
Impress your family and friends with a gorgeously toasted meringue and enjoy serving up a slice of beautifully layered pie.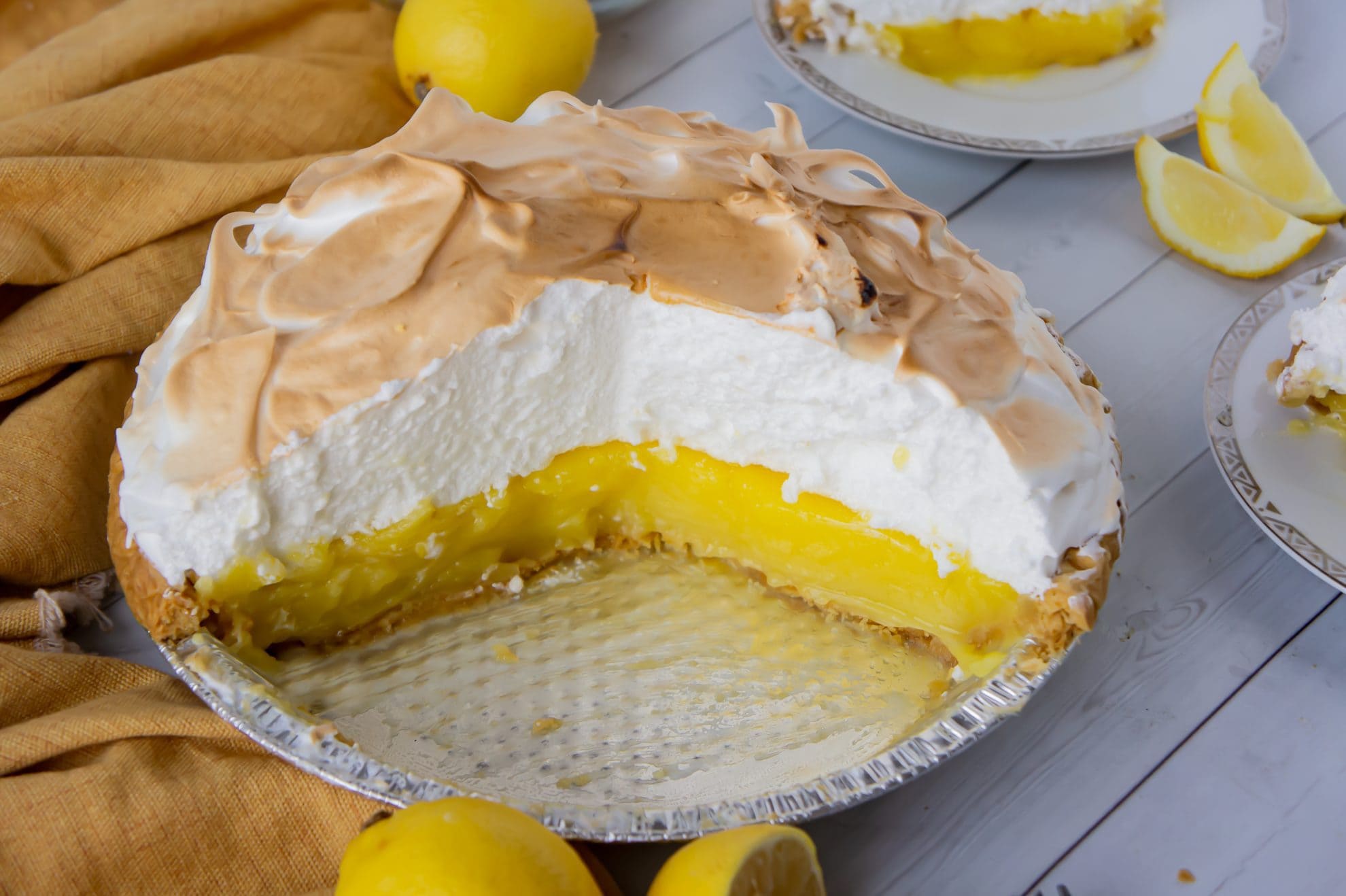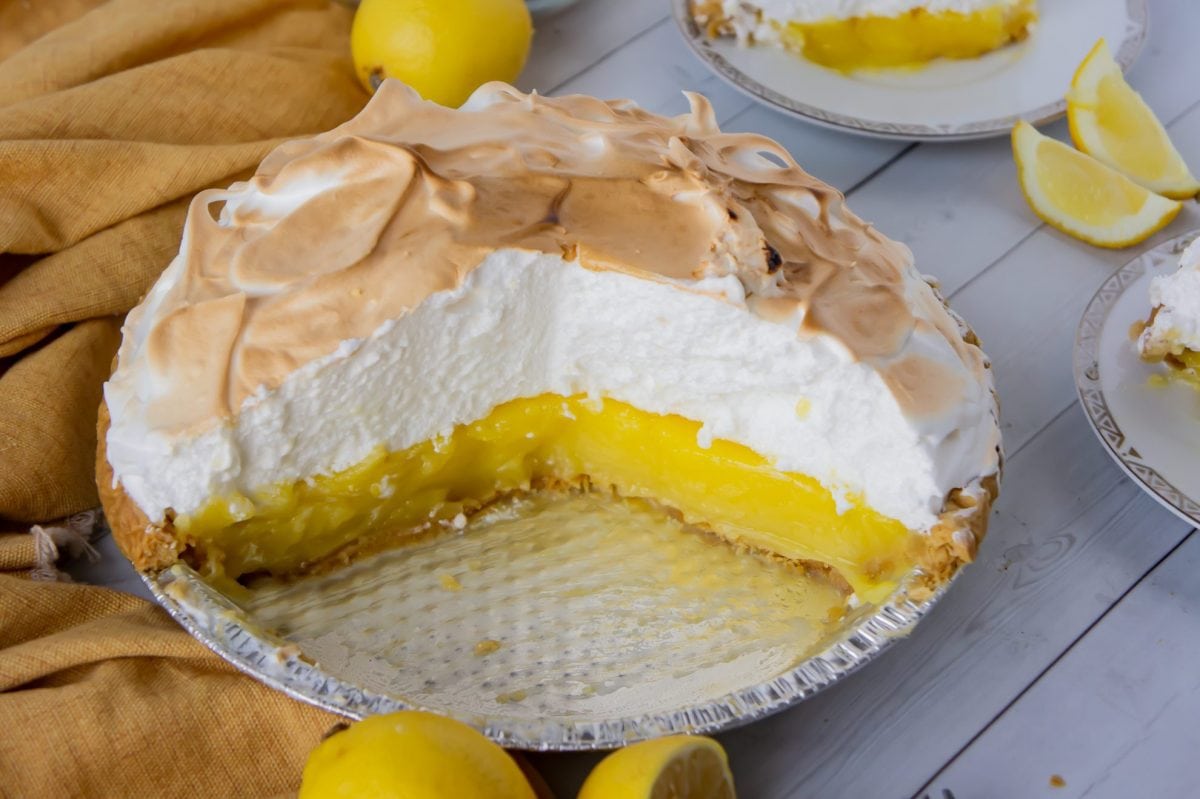 Pie Crust Options
The perfect pie is built with layers so let's start at the beginning. When it comes to your pie crust you have lots of options.
All Butter Pie crust – This recipe includes instructions for making a perfectly flaky all butter pie crust. You can also make a blend fats crust too.
Store bought crust – You can absolutely go with a prepared crust! If you have a favorite store bought crust go for it. Frozen crust you pop in the oven is a great and easy shortcut.
Graham cracker crust – the easy no-bake crust on my Peanut Butter Pie would work just as well for this recipe! Or buy a premade graham cracker crust.
Cookie crust – Nilla wafers are a fabulous building block for a lemon meringue pie crust. To make this, just swap the cookies for graham crackers in a no bake crust recipe.
Pro Tip: Your lemon meringue pie won't go back in the oven once assembled, so make sure you use either a no-bake pie crust or pre bake your pie completely before you add the lemon filling and meringue.
Lemon Pie Filling
Next up in your pie baking journey, creating a silky and smooth lemon pie filling. Traditional lemon curd is delicious, but also occasionally temperamental. To make our lives easier, instead of making a custard that thickens in the oven, we're making a stove top lemon filling.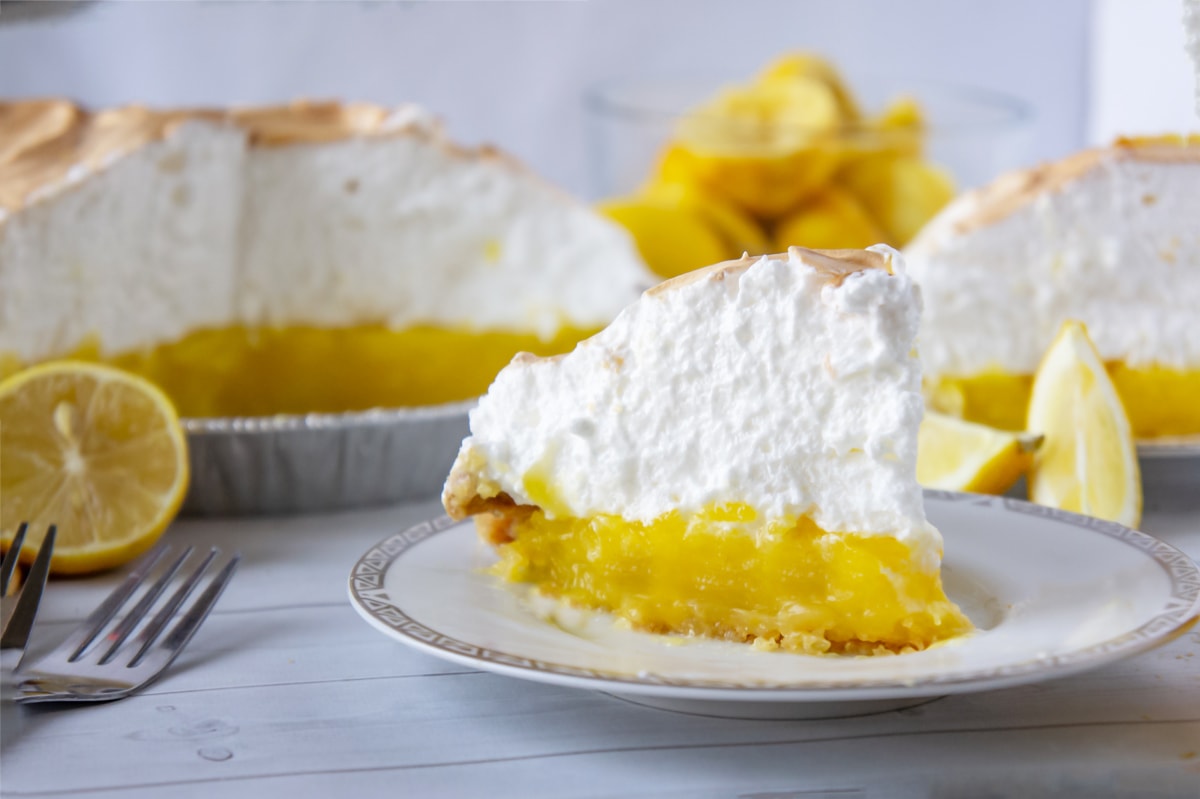 A lemon meringue pie is easy to make with a combination of lemon juice and zest, sugar, water, cornstarch, butter, and egg yolks. I promise it's simple, but here are some tips to make sure it goes as smoothly as possible.
Start with cool water and whisk the cornstarch into it first to create a smooth white liquid. Cold liquid allows the cornstarch to dissolve first and avoid any lumps.
Add in everything else, except the egg yolks and butter, and stir before you put it on heat.
Whisk continuously once you've placed the pan over medium heat. First the sugar will dissolve, then it will slowly come to a boil. Be patient. Once it begins to boil, it will thicken.
Wait to remove it from heat until you see the liquid thicken into a translucent gel.
Temper your egg yolks slowly. This is easiest by using a fork or small whisk. Dip the fork or whisk into the hot lemon filling and quickly whisk it into the egg yolks. Repeat until you've added about half the thickened filling. As you go, you can begin to add bigger amounts slowly.
Add the butter last, and stir until combined. Then replace over heat and bring to a boil again, cooking and stirring continuously for 2 minutes once bubbling.
Let the lemon meringue pie filling cool slightly, but not completely, before adding it to your pie crust. I find making my meringue while it cools in the pan leaves it the perfect warm temperature.
Pro Tip: If you add too much hot filling too quickly and begin to see some curdling in your yolks, simply stop, strain the yolks to remove any lumps and begin again with the strained yolks, working more slowly.
Types of Meringue
Fun fact, there are actually 3 types of meringues we could make.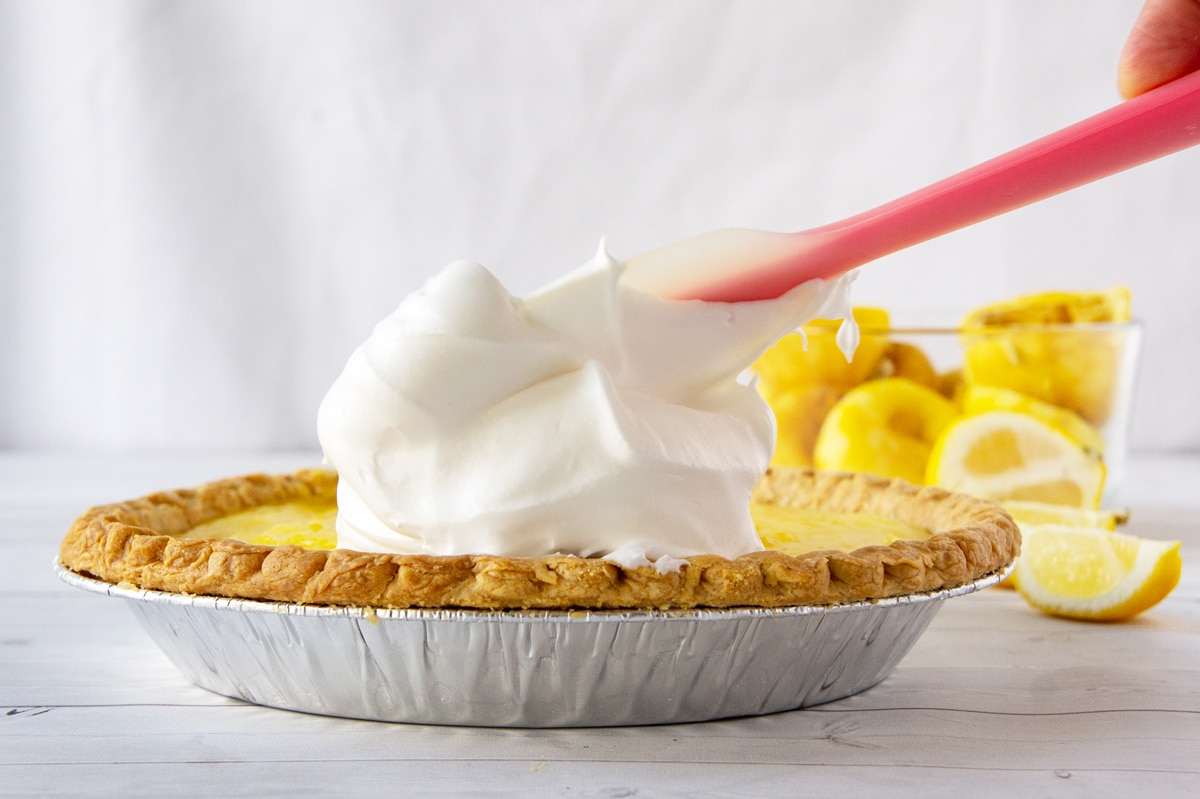 French meringue is easiest, just sugar sprinkled into egg whites while whipping, but it also requires a long baking session to cook, and is prone to weeping, sliding, and cracking.
Swiss meringue is delicious, but takes longer. I find it to be the most difficult.
Italian meringue is a combination of egg whites and a sugar syrup. Hot sugar cooks the egg whites while also creating beautiful fluffy meringue clouds. This is the one we will use.
This means you can lick the bowl with no fear of raw egg whites. It also gets deliciously fluffy, like marshmallow creme, and it's perfect with a tart lemon filling.
Tips for Making Meringue
To make an Italian meringue we start with room temperature egg whites.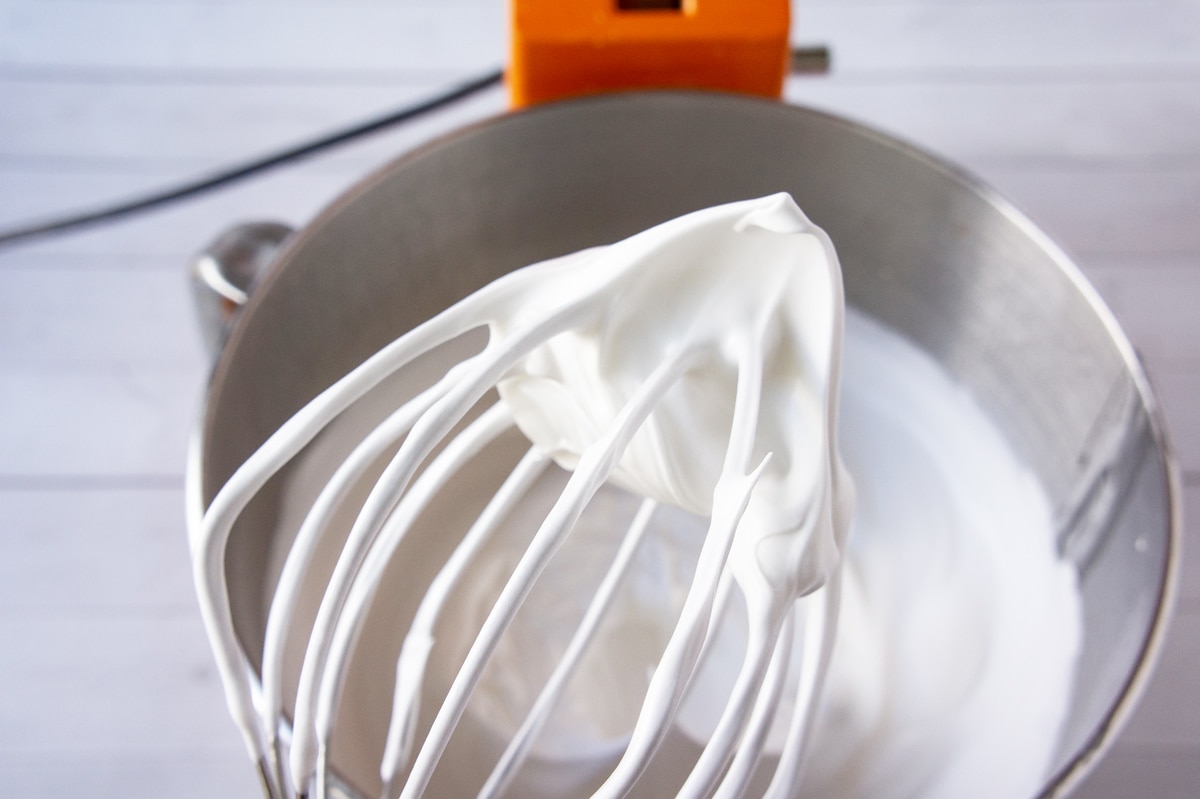 Combine egg whites, salt, cream of tartar, and vanilla extract in a clean bowl. Make sure there is no greasiness or residue from past recipes or your egg whites won't whip.
Use a stand mixer or hand mixer on medium low to begin beating your egg whites, you want it to reach the soft peak stage before adding your sugar syrup.
Meanwhile, combine the sugar and water in a saucepan and stir. It should look like really wet sand.
Place that over medium high heat and pop your candy thermometer into the pan. Let it cook, stirring occasionally to prevent any sugar burning on the bottom, until it reaches the soft ball stage or 240°F.
Once your egg whites are at the soft peak stage and your sugar syrup has reached the right temp, turn your mixer up to medium high and slowly start to drizzle in the sugar syrup. (It's HOT be careful!).
After all the sugar syrup has been added, continue to beat your meringue until it's glossy, smooth, and holds a stiff peak. (It doesn't curl or bend when you dip a whisk in and hold it up.)
Pro Tip: A candy thermometer makes this easy, but if you don't have one never fear! To test your sugar syrup without one make sure you have a bowl of VERY cold water next to your pan. Use a clean spoon to scoop a small amount of syrup from the pan and drop it into the water. Let it cool for a second, and check it out. If it's a pliable ball of sugar, it's ready!
I find the easiest way to add the sugar syrup slowly without spilling or going too fast is to hold my saucepan against the head of the stand mixer. It braces my hand and eliminates the risk of syrup escaping down the side of the bowl. You want to add this very slowly, the drizzle of syrup should never be thicker than a narrow stream the width of a toothpick.
How to Make Easy Lemon Meringue Pie
We've walked through every layer, so what's left right? Just the assembly! After each component is made, it's pretty easy to put it all together in a pie plate as a lemon meringue masterpiece.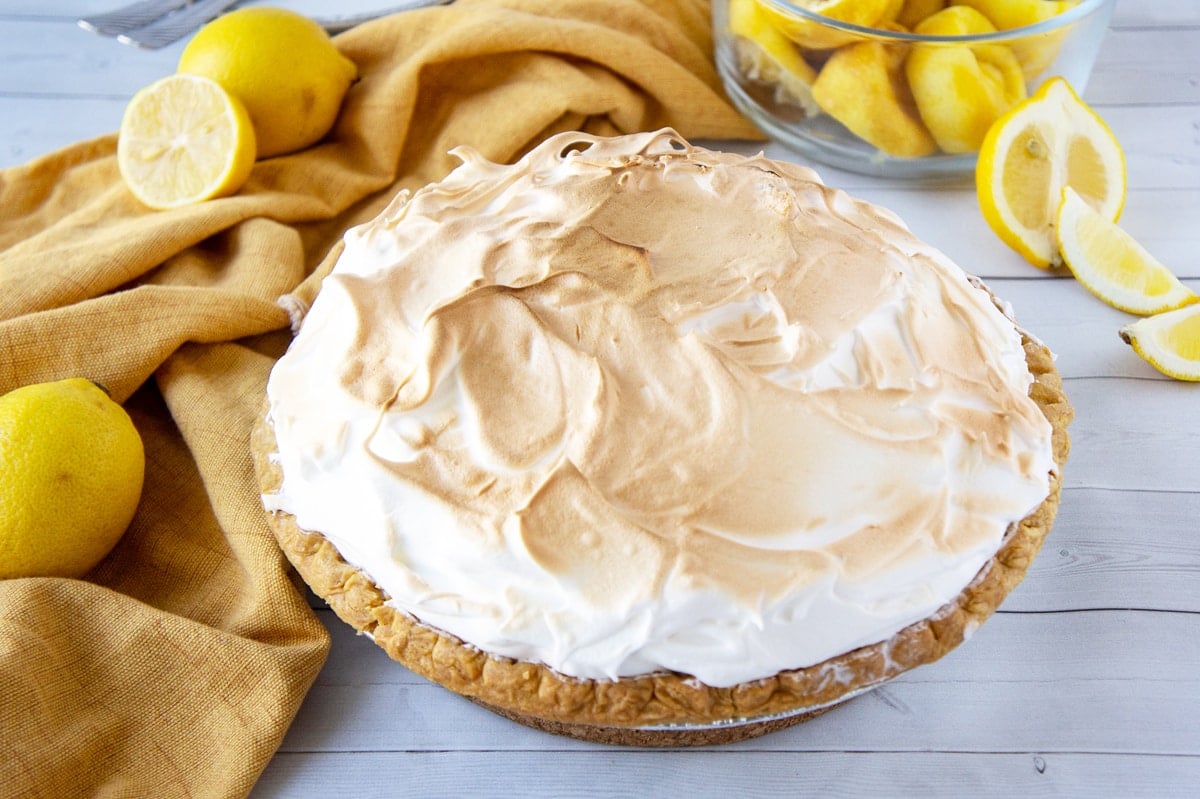 Here's how to do it!
If making pie crust, make it 30 minutes ahead of the rest of the pie and let it chill in the fridge. Then take it out, and roll it to fit into your pie pan. Pop it into the freezer once formed while your oven preheats.
Line your pie crust with foil and fill with beans or pie weights then bake for 30 minutes. Remove the pie weights and foil carefully and put it back in the oven until golden brown and fully baked.
While your pie crust is baking, prep your other ingredients. Once you start cooking things move fast so get everything measured and ready BEFORE you start cooking the filling or meringue.
Separate your eggs first. Meringue is easier with room temperature eggs, so doing this first allows them to come to room temp while your pie crust bakes and you make your filling.
Once your pie crust is baked, pull from the oven and set aside to cool. Make your filling.
Set your lemon meringue pie filling aside to cool slightly while you make your meringue.
Assemble by pouring the warm lemon filling into the cooled pie crust.
Top with your meringue, working from the outside in to create a domed topping. Make sure you smooth your meringue down to the crust on every side, this prevents it from slipping off the filling.
Use the back of a metal spoon to create a swirled pattern on top.
Toast your meringue! Either pop it under your broiler for a few minutes or use a torch to toast it. If using the broiler, don't bother closing the oven. Stay nearby and rotate the pie carefully to create an even browned top without letting it burn.
Let your pie cool for at least 3 hours before slicing. Serve at room temperature.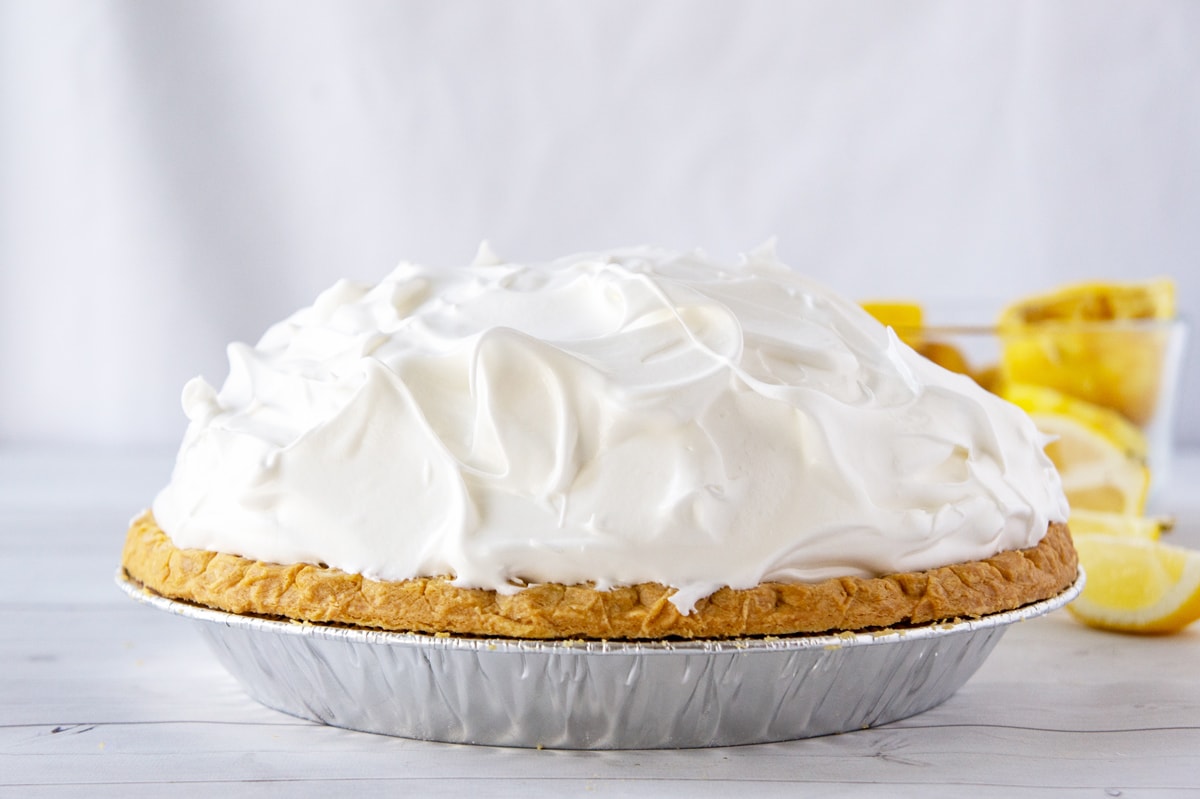 Pro Tip: I've found that creating a rough surface on my lemon pie filling allowed the meringue to hold onto it better. To do this I gently pressed parchment paper against the top of my filling and lifted it up to create a stucco effect. Then top with meringue as usual.
Freezing & Storage
Lemon meringue pie is always best served the same day it's made. It's the ideal dessert to make in the morning and serve at your dinner party that evening. Meringue will weep and the crunchy crust will soften.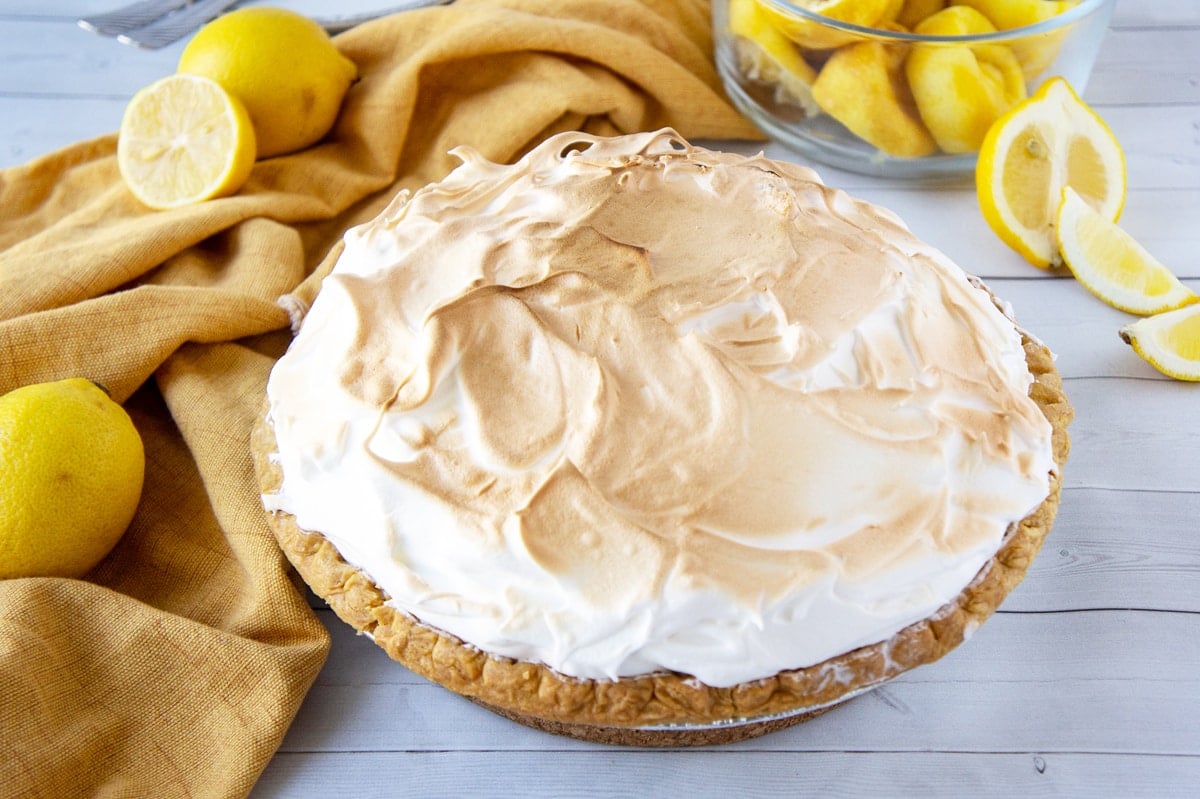 Once served, you'll need to store leftovers in the fridge uncovered or loosely covered. You may see some weeping, or liquid seep out, but that's alright and your leftovers will still be great to munch on.
If you're interested in making this ahead, my best recommendation is to prepare all the components and freeze separately. Make your pie crust and freeze it before baking. Make your filling and allow to cool, then freeze it. Finally make your meringue and freeze that as well.
Once you're ready to make your pie, simply pull everything out. Bake your pie crust from frozen, gently heat your filling, and let the meringue thaw. Then assemble as directed, making sure your filling is warm for assembly. Let cool for a few hours, and serve as usual!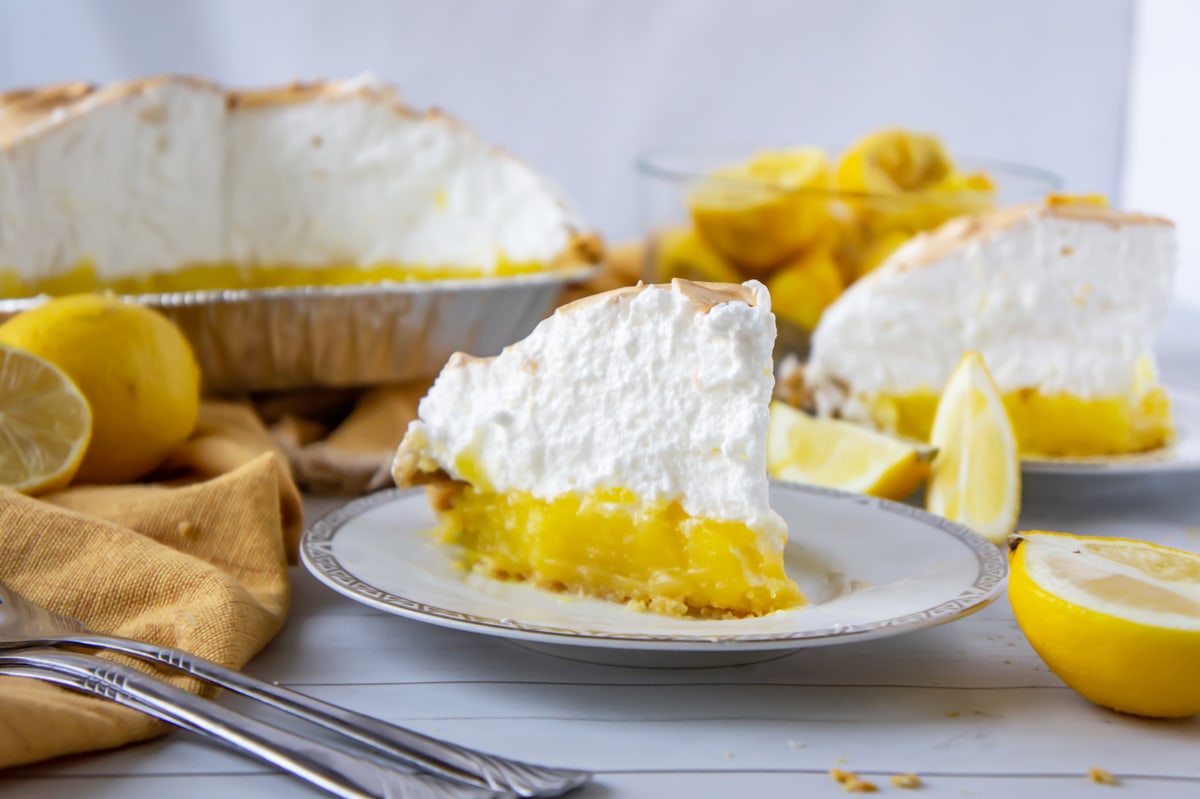 When it comes to lemon meringue pie, this is as easy as it gets! A simple stovetop thickened filling, a fluffy cooked italian meringue, and a prebaked crust eliminate the common problems like weeping meringue, watery filling, and the topping sliding off the filling.
Now you can present a showstopper dessert with perfectly tart and sweet lemon filling and fluffy sweet meringue, without any of the stress!
Pro Tip: Sometimes when making your sugar syrup, small crystals of sugar build on the side of your saucepan and want to caramelize. To avoid this, I cook it over medium to medium high heat and have a wet pastry brush nearby to gently wash the sugar crystals back into the syrup as it cooks.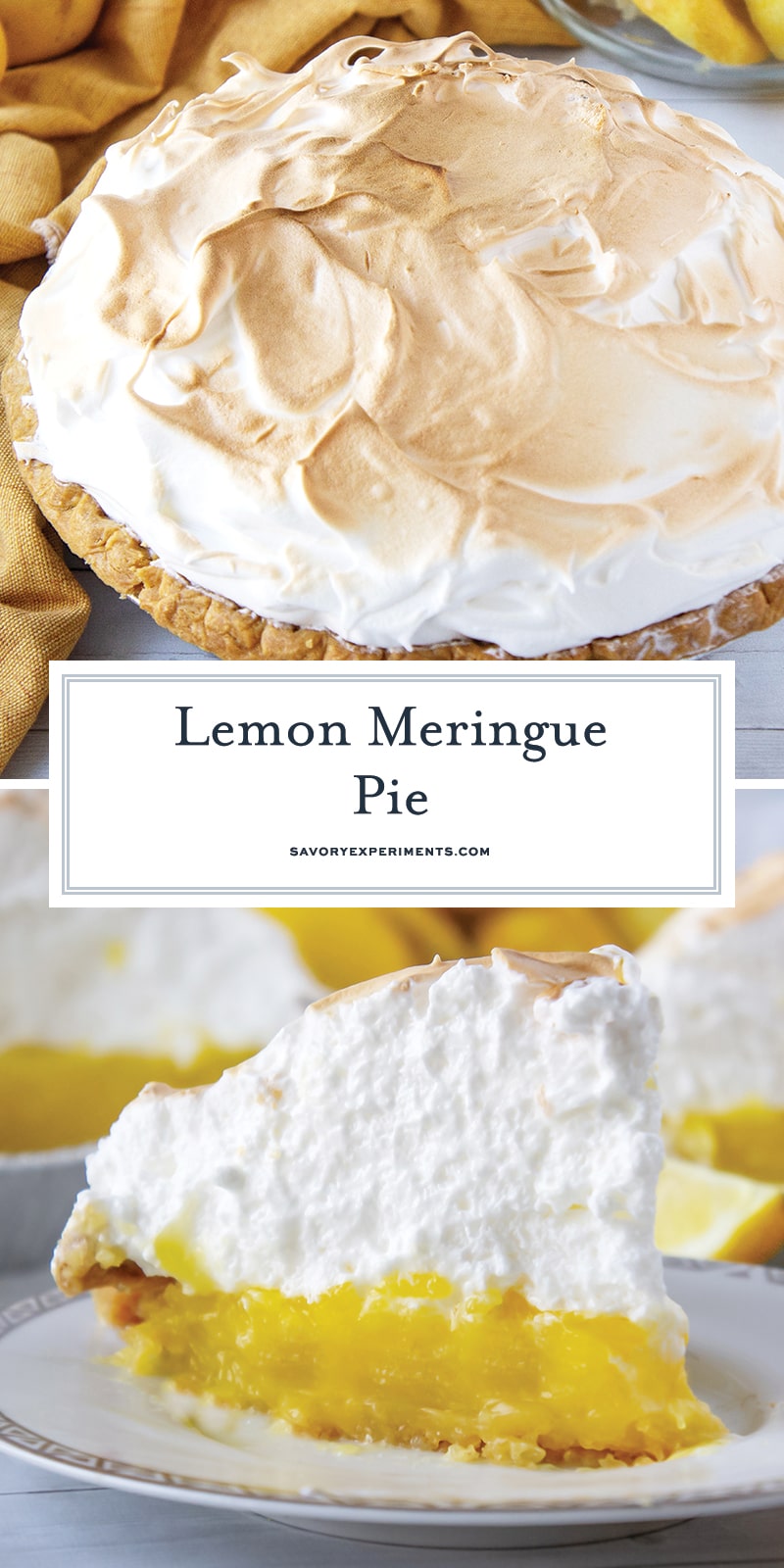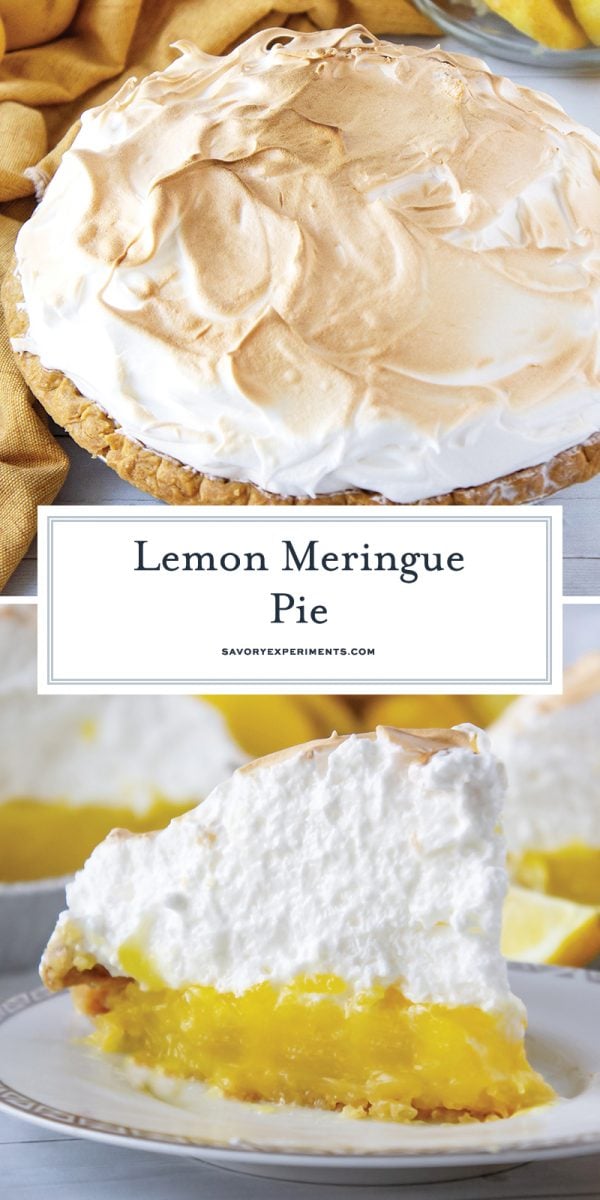 More desserts you'll love: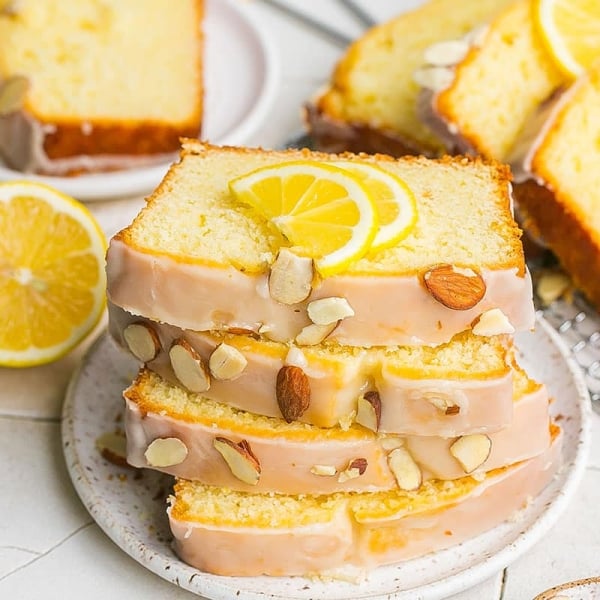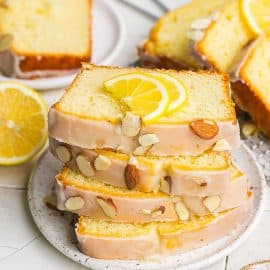 Iced Almond-Lemon Loaf Cake
Yogurt, fresh lemon and almond give this sunny loaf cake a unique flavor and texture that everyone will love. Perfect for brunch, tea or dessert!
View this recipe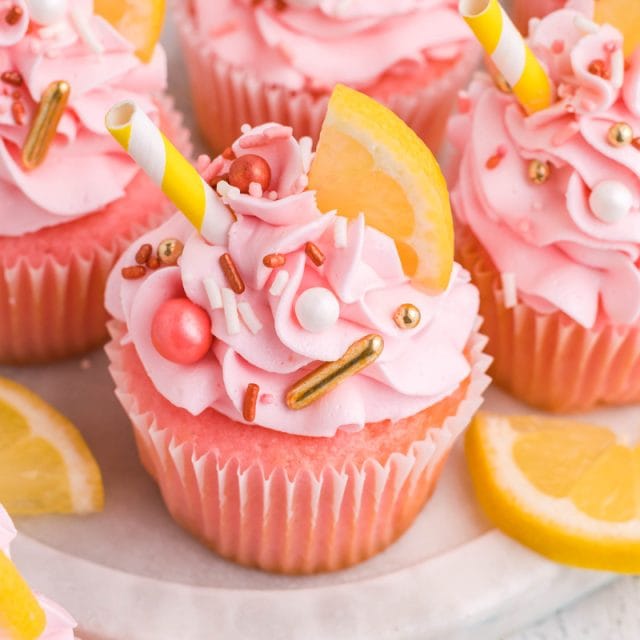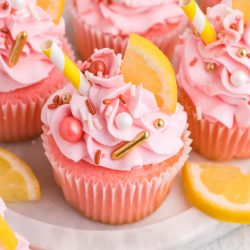 Pink Lemonade Cupcake Recipe
Pink Lemonade Cupcakes are an easy cupcake recipe using boxed cake mix with lemon flavoring and pretty pink food coloring. Perfect for any spring event!
View this recipe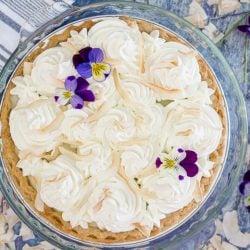 Coconut Cream Pie
Topped with a homemade whipped cream and toasted coconut, this deliciously creamy Coconut Cream Pie is made with a rich custard and sweet coconut flavor!
View this recipe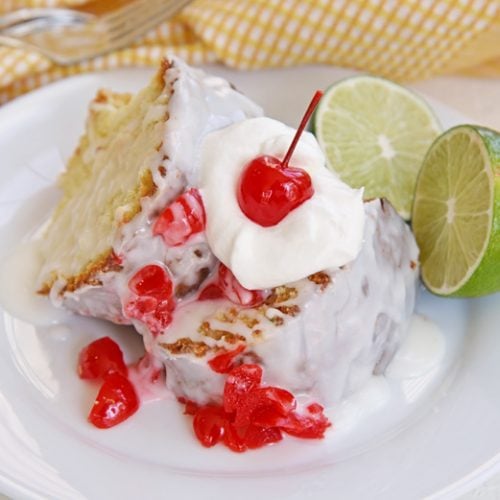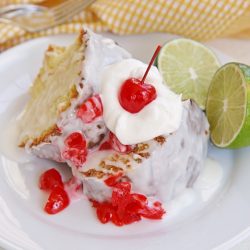 7 Up Pound Cake
7 Up creates a fluffy texture in this lemon-lime cake recipe. And the 7 Up glaze is OMG!!!! Top with cherries for a Shirley Temple style cake.
View this recipe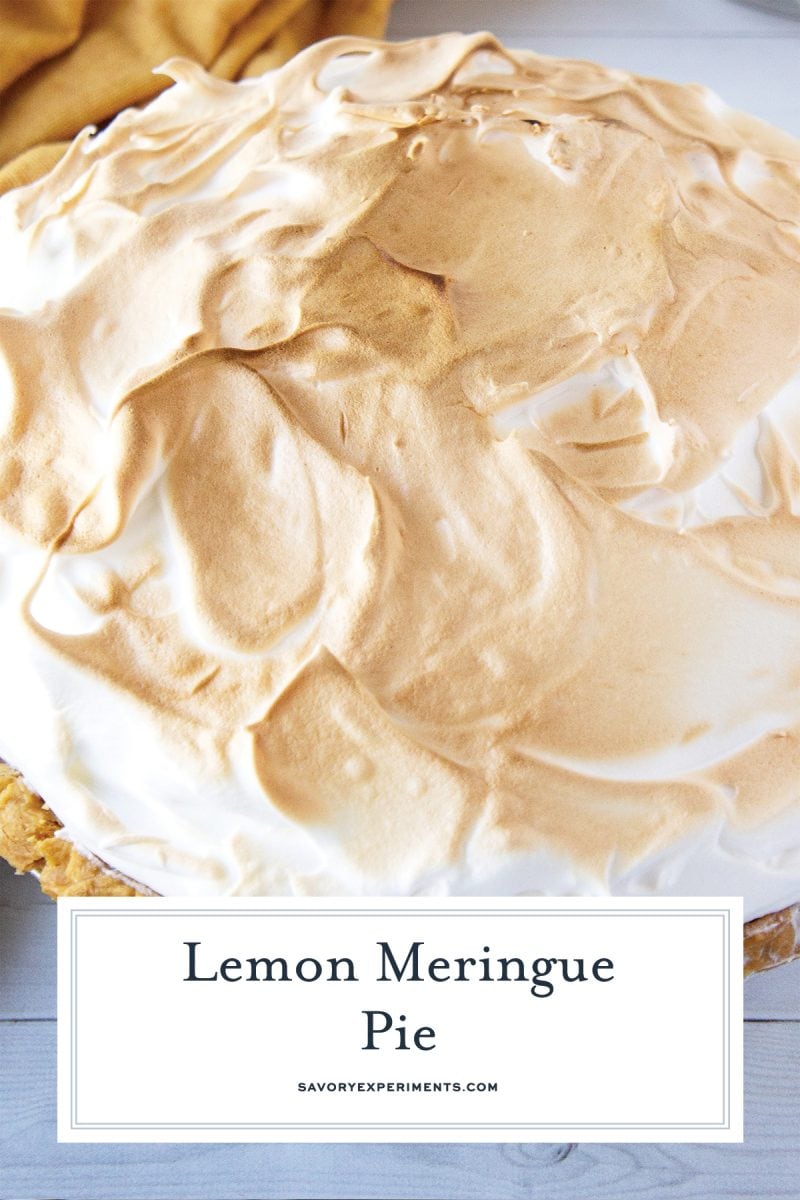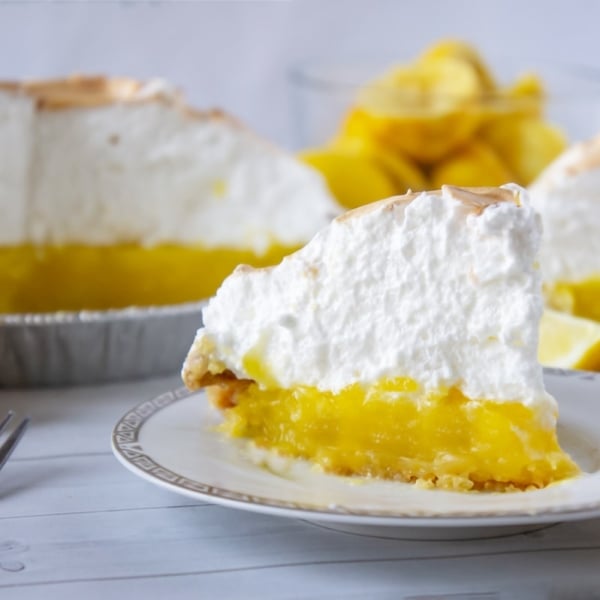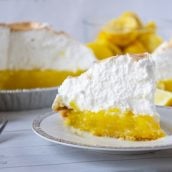 Easy Lemon Meringue Pie
A classic Lemon Meringue Pie is something everyone needs in their recipe box! Check out all of my favorite tips & tricks for the best pie!
Instructions
Pie Crust
Combine flour, salt, and sugar in the bowl of a food processor and pulse to combine.

Cut cold butter into chunks and add to flour. Pulse until the mixture looks like pea sized crumbs.

With the food processor running, slowly drizzle in the water until the dough just begins to clump together but there are still loose crumbs. You may not need all the water.

Dump onto a clean surface and form dough with hands until all moistened and it forms one ball of dough. Form into a disc and wrap with plastic, chill 30 minutes minimum.

Preheat your oven to 350 degrees and roll out your pie dough on a floured surface. Fit it into your pie plate and trim any excess. Freeze for 5 to 10 minutes.

Line with foil and fill with pie weights or dried beans. Bake for 30 minutes.

Remove pie weights and foil and return to the oven to bake another 10 to 15 minutes, or until golden brown and baked through. Cool before filling.
Lemon Pie Filling
Combine the cool water and cornstarch in a small saucepan and stir until cornstarch has dissolved and no lumps remain.

Add lemon juice, zest, salt, and sugar and stir to combine. Bring to a boil over medium heat, continuously stirring until it forms a clear, thick gel. Remove from heat.

Using a fork or whisk, gently dip it into the hot lemon filling and quickly whisk what clings to the whisk into the egg yolks. Repeat, adding small amounts at a time, until you've whisked about half the mixture into the egg yolks. This is called tempering and allows you to blend the mixture without just getting scrambled eggs. Take your time.

Add the egg yolk mixture back into the pot with the remaining filling and stir to combine.

Add in the butter and stir until melted. Return the pot to the stove and bring to a gentle boil for 2 minutes while stirring. Set aside to cool slightly while you make your meringue. Mixture should be bright yellow, thick and smooth.
Italian Meringue
In a small saucepan over medium heat combine the sugar and water. Stir to combine and bring to the soft ball candy stage, or 240 degrees.

While your sugar syrup cooks, add your egg whites, cream of tartar, salt, and vanilla into the very clean bowl of your stand mixer.

Beat on medium low to medium speed until it gets to the soft peak stage. When you pull the beater from the egg white, the tip of any meringue on it will droop slightly over, but not fall off the beater.

Turn your mixer up to medium high and begin slowly drizzling in the sugar syrup while it runs. Be sure the stream of syrup is no thicker than a toothpick as you add it.

Once all the sugar syrup is added, continue to beat until it's glossy and holds a stiff peak: the tip of the meringue when lifted on the beater will stand tall and straight.
Assemble the Pie
Pour the warm filling into the cooled pie crust. Smooth it down so it's level, then using a spatula or parchment paper, rough up the surface so it looks like spackle or a textured wall.

Working from the edges into the middle, spoon on your meringue, smoothing it down completely against the crust on all sides to prevent slipping.

Toast under the broiler on high by carefully rotating the pie about 6 inches under the broiler until browned. You can also use a blow torch.

Let it cool for 3 hours before slicing and serving.

If you've tried this recipe, come back to let us know how it was in the comments or ratings!
Nutrition
Calories:
535
kcal
,
Carbohydrates:
87
g
,
Protein:
6
g
,
Fat:
19
g
,
Saturated Fat:
6
g
,
Cholesterol:
133
mg
,
Sodium:
391
mg
,
Potassium:
116
mg
,
Fiber:
1
g
,
Sugar:
64
g
,
Vitamin A:
801
IU
,
Vitamin C:
7
mg
,
Calcium:
24
mg
,
Iron:
1
mg