When it comes to pie, there are many different varieties. My Chocolate Cream Pie recipe was originally called Mocha Cream Pie for the hints of coffee laced throughout the chocolate.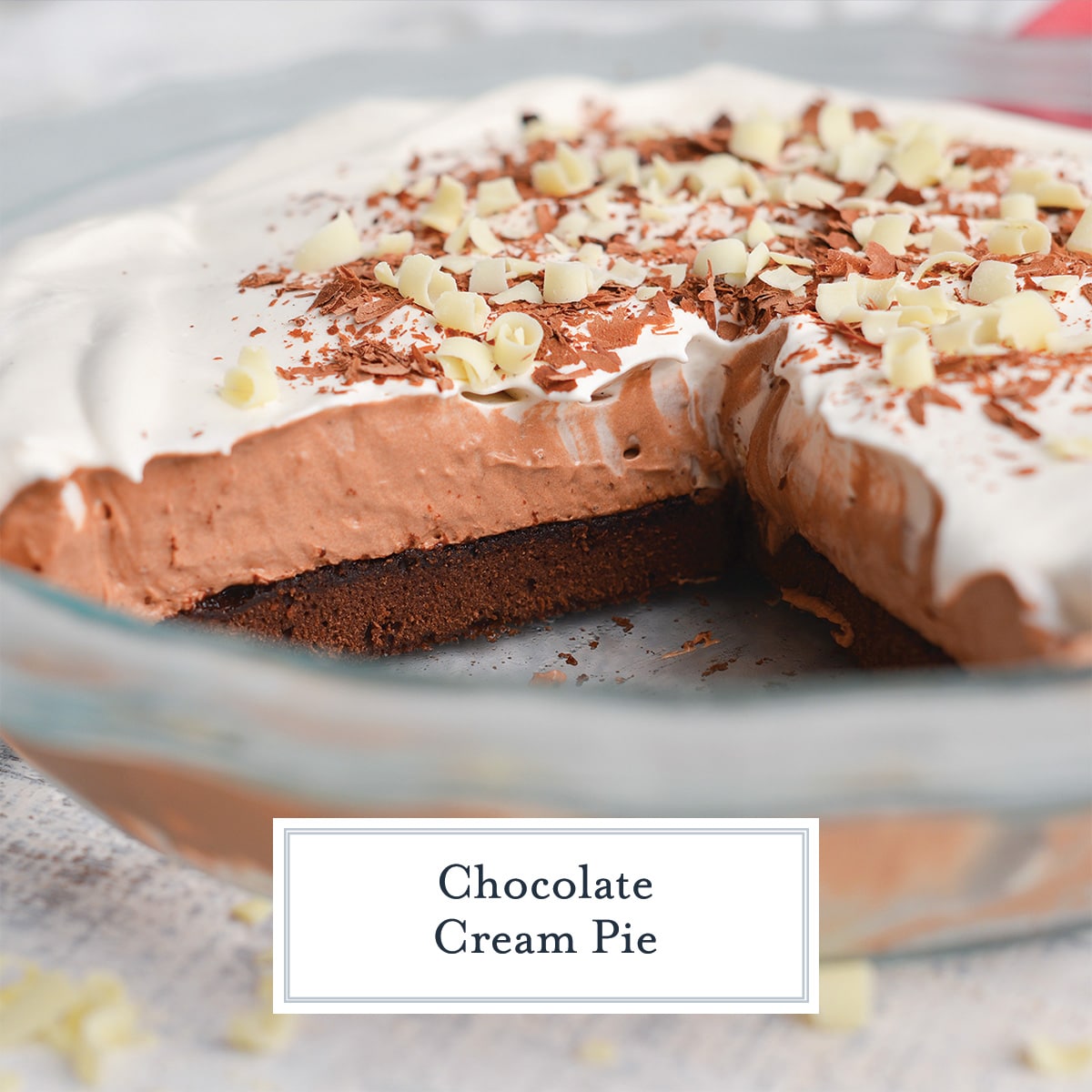 This Chocolate Cream Pie Recipe is three layers of delicious pie: brownie base, chocolate cream, whipped cream and chocolate shavings.
What is Chocolate Cream Pie?
Cream Pie is a family favorite for Thanksgiving and Christmas. That's not to say it is a holiday pie, but at our house, we make it two times in two months and we like it that way.
Maybe it is because those silky layers of mocha are the perfect light dessert to be served with a cup of coffee or cocoa bombs on a cold night.
What I do know is that the brownie base almost makes it into a luxurious brownie sundae, but it is also similar to a pudding pie, sugar cream pie or custard pie and even more topped with whipped cream making is a cream pie. This pie might actually have a pretty serious identity crisis.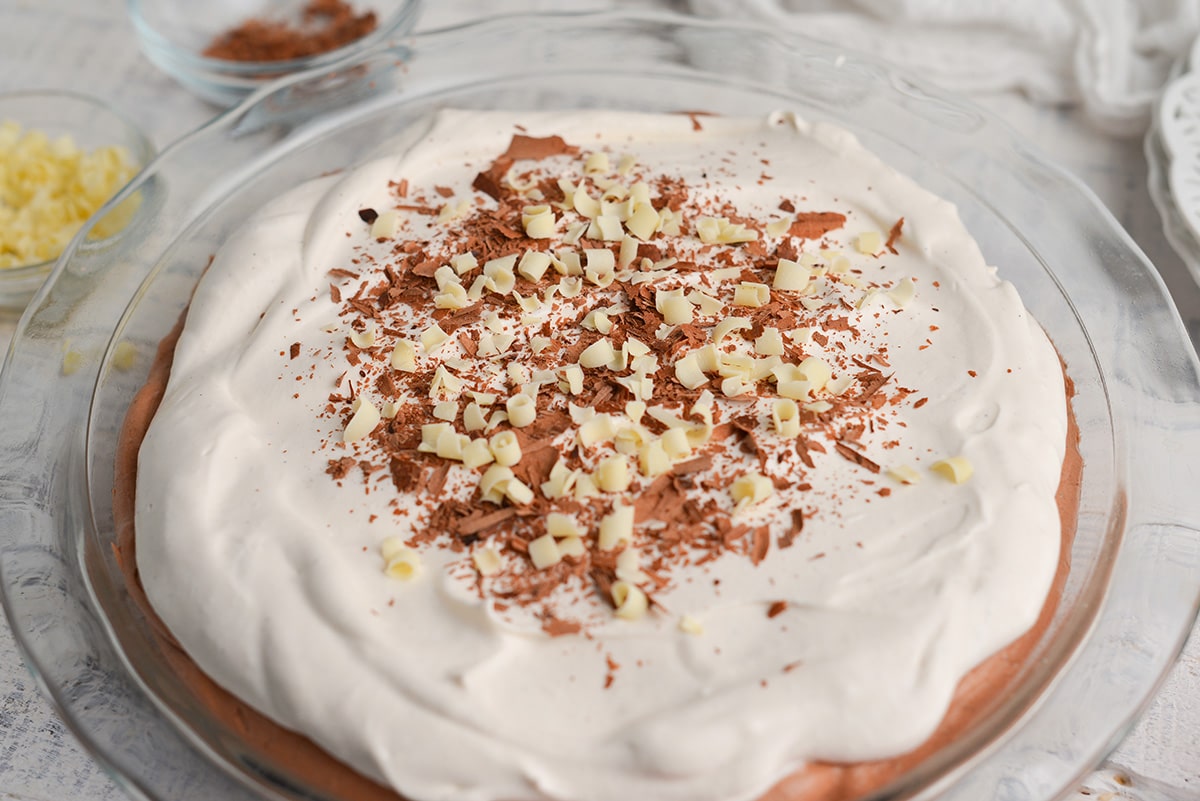 Why This Cream Pie Is Different
What makes it different and better than most chocolate pies?
The Filling. Most cream pies use an egg custad for the filling and while this is delicious and rich, but ours uses chocolate pudding mix for a light and airy filling. Ours also doesn't require extra dishes, pans or cooking.
The Crust. Instead of a traditional pie crust, oreo crust or graham cracker crust, we opted for a brownie base. A soft sponge to carry the other creamy layers. Although, any of these can also be used.
Mocha! Mocha is just a fancy word the combination of chocolate and coffee. Coffee helps bring out natural flavors of chocolate. The amount is so minimal you won't even notice.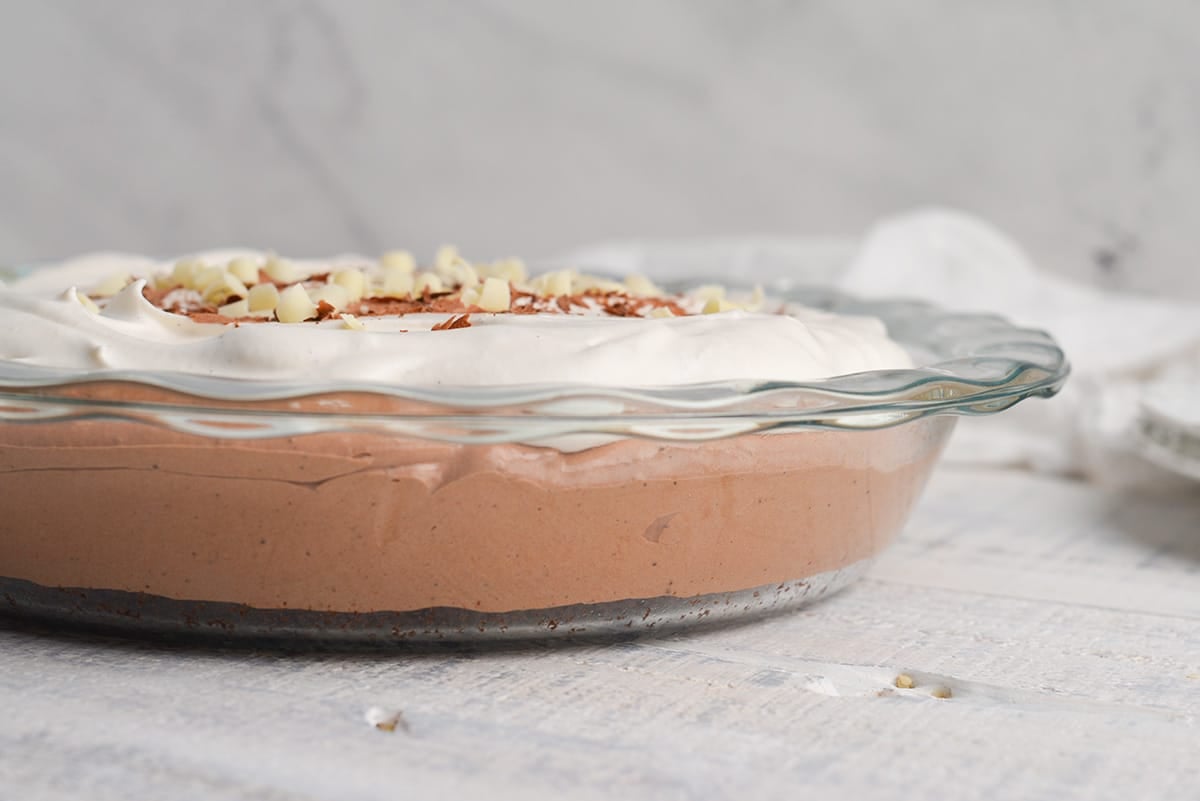 Ingredients for Chocolate Cream Pie
The ingredient list is fairly short, as far as baking goes, but they are all used in multiple ways to make a three distinctly different cream pie layers.
Coffee or Espresso- Trust me on this, even if you don't like coffee, the trace amounts doesn't taste like coffee. Coffee helps to accentuate the natural flavors of coffee. In fact, many chocolate recipe include just a small amount to elevate it. But if you are truly opposed, swap this out for plain water.
Brownie mix- I do use a boxed brownie mix for this recipe. You can make your own dry mix, but don't try to use a homemade brownie recipe, this isn't tested for it. Fudge brownie mix provides the richest base.
Vanilla Bean Paste– To add more flavor to this silky pie. Almond extract or vanilla extract is another option. If you really want to play on the coffee undertones, you can also add concentrated coffee extract.
Egg Whites– Fluffy whites are used for rise, but not the yolks for richness. Remember, this is a light pie.
Milk- Whole milk will make this dish super decadent, but skim or non-dairy milk alternatives can be swapped.
Chocolate Pudding Mix – Used for the chocolate cream layer.
Whipped Topping- I do suggest using a whipped topping because it is more stabilized. Fat free is perfectly fine if you are going for a lower calorie pie.
Chocolate Shavings– For garnish, these are optional.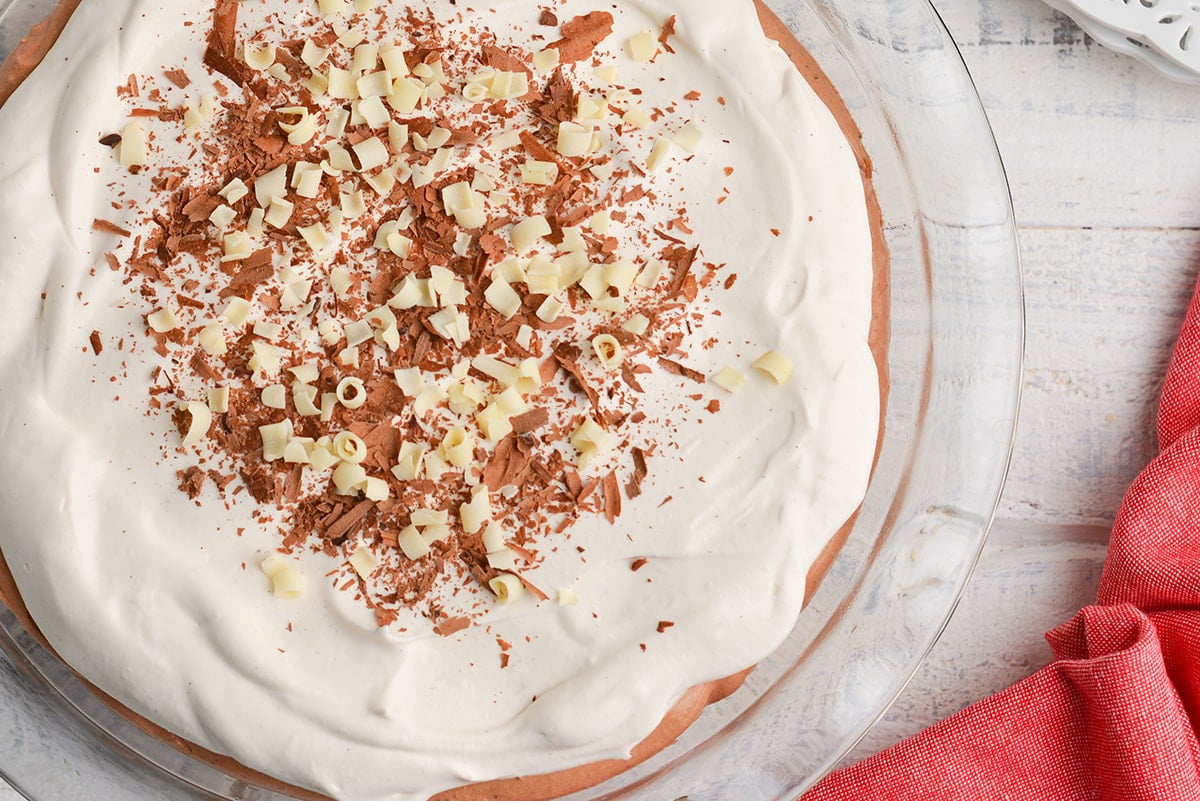 How to make Chocolate Cream Pie
This chocolate cream pie recipe utilizes the same 7 ingredients in 3 layers, so pay attention to how much to use in each layer in the instructions.
Preheat the oven and coat a deep 9-inch pie plate (or 9.5 inches) with cooking spray. I like using glass so while serving, the layers are visible. A deep pie plate is necessary to hold all of this goodness.
Combine a portion of the coffee, brownie mix, vanilla paste, and egg whites in a medium bowl until no dry spots remain. Pour the batter into pan and tap it several times to release air bubbles.
Bake for 20-22 minutes or until it gently springs back when touched in the center. Set aside and allow to cool.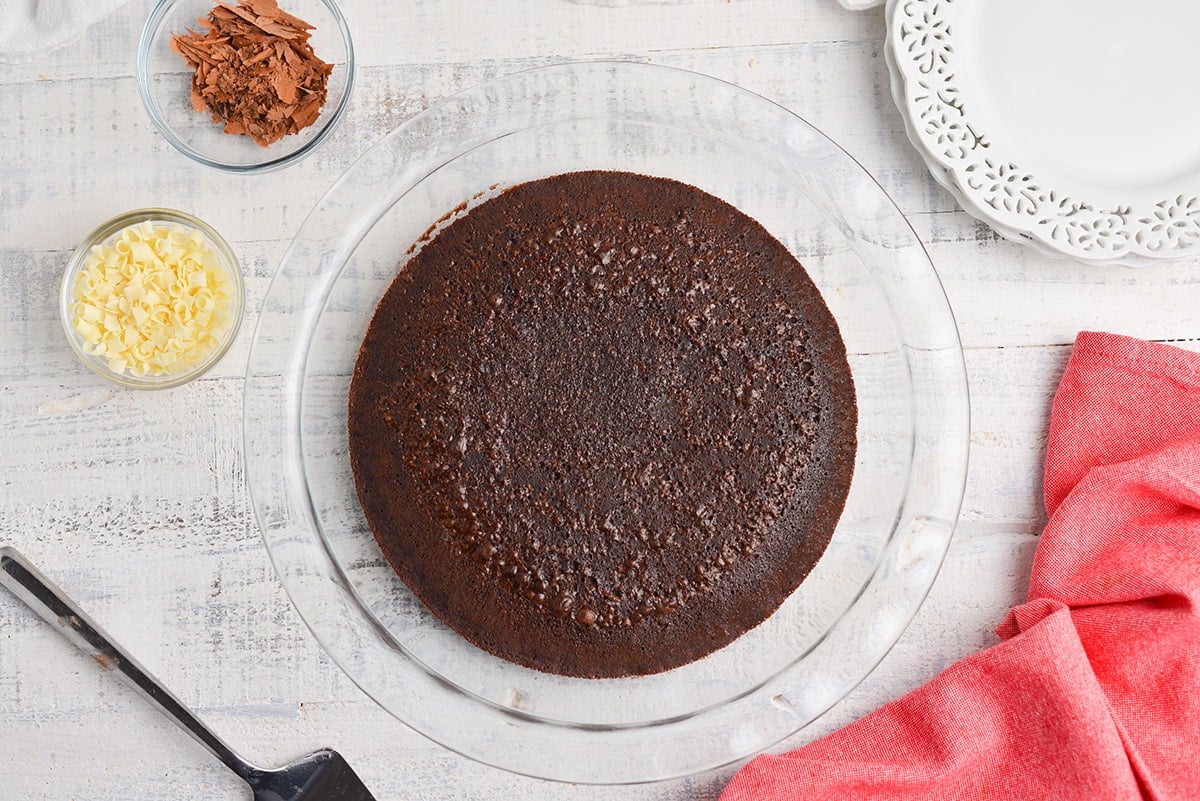 Combine a portion of the coffee, milk, vanilla paste and pudding mix in a bowl. Whisk until the mixture thickens and then spread evenly over the brownie base. Refrigerate while making the top layer.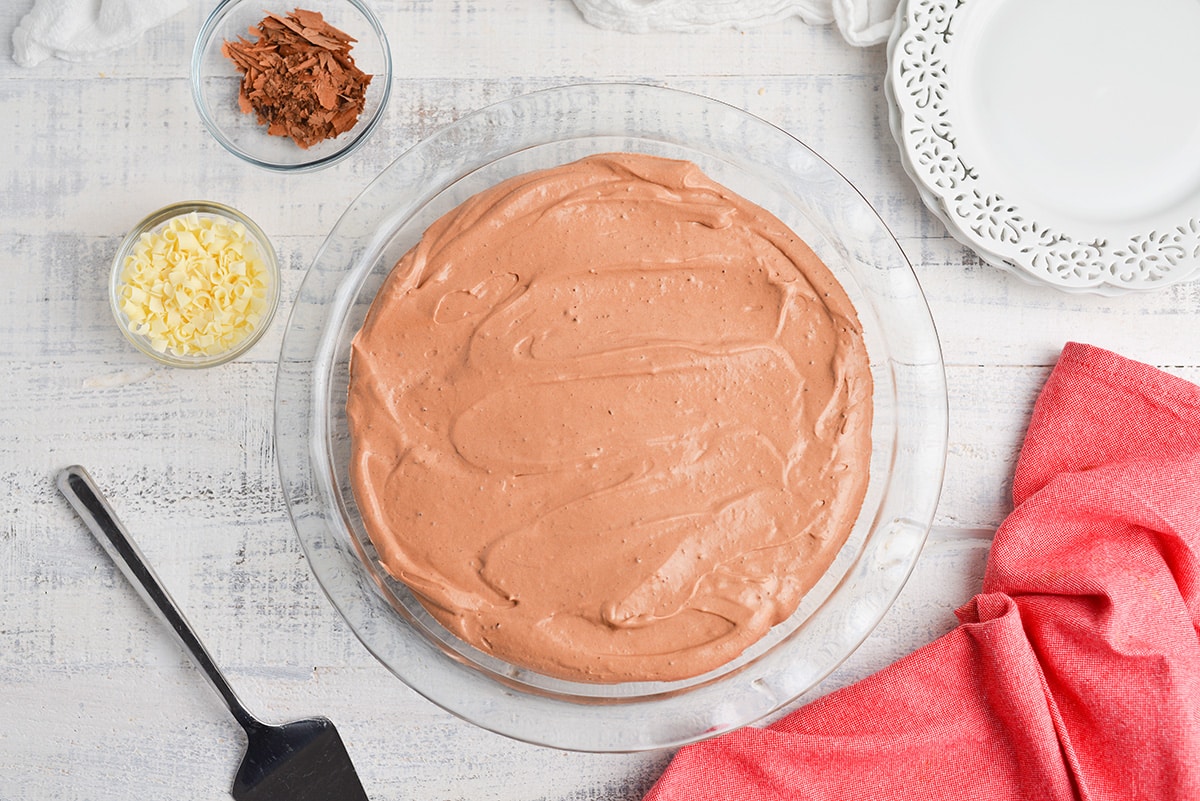 Whisk together the remaining whipped topping and vanilla paste. Spread over the chocolate cream layer. Since the chocolate layer is still soft, pile the last layer in the middle and work it out to the edges, without overworking.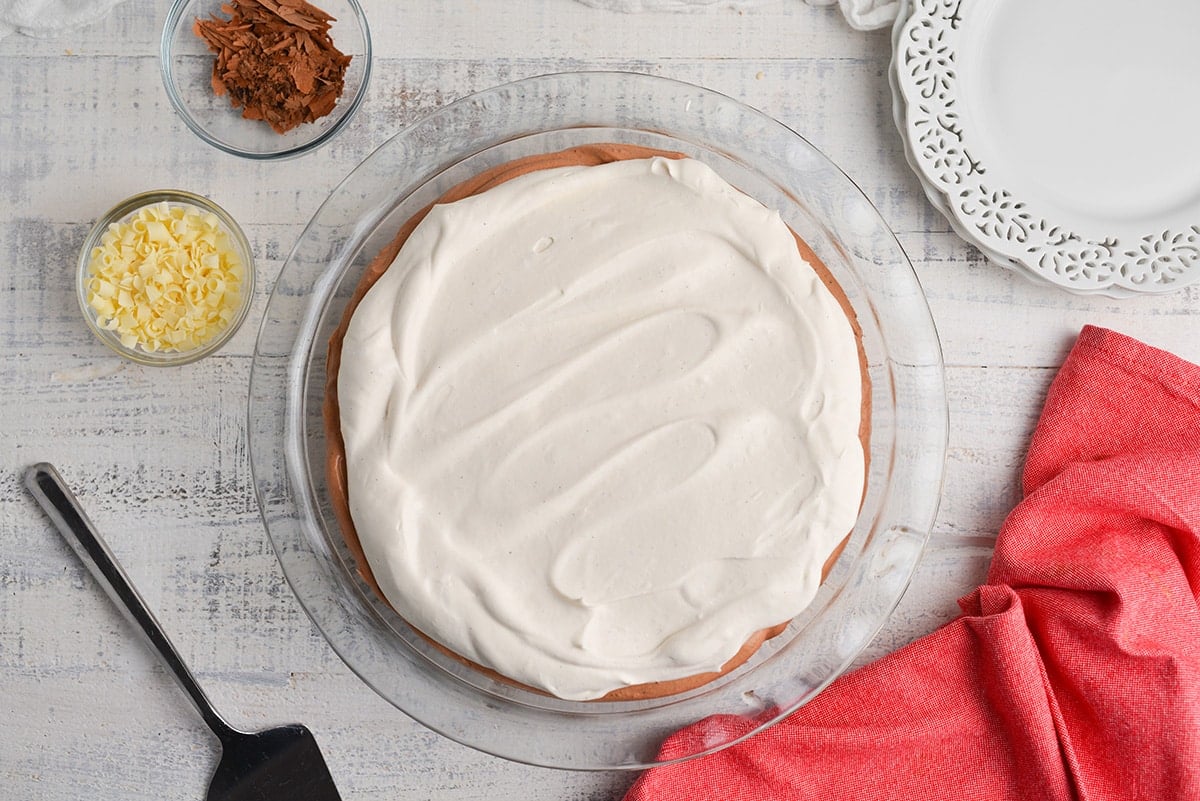 Garnish as desired and refrigerate until ready to serve.
Why Add Coffee to Chocolate Desserts?
Coffee and cocoa (chocolate) are similar flavors. On their own and without sugar, they're both bitter. But when paired together, they improve on their natural flavors. Coffee is often added to baked goods and desserts to intensify the chocolate flavor and balance the bitter. Espresso is another option for even more amplified flavors.
If you are concerned with caffeine, use decaffeinated coffee.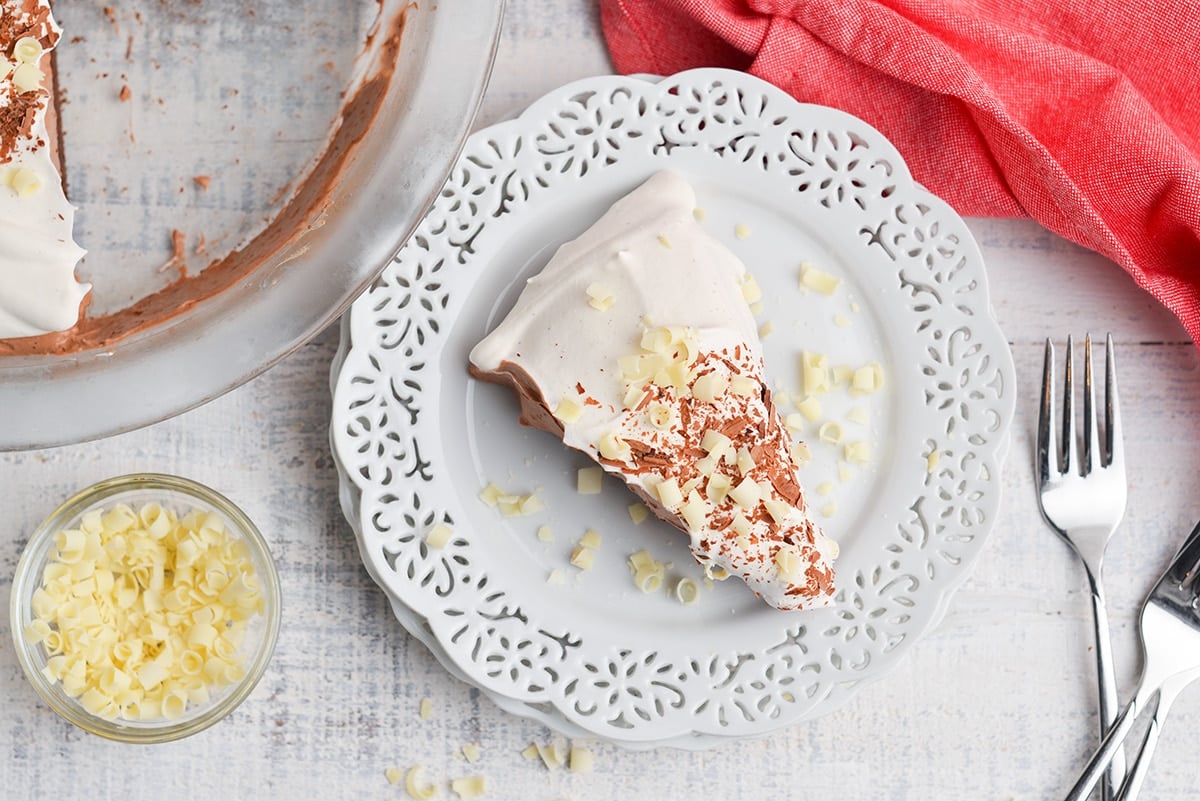 What is Vanilla Bean Paste?
A concentrated, thick syrup made from vanilla pods, it provides more robust flavor than extract and is more convenient than vanilla bean pods. It is particularly good for recipes that are vanilla forward or will show the little flecks, known as the caviar.
How do I Use Vanilla Bean Paste? Paste can be substituted in any recipe that calls for extract. For extract, it is a 1:1 ratio, so 1 teaspoon of vanilla extract would also be 1 teaspoon of vanilla bean paste. If a recipe calls for scraping a vanilla bean pod, substitute 1 tablespoon vanilla bean paste.
Where Do I Buy Vanilla Bean Paste? It can be purchased at most high end grocery stores or craft stores and comes in a little tub. It can, of course, be purchased online.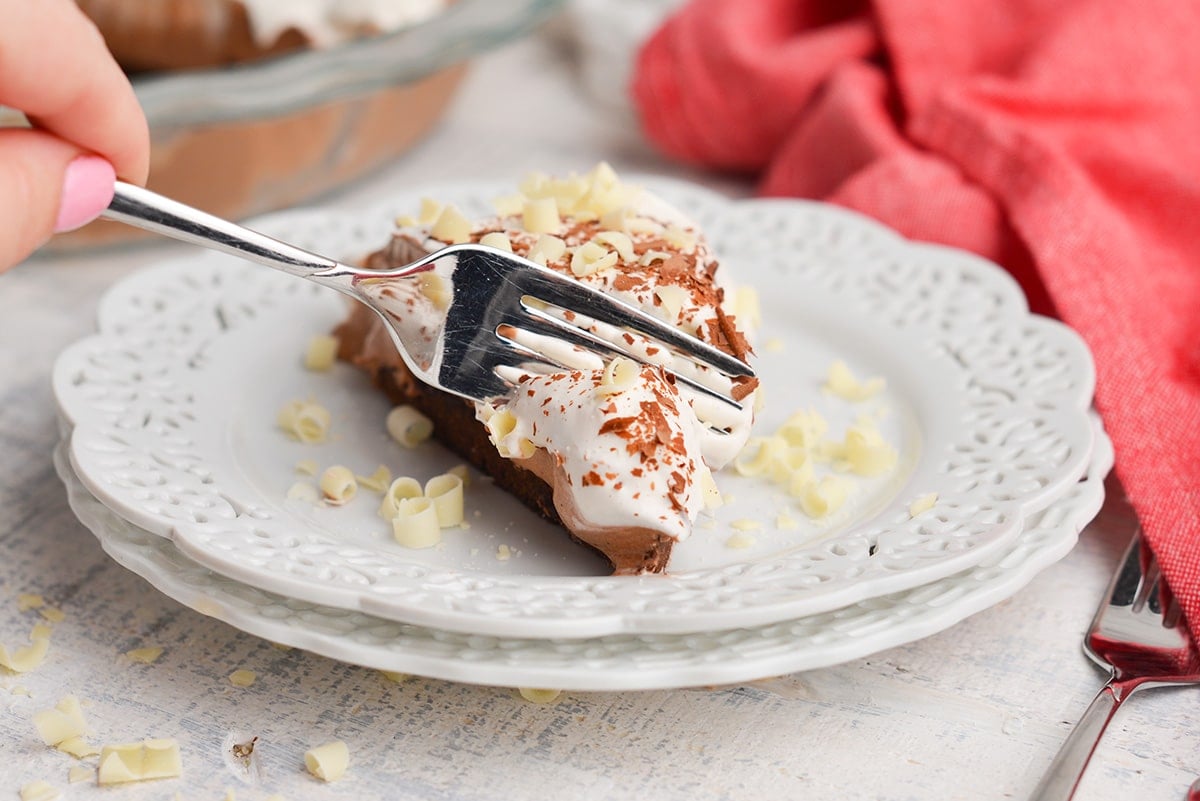 Garnishes
Chocolate Cream Pie can be left ungarnished or decorated with a large array of sauces and toppings. These are our favorites.
White chocolate curls
Dark chocolate curls
Milk chocolate curls
Toffee bits
Dusting of cocoa powder
Chocolate sprinkles
Cookie crumbles (chocolate crunchies)
Drizzle with caramel sauce
Chocolate sauce
Toasted coffee beans (yes, they are edible!)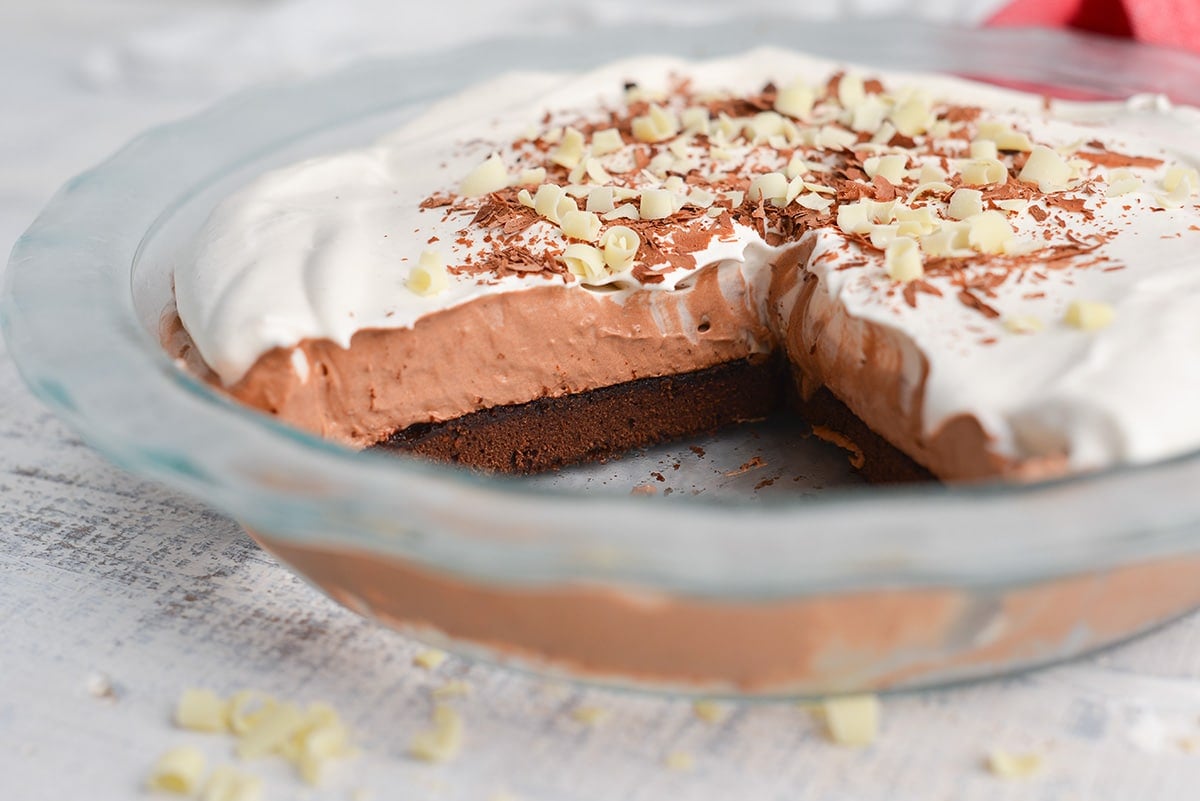 How to Make Chocolate Curls
There are three easy ways to make chocolate curls.
Perhaps the easiest of all, buy them! Premade chocolate curls are available in most grocery stores in the cake aisle or buy them online.
There are two ways to make your own. The first to make shavings, which are more delicate, is the flip over a bar of chocolate and using a metal, straight-edged spatula on it's side and pull it across.
If you do not have a chocolate bar, use a double boiler and melt down your desired chocolate. Spread it onto a silicone mat on a baking sheet and place it in the fridge to harden for 10-15 minutes. Chocolate will be solid, but still a little soft. Using the same technique as above, pull a flat edged spatula across the chocolate, making curls. You can also use a pastry cutter or offset spatula. Since it is soft, you'll get thicker curls instead of shavings. For shavings, allow the chocolate to harden for longer.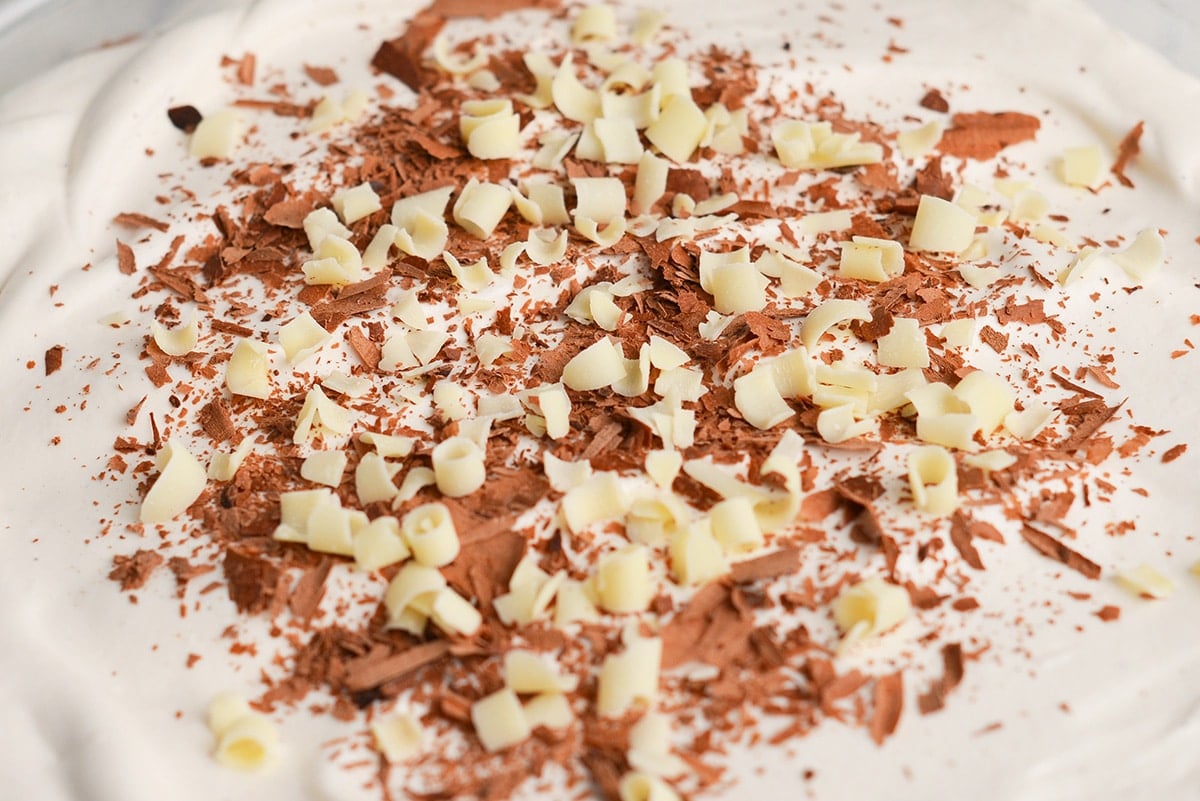 Storage & Freezing
Storage: This cream pie should be kept covered with plastic wrap and refrigerated. It will last for up to 5 days, but is best enjoyed within 24 hours.
Frozen: This can be frozen as a whole pie or a single slice. Freeze the pie unwrapped for covered for 12 hours so the silky toppings harden. Then wrap well in plastic wrap or freezer paper before placing in a plastic freezer bag to store long-term.
To thaw, place in the refrigerator overnight.
More Pie Recipes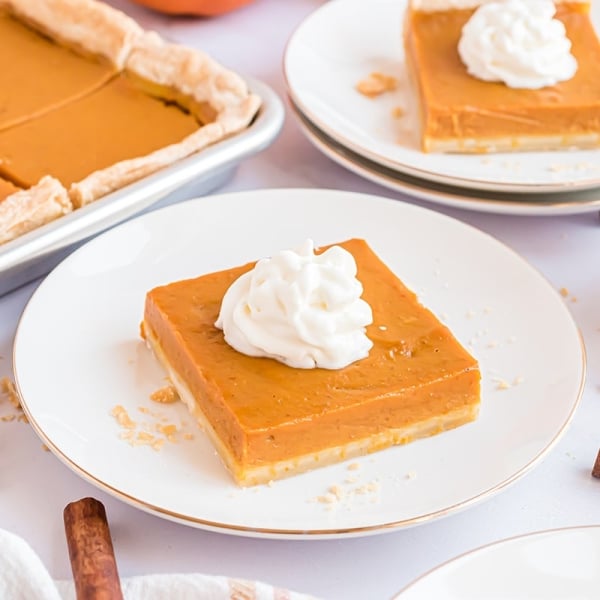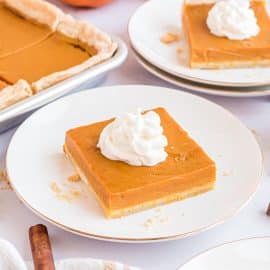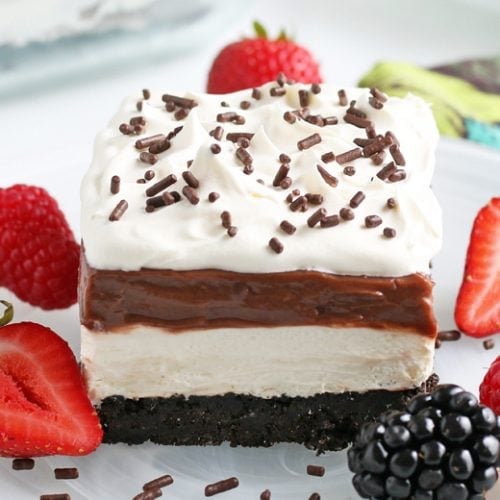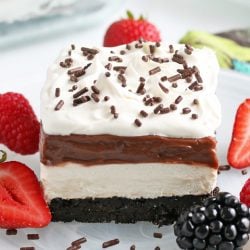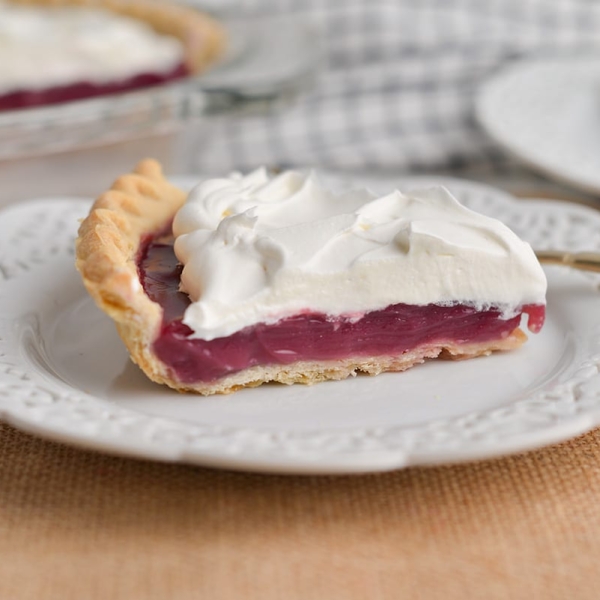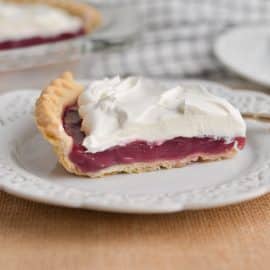 Grape Juice Pie
This EASY Grape Juice Pie (also known as frozen grape pie, concord pie or concord grape pie or jelly pie) is sweet, tart, and creamy!
See The Recipe!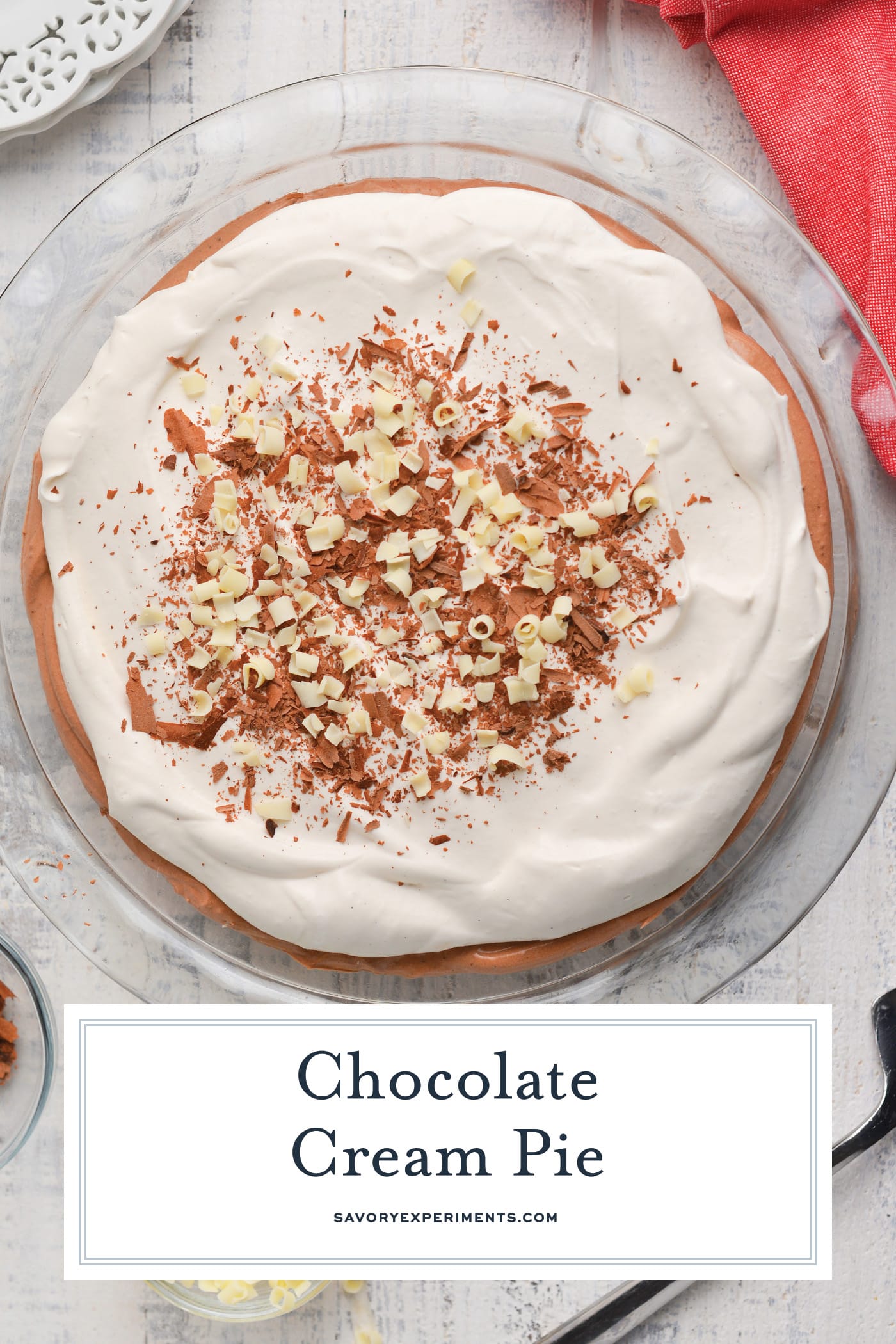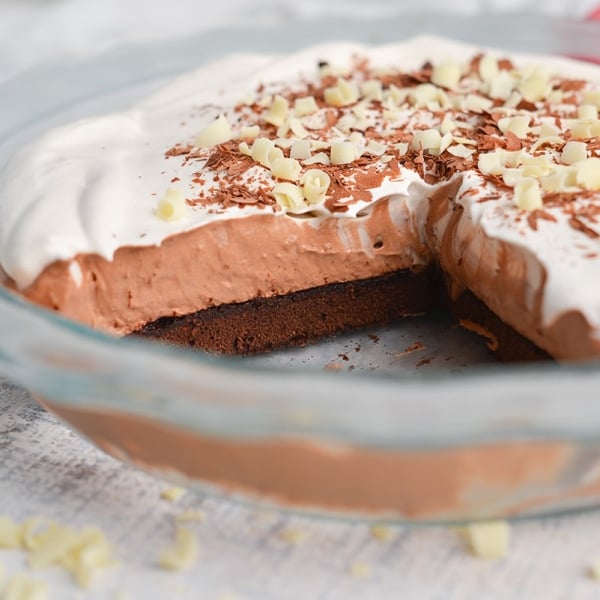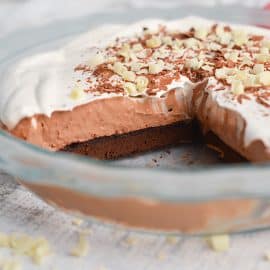 Chocolate Cream Pie Recipe
Mocha Cream Pie Recipe is three layers of delicious pie: brownie base, chocolate pudding, and whipped cream top all laced with coffee.
Equipment
Heat Resistant Rubber Spatula
Instructions
Preheat the oven to 325°F and coat a 9-inch pie plate with cooking spray.

Combine 1/3 cup of the coffee, brownie mix, 1 teaspoon of the vanilla paste, and egg whites in a medium bowl until fully blended. Pour batter into pan. Bake for 20-22 minutes or until it gently springs back when touched in the center. Set aside and allow to cool.

Combine 2 tablespoons of the coffee, milk and 1 teaspoon of vanilla paste in a bowl, whisk lightly and then add pudding mix. Whisk until mixture thickens. Using a spatula, fold in 2 cups of the whipped topping until fully blended. Spread over brownie base.

Whisk together the remaining 2 cups of the whipped topping with the remaining 1 teaspoon of vanilla bean paste. Spread over chocolate pudding mixture for the final layer.

Garnish desired and refrigerate until ready to serve.

If you've tried this recipe, come back and let us know how it was in the comments or star ratings.
Notes
If brownie mix is clumped, sift before adding.
Nutrition
Calories:
474
kcal
,
Carbohydrates:
78
g
,
Protein:
5
g
,
Fat:
15
g
,
Saturated Fat:
5
g
,
Cholesterol:
16
mg
,
Sodium:
396
mg
,
Potassium:
82
mg
,
Sugar:
50
g
,
Vitamin A:
160
IU
,
Calcium:
39
mg
,
Iron:
2.5
mg