Who else believes that sometimes breakfast should taste a little bit like dessert? These delicious Blackberry Popovers are a delicious breakfast pastry that are just sweet enough to feel like you're having a bit of dessert to start your day.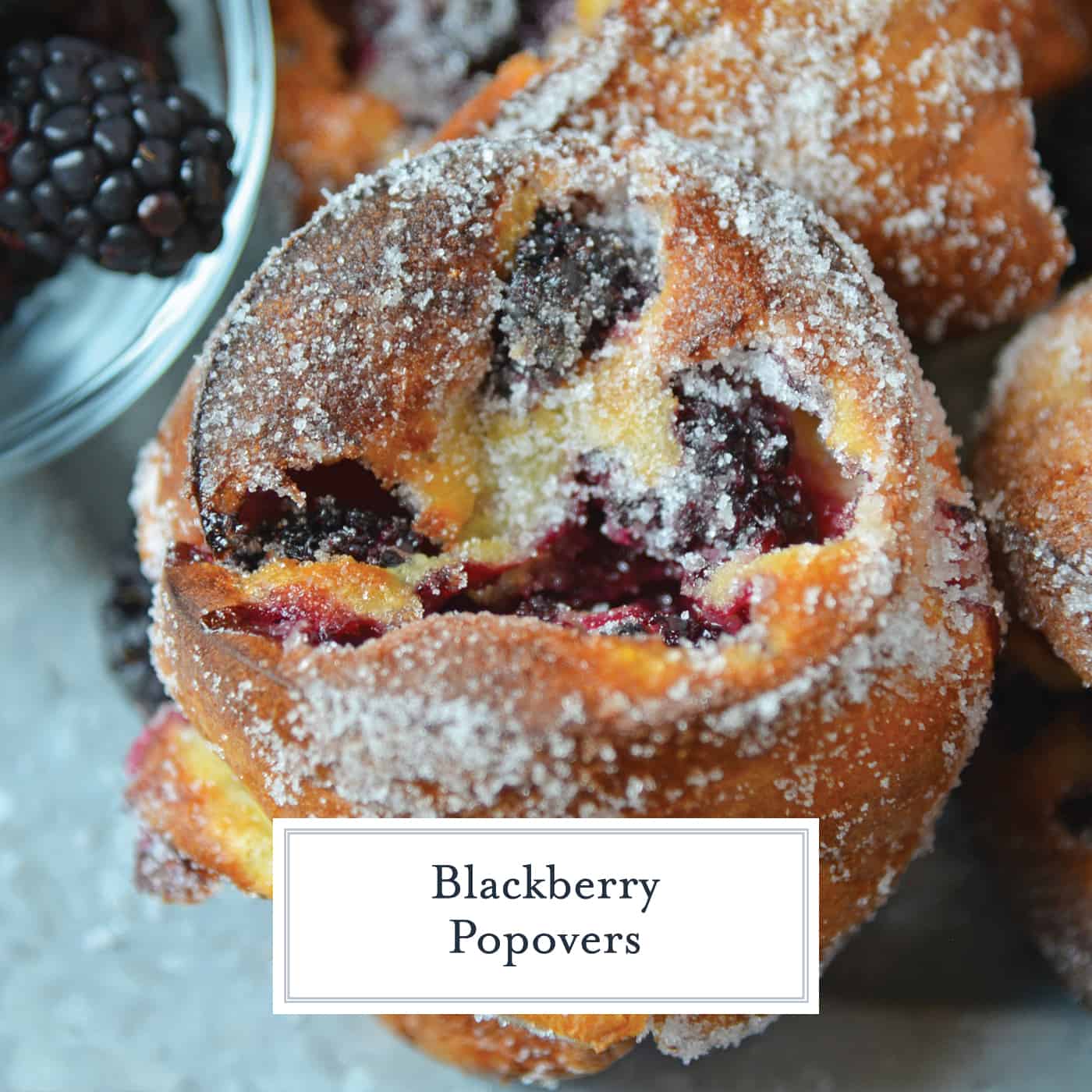 These Blackberry Popovers are a dessert-like breakfast, perfect for a weekend brunch or special occasion. They'll quickly become your favorite treat and the best popovers you ever make!
Breakfast is far from the meal I spend the most time preparing. Mornings are just too chaotic to spend a lot of time in the kitchen, even though I love it, and I tend to aim for quick, healthy and easy.
However, whenever there's a morning with no plans on my schedule, I do like to take the time to experiment with new breakfast treats. Bonus points given for something that tastes like dessert and will impress friends I have over for brunch.
Which brings me to these Blackberry Popovers, which are easily the best popovers I've ever made.
I am a little obsessed with popovers. It is like a breakfast churro. Crunchy cinnamon and sugar covering a fluffy bread ball dotted with blackberries. What is not to love?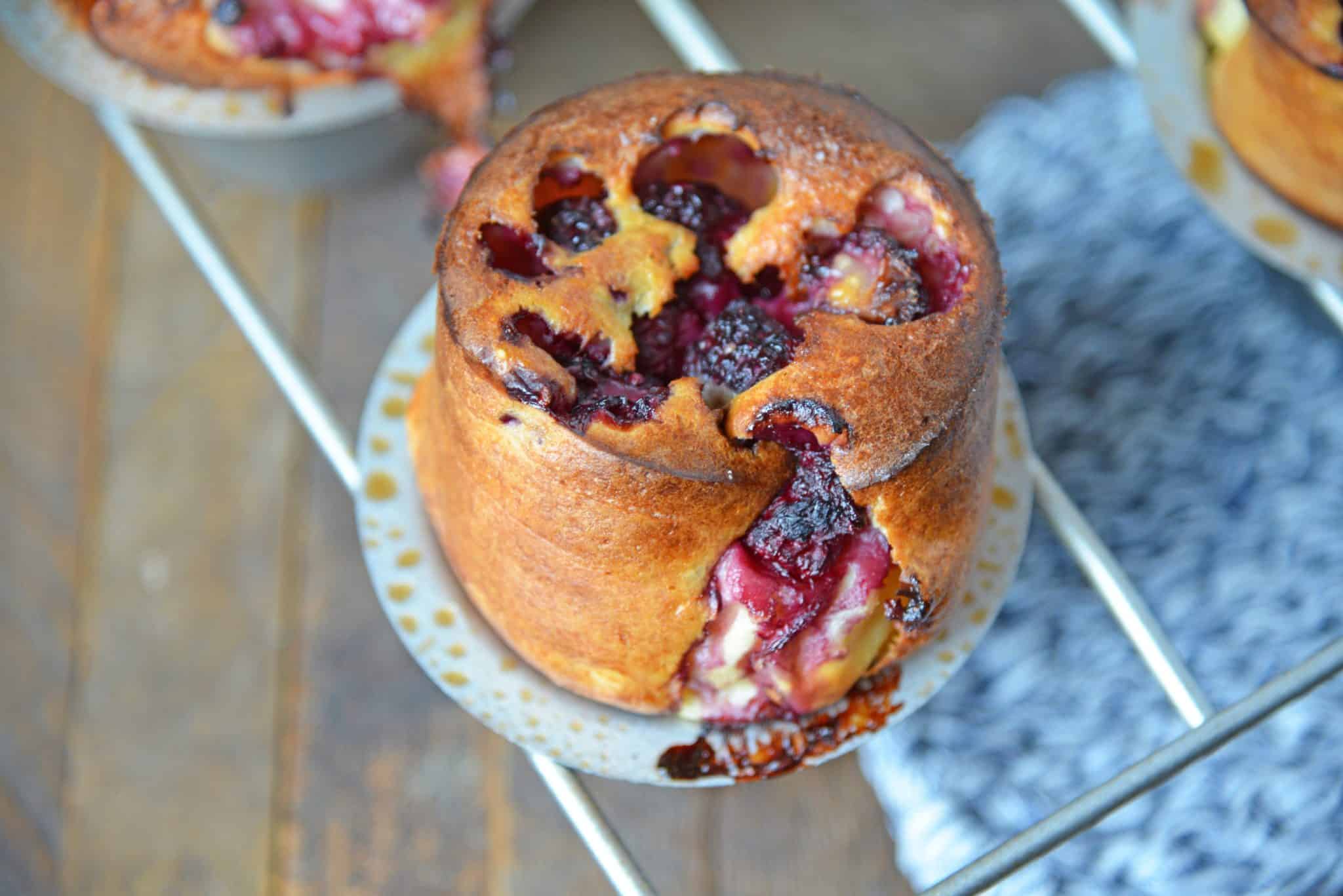 So, what is a popover? A popover is similar to Yorkshire pudding, a light and puffy pastry, similar to a hollowed-out muffin, made from a batter that is very similar to pancake batter. The name comes from the way they "pop" over the edge of the pan when baking.
Do I need a popover pan (link below)? Yes and no. I know you wanted a more straightforward answer.
Popover pans are structured to let air circulate around the dough and allow it to popover the top unencumbered. They are also deep and narrow.
You can use a muffin tin, but only use every other well so the popovers aren't next to each other. Keep an eye on them, as cooking times will likely need to be adjusted.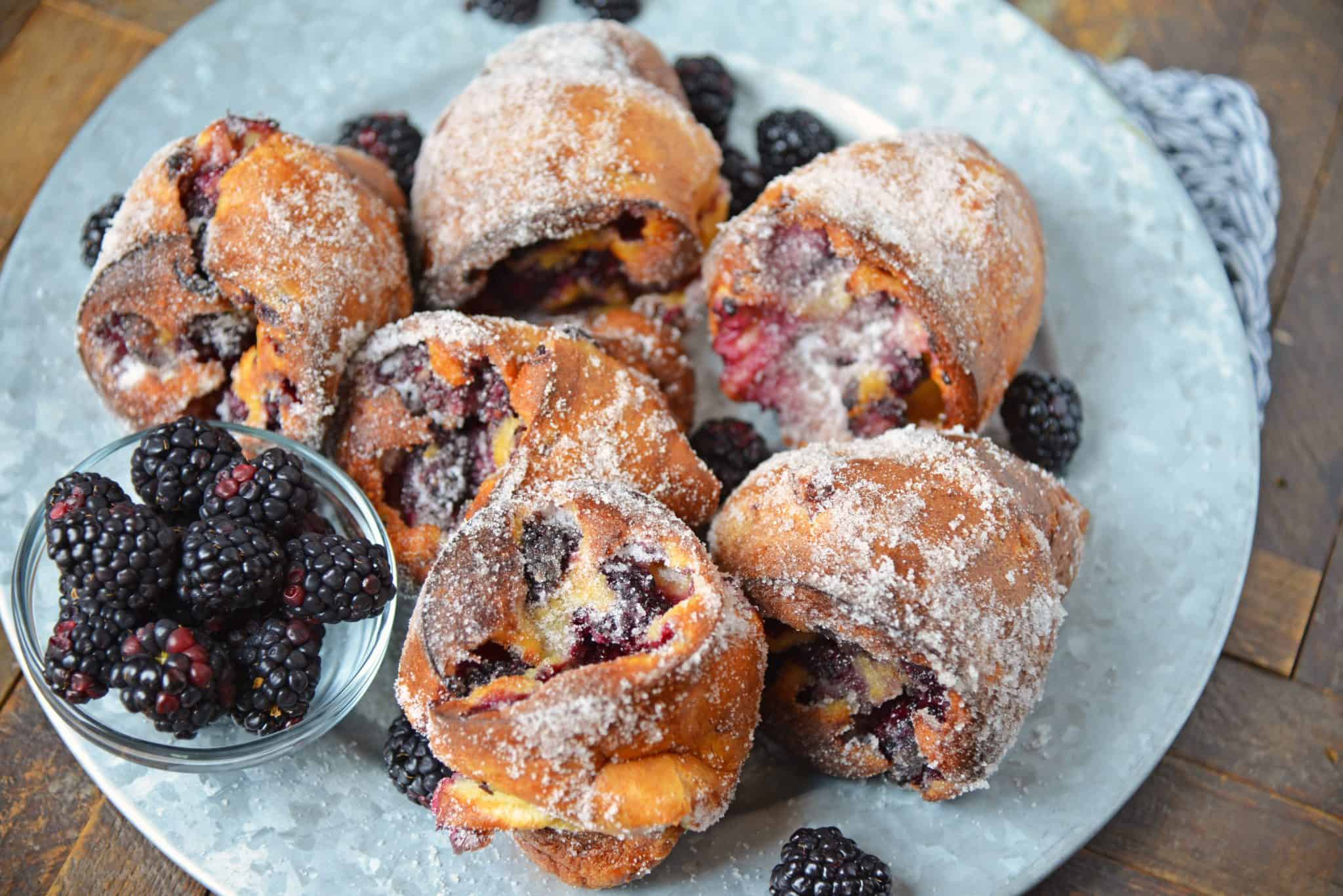 Popovers are notorious for being hard to make but I've found when you pay extra attention to the details of the recipe, they're much easier to make than you think.
For this particular popover recipe, preheating the pan in the oven is essential and always make sure to remove popovers from the pan immediately after removing from the oven.
If you don't have a stand mixer, you can use a blender. And if you don't have a stand mixer or blender, whisk it like crazy by hand!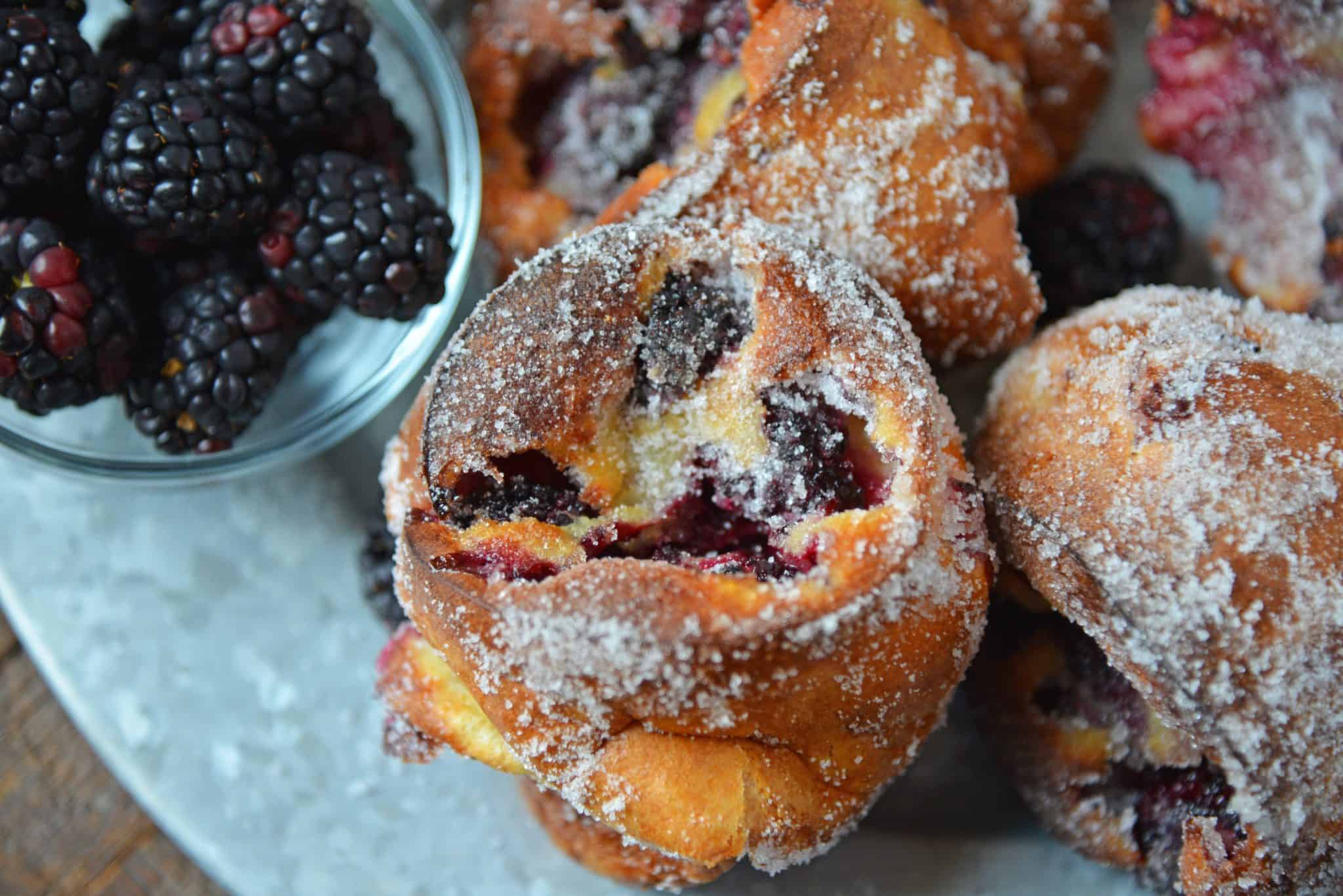 These Blackberry Popovers are best served warm from the oven, which is why I love making them for brunch. Nothing like impressing your friends with a warm, melt-in-your-mouth pastry in the morning!
Since you like this popover recipe, you'll probably like these other sweet breakfast recipes: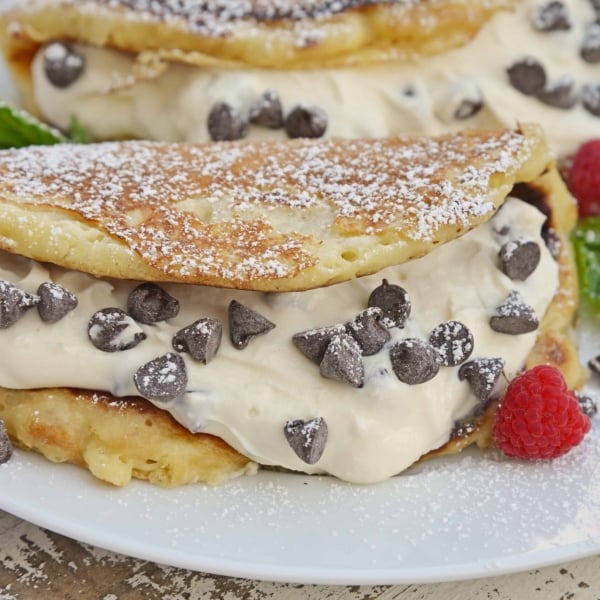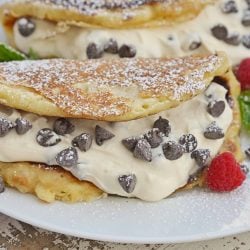 Cannoli Pancakes
These Cannoli Pancakes are the ultimate decadent but fun pancake recipe. Loaded with sweet, creamy cannoli filling this breakfast cannoli is like starting your day with dessert!
See The Recipe!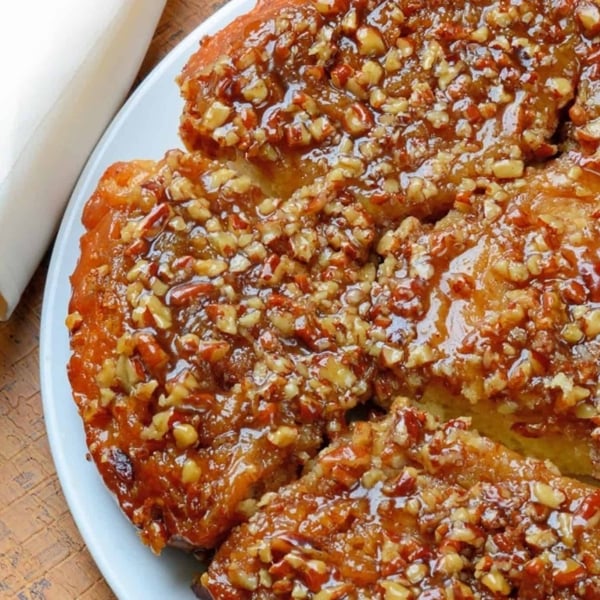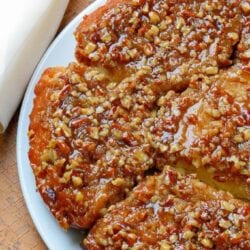 Pecan Rolls Recipe
Pecan Sticky Buns are the best hot sticky bun recipe out there, made just the way grandma on the farm made them with a caramel pecan sauce.
See The Recipe!
Tools For Making Popovers:
Popover pan – Not mandatory, but super helpful. You'll be making ALL the popover recipes.
Stand Mixer– I lived for a long time without one. My life was changed when I finally bit the bullet and bought one. Just do it and thank yourself later.
Blender– Another small appliance worth the investment. Blenders aren't just for smoothies, they are great for popover batter, pancake batter and more!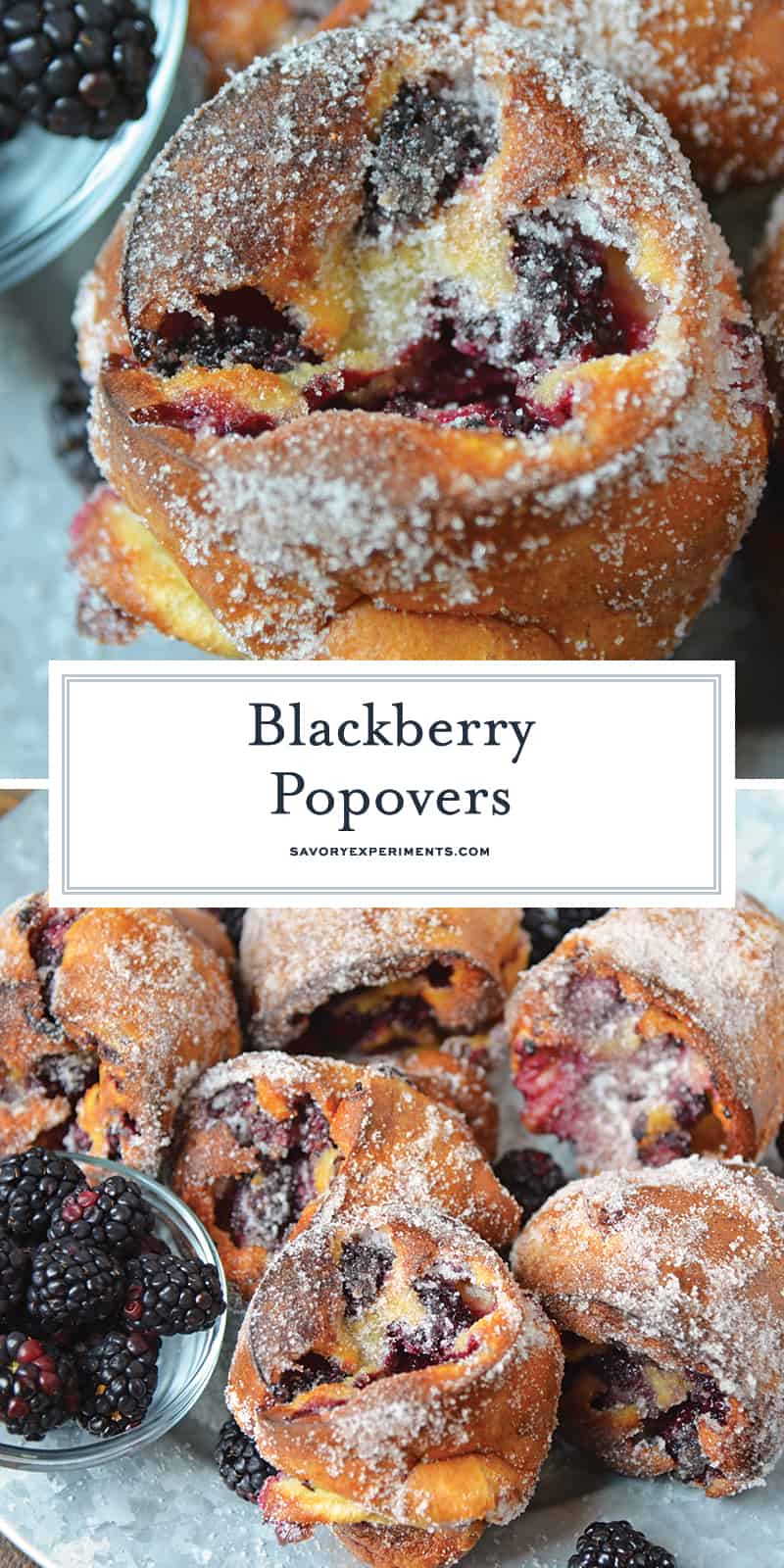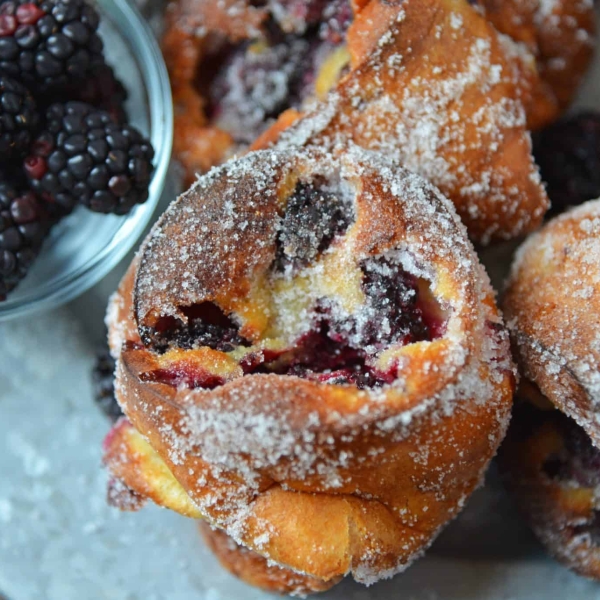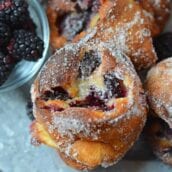 Blackberry Popovers
These Blackberry Popovers are a true melt-in-your-mouth breakfast treat, guaranteed to impress guests. Easier to make than you think, too!
Instructions
Place nonstick popover pan on lowest rack in oven and preheat oven to 450 degrees (with pan in it).

In the bowl of a stand mixer fitted with the whisk attachment or a large mixing bowl and hand whisk, combine eggs, milk and vanilla. Whisk until frothy, approximately 1 minute.

Add flour, salt, and 1/4 cup sugar to egg mixture.

Whisk flour and salt into egg mixture just until batter is the consistency of heavy cream with some small lumps remaining. There will be air bubbles.

In a small bowl, toss blackberries with 2 tablespoons sugar. Gently fold blackberries and any loose sugar into the batter.

Remove popover pan from oven and coat with cooking spray.

Fill popover cups three-quarters full with batter. Bake 20 minutes, then reduce oven temperature to 350 degrees. Continue to bake until golden brown and dry to the touch, about 20 minutes more.

Remove from pan immediately and poke a small hole in the bottoms to release steam.

Brush tops of baked popovers with melted butter, then roll in remaining sugar.

Serve immediately. Popovers are best fresh and hot.

If you've tried this recipe, come back to let us know how you liked them!
Nutrition
Calories:
291
kcal
,
Carbohydrates:
45
g
,
Protein:
8
g
,
Fat:
8
g
,
Saturated Fat:
4
g
,
Cholesterol:
97
mg
,
Sodium:
446
mg
,
Potassium:
183
mg
,
Fiber:
2
g
,
Sugar:
21
g
,
Vitamin A:
385
IU
,
Vitamin C:
5
mg
,
Calcium:
93
mg
,
Iron:
2
mg