A southern classic, Grape Juice Pie might come as a surprise to others, but makes perfect culinary sense. What probably came out of necessity for a delicious dessert with a limited pantry and tight budget, this fun pie will be sure to turn heads and give you a pleasant surprise.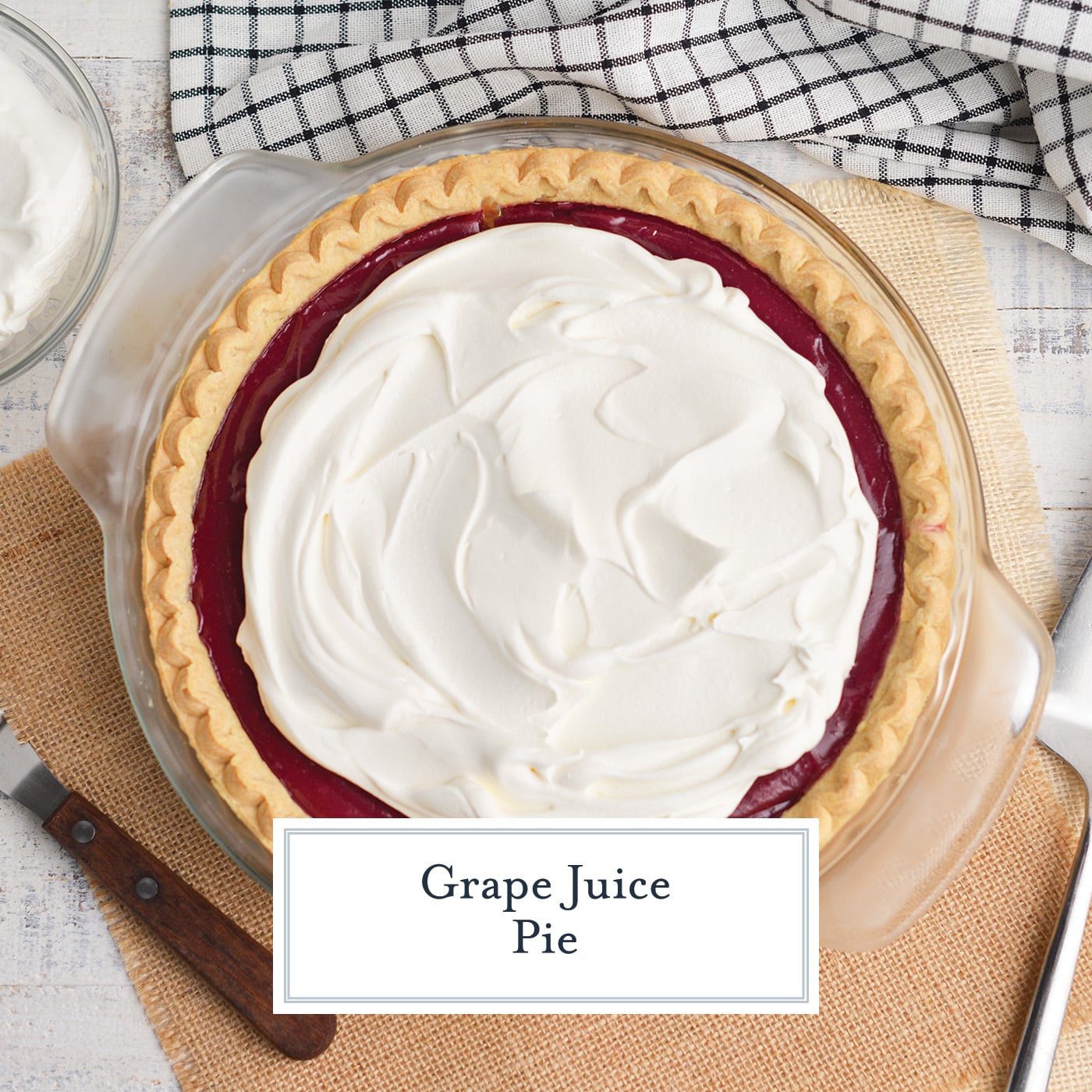 Natural sugars in the juice and additional sugar caramelize and thicken using cornstarch and eggs. Lemon juice and salt balance the sweet for a fun, creamy, and slightly tart pie.
What is Grape Juice Pie?
This purple pie goes by several different names. Some you might see it masquerading as are frozen grape pie, concord pie or concord grape pie or jelly pie.
It is a no-bake pie, but does require some skill in making the filling by thickening the juice and then tempering with an egg. Plan for a minimum of 4 hours in the fridge to chill before serving. Without chill time, the filling will just plop out of the pie crust.
It tastes like amplified grape jelly, but with a buttery pastry crust and jammy filling, all slathered with fluffy whipped cream. It's a light dessert, but packed with tongue tingling flavors.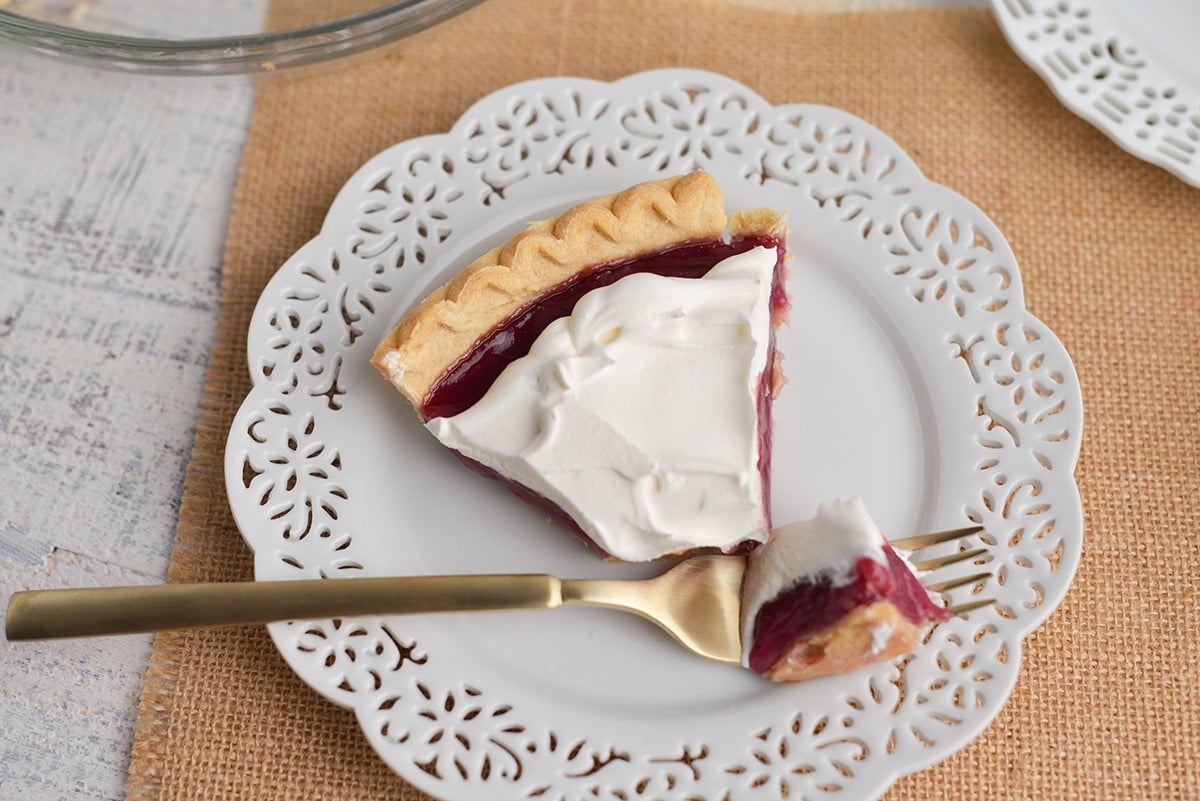 What is Tempering Eggs?
In baking, tempering is often used when adding eggs to hot liquid. If they were just tossed in, you'd end up with scrambled egg wisps, but the process of continuously whisking and then gently adding results in a pastry cream that thickens the mixture, but also makes it into a velvety pastry cream.
The process includes combining raw eggs with a hot liquid to create a stable base. Usually this means to add a small amount of the hot liquid to the egg(s) while agitating (whisking) to prevent them from cooking. Then the whisked egg is added back to the larger mixture and blended seamlessly.
It's a similar process to making hollandaise sauce or eggnog.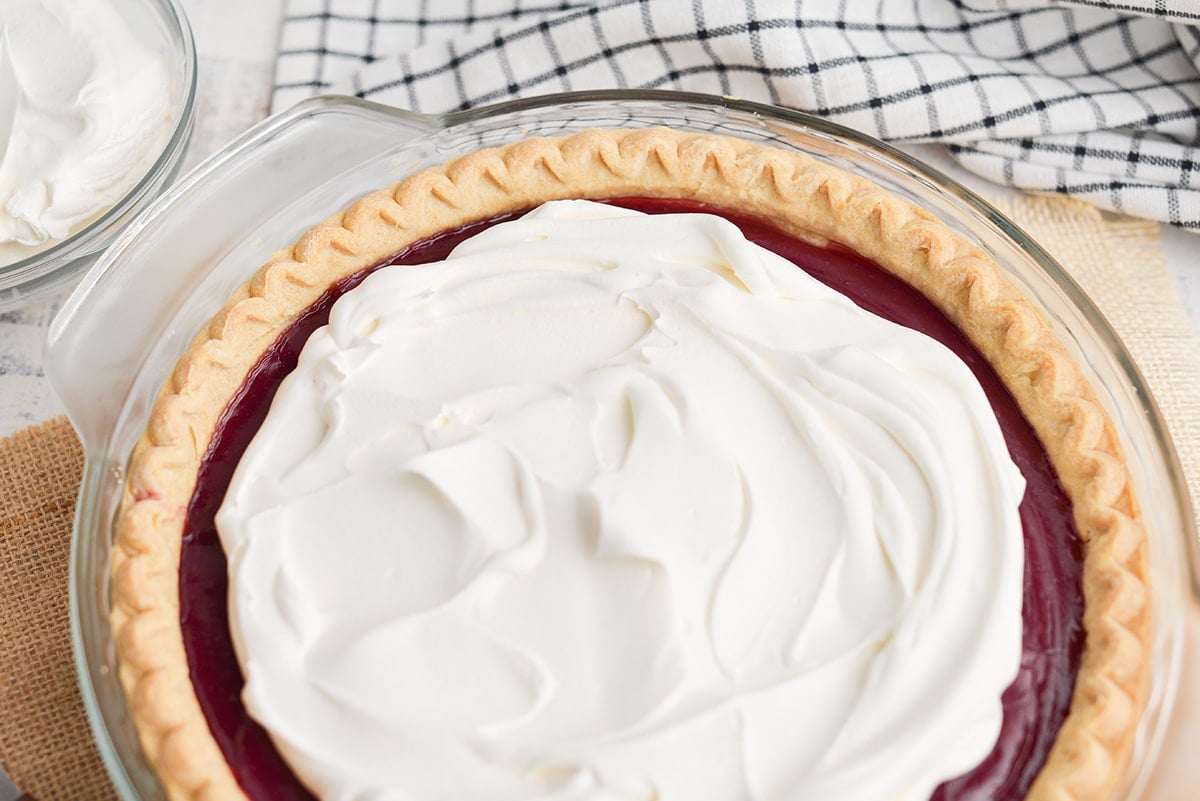 Why You'll Love Grape Juice Pie
There's so much to love about this juicy pie.
Easy – As pies go, this is a fairly easy recipe to bake up quickly.
Versatile – This is a great pie for casual parties or more formal get-togethers.
Crowd-pleaser – It's both eye-catching and delicious.
Convenient – If you don't already have the ingredients they're easy to find at the grocery store.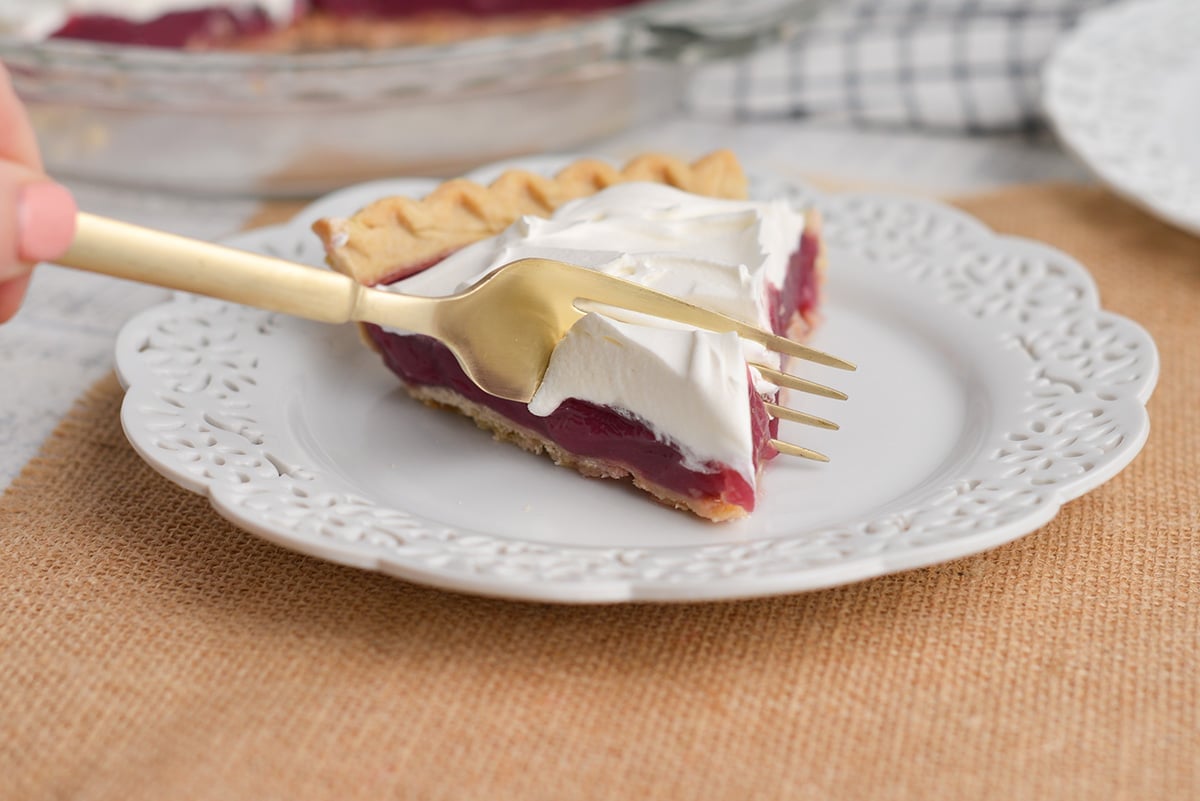 Ingredients
This sweet pie only requires a handful of ingredients.
Refrigerated pie crust – Using a ready-made pie crust makes this pie so simple.
Sugar – White sugar will work well.
Cornstarch – This helps to create just the right texture.
Concord grape juice – Avoid using a diet variety for the best flavor.
Egg – Large size eggs are standard for baked goods.
Unsalted butter – Make sure to cut the butter into small cubes or slices.
Lemon juice – This brings brightness to the dish.
Coarse kosher salt – Salt helps to bring out the flavors of the fruit.
Whipped cream – You can buy a variety like Cool Whip or make your own at home.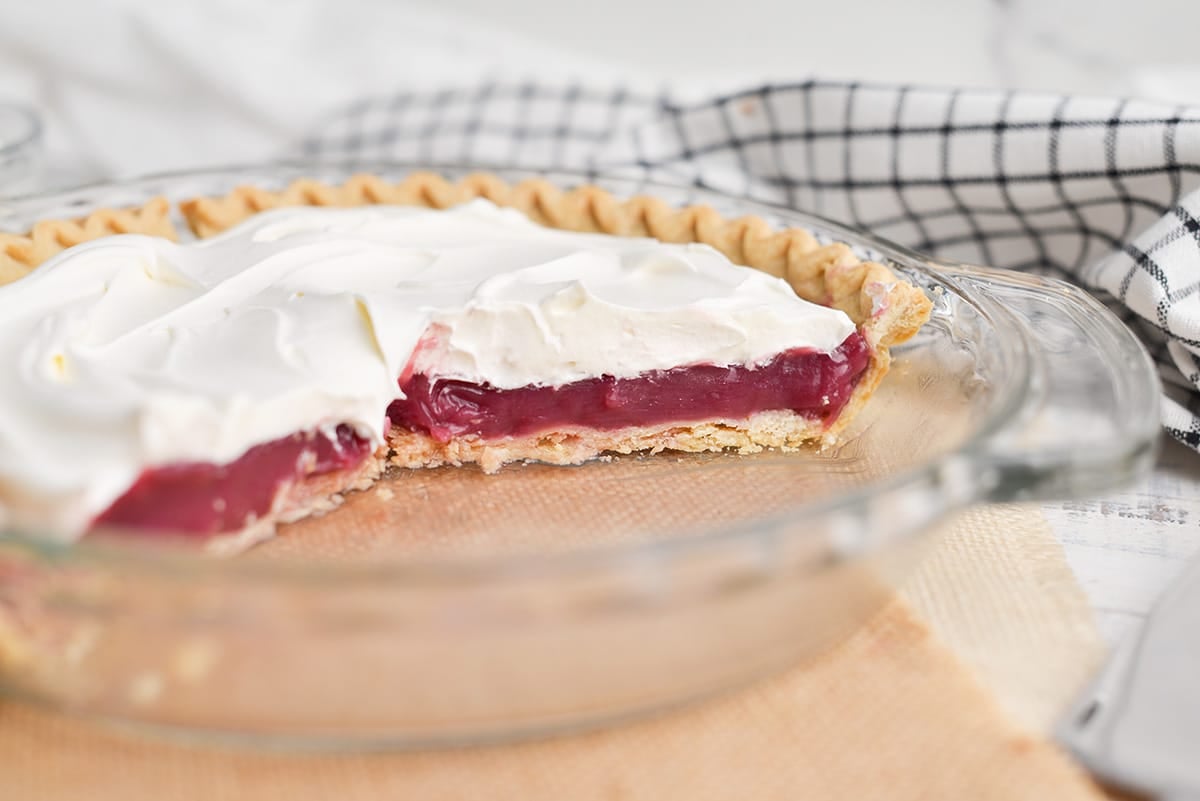 How to Make this Grape Pie Recipe
This pie comes together so quickly.
After rolling out the pie crust in a pie plate. Crimp edges using your fingers or a fork.
Cover edge with aluminum foil and place it in the preheated oven. Be sure to place it in the center of oven.
Bake it until the crust until it is light golden brown.
Cool the crust on a wire rack.
Combine sugar and cornstarch in a medium saucepan.
Using a whisk, mix sugar and cornstarch until completely combined.
Pour in the grape juice and simmer briefly until the juice mixture thickens.
Then, remove from heat.
Add an egg to a small bowl. Whisk it, then use a small amount of hot mixture to temper the beaten egg.
Continue whisking, then add the egg mixture into the grape juice mixture.
To the egg and grape juice, add the butter, lemon juice and salt
Mix the ingredients together in the saucepan until the butter melts and the mixture is glossy, thick, and smooth.
Pour the grape filling into the crust.
Cool on the counter for a little bit until it reaches room temperature.
Then, cover and place pie in the refrigerator. For best results, refrigerate for several house.
Once set, spread the whipped cream on top of the filling.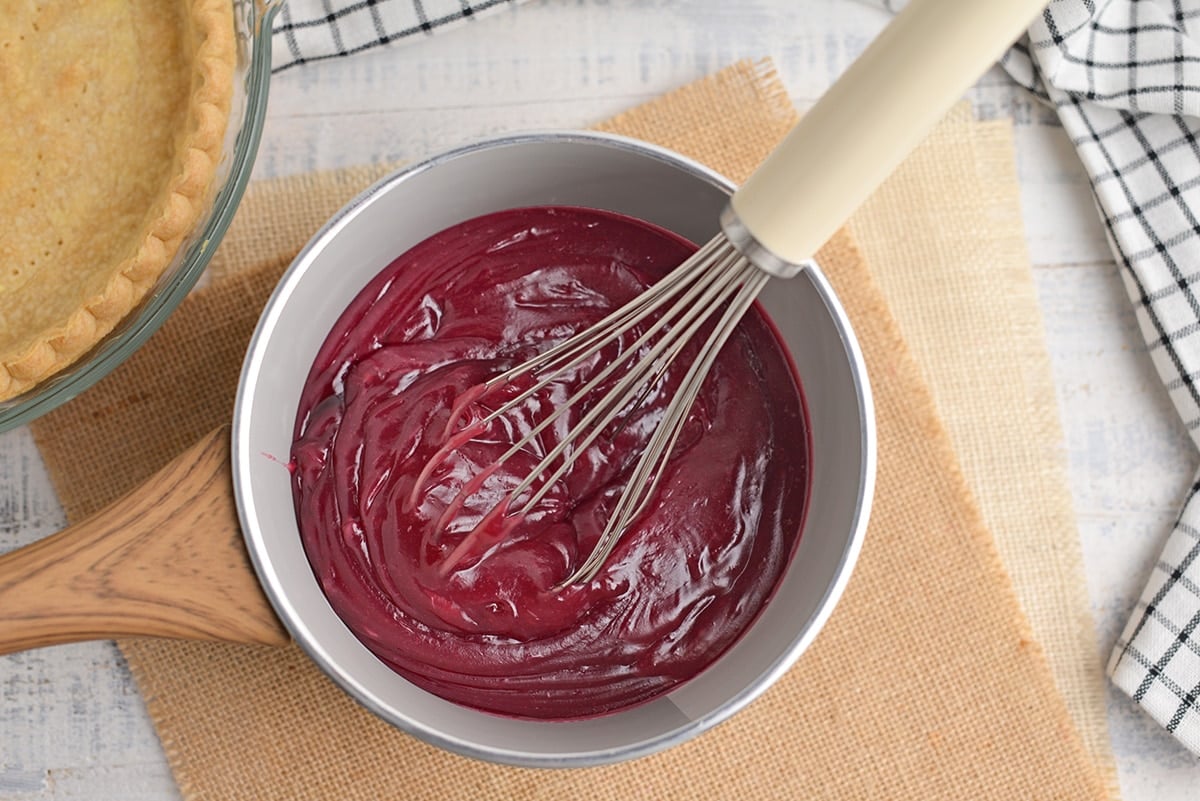 What to serve with Grape Juice Pie
There are plenty of things to serve with grape juice pie. You can always add more whipped cream or a big scoop of vanilla ice cream. You could also serve fruit, particularly red or green grapes or fresh fruit salad.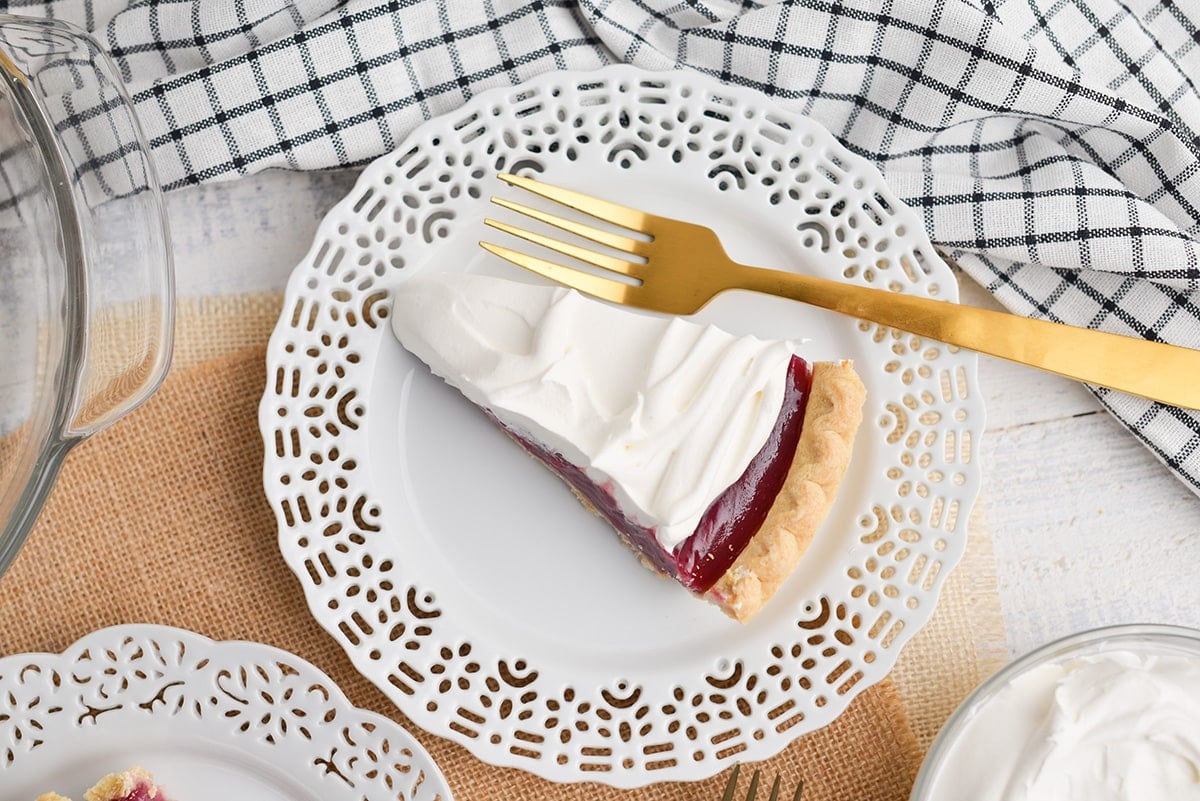 Variations
This is a fairly simple pie so there aren't as many variations as other recipes, but this is what I've got for you.
Crust– I used a premade pie crust, but feel free to make your own or use a graham cracker or cookie crust. You can also choose to do a top crust instead of the whipped cream, as well.
Other Juices– I have not tried using any other juices, but it should work as long as the juice isn't a diet or reduced sugar juice. The possibilities are endless here- orange juice pie, cranberry pie… I might even try a wine pie. YUM!
Topping– Whipped cream is a natural enhancement, but a light dusting of powdered sugar also works. You can also trade out the whipped cream for a crumb topping on top of the pie.
Fresh Fruit– This pie shines with its simplicity so I don't over do it with toppings or garnishes, but if you wanted to get a tad snazzy, serve with fresh berries.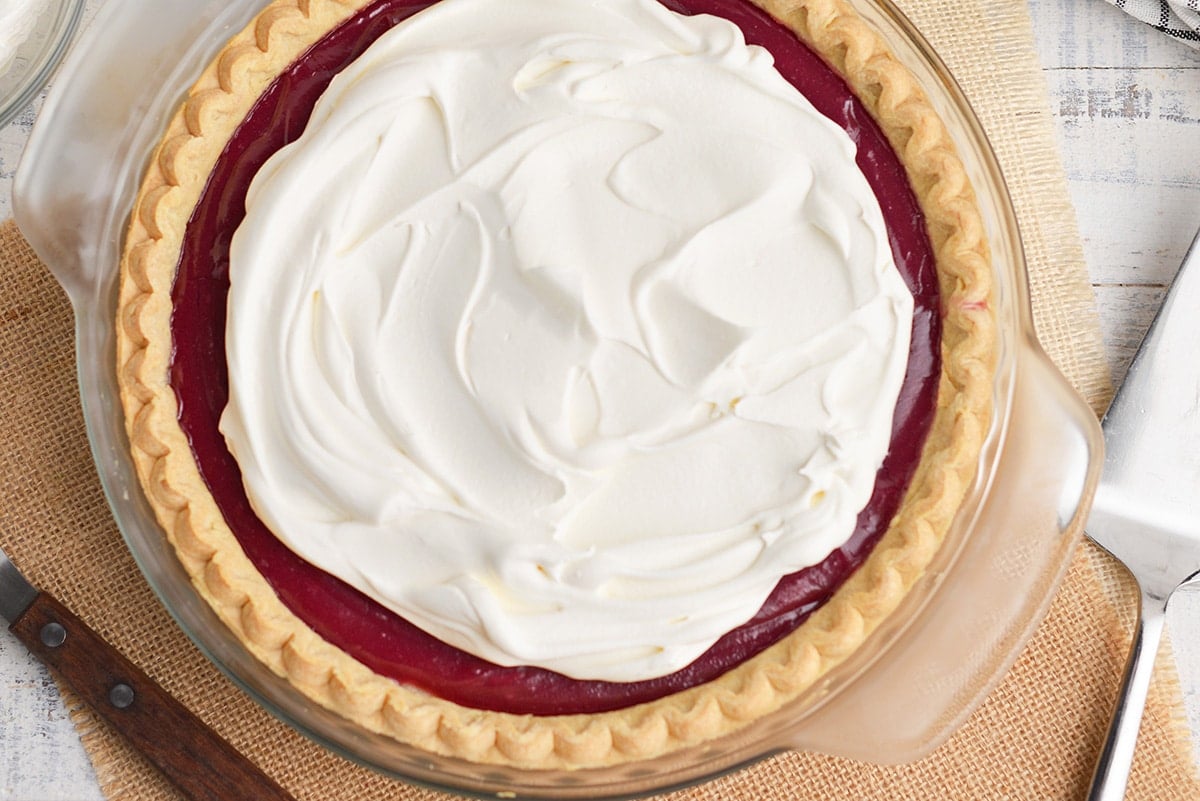 Storage, Make Ahead and Freezing
According to some, you can technically store a fruit pie at room temperature for a couple days but we recommend keeping it in the refrigerator.
Make-Ahead: This recipe is best made all at once since the filling will set if left in a bowl.
Refrigerator: Cover the pie with plastic wrap or aluminum foil (or store slices in an airtight container) for up to 5 days.
Freezer: Wrap the pie tightly with saran wrap or store slices in freezer bags for up to 3 months.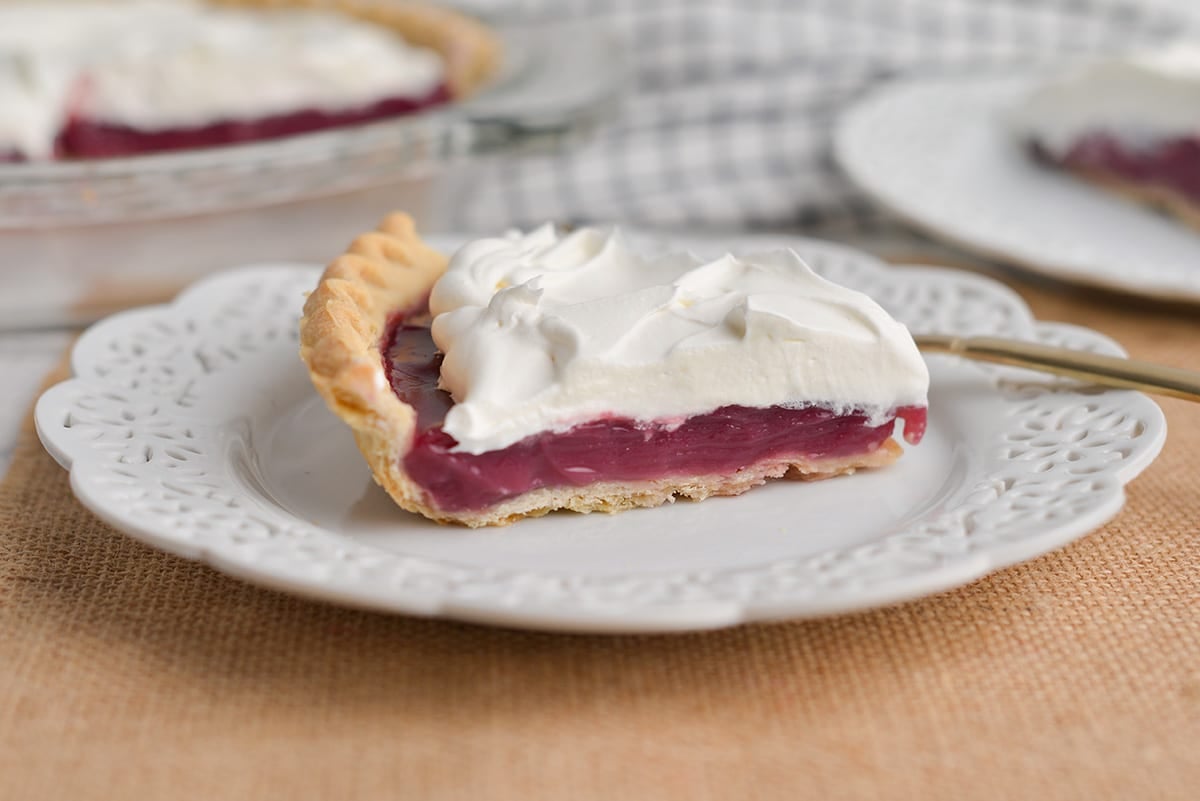 Common Questions About Grape Juice Pie
What does grape pie taste like?
The grape pie filling tastes a lot like the juice itself but with an elevated version of jammy flavor. The sweet whipped cream on top mingles well with the jammy filling and the flaky, buttery crust.
What is the difference between Concord grapes and regular grapes?
Concord grapes, native to North America, are larger and have larger seeds than any European grape variety. Concord grape skins (which are slip skins) are also much thicker.
What is the history of Concord grape pie?
In the 1960s in Naples, restaurateur Al Hodges collaborated with Irene Bouchard to create the pie which he then sold at his restaurant and she sold out of her home.
Other Pies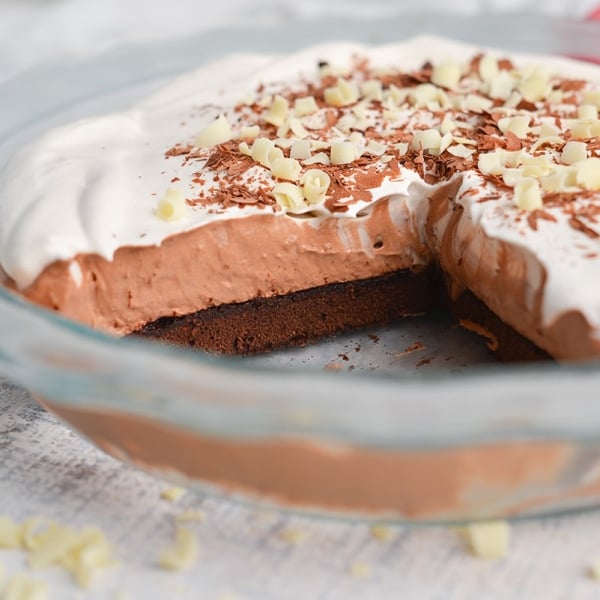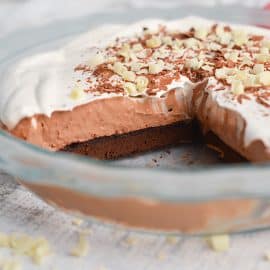 Chocolate Cream Pie Recipe
Mocha Cream Pie Recipe is three layers of delicious pie: brownie base, chocolate pudding, and whipped cream top all laced with coffee.
View this recipe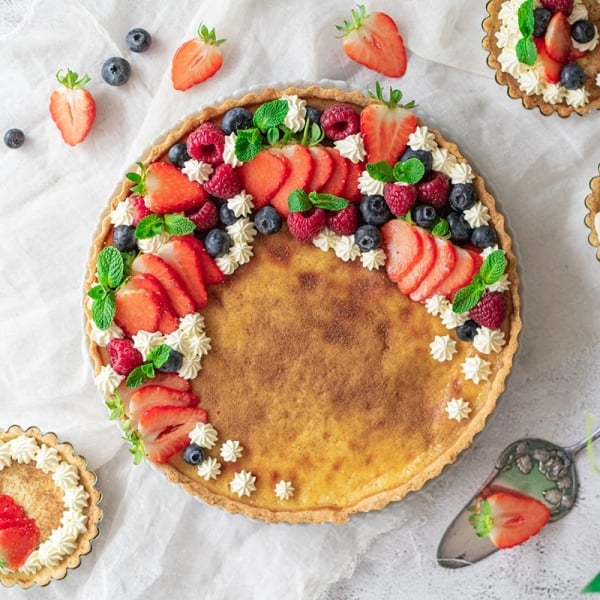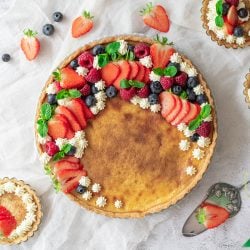 Classic Custard Pie
With a silky-smooth custard filling, this Custard Pie is easy to make and perfect for all seasons. Top with cinnamon, whipped cream or fruit!
View this recipe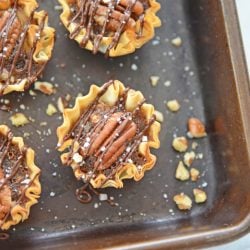 Mini Pecan Pies
With only one bowl and 20 minutes, you can have these EASY Mini Pecan Pies done in no time! This is the BEST Mini Pecan Pies recipe.
View this recipe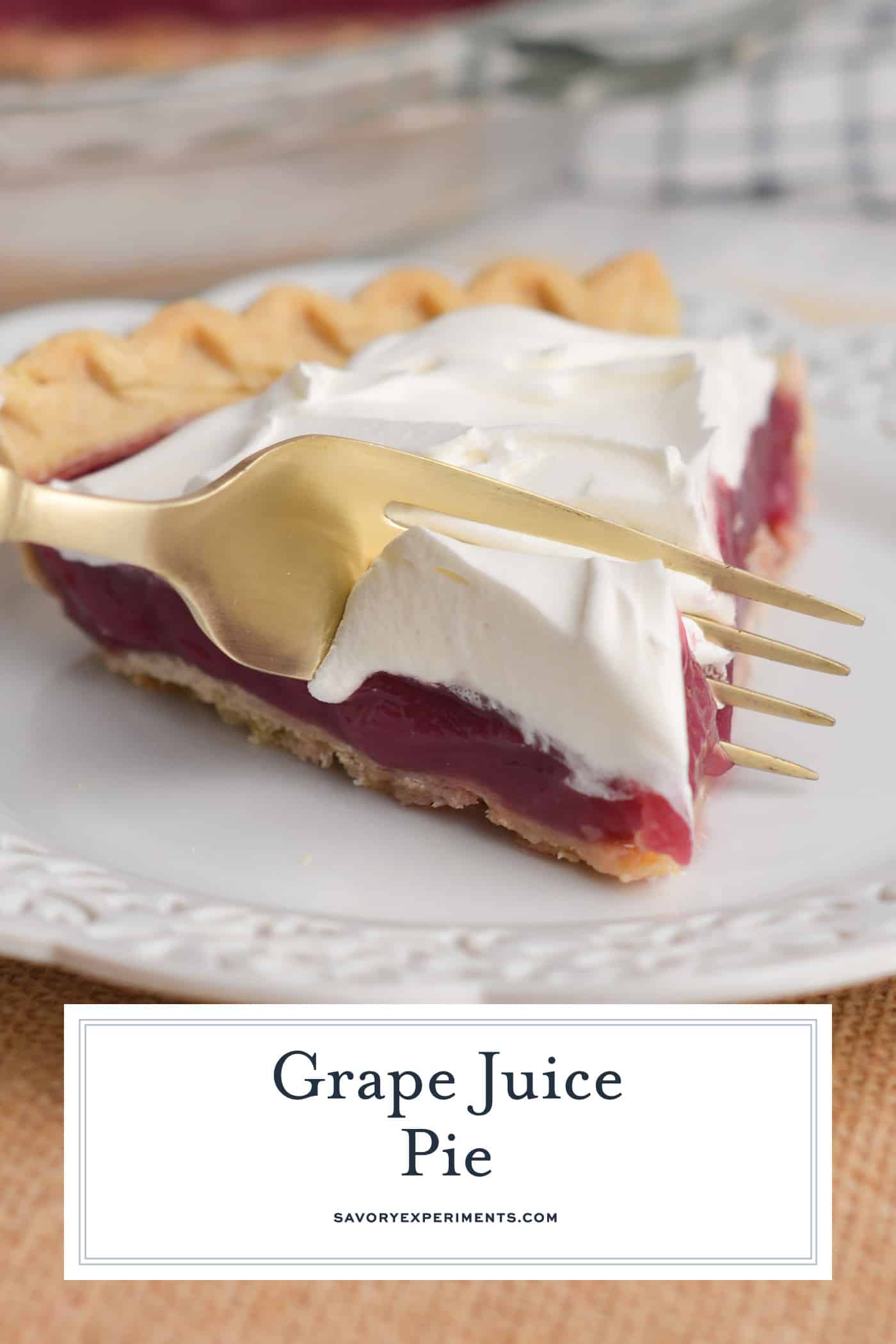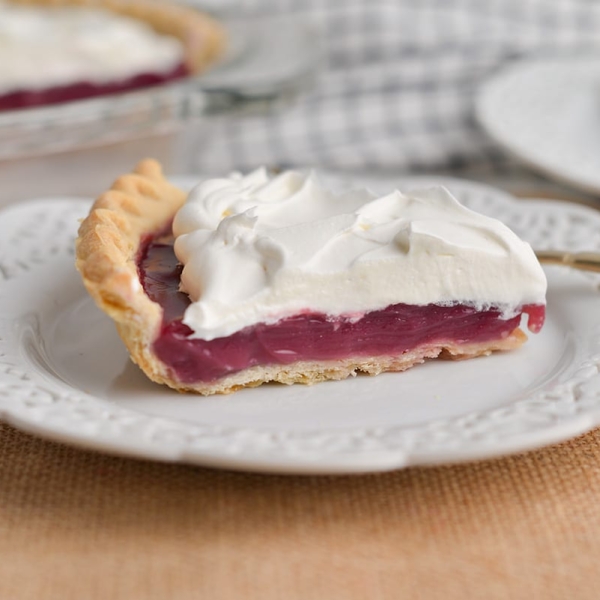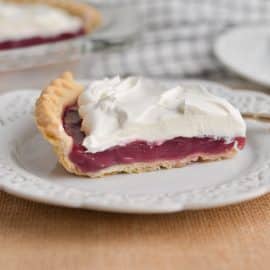 Grape Juice Pie
This EASY Grape Juice Pie (also known as frozen grape pie, concord pie or concord grape pie or jelly pie) is sweet, tart, and creamy!
Instructions
Preheat the oven to 450°F.

Roll out the refrigerated pie crust into a 9-inch deep dish pie plate. Prick generously with a fork. Bake for 8-10 minutes or until lightly browned. Remove to a wire rack to cool (and turn off the oven). (These are general instructions for a refrigerated pie crust, read the instructions on yours to be certain!)

In a medium saucepan, whisk together the sugar and cornstarch. Turn on heat to medium and whisk in the grape juice. Bring to a low simmer for 1 minute. Mixture will thicken to the point that it gives resistance when whisked. Remove from the heat.

Whisk the egg in a small bowl. Ladle in 2-3 tablespoons of the hot grape juice mixture while whisking. Whisk well and then add the egg mixture back into the grape juice mixture, whisking well. .

Add the butter, lemon juice and salt, whisking until the butter melts and mixture it smooth and glossy. Mixture will be thick enough that you can draw a line down the center of the pan and it holds

Transfer the filling to the baked pie crust. Allow to cool at room temperature for 1 hour, then cover and place in the refrigerate for a minimum of 3 hours or until fully chilled.

Spread the whipped cream over the grape juice filling and serve.

If you tried this recipe, come back and let us know how it was in the comments or star ratings.
Nutrition
Calories:
299
kcal
,
Carbohydrates:
46
g
,
Protein:
2
g
,
Fat:
12
g
,
Saturated Fat:
6
g
,
Polyunsaturated Fat:
1
g
,
Monounsaturated Fat:
4
g
,
Trans Fat:
0.2
g
,
Cholesterol:
37
mg
,
Sodium:
244
mg
,
Potassium:
87
mg
,
Fiber:
1
g
,
Sugar:
32
g
,
Vitamin A:
216
IU
,
Vitamin C:
1
mg
,
Calcium:
21
mg
,
Iron:
1
mg