Topped with a homemade whipped cream and toasted coconut, this deliciously creamy Coconut Cream Pie is made with a rich custard and sweet coconut flavor!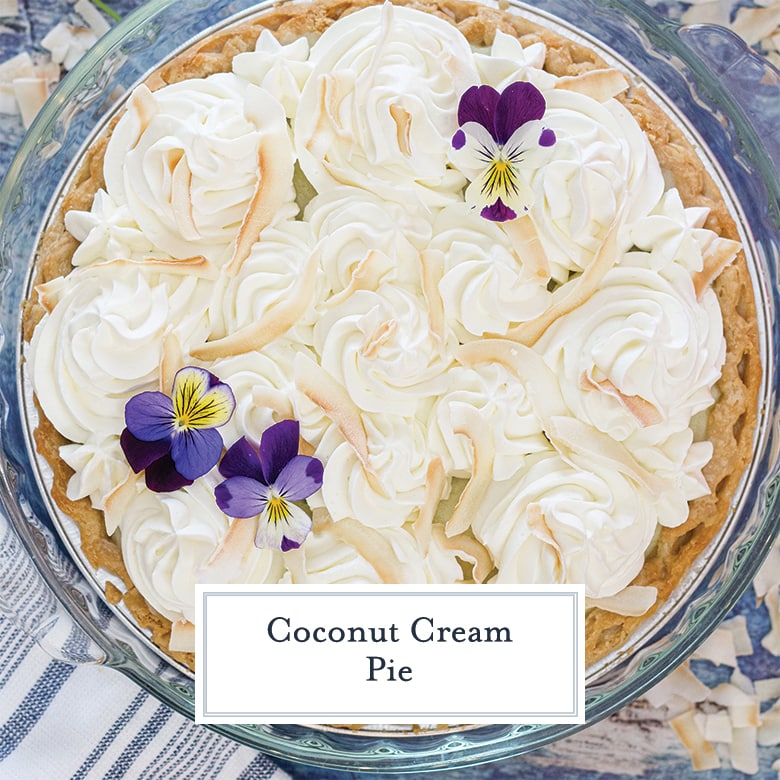 Homemade Coconut Cream Pie
As a kid I fell in love with Coconut Cream Pie but never could master making even an easy version at such a young age. No matter how it turned out, I still loved the sweet flaky coconut in a custard filling. My mouth waters just thinking about it.
It wasn't until years later that I took the time to really master the perfect Easy Coconut Cream Pie. Let me tell you, this recipe is a keeper that you will love.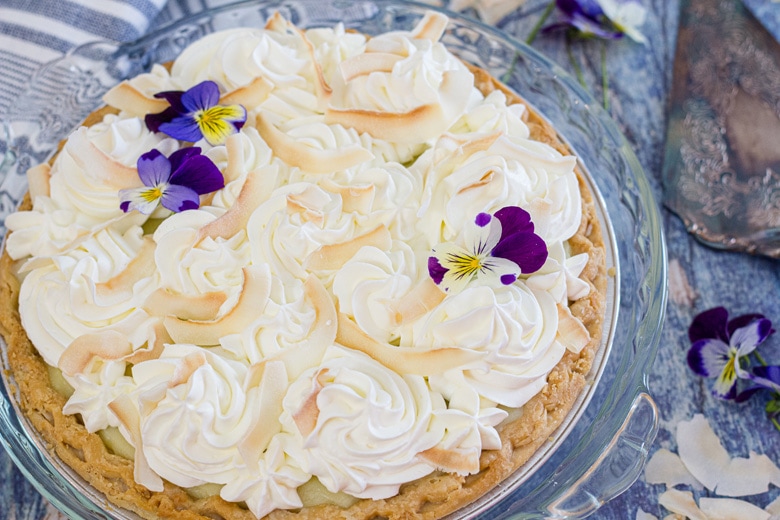 With every bite you will taste sweet coconut in a creamy rich custard topped with perfectly sweetened whipping cream. Not to mention, this thing is a stunner! Like, you will be gleaming with pride when you serve it and your guests might feel guilty eating it.
This recipe is really easy, I've broken it down for you so you can master making it on the first time you try it. Here is what you will need!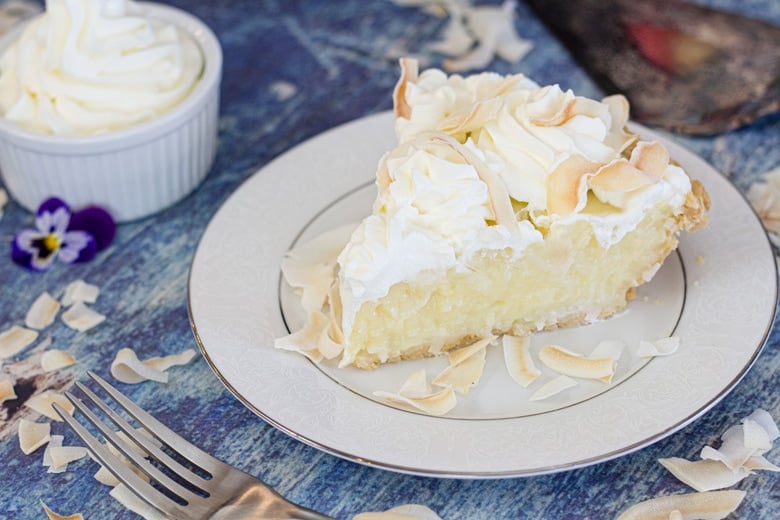 Coconut Cream Pie Ingredients
Cornstarch
Salt
Egg yolks
Granulated sugar
Whole milk
Heavy cream
Coconut extract
Vanilla
Butter
Finely shredded coconut
Pie crust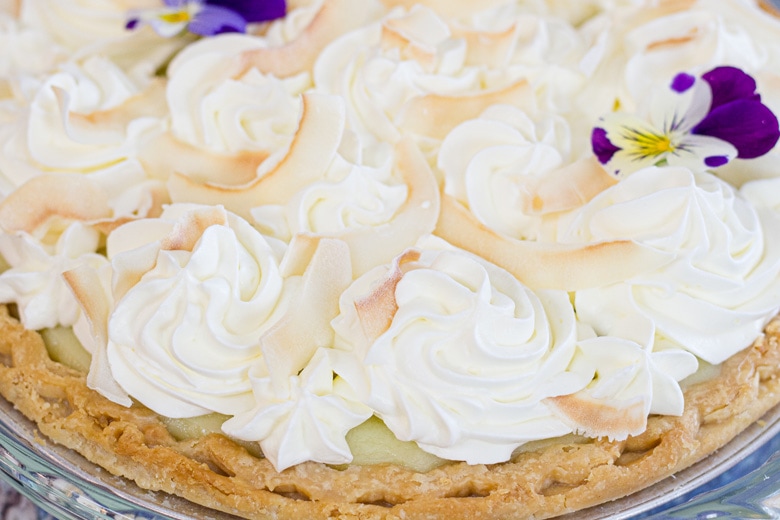 One of the best parts of this coconut cream pie recipe is the homemade whipped cream! Of course, you can always use store bought. But if you'd like to make your own, you'll also need these ingredients:
Heavy whipping cream
Vanilla
Powdered sugar
How to Make Coconut Cream Pie
Start by baking the pie crust according to package directions and allow to cool. Then in a heavy saucepan, mix corn starch and salt. In a separate bowl combine egg yolks and sugar and stir to combine.
Set those aside. Add whole milk, heavy cream and canned coconut milk to the saucepan with cornstarch and whisk to combine.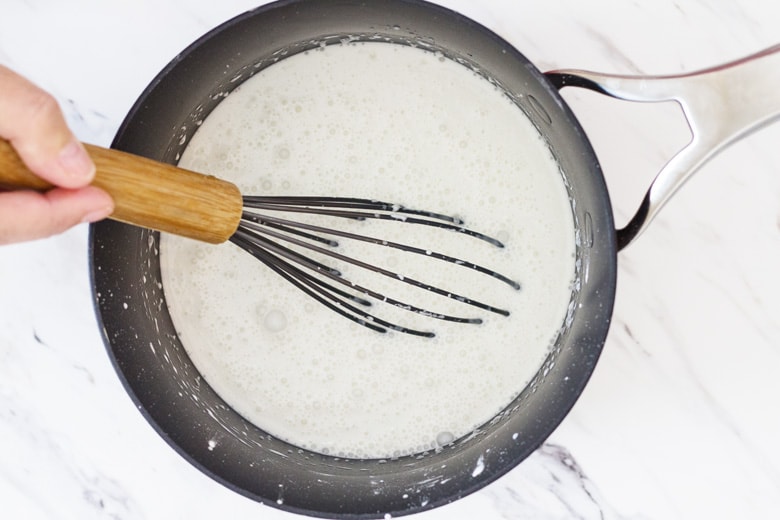 Over medium heat bring the mixture to a low boil and allow to boil for about one minute. The mixture should become thick. Remove 1/3 cup of milk mixture and slowly pour it into egg mixture, stirring constantly.
Once the milk is fully mixed into egg mixture, slowly add mixture back into saucepan with milk and whisk to combine. Heat over medium heat until it reaches a full boil and boil for 90 seconds.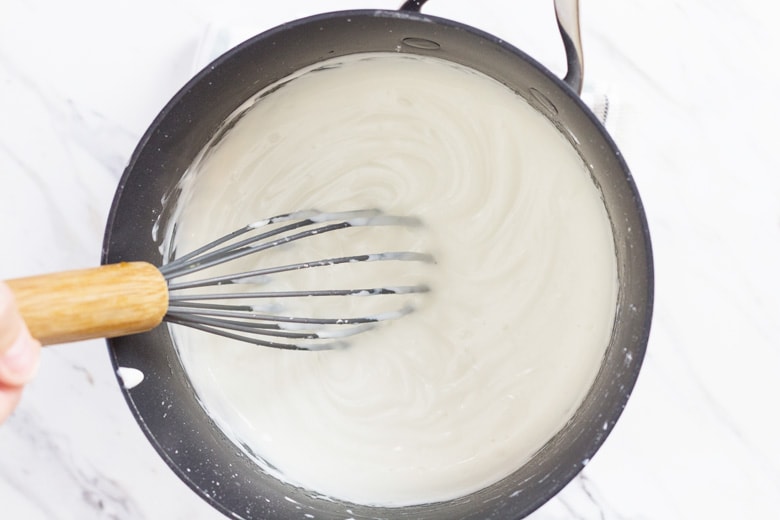 The mixture will bubble up and pop. Be careful because it will be extremely hot! But keep whisking. Remove from the heat and add butter, coconut extract, vanilla, and 1 cup shredded coconut.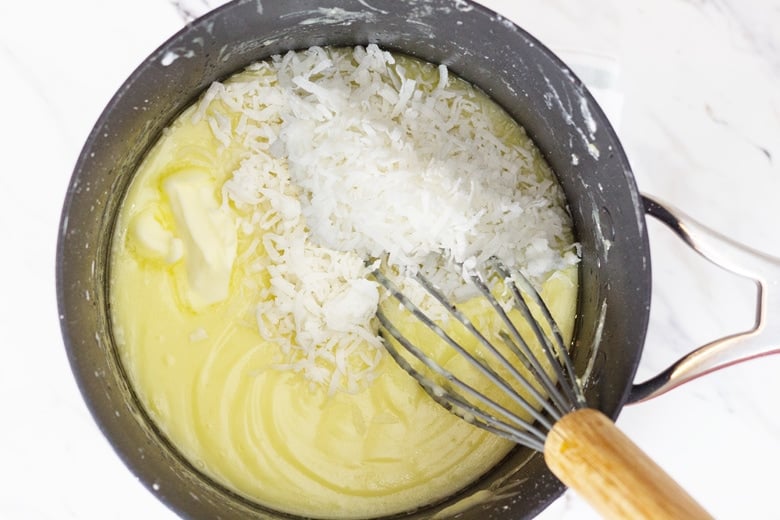 Stir to combine, then pour into the baked pie crust. Cover it with plastic wrap and allow to cool for 4 hours in the refrigerator. When you're ready to serve the pie, top it with whipped cream and toasted coconut.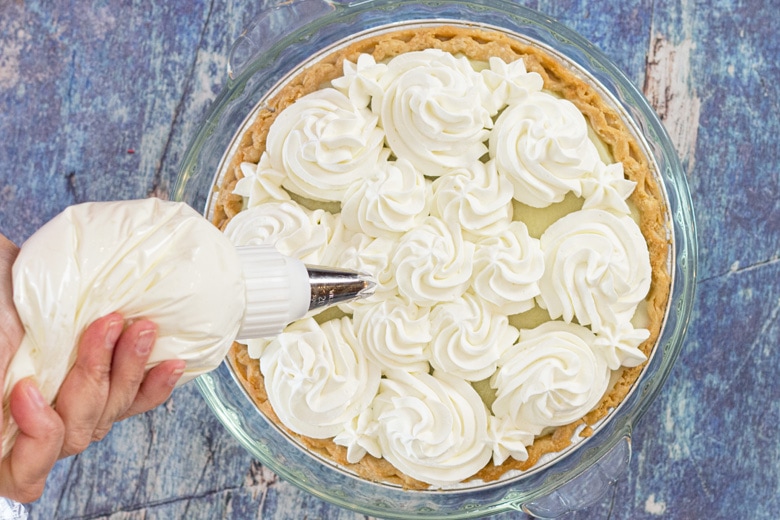 Coconut Filling
The custard coconut filling is beyond delicious. I like to use a combination of whole milk and whipping cream along with a can of unsweetened coconut milk. This combination will make the most delicious custard you've ever had.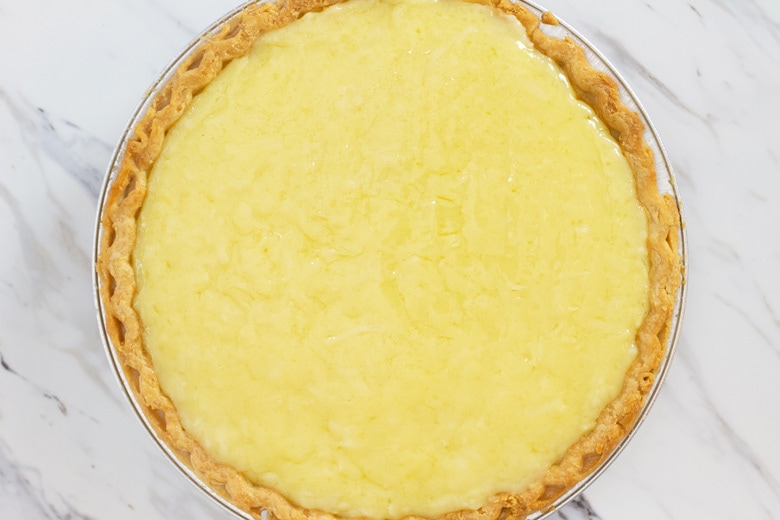 Adding coconut extract is optional and a little bit goes a long way. So don't overdo it. Of course using a high quality vanilla extract is also ideal too.
Make sure to cool completely before topping- the mixture needs time to set.
Pro Tip: When adding milk mixture to egg mixture it's important to add slowly and continually stir. You do not want the eggs to heat too quickly and scramble. By adding the milk mixture slowly you will temper the eggs perfectly.
Homemade Pie Crust vs. Pre Made
Are all pie crusts equal? No, they sure aren't. Here is where you can do what works best for YOU!
If you love to make a homemade flaky buttery crust, you are my idol. I often resort to a good quality frozen pie crust. My busy lifestyle just demands it.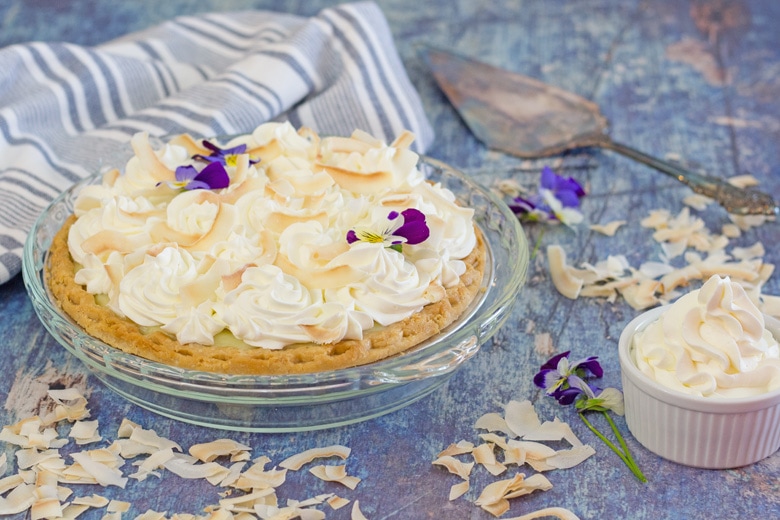 Don't worry, your easy Coconut Cream Pie is just that much easier with a frozen pie crust and no one will think a thing about it because the custard is just that delicious.
Bake pie crust according to directions and allow to cool. While the crust is cooling, you can easily make the custard.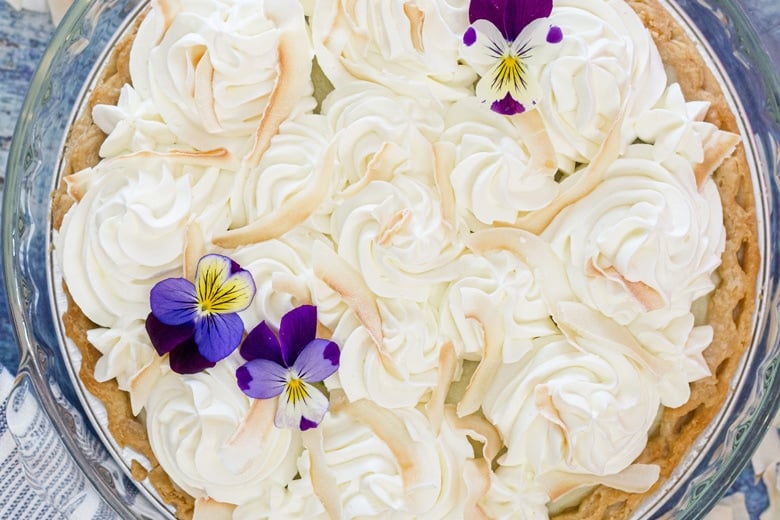 Make Ahead & Storage
Can I share a secret with you? I prefer to make this Coconut Cream Pie the day before I want to eat it. It's so easy to prepare and allow to cool overnight. I add whipped cream just before serving which also frees up my time to prepare for my guests.
Custard pies should always be stored in the refrigerator. I recommend covering any leftovers with plastic wrap. Pie will last up to 5 days if stored properly. Of course once you take a bite, you will crave every last piece.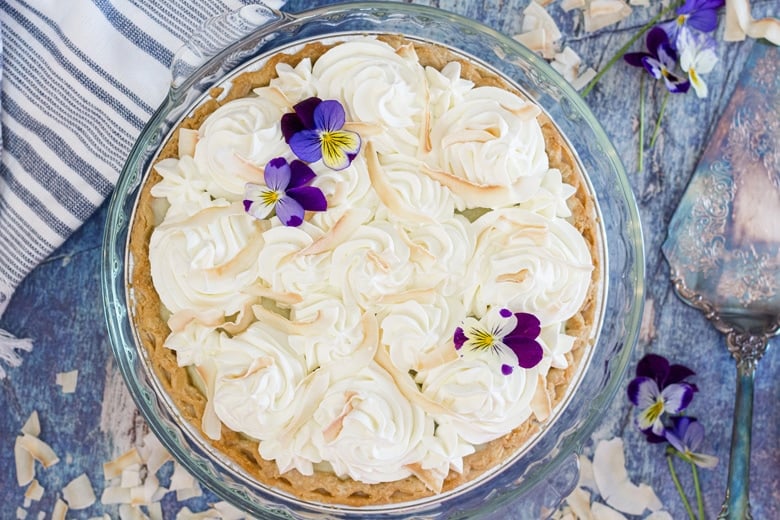 I do not recommend freezing this pie. Custards tend to thaw slimy and weird.
Edible Flowers
Using flowers is totally optional. These are pansies and happen to grow in bulk around my home, so I picked them fresh.
Many grocery stores will offer a few fresh and edible flowers in the produce department. You can also pick up ready to plant versions at the nursery.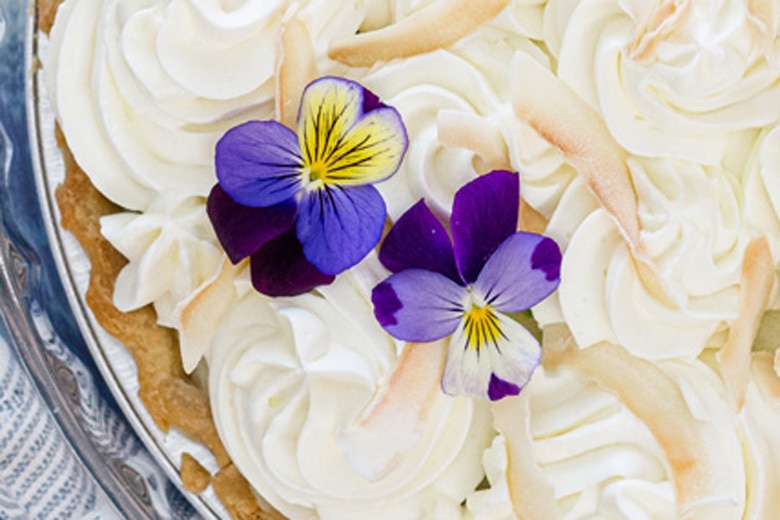 Make sure to wash them gently in case they were sprayed with pesticides. Here are a few edible flower options:
Nasturtiums
Marigolds
Pansies
Johnny Jump-Ups
Honeysuckle
Toasting Coconut
I love the look of toasted coconut garnish on top. It's a simple process. Place coconut on a cookie sheet and place in oven under the broiler.
It only takes a few minutes to have perfectly golden toasty coconut. Sprinkled on top of Easy Coconut Cream Pie for a beautiful presentation.
Trust me, it's so worth the extra time spent when you see the looks of the faces you serve a slice too.
I used a thicker coconut for the topping, but feel free to use the finely shredded so you can use the same for both.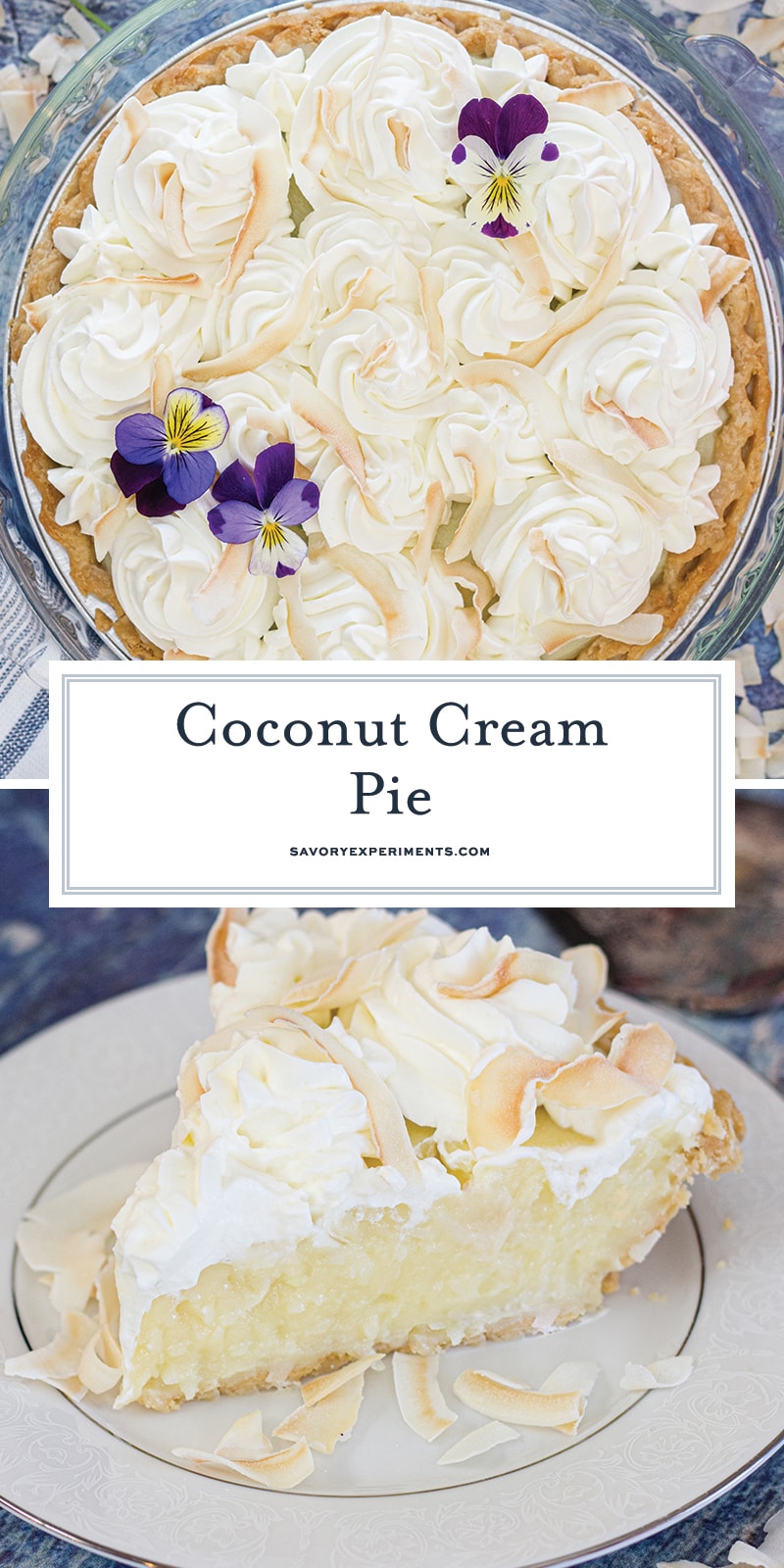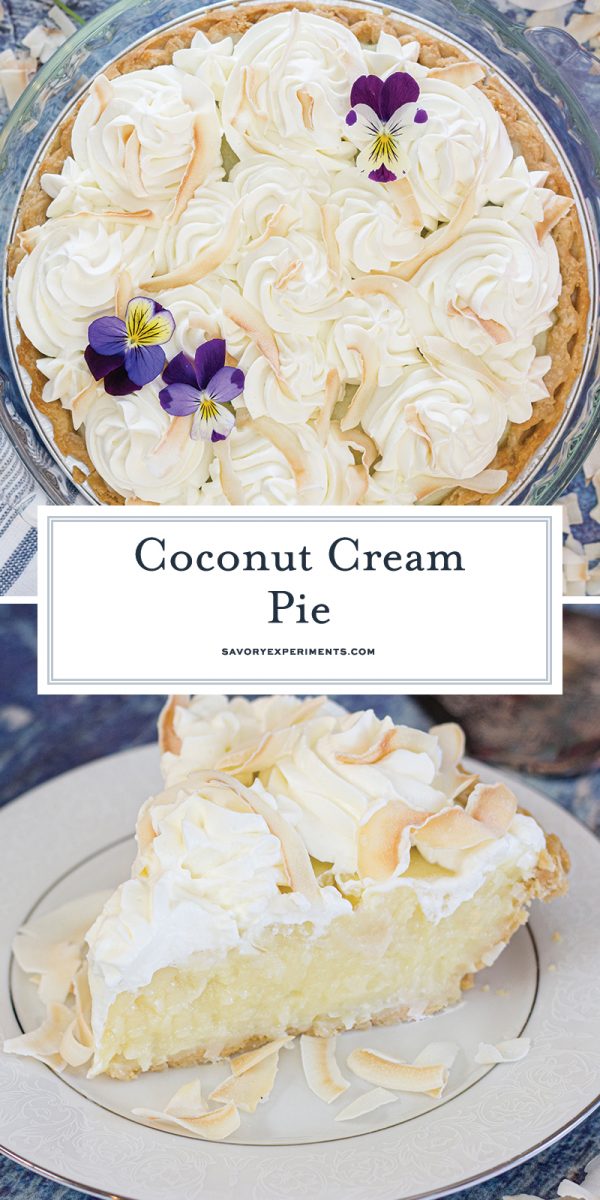 If you're a pie lover, check these recipes out: