Looking for the BEST edible cookie dough with eggs? Here are 5+ single serving options to make at home and instructions on how to heat treat flour.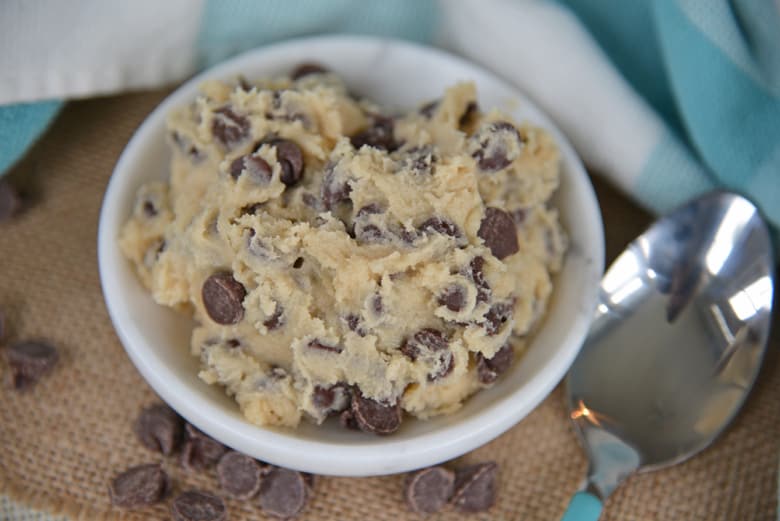 There I was one night making myself a small bowl of cookie dough. I felt shame and embarrassment for secretly eating it after everyone else went to bed, but darn it, I wanted cookie dough!
The truth is I'd been making it for years. Long before cookie dough parlors became a thing or before we even acknowledged that flour needed to be heat treated when eaten raw (instructions below).
On a whim, I posted my first eggless cookie dough for one and the next morning I woke up to THOUSANDS of people sharing, talking and making my recipe.
To this day, Eggless Cookie Dough is still one of my most popular recipes, so I decided to add to the collection.
These single serving cookie doughs have been made collectively over 100,000 times and come with tried and true ratings and comments. Make sure to leave your own after you make one!
Edible Cookie Dough Recipes:
How do I treat flour for raw cookie dough?
Raw flour can contain E. Coli, to prevent this, pasteurize it at home. Microwaving is the quickest way. Place raw flour into the microwave (flour alone, not the dough) and heat on high for 20- 45 seconds.
Please be mindful that all microwaves are different. Watch the flour closely so it doesn't burn. You can also put it in the oven on 350 for 5ish minutes.
Is raw cookie dough safe during pregnancy?
I am not a medical physician, so this is not medical advice, however since this is cookie dough is egg free and if you treat the flour, it should be okay to eat.
I ate it while pregnant if that helps you out at all.
Can edible cookie dough be baked?
You can bake it all you want, but since there aren't eggs or leveaners, it won't amount to much.
Does raw cookie dough need to be refrigerated?
Yes, please refrigerate until ready to eat. Keep your cookie dough covered.
How long does edible cookie dough last?
Mine cookie dough recipe doesn't contain any preservatives or additives, so it doesn't last long.
However, since it also doesn't make much, I'm not sure how much will be left over. I'd say about 1-2 days, covered, in the fridge.
How to make edible cookie dough without butter?
My edible cookie dough recipe calls for butter. I suppose you can use a vegan butter, but quite frankly, it is a pinnable of the recipe and I am not sure how good it will be without it.
Can you freeze eggless cookie dough?
This is more of a cookie dough truffle and the answer is yes, but you might need to add slightly more flour in order to roll them into balls.
Roll them into balls and then place them in an airtight plastic bag. They should be good for up to 6 months. Check out more information on how to freeze food properly HERE!
I don't have brown sugar, what do I do?
You can use all white sugar, but it will be more like a sugar cookie dough, not a bad thing, but not chocolate chip.
Can I use this eggless cookie dough for ice cream?
You can totally use this cookie dough recipe for ice cream. Simply freeze little nuggets of the prepare cookie dough and fold them into your ice cream after they are set.