She's my Cherry Pie…. anyone else a Warrant fan? Nope? Just me singing that song in my head the whole time I write this post?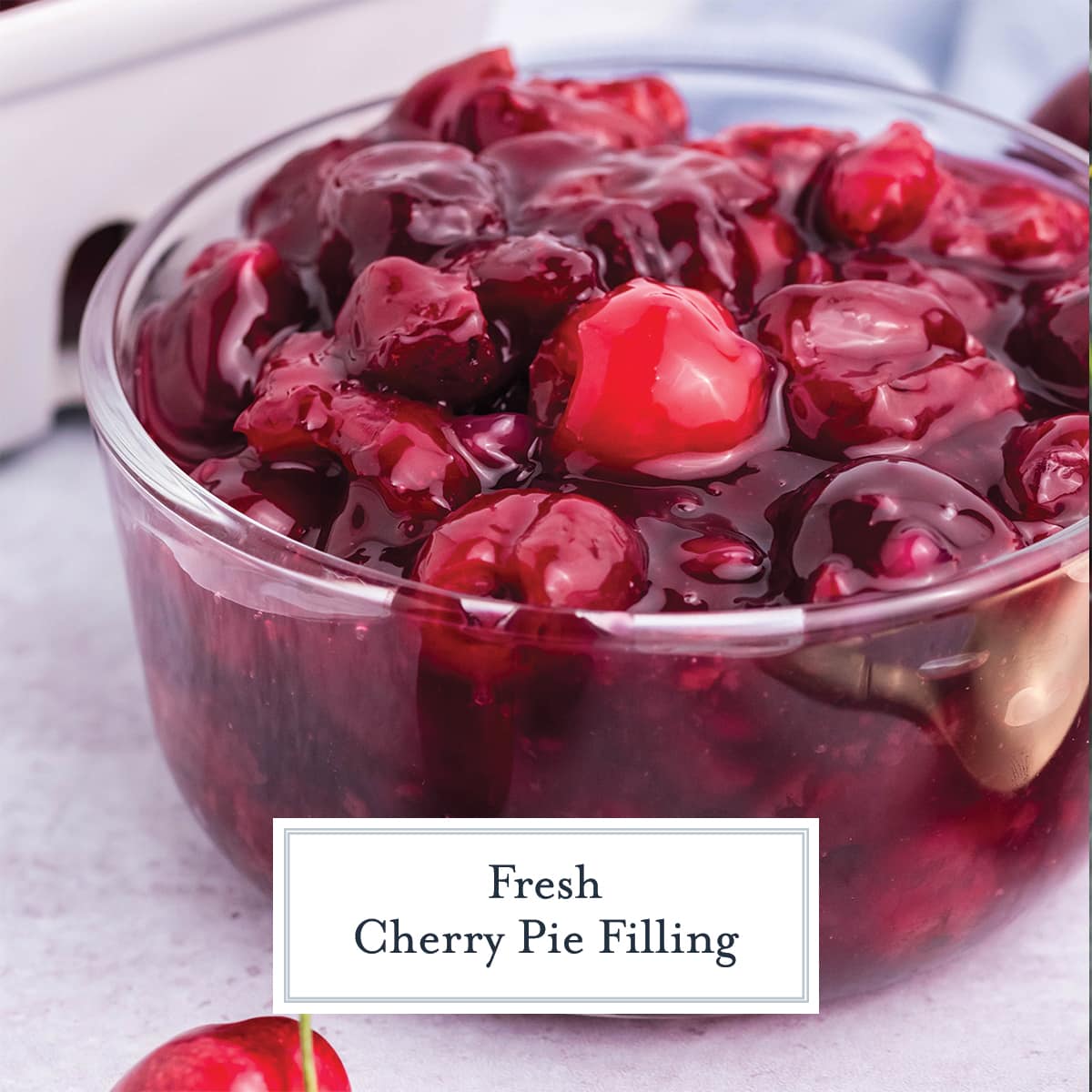 Nothing is more American than Cherry Pie, except maybe Apple Pie, but I digress. While I am totally guilty of picking up a can of cherry pie filling at the grocery store, nothing beats homemade. Fresh cherries keep a special jucy, yet taunt texture that you just can't get from a can.
And making homemade cherry pie filling is actually pretty easy. The hardest part is pitting the cherries and not not eating all of the delicious fruit while doing it!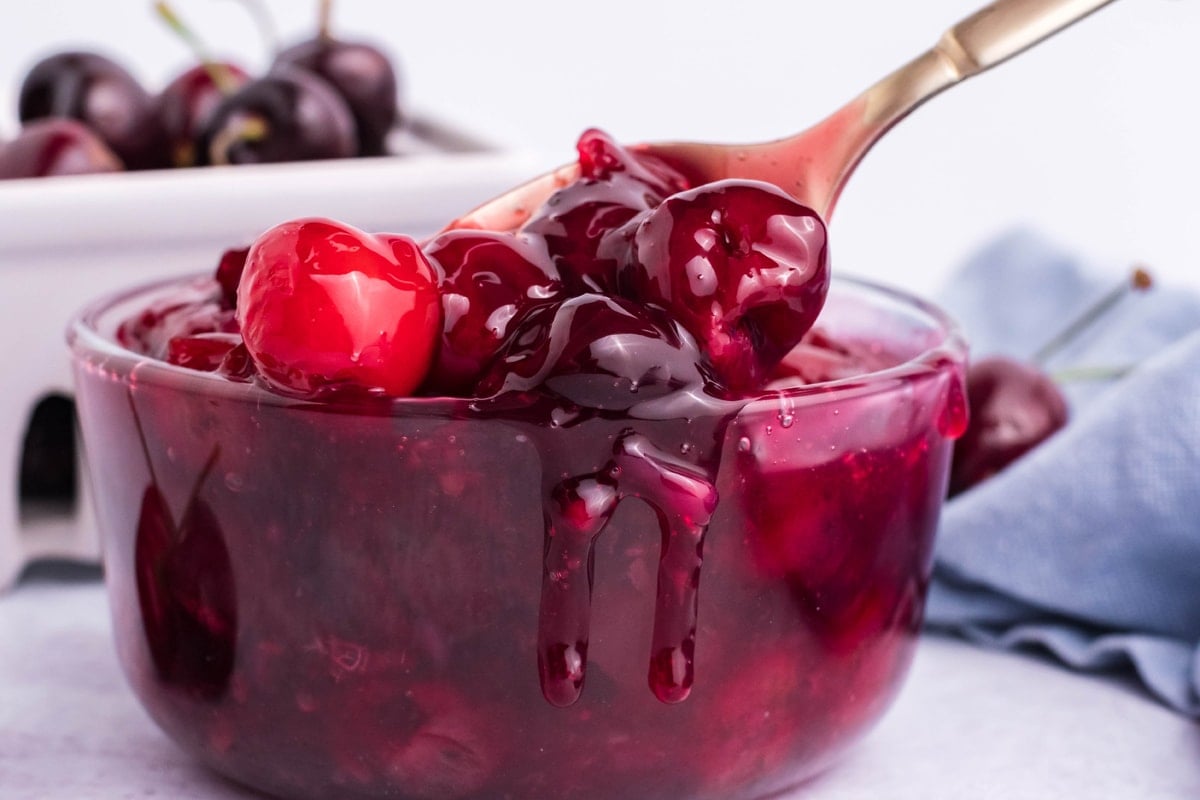 What Type Cherries
There are several type of cherries out there and all of them will make for an excellent pie filling so it really depends on your taste.
Sour cherries and tart cherries will give you a less sweet filling. Depending on what type of dessert you are making, because let's be honest, they aren't all destined to be in fruit pies, you might not want a super sweet filling. Montmorency is the most common brand name for sour.
Dark sweet cherries are also great and the most traditional. Bing cherries and rainier cherries are the most popular variety for fruit fillings.
Frozen Cherries– These are totally an option when fresh cherries aren't in season. In fact, they are frozen right after harvest, so they retain a good amount of flavor and nutritional value. Make sure to thaw them fully and drain to get out excess water.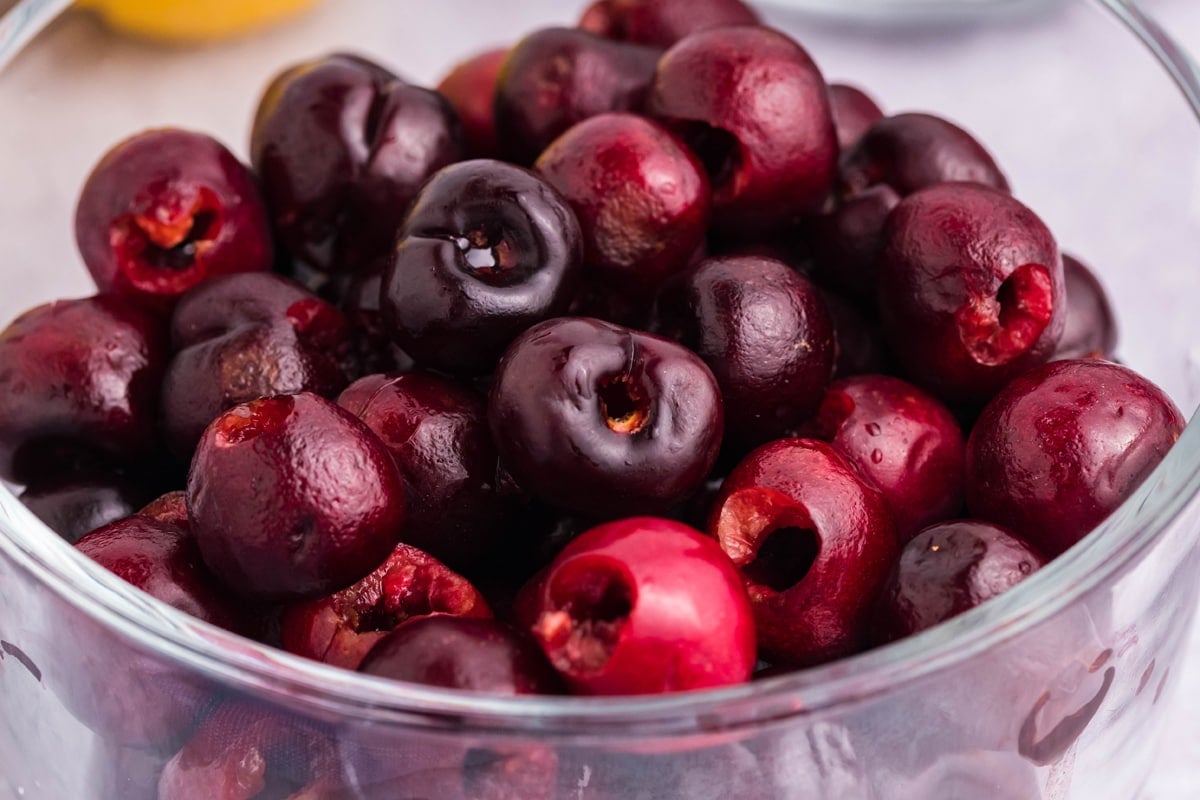 But to be really adventurous (and my favorite way), make a blend of sweet and sour- this is the money spot if you ask me. It's like using tart and sweet apples in a pie and adds a new level of sophistication to your dessert. One that just can't be achieved any other way than making filling from scratch. It also adds lovely variations in color; so pretty.
How to Pit a Cherry
There are several ways to pit a cherry. The first is by far the easiest way (and fastest). All methods are going to be a little messy with cherry juice, so I highly recommend wearing an apron or protecting your clothing somehow.
Cherry Pitter– I used to think this was an unneeded gadget. Turns out I was wrong and don't know why I held out so long. This literally cuts your prep time in half!
Stick Method– Use a chopstick or a sturdy straw (a metal straw works best), take off the stem and them place your stick in the stem spot, push through and the pit should pop out the other end.
Paring Knife– Remove the stem and place the cherry on a cutting board, using a paring knife or small knife, cut right down the middle. You'll hit the pit, cut around it and then pop it out.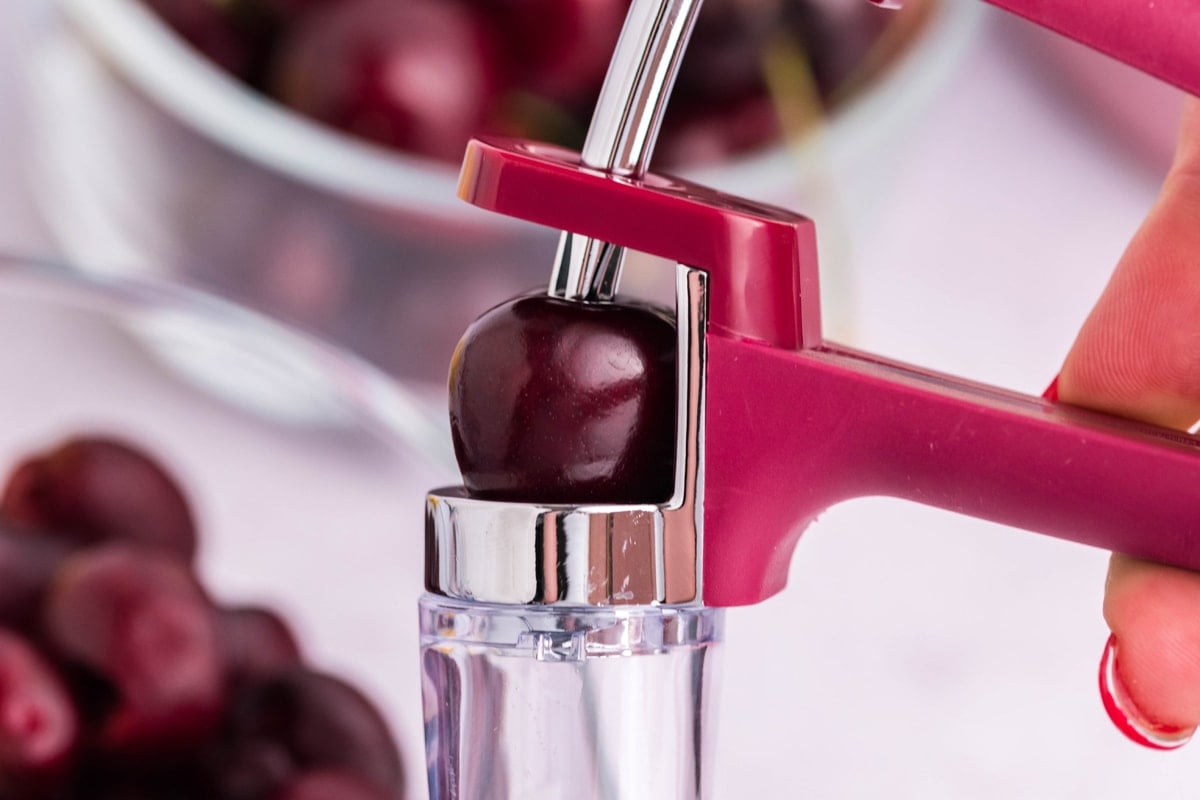 How to Make Cherry Pie Filling
This is a great recipe for nearly any fresh fruit. The amount of sugar can be adjusted based on preference and the type of recipe you intend to use it in. Less sugar might be ideal for tart recipes and cookies, while more sugar is better for pies and hand pies. Don't add too much sugar or it will take away from the wonderful recipe and natural flavors.
Either way, customize to make it your own cherry pie filling (ideas below):
Prepare your cherries by washing and removing the stems and pits.
Place cherries, lemon juice, sugar, cold water and coarse salt into a large saucepan (no need to mix it in a large bowl and make more dirty dishes) and heat over medium heat stirring occasionally until boiling and the sugar is completely dissolved. The reason we add water is so the sugar has time to dissolve before getting too thick. This allows the cherries to break down and soften slightly and caramelize using natural sugars.
Meanwhile, in a small bowl you'll make a slurry by combining corn starch with a small amount of water. Adding just corn starch powder to the mix will result in clumps.
Reduce heat to low and add in corn starch slurry and mix until well combined and the mixture starts to thicken.
Remove from heat and whisk in almond extract (or vanilla extract) and set aside to cool. Fillings will continue to thicken as they cool, so be patient. They are also easier to work with in nearly any recipe when they are room temperature.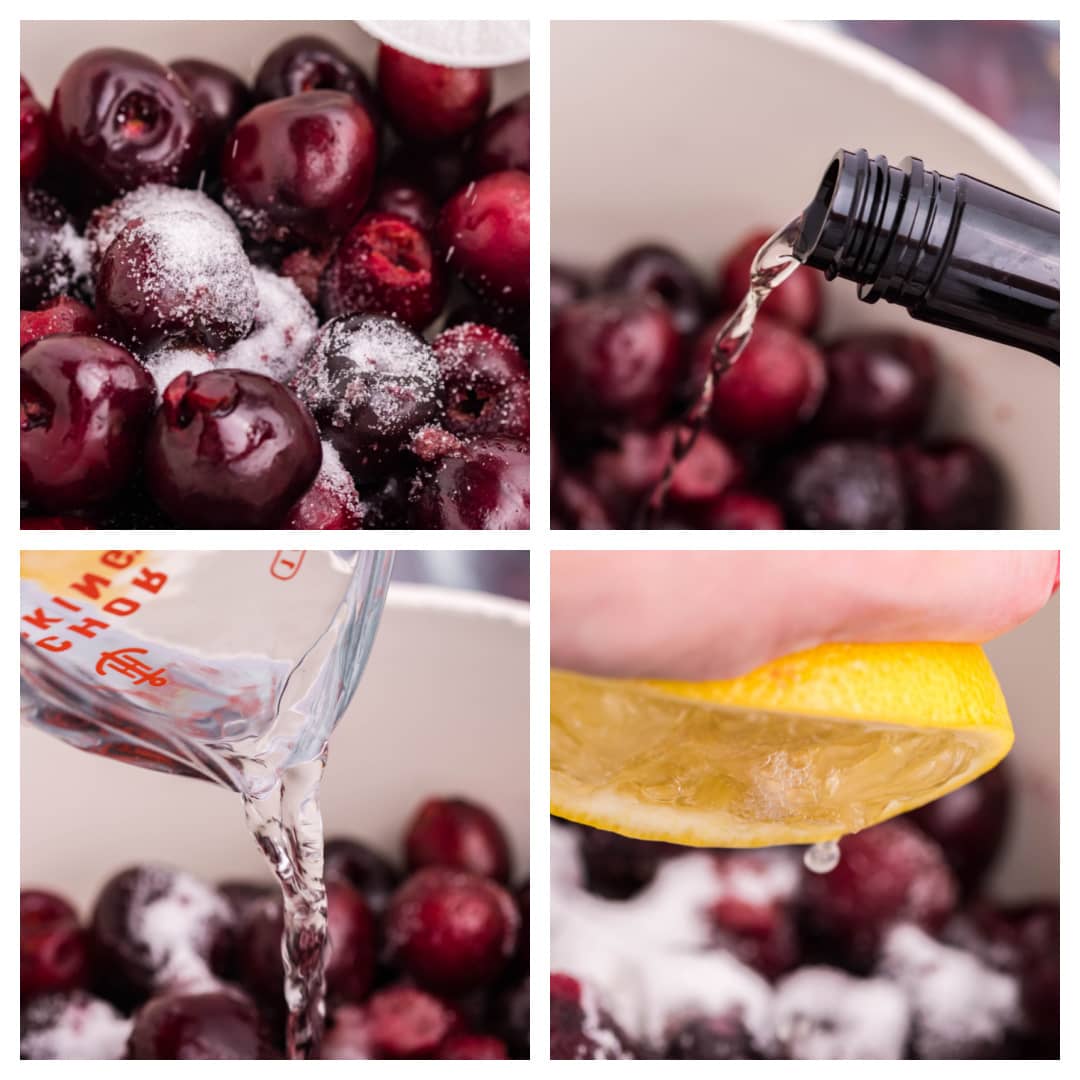 Quick Variations
While this recipe seems straightforward, and it is, there are a couple of great ways to add your own spin.
Lemon Zest- take the lemony freshness up and notch with just a few grates of lemon zest, which provides a clean lemon flavor
Vanilla Extract– Almond is great, but so is vanilla!
Almond & Vanilla– Even more flavor variety means adding both extracts. There is enough for two!
Tapioca Flour or Arrowroot– Either can be used in place of cornstarch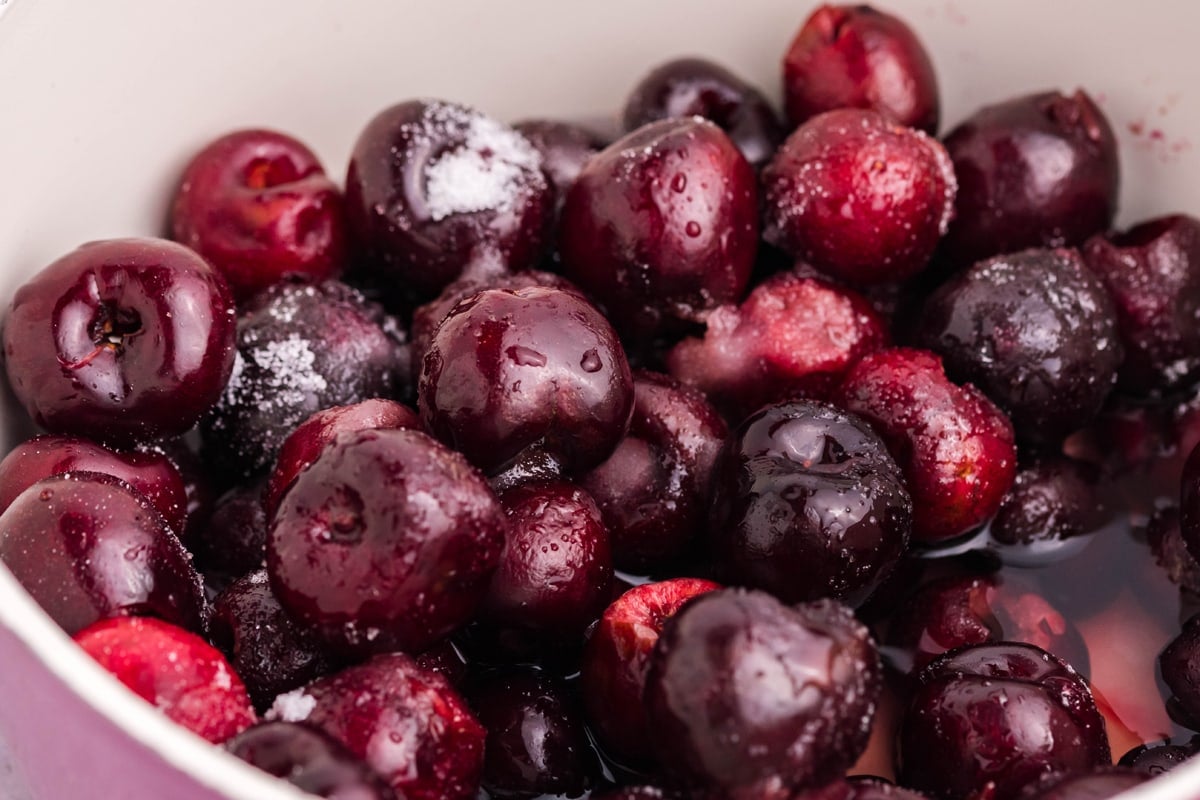 Fresh Cherry Pie Recipe
You might already have intentions for your cherry filling , but if not and you want an easy recipe for classic cherry pie, here you go. There are several variations using simple ingredients and either a homemade pie crust or store bought. This is one of m favorite recipes because it is so easy to make and pretty forgivable; you really can't mess it up.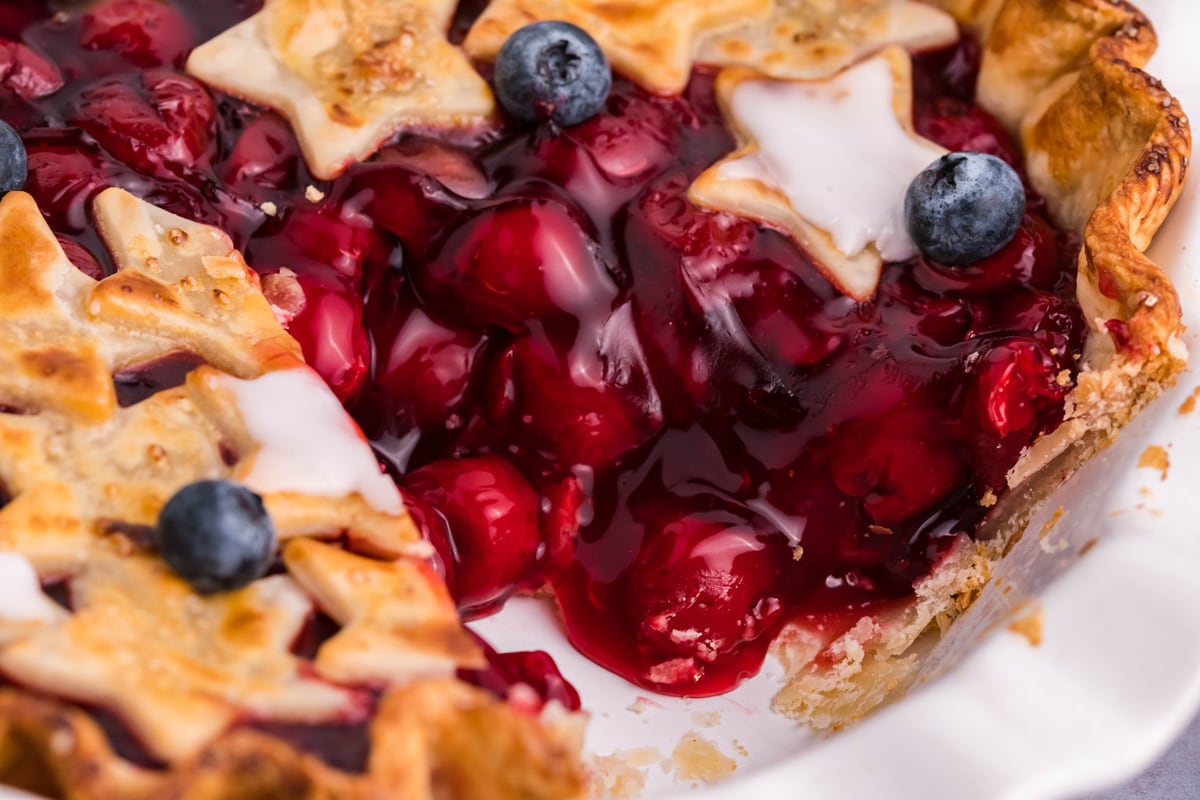 Ingredients:
2 thawed refrigerated pie crusts (or my homemade flaky pie crust)
cups sweet cherry pie filling
1 teaspoon milk
1 teaspoon sugar
Heat oven to 425°F.
Unroll pie premade pie crust (or homemade pie dough) into a 9-inch pie plate.
Spoon easy cherry pie filling into the crust. Top with second crust; pinch to seal. If you want to get fancy, you can make a lattice crust or using a sharp knife, make decorative cut-outs in the top of the crust.
Brush top crust with milk and sprinkle with granulated sugar or turbinado sugar, or you can use an easy egg wash if you prefer. The sugar will still stick to it.
If you are fully covering, make several slits in the top to allow steam to rise. Place your pie on a baking sheet to make it easy to put in and remove from the oven without messing up your pie crust).
Bake for 40-45 minutes or until crust is browned. You might need to use a crust saver to prevent burning around the edges.
For a pie shell , just spoon homemade pie filling to the shell until filled (amount will depend on size of pie shell). Bake at the same temperature, but for only 35-40 minutes. Since it only has the bottom crust, it won't take as long to bake.
No matter what you use your your filling in, biting into fresh sweet cherries is unbeatable.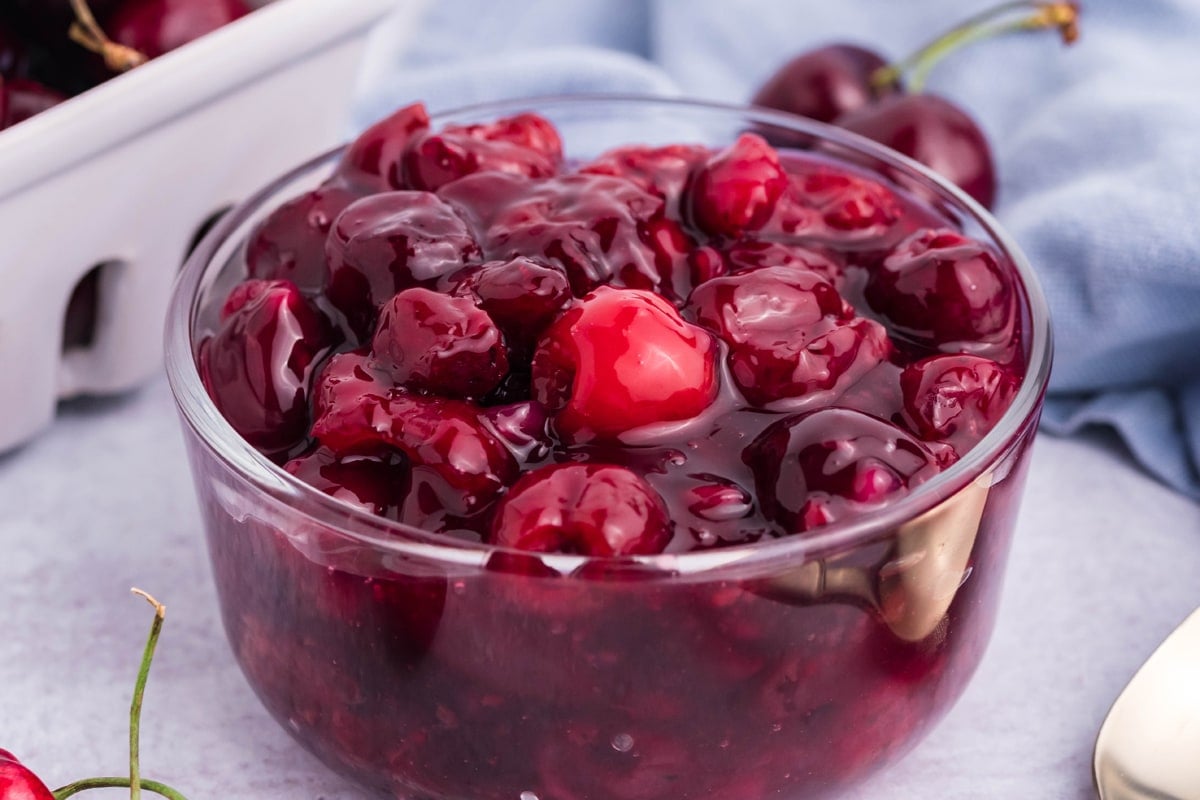 Recipe Uses
This can be used in any recipe calling for a homemade filling, making the possibilities endless. Cherry crisps, cherry bars, mini cherry pies, cherry turnovers, thumbprint cookies, black forest cake or just scooping it over a scoop of vanilla ice cream are all good options to let your cherries shine!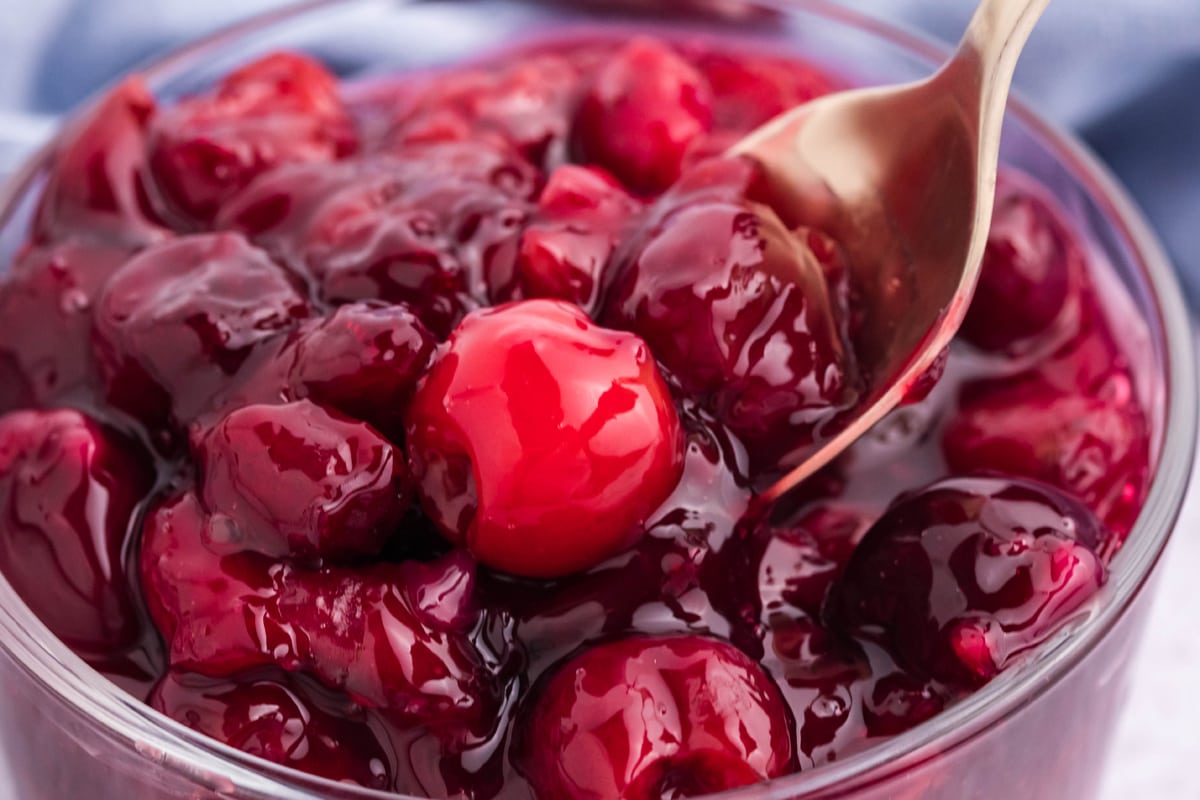 Storage & Freezing
The best way to store is to place plastic wrap over pie or filling and keep refrigerated. The filling can also be stored in an airtight container.
The good news (not that there was bad news) is also that your sweet pie filling is freezer friendly. So make a big batch with there is an abundance of cherries and freeze it for later or the holidays.
More Cherry Recipes: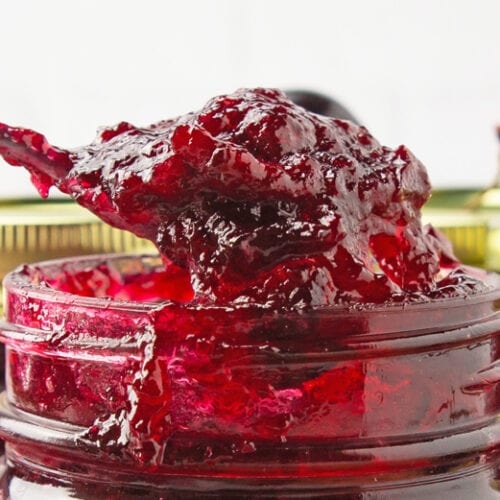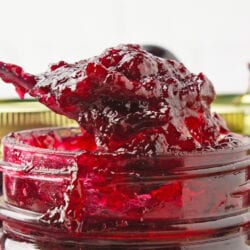 Sweet Cherry Jam Recipe
Whether you're a seasoned pro or learning how to make homemade jam, this cherry jam recipe is easy and addictive. With canning instructions included you can whip up a batch and be enjoying a vanilla infused sweet cherry jam in 45 minutes.
See The Recipe!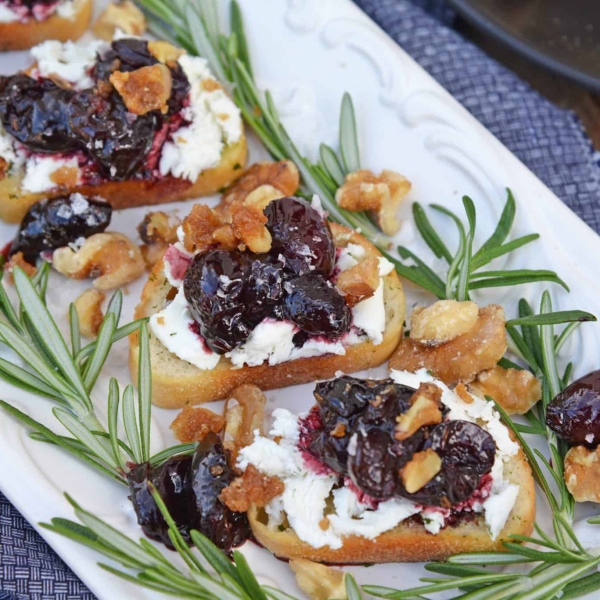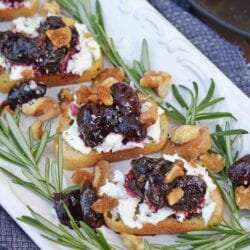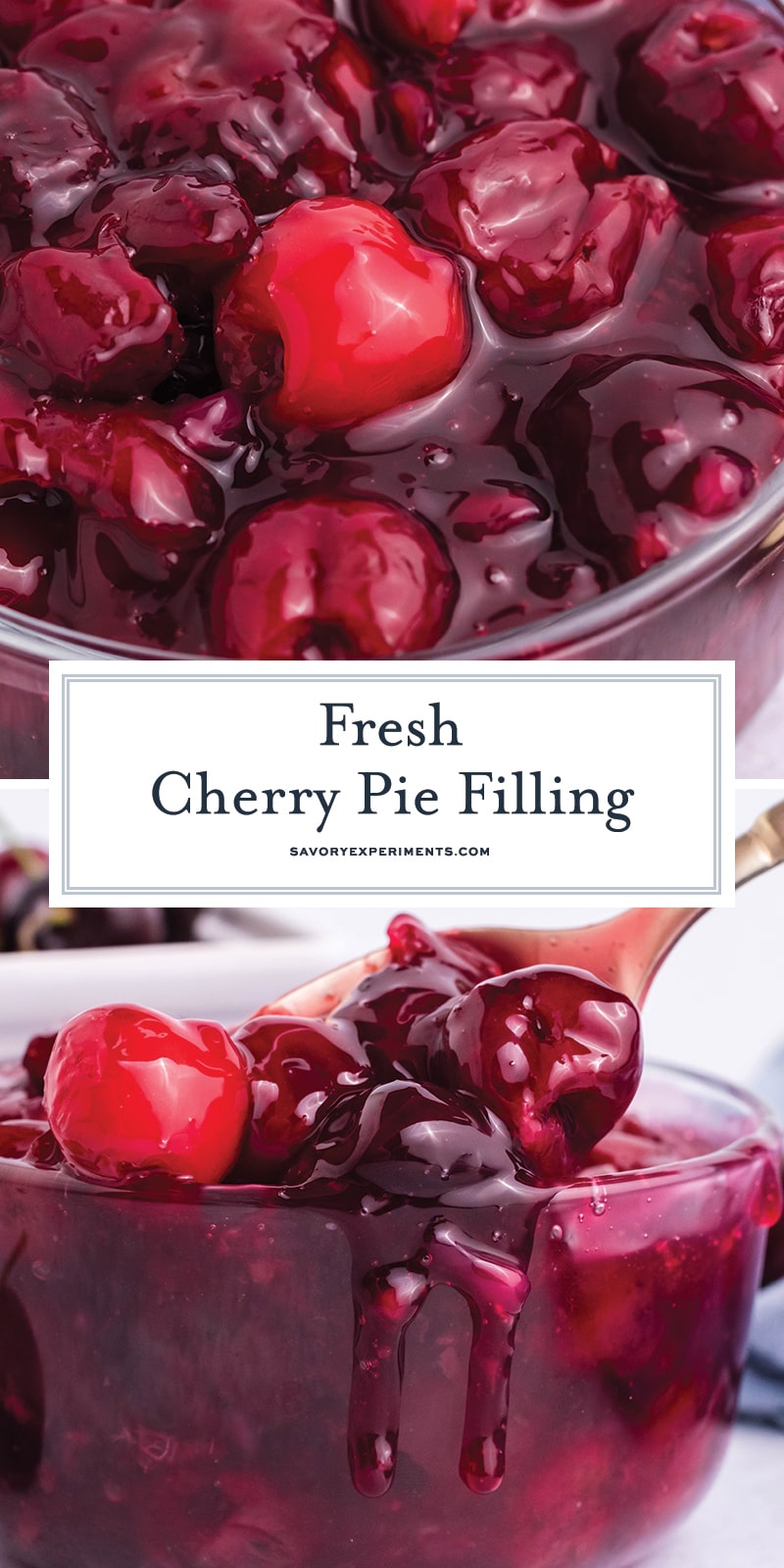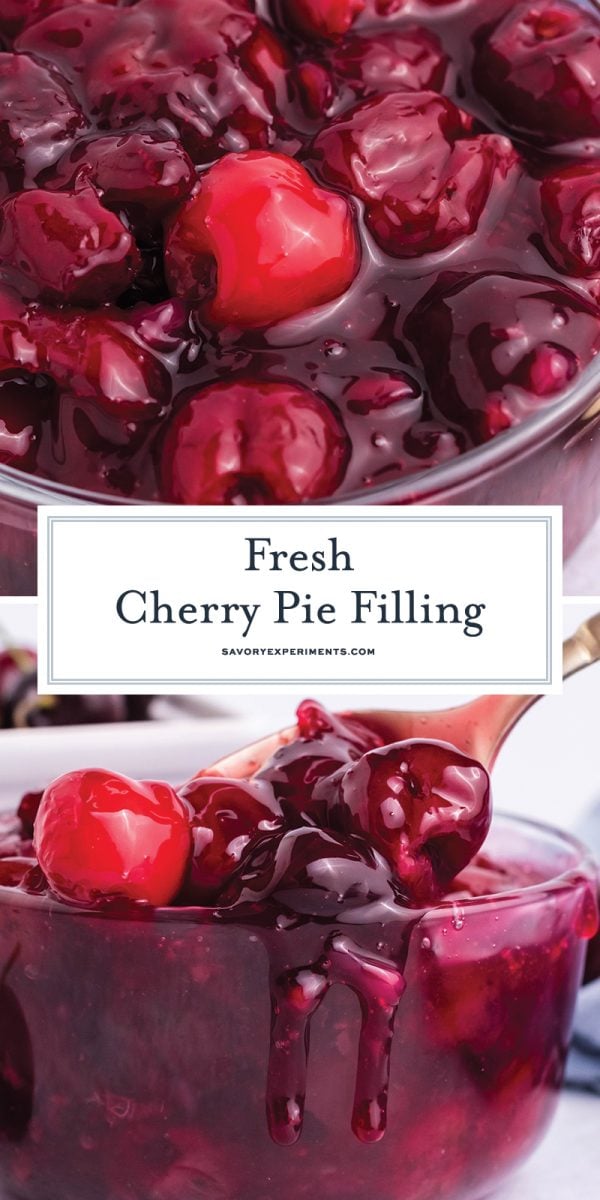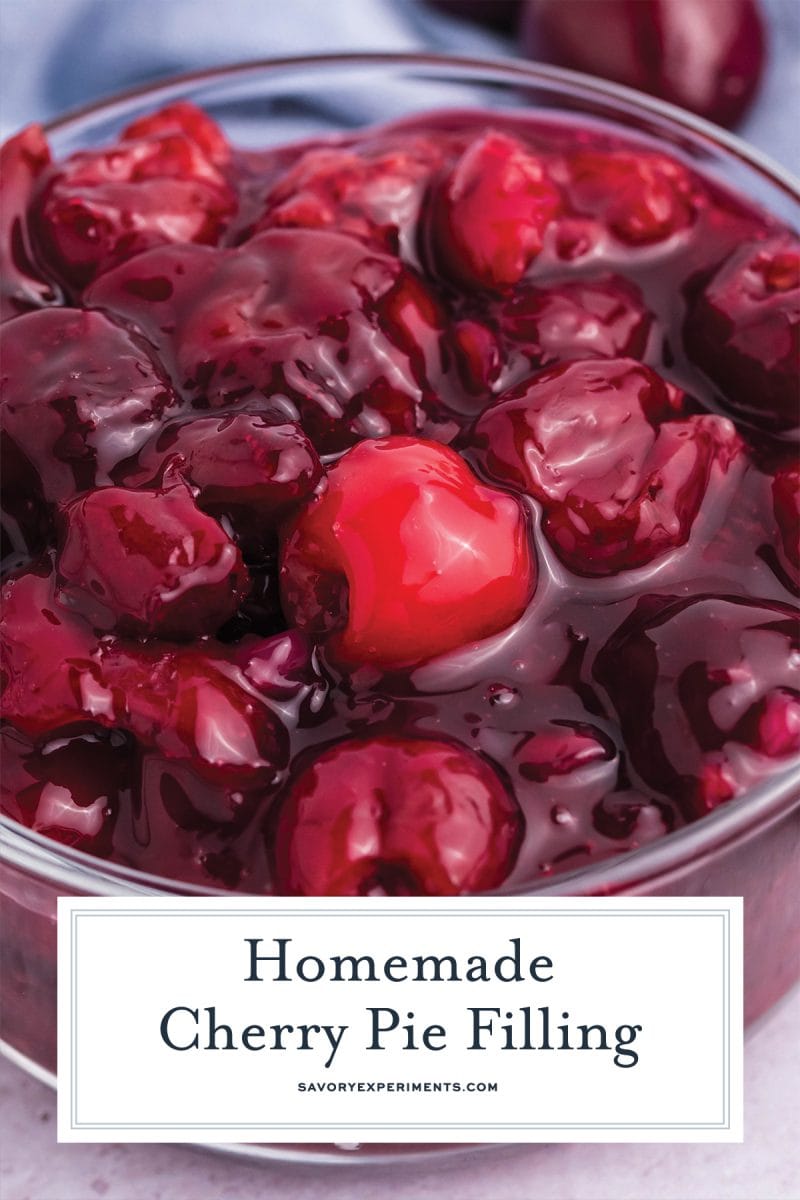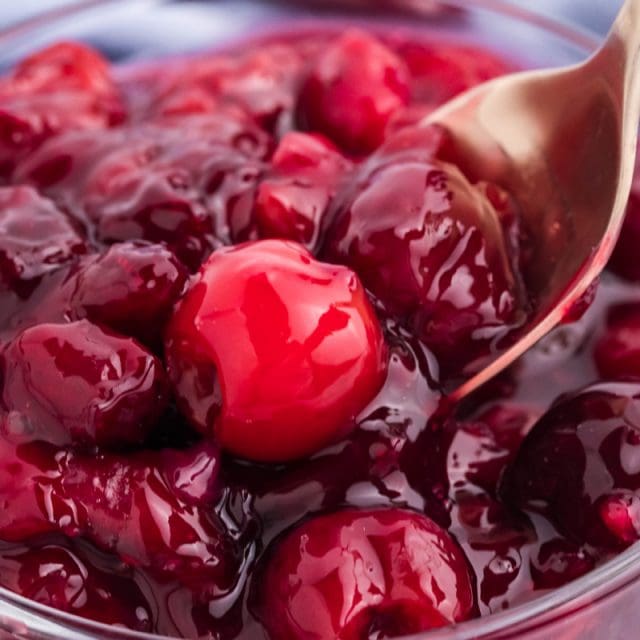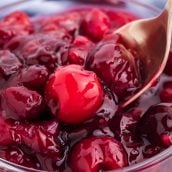 Fresh Cherry Pie Filling
This easy homemade cherry pie filling can be used for any recipe calling for canned cherries. Use sweet or tart, or make a blend!
Ingredients
4

cups

fresh sweet cherries

, pitted

2

tablespoons

fresh lemon juice

¼

cup

granulated sugar

¼

cup

water

1/4

teaspoon

coarse Kosher salt*

, optional

2

tablespoons

cornstarch

, dissolved in 2 tablespoons water to create a slurry

1

teaspoon

almond or vanilla extract
Instructions
Prepare your cherries by washing and removing the stems and pits. The simplest way to do this is to use a cherry pitter, but you can also use a metal straw.

Add the cherries, lemon juice, sugar, water and salt into a medium saucepan and heat over medium-high heat stirring occasionally until boiling and the sugar is completely dissolved.

Reduce heat to low and add in cornstarch slurry and mix until well combined and the mixture starts to thicken. About 2-3 minutes.

Remove from heat and whisk in almond extract and set aside to cool for 10 minutes.

Use after cooling or store in an airtight container in the refrigerator until ready to use.

If you've tried this recipe, please come back and let us know how it was in the comments or ratings!
Notes
*make sure to use a coarse salt, otherwise just a pinch of fine sea salt.
Nutrition
Calories:
203
kcal
,
Carbohydrates:
52
g
,
Protein:
2
g
,
Fat:
1
g
,
Saturated Fat:
1
g
,
Polyunsaturated Fat:
1
g
,
Monounsaturated Fat:
1
g
,
Sodium:
2
mg
,
Potassium:
419
mg
,
Fiber:
4
g
,
Sugar:
40
g
,
Vitamin A:
118
IU
,
Vitamin C:
17
mg
,
Calcium:
25
mg
,
Iron:
1
mg