A rich, creamy dessert that has stood the test of time, these Canadian Butter Tarts are a total classic! You can make them with ingredients you probably already have on hand!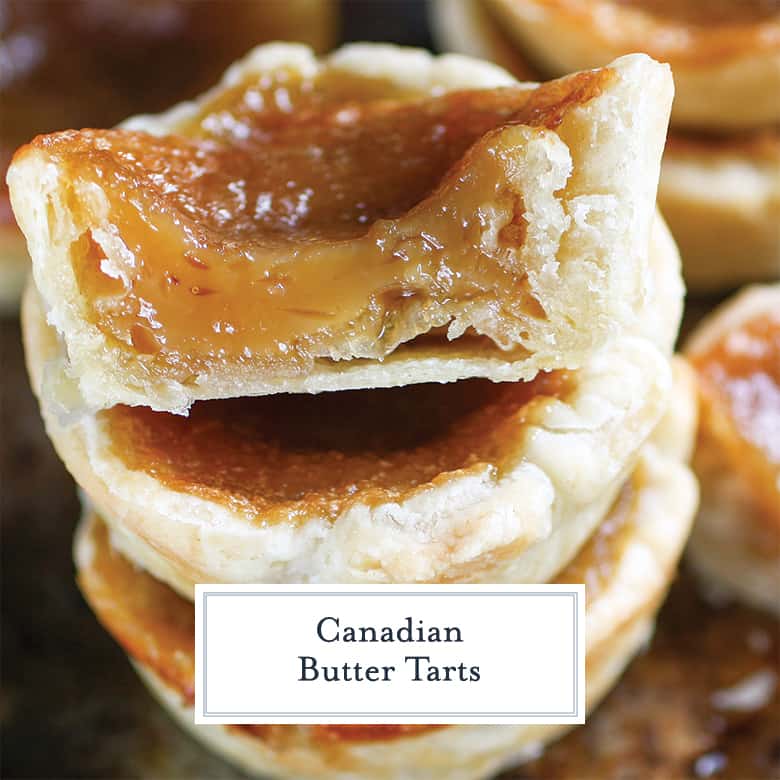 A Canadian treat that everyone should try, these Canadian Butter Tarts consist of a flaky crust filled with a buttery, rich, caramel like, gooey center!
Butter tarts are small pastries filled with a caramel-like custard made with butter, sugar, syrup, and egg. This pastry is baked until the filling is semi-solid with a crunchy top. But where did they come from?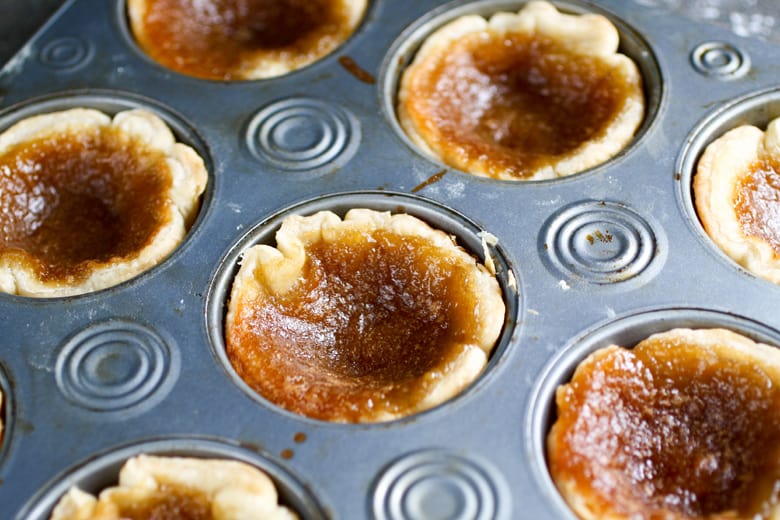 History of Canadian Butter Tarts
It is said that the first written recipe for these tarts appeared in 1900 in the Royal Victoria Cookbook with the name, Filling for Tarts. But historians agree that this recipe existed for hundreds of years before, and that this was the first time it was formalized into a cookbook.
This recipe would've been passed around through families or passed around at churches.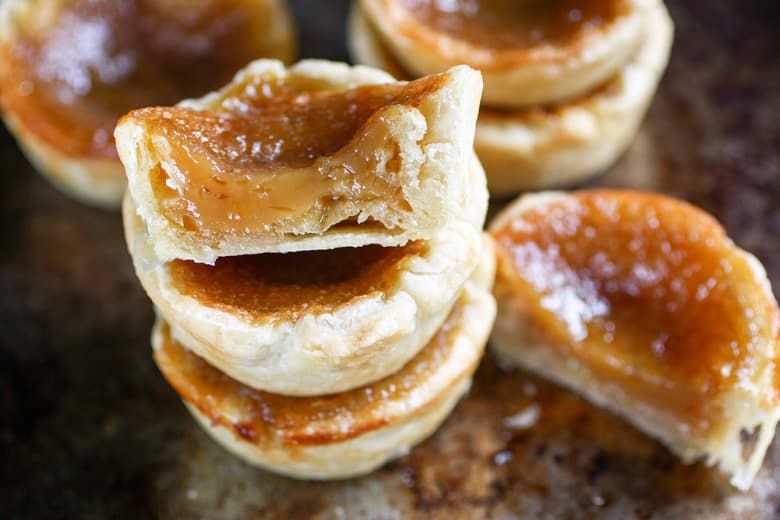 After that first publication, where the recipe was vague (just a list of ingredients and then says mix), it seems to change a little. I used the recipe published in 1979 of the Purity cookbook, which is very different to their recipe published in 1944.
As with any recipe, the ingredients vary from family to family. Some make the filling with brown sugar; others add maple syrup or dark syrup. There is a big group of people who like it with dried fruit and others with nuts, and some with both.
The recipe for today is an adaptation from the Purity cookbook published in 1979. This recipe uses brown sugar and dark syrup, and I substituted it for maple syrup.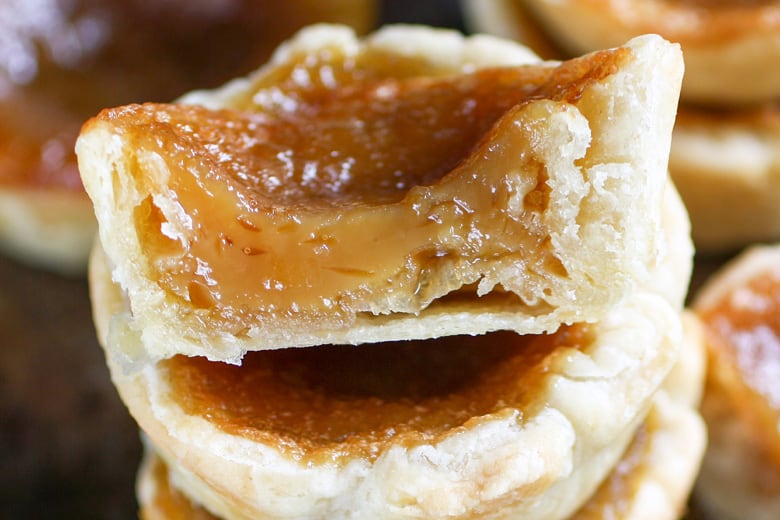 These little butter tarts start with a flaky crust. You can use your favorite pie crust or use the one in the recipe below.
To make this crust, make sure all your ingredients are chilled, and working with a food processor ensures that the dough keeps the right temperature.
Once you've rolled out the dough and placed it in the muffin pan, keep it in the refrigerator until you're ready to bake.
Tips for the best Butter Tart dough
Make sure to use cold butter and iced water
Bring the dough together by pressing the dough, don't knead it
Keep the dough in the refrigerator until ready to use
For the filling you need the ingredients to be at room temperature. 30 minutes before starting, take the butter and the eggs out of the refrigerator.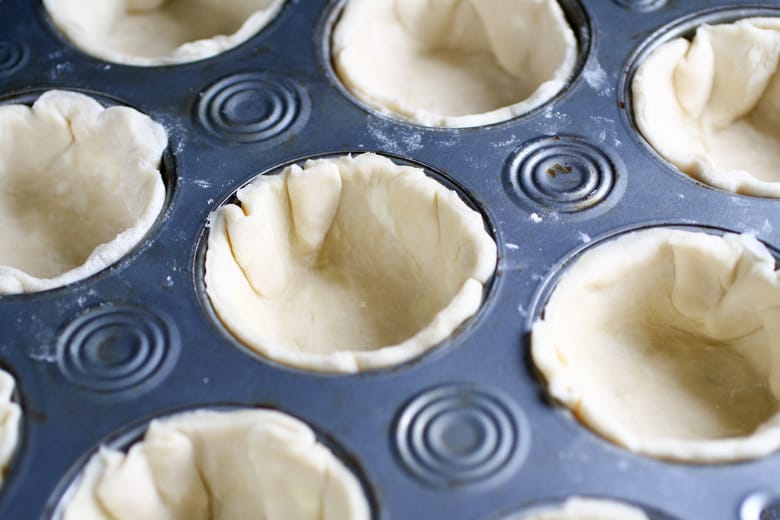 I used maple syrup to make these butter tarts, but you can use dark syrup too.
As I mentioned before, you can add dried fruit or nuts to the individual butter tarts. If adding any of those ingredients, here is the amount you'll need:
1/2 cup raisins soaked in hot water until they plump and then drain
1 and 1/3 cup currants, dates, or figs
1/2 cup walnuts (chopped) and 1/2 cup raisins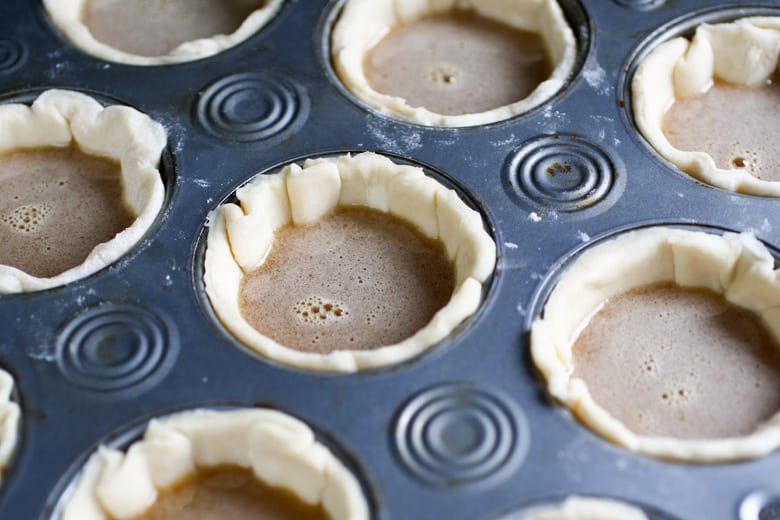 How long can I keep these tarts?
Butter tarts keep well at room temperature for up to 2 days or in the refrigerator for up to a week. Place them in an airtight container. Or you can freeze for up to 2 months.
With these tarts you get a bunch of flavor and texture. Flaky, buttery crust. Rich and gooey filling with a crunchy crust on top. The recipe is easily adaptable to every palate.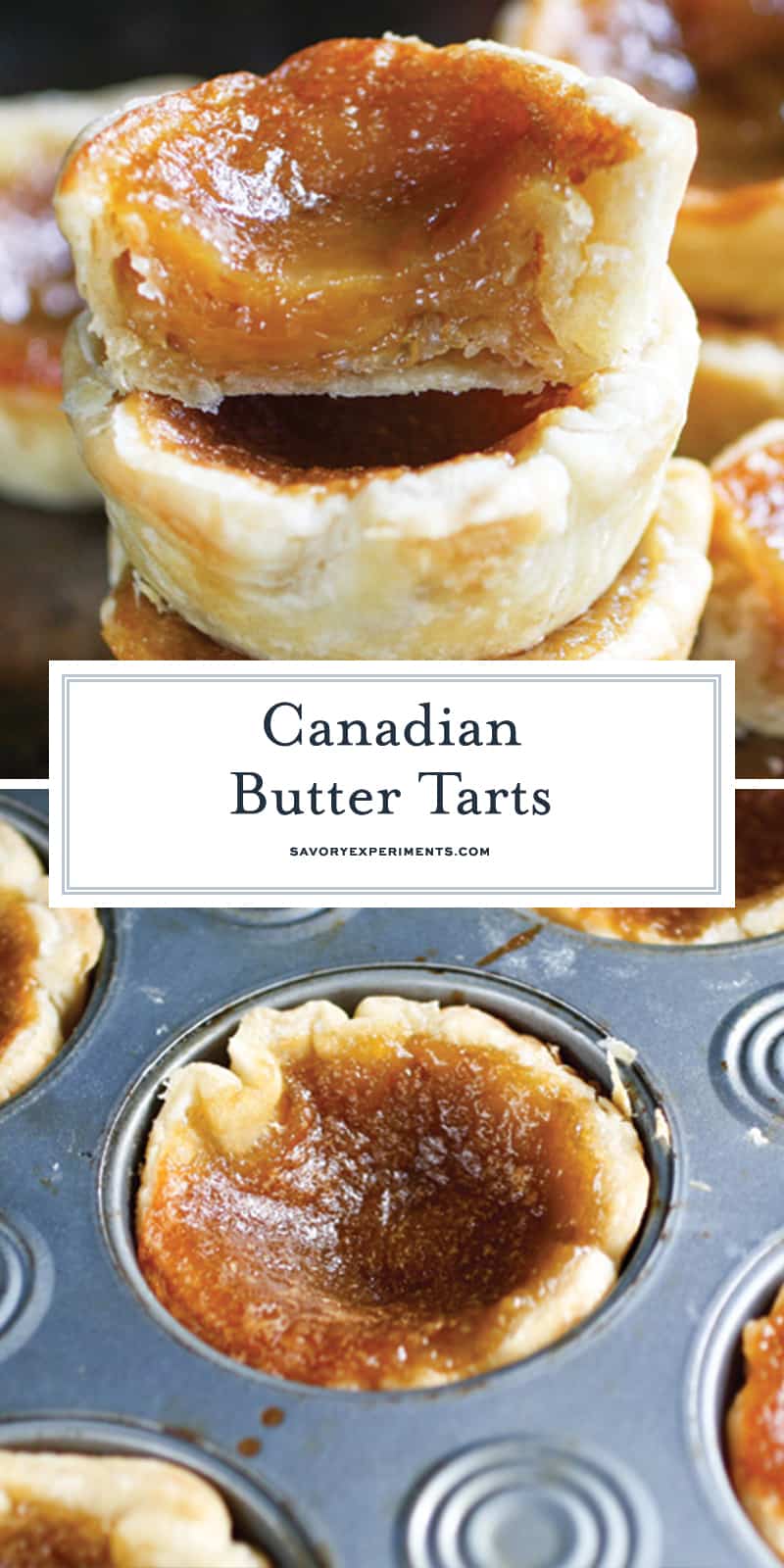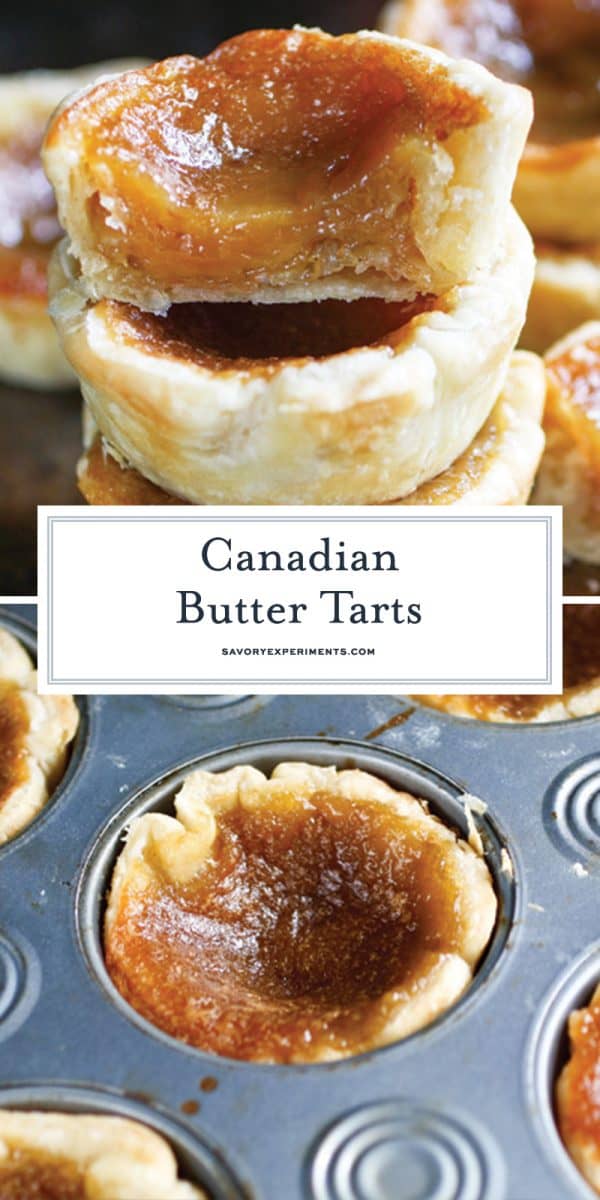 More simple desserts: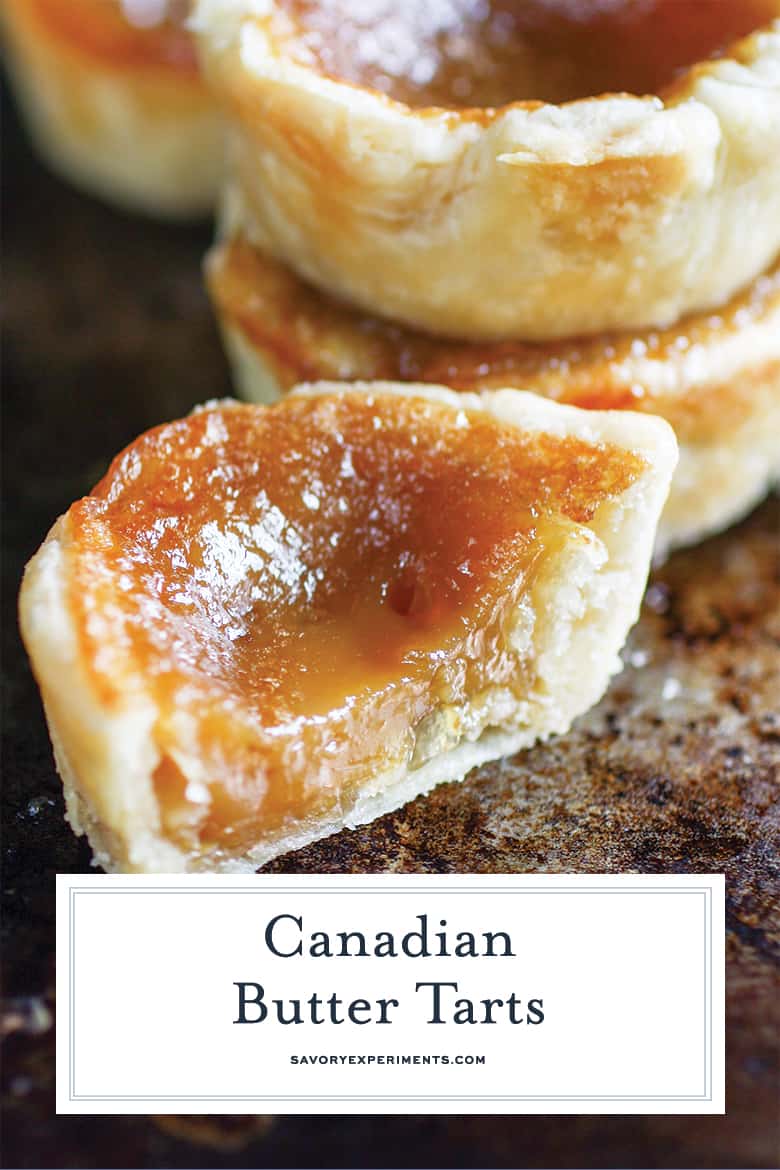 CONNECT WITH SAVORY EXPERIMENTS!

Be sure to follow me on social media, so you never miss a post!

Facebook | Twitter | Youtube
Pinterest | Instagram

Get our FREE 8 Day E-Course on How to Be a Better Home Cook. Sign up HERE!