A rich dessert with rich roots that has stood the test of time, these Canadian Butter Tarts are a total classic! A maple syrup custard filling in buttery tart shells makes for tasty handheld treat.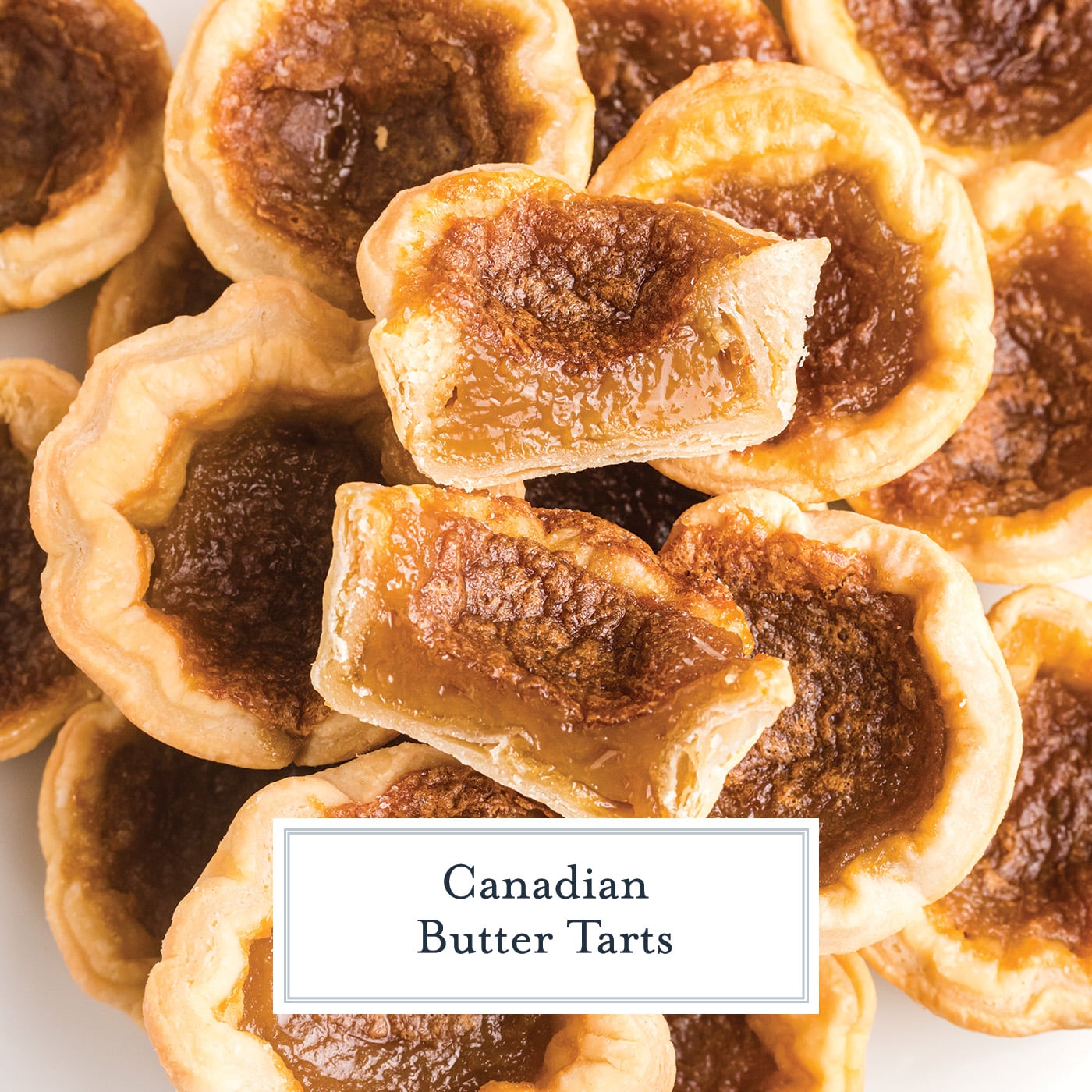 Butter tarts are small pastries filled with a caramel-like custard made with butter, sugar, syrup, and egg. This pastry is baked until the filling is semi-solid with a crunchy top. But where did they come from?
History of Butter Tarts
It is said that the first written recipe for these tarts appeared in 1900 in the Royal Victoria Cookbook with the name, Filling for Tarts. But historians agree that this recipe existed for hundreds of years before, and that this was the first time it was formalized into a cookbook.
This recipe would've been passed around through families or passed around at churches.
After that first publication, where the tart recipe was vague (just a list of ingredients and then says mix), it seems to change a little. I used the recipe published in 1979 of the Purity cookbook, which is very different to their recipe published in 1944.
As with any recipe, the ingredients vary from family to family. Some make the filling with brown sugar; others add maple syrup or dark syrup. There is a big group of people who like it with dried fruit and others with nuts, and some with both.
The recipe for today is an adaptation from the Purity cookbook published in 1979. This recipe uses brown sugar and dark syrup, and I substituted it for maple syrup.
Now they are a Canadian tradition and sometimes referred to at Maple Butter Tarts. There is still a great debate about the quintessentials Canadian dessert and that is whether they should container raisins or not.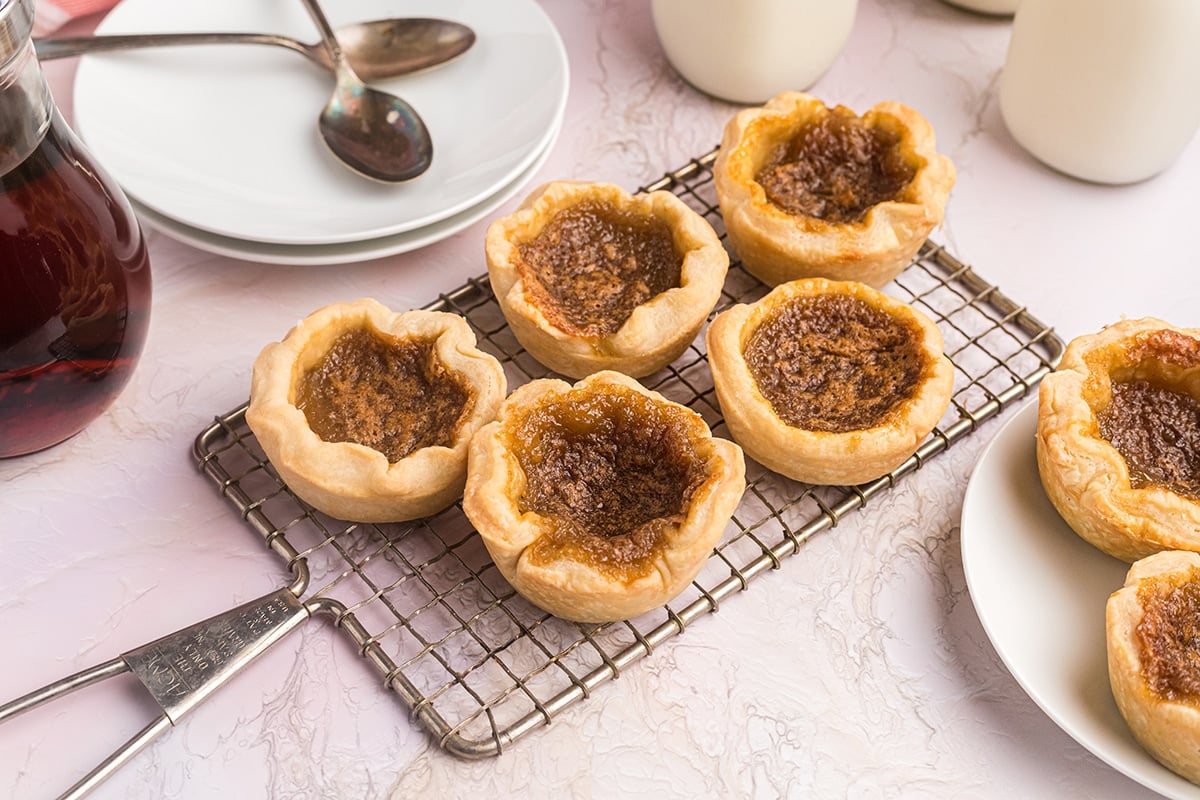 Butter Tart Crust
These little butter tarts start with a flaky crust. You can use your favorite pie crust or use the one in the recipe below. You can also buy premade tart shells, pastry shells or pie crusts and just cut out the circles you need.
I used a muffin tin, but if you happen to have mini tart pans, those will work too.
Flour- all-purpose works for this one. Bread flour can also be used. Cake flour does not work. Make sure to measure your flour correctly.
Sugar– just plain, white sugar.
Fine sea salt– omit if using salted butter.
Unsalted butter– to make the pastry, the butter needs to be super cold, keep it in the fridge until you are ready to use it. Cutting it into small chunks helps it to evenly incorporate.
Cold water- from the tap is fine, just make sure it is as cold as it can get! You can use ice water, but make sure the total volume is correct, don't add ice to the correct cup of water.
To make this crust, make sure all your ingredients are chilled, and working with a food processor ensures that the dough keeps the right temperature. Alternately, you can use a pastry cutter (pastry blender), but this takes longer and the butter will warm, making it hard to work with.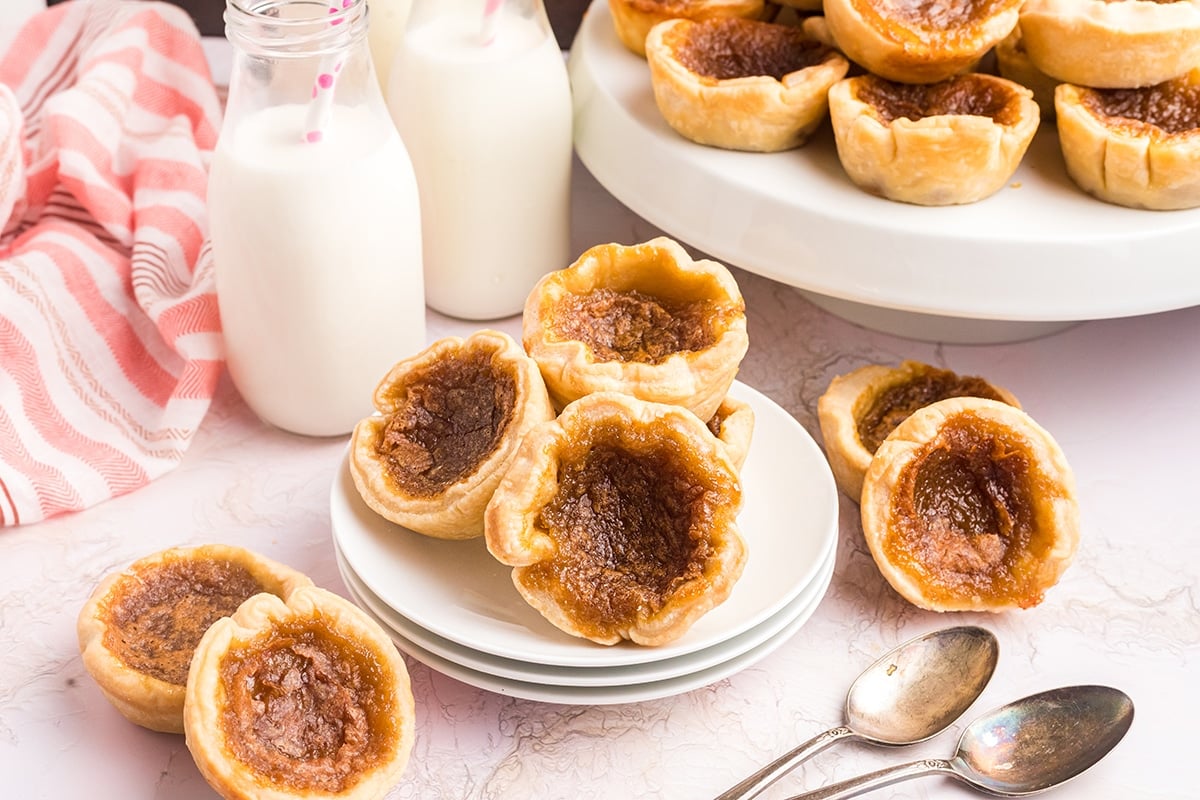 How to Make Crust
In the food processor, pulse the flour, sugar, and salt.
Add the cold butter in chunks to the flour mixture, just pulsing (don't turn it on full blast).
Add the cold water and pulse until the dough starts coming together.
Turn the dough onto 2 plastic wrap pieces, form into a disc and chill well, at least one hour.
Work in two batches. Lightly flour a work surface and then roll out one dough disc to about 1/8 of an inch. Use a round cookie cutter or lid (4 inches) and cut 15 pieces.
Grease muffin pans with shortening or cooking spray. Press each dough circle into the muffin cups (or tart tin). If you still need to make the filling, refrigerate the dough in the muffin tins until ready to pour.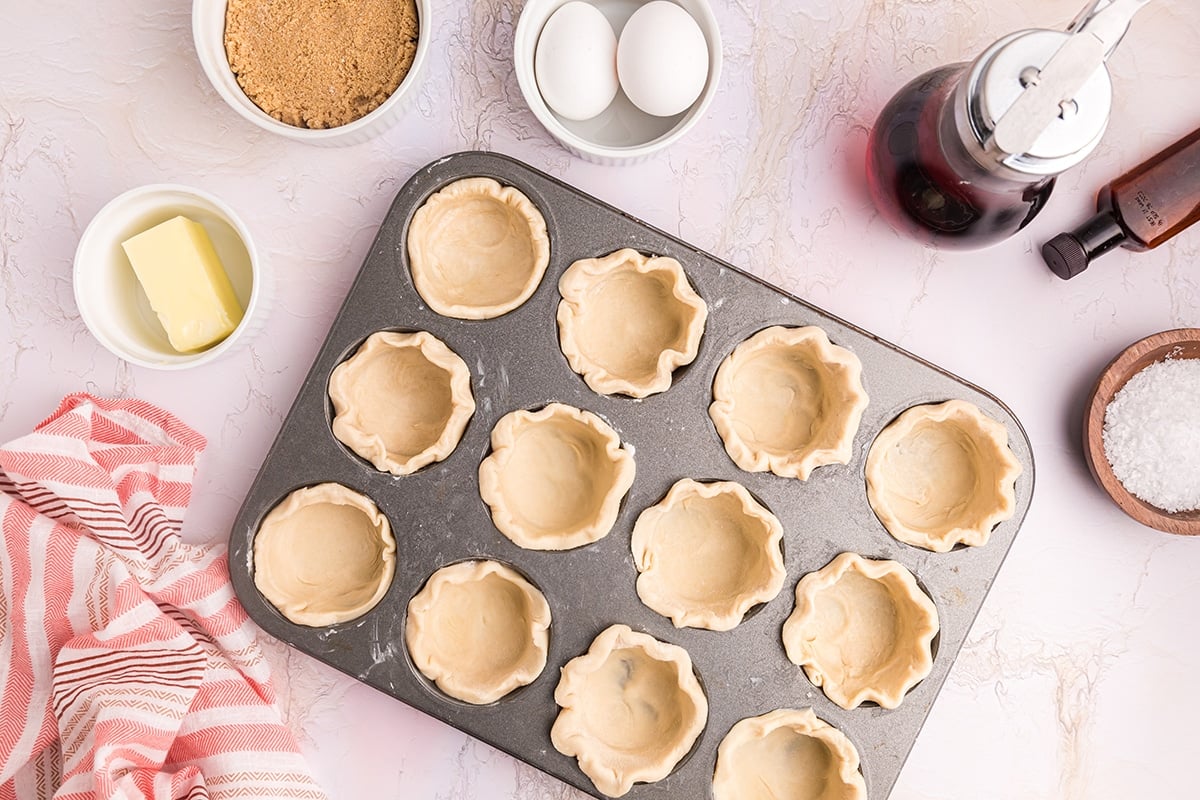 Butter Tart Filling
The ingredient list for the sugary filling is fairly simple using kitchen basics, at least basics for my kitchen. Many fillings use corn syrup, but I prefer my sugary concoction being a blend of maple syrup and molassesy brown sugar.
Unsalted butter- if you use salted, omit the additional salt. Make sure butter is adequately softened, but not melted. Melting the butter will have a negative impact on the filling rising.
Brown sugar– light or dark brown sugar works.
Eggs– it's a custard– it needs eggs!
Maple syrup- this is probably the most important part, use real maple syrup, not maple flavored sugar water. To get the right texture, a thick syrup is ideal.
Fine sea salt- if using coarse, double the amount. This balance the sugar and emphasizes natural maple flavors.
Vanilla Extract- Almond works well too. Vanilla bean paste can be used as well.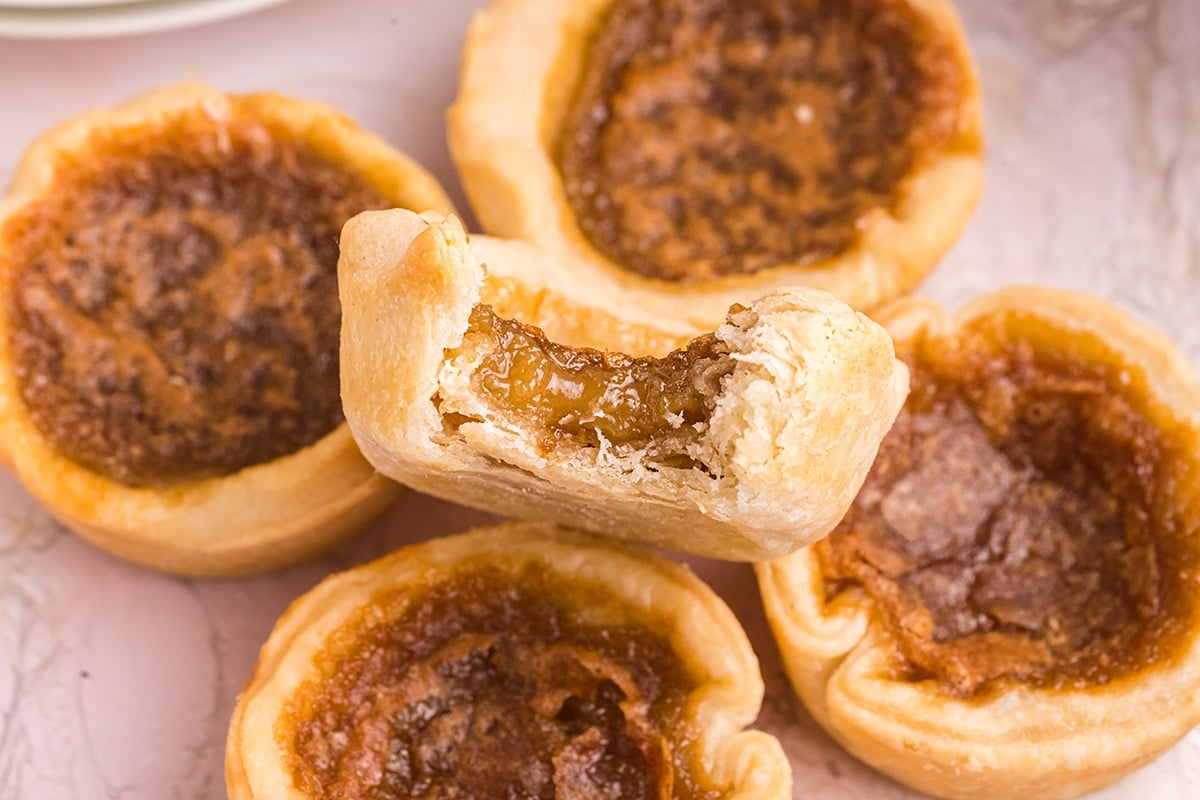 How to Make Butter Tart Filling
Cream together the butter and sugar until light and fluffy. Most folks shortened this step, it should cream for 2-3 minutes to get air incorporated in and butter will start to pale.
Add the eggs one at the time, incorporating fully between each addition. Adding them at once will make it hard to fully incorporate and they will just slop around in the bowl and seperate from the butter. This is like tempering the batter.
Add the maple syrup, salt, and vanilla extract. The filling will be a little chunky and loose, this is normal. If you make this ahead and set aside, you'll need to whisk before pouring into muffin tins.
The easiest way to pour the filling is to use a large measuring cup with a pouring spout.
From here you bake them until they are golden brown and let them cool. Although I like sneaking one while still warm.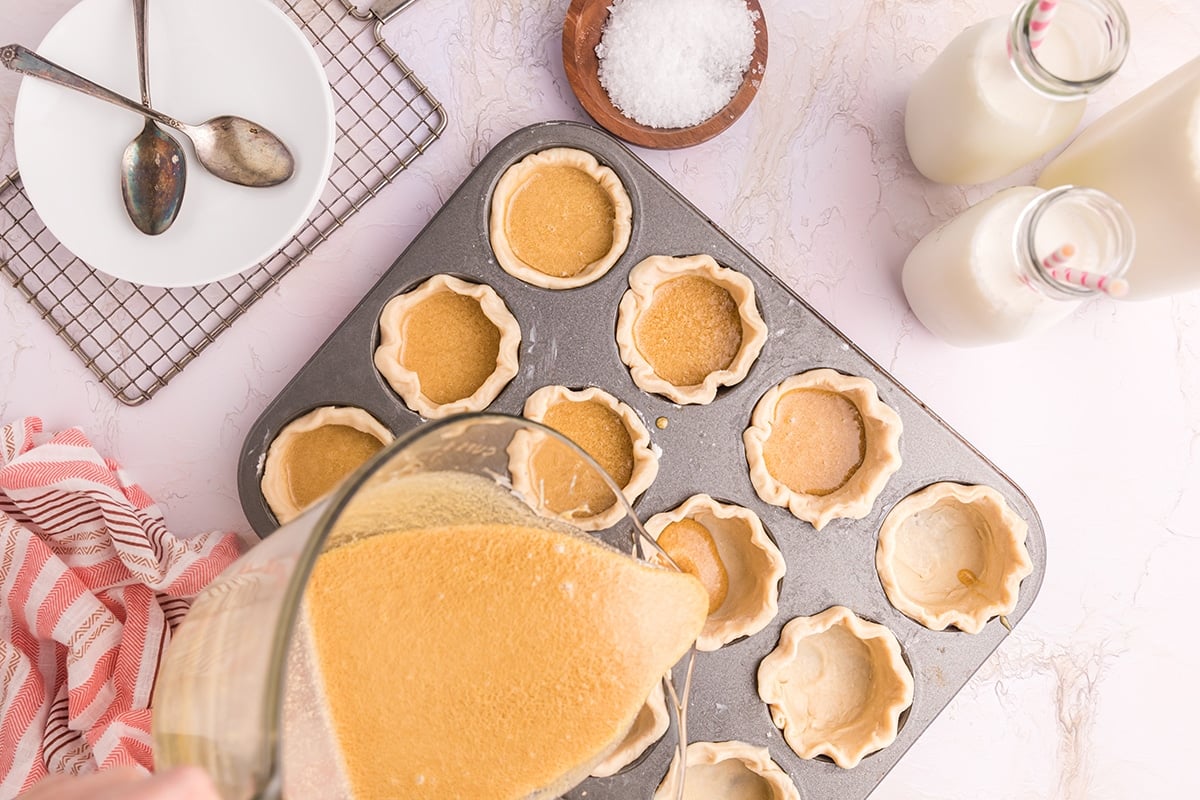 Variations
As I mentioned before, you can add dried fruit or nuts to the individual butter tarts. If adding any of those ingredients, here is the amount you'll need:
1/2 cup raisins soaked in hot water until they plump and then drain
1 and 1/3 cup currants, dates, or figs
1/2 cup walnuts (chopped) and 1/2 cup raisins
1/2 cup mini chocolate chips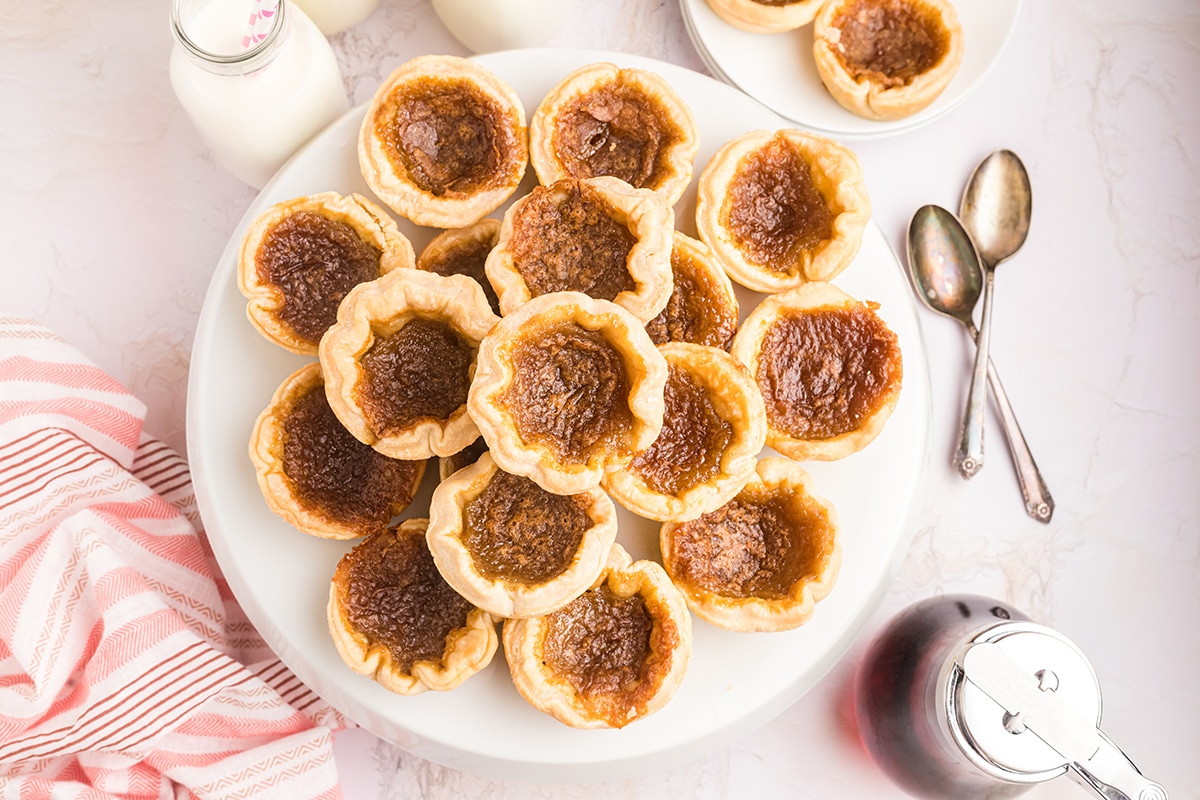 Make Ahead & Storage
Butter tarts keep well at room temperature for up to 2 days or in the refrigerator for up to a week. Place them in an airtight container. Or you can freeze for up to 2 months.
With these tarts you get a bunch of flavor and texture. Flaky, buttery crust. Rich and gooey filling with a crunchy crust on top. The recipe is easily adaptable to every palate.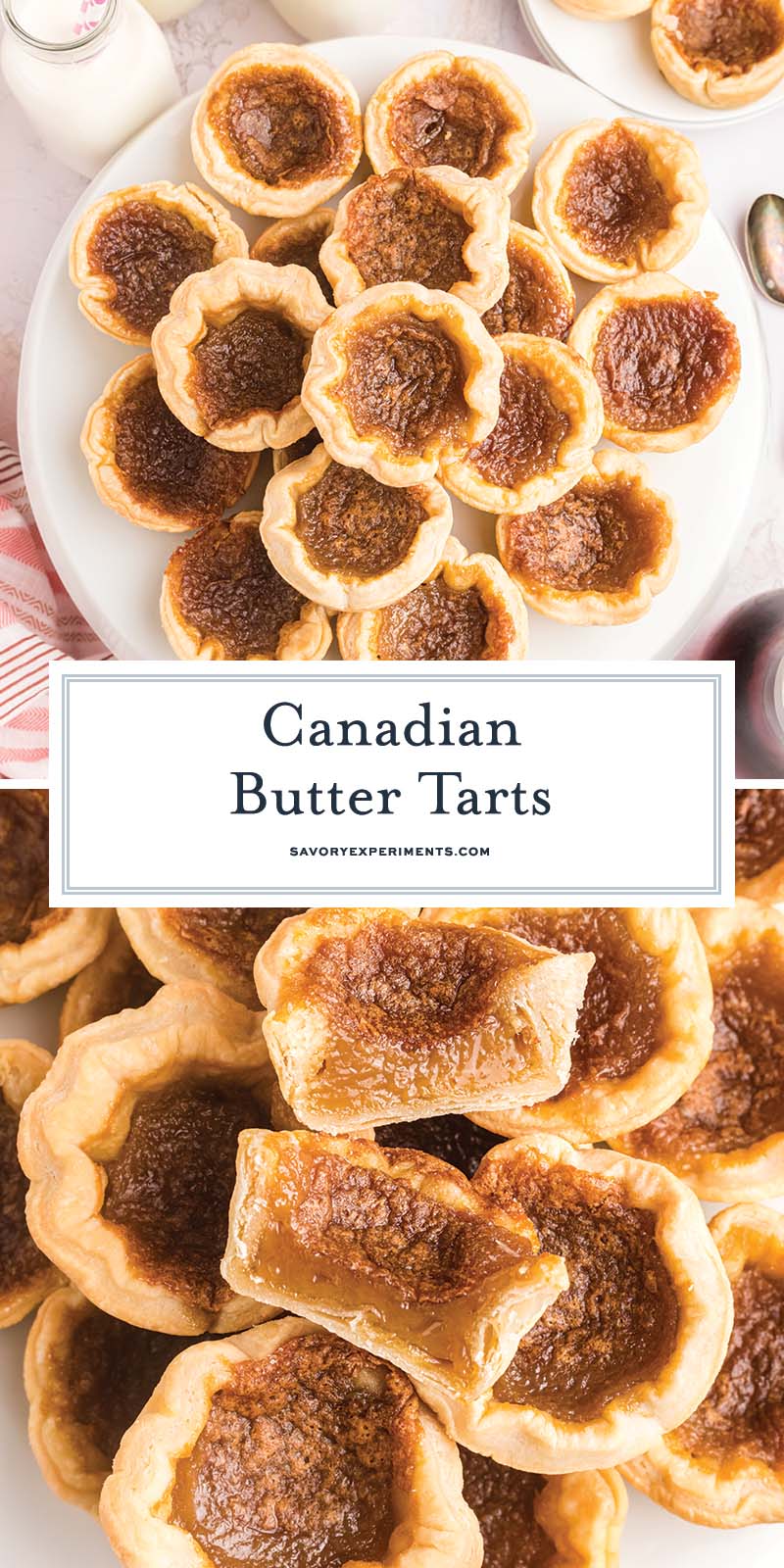 More Easy Desserts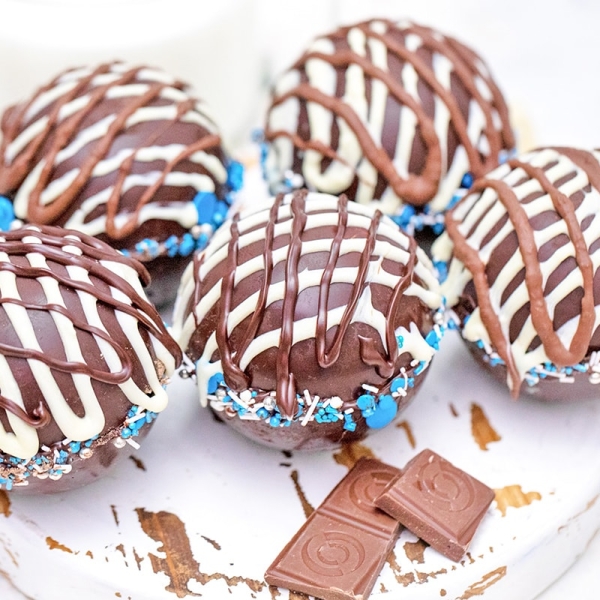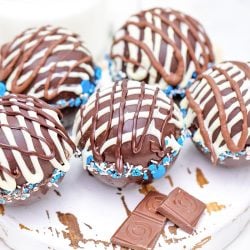 Homemade Hot Chocolate Bombs Recipe
Hot chocolate bombs are hollow chocolate balls filled with hot cocoa mix and marshmallows. Just add hot milk and they magically melt!
View this recipe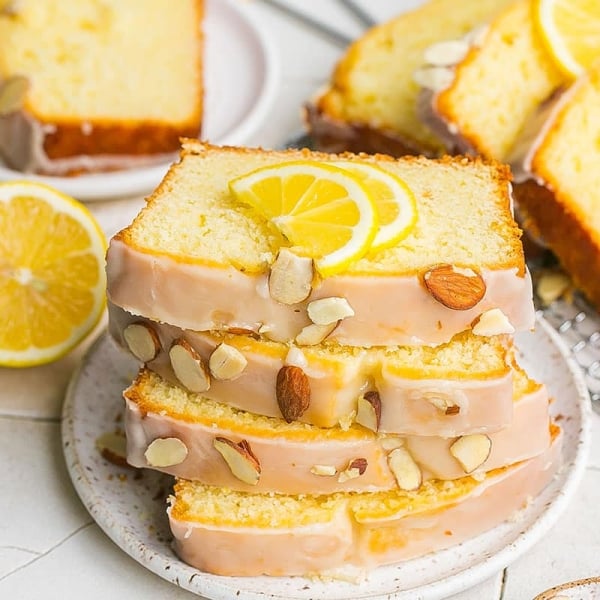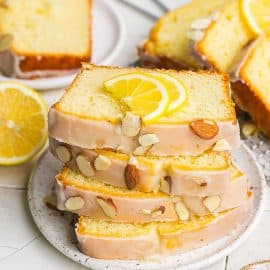 Iced Almond-Lemon Loaf Cake
Yogurt, fresh lemon and almond give this sunny loaf cake a unique flavor and texture that everyone will love. Perfect for brunch, tea or dessert!
View this recipe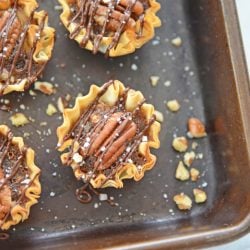 Mini Pecan Pies
With only one bowl and 20 minutes, you can have these EASY Mini Pecan Pies done in no time! This is the BEST Mini Pecan Pies recipe.
View this recipe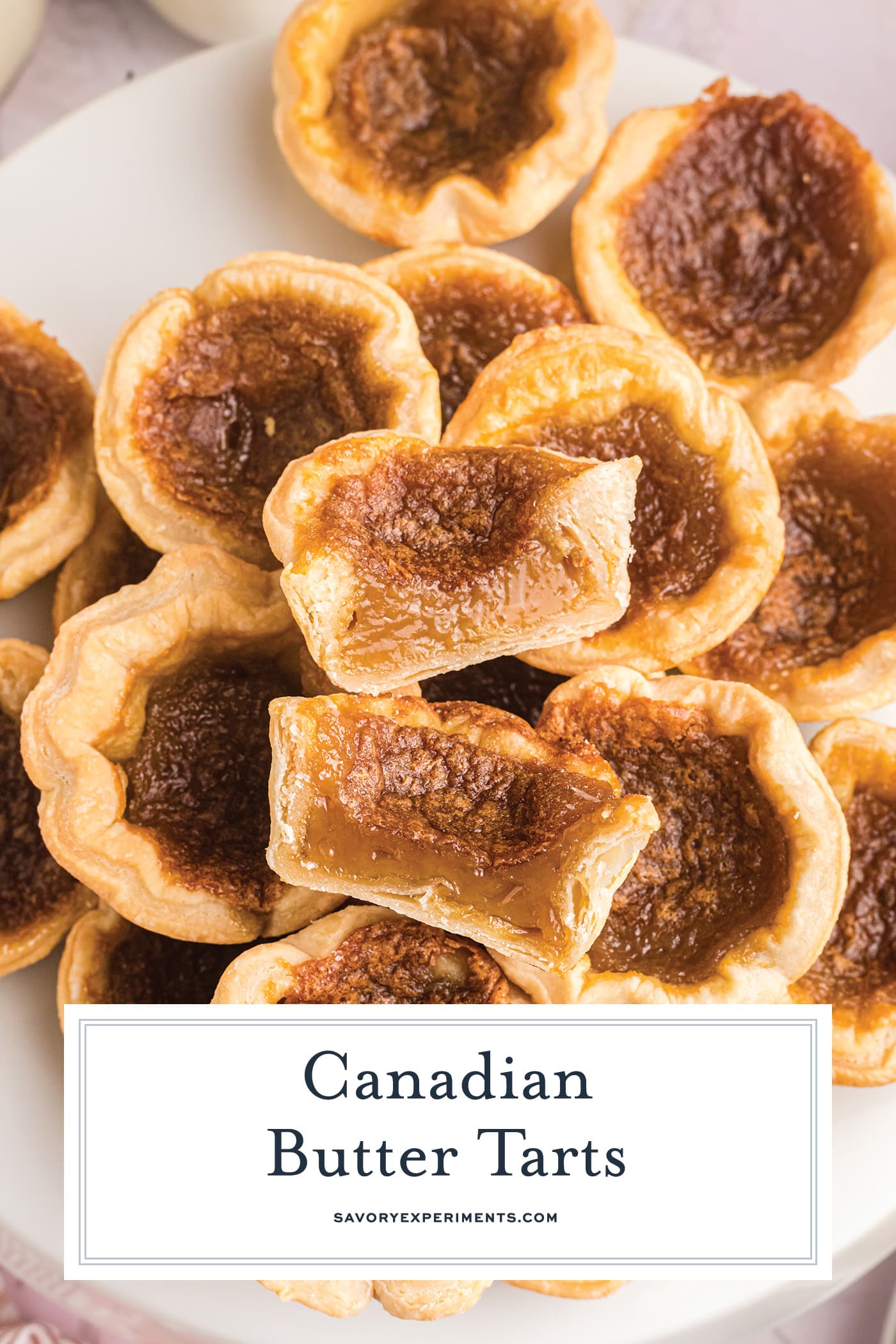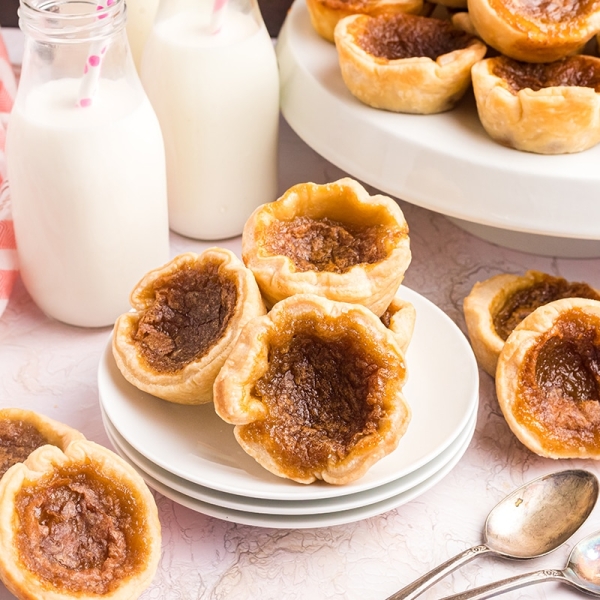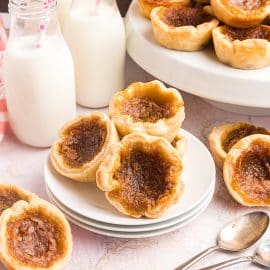 Canadian Butter Tart Recipe
A Canadian treat that everyone should try, these EASY Canadian Butter Tarts consist of a flaky crust filled with a buttery, caramel-like, gooey center!
Instructions
Crust
Using a food processor, pulse the flour, sugar, and salt. Add the cold butter in chunks, pulse 5 to 8 times, or until butter is in small pieces. Add the cold water and pulse until the dough starts coming together.

Turn the dough onto 2 plastic wrap pieces lying flat. Cover over and pat into a disc. Refrigerate for at least 1 hour. Dough will be super sticky, this is normal.

Sprinkle a small amount of flour on a flat surface and roll out one portion at the time, about 1/8 of an inch thick. Use a round cutter or lid (4 inches) and cut 15 pieces.

Grease 1 muffin pan completely and 3 muffin cups from a second pan. Press each dough circle into the bottom of a muffin pan cup. Refrigerate while making the filling.

Preheat the oven to 350°F.
Filling
Cream the butter and sugar together. Add the eggs one at the time. Add the maple syrup, salt, and vanilla extract. The filling is a chunky custard and very loose. If you make this ahead and set aside, you'll need to whisk before pouring into muffin tins.

Pour the filling into pie crust and bake for 25 minutes. It is easiest to use a glass measuring cup with a pour spout.

Let the tarts cool for 5 minutes in the pan and remove to a cooling rack.

If you've tried this recipe, come back and let us know how it was in the comment or ratings!
Nutrition
Calories:
264
kcal
,
Carbohydrates:
29
g
,
Protein:
2
g
,
Fat:
16
g
,
Saturated Fat:
10
g
,
Cholesterol:
62
mg
,
Sodium:
342
mg
,
Potassium:
79
mg
,
Fiber:
1
g
,
Sugar:
21
g
,
Vitamin A:
504
IU
,
Calcium:
39
mg
,
Iron:
1
mg