Chocolate Pudding Pie, topped with homemade whipped cream, chocolate shavings and raspberries, is a decadent dessert that's perfect for sharing.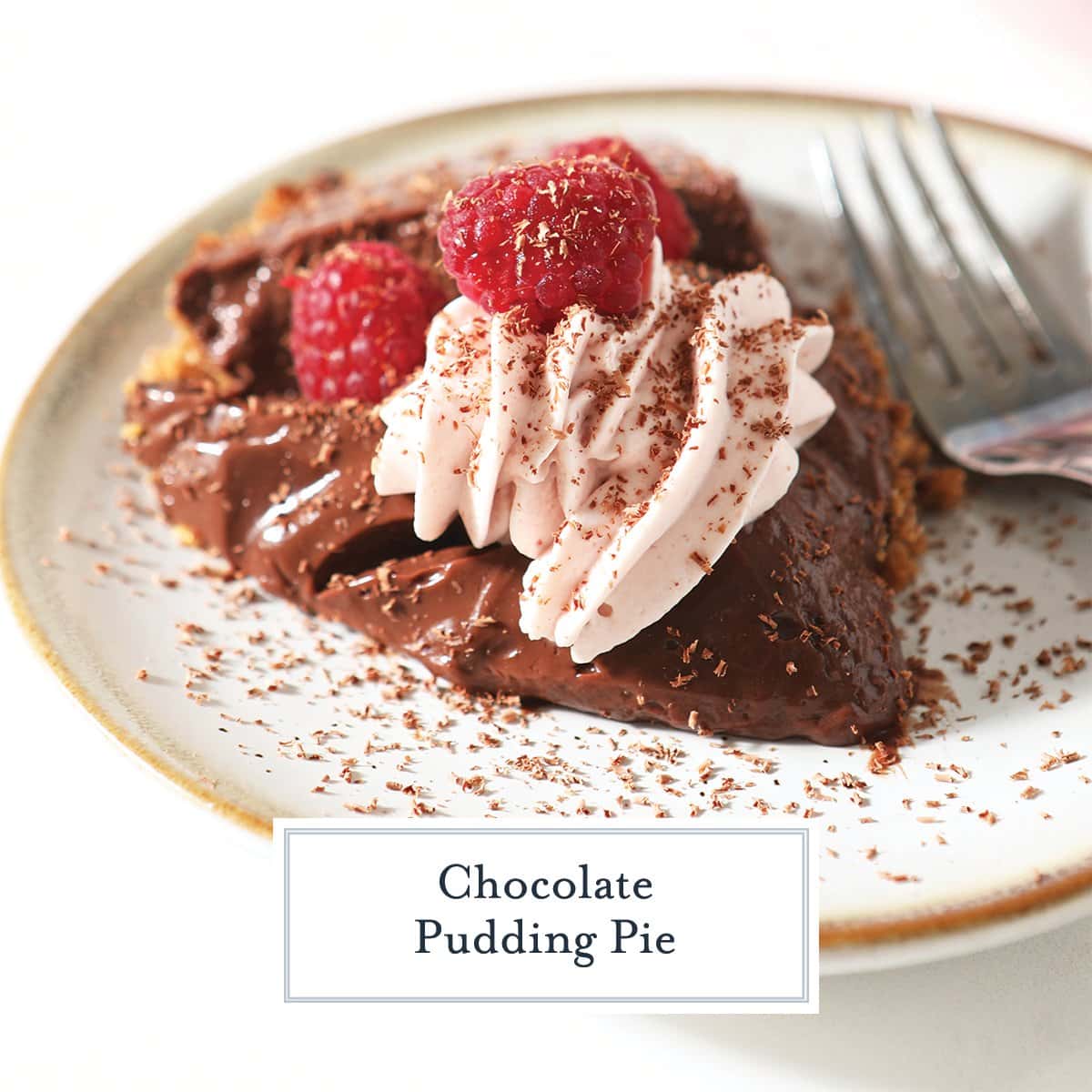 This classic chocolate pie is completely from scratch and totally worth the effort!
Chocolate Pudding Pie Recipe
To me, a homemade pie is a labor of love… and that's exactly what this Chocolate Pudding Pie is.
From the homemade graham cracker crust to the scratch-made chocolate pudding filling, this pie is over-the-top delicious. Yes, it takes time, but it's sure worth the effort.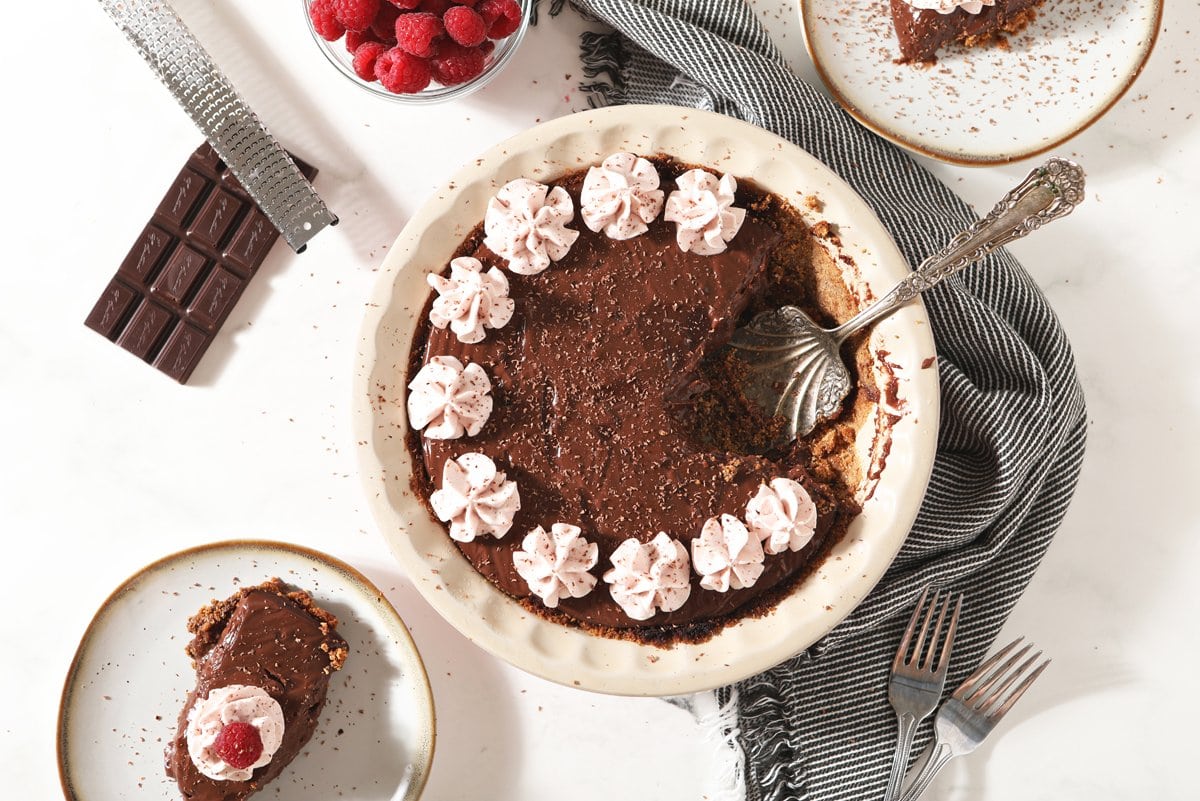 To me, it would be perfect for a celebration of any sort… even if the celebration is as simple as just seeing your people again. (Hello. Pie is perfect for any occasion.)
Chocolate Pudding Pie Ingredients
We need a handful of ingredients to make this pie. Keep in mind that we're making the pie crust from scratch, as well as the filling. 🙂
And if you're looking for a store-bought shortcut, I've got a few ideas on those for you below, too.
Graham cracker crumbs—you can make these yourself in a food processor or purchase a box of 'em at the store if that's easier.
Granulated sugar—we need this for both the crust and the pudding
Unsalted butter—like the sugar, we need this for the crust and the pudding itself
Cocoa powder—the original recipe for this chocolate pudding calls for unsweetened or Dutch processed and dives into the differences in types of cocoa powder. For this pie, I used Droste brand Dutch-processed cocoa for a richer flavor.
Cornstarch
Fine sea salt—or a fine kosher salt would work here, too.
Whole milk – don't skimp with skim or reduced fat.
Vanilla extract
Homemade sweetened whipped cream– plain or strawberry.
Fresh raspberries or strawberries
Chocolate shavings—from your favorite chocolate bar!
Pro tip: This Chocolate Pudding Pie is not something you want to rush. The crust needs to bake and cool slightly before you pour the pudding into it. And the pudding should be warm but not hot when this happens. After that, the pie will need to chill for 3-4 hours in the fridge.
Graham Cracker Crust
First, make the graham cracker crust. Combine the graham cracker crumbs with granulated sugar and melted butter. Stir them together until combined.
You can use a food processor or a plastic bag and a rolling pin to make the graham cracker crumbs if you don't purchase the pre-made crumbs. You want them to be pretty fine for your chocolate pudding pie, though, so make sure they're smashed well!
Pour the crust ingredients into a 9" pie pan. Use your hands or a flat utensil, like a measuring cup, to gently press the crust together and into shape.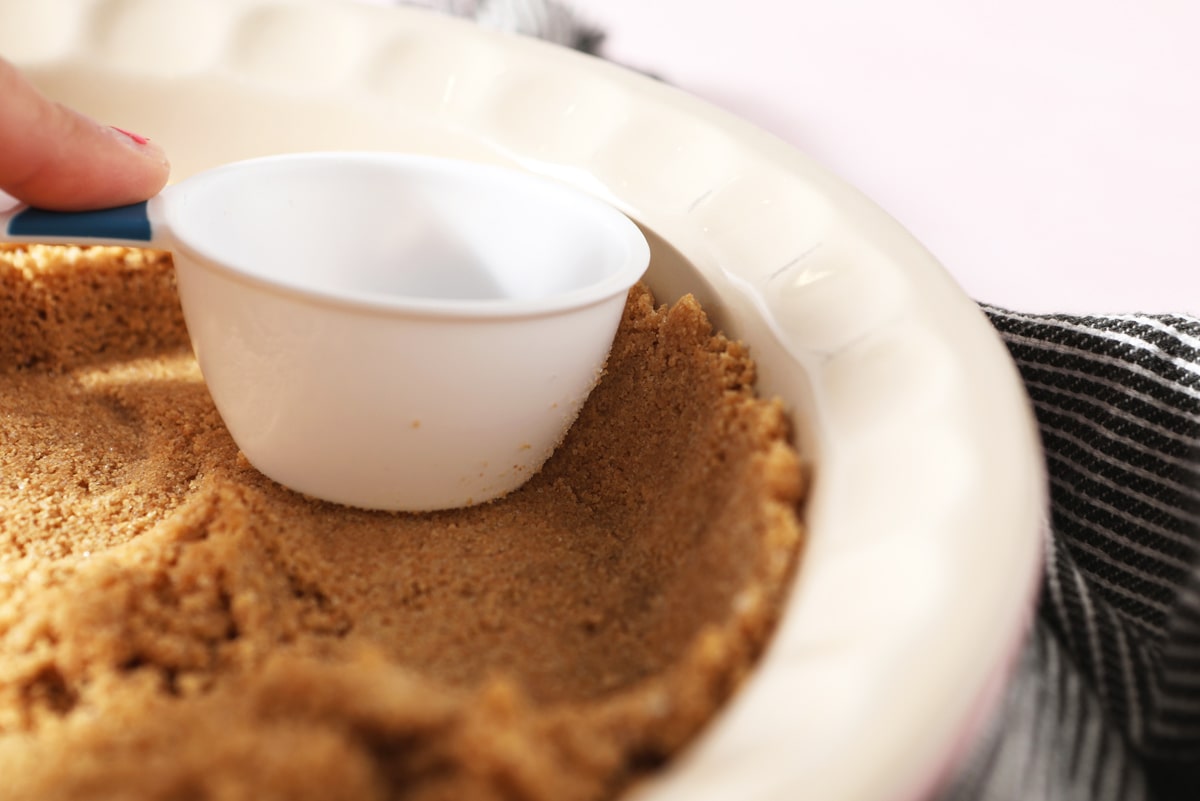 This may take some time, and that's OK. We want the crust to be compact because otherwise, it'll fall apart when you're serving it.
When the crust is formed, pop it into the oven and bake for 20-25 minutes. Keep an eye on it—you want it to turn a golden brown color and don't want it to burn.
When it's done, remove the crust from the oven, and let it cool while you make the chocolate pudding filling.
A traditional homemade pie crust is also a nice option. Or grab a premade one at the store!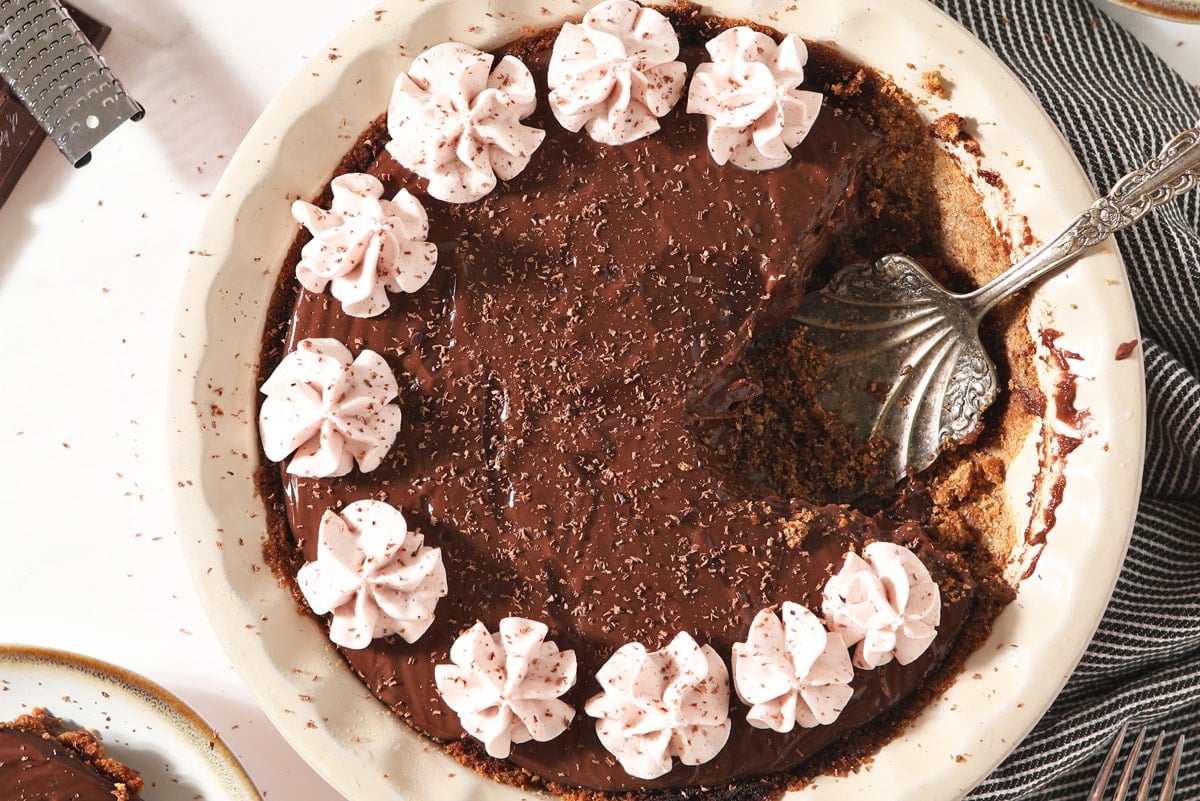 How to Make the Pudding Filling
Whisk together the sugar, cocoa powder, cornstarch and salt in a medium saucepan. Pour in two cups of milk, and whisk until combined, then turn on the heat.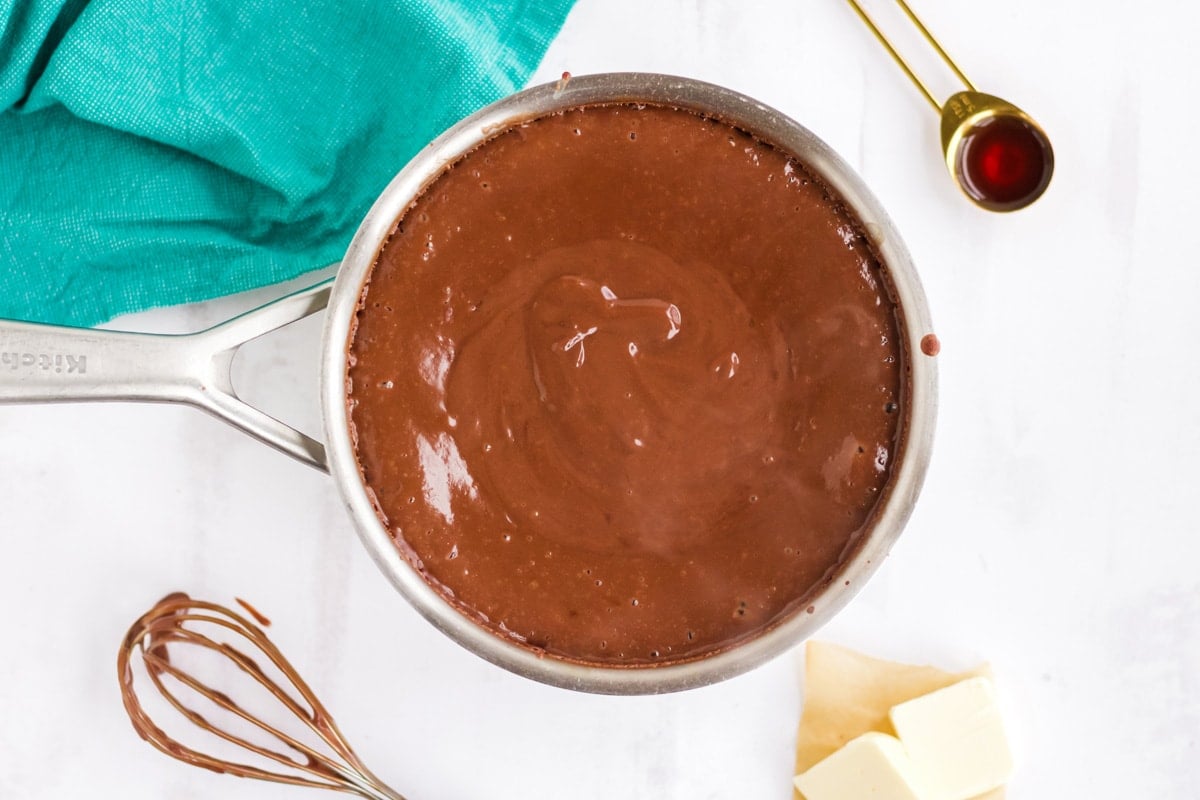 As the mixture thickens and steams, slowly add the rest of the milk. Stir constantly until the mixture reaches a boil. After about a minute, it should be very thick.
Remove the pudding from the heat, and stir in the vanilla extract and the butter.
Let the pudding cool until it's no longer steaming.
Put together the chocolate pudding pie, and let it chill. When the pudding is no longer steaming, pour it into the baked crust. Cover with plastic wrap—make sure to press down to remove any air bubbles so a skin won't form—and chill in the refrigerator.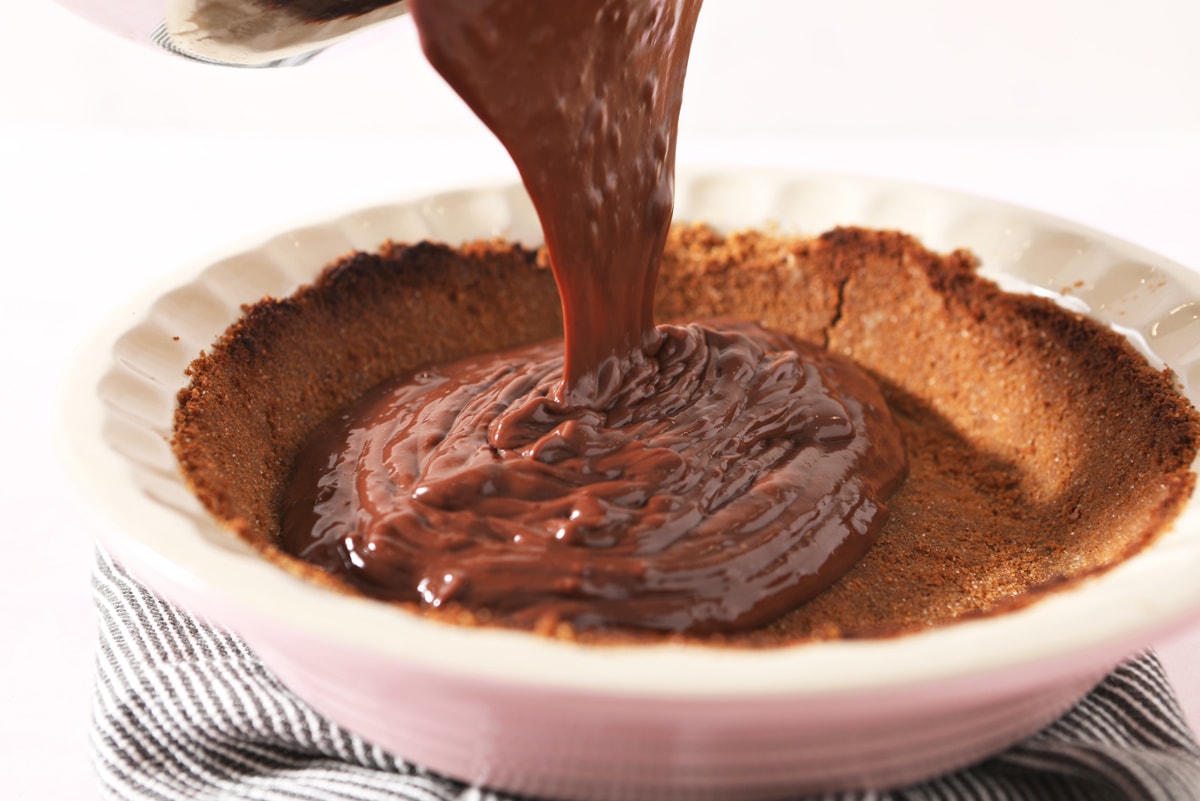 Remember: Your pie could take 3-4 hours, or more, to completely chill.
Decorate, slice and enjoy! I used a piping bag with a star tip to decorate our pie with dollops of Strawberry Whipped Cream, but you do you! A healthy dollop of whipped cream on top of this pie from a spoon isn't a bad idea, either.
Here are some other toppings you can add to this chocolate pie:
Fresh fruit, like raspberries or strawberries
Chocolate shavings, made with your favorite bar of chocolate and a zester
Powdered sugar—because when is this ever a bad idea?
Sprinkles—to add some pops of color!
Quick Fixes
How do you thicken chocolate pudding for pie? The cornstarch in this chocolate pudding recipe thickens the pudding for the pie. The key is going to be cooking it long enough so that the pudding holds its shape when you slice the pie! You'll know the pudding is done when it's super thick—and it'll coat the back of a spoon easily without dripping off.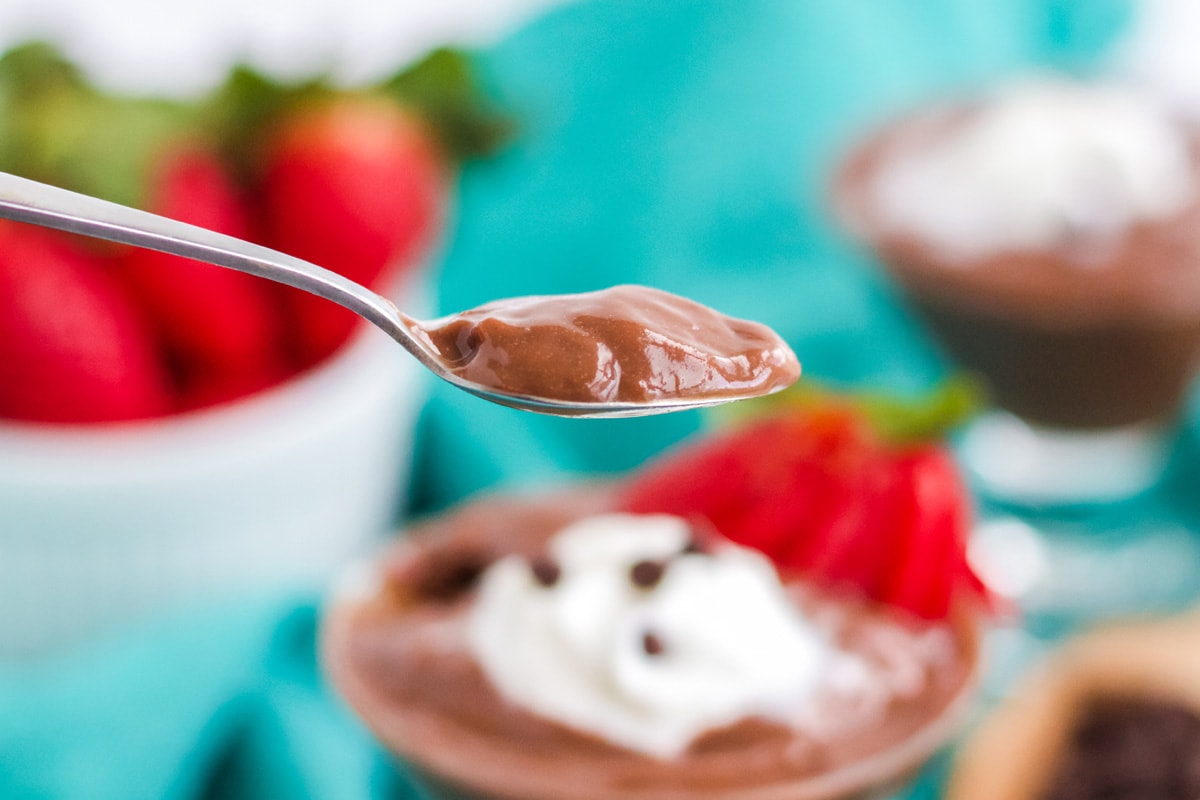 Does chocolate pudding pie need to be refrigerated? Yes. You absolutely need to refrigerate this pie.
How do you fix runny chocolate pudding? If your pudding isn't thick enough, it needs to be cooked for longer. However, if you've got runny pudding inside your pie crust already… it might just be best to eat that with a spoon. 😉 It might not be pretty, but it'll sure taste good.
But also remember that pudding isn't a super taunt dessert, it is supposed to spread a little when served. If you want something that holds form, add more cornstarch or freeze it.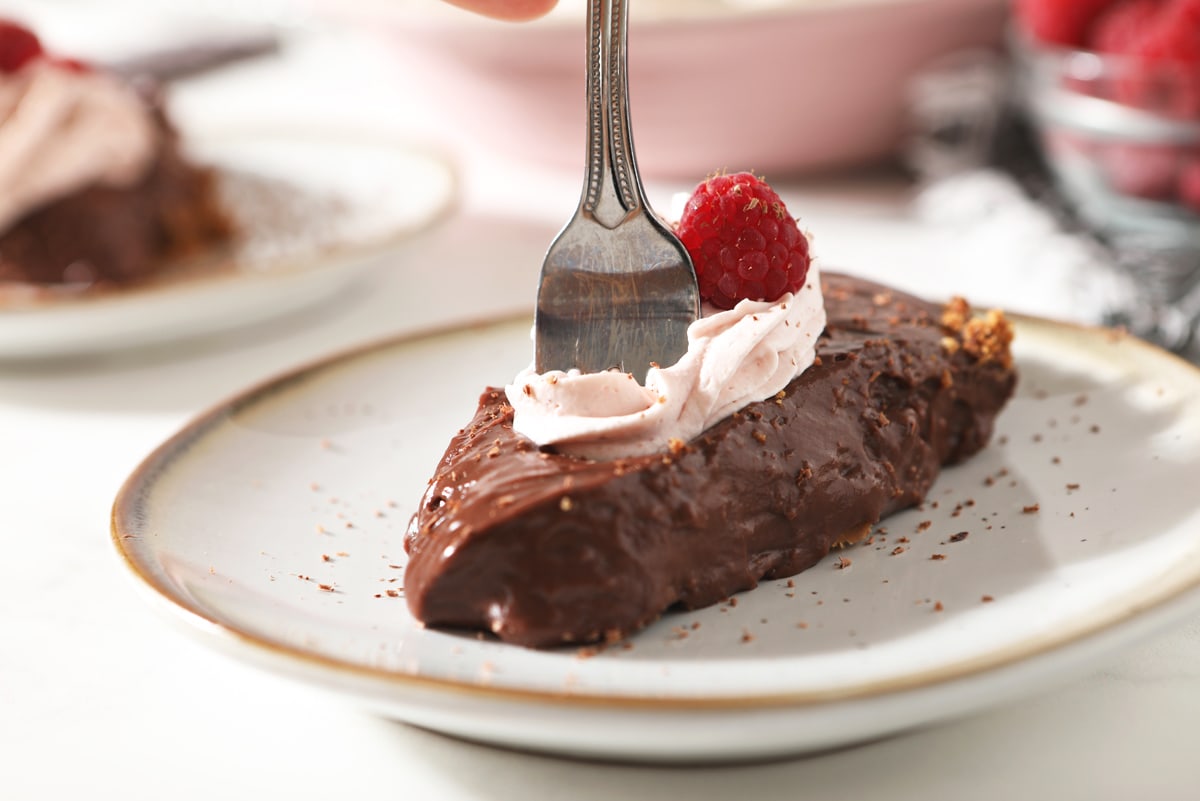 Tips and Tricks for the Best Pie
Give it time. This recipe isn't one you want to rush because it takes time to get it right. That includes the making of the graham cracker crust and the homemade chocolate pudding. Trust me when I say this is totally worth it.
Store the pie wrapped in plastic wrap in the fridge for up to 3 days.
Need a store-bought shortcut? Purchase pre-made Graham cracker crumbs or a pre-made Graham cracker crust. Make the pie filling from scratch because it's worth the effort. So is the homemade whipped topping.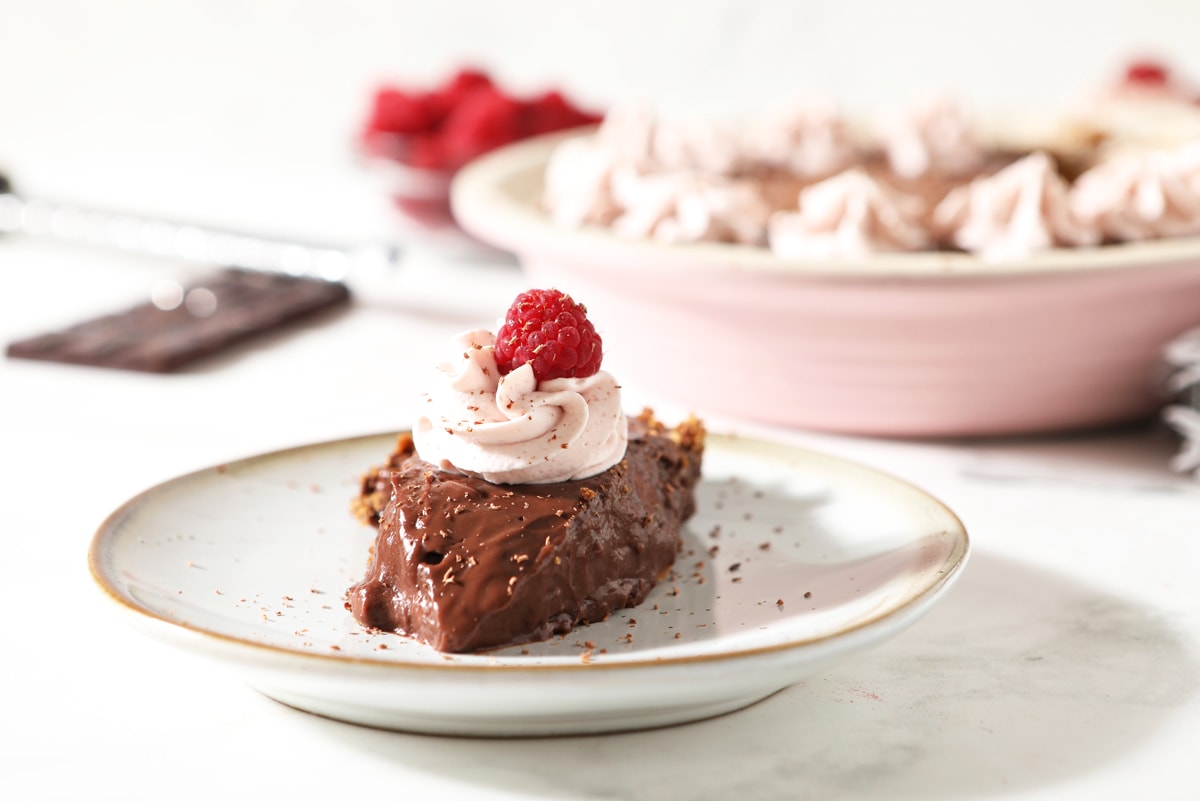 Pro tip: If you're entertaining and planning to serve this Chocolate Pudding Pie to guests, make the pie the day before, and have it chill overnight in the fridge. Why? This takes the stress off you so you don't worry about getting the pie done in time before hosting friends.