I know what you are about to do. You are going to scroll on down to that recipe, see how long it is and immediately abort the mission and just buy some baklava at the store. STOP. DON'T DO IT.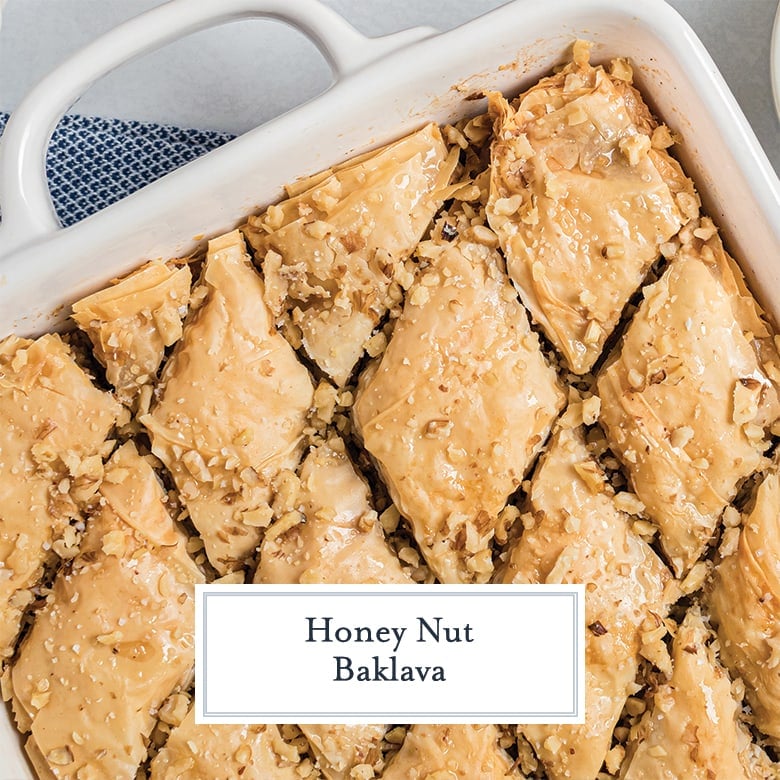 When I tell you that homemade baklava is SO much better than anything you can buy, I'm not joking. And when you take a quick glance at those instructions, don't be panicked. Because so many folks felt intimidated to make their own included some extremely detailed instructions and tips.
You'll feel like I am on your shoulder reading them to you… in a non-creepy way, of course.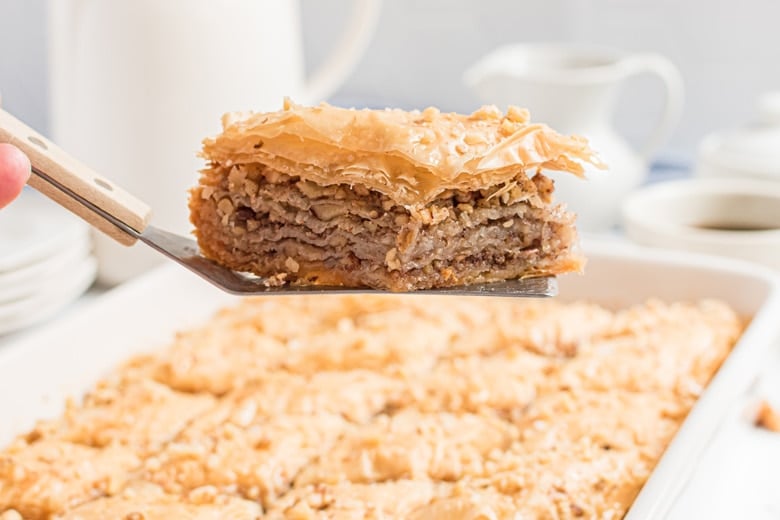 BEST Baklava Recipe
Yes, I just called it the best, but no, I won't claim it as "THE" best. And I'll tell you why, because clearly I am not Greek.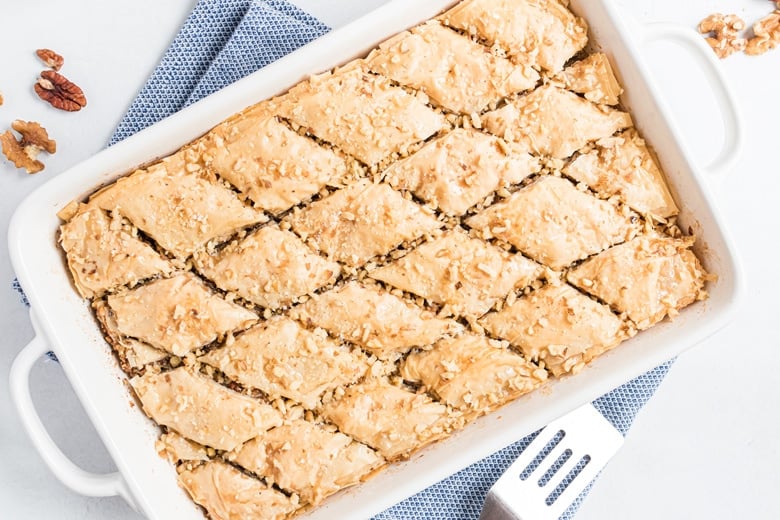 But I did live in Greektown for a number of years (I realize this alone does not qualify me) and through that time I got to know the owners of all the Greek joints.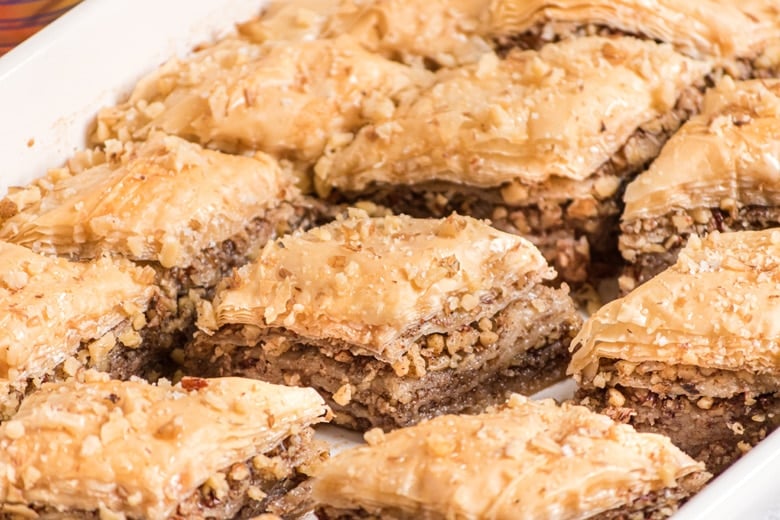 I tried their house baklava, talked to them at the bar about their families and family recipes. And in the end, I mashed up all of their tips, tricks and ingredients to one master recipe for baklava.
So to all my Greek baklava purists, those who have a family story to tell and also want to tell me how this is not an authentic baklava recipe, I welcome you to leave your comments below. I do really want to hear them!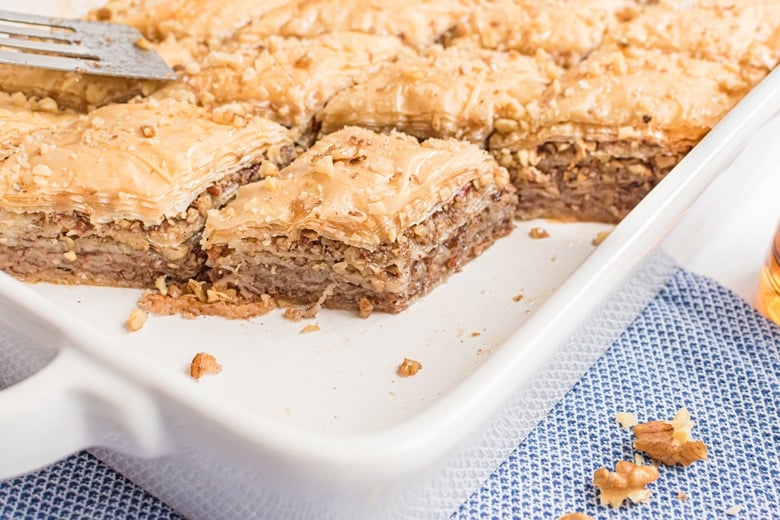 Ingredients
So there are basically three main components to any baklava: the baklava itself which consists of layers of pastry with filling in between, the honey sauce that you pour over it, and then the crunchy walnut topping on top.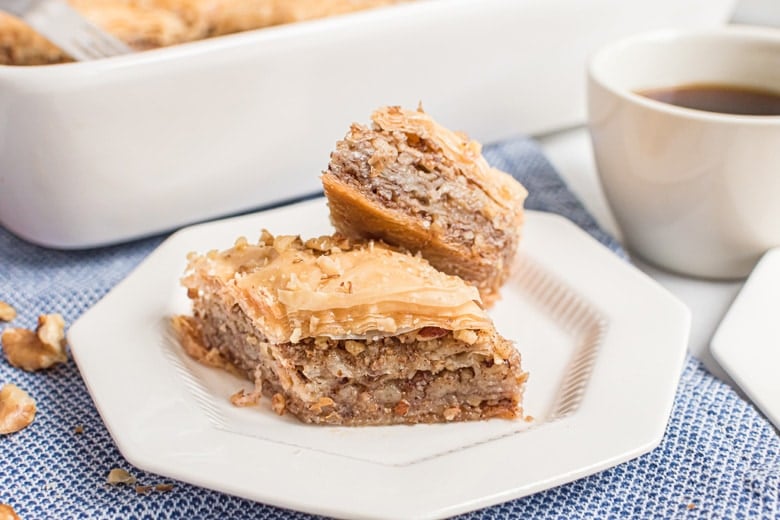 Here is what you will need:
phyllo dough
unsalted butter
walnuts
pecans
cinnamon
nutmeg
sugar
lemon juice
vanilla
honey
How to Make Baklava
Take a deep breath and know this… and this is the most important part of making baklava: IT IS OKAY IF ONE OF YOUR PHYLLO DOUGH SHEETS TEARS. Do not panic.
You will first need to start by thawing the phyllo dough. Just follow the package instrustions for this, and make sure you thaw both rolls (most packages have two rolls packaged separately.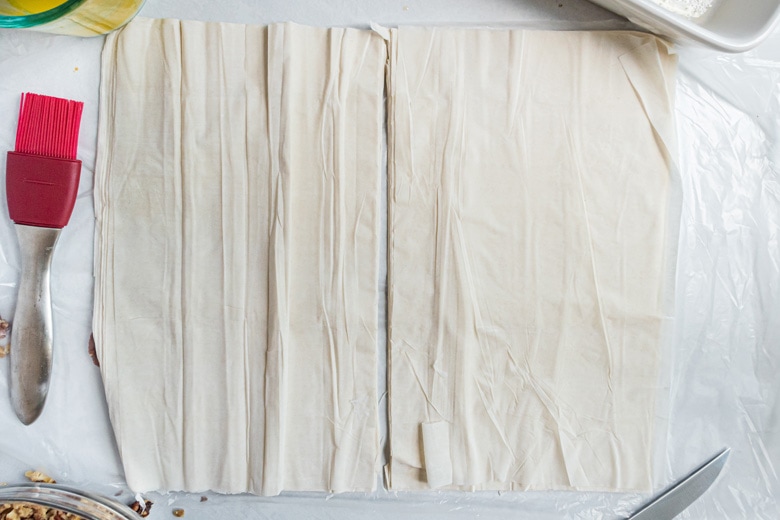 Next, trim all of the dough to 9×13 to fit into your baking dish. For most boxes this simply means cutting it in half to two 10×13 sheets. It is okay if the sides curl up a little.
Cover sheets with with a damp towel to keep them from drying out. Next, make the topping…
Making the Honey Topping
Now onto the honey syrup. Combine the sugar, honey, lemon juice, vanilla and water into a medium saucepan. Bring that to a low simmer, allowing the sugar to dissolve without burning. Make sure to stir continuously.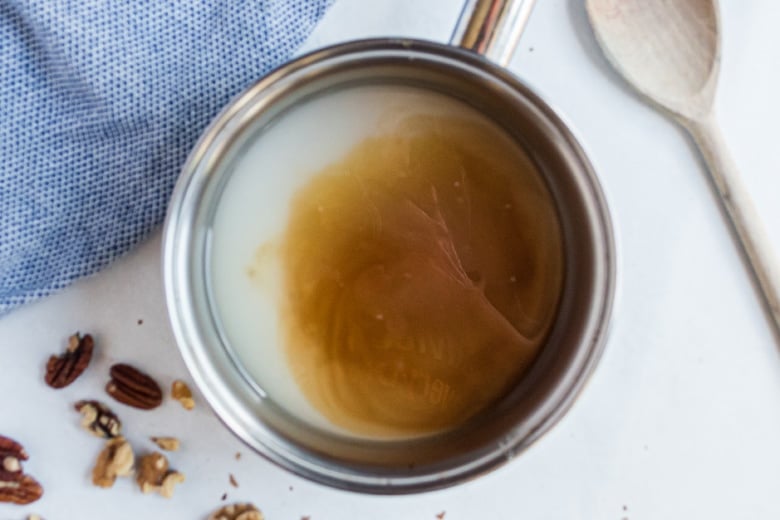 After the sugar is fully dissolved, reduce to the lowest heat possible and allow to simmer for five more minutes without stirring at all. Then remove from the heat and allow to cool at room temperature.
And then the filling…
Baklava Filling
First you need to pulse the walnuts and pecans in a food processor until they are finely chopped. If you don't have a food processor, you can certainly do this by hand. But it is significantly easier in a food processor, as it only takes about 10-15 pulses.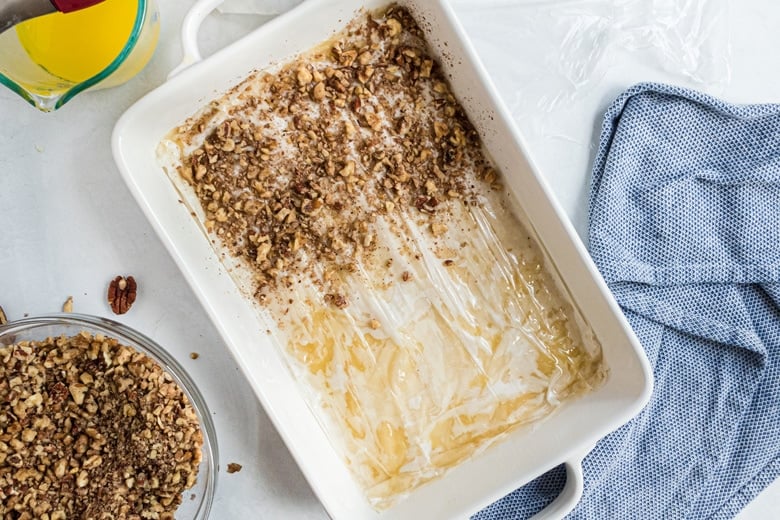 Next, combine those chopped nuts with the ground cinnamon and nutmeg. And that's it! This will make up that crunchy filling we all know and love.
And now put it all together…
Assembling the Baklava
Place 10 phyllo sheets into a greased baking pan one at a time, brushing each sheet with melted butter. This is a little time consuming and don't be worried if the sheets tear. After they are all assembled and cut, no one will know.


Top the first layer of 10 sheets with ¾ cup of the nut mixture (about 1/5). Then top with 5 more sheets of phyllo dough. Repeat this 4 more times ending with another 10 sheets of phyllo dough on top. Make sure to baste with butter between each layer of phyllo dough.
This is the pattern:
10 phyllo sheets
3/4 cup nuts
5 phyllo sheets
3/4 cup nuts
5 phyllo sheets
3/4 cup nuts
5 phyllo sheets
3/4 cup nuts
5 phyllo sheets
3/4 cup nuts
10 buttered phyllo sheets
And finally you cut it…
How to Cut Baklava
The trick to perfect baklava is to cut it before you bake it rather than waiting until after. If you cut it after, the pastry will crumble and you'll lose half of it to the process. Cut baklava into 1 ½ inch strips, then cut diagonally to form diamond shapes.


Once you've cut it, bake it for 1 hour and 10 minutes or until tops are golden brown. If it looks to be browning too fast, cover the top loosely with a sheet of aluminum foil.
Then remove the baked baklava and pour the honey topping over it while it's still hot. It will seep into all the nooks and crannies. Then top with remaining chopped walnuts while still tacky.
You can brush the top with it too if it gets too thick to pour well. If the pastry is still hot, it will help it to sink down in.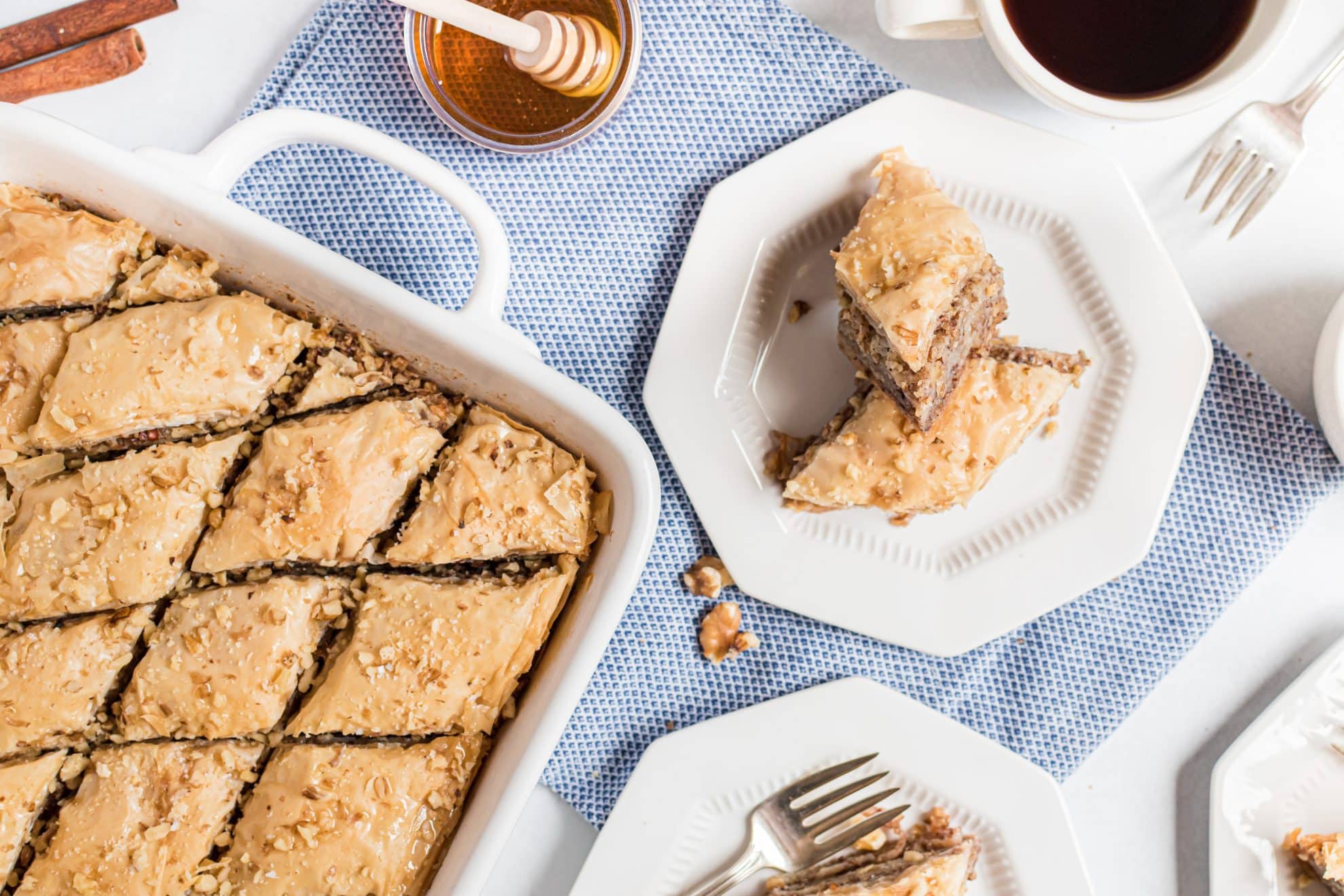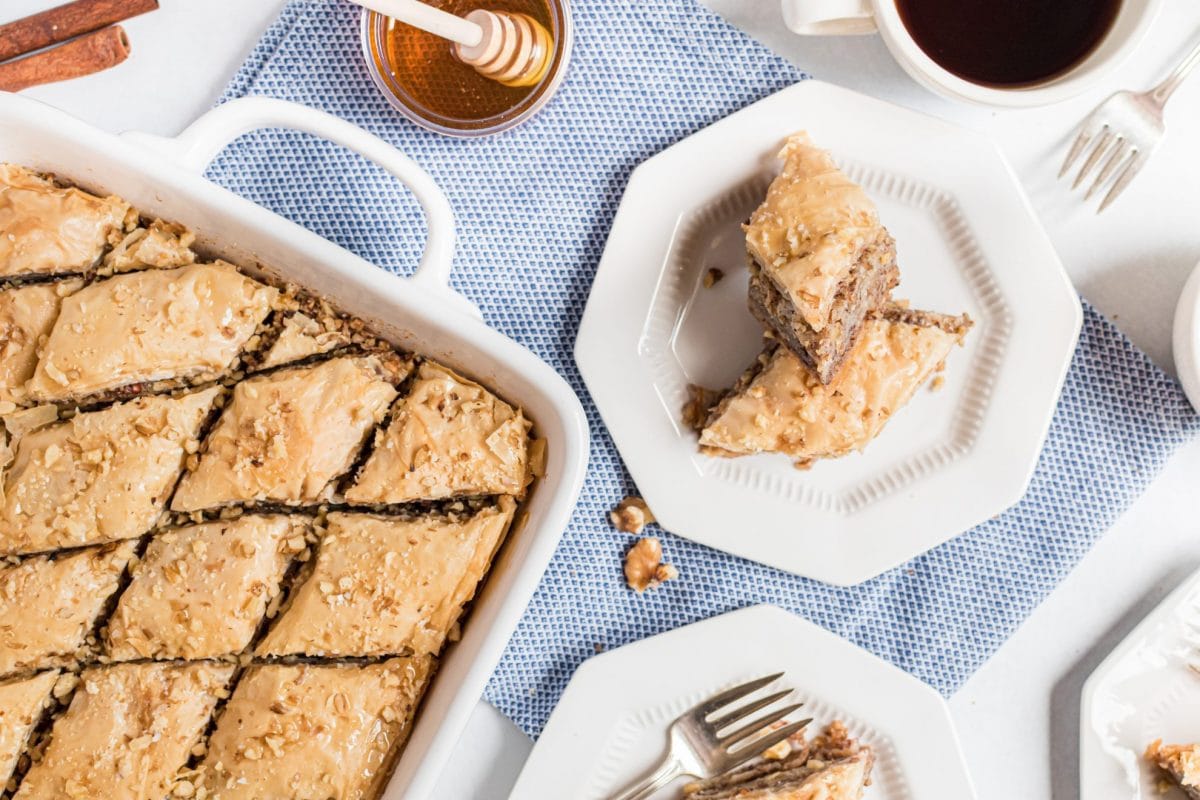 Let baklava cool completely, uncovered and at room temperature for a minimum of 4 hours, but maximum of 12 before serving.
After honey topping has set, top with a light sprinkle of fleur de sel, which is totally optional. I find salt brings out the rest of the flavors.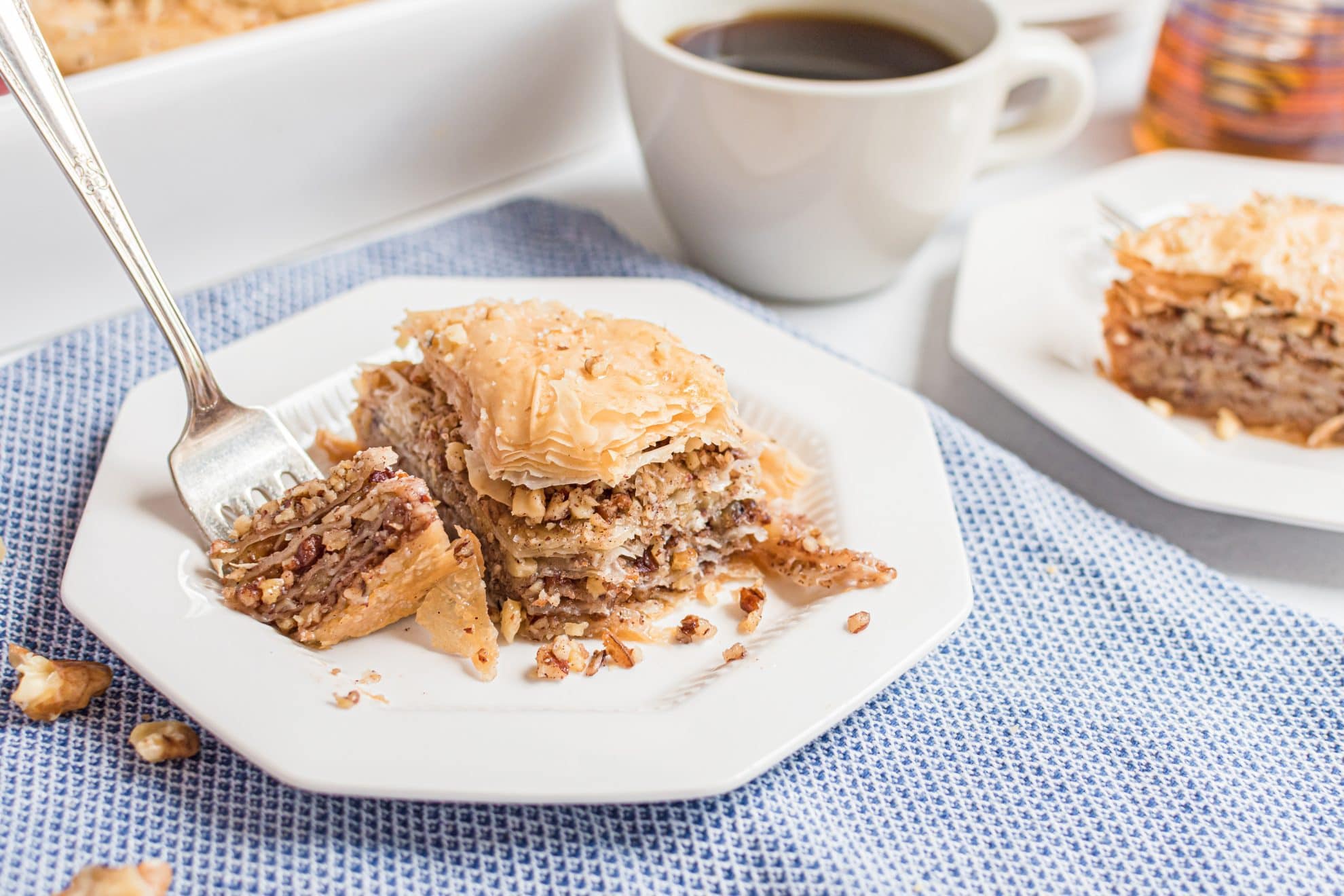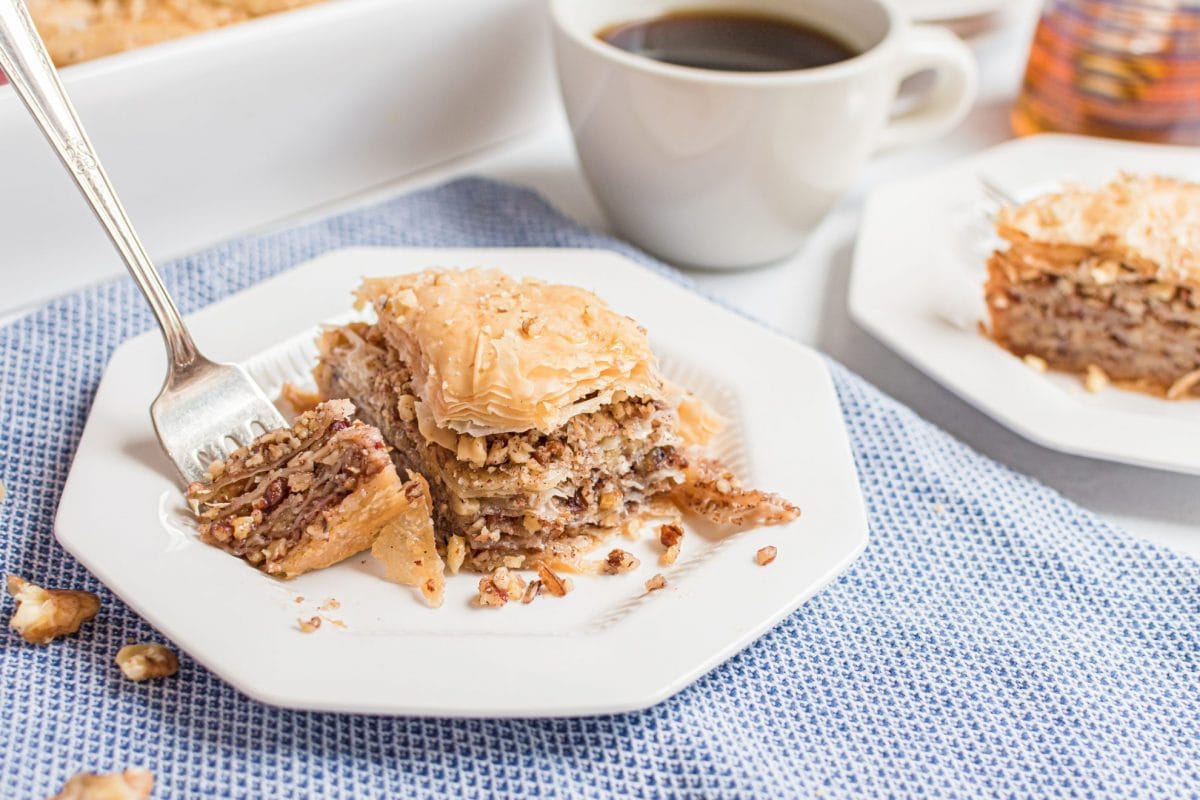 Storage and Freezing
Store your baklava covered at room temperature. If you are making ahead of time, top with a damp (NOT WET) tea towel to keep it moist. Baklava is best served within 1-2 days of baking.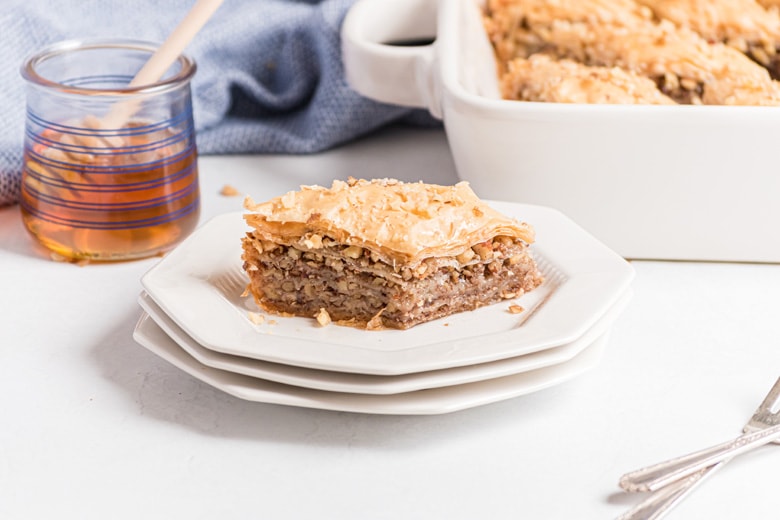 However, you can freeze baklava for up to 3 months by tightly wrapping the dish in several layers of plastic wrap and placing into the freezer. To thaw, sit it at room temperature for several hours.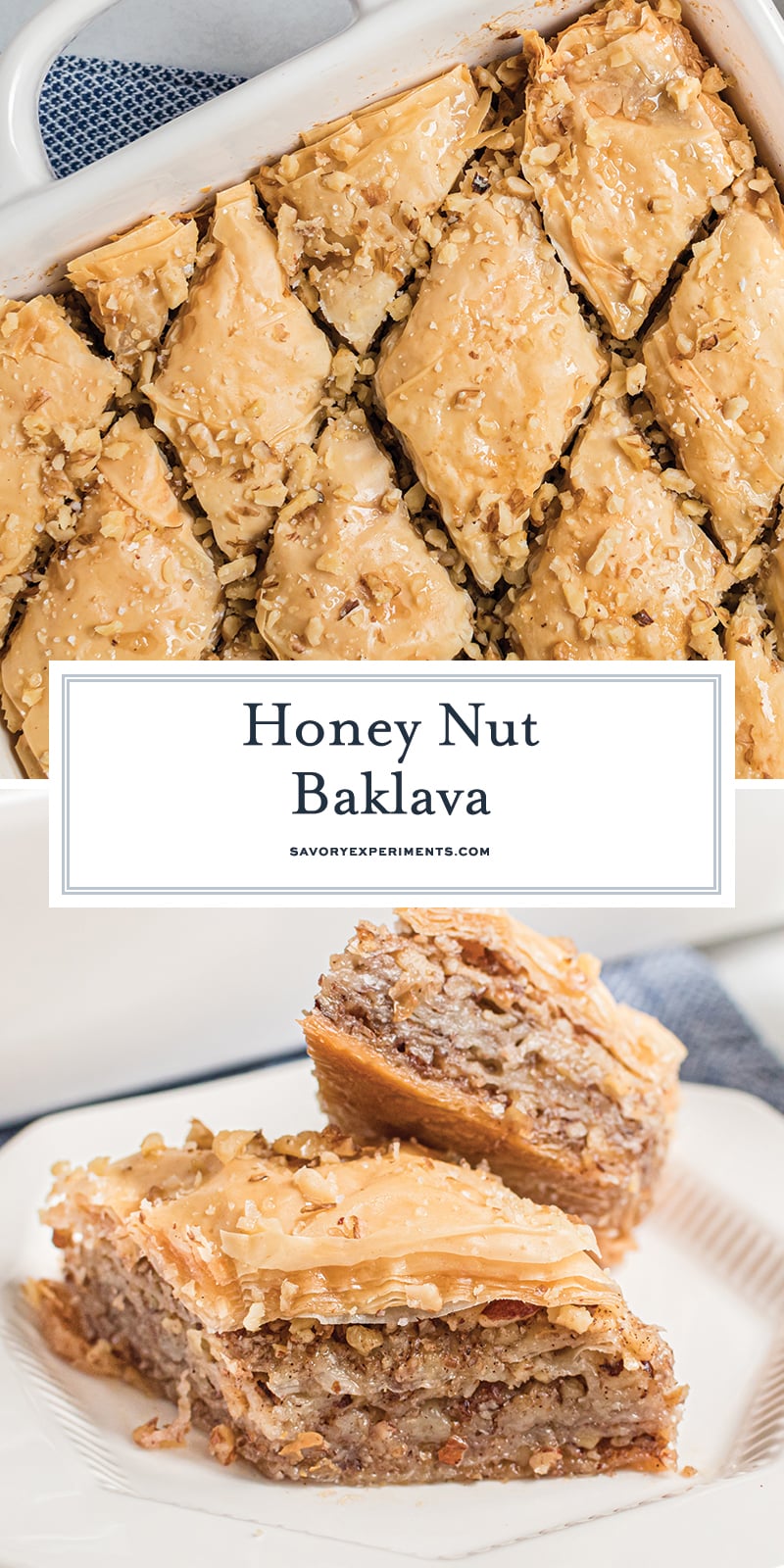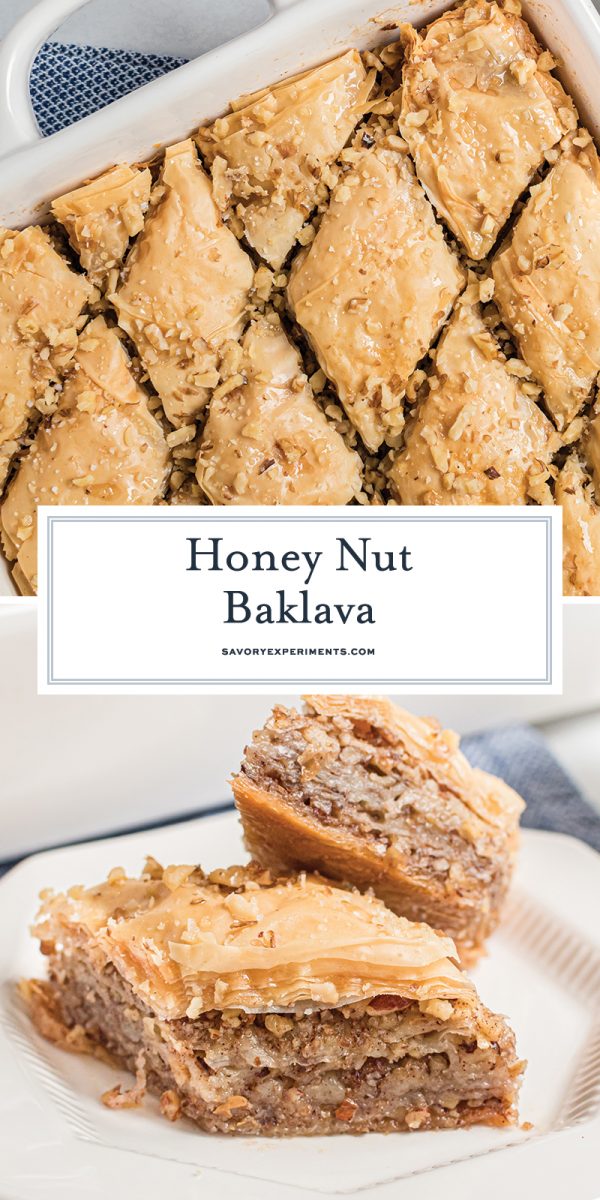 More pastries you will enjoy: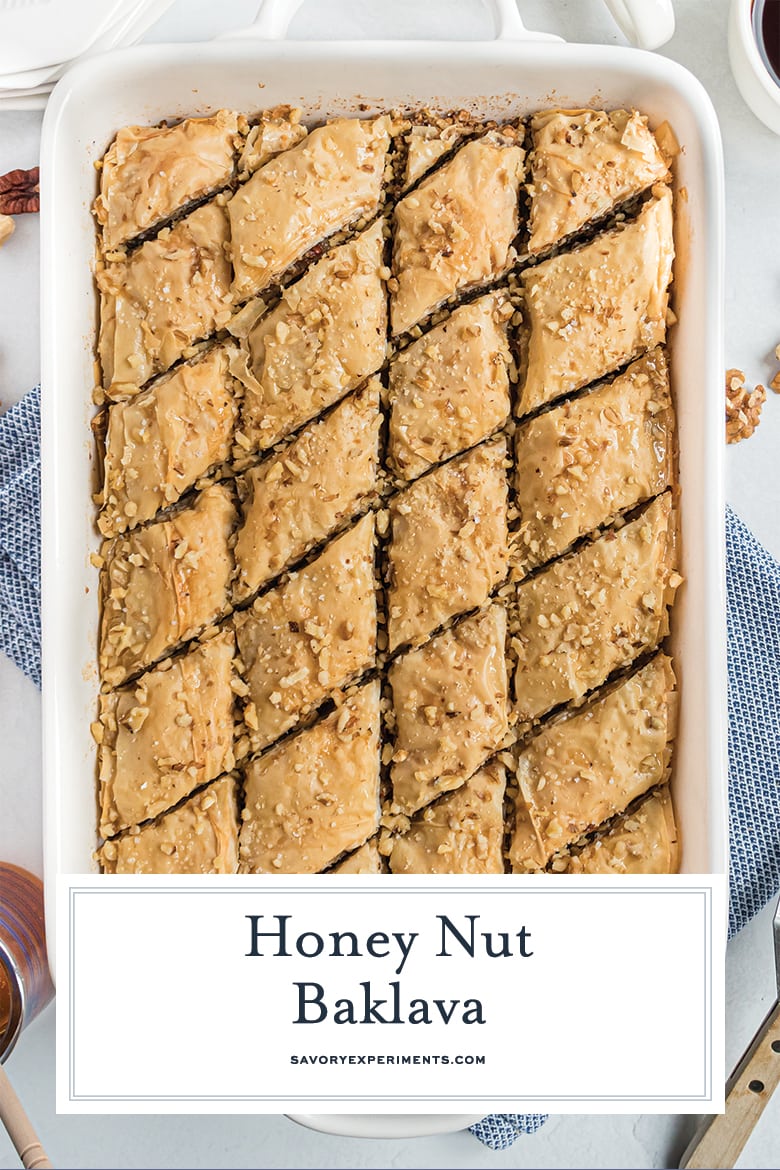 CONNECT WITH SAVORY EXPERIMENTS!

Be sure to follow me on social media, so you never miss a post!

Facebook | Twitter | Youtube
Pinterest | Instagram

Get our FREE 8 Day E-Course on How to Be a Better Home Cook. Sign up HERE!