This post is in collaboration with Superior Farms American Lamb. All opinions and statements are 100% my own.
If you are looking for a new twist on burger night, this lamb burger recipe has your name written all over. Juicy burgers with flavors straight from the Mediterranean like yogurt, mint and fresh lemon.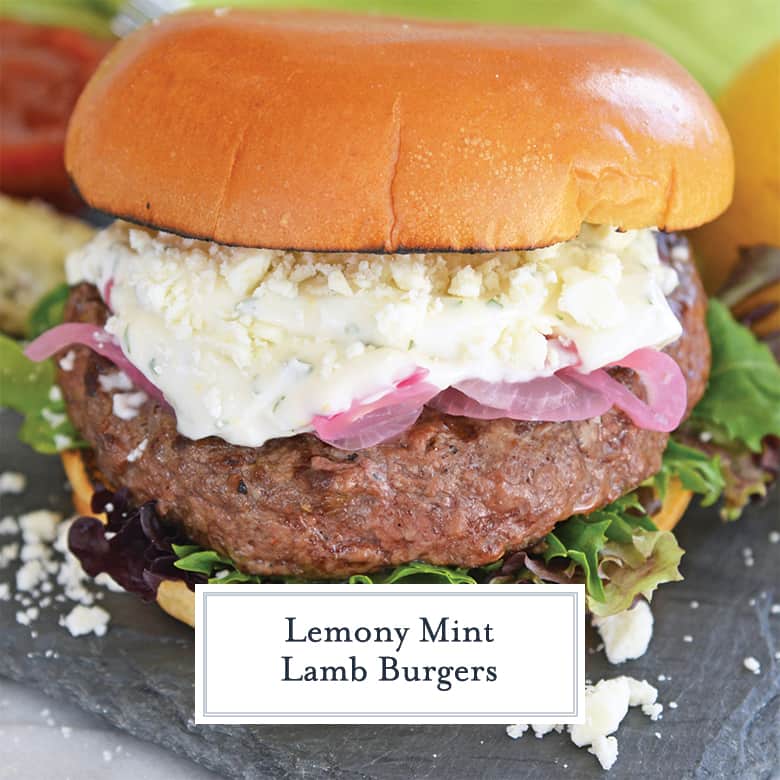 The first thing you need to start with is quality lamb. My brand of choice is Superior Farms American lamb.
American Lamb is nutrient dense, providing protein, B12, niacin and zinc and contains monounsaturated fats, the same "good" fats found in olive oil. It also has more omega-3 fatty acids than the same size portion of beef and uses no artificial or synthetic growth hormones during the life cycle.
Best Lamb Burger Recipe
I've been around the block when it comes to lamb burgers. Like, literally, I used to live in Greektown and we took a lamb burger tour one day to check (and rate) them all.
From this experience I've learned a lot about the Greek-American fusion lamb burger (like my recipe here) and also the very traditional Greek biftakia burger.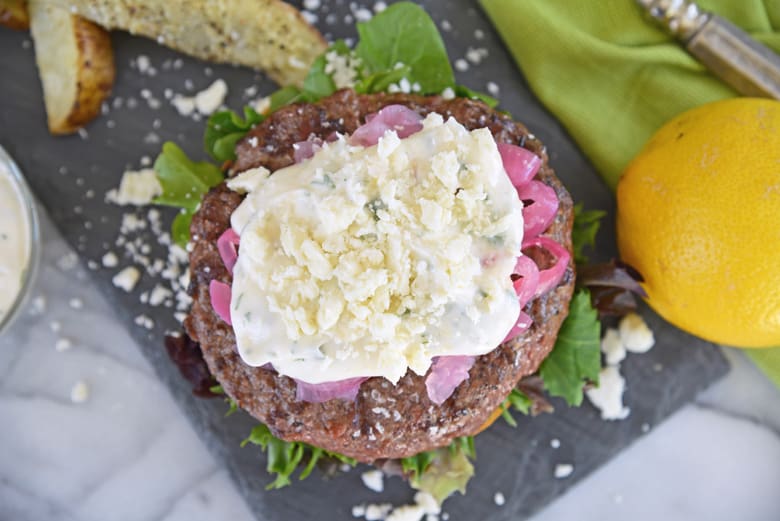 Some use panade, others coarsely chopped onion and garlic, fresh herbs and aromatics and some keep it simple with nothing but good lamb. My ground lamb burger falls someplace in the middle.
Lemon zest, grated garlic and dry spices make this burger juicy, but also help keep it all together. Adding too many large ingredients or leafy herbs tends to result in burning and falling apart, especially if it is on the grill.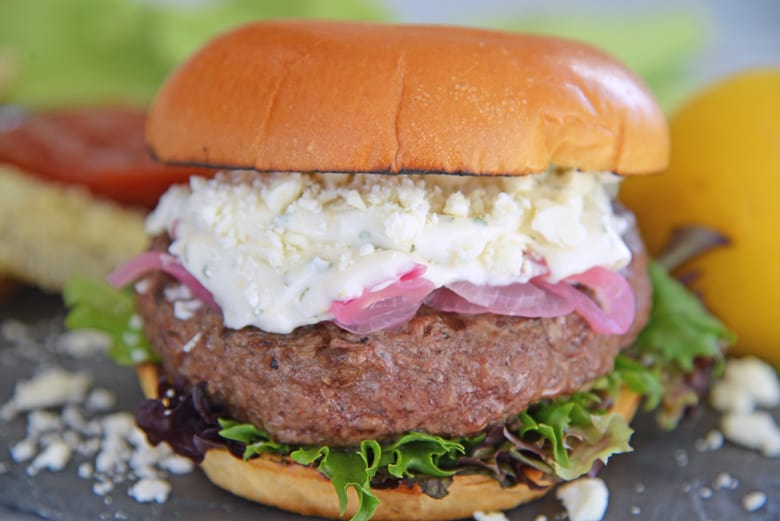 Panade, a paste of milk and bread, can help keep it all together, but then your burger tastes like a meatball or meatloaf. That isn't what we are aiming for.
How to Make Lamb Burger Patties
People overthink their burger patties and you probably do too. They should be simple and the more simple they are, the better the burger. They form better and stick better while cooking.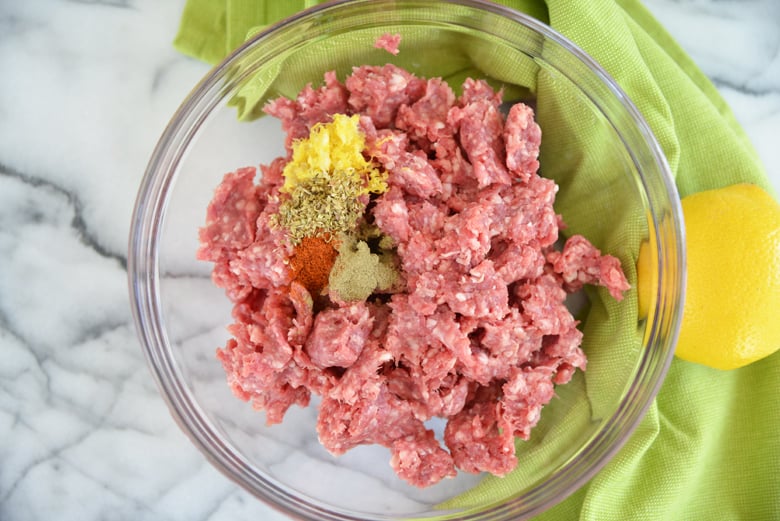 But there are a few tips and tricks.
Do not overwork the meat. When making any ground meat mixture, you should only mix until combined and then stop.
When you form your patties, make a well in the center or use a hamburger press that has lines (like these). Meat swells when cooking and if you don't have this, it ends up looking like a hockey puck. Ever wondered why frozen patties have little dents all over? It is basically for this reason, but smaller and in a larger volume.
Don't salt the meat! Salt brings out the best flavor, but it also dries out your meat. Instead, I add salt at the very end while assembling my burgers.
Form your patties gently and place them on parchment or wax paper. After freezing, they come apart easy.
Freeze or chill your patties to help them congeal and not fall apart on the grill. Even 30 minutes will make all the difference. Conversely, if your patties are totally frozen, cooking will take a little longer, just go low and slow so you don't burn the outside.
When you are cooking your burgers, you'll be tempted to press down on them with a spatula. PUT THE SPATULA DOWN. You are squeezing out juicy goodness! Leave it be.
Let your lamb burgers rest. After you take them off the grill, you'll want to devour them immediately. I don't blame you. They look good, they smell good, you WANT A BURGER. But wait a few minutes to let them rest and allow the juices to resettle.

How to Cook Lamb Burgers
On the grill – Grilling lamb burgers on the grill is probably my most favorite way. I like the way smoke and char tastes. Heat your grill to medium and coat the grates with oil. On indirect heat, cook for 4-5 minutes on each side for medium doneness.
On the stove- You can surely cook lamb burgers in a skillet on the stove. Heat a small amount of oil or use cooking spray in a large skillet. Either work in batches or use a super large skillet so the patties don't touch. Heat to medium and then cook for about 5-7 minutes on each side for medium doneness.
Baked- If you need a hands-off version, try baking them! Place them on a greased baking sheet and bake at 350 degrees for 15 minutes.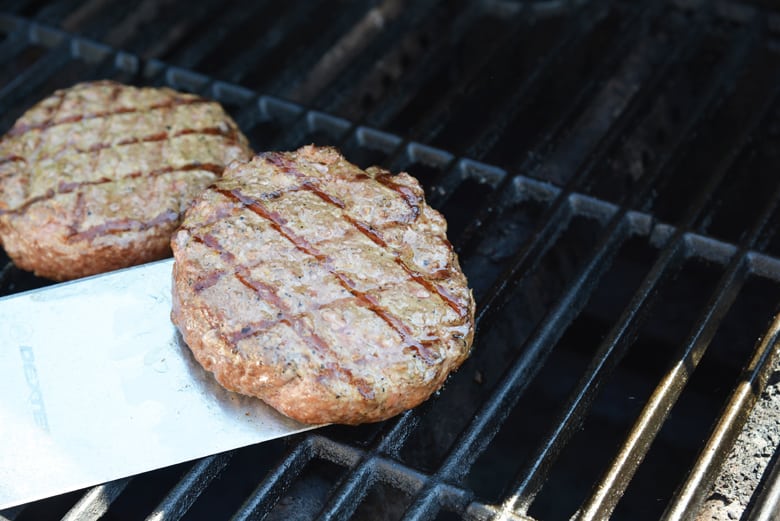 Lamb Burger Doneness
The most common question: can you eat lamb burgers pink? And the answer is… yes! Just like other cuts of lamb, it is safe to eat at a medium doneness.
Although I don't suggest going any less done seeing that all ground meats are suggested to be at a medium doneness or more. Meats continue to increase temperature after being removed from the grill, so for medium, remove when it hits 135.
Rare: 115 to 120°F
Medium-rare: 120 to 125°F
Medium: 130 to 135°F
Medium-well: 140 to 145°F
Well-done: 150 to 155°F
Greek Burger Toppings
I didn't want anything to overpower the flavor in my lamb burger, so I kept it simple with toppings. These flavors complement instead of overwhelm.
While I highly suggest taking the time to make the lemon mint sauce from scratch (it literally takes 3 minutes), it can easily be substituted with tzatziki sauce, a Greek sauce that is often found premade. It does have a totally different flavor profile with garlic, dill and cucumber.


Acidity and bite in pickled onions is crunchy and gives the burger an edge while lettuce provides a fresh element.
Feta cheese is also optional, but a great option. Traditional biftekia burgers use a thick slab of feta, some even stuff the center with it, but I like just a nice sprinkle.
Brioche was my bun of choice because I love the sweetness it provides, but you can also use a good, old sesame bun, Kaiser roll or even go totally Greek and use pita bread.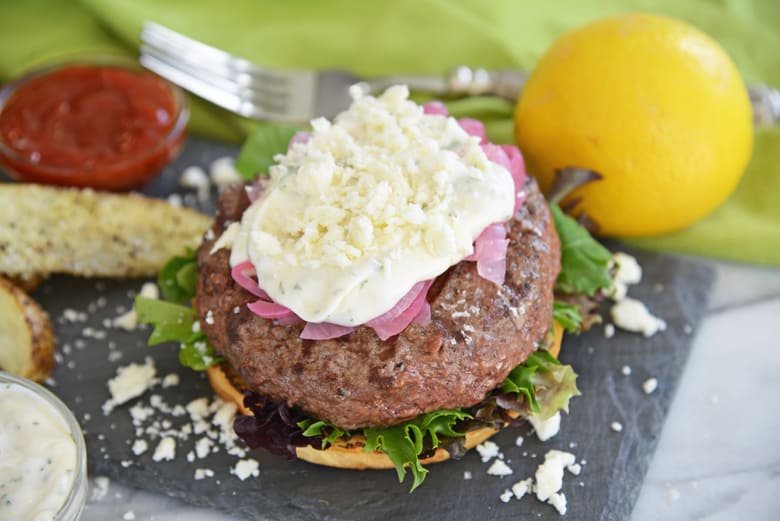 More optional toppings:
Thinly sliced fresh cucumber
Fresh tomato slices
Olive oil or avocado oil drizzle
Fresh mint, thyme or oregano
Make Ahead & Freezing
Lamb burgers can be made up to 24 hours in advance and just kept in the fridge until ready to cook. Cover with plastic wrap or in an airtight container.
Raw lamb burgers can also be frozen for up to 6 months. To cook, place on the grill while still frozen and add another 4-5 minutes grilling time.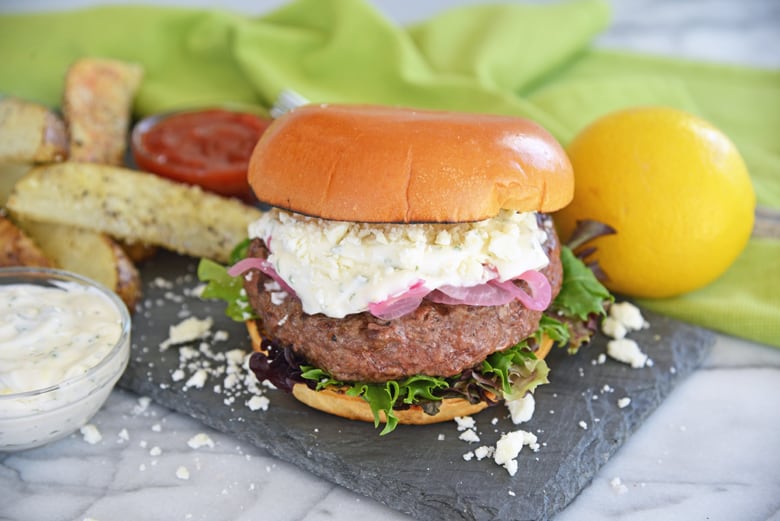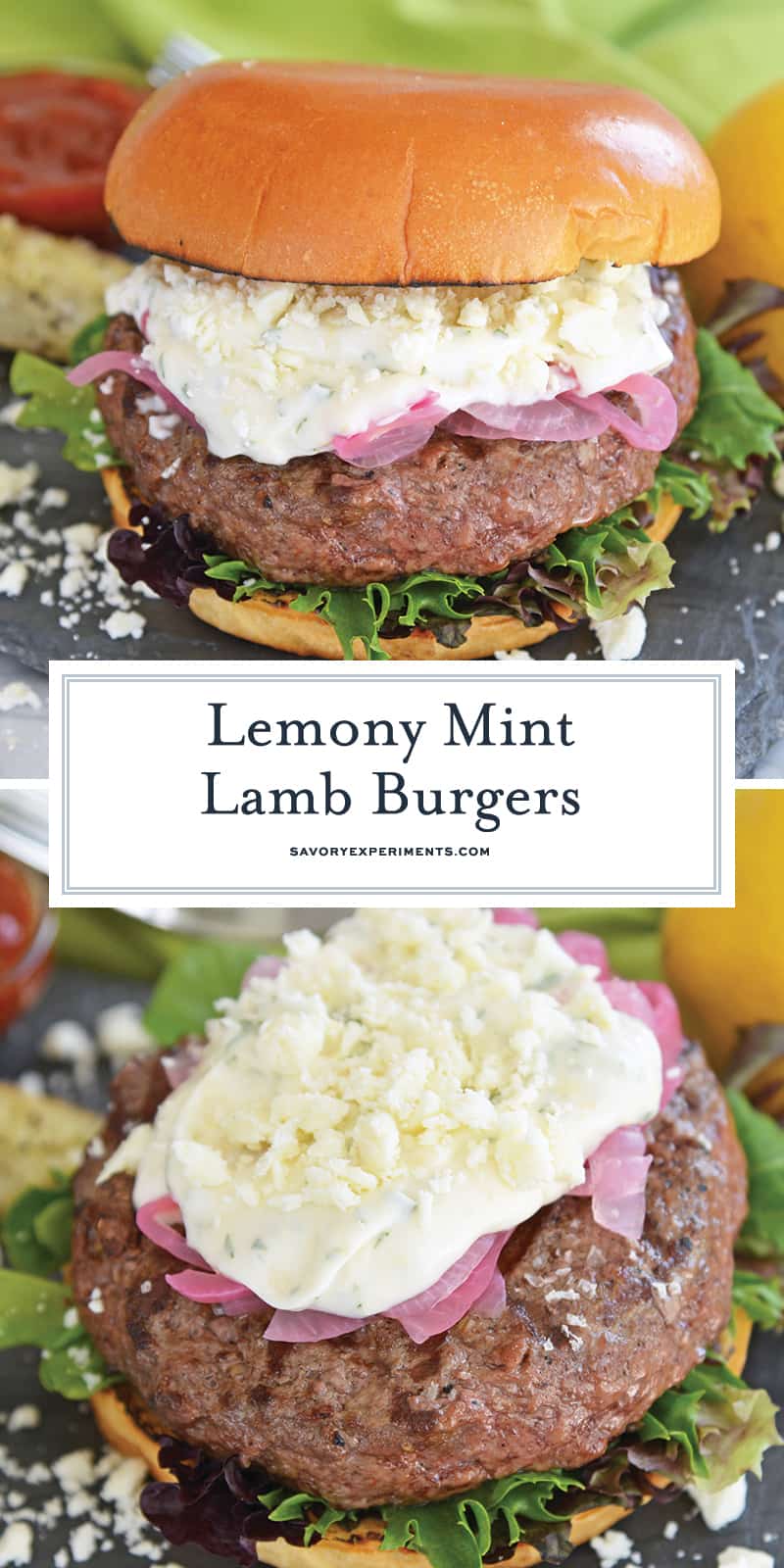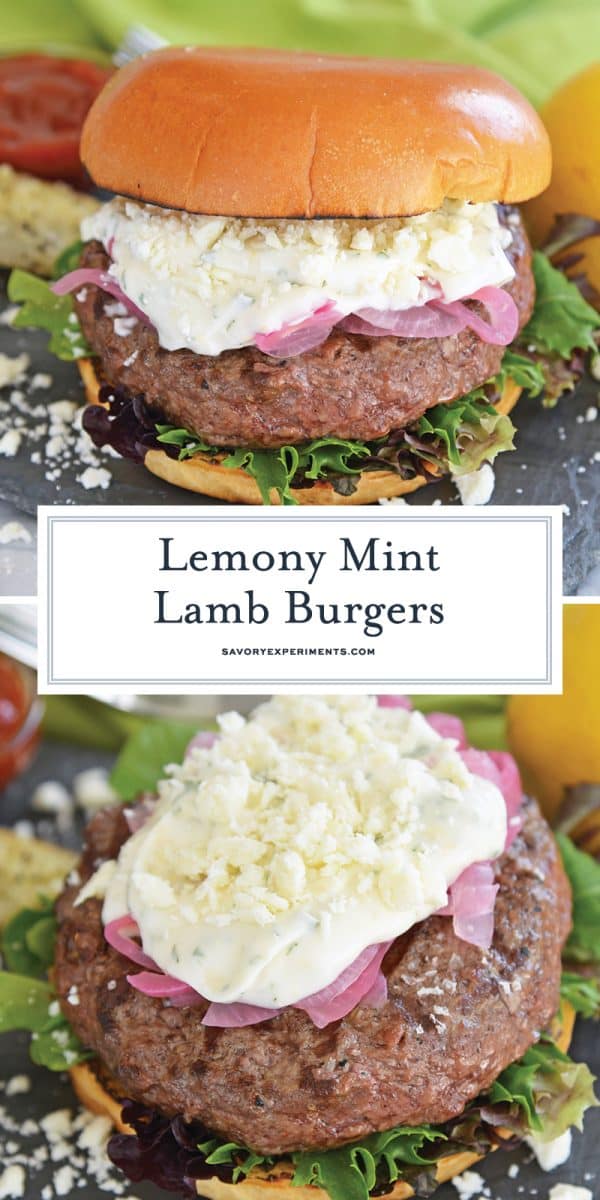 Superior Farms American Lamb is the leading purveyor of quality natural lamb raised in a human and sustainable way. They offer a variety of premium cuts perfect for any meal. Check out more about the brand and their recipes on Facebook, Instagram or on their website.