I'm always on the lookout for a good savory jam. This onion jam is at the top of my list of favorites.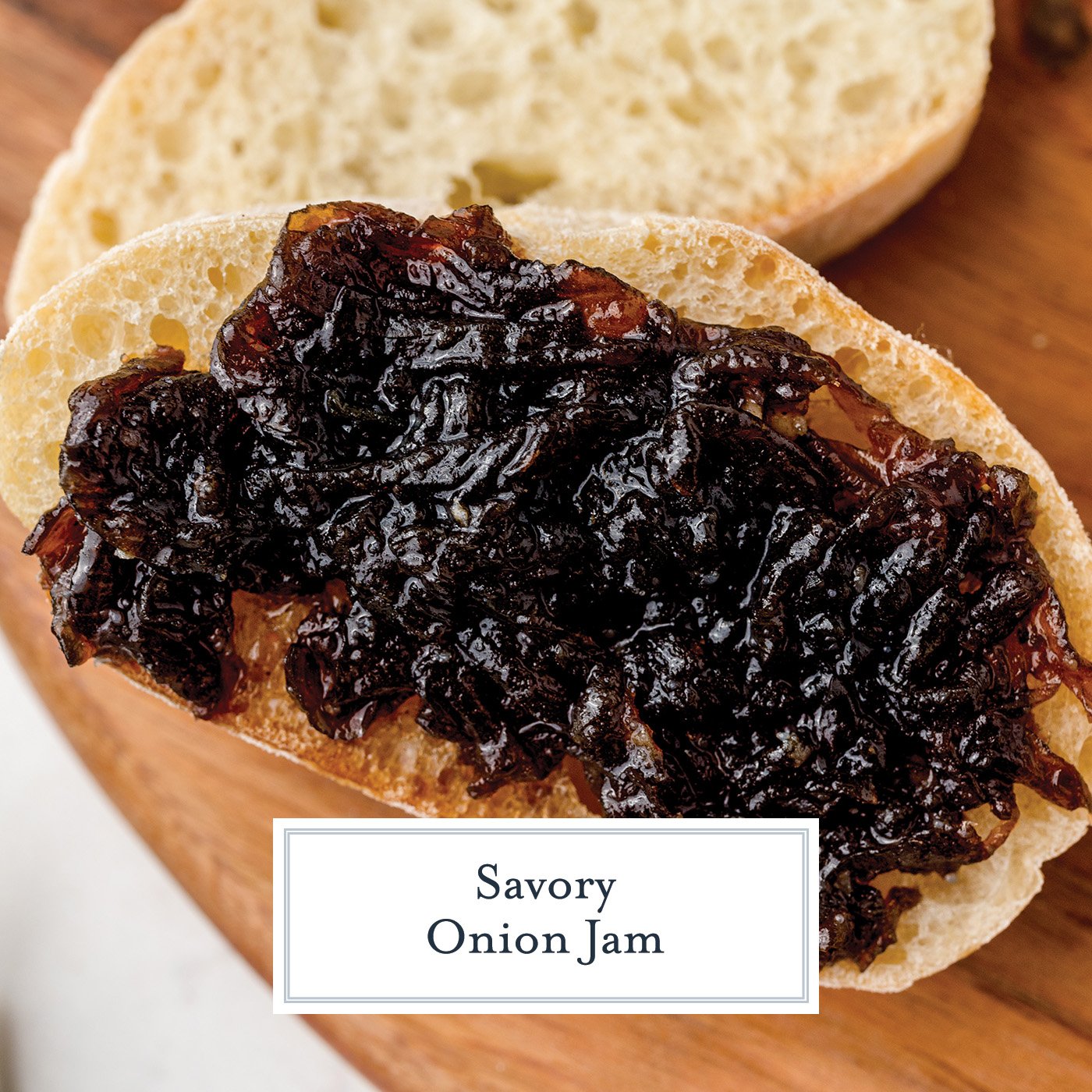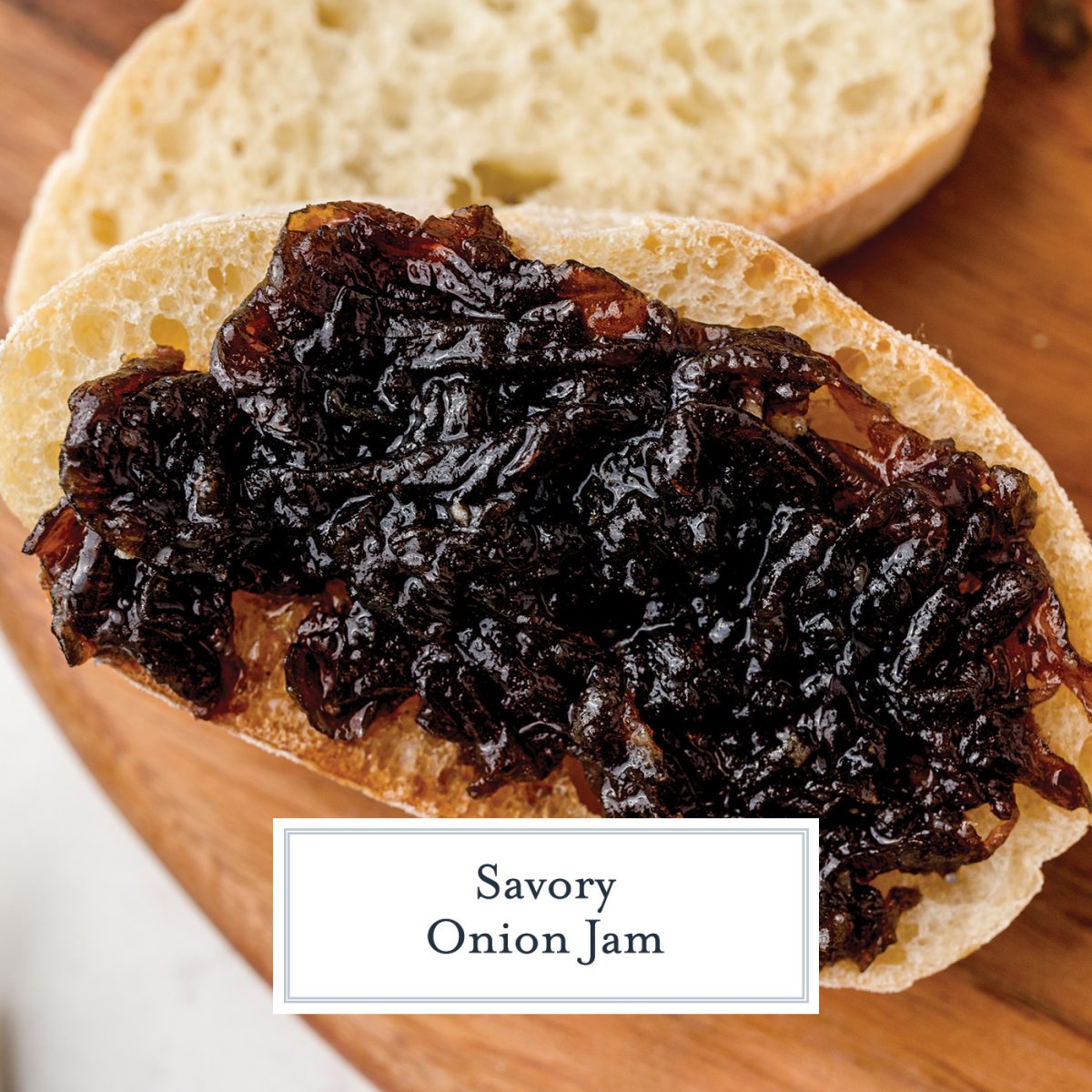 While onions in a jam may sound odd, trust me — it's delicious. Once caramelized, the flavor of the onions becomes sweet. Then the thyme and vinegars help to create a savory balance.
What to do with Onion Jam
I love to use this as a burger topping, or even put it on my steak. You can also braise chicken in it, use it as an alternative pizza sauce, or spread it on any sandwich.
One of my other favorite ways to use it is on a cheese board — goat cheese, blue cheese, and cheddar are all made better with a dollop. Oh, and don't sleep on spreading it on a warm puff pastry wrapped round of brie!
A charcuterie board benefits from it, too. Throw some onion jam on baguette slices and top them with salty meats like salami, prosciutto, and sopressata.
You can also use it in other dishes like tossing steamed vegetables with it, or as part of a delicious French onion soup.
This simple recipe is super versatile. Next time you find yourself with a few onions in the fridge, try whipping up this savory jam.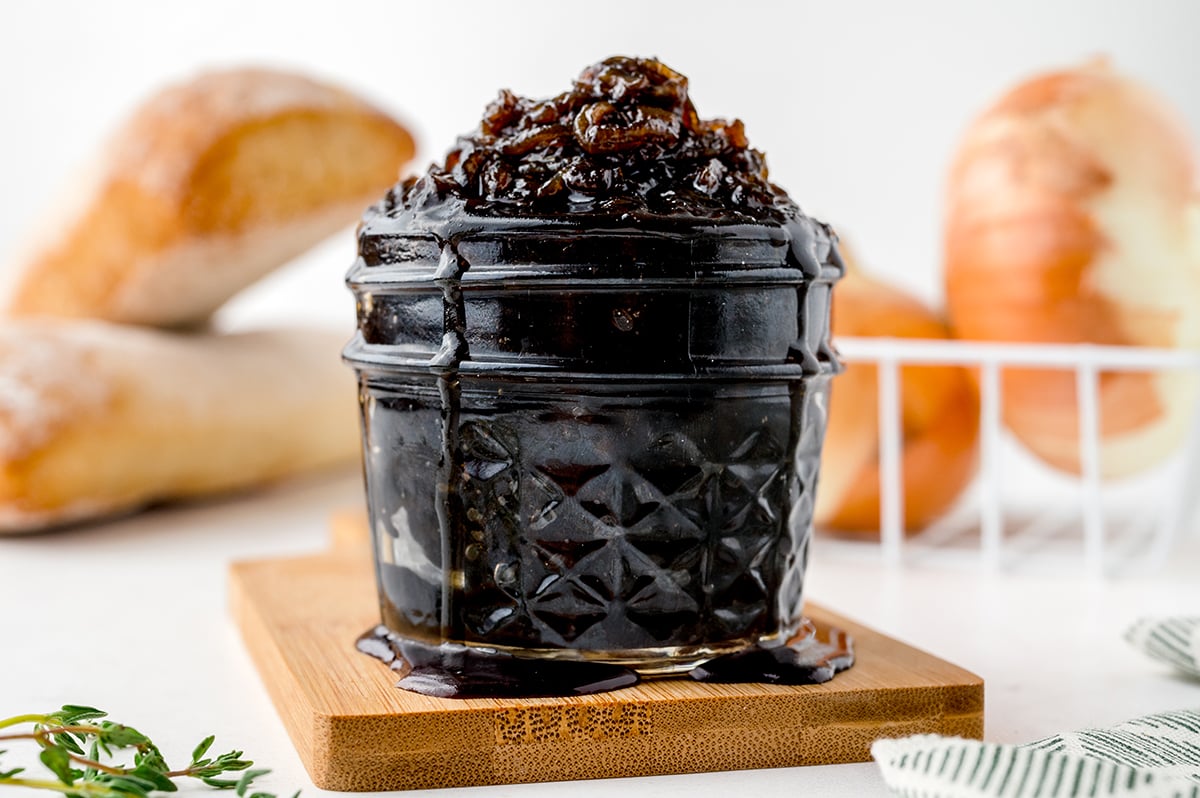 Why You'll Love Onion Jam
Easy- I love easy recipes and this definitely qualifies. While it does take a bit of time to cook, the prep is quick and the process just involves stirring.
Delicious- The natural sweetness of the onions is brought out by caramelizing them. But there's also a balance of flavors with the acid from the vinegar.
Uncomplicated- With only six ingredients, this is one of the most simple recipes but it delivers a ton of flavor.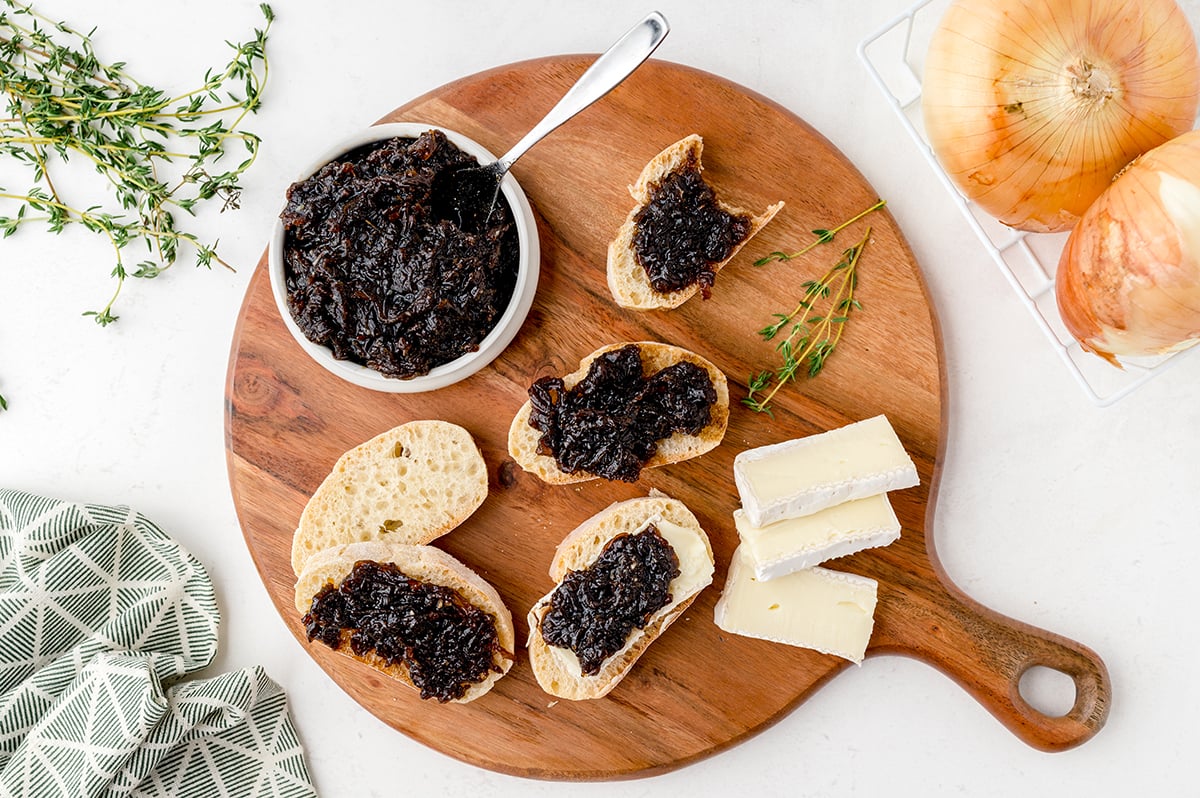 Ingredients
Olive oil– Use extra virgin olive oil for the best results.
Large sweet onions– I happen to think that Vidalias are the best onions for this recipe, but you can use any large onions that you have handy. Chop them however you choose but diced onions are ideal for a jam being used as a condiment.
Coarse Kosher salt– Kosher salt takes a bit more time than other salt to dissolve. However, since this jam takes a while to come together, I prefer to use Kosher for its quality.
Sugar– Either cane sugar or white granulated sugar will work — they are interchangeable in this recipe.
Red wine vinegar– This helps to add some balance, introducing some acid to the dish.
White balsamic vinegar– White balsamic tends to be higher quality and really elevates the flavors.
Fresh thyme leaves– Fresh is really best. However, if you don't have it, remember the simple conversion of 1 tsp dried to 1 tbsp fresh herbs.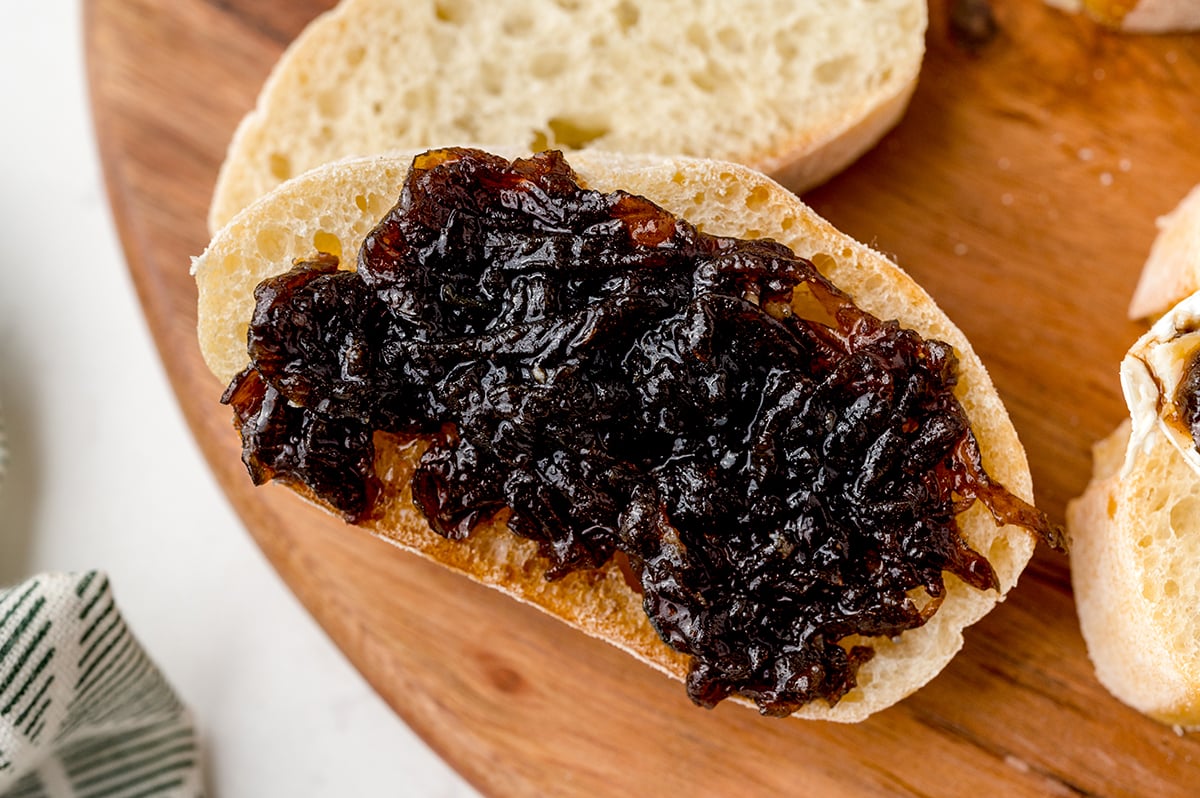 How To Make Onion Jam
Heat olive oil. Heat the olive oil over medium-low to medium heat in a large skillet or saucepan. Olive oil has a high smoke point, but you want to remain vigilant to ensure it doesn't burn.
Add onions and salt. Once the oil is warm, add the onions and salt. When adding the onions, do so gently to avoid any splattering.
Stir until caramel color is reached. Continue to cook the onions slowly, until they start to caramelize and turn an amber color. Stir frequently to ensure the onions do not stick to the pan or burn.
Add remaining ingredients. Once the onions reach that amber color, add the sugar, vinegar, and thyme leaves.
Stir until dissolved. Stir all of the ingredients together until the sugar completely dissolves. Granulated sugar dissolves fairly quickly, but be sure that it breaks down entirely to avoid any graininess in your jam.
Let thicken. Keep the mixture over low heat, continuing to stir occasionally until the mixture reduces and thickens. Make sure to occasionally scrape the bottom of the pan to incorporate all of the flavors.
Cool. Remove from heat and serve or allow to come to room temperature before refrigerating.

Variations
Brown sugar- Instead of white sugar you can use brown for a more molasses-infused flavor. You can also reduce the sugar for a more savory jam.
Lemon juice– Adding just a little lemon juice at the end of cooking will help to brighten the flavors.
Mustard seeds– You can use mustard seeds to impart a somewhat nutty flavor.
Bay leaves– Adding a bay leaf or two at the beginning of the cooking process for a little extra brightness as well. Just make sure to take it out when the jam is finished.
Black pepper– You can spice up your onion jam by adding a bit of black pepper to taste.
Other types of onions– Experiment with other onions. Any variety of white onions are an option and red onions will work as well.
Vinegar– Instead, try using apple cider vinegar, white vinegar, or regular balsamic.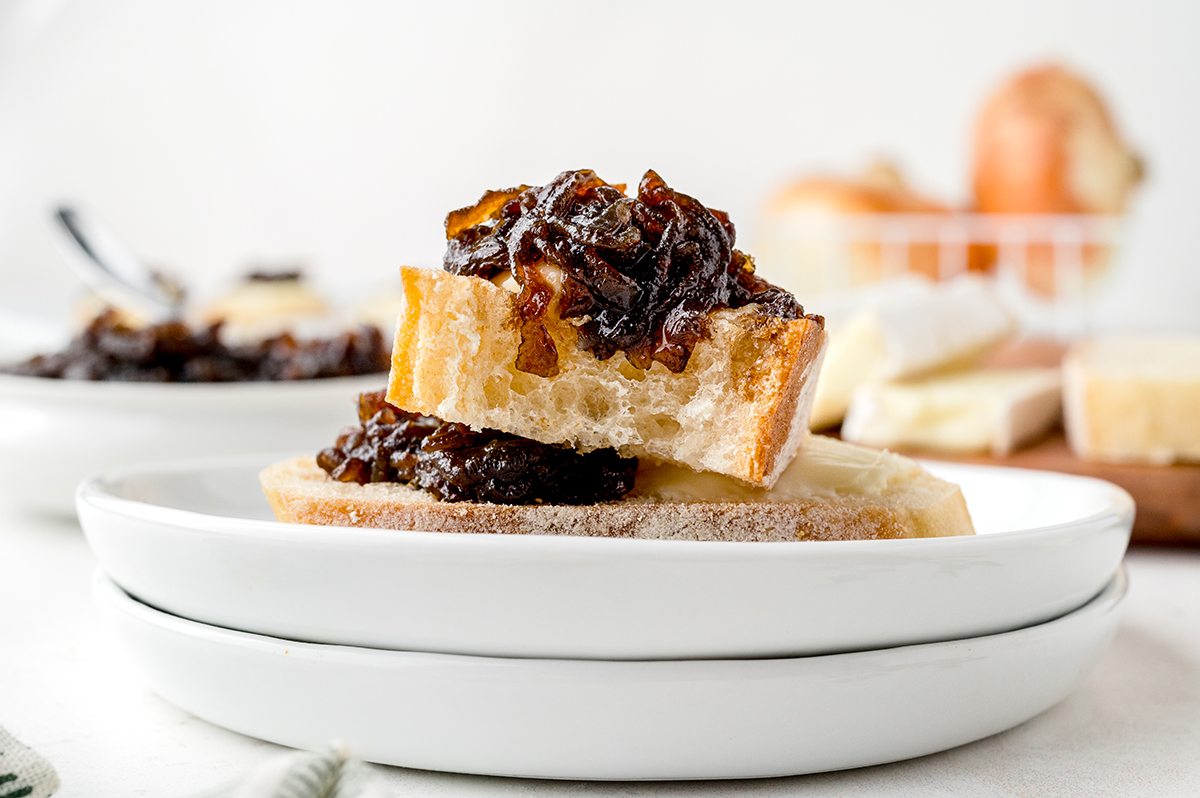 Storage & Canning
Store in an airtight container for up to a week. If you want to store it for several months, you can use an ice cube tray to store and freeze the jam. You can also keep it for a long time by canning it.
Onion jam is best served without a chill, so take it out of the fridge a few minutes before you are ready to serve it and stir well.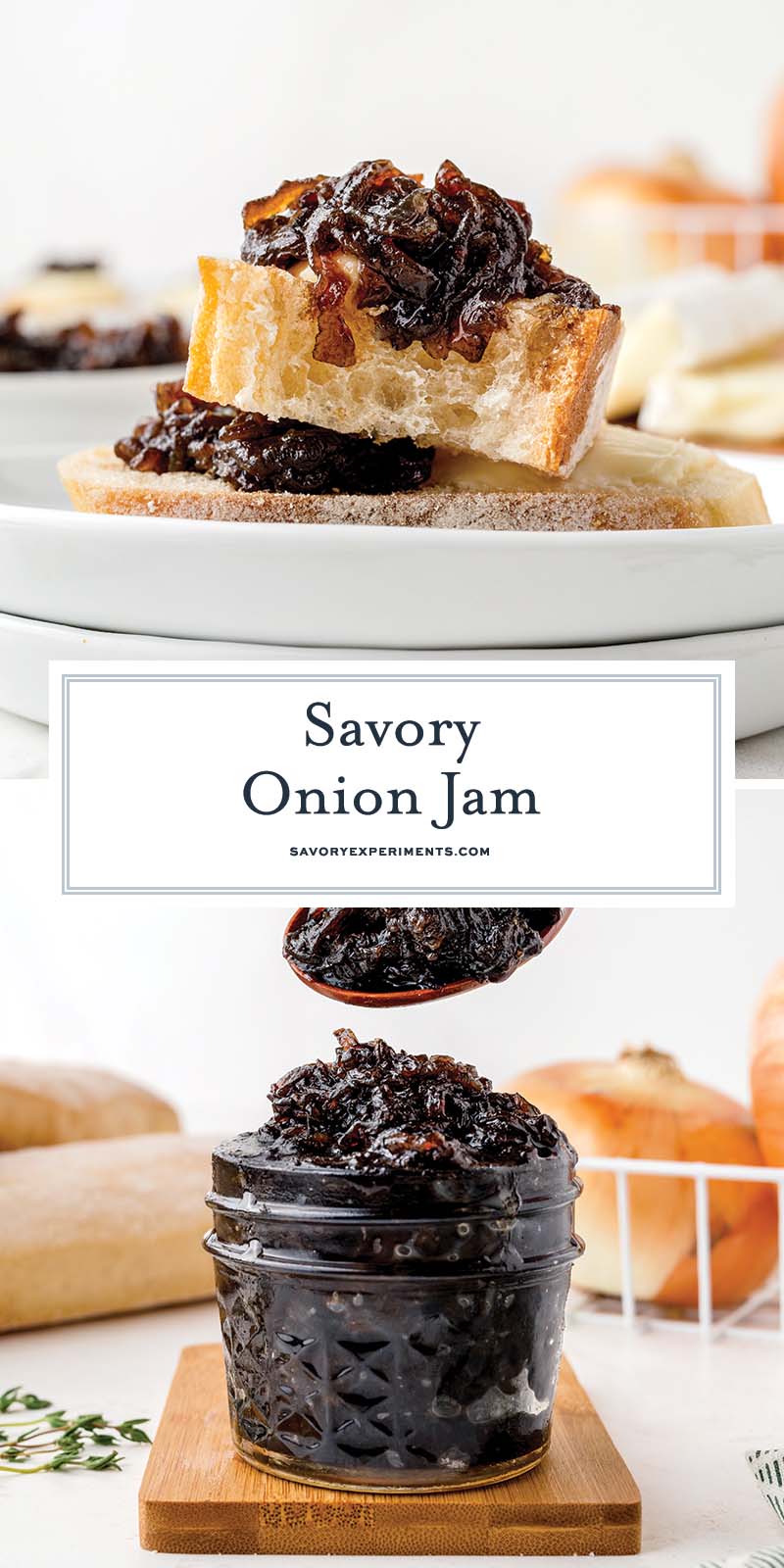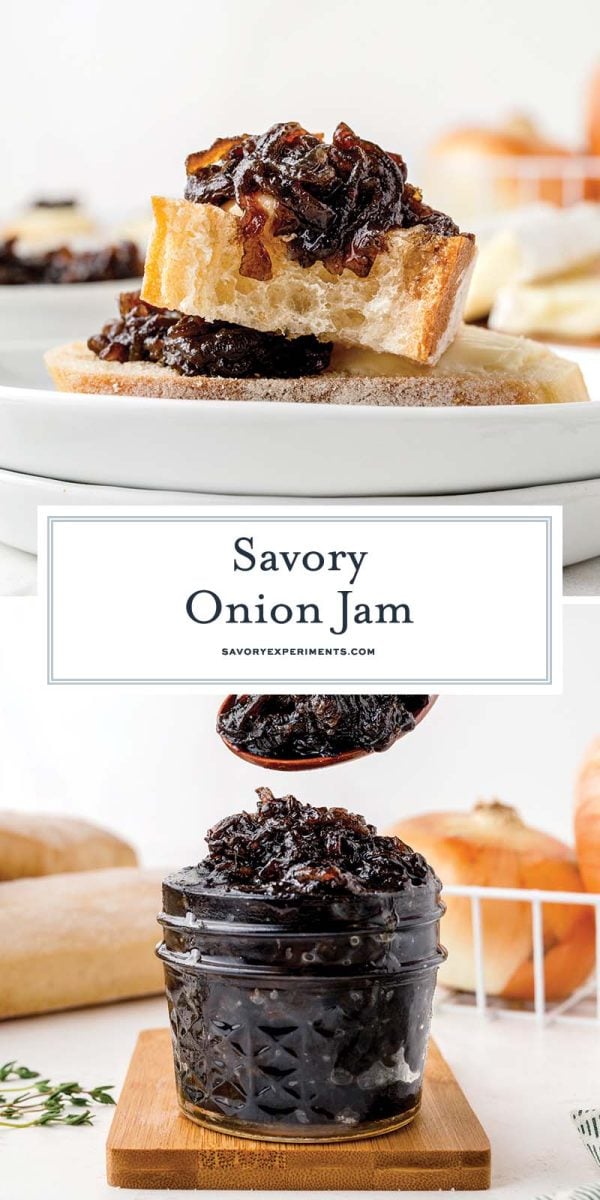 More Savory Sauce Recipes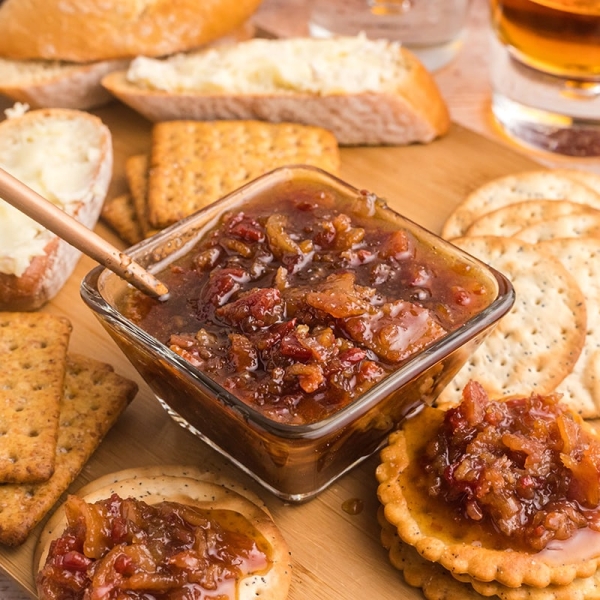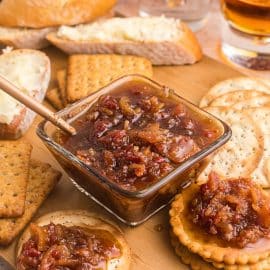 Bacon Bourbon Jam
My Bourbon Bacon Jam Recipe will change the way you see jam. This jam is sweet and savory and also happens to be the most versatile condiment around.
See The Recipe!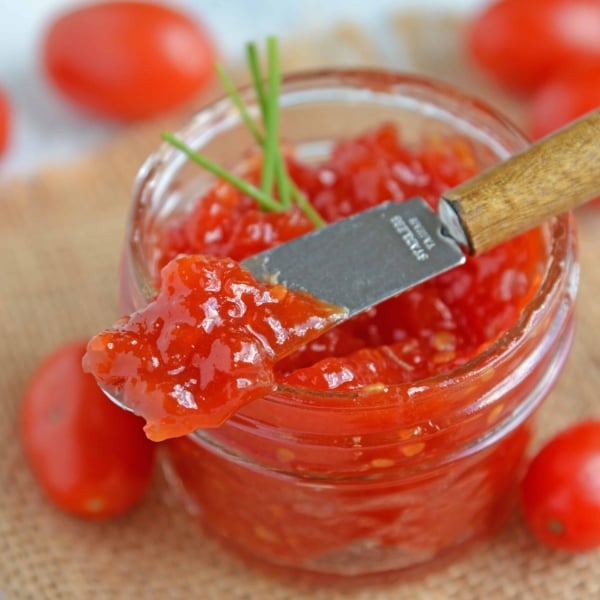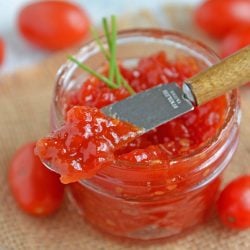 Tomato Jam Recipe
Tangy and sweet, tomato jam is excellent on everything from grilled cheese to deviled eggs, adding a balanced acidity that will complement a wide variety of other foods.
See The Recipe!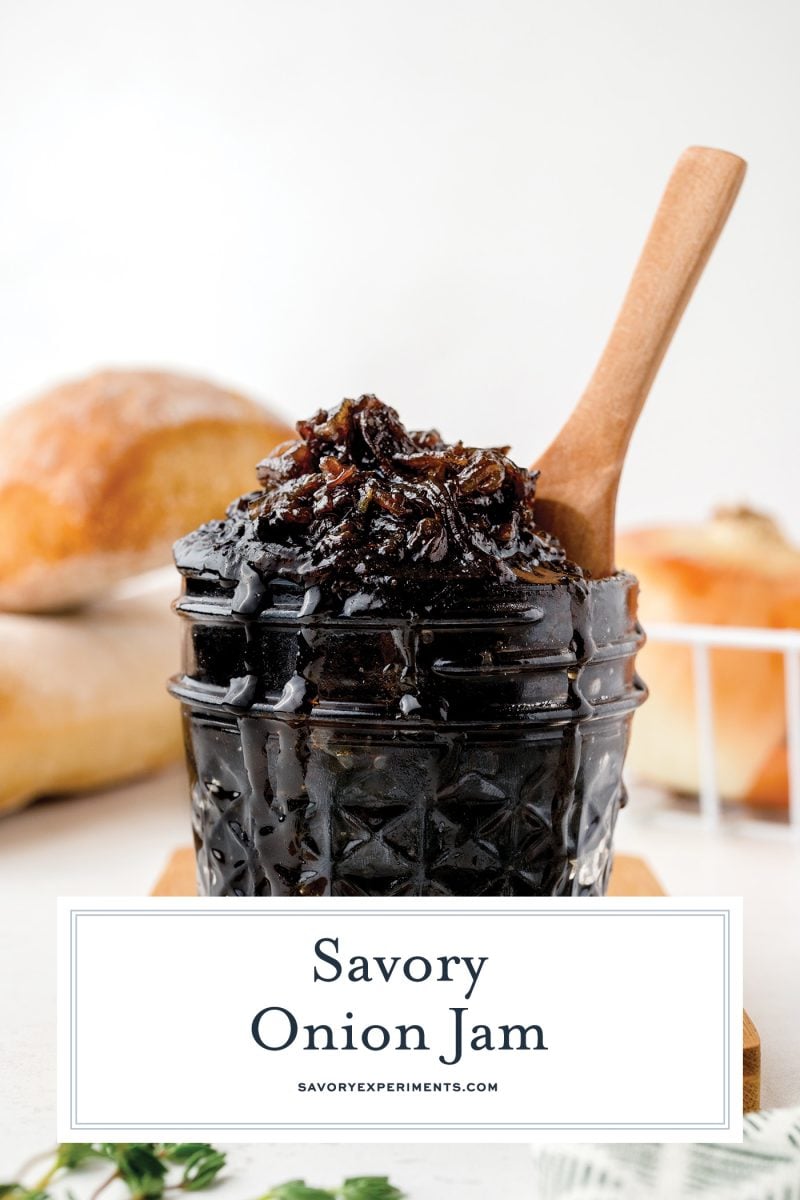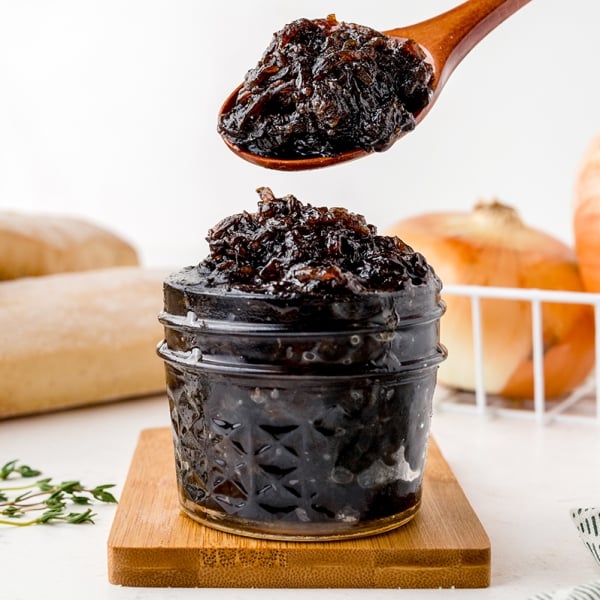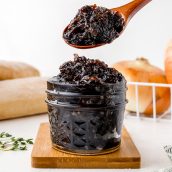 Onion Jam Recipe
This savory and sweet onion jam tastes good on everything from brie to burgers. Make a double or triple batch and deliver it as gifts, can or freeze.
Instructions
Heat the olive oil over medium-low heat in a large saucepan. Add the onions and salt and continue to cook, slowly, until they start to caramelize and turn an amber color, approximately 20 minutes.

Add the sugar, vinegar and thyme leaves, stirring to combine until sugars dissolve. Keep heat low, stirring occasionally for about 15 minutes until the mixture reduces and thickens.

Remove from heat and serve or allow to cool fully before refrigerating.

If you've tried this recipe, come back and let us know how it was in the comments or star ratings!
Nutrition
Calories:
98
kcal
,
Carbohydrates:
20
g
,
Protein:
0.5
g
,
Fat:
2
g
,
Saturated Fat:
0.3
g
,
Polyunsaturated Fat:
0.2
g
,
Monounsaturated Fat:
1
g
,
Sodium:
173
mg
,
Potassium:
75
mg
,
Fiber:
1
g
,
Sugar:
18
g
,
Vitamin A:
24
IU
,
Vitamin C:
3
mg
,
Calcium:
15
mg
,
Iron:
0.3
mg