This is a sponsored post written by me on behalf of BUBBA burger. All opinions are 100% mine.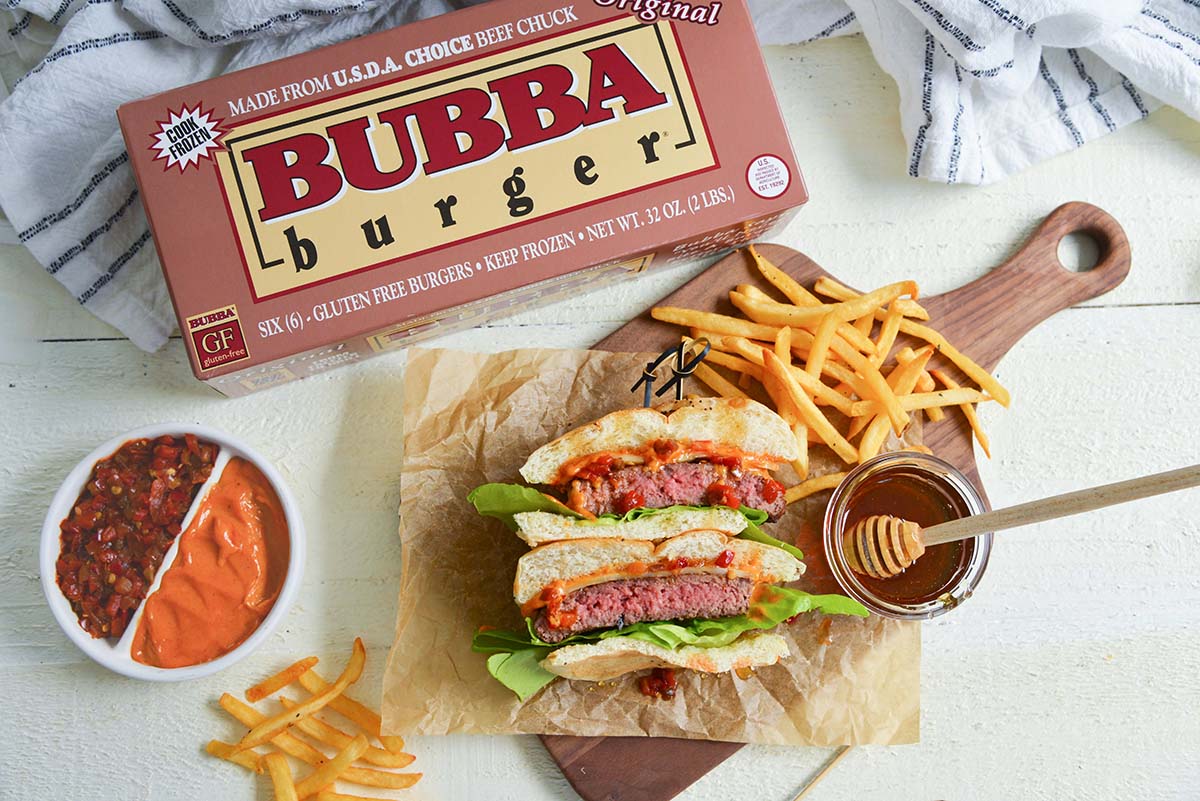 There might not be anything more American than a hamburger. And while there are endless topping combinations, buns and sauces, it all comes back to one thing: the burger itself.
Hot Honey Burgers have quickly become a family favorite using this season's hottest new ingredient: spicy honey. A juicy BUBBA burger topped with chipotle mayo, pepper jack cheese, fresh butter lettuce, tangy pepper spread, sweet and spicy honey and all held together with a poppy seed onion bun. It's the type of burger you have to commit to after you've picked it up because you'll be a little messy while eating. No judgment here; you can lick your fingers.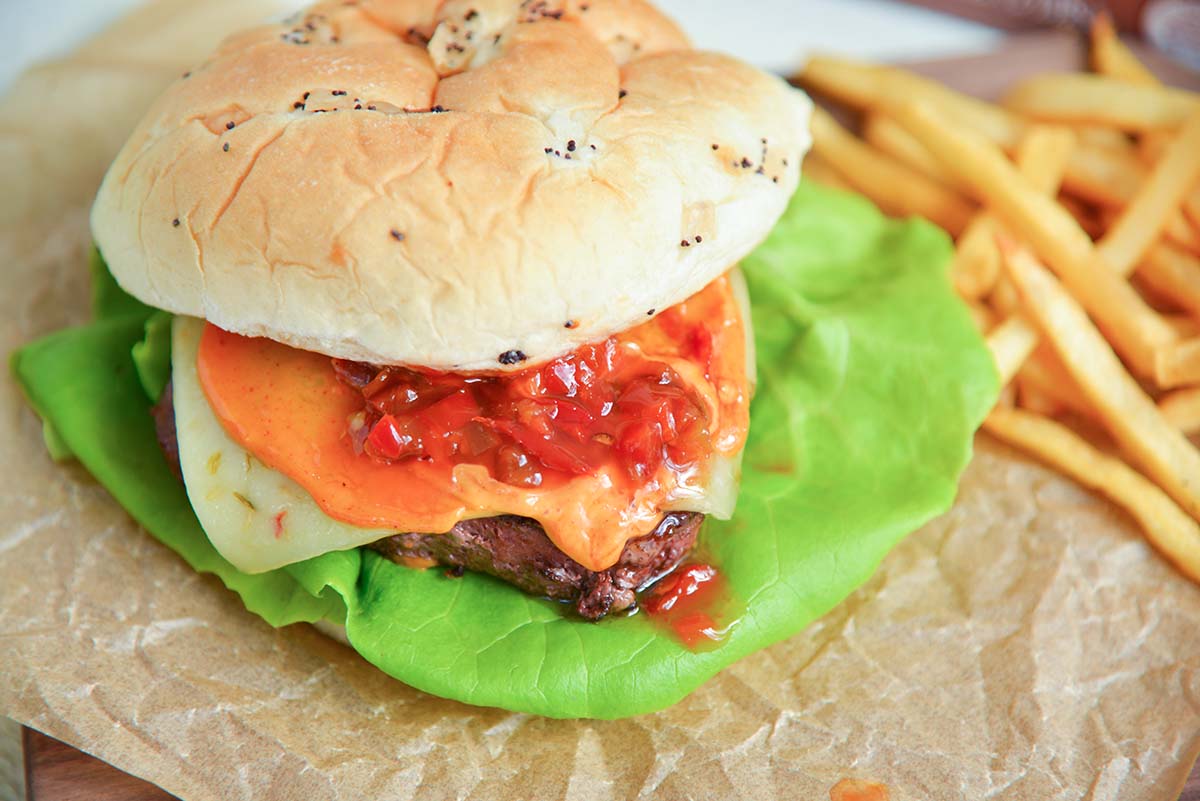 Hot Honey Burgers
We eat burgers a lot in this house and BUBBA burgers are our go-to. We can make them on the grill or in a skillet, even the air fryer, and regardless of cooking method, are ready in just about 10 minutes. Which is about the time it takes for me to grab all the toppings out of the fridge.
BUBBA burgers only have one ingredient: 100% choice beef chuck and for this beef cookbook author, that is super important. They are high in protein and quality and super convenient.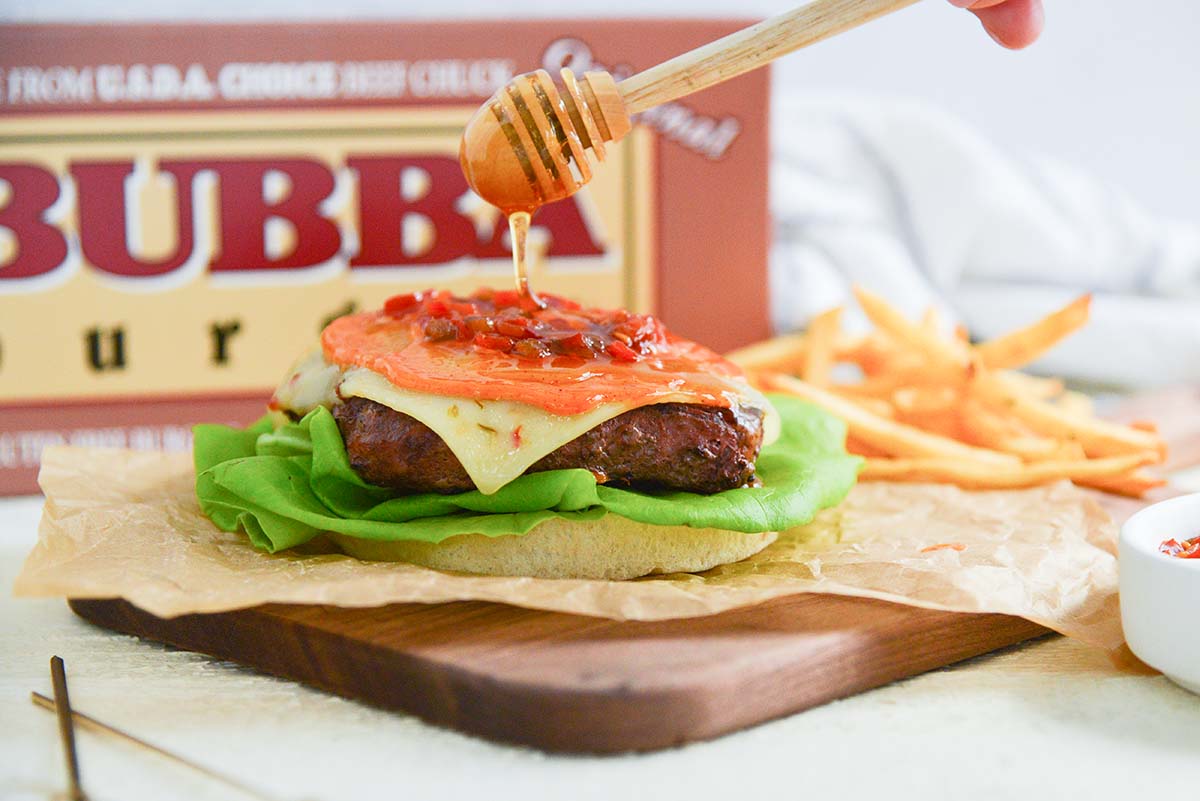 What You'll Need
We made these on Original BUBBA burgers, but the toppings complement any of the varieties: turkey, plant-based (veggie) or Angus and original beef. They can be found in the meat or frozen food section of your local grocery store. And after you have the burgers, grab the toppings.
Pepper Jack Cheese– Use any cheese you like, sharp cheddar or a habanero laced cheese is also ideal.
Hot Honey- If you haven't tried it yet, you don't know what you are missing! Spiked and infused with crushed red peppers and a hint of vinegar, this condiment is becoming super popular for good reason. Make your own or grab a bottle at the store for convenience.
Chipotle Mayo– Also a versatile sauce, spicy mayo can be made quickly from scratch or grab a bottle at the store.
Bibb Lettuce– Butter lettuce, iceberg or romaine- whatever leafy green you choose, the lush crunch balances the creamy and spicy flavors of this burger.
Sandwich Spread Peppers- made from roasted, diced cherry peppers, a little goes a long way!
Onion Poppy Seed Bun– This sweet bread complements the spicy flavors but is hearty enough to hold it all together.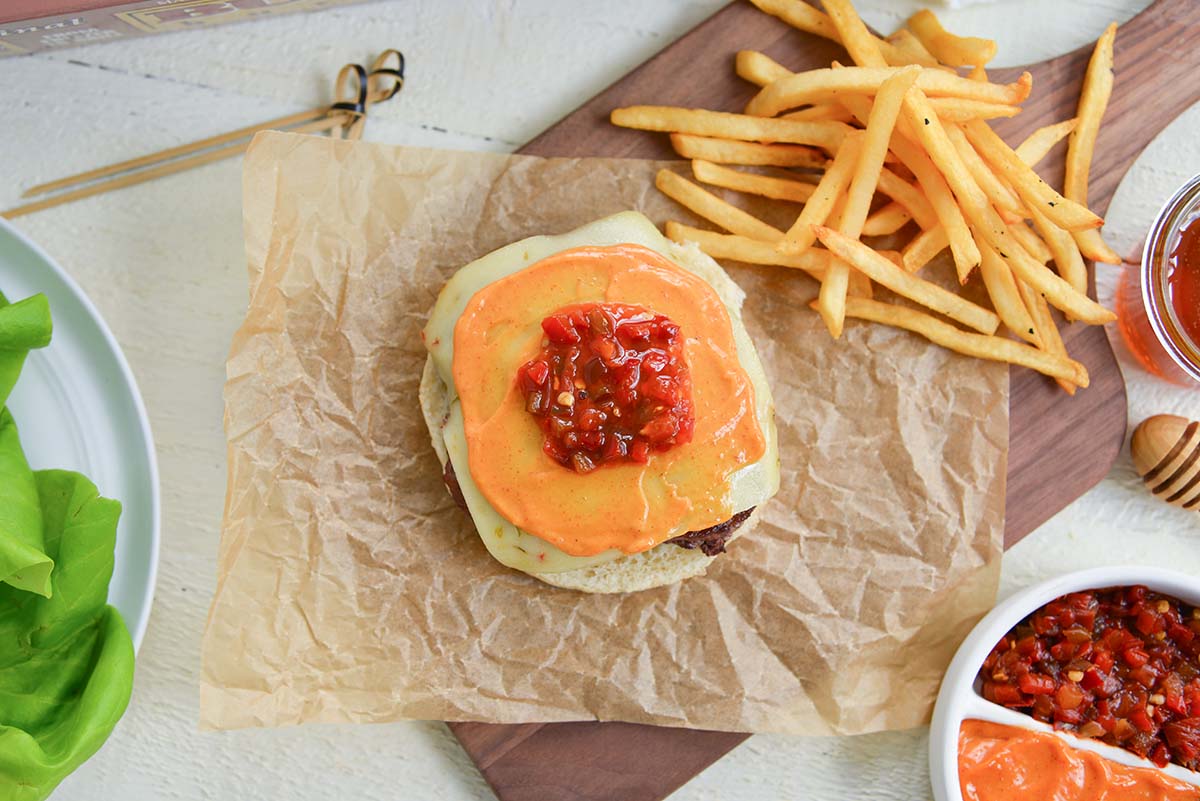 How to Cook a BUBBA Burger
You have options when making your BUBBA burgers. For ease on this rainy night, I used a cast-iron skillet inside, but there are other options.
Place the frozen burger directly on a preheated grill (350°F on indirect heat) or skillet (medium heat).

Wait for the juices to rise to the top without moving the burger around and do NOT press on it with a spatula, approximately 4 to 6 minutes. Browning is a good thing, it helps to develop natural flavors!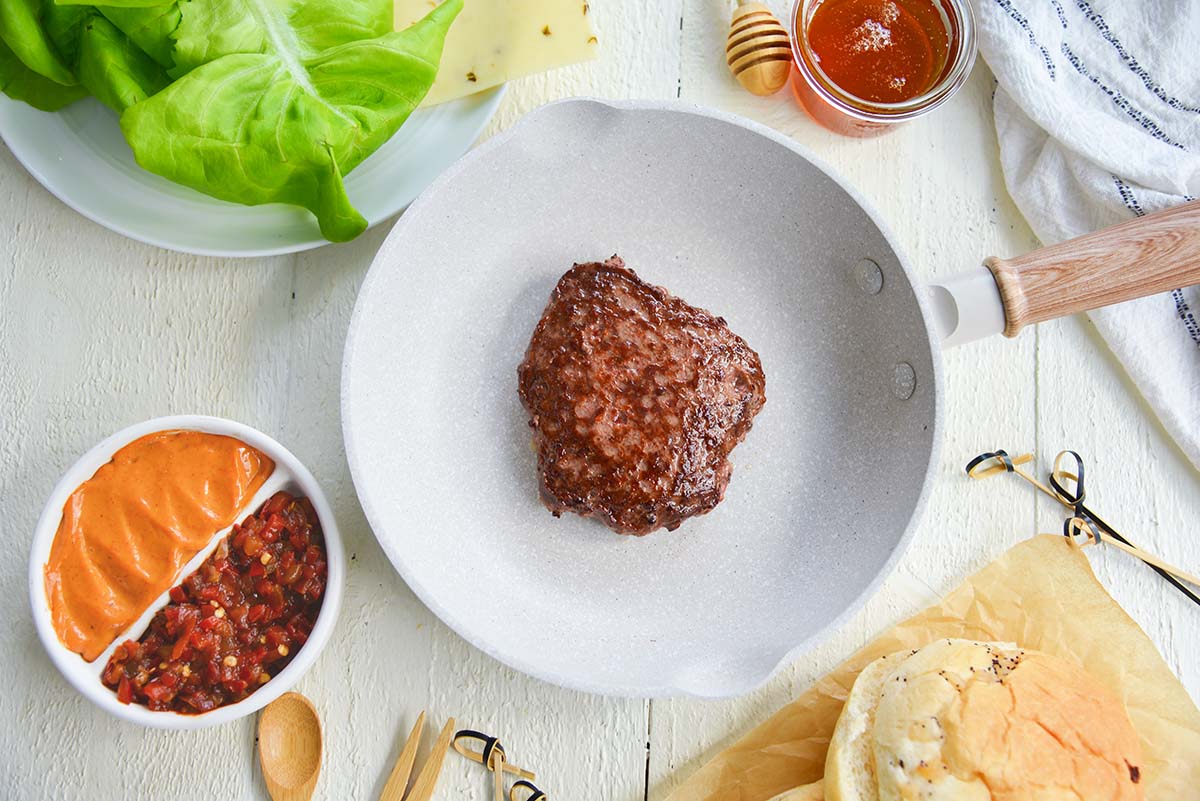 Flip the BUBBA burger and cook for another 4 to 6 minutes or until your desired doneness. For the last 2 minutes of cooking, place the cheese over each burger and cover with a lid to create steam, which will melt the cheese.

Remove the burger and allow to rest for 5 minutes while you grab the rest of the toppings.

Assemble by placing the lettuce on the bottom, then the BUBBA burger and top with chipotle mayo, spicy peppers and drizzle the honey directly onto the top bun.

Enjoy!
Leftovers
What leftovers? Burgers are a hard thing to reheat after being assembled, so I highly encourage you to finish the meal, but should you have leftovers, store the burgers separately and off the bun.
Reheat in a skillet or a quick trip to the microwave and then assemble the burger from scratch just like the original instructions.
Click Here To Learn All About BUBBA