Some might say heaven on Earth, a smashburger isn't your typical burger. Smashburgers are just that- ground beef smashed onto a griddle.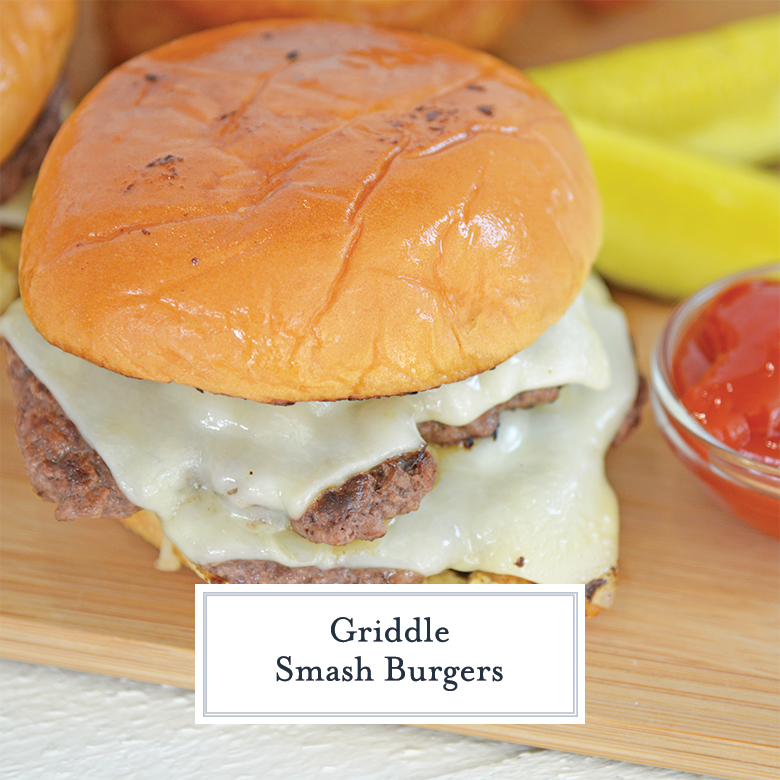 Oh, but they are so much more. The type of burger that requires a brown paper wrapping to keep all the goodness contained. The type that demands to be held after the first bite because even though it is snuggly wrapped, your fingers are a mess and now you are in it for the long haul.
You can't put it down. You must devour the whole burger before wiping (or licking) your fingers clean and eating another morsel of food.
These are the type of burgers my husband grew up on in Rochester, NY. An ode to Bill Gray's and Schaller's with a slight nod to the greasy onion mash from another famous burger that I once ate (and can't remember the name of).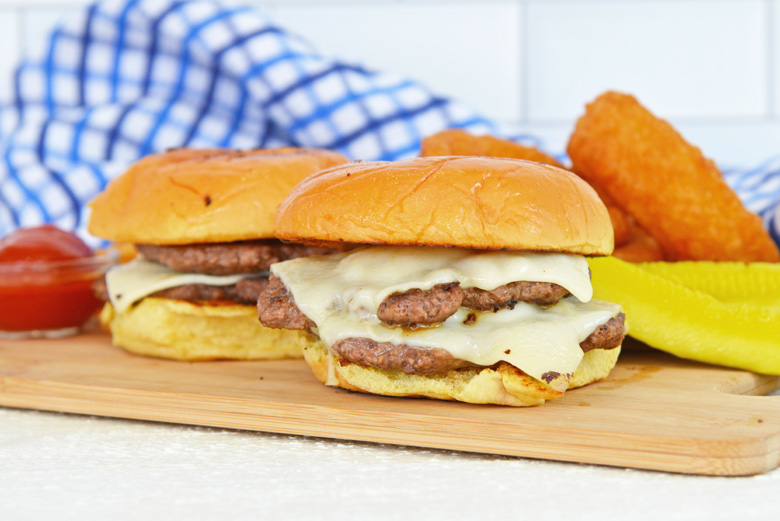 What is a Smash Burger?
The best way to describe a smash burger is a thin, buttery burger with crunchy lacey edges on a buttered and somewhat limp bun. They are what you think of when you imagine a fast food burger.
The epitome of that, actually. But they are also cravable and delicious in their own right.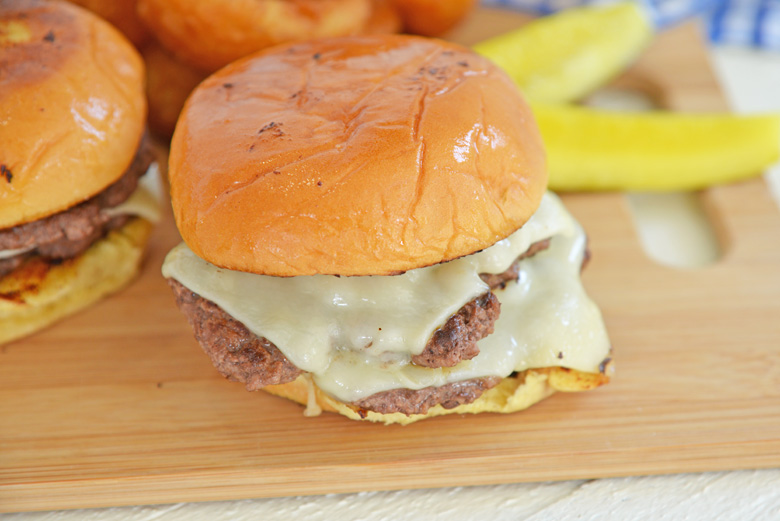 But don't be fooled, I am not trying to copycat Smashburger here- there are many smash burgers out there, they did NOT invent them. In fact, others have been making a fortune off these bad boys for a long time.
It is the polar opposite of what people generally want in their burgers– big, juicy and tender ground beef on a fluffy roll. But I promise, you'll like them.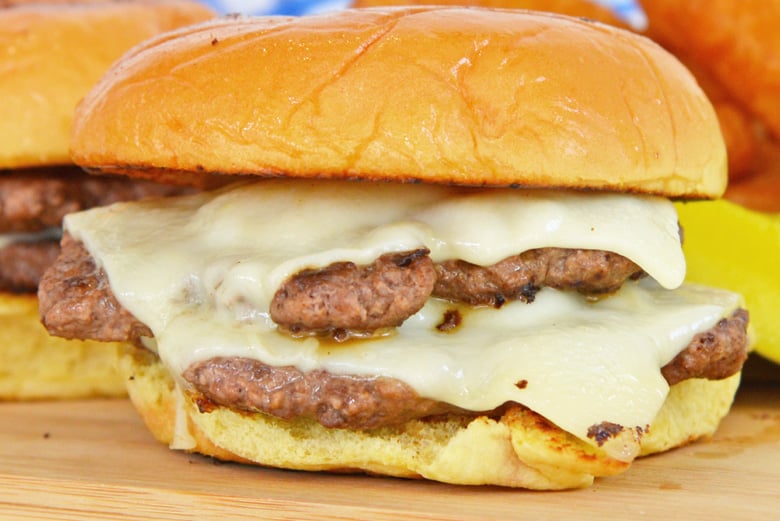 Smashburger, unlike Gettysburger, is an actual hamburger joint too. They've made quite an empire on these crispy, greasy burgers. It's the type of thing you crave and love, but wouldn't want to admit to anyone.
How To Make a Smashburger
The concept is quite simple and much easier than a traditional burger after you wrap your mind around the concept and have the tools.
You take a lump of unseasoned ground beef (but not too big, about 2-3 ounces) and then using a flat spatula, you smash it onto a hot cooking surface (discussed below). The meat will be super thin- like a piece of paper thin. Don't use any grease- just the fat from the beef. This creates more contact points which also means more crust!
Do not move it around, wait until your thin and uneven edges start to crisp up and brown. Then flip it. This takes less than 1 minute- FOR REAL!
You are aiming for medium-well here, no rare, juicy burgers here!
Simuntioualy, you will be sauteing onions, which is a quick saute (opposed to caramelized onions). The onions can be omitted, but in my opinion they are what really make the flavor. Season with just a small sprinkle of Kosher salt and freshly ground black pepper.
When the burger has formed a nice crust, it is done. Spoon sauteed onions over top and then drape with a slice of cheese.
For the buns, generously butter both sides of a classic potato roll or sesame seed bun, then toast the buttered part on your cooking surface will the burger rests.
You want all the beef juices and fats to help toast and flavor the bun.
Now add any condiments you'd like. However, since the crust and browned beef are really the star, I caution you from adding more than pickles and small amount of ketchup or mustard.
Many folks like to double up on the patties since they are so thin. That is fine- double the patties means double the crust! The buttered roll and cheese will be enough to keep everything from tasting dry.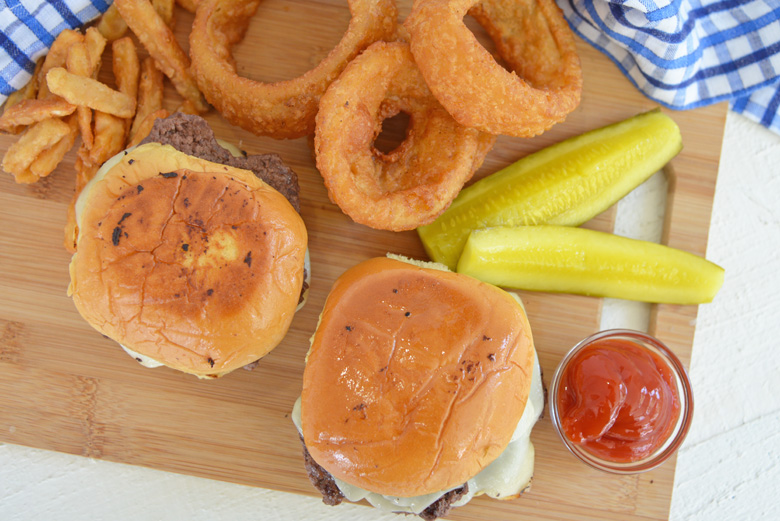 Now how to cook your Smashburger… like the actual heating element.
Blackstone Griddle Recipes
The first way to make is a smashed burger (and the most authentic) is using a griddle. The most popular one these days, and yes I am using the name, is the Blackstone griddle. These are also known as outdoor flat top grills.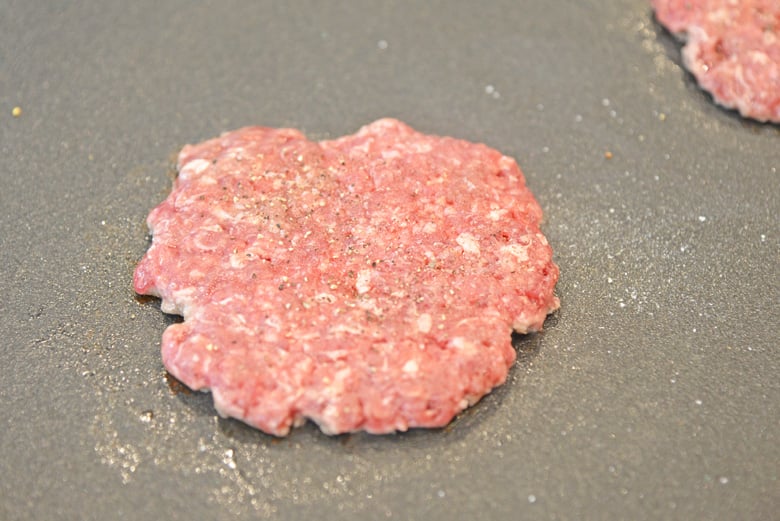 They seem to be all the rage this summer with everyone and their brother posting a pic of breakfast, lunch and dinner on the deck with a blackstone in the background. I also love using mine for griddle corn cakes and a family favorite- at home hibachi!
While they are trendy right now, smaller, foldable griddles have been used for a long time for camping and other portable cooking experiences.
You can also use:
Electric Griddle– like the one your mom lugged out to make pancakes on Sunday morning.
Indoor Gas Griddle– usually an option on high end ranges and stoves and heated by propane or natural gas.
Cast Iron Pan
The next way, and just as respectable, is a cast iron pan. Well seasoned, this will have plenty of heat as well as flavor for your lacey burger.
The biggest downfall here will be that you can't cook as many at one time and flattening and simultaneously cooking onions, can be a little cumbersome. It is doable, but awkward.
Burger Smasher- Flattening
While this seems like the most basic of the process, it can actually be the most challenging: the smash burger press.
It isn't that I don't think you can flatten a burger, it is finding a utensil that is strong enough, flat enough and the right size for your cooking vessel.
Meaning that you are using a cast iron skillet, a large hamburger flipper, won't even fit. You might even need another tool to help press down to get maximum pressure. You'll need that to create the Maillard reaction which is what creates the unique flavor.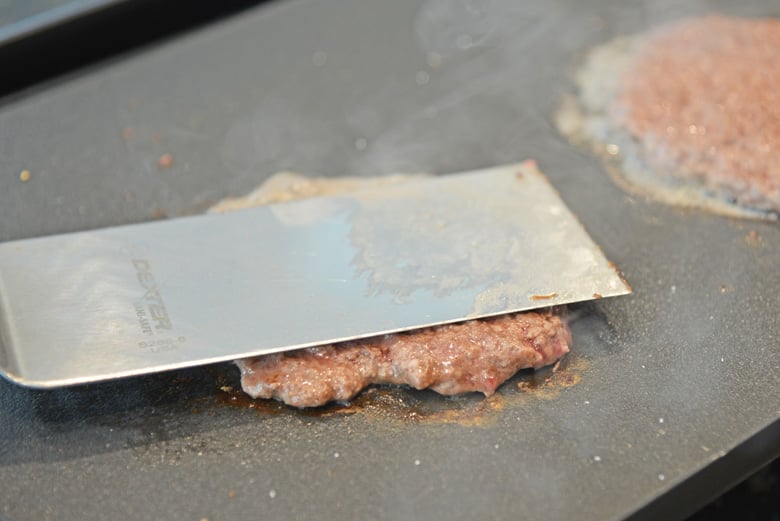 I don't suggest using a spatula with holes or openings because the meat will just press through like PlayDoh- use something continuously flat. If you don't have an actual flipper, try one of these.
Scraper– used for pastry and chopping, a bench scraper can be used and then use something else, like the bottom of a glass to press down firmly.
Plastering Trowel (Food Lab suggestion)- yes, this isn't typically used in the kitchen, but comes highly recommended for the amount of control you get from the flat surface and handle.
Smashed Burger Toppings
You can put anything on a smashed burger that you would put on a regular burger, but as I mentioned above, I'd caution against that. Here, simplicity is key. You can even omit my beloved onions, if you want.
American cheese and salt and pepper are the most popular. And also burger sauce.
I like using a basic sesame burger bun or potato bun, but you can get fancy using brioche or other artisan buns. The main point is to toast the bun.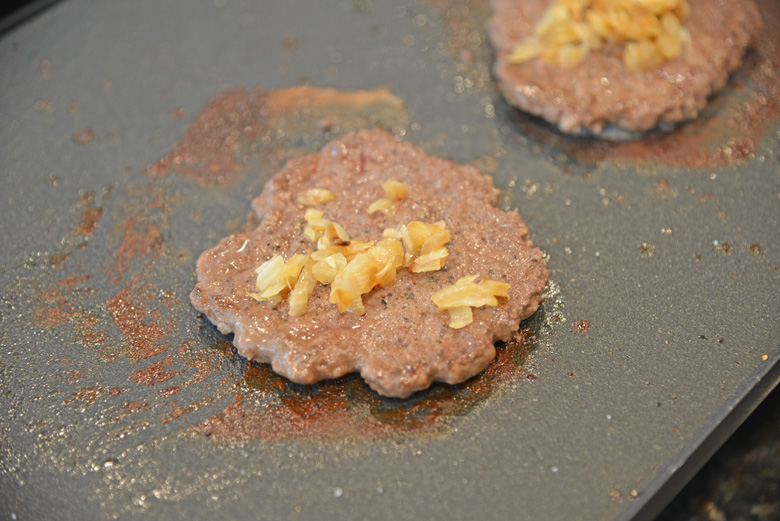 But here is a list of the most popular toppings:
Tomato
Onion
Lettuce
Cheese
Ketchup
Mustard
Avocado
Mushrooms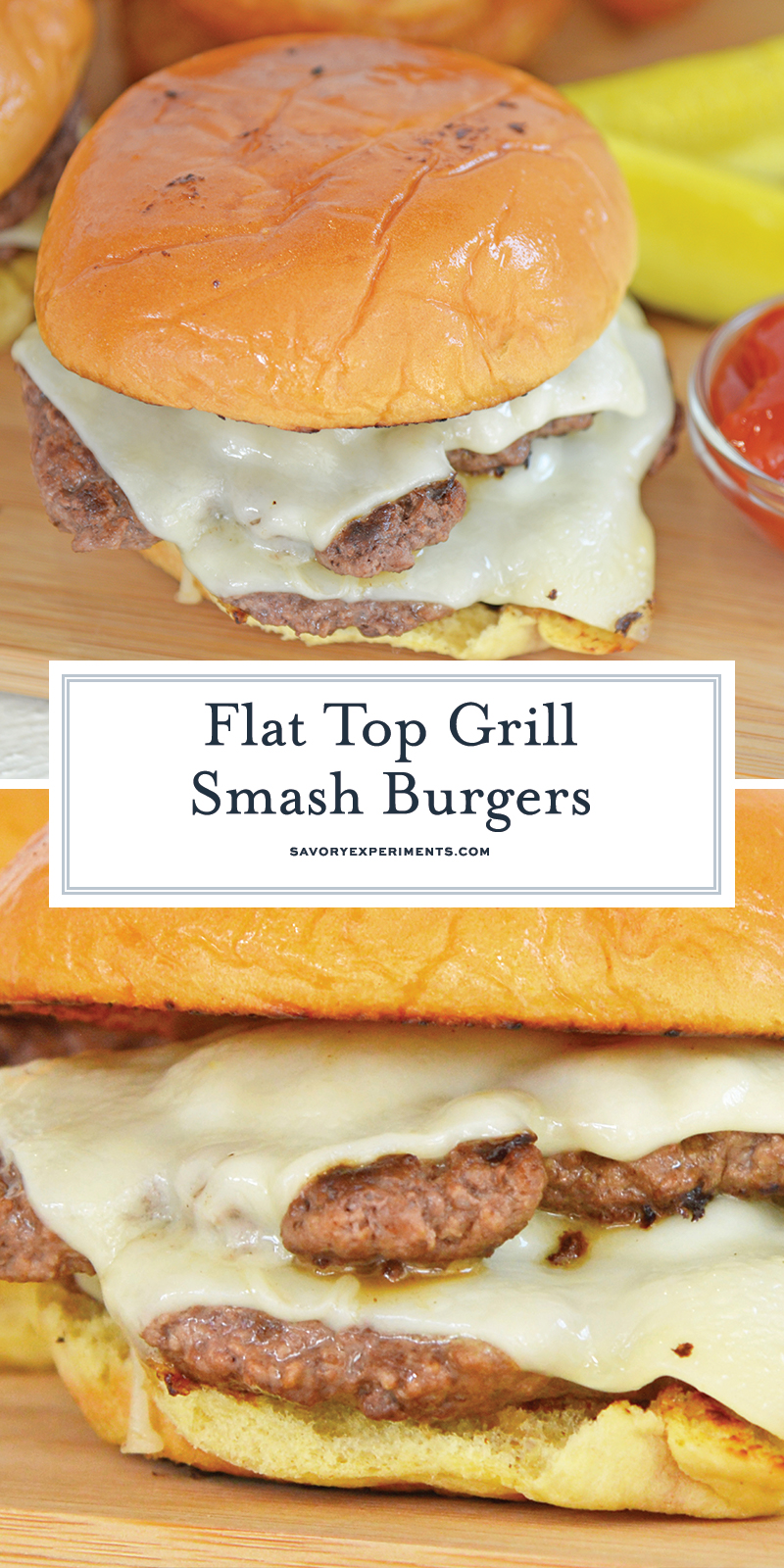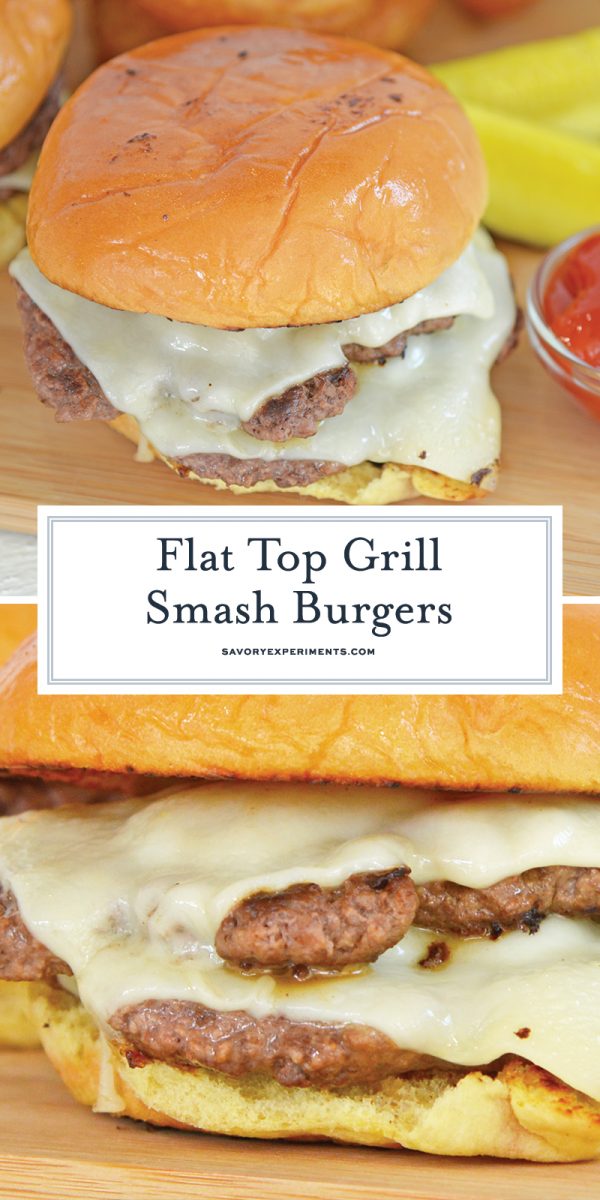 More Burger Recipes
While these aren't smashburgers, here are a few more of our favorite burgers.