These easy Juicy Lucy Burgers are perfect for a quick weeknight meal. Beef burger patties simply seasoned and oozing with melted cheese, you will never want regular cheeseburgers again!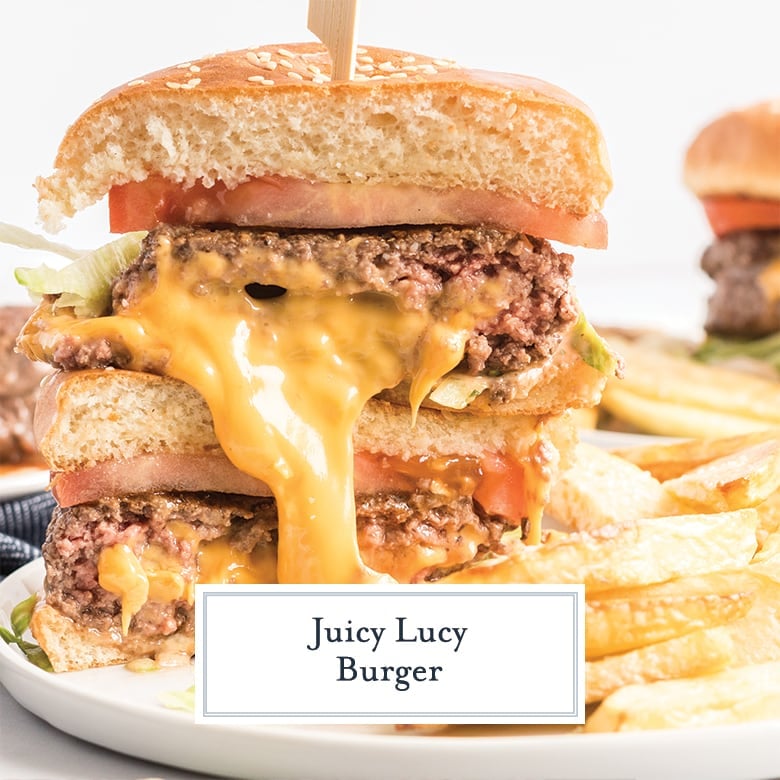 What is a Juicy Lucy?
If you've never had a juicy lucy burger, you don't know what you're missing.
The Juicy Lucy Burger is a cheeseburger where the cheese is melted into the center of the burger patty instead of sitting on top of it. This creates an extra juicy meat patty as it absorbs some of the cheese as it cooks.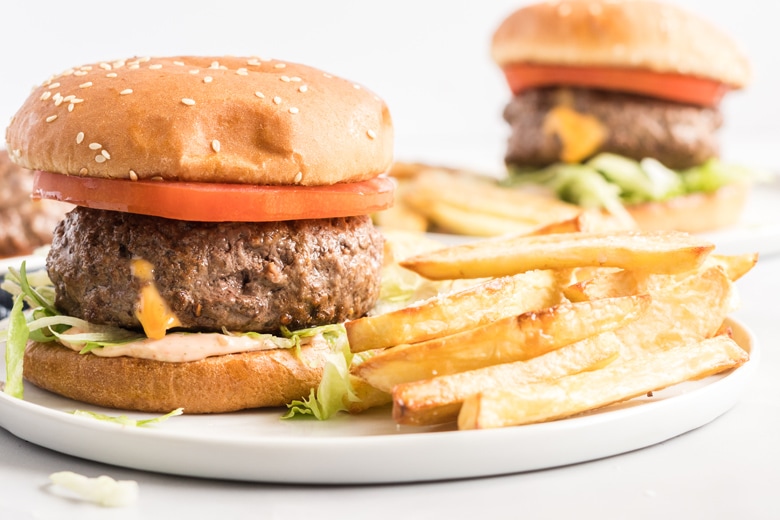 Then when you bite into the burger the cheese oozes out, perfectly melted. By placing the cheese in the middle of the meat it stays soft and gooey instead of hardening on the outside of the burger. If you've ever had cheeseburger where the cheese has dried out corners, you know exactly what I mean.
Pro Tip: Be sure to let these burgers rest for 5 minutes before cutting or biting into them. It will allow the juices to settle back into the meat and it will also allow the cheese to cool a bit so you don't burn yourself on molten cheese.
History
The juicy lucy burger was born in a bar in Minneapolis in the 1950's. There is an ongoing debate on exactly which bar started the trend of melting the cheese inside the patty. Some will tell you it's a place called Matt's Bar, and others will dispute that it was created at 5-8 Club.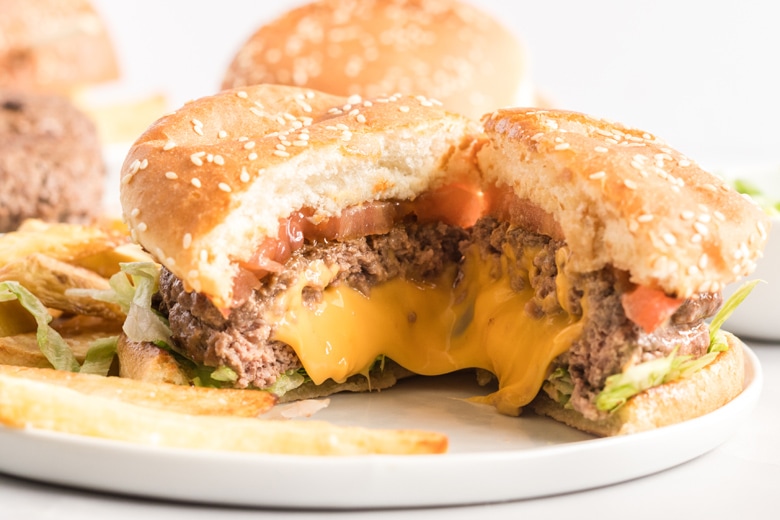 Both bars continue to serve the burger with some minor differences in preparation. In addition, Matt's bar spells it Jucy Lucy, while 5-8 spells it Juicy Lucy and they both argue that it's their spelling of the burger that makes theirs the original.
Pro Tip : In order to get the best crust on the patties, make sure your pan is nice and hot before dropping them into it and do not try to move them until you are ready to flip.
While we may never know who created the first cheese stuffed burger, we do know it is delicious.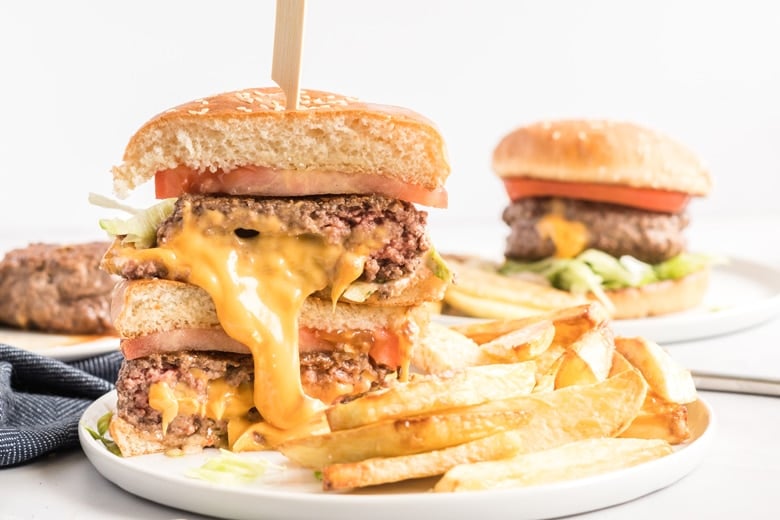 Juicy Lucy Burger Toppings
This is simply a matter of preference. I like to keep things simple, but you can add anything you like. Some great choices are:
Lettuce
Tomatoes
Pickles
Mustard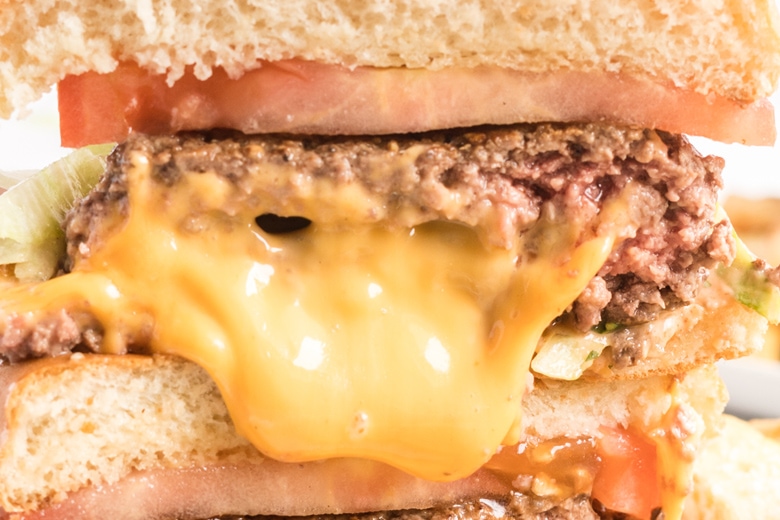 As for the cheese, I recommend American cheese. This cheese is going to give you the best melty, oozy center to your Juicy Lucy Burgers.
However, if you are opposed to American cheese other choices that melt well would be Monterey Jack, Gouda, or cheddar.
How to Make Juicy Lucy Burgers
I have come to love cooking my burgers on a heavy skillet or cast iron on the stove. It produces a nice crust, it is easy, and you don't have to wait for a grill to heat. But if you prefer, you can cook these burgers on an outdoor grill.
You do not need to add any binders to the beef. Burger patties will hold together perfectly fine without adding anything to them. The patties will also have a better texture when you don't add a bunch of extra ingredients.
Form the ground beef into 8 equal sized balls. Press each ball flat, to about ¼ of an inch thick. Fold each slice of cheese into fourths, you will end up with a little square.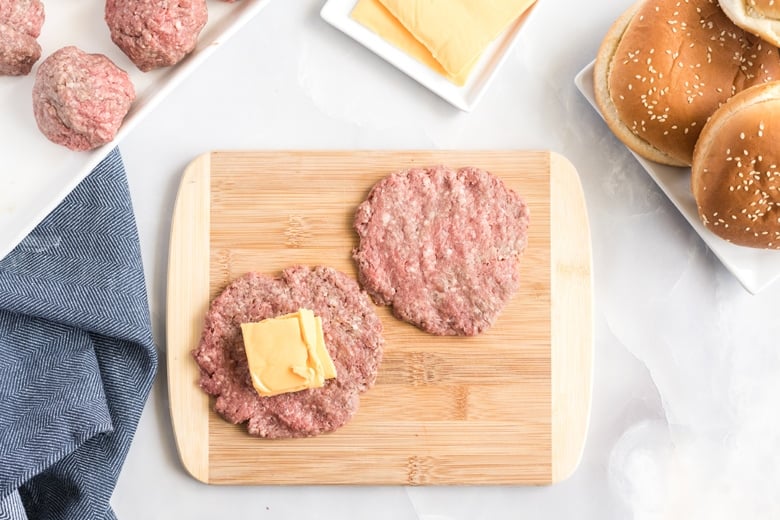 Place the squares of folded cheese onto 4 of the patties, then cover with the remaining 4 patties. Gently press the edges of the burger to seal the top and bottom layer, then gently form into rounds with your hands.
Place a heavy non-stick skillet or cast iron pan over medium high heat. When the pan is hot place the patties in the pan and season the tops generously with salt and pepper. Leave the patties to cook for about 6 minutes, then flip.


After you flip your patties, season again with salt and pepper. Cook for another 6 minutes.
Make sure you let these bad boys rest before eating to let allow the juices to resettle. Also check out more tips on how to make burgers!