Mustard aioli takes two the world's best condiments and slaps them together: mustard and mayo.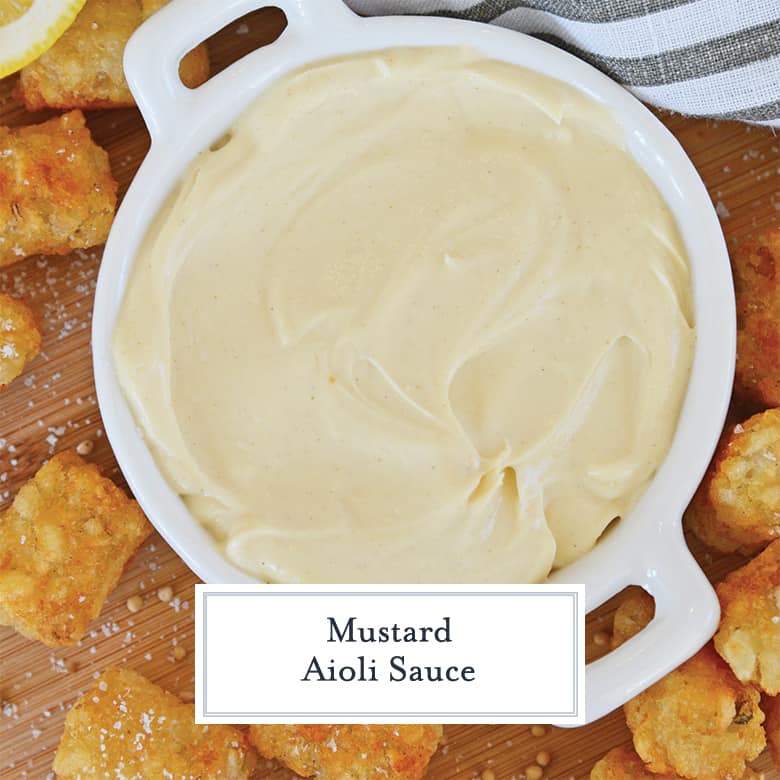 This zesty Mustard Aioli comes together in less than 5 minutes and is the perfect dipping sauce and sandwich topper for any meal or BBQ.
The result is a slightly tangy and zesty condiment that is so verstile, you'll wonder why you don't use it on everything.
Deli sandwiches, wraps and pinwheels get a makeover. Perfect for dipping fries, tater tots or potato chips. My husband makes a huge batch to keep in the fridge for pretzels. And, of course, hot dogs and hamburgers.
Flavored mayo is also great as a basting sauce for chicken, fish and pork. Simply baste it while on the grill. You can even marinate with it.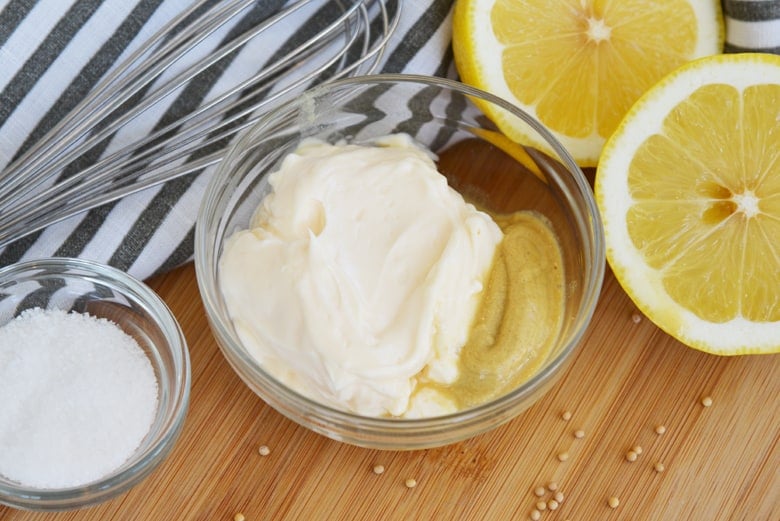 The concept is similar as to why my Fireman Chicken taste so darn good. In fact, you can use mustard aioli as your dipping sauce for grilled chicken!
What is aioli sauce?
Aioli is popular in Mediterranean cuisine and is a sauce made of garlic, olive oil, lemon juice, and egg yolk, which makes it sneakily similar to a garlic mayo. It is the most popular in Spain, France and Italy.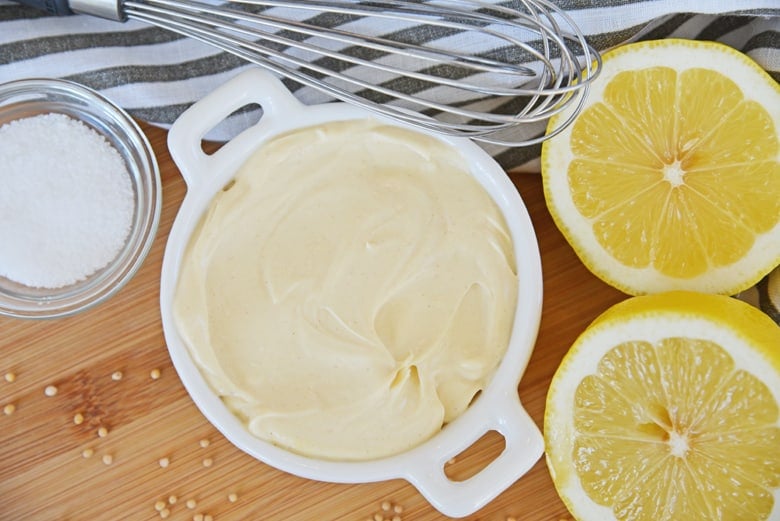 This is also why you can make super easy aioli with just a store bought mayonnaise. You can also make your own mayonnaise super quick in a blender. You can use any type, but to be more authentic, look for one made with olive oil opposed to vegetable or other types of oil.
What type of mustard is in mustard aioli?
I like to use Dijon mustard, which is a French mustard from the Dijon region of France. The mustard seeds are more brown that yellow and produce a slightly subdued, but tangy mustard flavor.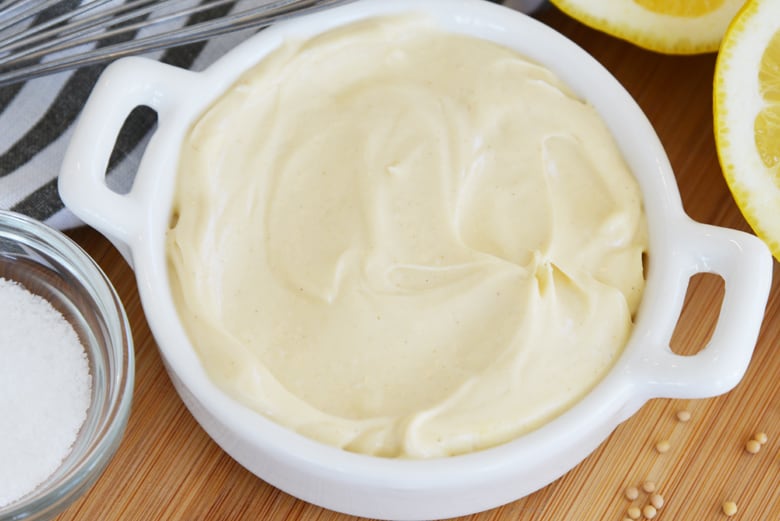 You can also use specialty mustards like spicy brown mustard, horseradish, caramelized onion, sweet or even whole grain mustard.
Even though mustard is acidic, I still like to add lemon juice to brighten the flavor further. Salt is optional since it is also an ingredient in both mayonnaise and mustard. I only use a pinch anyhow.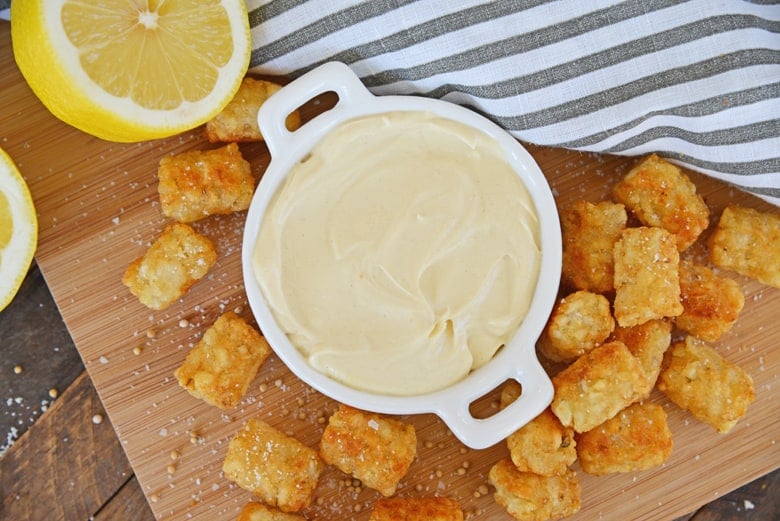 You can even add a dab of honey or agave nectar to make a slightly sweet honey mustard aioli sauce. These are perfect for popcorn chicken or even as a basting sauce for grilled chicken or pork.
How to make mustard aioli?
Gather all your ingredients including:
Olive Oil Mayonnaise
Fresh Garlic
Mustard of Choice
Lemon Juice
Kosher salt
Since you are grating your garlic, you can simply combine all ingredients in a small mixing bowl and whisk together. I like to let it sit for at least 30 minutes to let the flavors marry, but this is optional.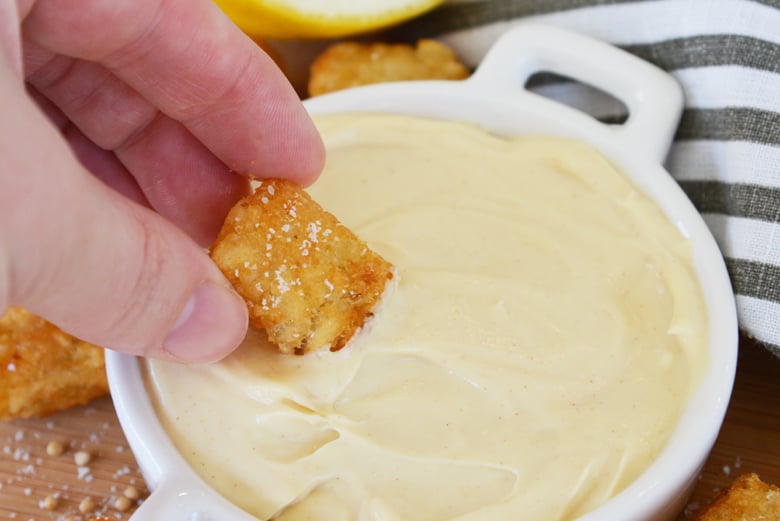 If you want to skip grating your garlic, you can throw it into a mini food processor, pulse it a few times so it minces well and then all the other ingredients to blend. Just mincing without the food processor could lead to large chunks of garlic in your sauce.
How do I store aioli?
In an airtight container in the refrigerator for up to a week.
We do not suggest freezing aioli sauces.
Can I use bottled lemon juice?
You of course can, but we always recommend fresh lemon juice. Any citrus juice starts to lose flavor as soon as it is harvested. Fresh juice has much more flavor than jarred and without any preservatives.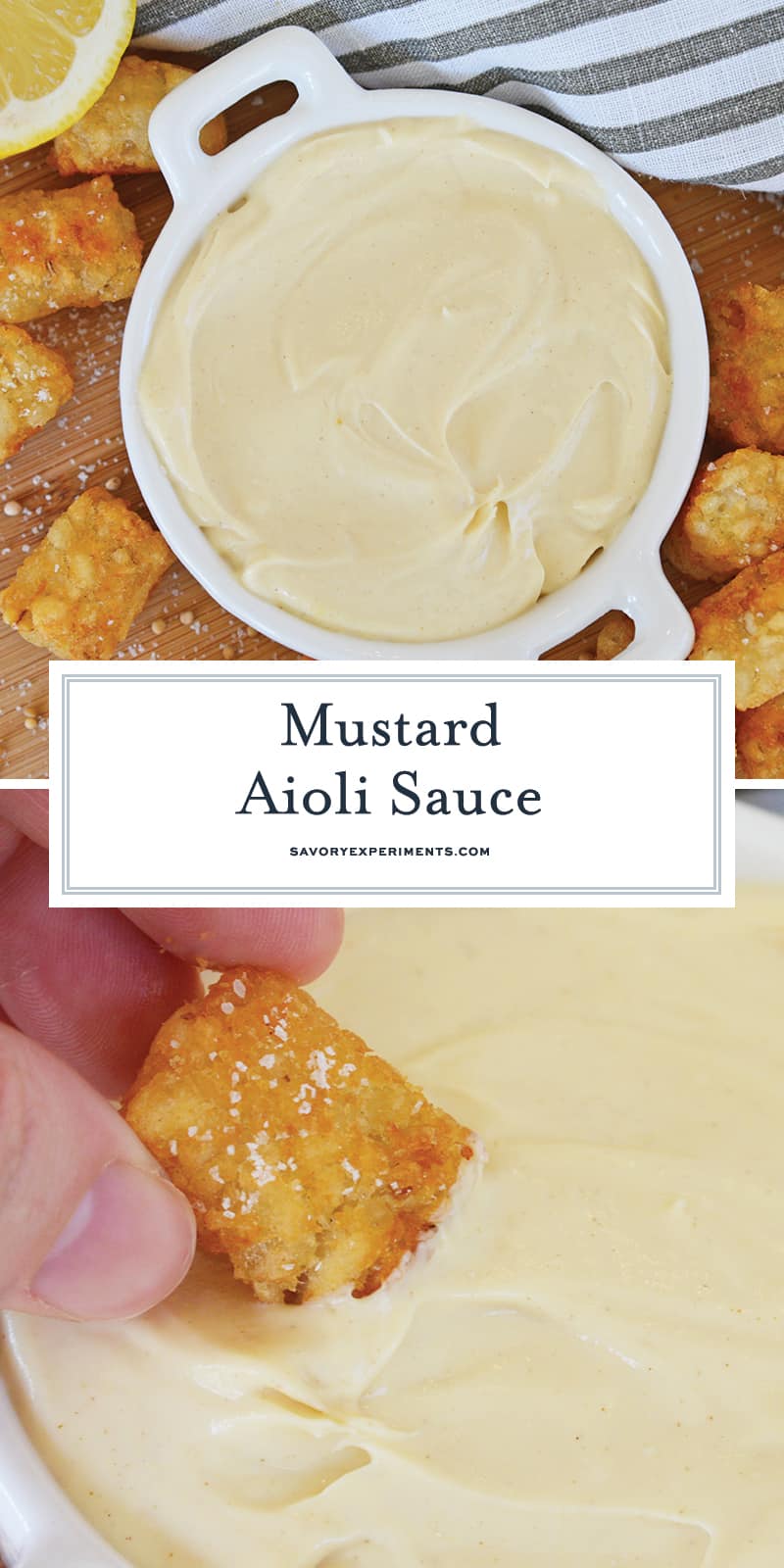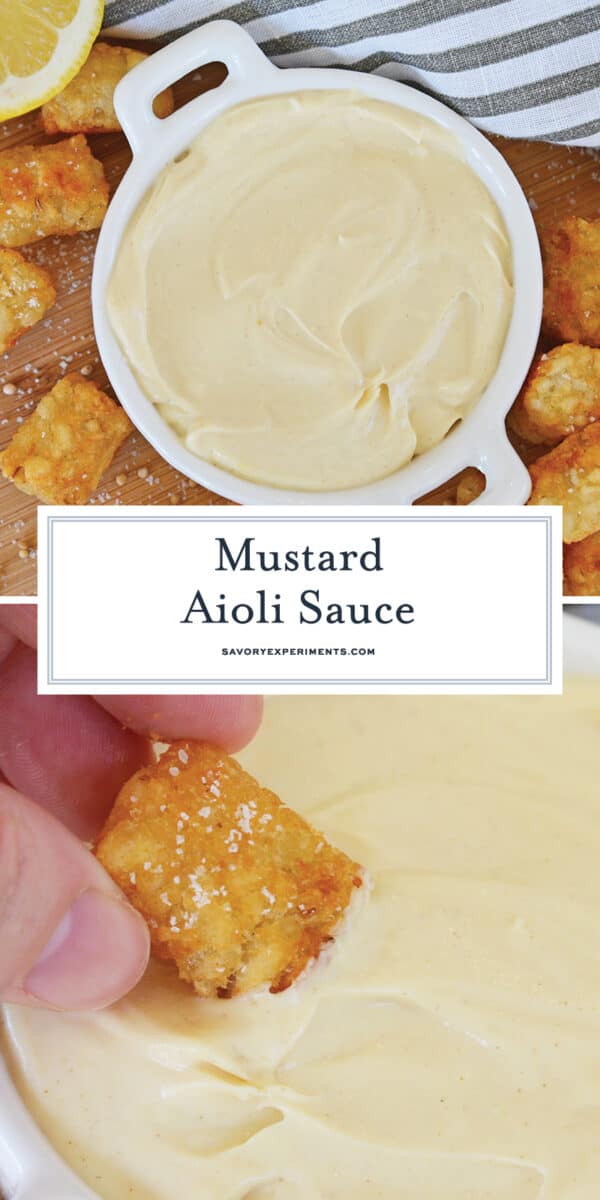 What can I use aioli for?
Aioli is excellent as a dipping sauces or condiment to slather on sandwiches or burgers. You can dip olives, carrots or potato chips and even put a dollop on top of cooked veggies or crab cakes.
And of course, optimal for French Fries and tater tots. Mustard aioli is also dynamite on corn dogs!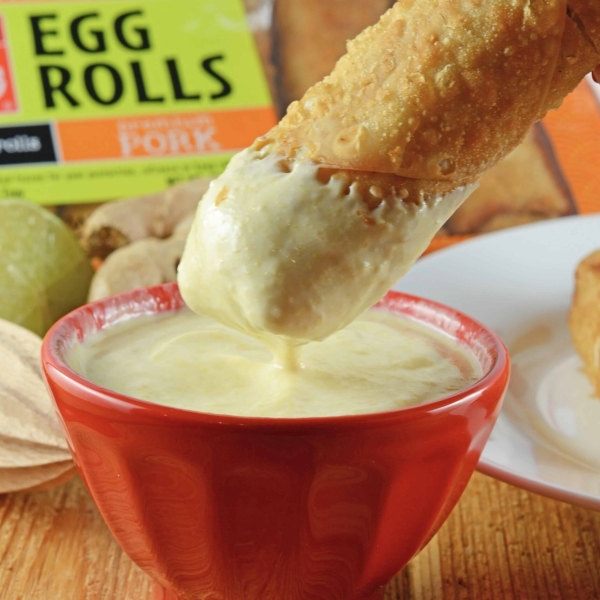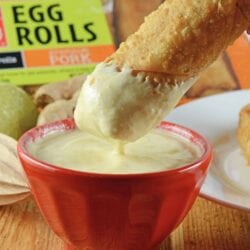 Coconut Curry Sauce
Coconut Curry Sauce is a creamy Asian dipping sauce with curry, lime, coconut milk and yogurt. Serve with egg rolls or grilled vegetables!
See The Recipe!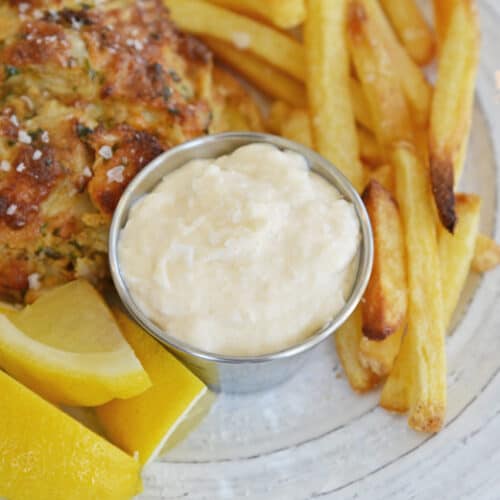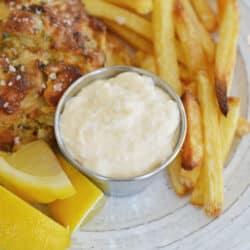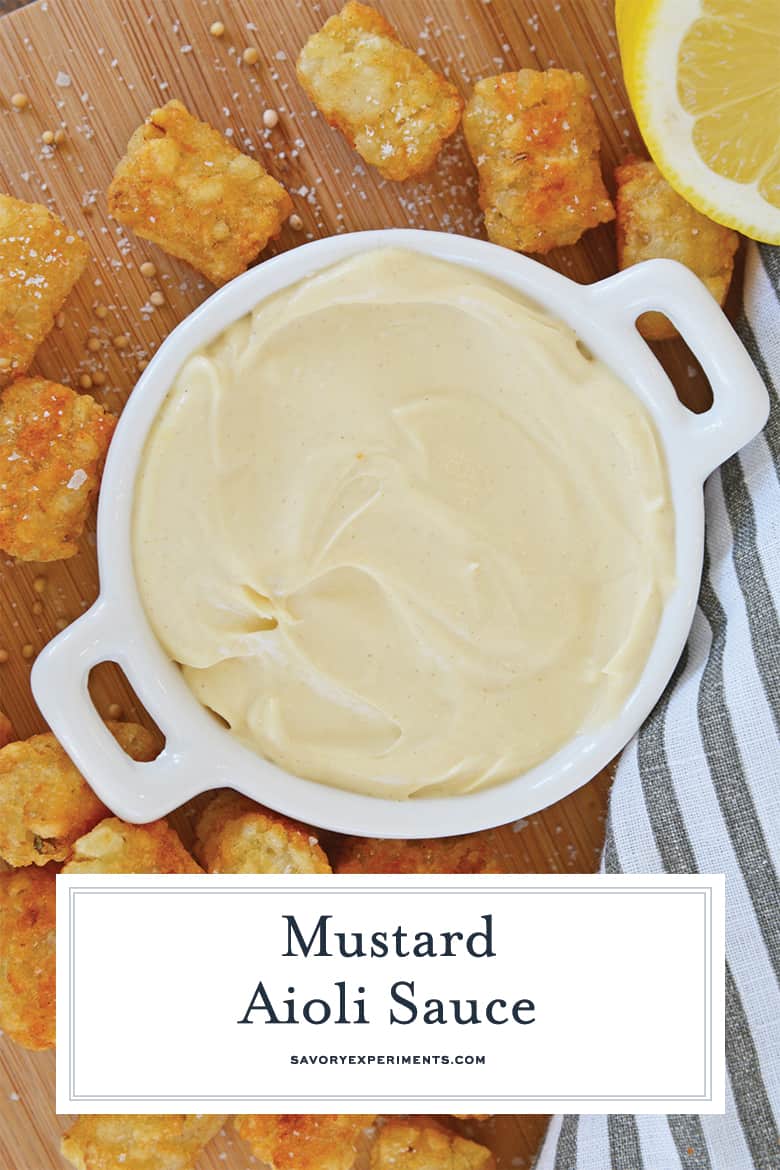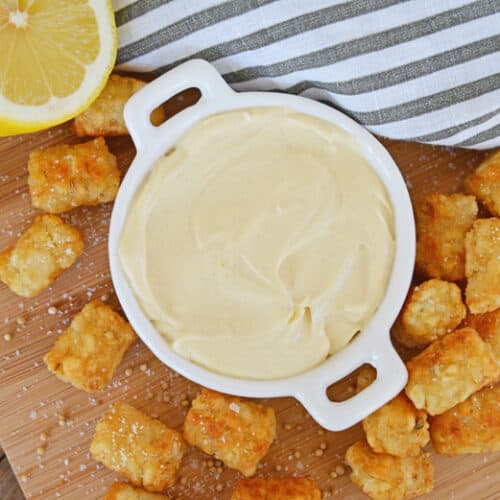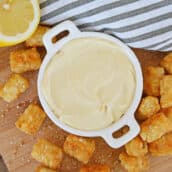 Mustard Aioli Sauce
This zesty Mustard Aioli comes together in less than 5 minutes and is the perfect dipping sauce and sandwich topper for any meal or BBQ.
Instructions
Combine all ingredients in a small mixing bowl and whisk until combined.

Chill for 30 minutes before serving.

If you've tried this recipe, come back and let us know how it was!
Notes
If you don't want to grate your garlic, place all ingredients into a small food processor, starting with a few pulses with just garlic to break it up. Then add the other items and blend well.
Nutrition
Calories:
1550
kcal
,
Carbohydrates:
5
g
,
Protein:
4
g
,
Fat:
169
g
,
Saturated Fat:
26
g
,
Cholesterol:
94
mg
,
Sodium:
1763
mg
,
Potassium:
86
mg
,
Fiber:
1
g
,
Sugar:
5
g
,
Vitamin A:
146
IU
,
Vitamin C:
6
mg
,
Calcium:
35
mg
,
Iron:
1
mg