Looking for a new weeknight menu item? Everything Meatball Stromboli is one the whole family will love, just pair with a nice leafy salad!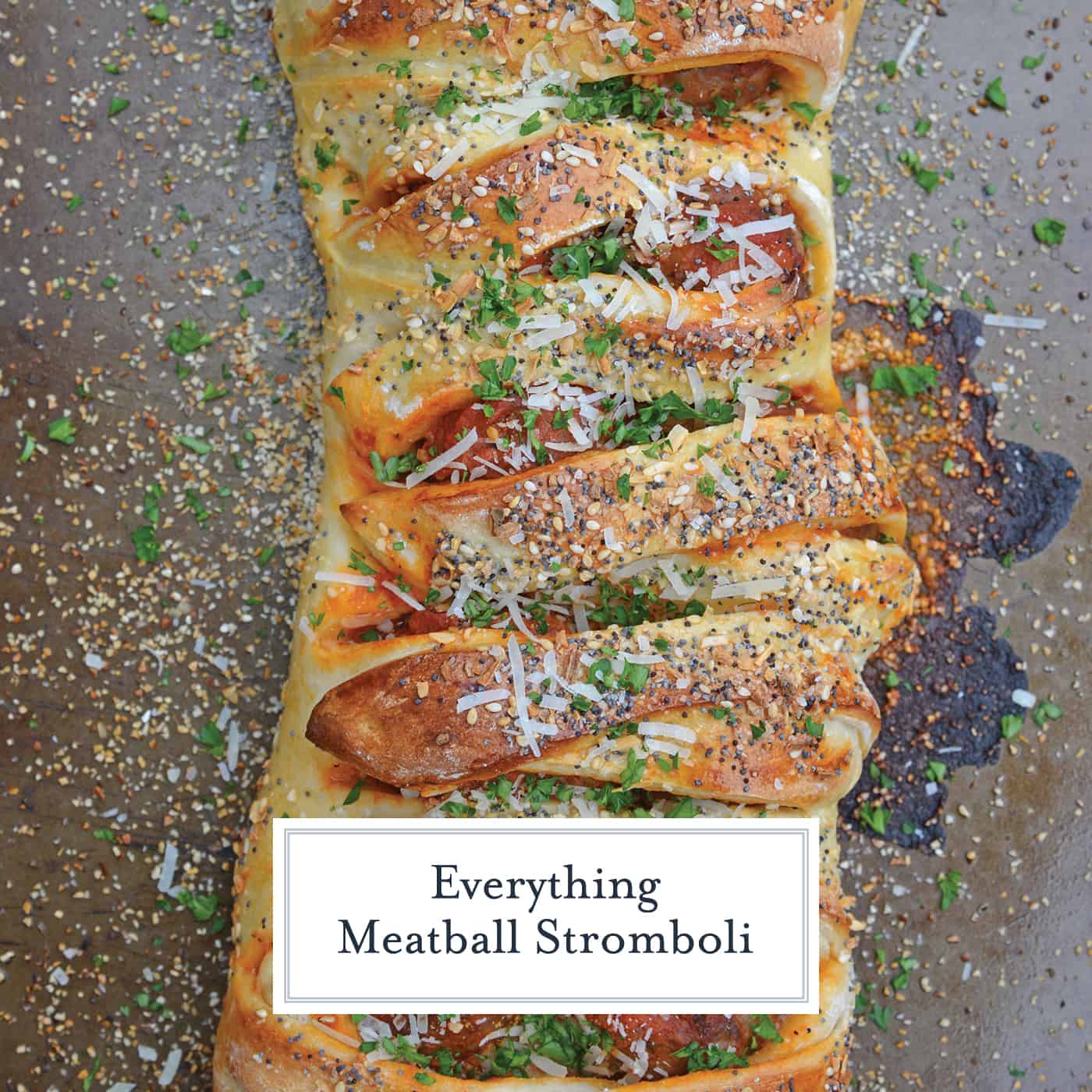 Everything Meatball Stromboli is meatballs, marinara sauce and cheese wrapped in pizza dough topped with everything bagel seasoning. An easy weeknight meal recipe!
If you've read my recipe about Everything Bagel Seasoning, you'll know I am kind of obsessed. I love this stuff. The perfect combination of garlicky, oniony, salty goodness with a crunch.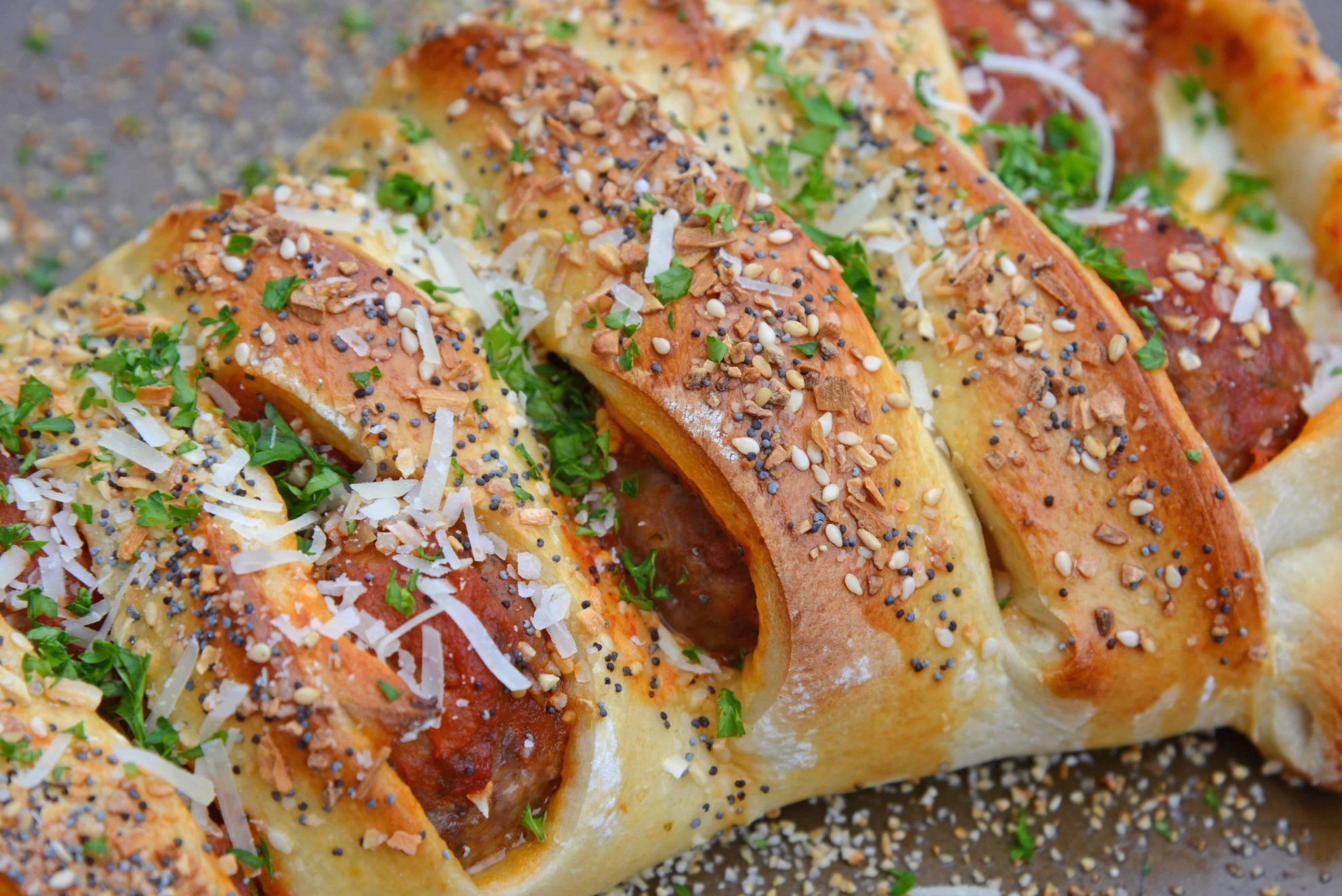 It will come as no surprise that I try to find a lot of things to put it on! Everything Meatball Stromboli is inspired by my favorite sub sandwich from Wegman's grocery store.
A meatball sub with mozzarella cheese on an everything hoagie roll. Mind blown, huh? The problem is there is often a poor bread-to-meatball ration and I end up destroying the thing with a fork and knife to the point where it is unrecognizable.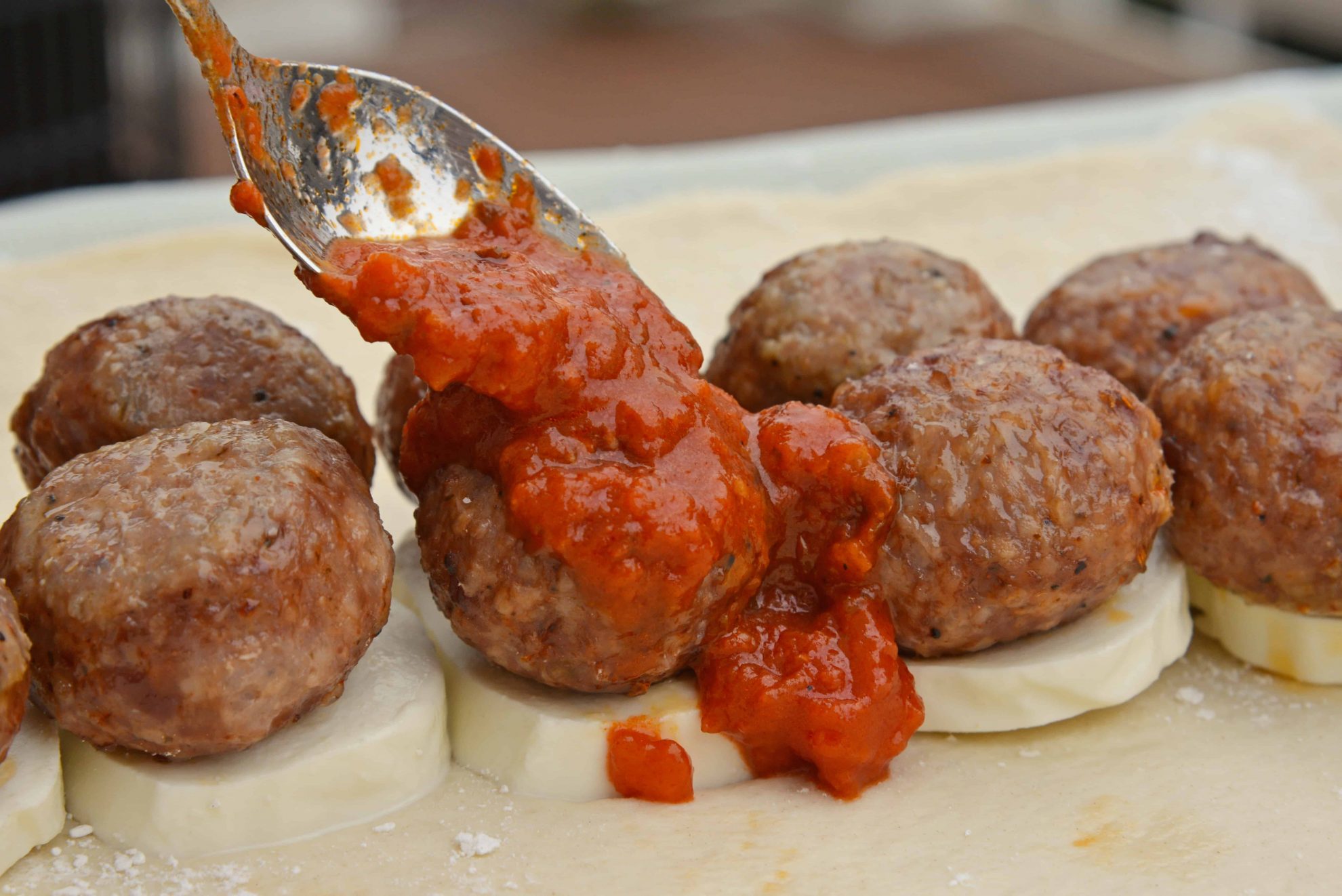 What is stromboli?
Either pizza dough or Italian bread dough stuffed with vegetables and usually cold cuts, but generally anything you can think of.
What is the difference between stromboli and calzone? Not much, but the way they are sealed. Strombolis are rolled (or in my case, braided) while calzones are folded.

They are both made with the same type of dough, stuffed with the same ingredients and basically a sealed, portable pizza, but they are not the same thing.
So I decided to make my own version in the form of a stromboli recipe where I could control the pizza crust to meatball ratio and make them perfect! There are a few tricks to getting the perfect stromboli, let me share them with you.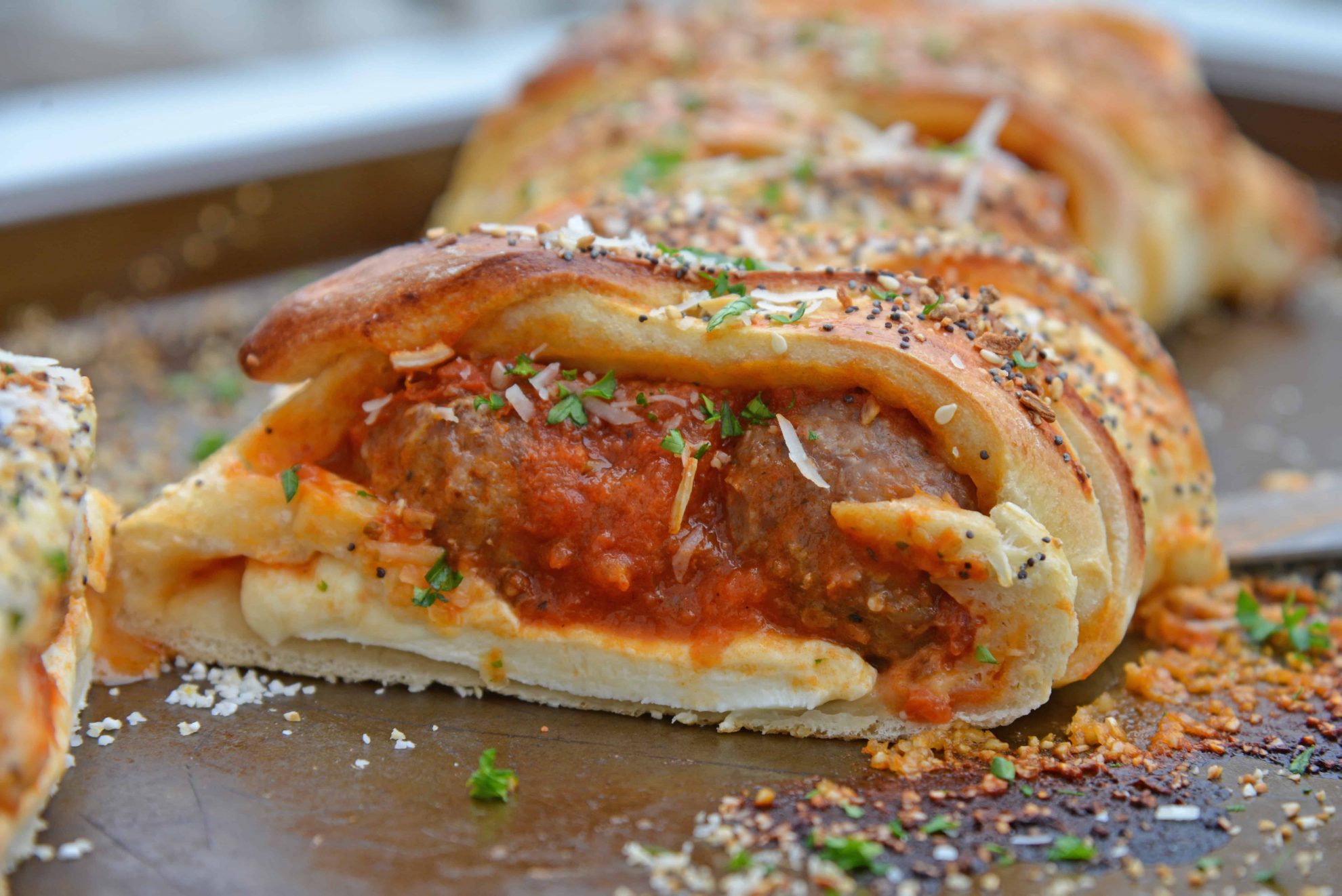 Tips for making stromboli:
Don't use too many wet ingredients in your stromboli. This will prevent the dough from baking and leave you a soggy stromboli.
If you want sauce, use a tiny bit inside, but serve more on the side for dipping.
Cut slits or braid the top of your stromboli. Regardless of what stuffing you use, your stromboli will need to release steam and it needs vents to do so. Cutting slits in the top or using the braid technique, like I do here, gives it the ability to let steam release.
Use corn meal or raw grits on your baking sheet. I know this sounds weird, but even if I use a pizza stone, I put corn meal or raw grits on the bottom of the pan. It prevents sticking and also absorbs some of the moisture, giving you the best chance at a crispy stromboli crust.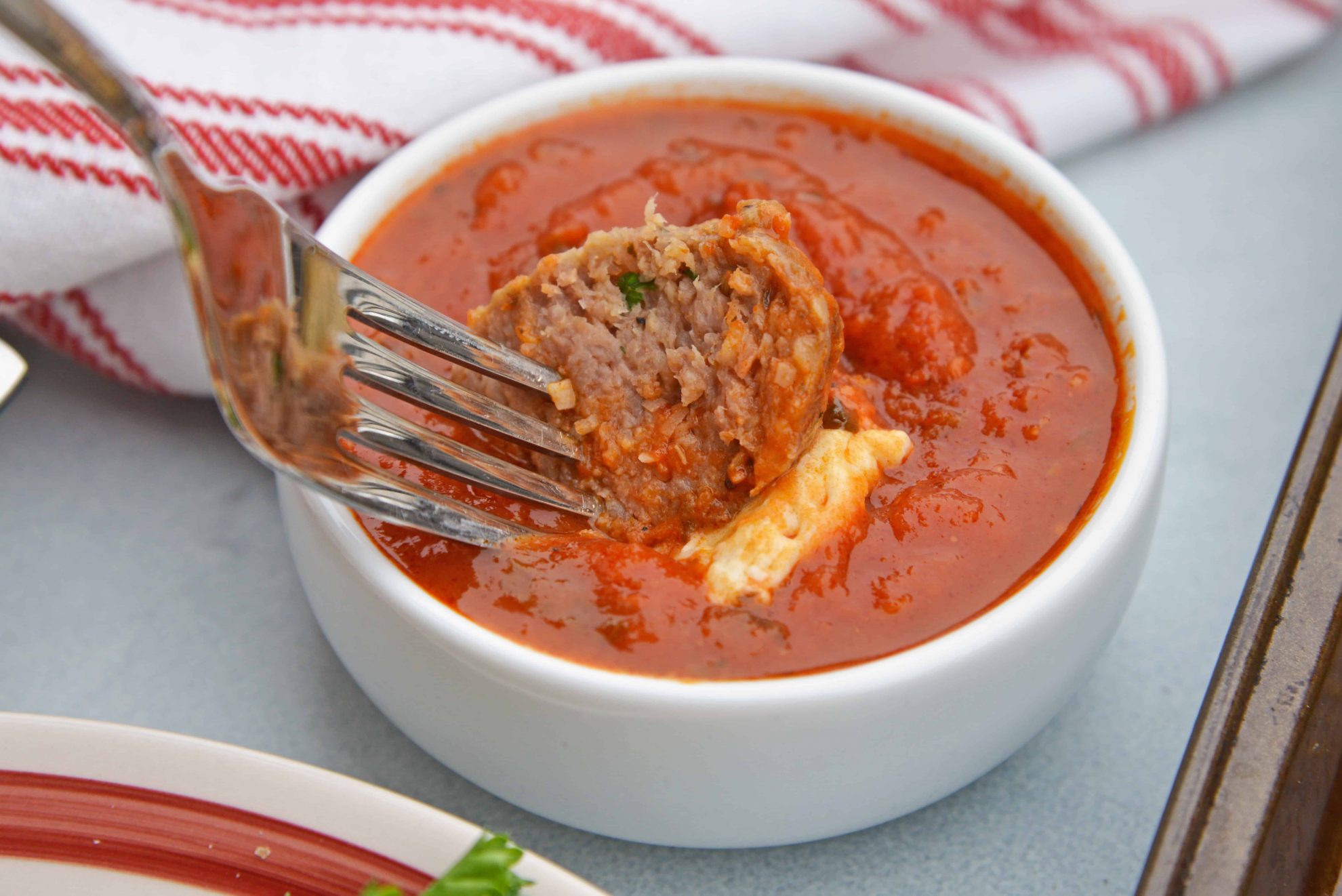 The more cheese, the merrier, but make sure you are using a low-moisture cheese. Low moisture cheese will release less water, again, making your stromboli more crunchy.
Brands vary and moisture varies even if the package says "low moisture" so experiment with which one you think works best. This also goes for making pizzas!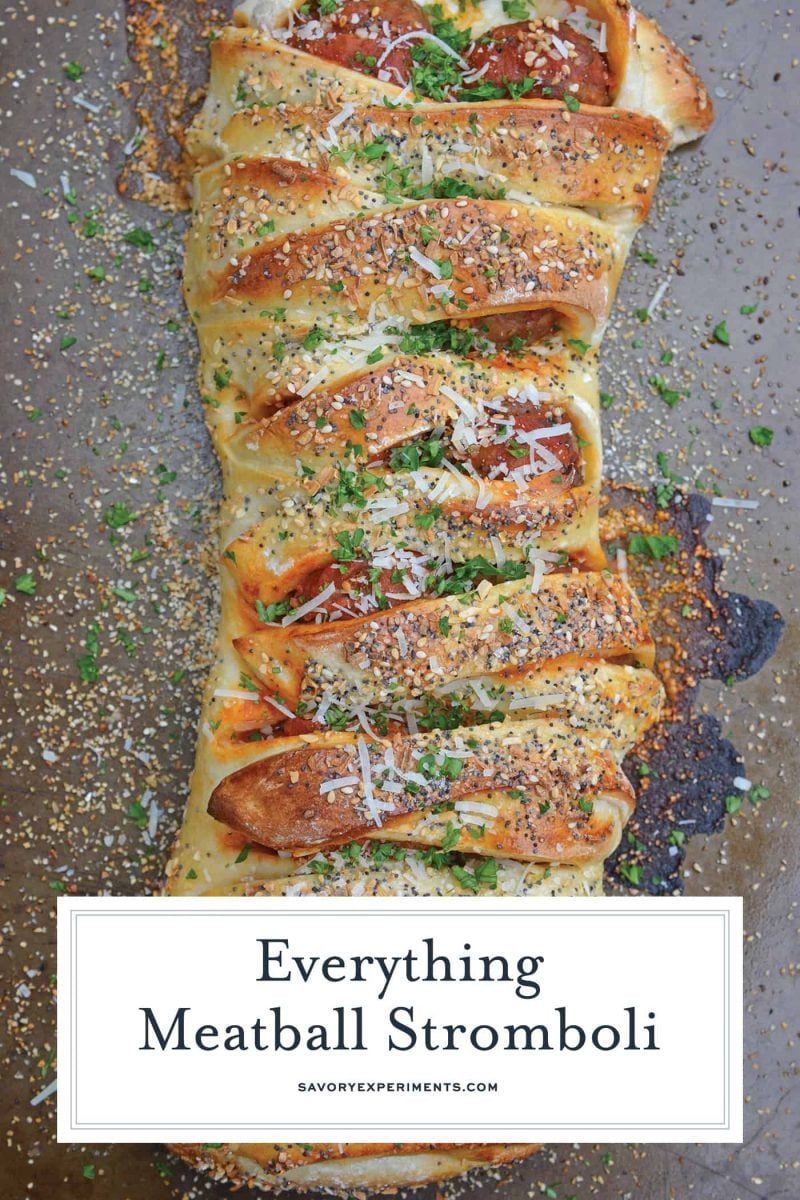 You'll love these other Italian Inspired recipes: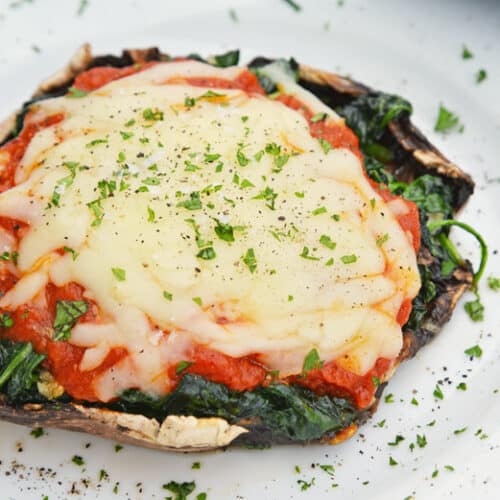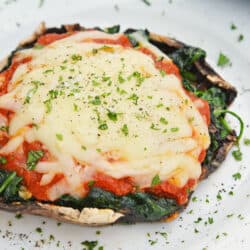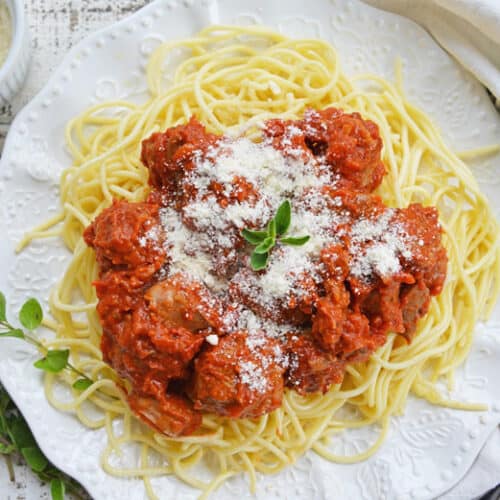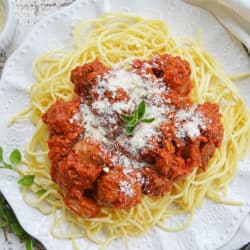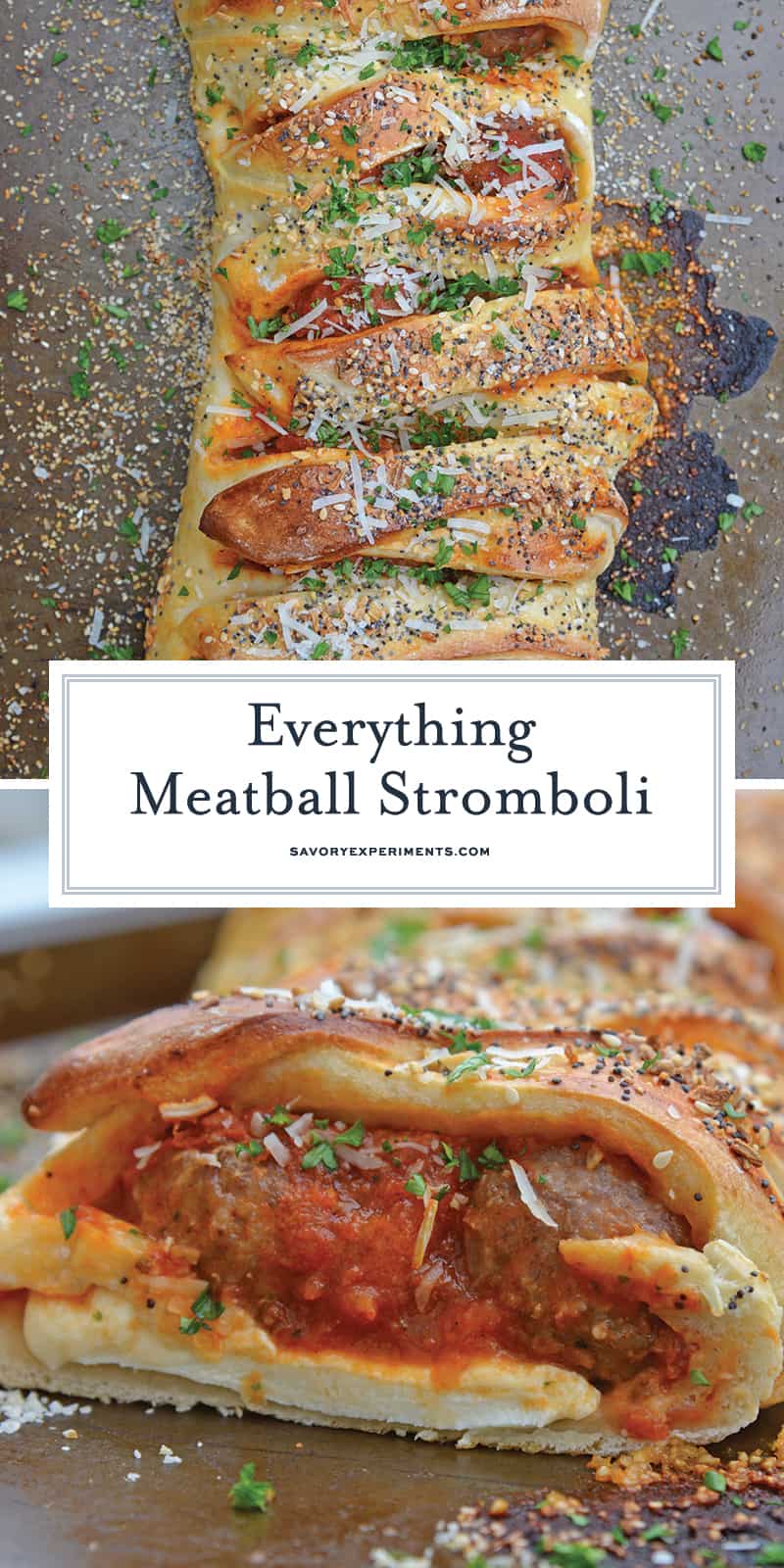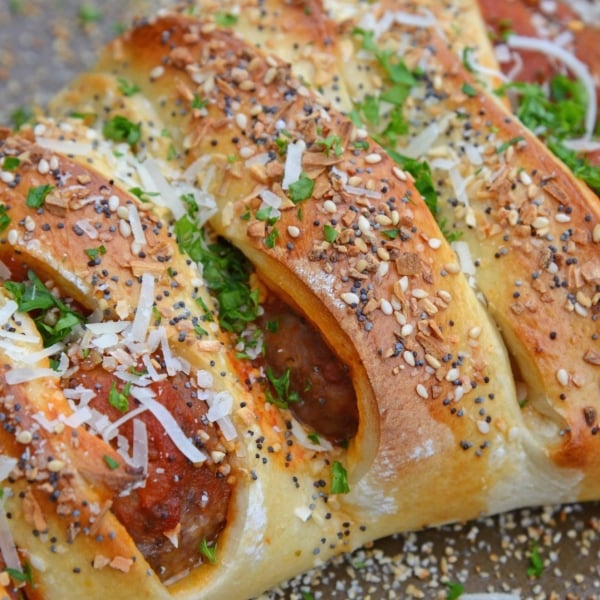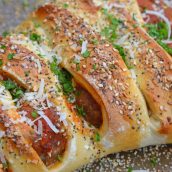 Everything Meatball Stromboli
Everything Meatball Stromboli is meatballs, marinara sauce and cheese wrapped in pizza dough topped with everything bagel seasoning. An easy weeknight meal recipe!
Instructions
Preheat oven to 400 degrees.

Spread your pizza dough on a lightly floured surface and roll into a 13×9 inch rectangle.

Down the center, spread out mozzarella cheese. Top with meatballs in pairs of two.

Spoon marinara sauce over meatballs.

Cut 1-inch cuts diagonally up the side of your dough. Fold up one end first, then braid the dough in so there is space allowing steam to vent.

Using a pastry brush, brush top with beaten egg. Sprinkle everything bagel mix over the top, allowing it to stick.

Transfer to a baking sheet with cornmeal or grits on the bottom (to prevent sticking).

Bake for 15-17 minutes, or until top is lightly browned.

Remove and allow to rest for 5 minutes before topping with shredded Parmesan cheese.

Slice and serve. I like to serve mine with additional marinara sauce for dipping!

If you've tried this recipe, come back and let us know how it was!
Nutrition
Calories:
463
kcal
,
Carbohydrates:
48
g
,
Protein:
24
g
,
Fat:
18
g
,
Saturated Fat:
7
g
,
Cholesterol:
86
mg
,
Sodium:
1073
mg
,
Potassium:
199
mg
,
Fiber:
1
g
,
Sugar:
6
g
,
Vitamin A:
340
IU
,
Vitamin C:
1.3
mg
,
Calcium:
285
mg
,
Iron:
3.4
mg