Salmon- you either love it or hate it. Except for this recipe where I turned my close friend from a salmon-hater to a believer.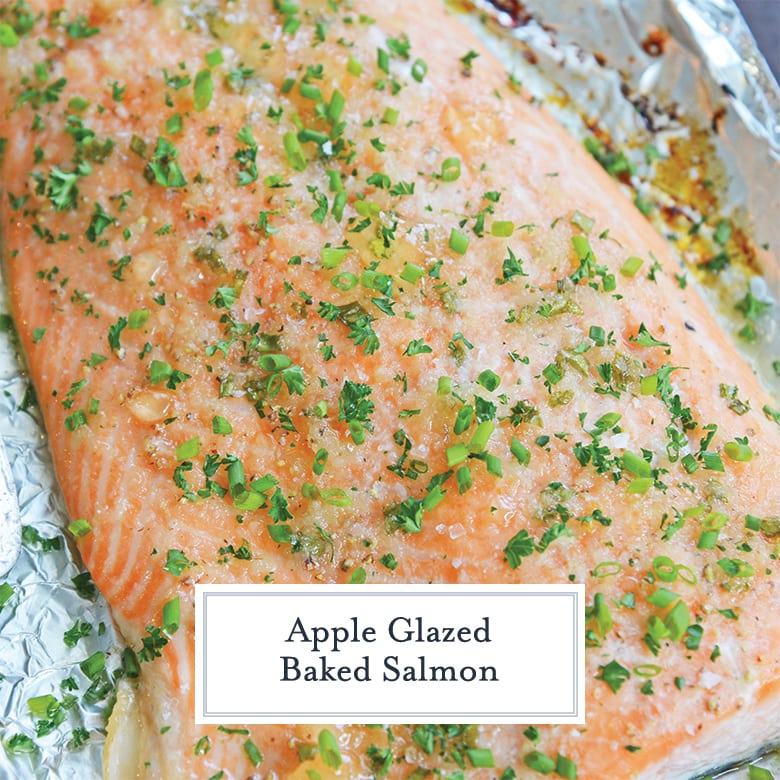 Baked Salmon Recipe
Baking salmon is one of the most popular ways to prepare it. Closely followed by grilling, broiling, pan fry and of course, smoking.
One of the reasons people love it so much is how easy it is! Don't get me wrong, I love a lemon dill, BBQ or pesto salmon like the rest of them, but the flavor profiles don't tend to vary much. Same old, same old.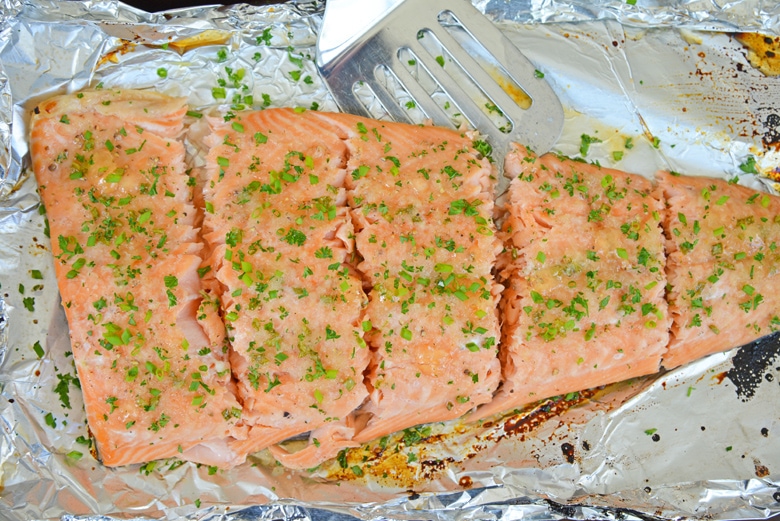 Before you start judging this easy salmon recipe, just hear me out. Yes, apples and horseradish sound gross but the sweetness of jelly combined with tartness of horseradish is just a perfect mix. Trust me, it is zippy.
What? I thought you said it was APPLE Baked Salmon?
Salmon Glaze
Yes, apple and horseradish. In fact, here is the whole list.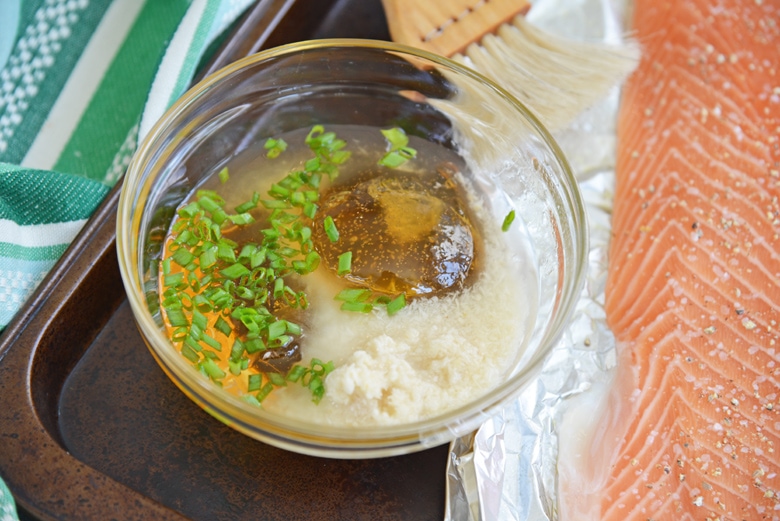 Apple jelly – this serves as the sugar you'd usually add, mostly commonly in form of honey or maple syrup.
Champagne Vinegar- vinegar adds the acidity that balance sweet and savory flavors. You can also use white wine or apple cider.
Horseradish– this is the "AH" element and rightfully so, but the pungent punch of prepared horseradish isn't overwhelming when paired with sweet flavors. Think about it paired with sweet ketchup for cocktail sauce.
Chives– if onions are for you, omit them. I like the fresh crunch they give in the sauce and for garnish. Scallions are also acceptable.
Apple Juice– more sweet and just enough to bind it all together.
Kosher salt & Freshly Ground Pepper– according to taste.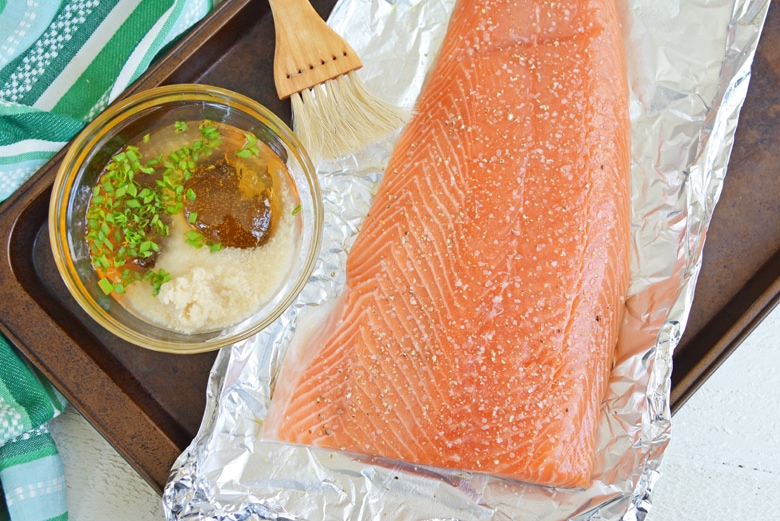 Farm Raised vs Wild Caught
What is the difference between farm raised and wild caught salmon?
Wild caught salmon is generally lower in fat and calories because it is leaner from doing all that swimming upstream. The color is a deep, almost neon reddish-pink and it is usually thinner. It is higher in iodine and other contaminants are unknown because the fisher has no idea what it has come in contact with. It is also more expensive.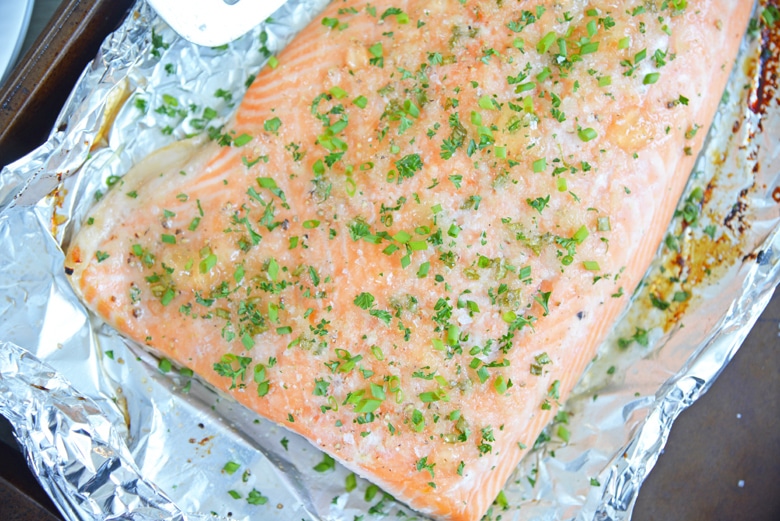 Farm raised is a little less expensive, more of a light pink color, thicker and more fatty. These fish are generally given antibiotics to prevent disease in their pens and fed a diet of grains and corn since they aren't finding food in their natural habitat. Many are farmed sustainably to protect the population in the wild.
There are pros and cons to both farm raised and wild caught salmon. This is a sustainably farm raised Atlantic salmon that has never been frozen.
How to Bake Salmon
Since salmon is fairly fatty (the good kind), it can withstand high temperatures. Pair that with the optimal doneness being medium and you've got a pretty short cook time meaning that baking is ideal.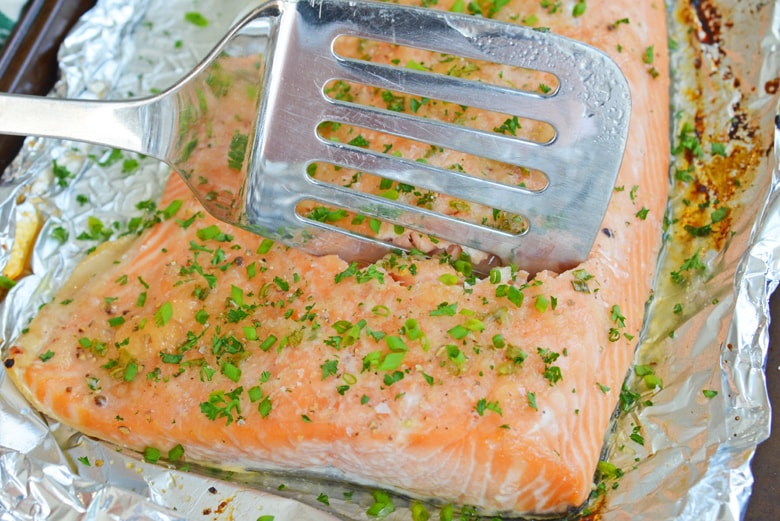 For nearly any fillet, line a rimmed baking sheet with aluminum foil or parchment to prevent sticking. Heat oven to 350-400 degrees.
How long do you bake salmon? Bake for 12-15 minutes for 1 inch thickness, more or less accordingly. Meat will be opaque and flaky. This works universally with almost all seasonings, rubs and sauces.
I sometimes opt to give mine a quick trip under the broiler just to brown the sugars in my glaze, but that is totally optional and will burn if you are simply using a rub.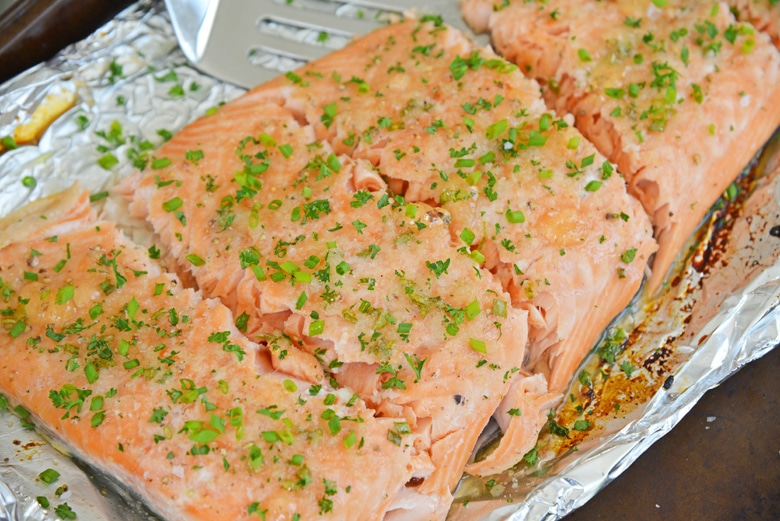 I don't see the point in doing a foil wrapped salmon- it is essentially steaming it and can actually take longer to cook. There is no benefit to the tenderness of the fibers or flavor.
Grilled Salmon
Heat grill to medium-high heat, around 350-400 degrees. Oil grates well to prevent sticking. Also oil a fish basket to prevent sticking, if using.
Use the same marinade and instructions of first and second coat, but instead cook on indirect heat for 15-20 minutes, depending on thickness. On average, pieces will be 1 inch thick.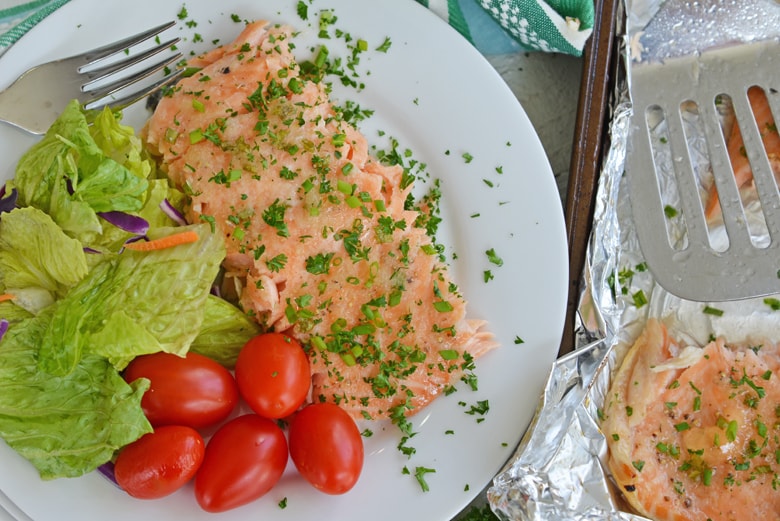 Salmon Temperature
We are heading into murky territory, foodie friends. Technically speaking, salmon can be eaten raw, which means that if handled and stored properly, you are also free to eat it rare and anything above that.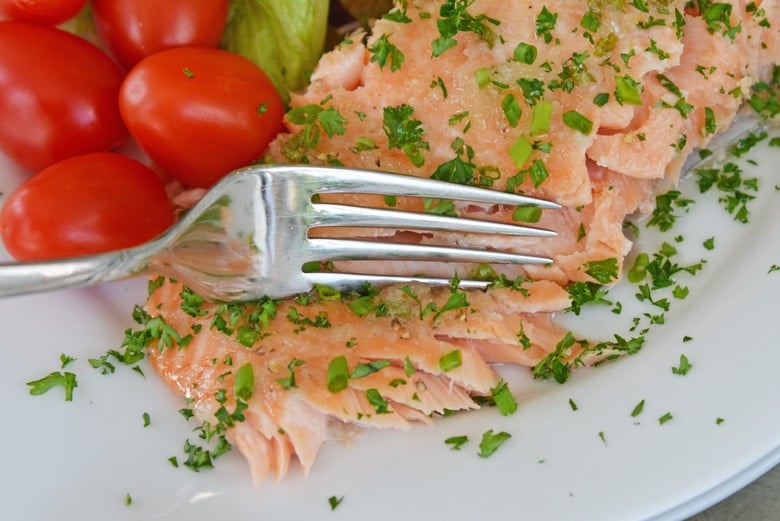 Most restaurants serve it medium, which is an internal temperature of 125 degrees, BUT the USDA recommends 145, which to many of us will be overdone.
Keep in mind that the reason most people don't like making salmon at home is because it gets dry and that is usually a result of overcooking.
What to Serve with Salmon
Anything, really. I usually do some sort of vegetable or leafy green salad with a starch. Here are some of my favorites.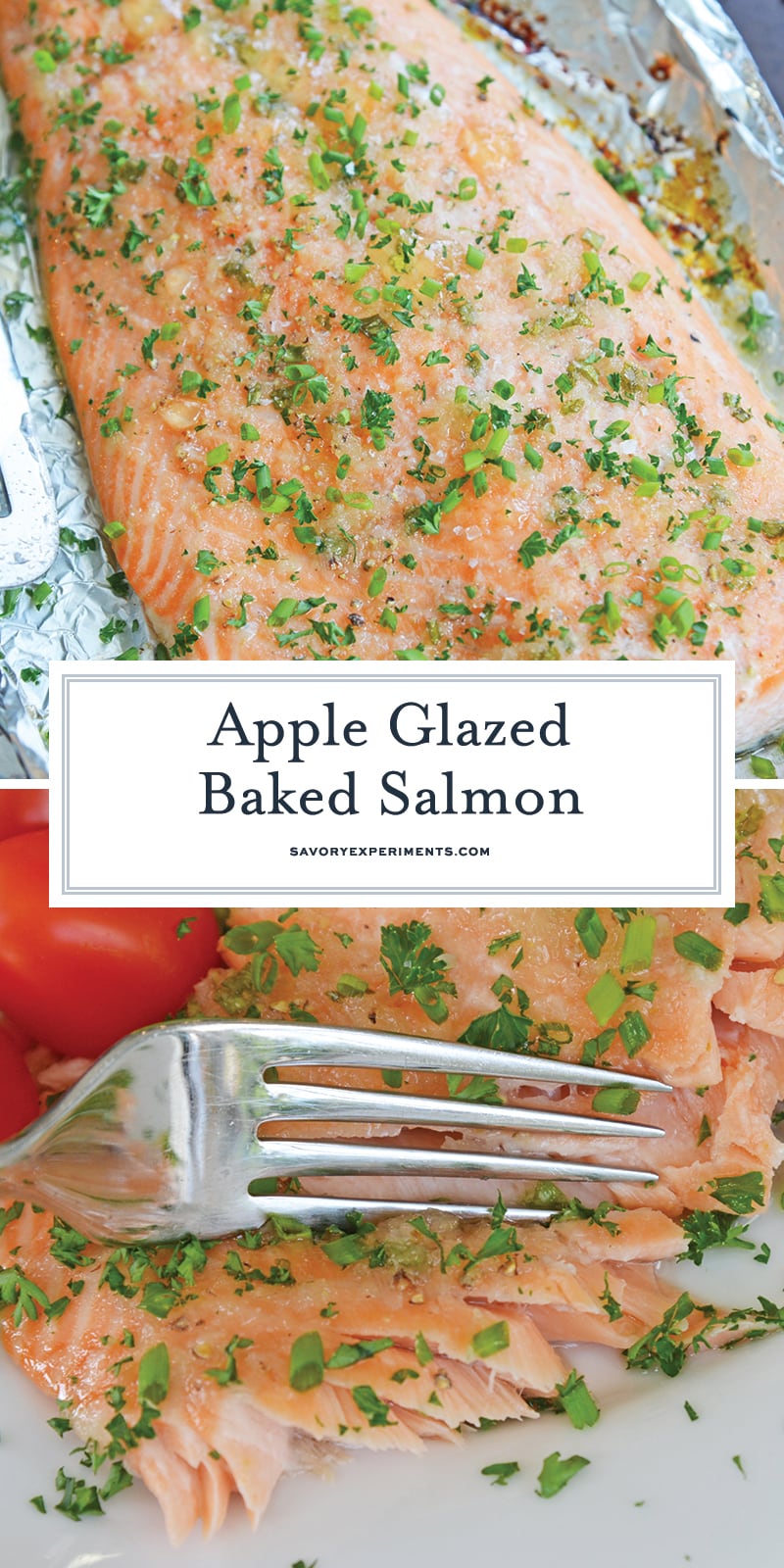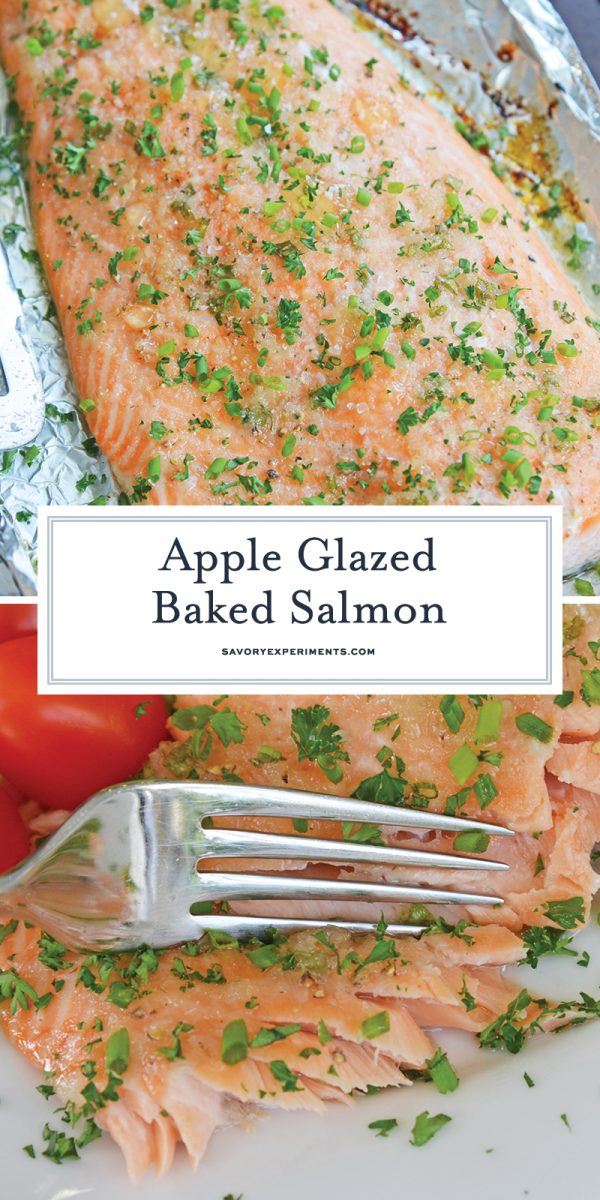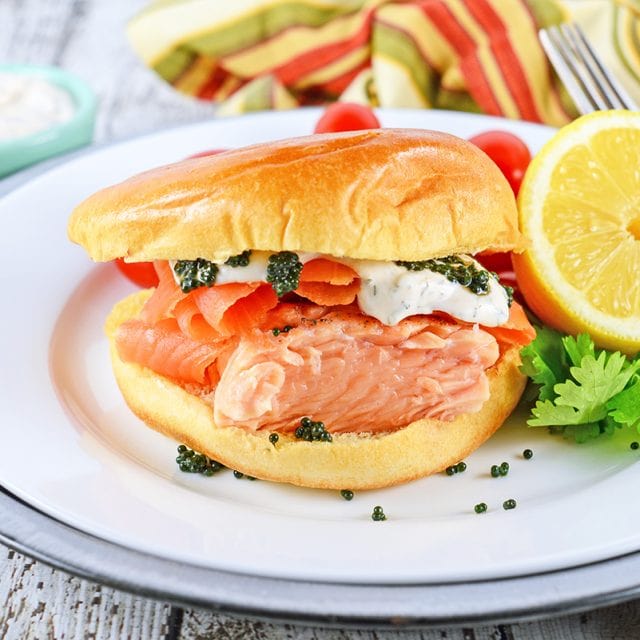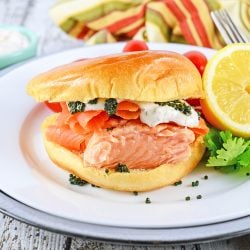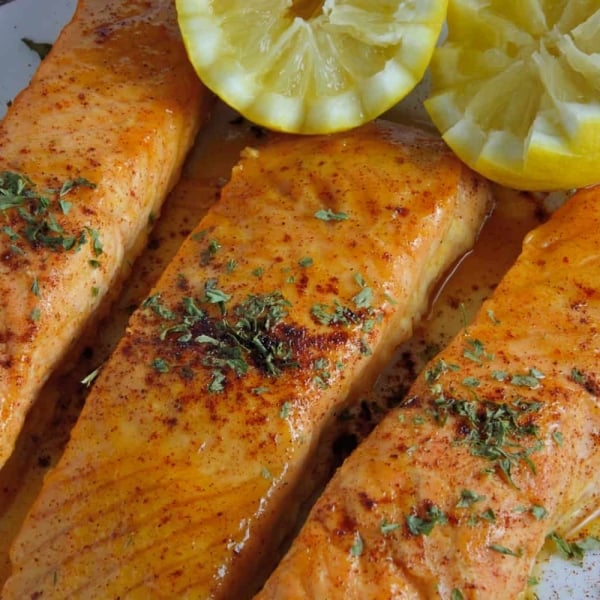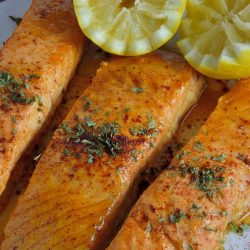 Ancho Citrus Salmon
Ancho Citrus Baked Salmon is a simple, easy, low fat, vitamin packed, deliciously tasty recipe! This ancho citrus marinade is an ideal sauce to use for salmon!
See The Recipe!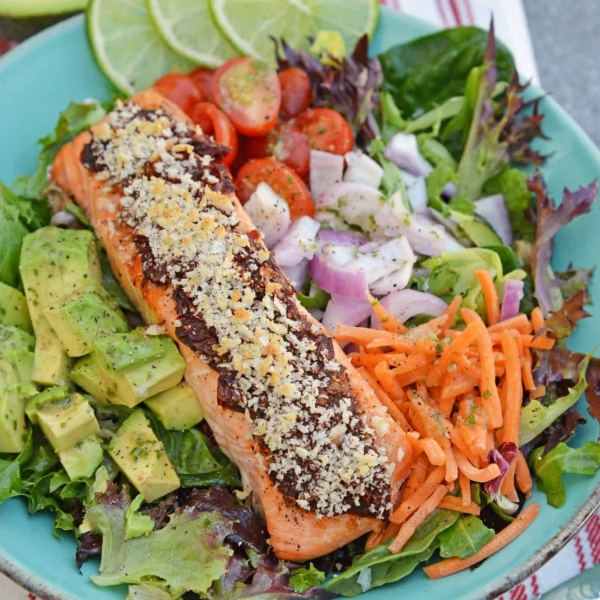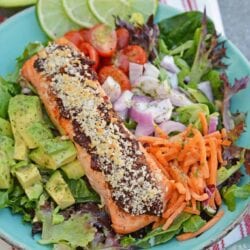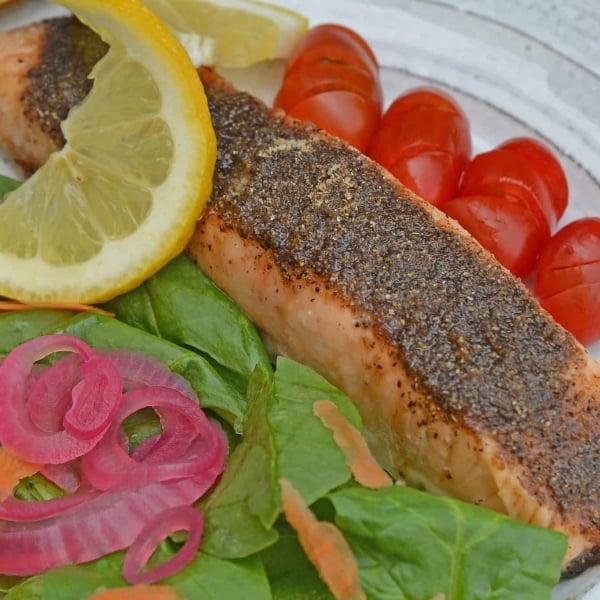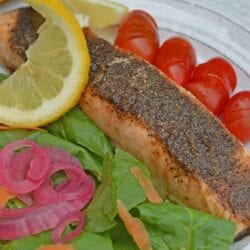 Pastrami Spiced Salmon
Pastrami Salmon Rub is a blend of the perfect salmon seasoning! Not only for baked salmon, this rub also work for grilled salmon and salmon kabobs!
See The Recipe!
Tools for making salmon recipes:
9 x 13 Glass Baking Dish– an absolute essential for any kitchen! Use it for baking, marinating or storing. Get one with a lid, you'll thank me later.
Wood cutting board – wood won't dull your knives like plastic and if treated properly, has natural antimicrobial properties.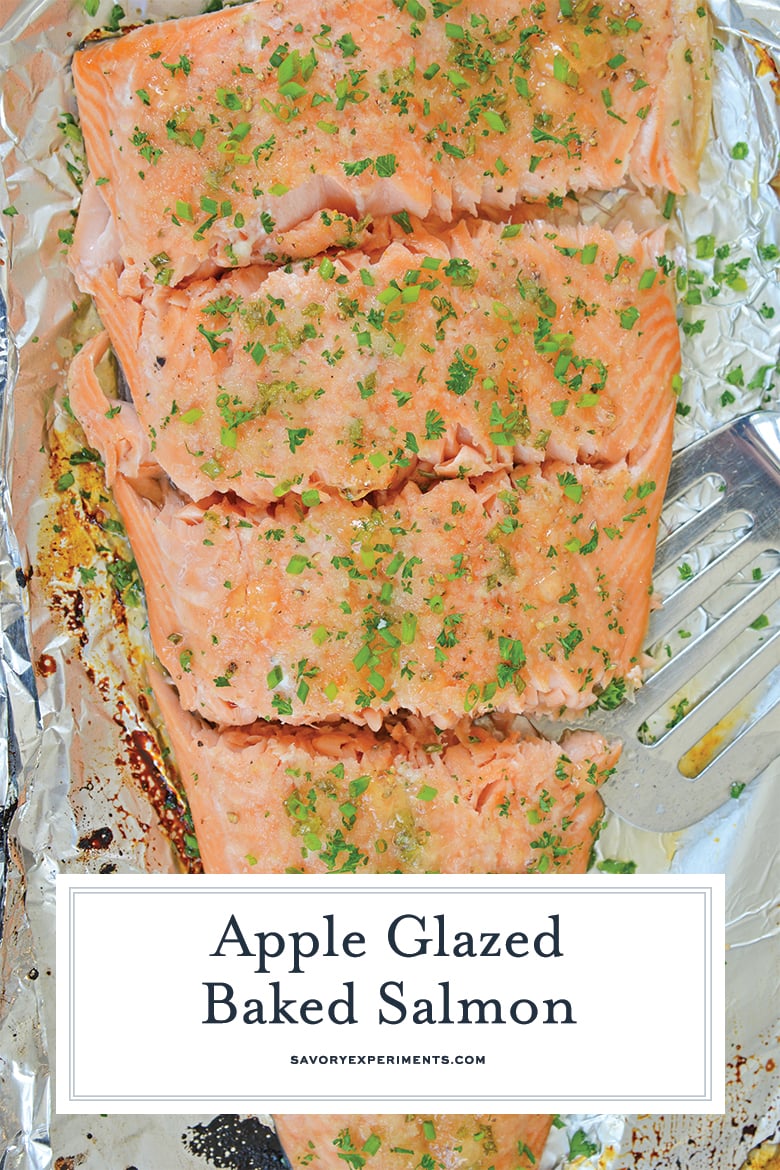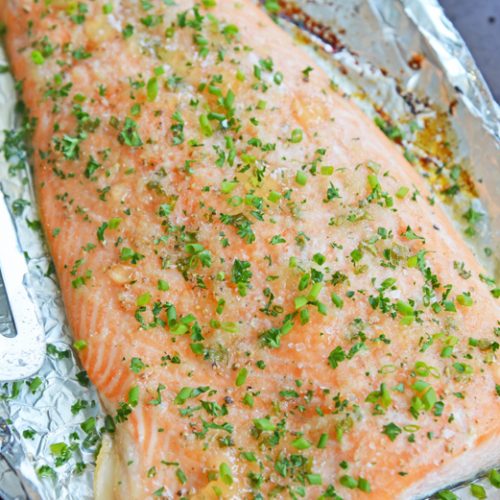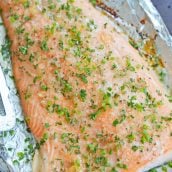 Apple Glazed Baked Salmon Recipe
Moist and quick baked salmon with an apple and horseradish glaze. Sweet and savory for the perfect weeknight dinner idea!
Instructions
Preheat oven to 350 degrees.

Rinse fish, pat dry and place in a deep glass baking dish coated in cooking spray. Season fish with kosher sea salt and freshly ground pepper.

In a small bowl, combine apple jelly, vinegar, horseradish, apple juice and chives. Mix well, however there may be lumps and it will be a little milky. This is normal.

Baste over salmon filet, reserving anything leftover, you'll baste it again.

Bake uncovered, for 10 minutes. Remove, baste again and turn oven to high broil. Broil for 1-2 minutes until edges brown slightly.

Remove and allow to sit for 5 minutes before serving. Garnish with additional chives and/or chopped parsley.

If you've tried this recipe, make sure to come back and let us know how you liked it!
Nutrition
Calories:
378
kcal
,
Carbohydrates:
33
g
,
Protein:
34
g
,
Fat:
10
g
,
Saturated Fat:
1
g
,
Cholesterol:
93
mg
,
Sodium:
121
mg
,
Potassium:
915
mg
,
Sugar:
24
g
,
Vitamin A:
100
IU
,
Vitamin C:
6.4
mg
,
Calcium:
33
mg
,
Iron:
1.6
mg