Need something healthy in under 20 minutes? I got it! This Balsamic Salmon Salad will leave you feeling full and satisfied while providing you vitamins, nutrients, protein and dietary fiber!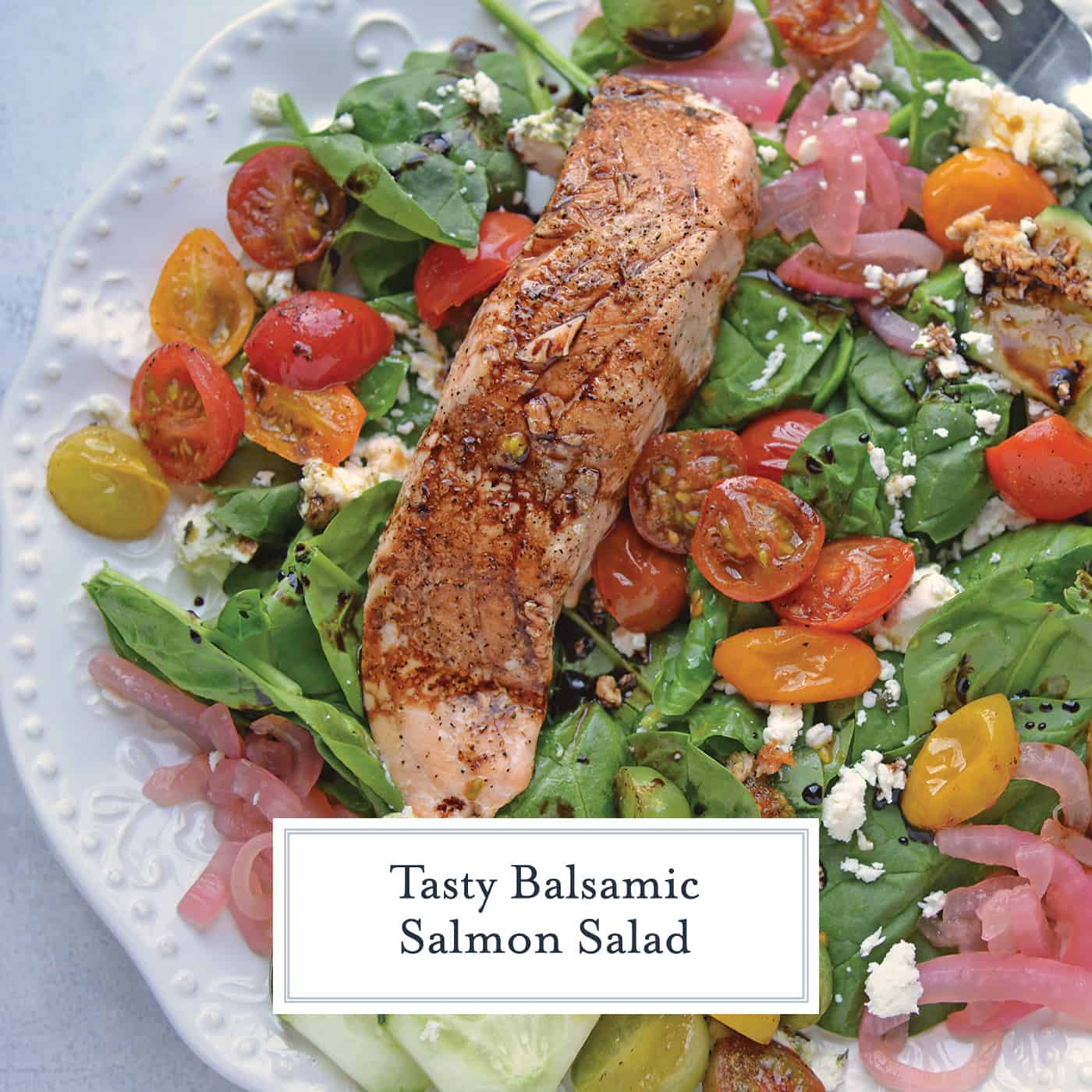 Balsamic Salmon Salad is an easy salad recipe that can be made for a weeknight dinner, or even an on the go lunch. Serve with herbed chèvre bread for a delicious combination!
This dish leaves you with two options. You can opt to prepare it carbohydrate free, but it also pairs wonderfully with herbed chèvre on a slice of crusty, warm bread. Chèvre being nothing other than a fancy word for goat cheese.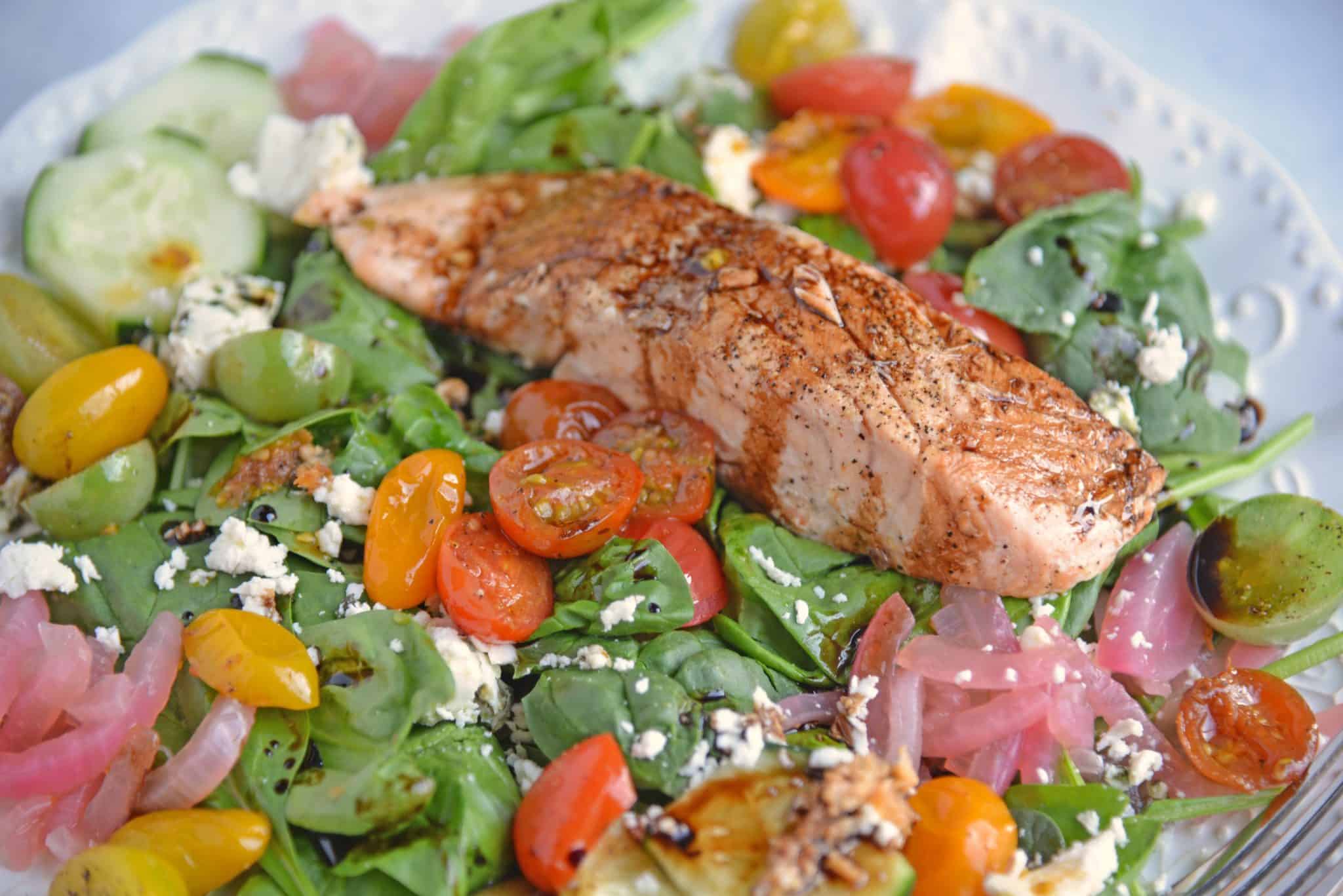 A note for my culinary guru's out there: when chèvre is served hot is is called chèvre chaud. One can buy already prepared herbed chèvre at the grocery store or you can mince up your favorite combination of fresh herbs and mash them into a room temperature slab of plain chèvre.
This Balsamic Salmon Salad is also great for prepping ahead of time and taking for lunch the next day; unless you don't want to be "that person" who heats up fish in the lunchroom.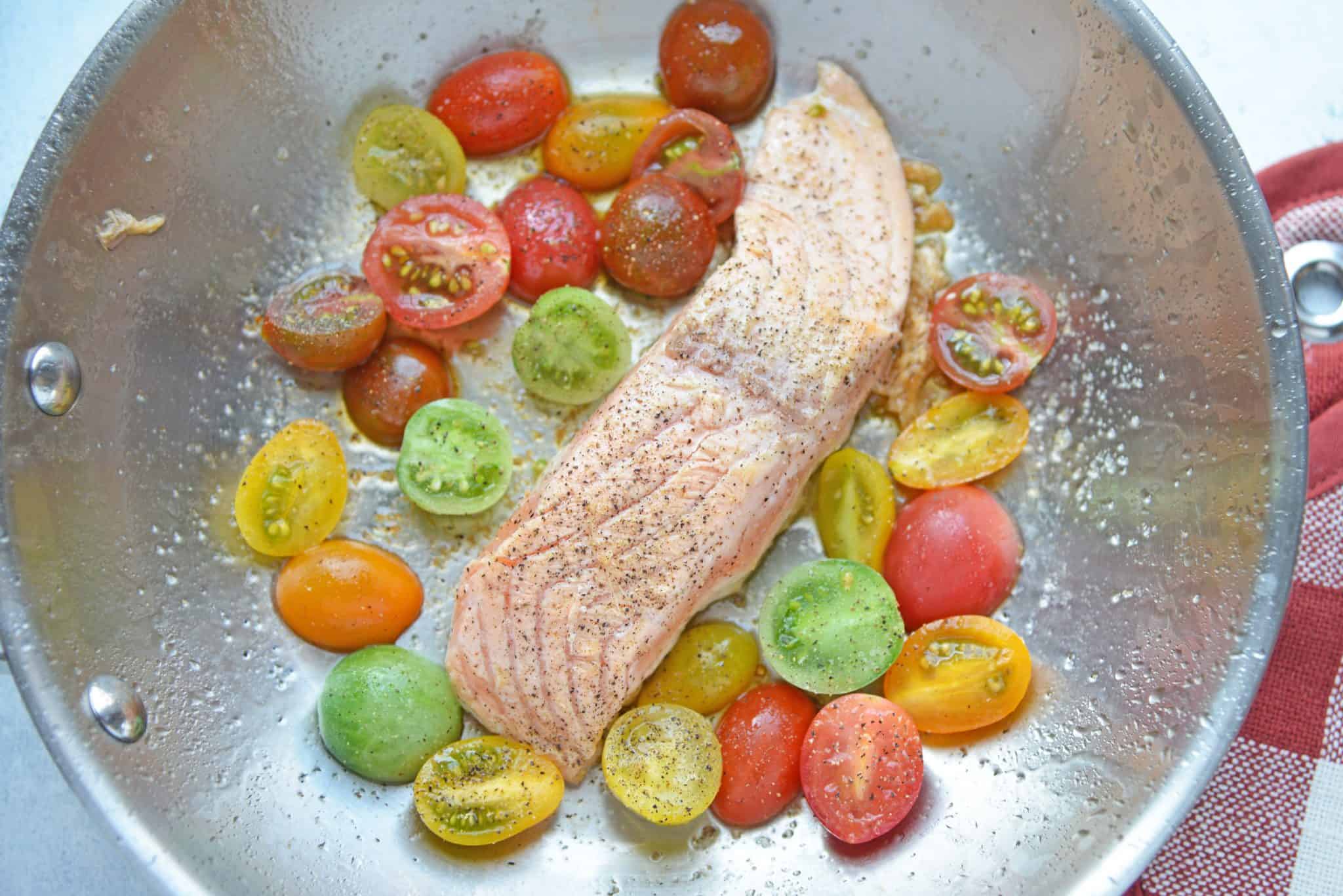 But I'm telling you it's worth doing, cause this salmon salad will not only fill you up, but leave you feeling energized and pleased!
Actually they say salmon is a food that should be eaten pretty regularly. It's packed full of omega 3 and polyunsaturated fats – which can help lower your cholesterol levels and the risk of heart disease. Those fats are crucial for our bodies and can only be acquired through food like salmon.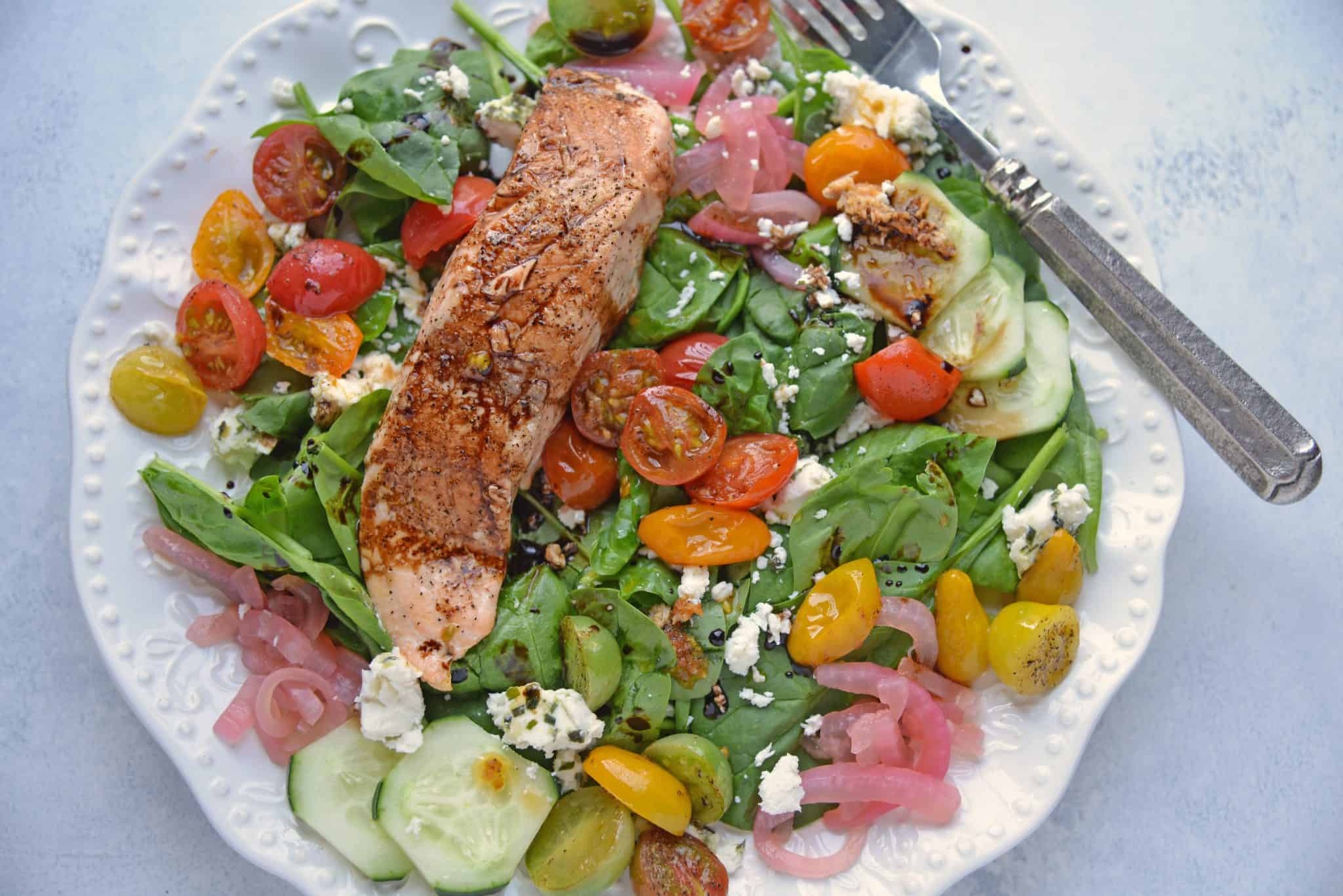 Just knowing that, I'm going to try and see ways I can incorporate salmon into my diet. Considering salmon can be be baked, grilled, fried, or smoked, there are quite a few options of dishes to choose from!
If you loved this salmon recipe, check out these other easy salad recipes: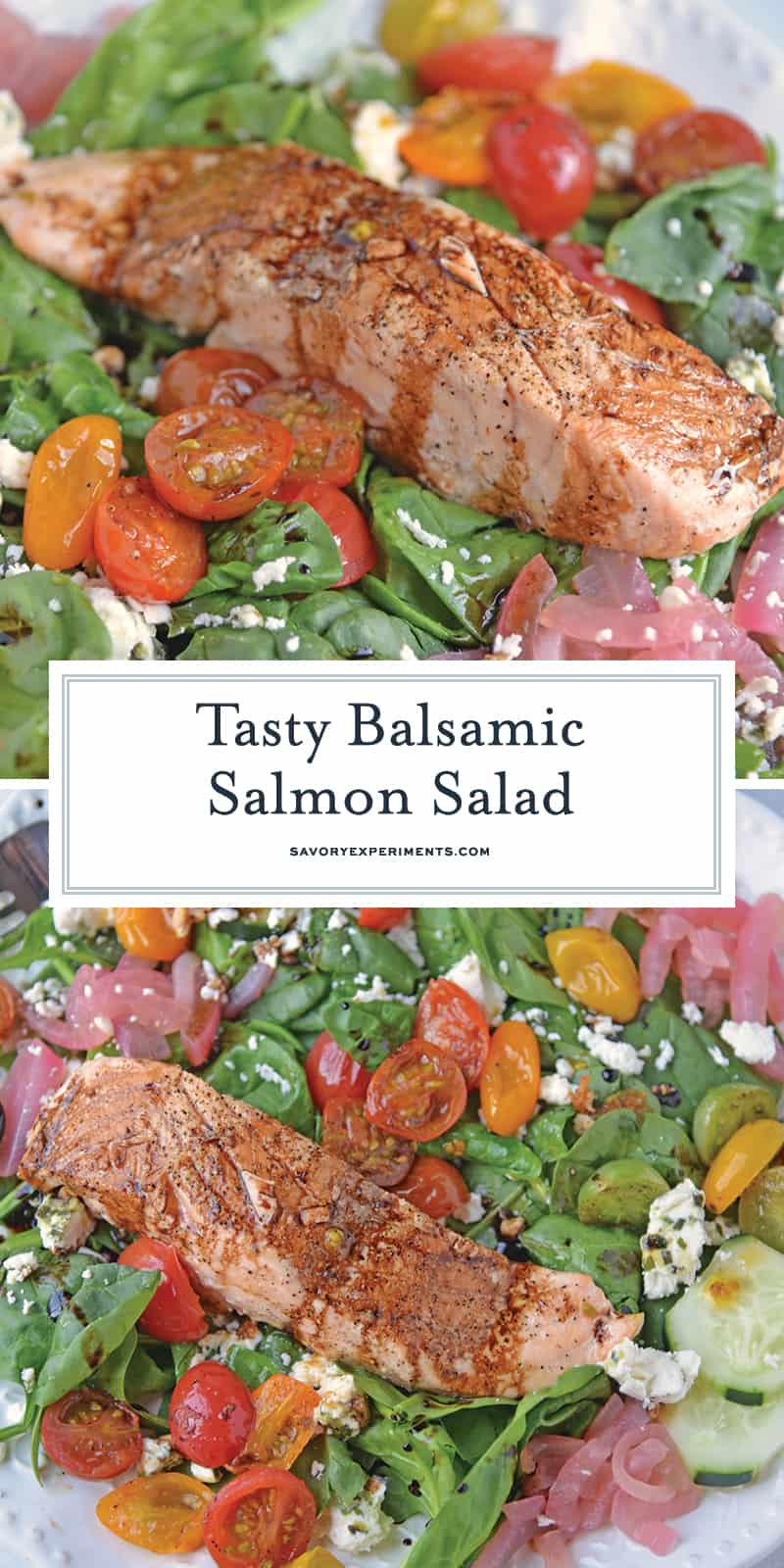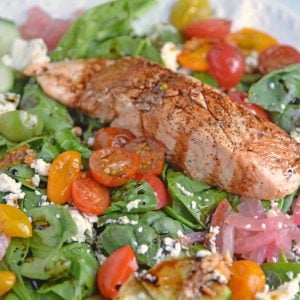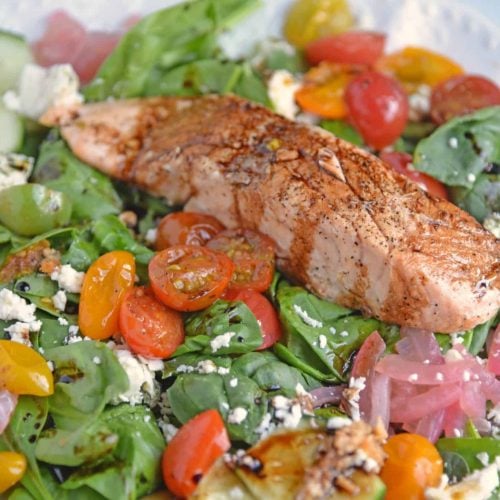 Balsamic Salmon Salad
Balsamic Salmon Salad is an easy salad recipe that can be made for dinner, or even an on the go lunch! Serve with chèvre bread for a delicious combination!
Course:
Main Course, Main Dish
Keyword:
salmon salad recipe
Ingredients
4

salmon fillets

Fine sea salt and freshly ground black pepper

1/2

red onion

, thinly sliced

2

cups

cherry tomatoes

, halved

1/2

cup

balsamic vinegar

Cooking Spray
Instructions
Season salmon fillets with fine sea salt and pepper. Set aside.

Coat a medium skillet with cooking spray and heat over medium. Add onions. Cook until soft and opaque, approximately 5-7 minutes. Add balsamic vinegar and tomatoes. Continue to cook for 3-5 minutes or until balsamic starts to reduce and tomato skins start to loosen. Remove from heat and set aside.

Heat a large frying pan or skillet over high heat. When hot, coat with cooking spray. Place salmon fillets, seasoned side down, into the hot skillet. Cover and cook for 3-4 minutes. Turn and repeat on the other side. Times may vary depending on thickness of the fillet.

Remove from skillet and top with balsamic onions and tomatoes. Serve with herbed chevre bread if desired. Enjoy!

If you've tried this recipe, come back and let us know how it was!
Nutrition Facts
Balsamic Salmon Salad
Amount Per Serving
Calories 288
Calories from Fat 90
% Daily Value*
Total Fat 10g 15%
Cholesterol 93mg 31%
Sodium 90mg 4%
Potassium 1051mg 30%
Total Carbohydrates 9g 3%
Protein 34g 68%
* Percent Daily Values are based on a 2000 calorie diet.