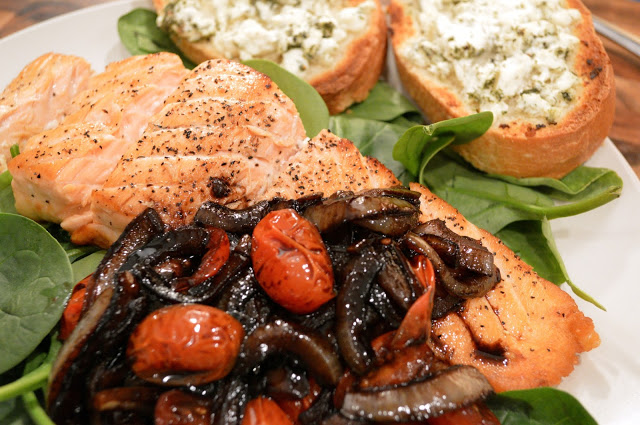 Need something healthy in under 20 minutes? I got it! This dish will leave you feeling full and satisfied while providing you vitamins, nutrients, protein and dietary fiber. It is also great for prepping ahead of time and taking for lunch the next day; unless you don't want to be "that person" who heats up fish in the lunch room.
This dish leaves you with two options. You can opt to prepare it carbohydrate free, but it also pairs wonderfully with herbed chevre on a slice of crusty, warm bread. Chevre being nothing other than a fancy word for goat cheese. A note for my culinary guru's out there: when chevre is served hot is is called chevre chaud. One can buy already prepared herbed chevre at the grocery store or you can mince up your favorite combination of fresh herbs and mash them into a room temperature slab of plain cherve.
Time: 30 minutes
Serves: 4
Ingredients for Seared Salmon with Tomato Balsamic Reduction
4 salmon fillets (4-6 ounces each)
Fine sea salt and freshly ground black pepper
1/2 red onion, thinly sliced
2 cups cherry tomatoes, halved
1/2 cup balsamic vinegar
Cooking Spray
Herbed Chevre (goat cheese) and Bread (optional)

1. Season salmon fillets with fine sea salt and pepper. Set aside.
2. Coat a medium skillet with cooking spray and heat over medium. Add onions. Cook until soft and opaque, approximately 5-7 minutes. Add balsamic vinegar and tomatoes. Continue to cook for 3-5 minutes or until balsamic starts to reduce and tomato skins start to loosen. Remove from heat and set aside.
3. Heat a large frying pan or skillet over high heat. When hot, coat with cooking spray. Place salmon fillets, seasoned side down, into the hot skillet. Cover and cook for 3-4 minutes. Turn and repeat on the other side. Times may vary depending on thickness of the fillet.
4. Remove from skillet and top with balsamic onions and tomatoes. Serve with herbed chevre bread if desired. Enjoy!