Need something healthy in under 20 minutes? I got it! This Balsamic Salmon Salad will leave you feeling full and satisfied while providing you vitamins, nutrients, protein and dietary fiber!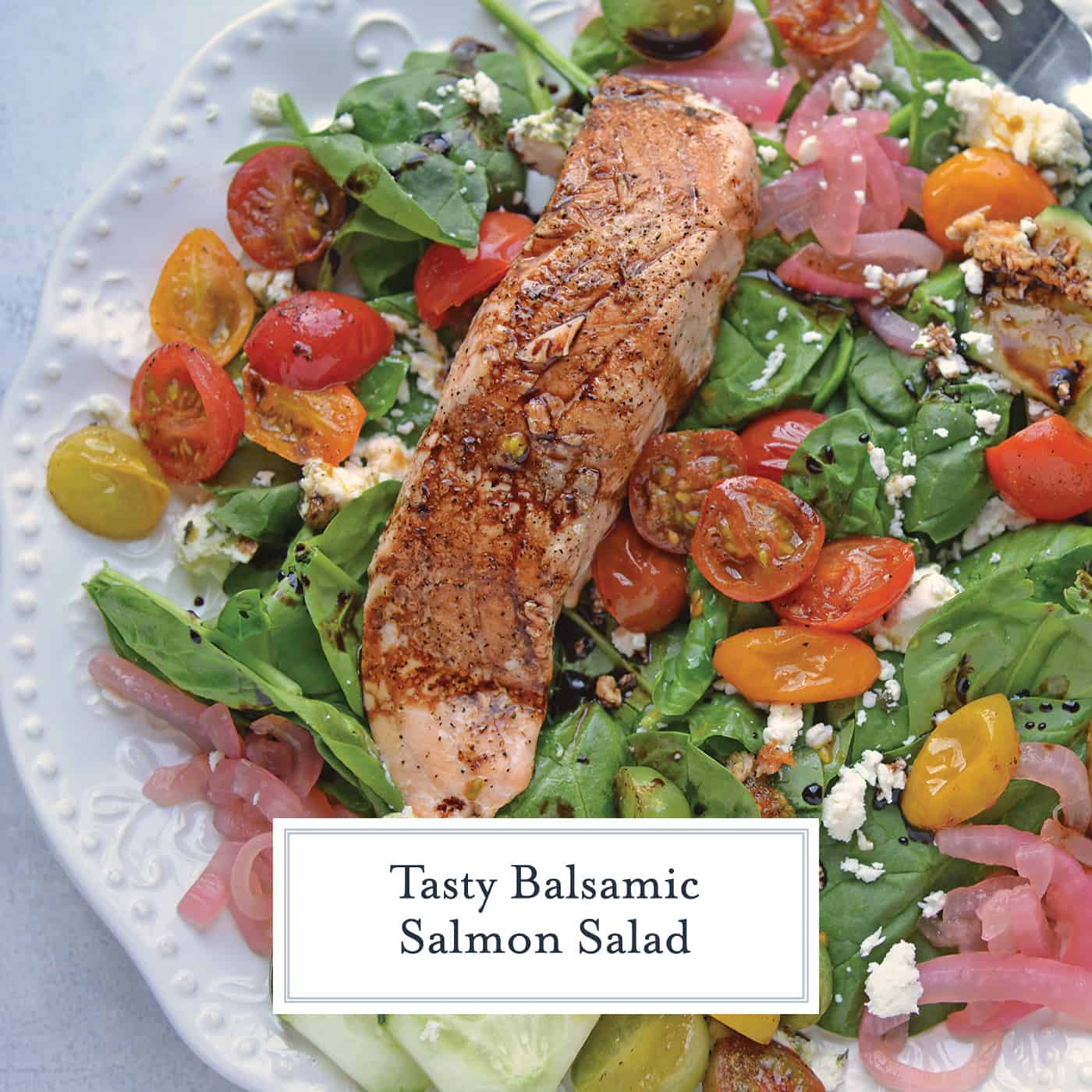 Balsamic Salmon Salad is an easy salad recipe that can be made for a weeknight dinner, or even an on-the-go lunch. Serve with herbed chèvre bread for a delicious combination!
This dish leaves you with two options. You can opt to prepare it carbohydrate free, but it also pairs wonderfully with herbed chèvre on a slice of crusty, warm bread.
Chèvre being nothing other than a fancy word for goat cheese.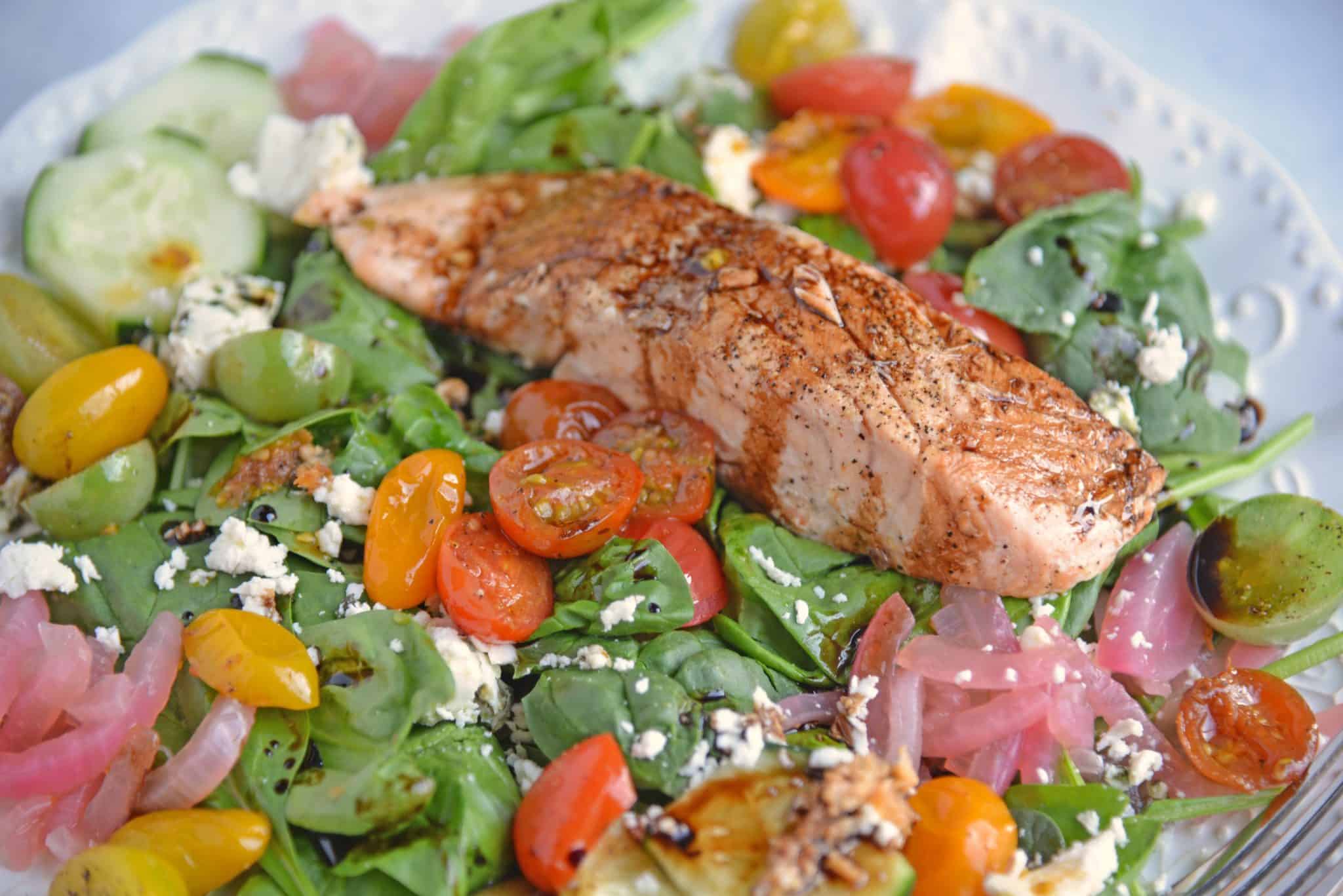 A note for my culinary guru's out there: when chèvre is served hot is is called chèvre chaud. One can buy already prepared herbed chèvre at the grocery store or you can mince up your favorite combination of fresh herbs and mash them into a room temperature slab of plain chèvre.
This Balsamic Salmon Salad is also great for prepping ahead of time and taking for lunch the next day; unless you don't want to be "that person" who heats up fish in the lunchroom.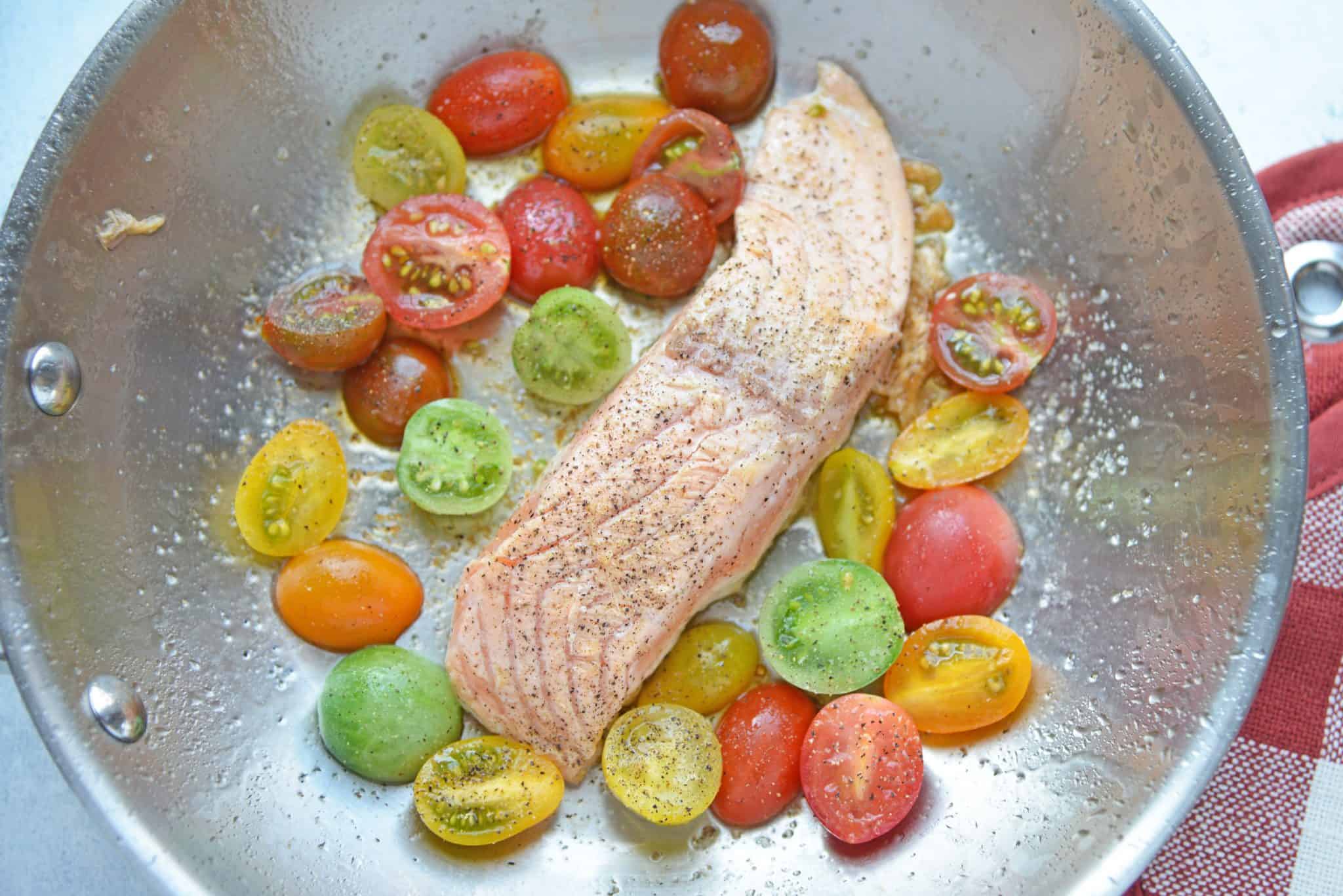 But I'm telling you it's worth doing, cause this salmon salad will not only fill you up, but leave you feeling energized and pleased! You can also eat it cold.
Actually they say salmon is a food that should be eaten pretty regularly. It's packed full of omega 3 and polyunsaturated fats – which can help lower your cholesterol levels and the risk of heart disease. Those fats are crucial for our bodies and can only be acquired through food like salmon.
Just knowing that, I'm going to try and see ways I can incorporate salmon into my diet. Considering salmon can be be baked, grilled, fried, or smoked, there are quite a few options of dishes to choose from!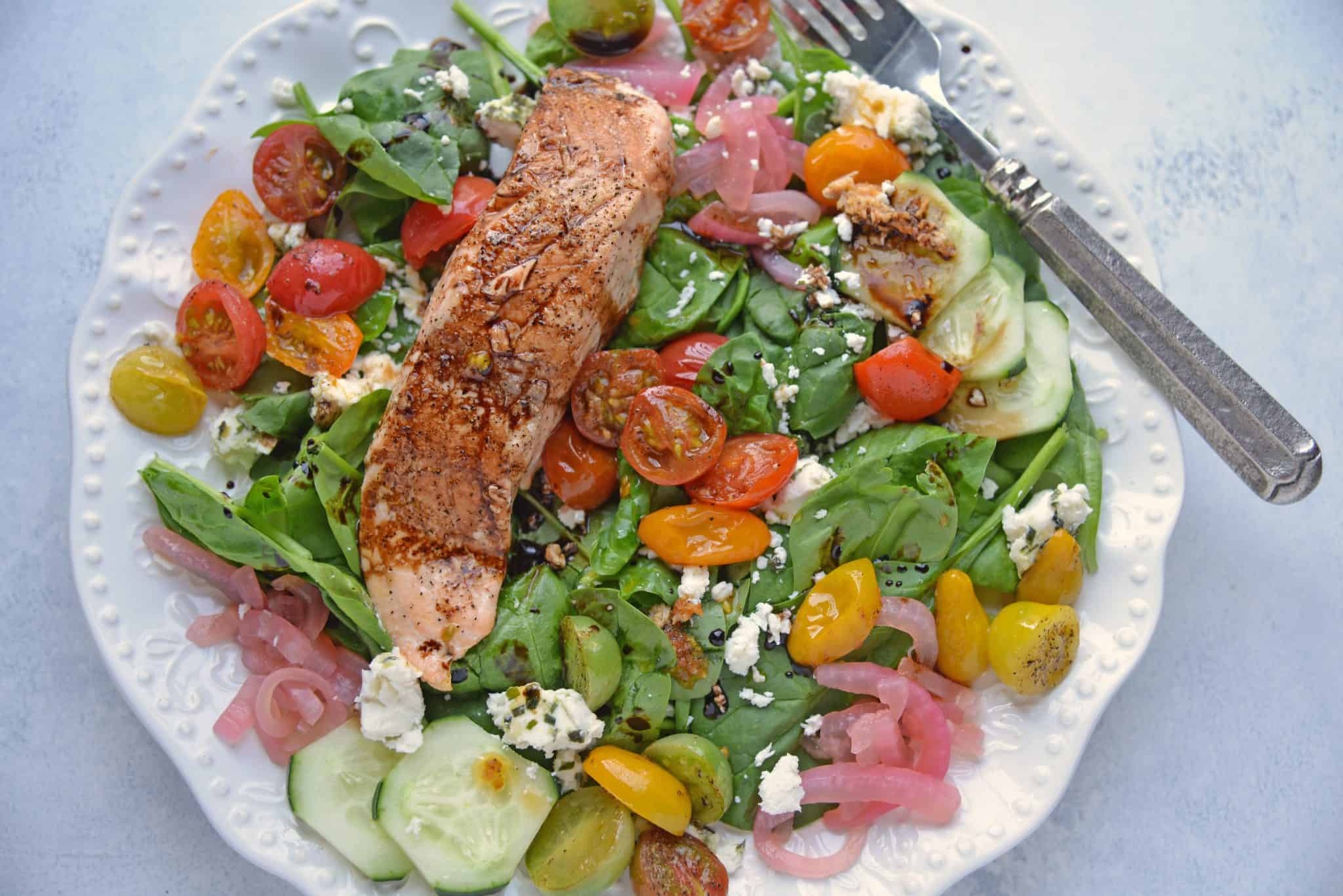 Salmon fillets are seasoned with salt and pepper and baked to perfection. Placed over a bed of greens, tomatoes and onions are quickly pickled in balsamic vinegar and that sauce is used as the homemade salad dressing.
Some like to use Dijon mustard and other seasonings in the dressing, but honestly since the balsamic vinegar is reduced a little in this recipe, it doesn't need anymore zing and tang. It has both the acidity and sweet elements we love in a salad by being basic.
If desired, you can drizzle a really good olive oil over the salad. See my notes below on making sure you are a using a good olive and not just a subpar one.
You can also skip this dressing and use a balsamic glaze, if you choose.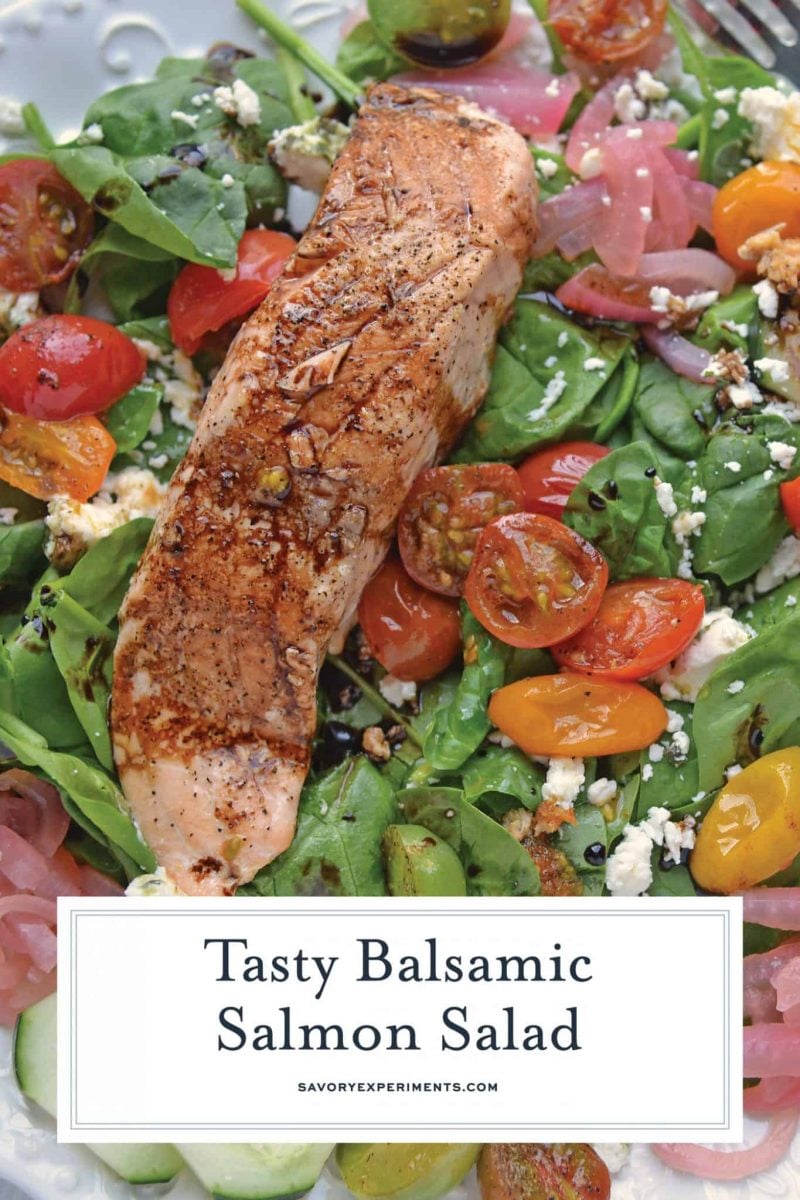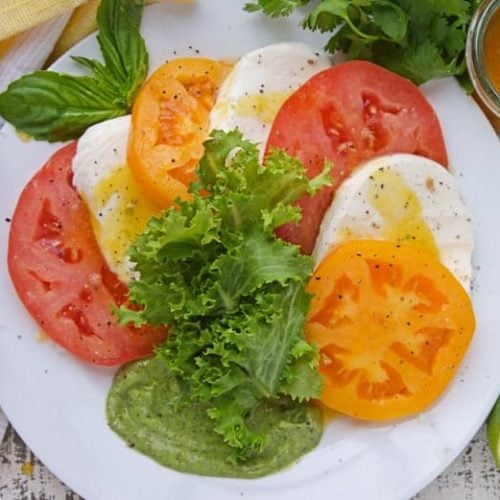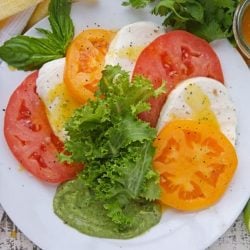 Passion Fruit Caprese Salad
Passion Fruit Caprese Salad, a summer salad offered by Omni Hotels & Resorts, combines a sweet and spicy serrano-passion fruit dressing and avocado spread with a traditional Caprese salad.
View this recipe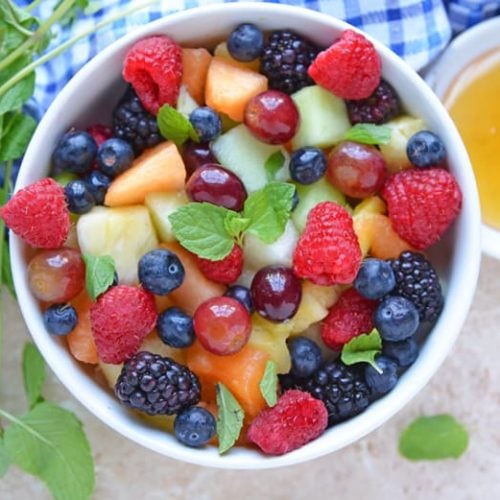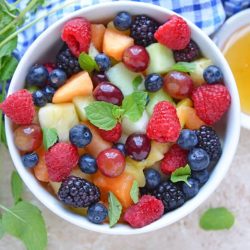 Fresh Fruit Salad Recipe
This is the best fruit salad recipe! With an easy fruit salad dressing of agave and fresh mint, it's the perfect refreshing salad recipe for summer!
View this recipe
Green Curry Steak Salad
Green Curry Steak Salad uses a seared steak with a sweet and mildly spicy green curry sauce over Romaine lettuce and charred bell pepper and carrots. The perfect summer salad recipe!
View this recipe
Tools for making salmon salad:
Heavy Bottom Frying Pan– this will be one of your most used kitchen tools. Having something that is heavy bottom will distribute heat better and prevent burning whether you are using an electric or gas range.
Wood cutting board – wood won't dull your knives like plastic and if treated properly, has natural antimicrobial properties.
Good knife – Global is my favorite! They are worth the price, I promise. I am kind of obsessed with them and store them tucked away so no one else can use them. Including hubby. Hands off my good stuff!
Good Extra Virgin Olive Oil– A good olive oil will taste like, well, olives, while a poorly made one will taste like vegetable oil. Gross. While people tend to favor Italian and Greek olive oils, I prefer to buy mine domestically.
There are some great ones out there from all over the world, but the reporting of ingredients isn't always the same and you could find that your super expensive olive oil was actually cut with vegetable oil.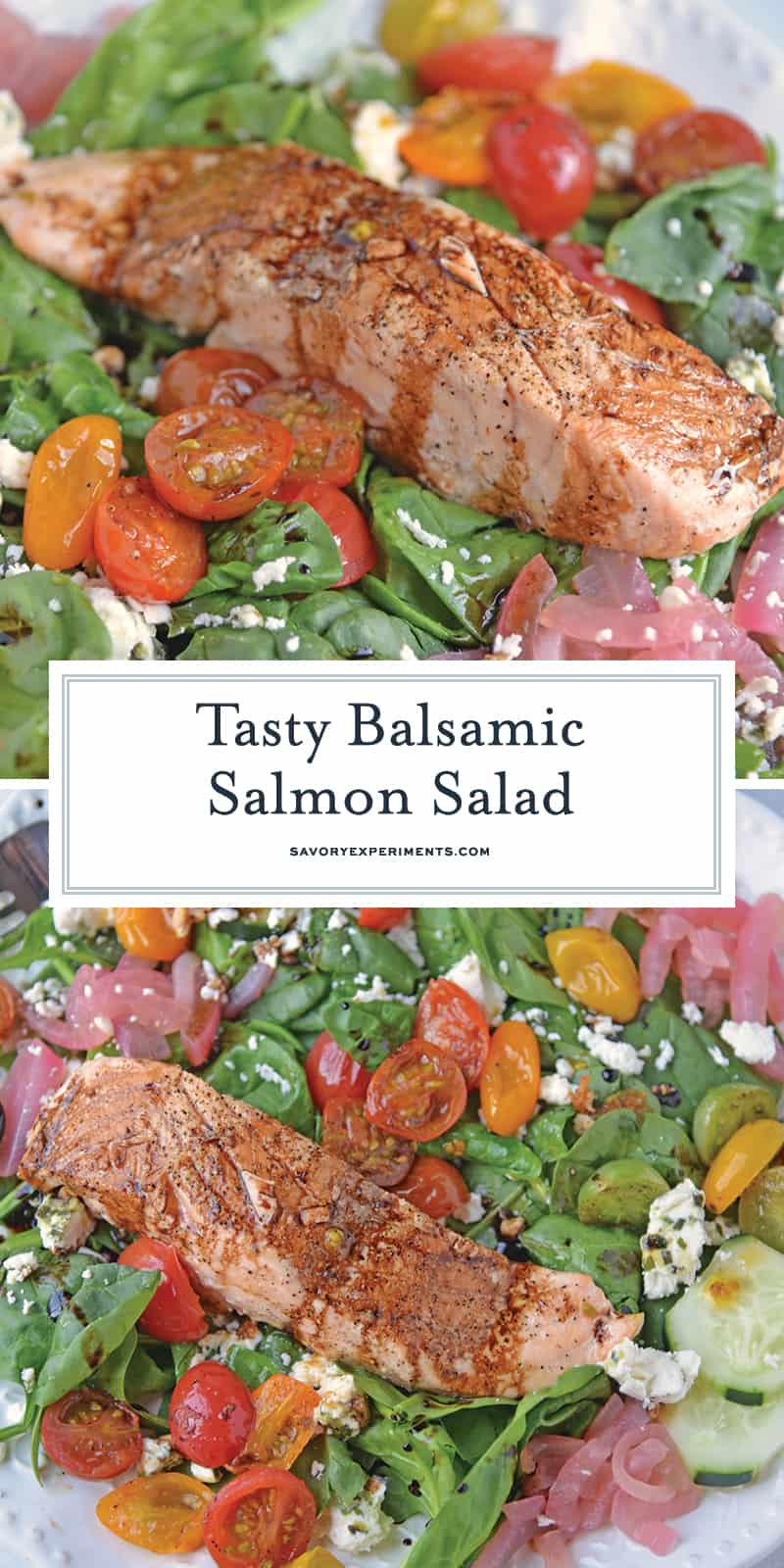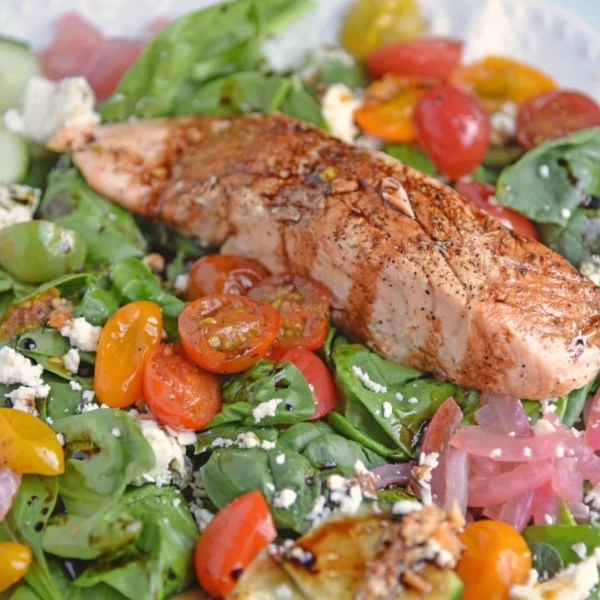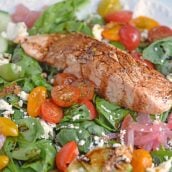 Balsamic Salmon Salad Recipe
Balsamic Salmon Salad is an easy salad recipe that can be made for dinner, or even an on the go lunch! Serve with chèvre bread for a delicious combination!
Instructions
Season salmon fillets with fine sea salt and pepper. Set aside.

Coat a medium skillet with cooking spray and heat over medium. Add onions. Cook until soft and opaque, approximately 5-7 minutes. Add balsamic vinegar and tomatoes. Continue to cook for 3-5 minutes or until balsamic starts to reduce and tomato skins start to loosen. Remove from heat and set aside.

Heat a large frying pan or skillet over high heat. When hot, coat with cooking spray. Place salmon fillets, seasoned side down, into the hot skillet. Cover and cook for 3-4 minutes. Turn and repeat on the other side. Times may vary depending on thickness of the fillet.

Remove from skillet and top with balsamic onions and tomatoes. Serve with herbed chevre bread or just crumbled chevre or goat cheese over the salad, if desired. Enjoy!

If you've tried this recipe, come back and let us know how it was!
Nutrition
Calories:
288
kcal
,
Carbohydrates:
9
g
,
Protein:
34
g
,
Fat:
10
g
,
Saturated Fat:
1
g
,
Cholesterol:
93
mg
,
Sodium:
90
mg
,
Potassium:
1051
mg
,
Sugar:
7
g
,
Vitamin A:
430
IU
,
Vitamin C:
18
mg
,
Calcium:
40
mg
,
Iron:
2.1
mg