Pastrami Salmon Rub has quickly become one of our quick dinner recipes. The salmon seasoning mix comes together quickly and creates a fragrant smell while cooking.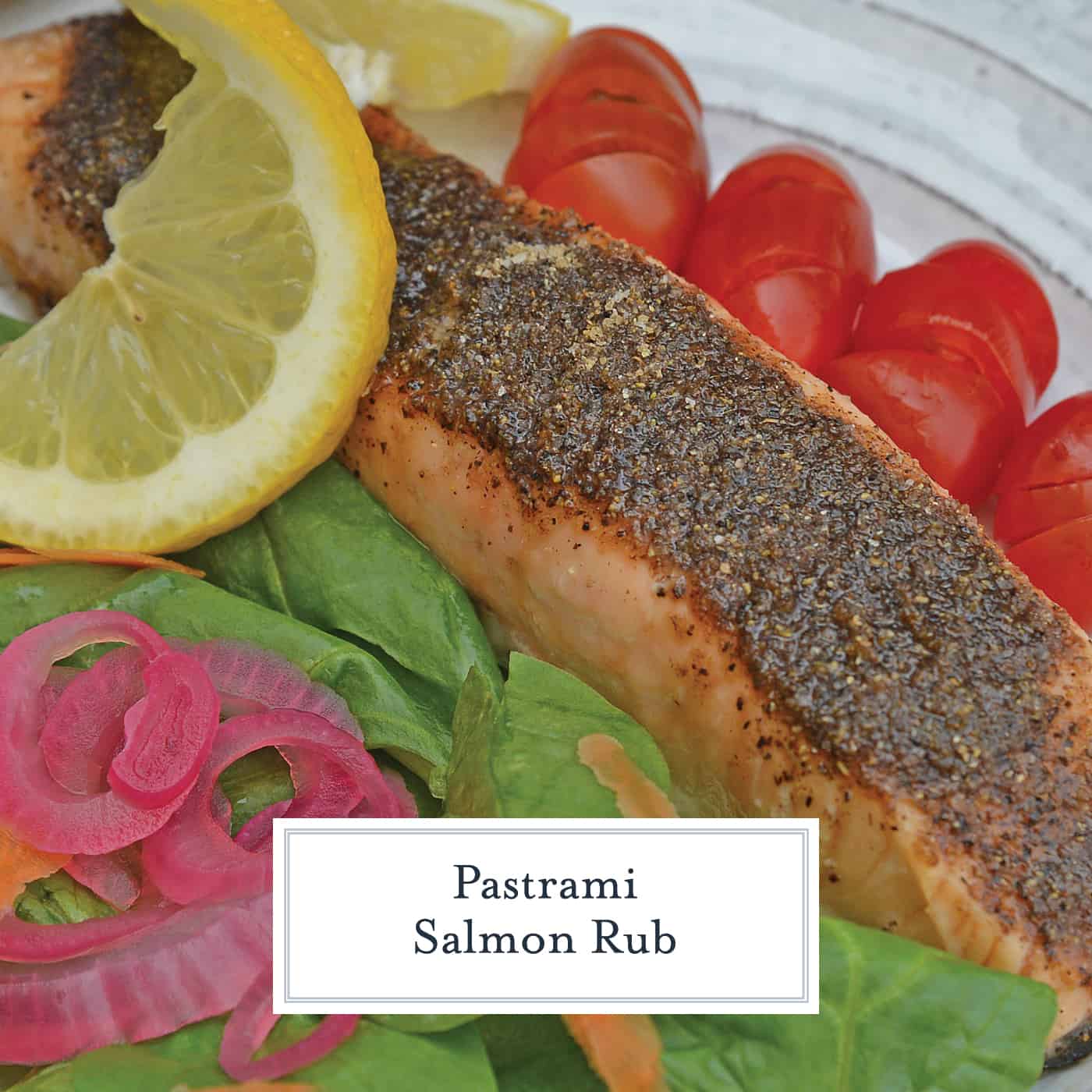 Pastrami Salmon Rub is a blend of the perfect salmon seasoning! Not only for baked salmon, this rub also work for grilled salmon and salmon kabobs!
Pastrami in the United States is commonly thought of as just beef. Pastrami actually refers to the food preparation rather than the actual meat.
It is a system of curing and preserving all types of meats: lamb, turkey, beef, chicken. So if that is the case, why can't we pastrami some salmon?
For our pastrami salmon rub, we are going to skip the brining, smoking, steaming and drying part of the pastrami making process and skip right to the good stuff- the pastrami rub!
Brown sugar helps create a caramelized glaze balancing out the rest of the tangy flavors. Together it is not enough to overpower the fish.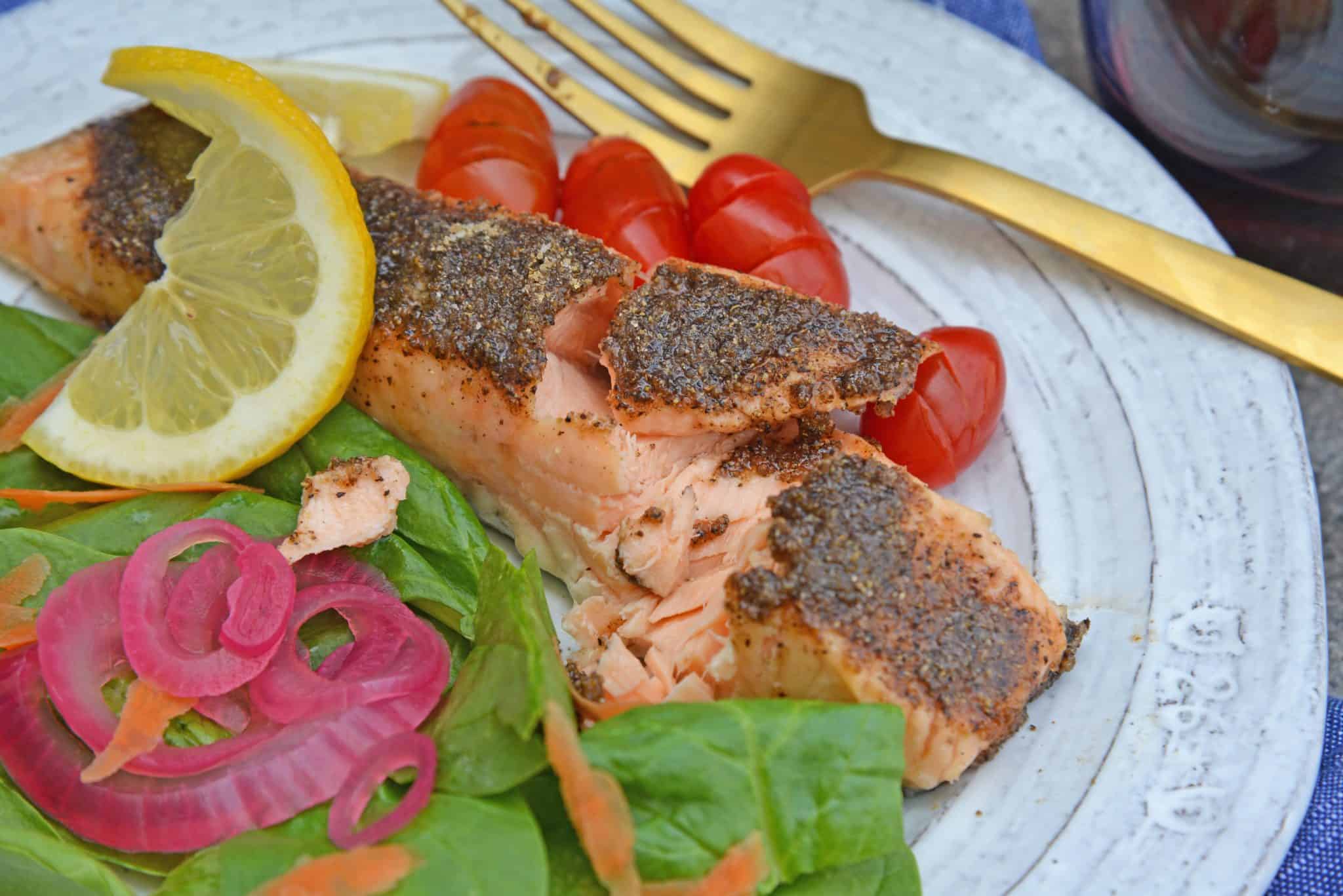 Simple preparation, extreme sophistication and less than 30 minutes from fridge to table. This is the best kind of salmon recipe if you ask me!
Please be mindful of salmon cooking times. While this recipe states 10 minutes, this can vary greatly depending on the thickness of your salmon filets. Mine were approximately 1/2 inch thick.
Most home cooks make the mistake of overcooking salmon and then deeming it to be something they only order in restaurants.
The truth is, salmon should be prepared medium and the moment you start to see white oozing from the sides, known as albumin which is a coagulated protein, then you have already cooked it just a little too long! Salmon should be cooked to an internal temperture of 145 degrees.
The only way to ensure you don't overcook your salmon is using a meat thermometer. When you think about it, as long as the salmon has been handled properly and kept at the correct temperatures, people eat the stuff raw all the time, so you should be okay!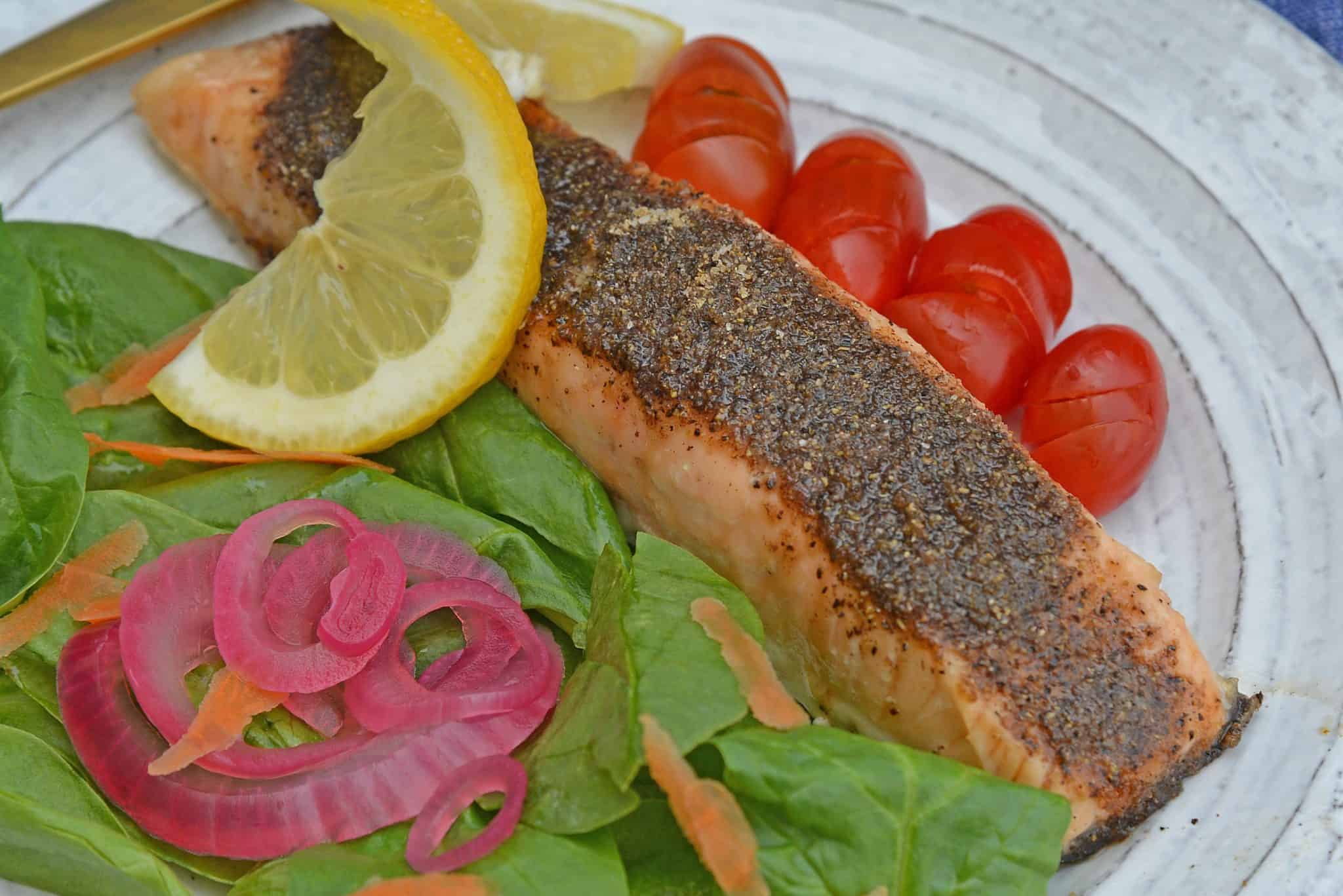 We generally pair our baked salmon with a side of Toasted Couscous or Almond Rice and steamed vegetables.
Tools for making Pastrami Salmon Rub:
Meat Thermometer – The ONLY way to ensure you are properly cooking meat, seafood and fish. Every kitchen should have one, I prefer my digital version so I don't have to open the oven (reducing the oven temperature and lengthening cooking times) every time I need to check.
Quality Olive Oil – Many olive oils imported from Italy are cut with vegetable oil and are not quality. I order mine from California where I know that the US FDA is monitoring that it is 100% pure olive oil.
You'll immediately taste the difference. This brand is suitable for cooking, salad dressing and bread dips.
If you enjoyed our Pastrami Salmon Rub, you'll also love these other easy salmon recipes: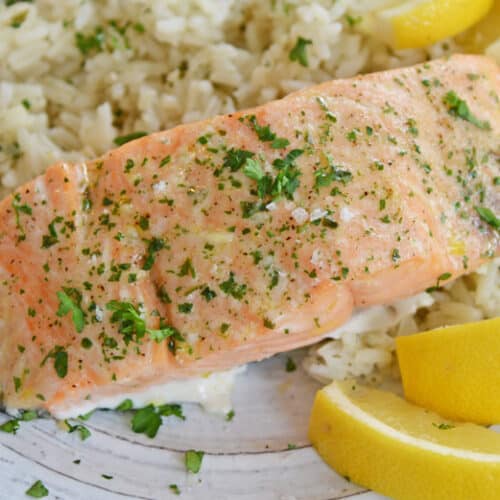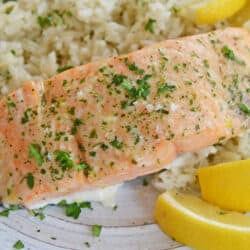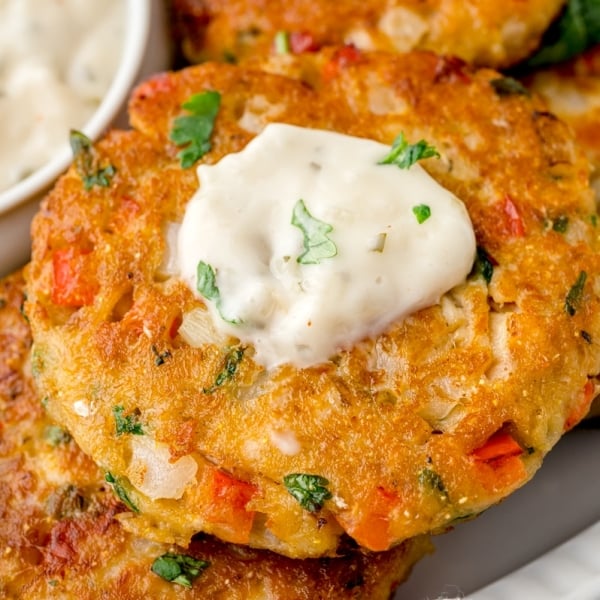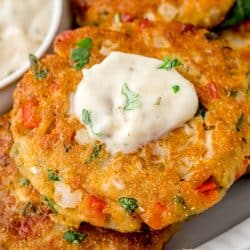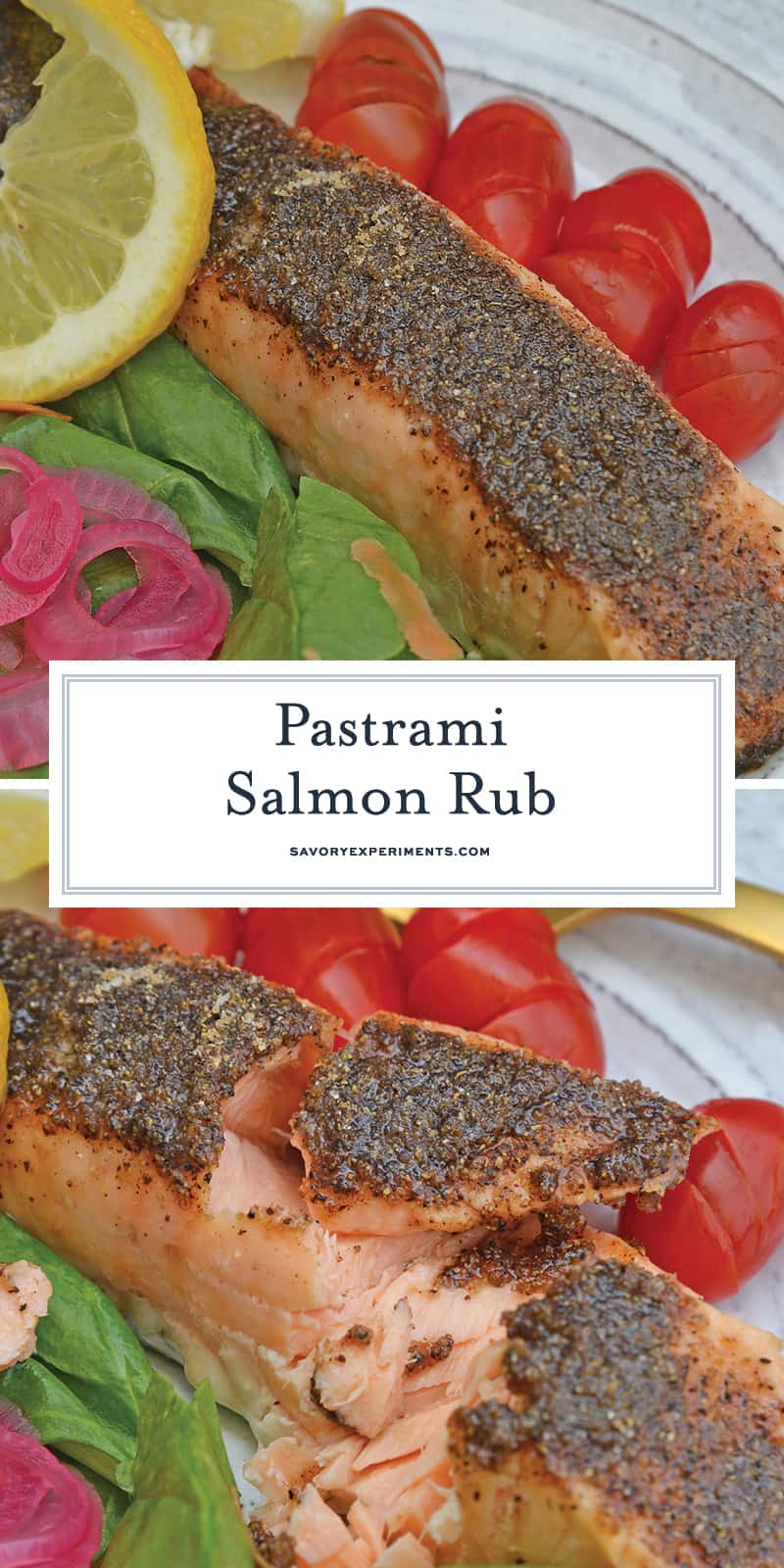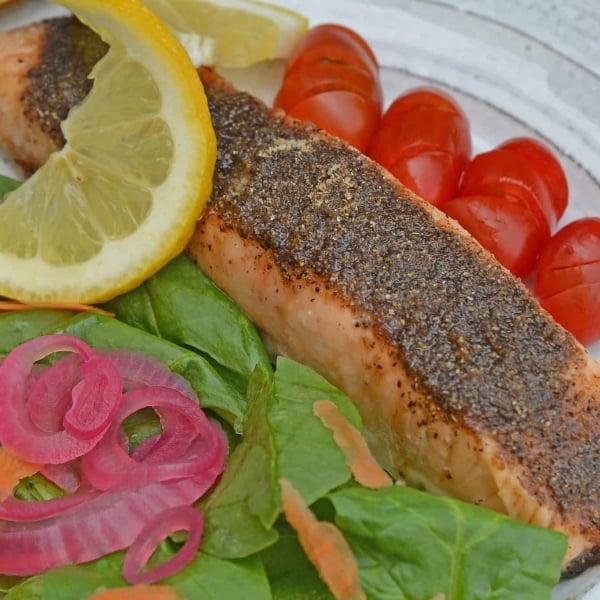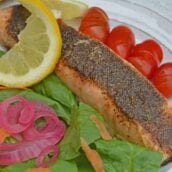 Pastrami Spiced Salmon
Pastrami Salmon Rub is a blend of the perfect salmon seasoning! Not only for baked salmon, this rub also work for grilled salmon and salmon kabobs!
Instructions
Combine brown sugar, sea salt, garlic powder, ground ginger, ground coriander, black pepper and ground allspice in a small dish.

Rinse salmon with cold water and pat dry. Place in an oven safe dish coated with cooking spray.

Rub olive oil evenly over both fillets. Spoon spice mix onto the salmon. Pat down to secure in olive oil. Place in the refrigerator for 15 minutes.

Preheat oven to 400 degrees. Remove fish from refrigerator. Bake for 10 minutes. Switch oven to broil and broil for 1-2 minutes or until spice mixture is browned and bubbly.

Remove from oven and allow to sit for 3-4 minutes. Serve and enjoy!

If you've tried this recipe, please come back and let us know how it was!
Notes
Make sure to use a coarse sea salt and not regular iodized salt or fine salt.
Nutrition
Calories:
328
kcal
,
Carbohydrates:
17
g
,
Protein:
34
g
,
Fat:
13
g
,
Saturated Fat:
2
g
,
Cholesterol:
93
mg
,
Sodium:
2407
mg
,
Potassium:
922
mg
,
Fiber:
1
g
,
Sugar:
11
g
,
Vitamin A:
70
IU
,
Vitamin C:
0.6
mg
,
Calcium:
39
mg
,
Iron:
2.1
mg