If you're in need of a quick and easy weeknight meal, this BBQ Baked Salmon is for you! With simple ingredients like brown sugar and dijon mustard, this baked salmon is the best!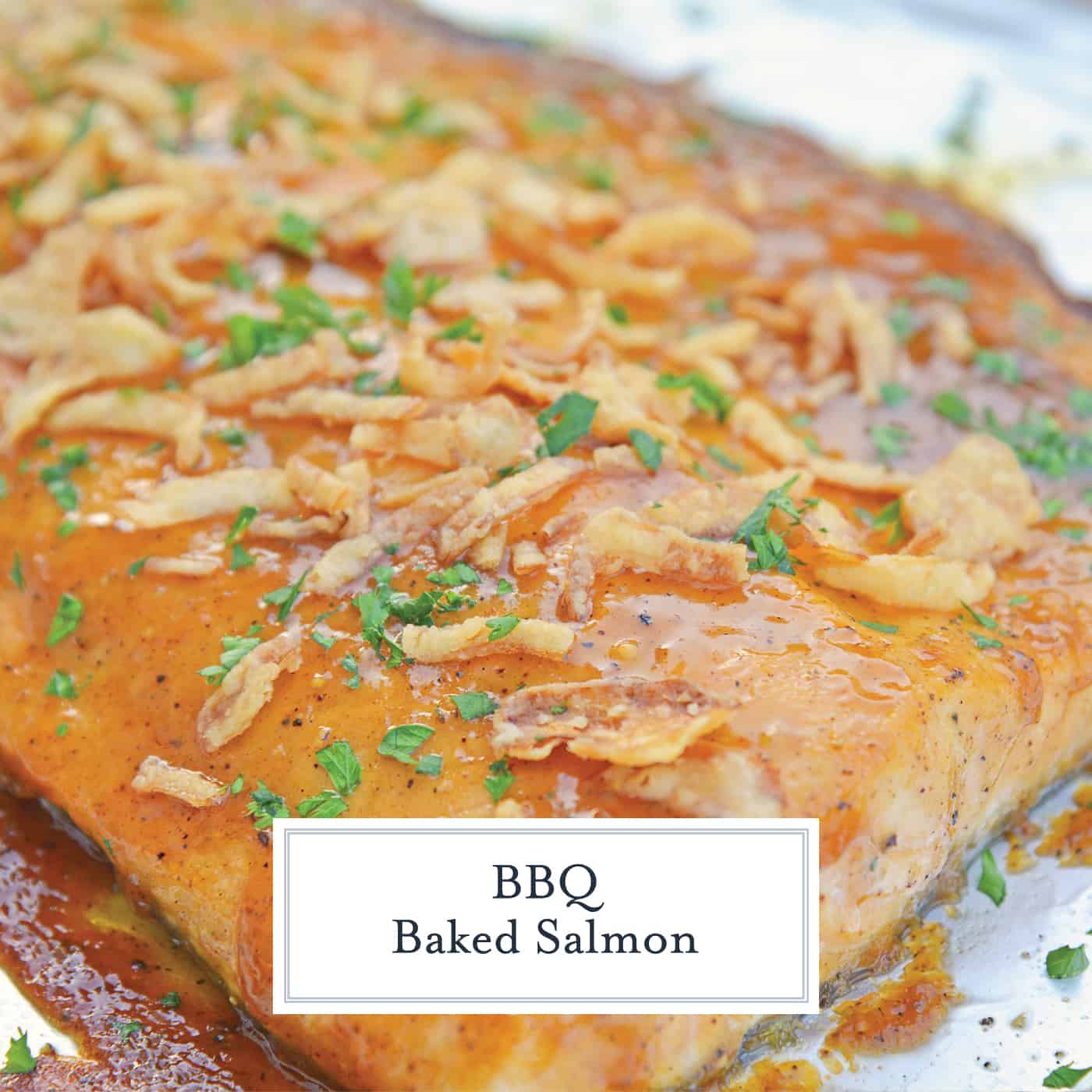 Baked salmon has never been as easy or delicious as this BBQ Baked Salmon. With tons of flavor and simple instructions, this BBQ Salmon is one of the best salmon recipes out there!
This BBQ Baked Salmon is one of my all-time favorite salmon recipes. Why? It's quick, easy and delicious!
There are only a handful of ingredients in this baked salmon recipe and you probably already have them all in your pantry. The combination of brown sugar and chili powder keeps makes this BBQ salmon sweet and spicy.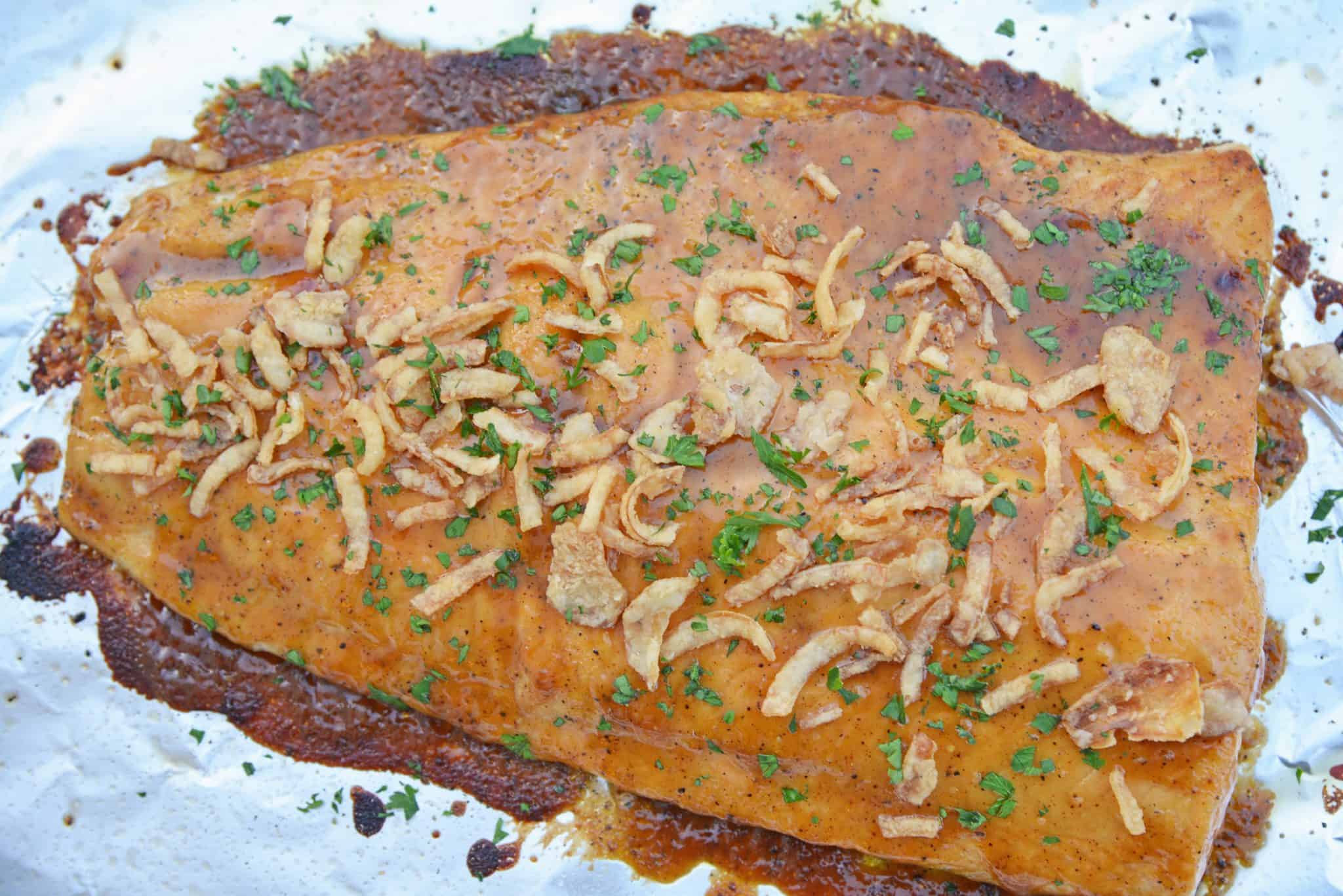 If you really like the spice, you can always add extra chili powder but I've found that for those of us who don't like things super spicy, 1/2 teaspoon adds just enough spice.
Making salmon in the oven is surprisingly easy and quick. This baked salmon cooks up in just 15 minutes! With only 5 minutes of prep, that's dinner on the table in well under half an hour.
You can also make this BBQ salmon on the grill, by placing it on indirect heat. Don't put it directly over the flame or it'll burn and you'll lose out on the delicious BBQ flavor.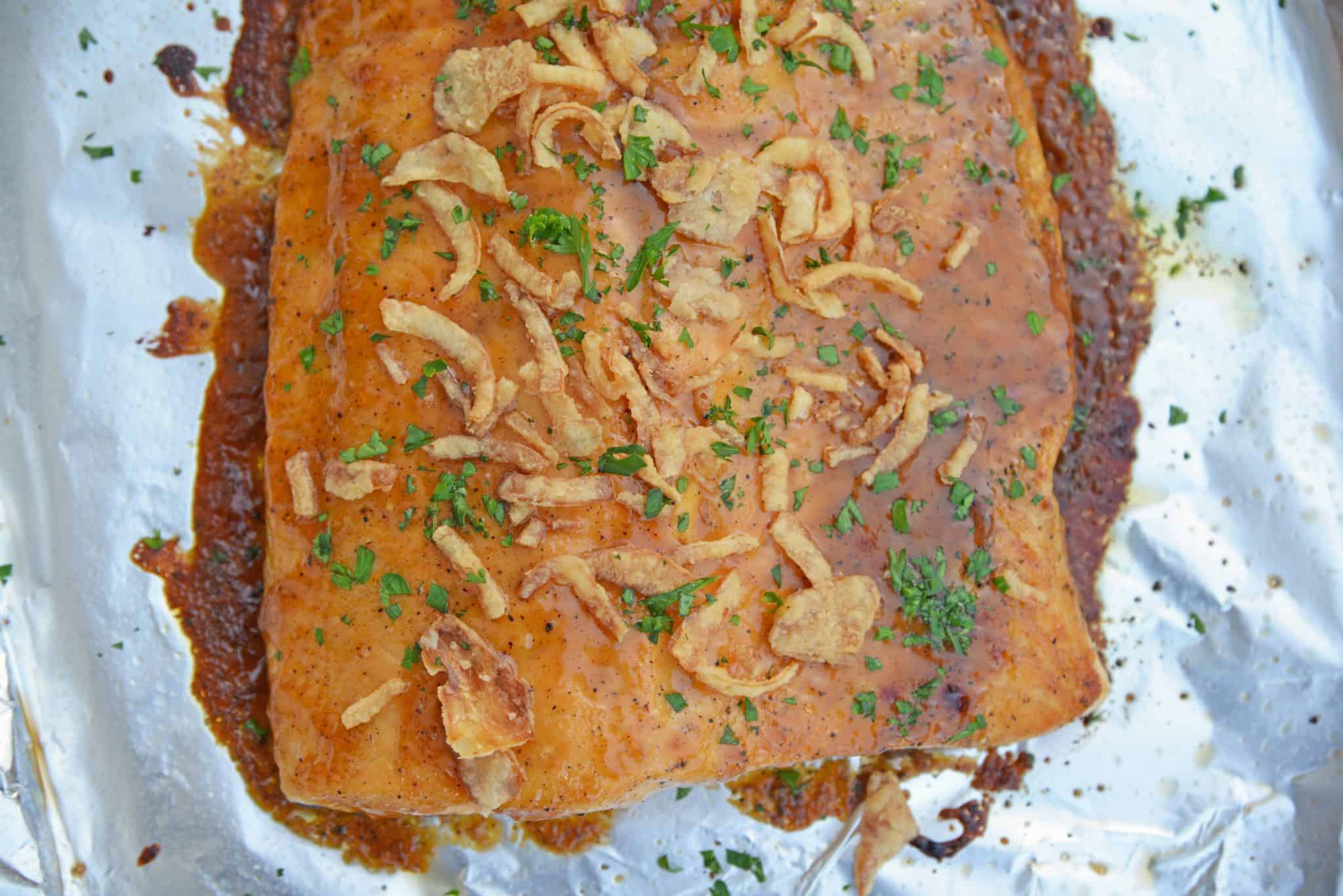 I like to make this BBQ salmon during the summer when I want a quick, easy and healthy dinner. Salmon is one of my favorite types of fish to make, because I love the flavor and it has great health benefits. It's also easy to prepare and cook.
I often serve this baked salmon with a side of summer veggies on the grill for a light dinner or serve with rice as well when I want something a bit heartier.
But you can serve this BBQ salmon with anything you'd serve BBQ chicken with too! Great for small summer cookouts when you're tired of burgers, hot dogs and chicken!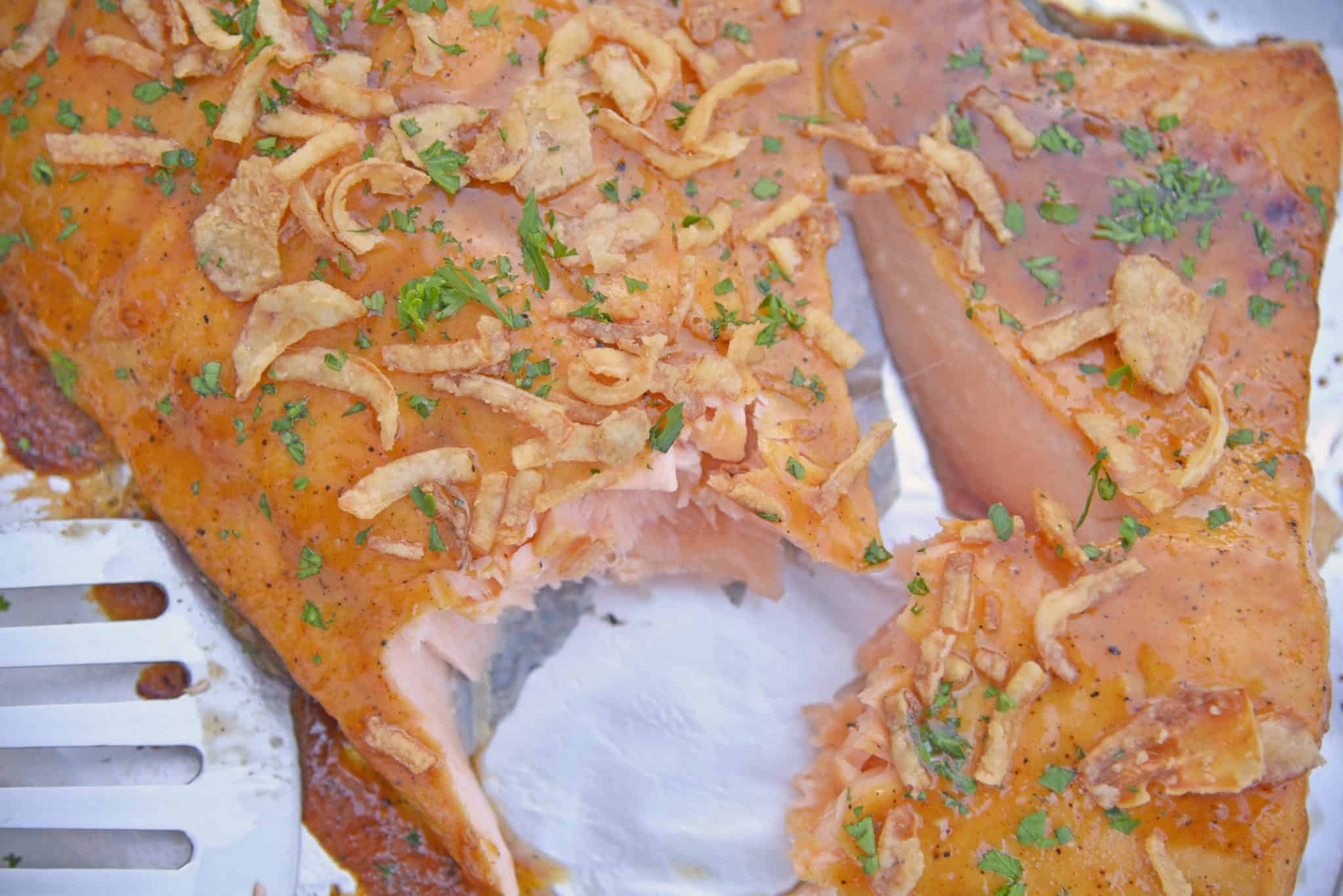 If you love salmon, I highly recommend giving this baked salmon recipe a shot! You may be surprised how effortless it is to cook salmon in the oven.
If you liked this BBQ salmon, you will love these other recipes that use salmon: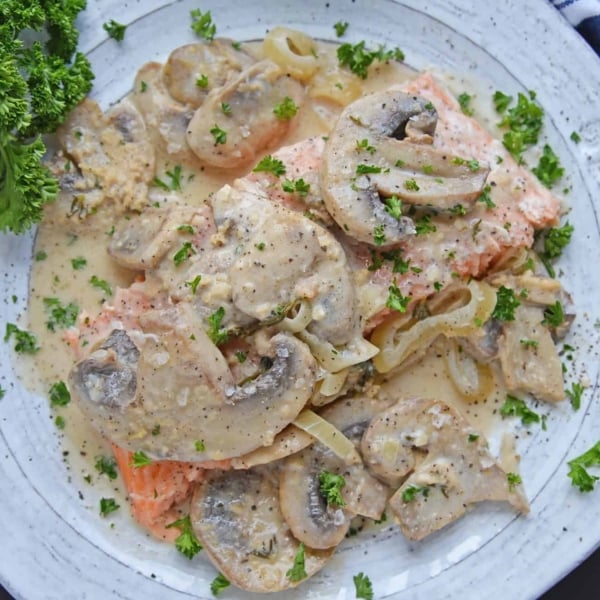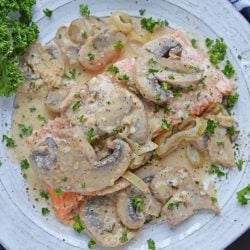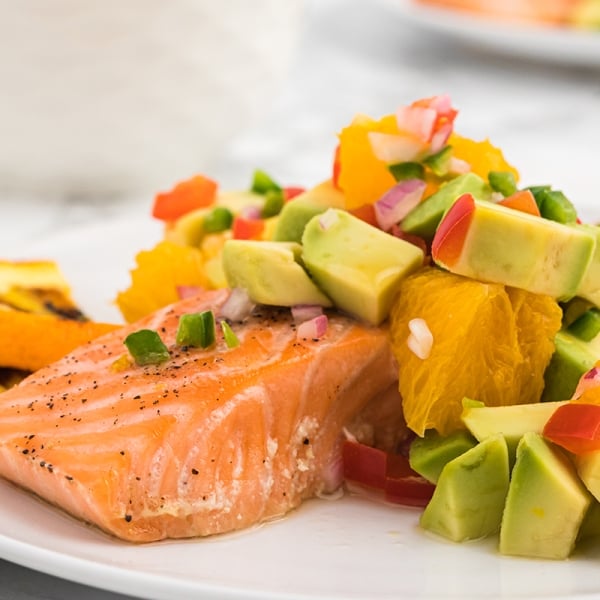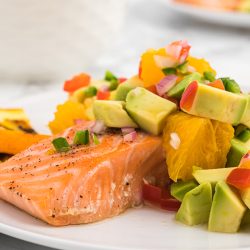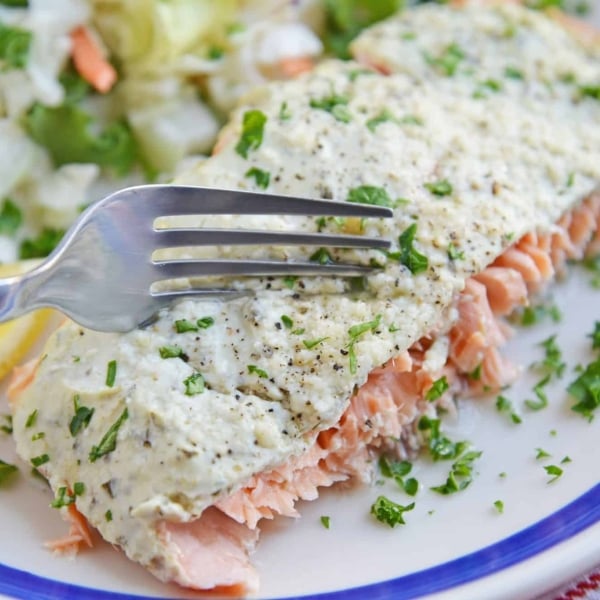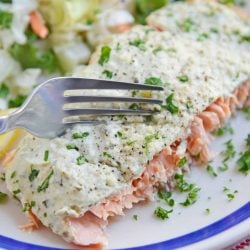 Pesto Salmon
This Pesto Salmon recipe is the best way to make baked salmon. With only 5 ingredients including Greek yogurt and homemade pesto, it will be your new favorite.
See The Recipe!
Tools needed to make this BBQ Baked Salmon recipe:
Rimmed Baking Sheet– another kitchen staple! You'll use this for prep work, roasting and much more. I have 7 at my house.
Basting Brush – used to love the silicone kind because they were so much easier to clean, but I find some sauces just fall off of them, so I'm back to using the old kind and waiting a day or two for them to dry.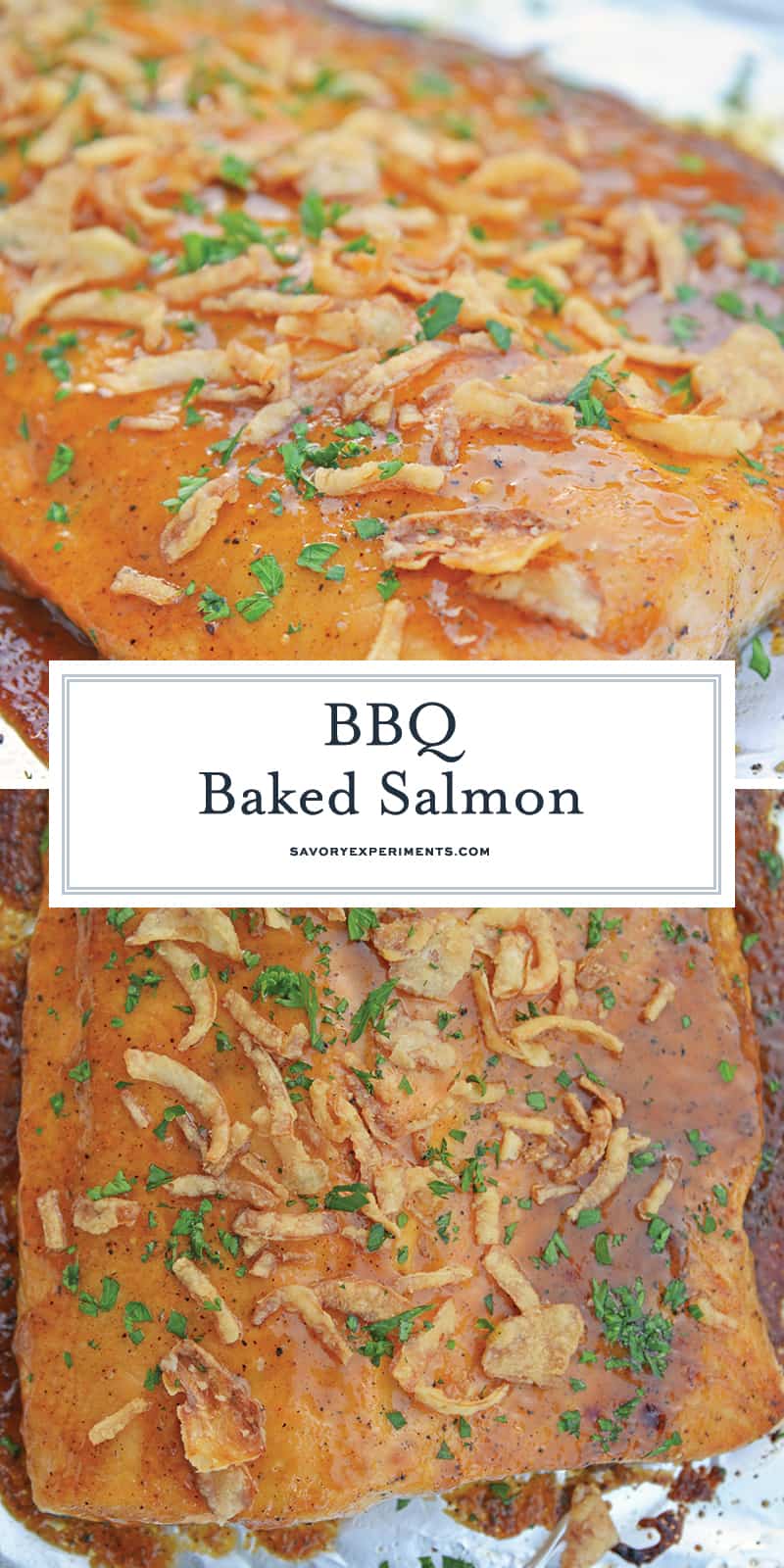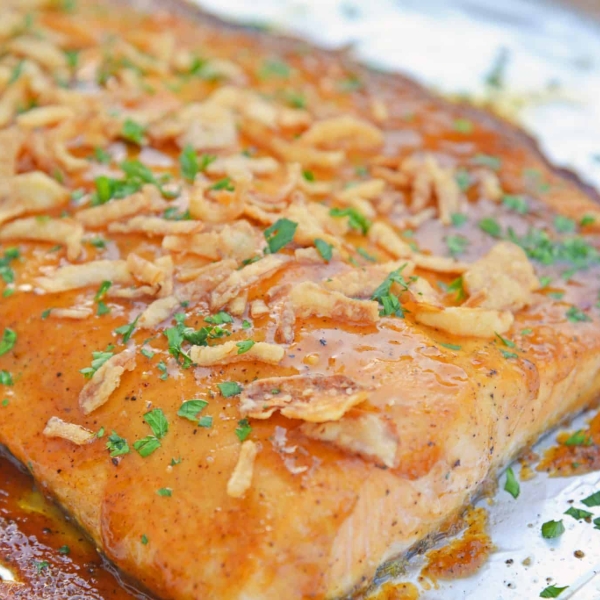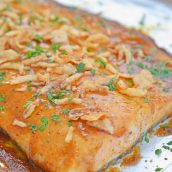 BBQ Baked Salmon
This BBQ Baked Salmon requires just 20 minutes and a handful of ingredients. Flavorful, quick and easy! Sure to become your favorite salmon recipe
Instructions
Preheat oven to 350 degrees or grill to medium-high heat.

Pat salmon filets dry with a paper towel, season with salt and pepper.

In a small bowl, combine light brown sugar through chili powder until it forms a paste, baste onto salmon.

Cook for 15 minutes, or until easily flaked with a fork. If preparing on the grill, place on in direct heat for 20 minutes.

Top with French fried onion strings.

If you've tried this recipe, come back and let us know how it went!
Nutrition
Calories:
327
kcal
,
Carbohydrates:
12
g
,
Protein:
34
g
,
Fat:
14
g
,
Saturated Fat:
4
g
,
Cholesterol:
93
mg
,
Sodium:
252
mg
,
Potassium:
869
mg
,
Sugar:
11
g
,
Vitamin A:
140
IU
,
Vitamin C:
0.2
mg
,
Calcium:
39
mg
,
Iron:
1.7
mg