Classic Three Bean Salad is the perfect BBQ side dish. This easy, make-ahead dish is always a hit and perfect for potlucks too!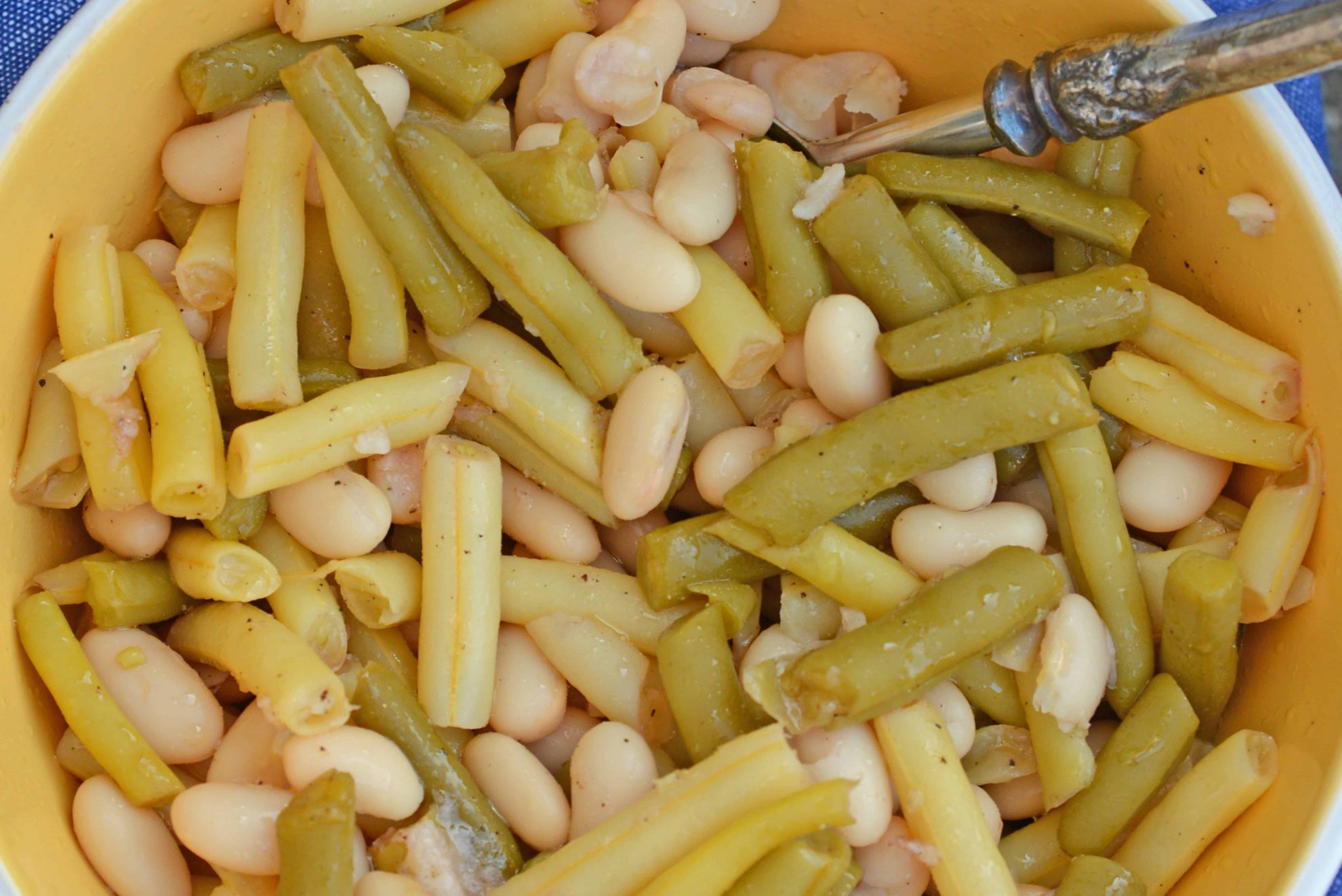 This classic three bean salad is my "go-to", so simple it will literally blow your mind, but with just a few steps that will set it apart from the rest.
First, you have to start with the beans, there are literally a hundred types to choose from. Because my goal is to save time and not cook, I generally pick either canned or frozen beans. Canned beans can be rinsed to reduce sodium and depending on brand, hold up well in the consistency department. My favorite canned beans to use are cannellini, black beans, white northern beans, kidney beans, garbanzo beans, wax beans and much more!
The same rule applies to the type of vinegar you use. While red wine vinegar is the most common, there are many other options that will change the flavor profile. Instead, substitute in a champagne or rose vinegar, maybe apple cider or even a white balsamic. Taste it first to get a sense of the flavor profile and then use accordingly.
Next, you can add just a dollop of mustard, but this is optional. Like vinegar, there is a great variety, so choose wisely!
Ultimately, the process of making a three bean salad is pickling your ingredients, so while it being a "make ahead" dish sounds like a total win, it can sometimes get in the way when you are short on time. If you find yourself here, boil the wet ingredients and vinegar in a small saucepan with just a tablespoon or two of water.
When hot, pour it over the ingredients and you should only need about an hour to marinate. It might compromise the crispiness of your beans, but you'll still have an awesome classic three bean salad.
Leftovers, if there are any, are great tossed into a nice green salad or even stirred into a basic rice or pasta dish.
Tools used in this Three Bean Salad recipe: 
Mixing Bowl: These mixing bowls get used just about every day at my house. The grip handle makes them easy to hold and the pour spout makes them perfect for batters!
Wooden Spoon: Wooden spoons are a kitchen essential. I keep a bunch of them on hand for every meal from breakfast to dinner.
If you loved Three Bean Salad, then you'll also love these cookout side dish recipes!
Print Recipe
Three Bean Salad
Yum
Classic Three Bean Salad is the perfect BBQ side dish. This easy, make-ahead dish is always a hit and perfect for potlucks too!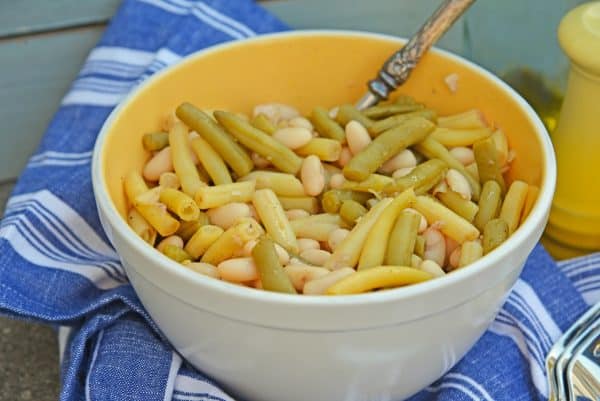 | | |
| --- | --- |
| | |
After rinsing all three types of beans, place them in a large container.

In a separate small bowl, whisk together Dijon mustard through black pepper.

Toss with beans. Refrigerate and cover for 4-24 hours.

Before serving, allow to sit at room temperature for 20-30 minutes and toss to recoat.
If you like this recipe, make sure to follow me on Pinterest for even more! 
Visit Savory Experiments's profile on Pinterest.
If you liked this recipe, you'll love these!