Who doesn't love an easy but tasty salmon marinade? This ancho citrus marinade is made using a handful of ingredients, most of which you'll already have in your kitchen! It's the perfect sweet but spicy sauce to use on baked salmon!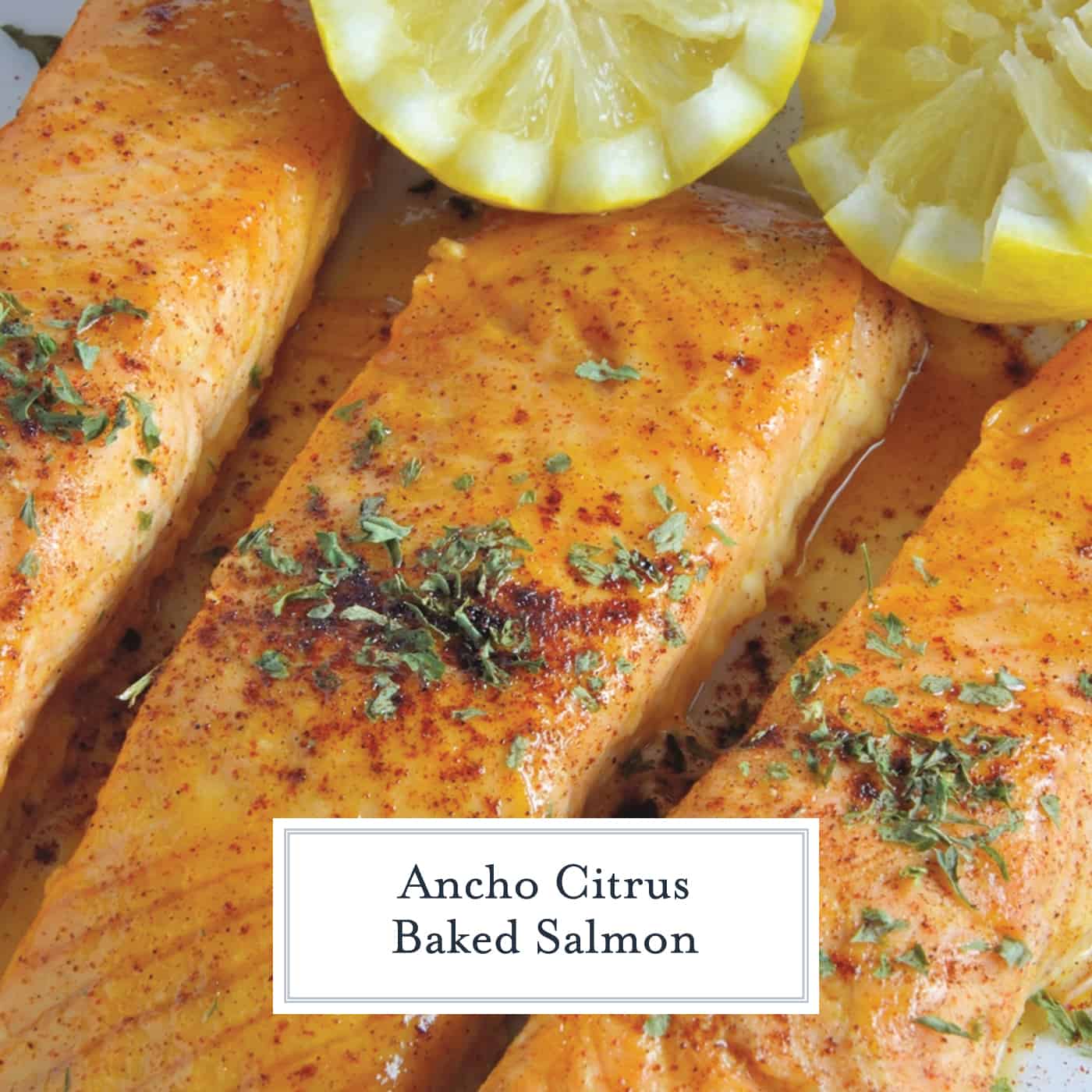 Ancho Citrus Baked Salmon is a simple, easy, low fat, vitamin packed, deliciously tasty recipe! This ancho citrus salmon marinade is an ideal sauce to use for your salmon with all the flavors!
Ancho Citrus Baked Salmon takes less than 30 minutes to prepare! The ingredients are usually in my kitchen and can be stored in the freezer for weeks if needed. That means I can pretty much make this whenever I feel like it.
I love having ingredients on hand! Lastly, it is packed with good stuff.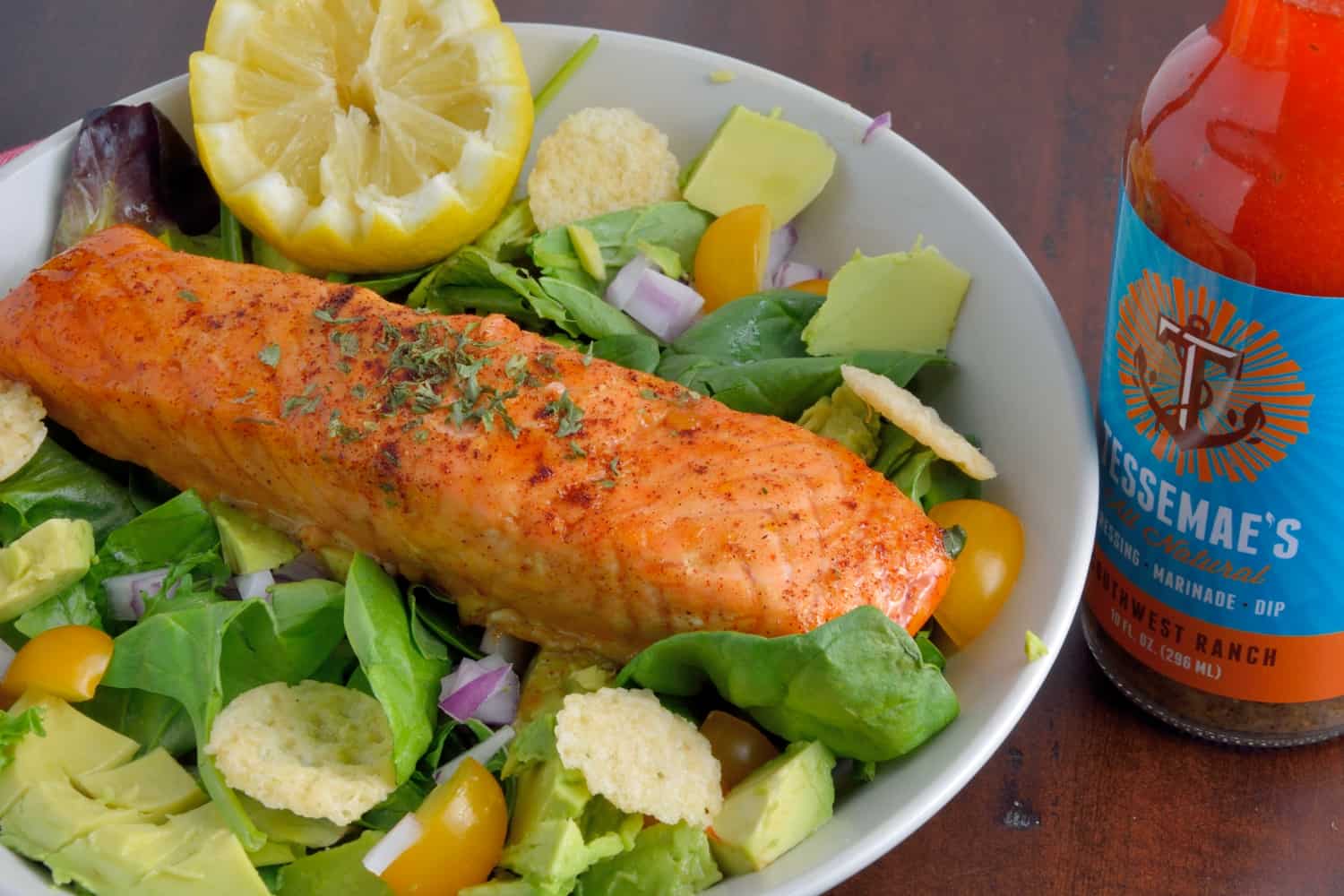 The glaze base is orange juice concentrate, which does have natural sugars, but lacks extra fats or oils. The spices are natural antioxidants. Lemon adds vitamin C.
You can even vary the amount of chili powder used to control the heat, however I prefer mine caliente!
If you love seafood as much as I do then just trust me because you'll love this recipe. The ancho citrus marinade brings the exact amount of spicy yet sweet flavor needed to make this recipe one of a kind!
Your salmon should flake easily with a fork when it's finished, making it exquisitely delicious.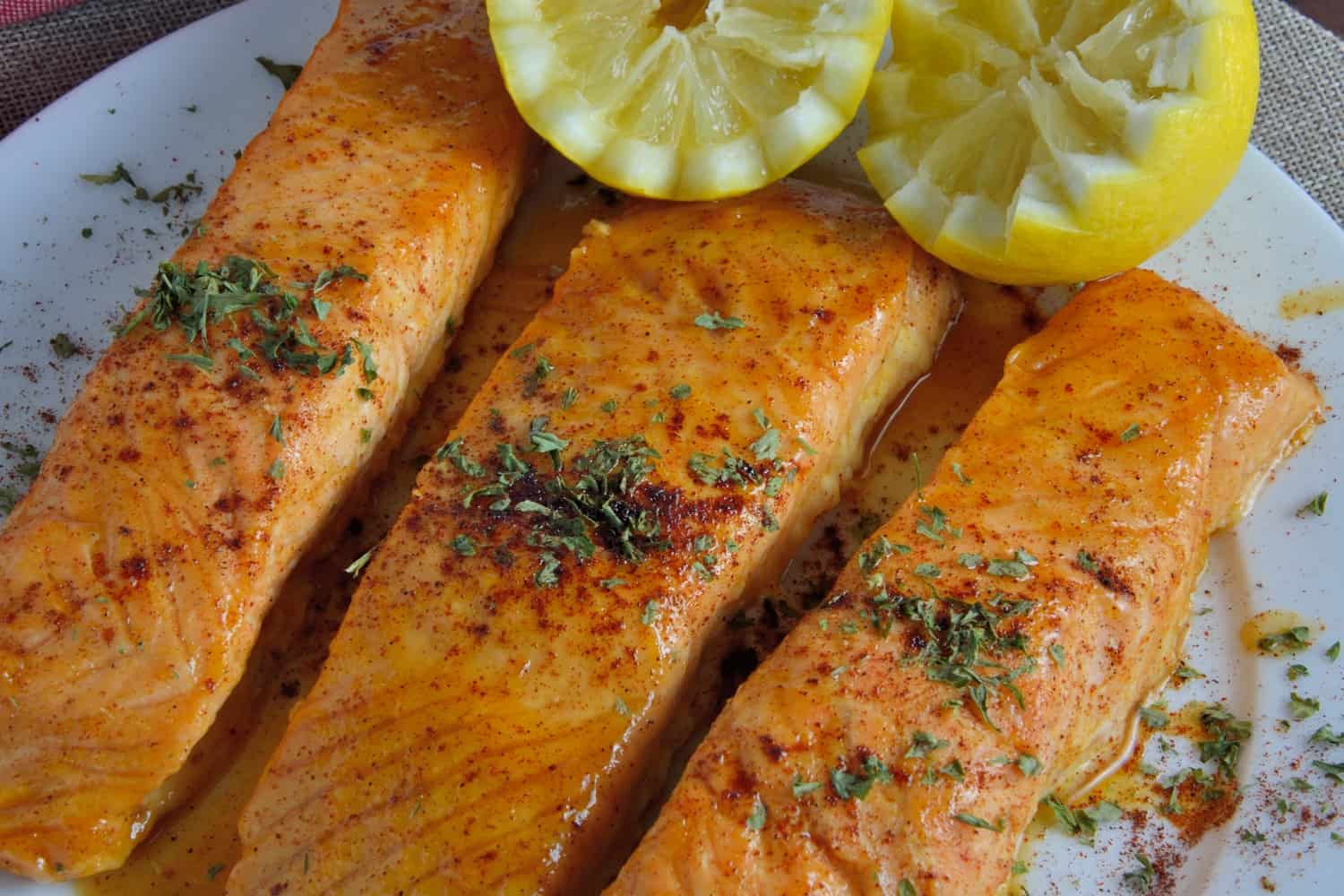 Just writing about this recipe is making my mouth water. I might just have to make this recipe again pretty soon. I love my seafood and spice so this recipe is the perfect combination.
I mean it's technically quite a healthy recipe so more than once a week is okay, right?
You can even take your Ancho Chili Baked Salmon leftovers and make it into a salad! I just take my salmon and add spring greens, avocado, parmesan crisps, yellow tomatoes and ranch dressing for another delicious meal.
If you enjoyed the salmon glaze in this recipe, be sure to check out other easy seafood recipes: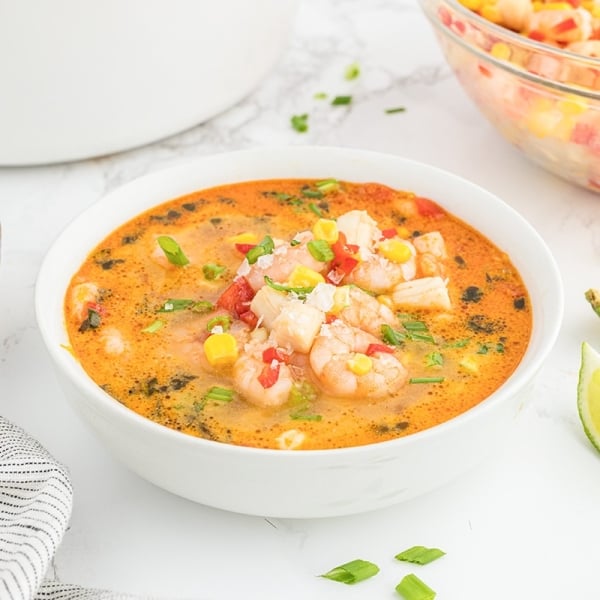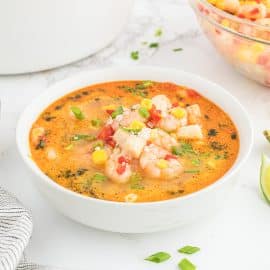 Thai Coconut Soup
Seafood Thai Coconut Soup is an easy and healthy appetizer or entree using scallops, shrimp, vegetables and a red curry coconut broth.
See The Recipe!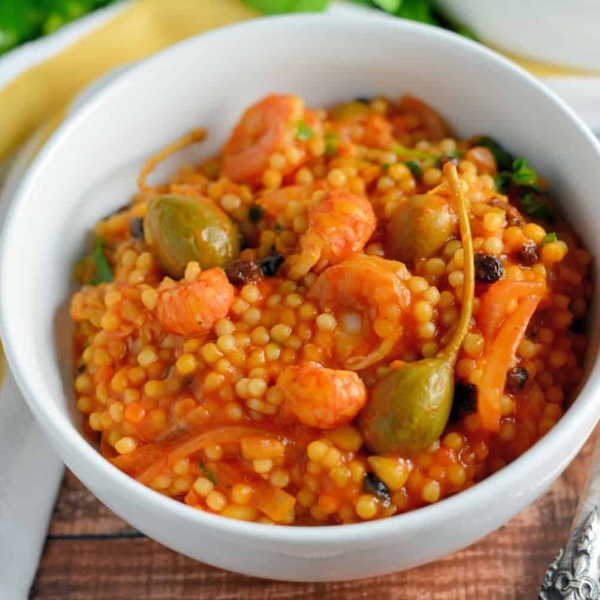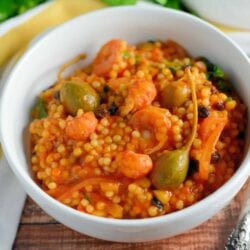 Italian Seafood Stew Recipe
Italian Seafood Stew is a quick seafood recipe using couscous, tomatoes, currants and caper berries. This Italian stew comes together in just 20 minutes from start to finish!
See The Recipe!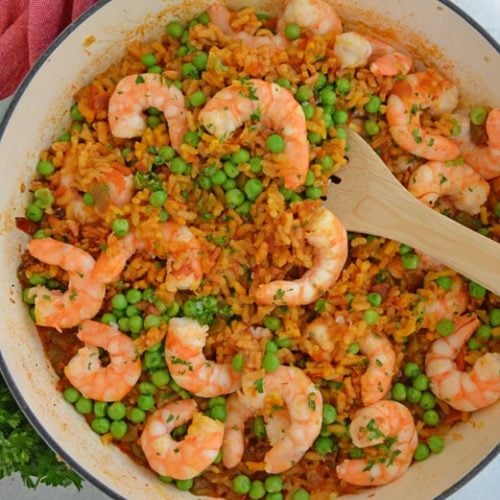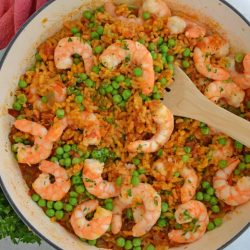 Easy Shrimp Paella
Shrimp Paella is an easy, weeknight meal requiring less than 10 ingredients, one pan and 30 minutes—all due to one secret pantry staple!
See The Recipe!
Tools for making Ancho Citrus Baked Salmon:
Zester and Juicer– Another kitchen necessity! Whether it be a savory or sweet recipe, every house needs a way to zest and juice citrus. Also great for making cocktails!
Casserole Dish– another kitchen essential! Here is a fabulous variety pack so you always have the right size!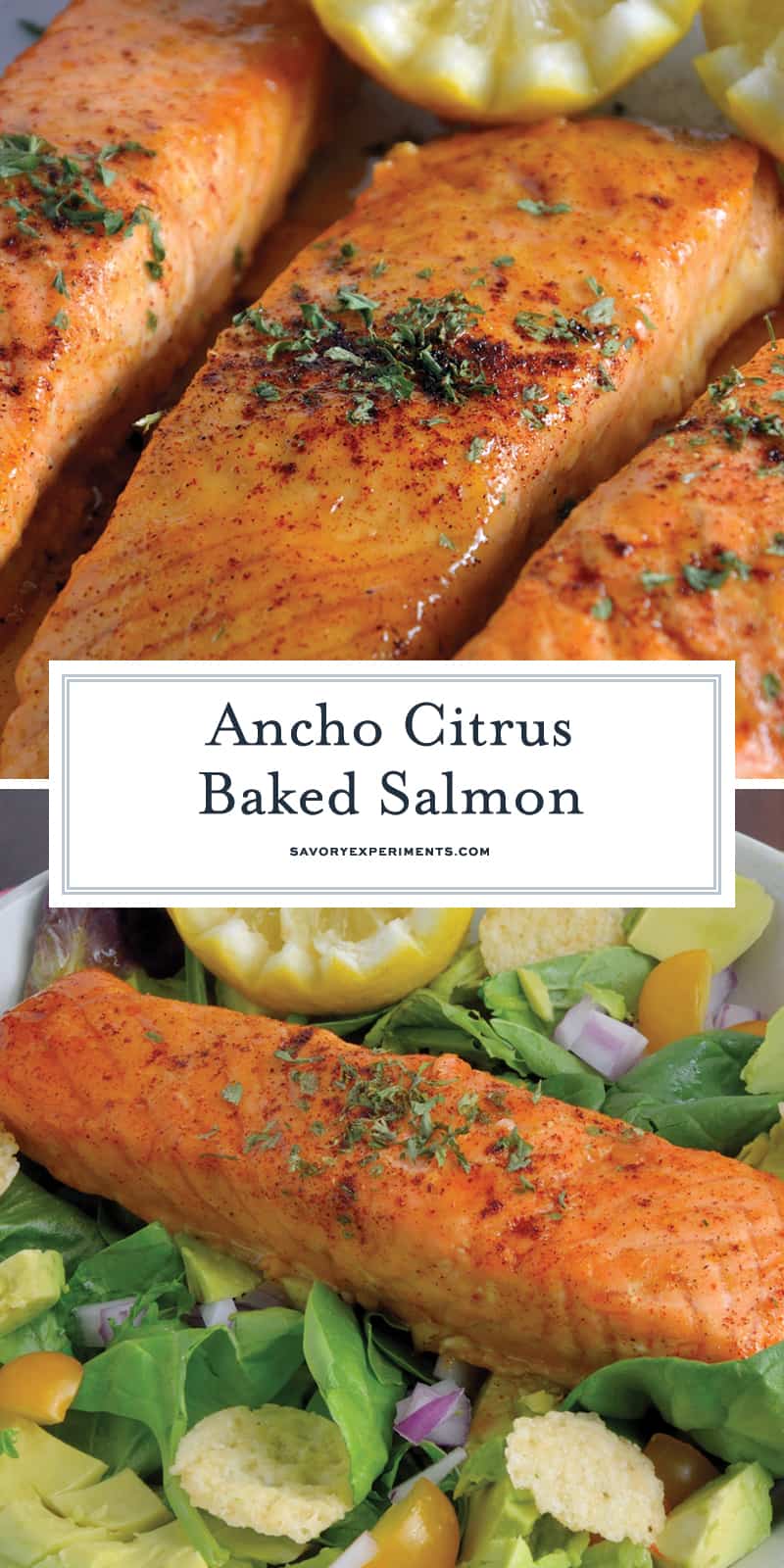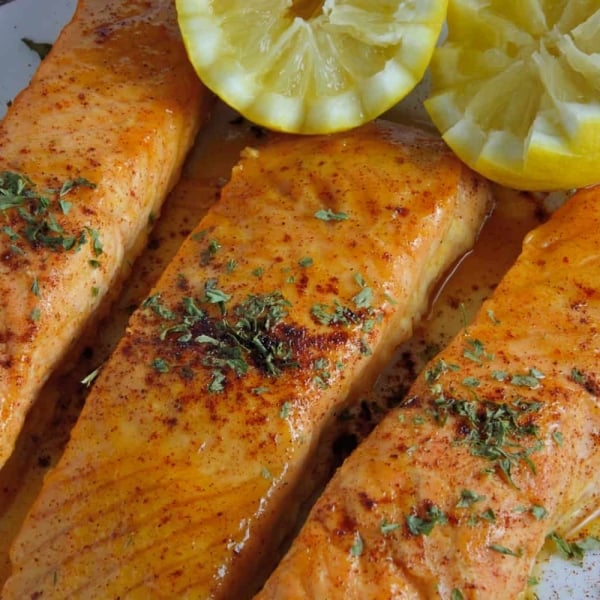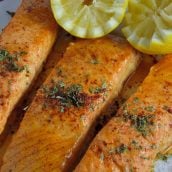 Ancho Citrus Salmon
Ancho Citrus Baked Salmon is a simple, easy, low fat, vitamin packed, deliciously tasty recipe! This ancho citrus marinade is an ideal sauce to use for salmon!
Instructions
Preheat oven to 400 degrees. Spray a vented broiler pan with cooking spray. Rinse salmon fillets and place on broiler pan. Using a vented broiler pan cooks the fish evenly and quicker because the heat is circulating around the entire fillet.

Combine lemon juice through orange juice concentrate in a small sauce pan and heat over medium heat until combined. Lower heat to keep warm.

Baste salmon fillets with glaze and place in the oven for 5 minutes.

Remove and baste again. Cook for an additional 5 minutes

Baste and cook for an additional 5 minutes. It will be a total of 15 minutes in the oven. Fish should flake easily with a fork. Do not serve salmon (unless sushi grade) under medium. Cooking time may vary depending on thickness of the fillet. Allow to sit for 2-3 minutes before serving.

Drizzle more glaze over fillets or serve with a small dipping container on the side. Enjoy!

If you've tried this recipe, make sure to come back and let us know how it was!
Nutrition
Calories:
350
kcal
,
Carbohydrates:
26
g
,
Protein:
35
g
,
Fat:
11
g
,
Saturated Fat:
1
g
,
Cholesterol:
93
mg
,
Sodium:
400
mg
,
Potassium:
1167
mg
,
Fiber:
1
g
,
Sugar:
24
g
,
Vitamin A:
925
IU
,
Vitamin C:
61.5
mg
,
Calcium:
45
mg
,
Iron:
2.2
mg