Pasta night just got SO much more delicious! This easy Spinach Stuffed Shells recipe is full of cheesy goodness and makes a great weeknight meal.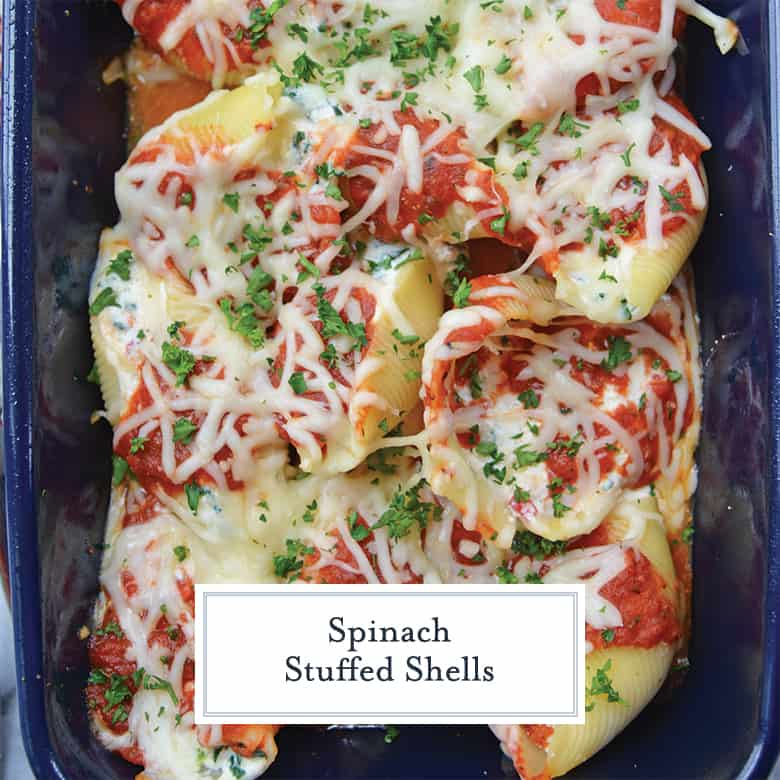 With ingredients like ricotta cheese, roasted red peppers, and spinach, these Spinach Stuffed Shells make for an easy and comforting meal!
We love any type of pasta at our house. But we especially love it when it's stuffed with CHEESE! I have a few stuffed shells recipes that we rotate pretty frequently:
But I decided to mix things up a little with these Spinach Stuffed Shells! They take a classic Italian dish and take it up a notch with ingredients like roasted red peppers and prosciutto.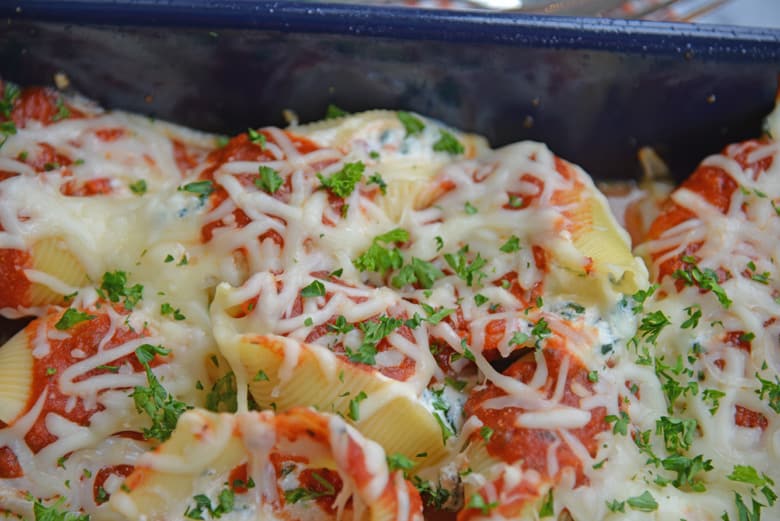 How to Make Stuffed Shells
After you've cooked your jumbo shells, cover them with a damp paper towel to keep them moist while you prepare the filling (see below). It makes them easier to stuff when cooked to al dente.
Remember they'll cook a little bit more once you put them into the oven.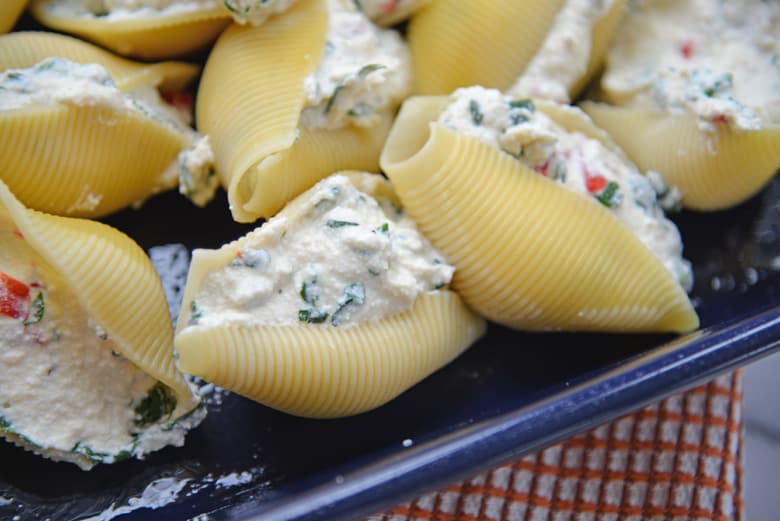 Make the perfect filling and gently handle the shells using a spoon to stuff. Top with more sauce and cheese so the pasta doesn't get all crispy while baking.
Stuffed shells can also be made ahead of time (up to a day in advance.) Just fill them, top them with sauce and even the cheese, cover and wait up to 24 hours to bake them.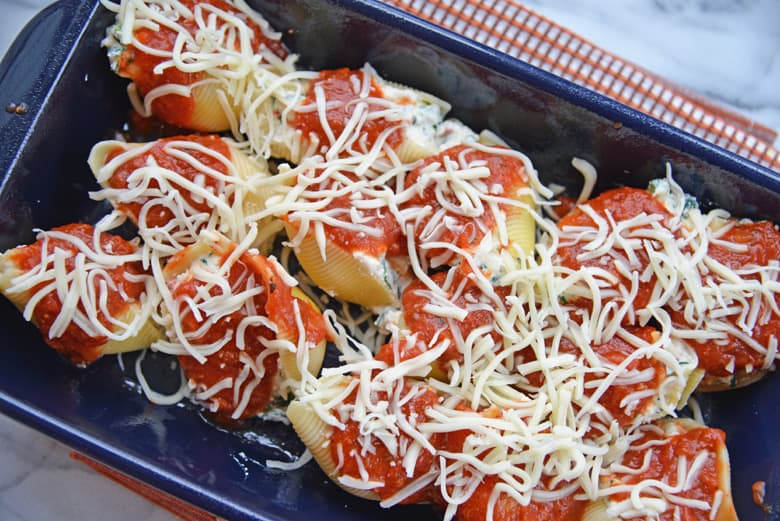 They are also freezer friendly, but I recommend freezing after they are baked.
Spinach Stuffed Shells Filling
The trick for really good stuffed shells is making sure you get enough water out of the ingredients. Both spinach and roasted red peppers carry a lot of extra water, so you want to make sure that you drain them well.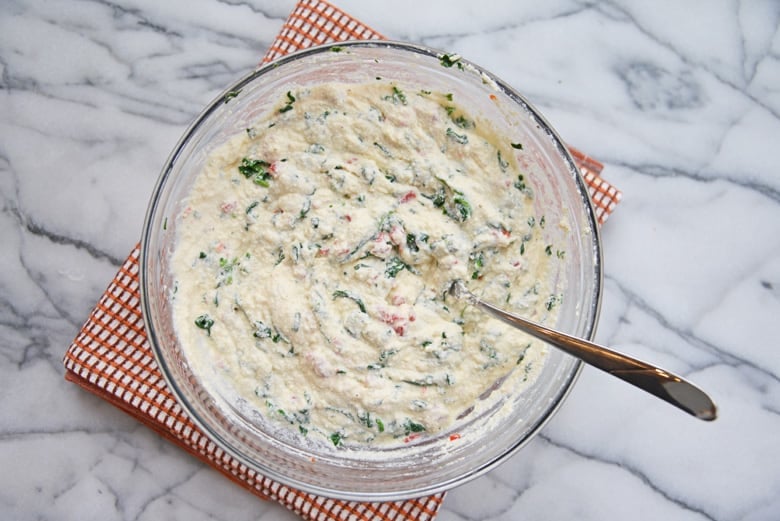 Another trick is to leave the spinach and peppers in a single thin layer on a dry paper towel and put them in the refrigerator. The cold air will naturally help dry them out. This prevents shells from having a lot of water pooling at the bottom when they cook.
You also want to make sure you use a low moisture cheese. Cheeses have a lot of water in them just like the spinach and peppers.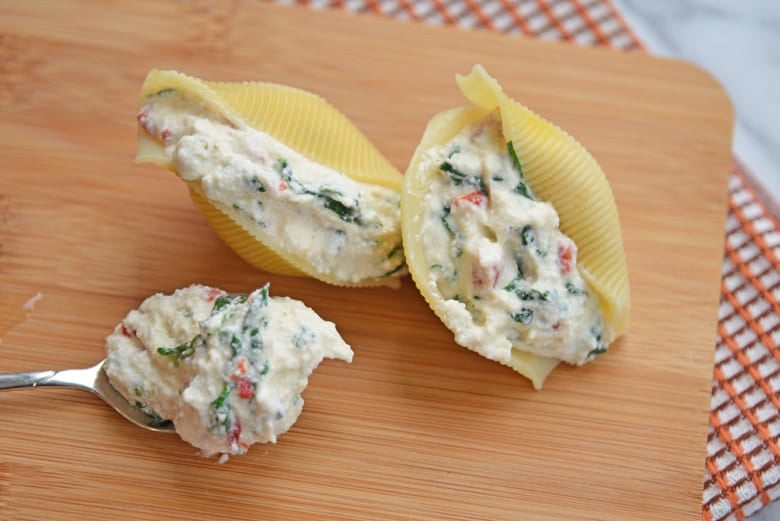 Higher moisture might be good for eating plain cheese like mozzarella, but you want something with a part skim low moisture to both melt easily and also not produce excess liquid when you are baking a dish like these easy Spinach Stuffed Shells.
Also, I always use eggs in my stuffed shells filling. The eggs act as a bonding agent to hold everything together (much like when you're making meatballs!)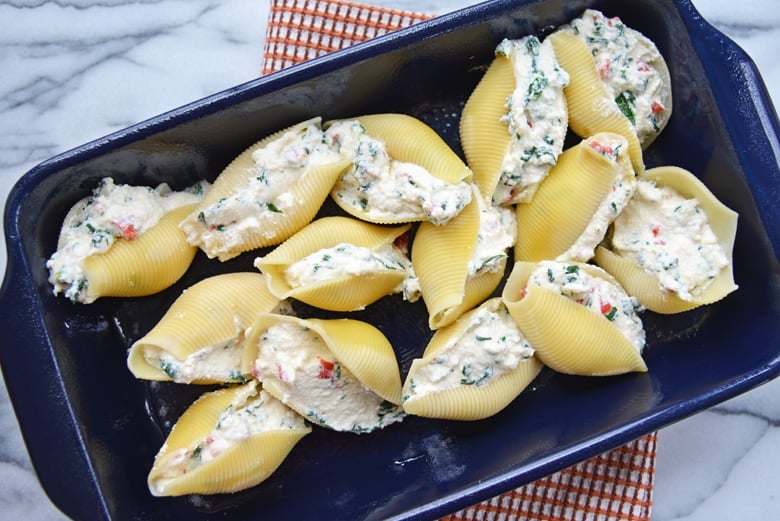 What to serve with Stuffed Shells
Spinach stuffed shells can be served as a side dish or an entrée. Tonight I served mine with chicken Parmesan because I only had a little bit of ricotta cheese left so I just made a half a batch.
If serving them as a main dish, you can always opt for a green, leafy salad. And don't forget the garlic bread!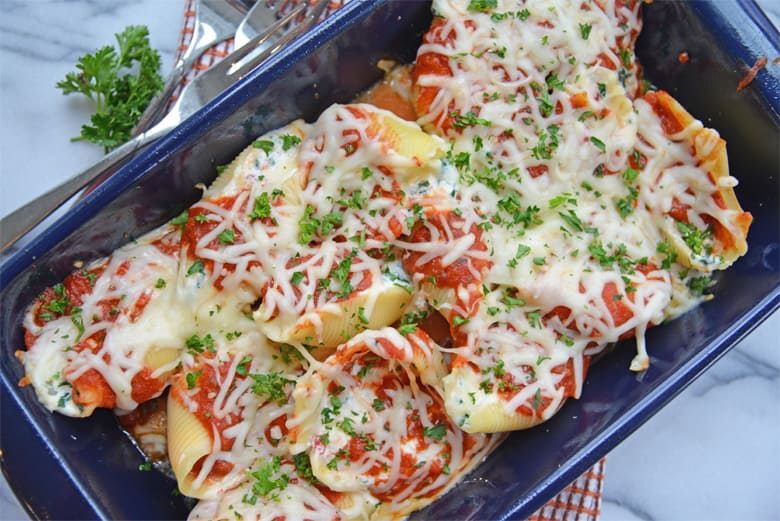 These stuffed shells are also an awesome way to hide vegetables in your kids' food! My two-year-old loves food, she eats almost everything. Truffle oil, salmon, a whole bunch of gourmet foods and she won't blink an eye. So I thought she'd just gobble down red peppers, too.
But when it comes to roasted red peppers the girl won't touch them. She's even picked out minced roasted red peppers from rice pilaf. It's insane!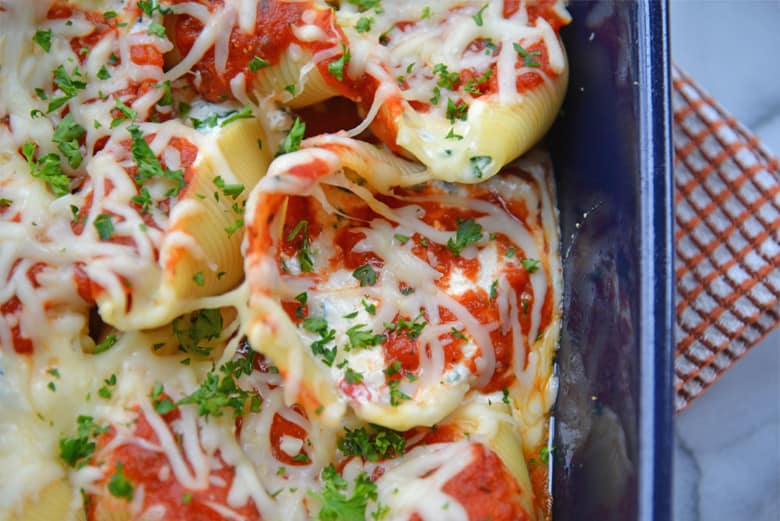 However when I fed her these spinach stuffed shells she didn't even notice that there were roasted red peppers and spinach in them! Maybe it will be the same for your picky kiddos!