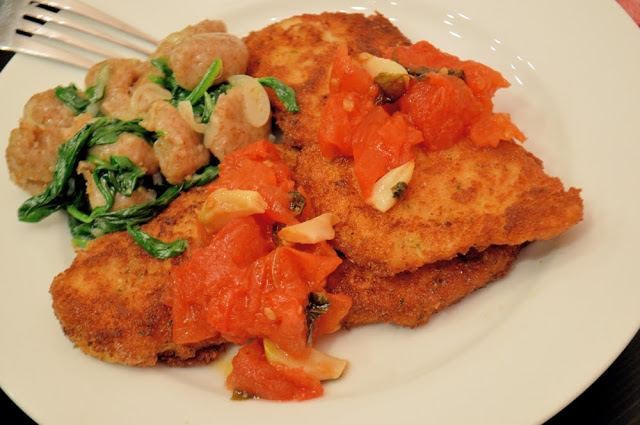 I WANT TO WIN A WEEK IN ONE OF YOUR TUSCANY VILLAS!
I'm all about the competition ya'll and when I saw this competition, I knew I wanted to throw my hat in the ring. With a passion for cooking and an Italian Heritage, how could I go wrong? Please take JUST a moment and click on the link below and help me win a trip to Italy- I promise I will bring back so many tasty recipes and ideas, you will be thankful you took 1 minute our of your day to help me out. Simply click on the link:
Foodie Blogger Competition 2013- To Tuscany
, scroll to the bottom and press "CLICK HERE TO VOTE" under my picture of Chicken Parmigiani with Tomato Confit. Voting ends August 1st!
The dish I decided to showcase is Chicken Parmigiani, which hails from Southern Italy. Traditionally it is a thin, breaded and lightly fried chicken breast smothered with cheeses, vegetables and sauce. Instead of throwing a slab of mozzarella on the top, I used Parmesan and incorporated it right into the breading. Parmesan fries up to a crunchy crust with a nutty flavor, so a dab of nutmeg helps amplify the flavor. To top, I used a Tomato and Garlic Confit seasoned with basil and olive oil. Slow roasting vegetables brings out a unique smokey flavor that can not be achieved by a mere baking or stewing. Lastly, I paired it with Whole Wheat Potato Gnocchi to add color and depth. The Gnocchi is tossed with caramelized shallots, garlic and fresh baby spinach (recipe coming soon!).
Godere! (Enjoy)
Time: 3 hours (do to slow roasting the confit)
Serves: 6
Ingredients for Chicken Parmigiani with Tomato Confit
Tomato and Garlic Confit
12 beefsteak tomatoes
10 whole garlic cloves, peeled
1/2 cup whole basil leaves
1/2 cup extra light virgin olive oil
1 tablespoon fine sea salt
1 teaspoon ground white pepper
Chicken Parmigiani
4 boneless, skinless chicken breasts
1 cup flour
1/2 teaspoon nutmeg
Salt and pepper
2 eggs, beaten
1 1/2 cup Italian flavored bread crumbs (or plain bread crumbs with 1 teaspoon Italian seasoning)
1/2 cup grated Parmesan cheese
3 tablespoons extra virgin olive oil
2 lemons for serving and garnish, wedged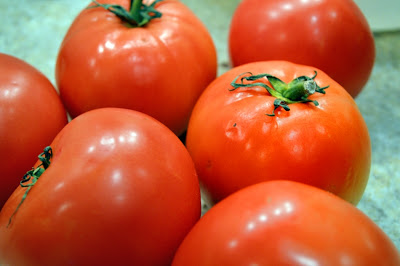 1. Preheat oven to 300 degrees. The first step for Tomato and Garlic Confit is to prepare the tomatoes for roasting by skinning them. If you have never skinned a tomato before, have no fear, it is very easy. Fill a medium sauce pan 3/4 with water, bring to a boil. Set up an ice bath directly next to the range. Score a "X" in the bottoms of all tomatoes.
2. Working in batches of 2-3, drop tomatoes into boiling water. Boil for 45-60 seconds. If the water does not fully cover your tomatoes, turn and boil on the other end for a few seconds.
3. Remove and immediately submerge in the ice bath. Continue with remaining tomatoes. If the skin does not start to peel in the ice bath, return to the boiling water for just a few minutes.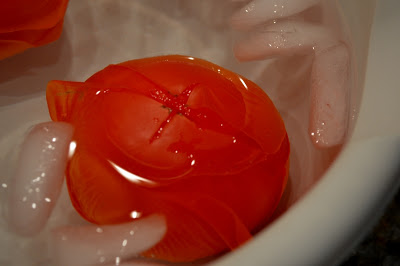 4. Remove tomatoes from ice bath and peel. Skin should come off easily.
5. Cut tomatoes in half. Using a paring knife, cut out the stem and thick interior membranes. Using your fingers, gently press out the pulpy seed sections.
6. Line a large rimmed baking sheet with aluminum foil. Using a pastry brush, baste half of light extra virgin olive oil onto the foil. Place tomatoes, cut side down onto foil. Scatter whole, peeled garlic cloves and basil over the cookie sheet. Using pastry brush, baste the remaining light extra virgin olive oil over the tops of the tomatoes and garlic cloves. Sprinkle fine sea salt and ground white pepper over the top.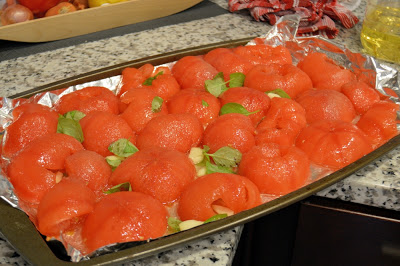 7. Tomatoes will slow roast for 2 hours. Every 30 minutes, open the oven door to release built up condensation. Remove at 2 hours, tomatoes should have shrunk considerably in size and deepened their color to a brick red.
8. Dice tomatoes and transfer whole garlic cloves, basil and remaining liquid in the baking sheet to an airtight plastic container. Set aside while you prepare your Chicken Parmigiani.
9. Lower oven temperature to 200, just warm.
10. Place one chicken breast between two sheets of plastic wrap or wax paper on a cutting board. Using a tenderizer, pound the chicken breast until it is a uniform thickness, about 1/4 inch or a tiny bit thicker. Continue with remaining breasts. Cut each flattened breast in half, smaller pieces are easier to handle when frying.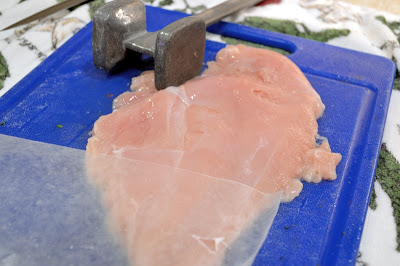 11. You will need three pie plates or mixing bowls. In bowl #1 mix flour, nutmeg and season with salt and pepper. In bowl #2 beat two eggs. In bowl #3 mix bread crumbs and Parmesan cheese.
12. Heat 1 tablespoon butter and 1 tablespoon olive oil in large frying pan over medium-high heat.
13. Working briskly, dredge chicken in flour mixture, then egg mixture and finally bread crumb mixture. Pressing bread crumbs into the breast. The flour is necessary to get the egg to stick and the egg is necessary for the bread crumbs to stick.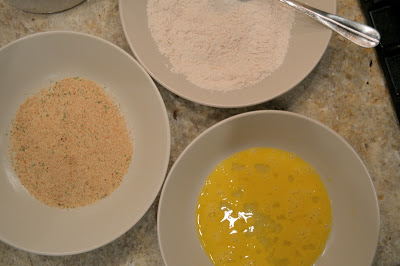 14. Place into hot frying pan. Fry for 3-4 minutes on each side or until medium brown. Place on a paper towel lined jelly roll pan and place into the oven to keep hot.
15. Continue with remaining breasts. If the frying pan gets dry, melt an additional 1 tablespoon butter and 1 tablespoon olive oil. The liquid will absorb into the breading (adding flavor!).
16. Place completed chicken breasts into the oven while you continue to fry. When complete, remove from oven.
17. To serve, plate a slice of Chicken Parmigiani and smother with Tomato and Garlic Confit. I served this with a side of Shallot and Spinach Whole Wheat Gnocchi.
Now you want more, don't ya? Join me on
Facebook
for daily recipes and discussion, follow me on
Twitter
or see where I get some of my inspiration on
Pinterest
!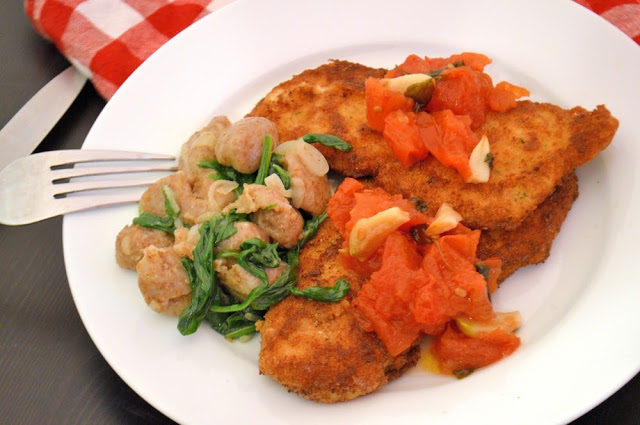 Now you want more, don't ya? Join me on
Facebook
for daily recipes and discussion, follow me on
Twitter
or see where I get some of my inspiration on
Pinterest
!
If you like this recipe, make sure to follow me on Pinterest for even more!