Who doesn't love a great chicken parmesan? Well bring a restaurant style chicken parmesan into your kitchen with this recipe!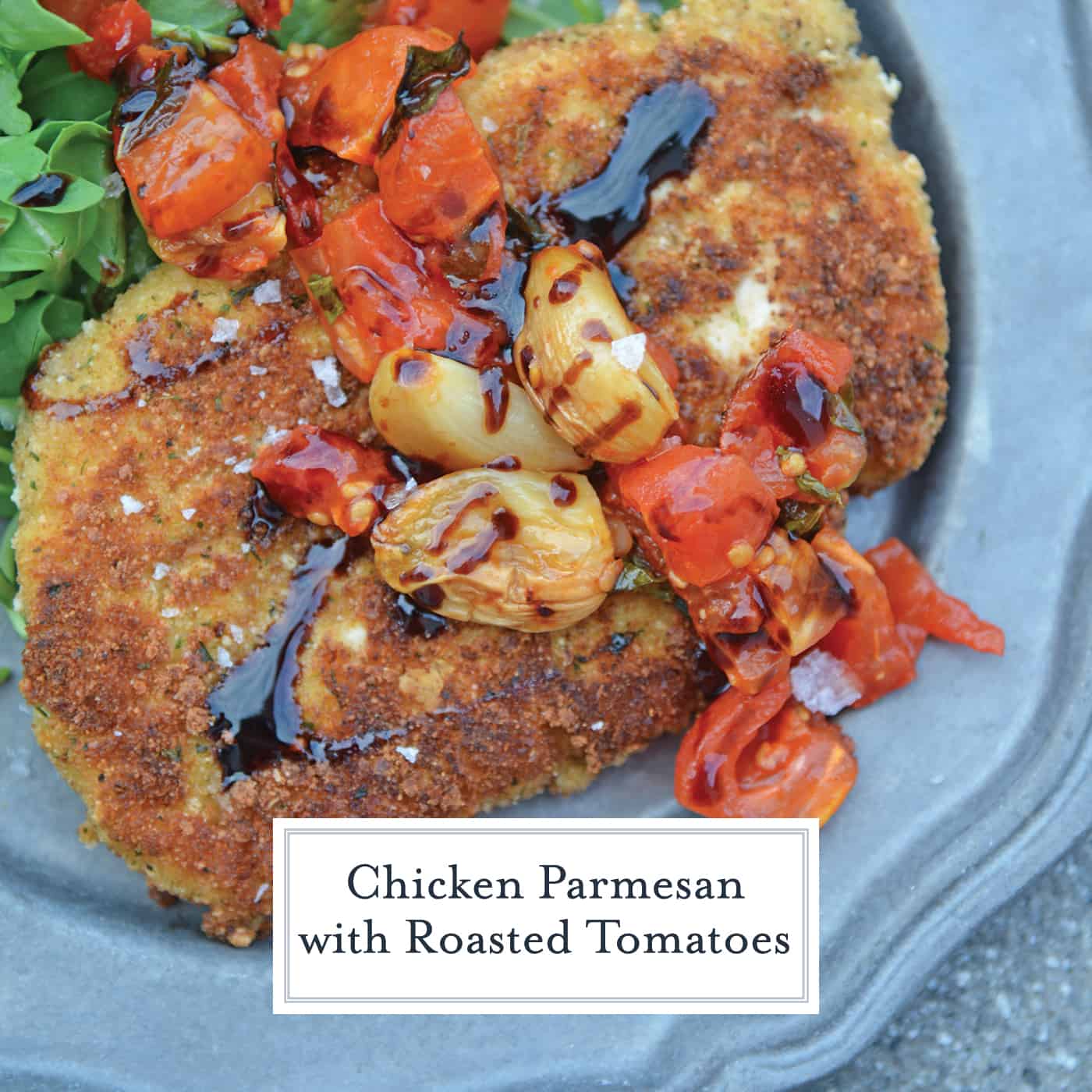 Chicken Parmesan with Roasted Tomatoes is an amazing way to make chicken parmesan because it comes with a savory roasted tomato sauce!
This is a great recipe to serve on any weeknight that your guests and family will love. Surprise them with a parmesan infused breading.
Chicken Parmesan, which hails from Southern Italy is traditionally thin, breaded and lightly fried chicken breast smothered with cheeses, vegetables and sauce. Instead of throwing a slab of mozzarella on the top, I used Parmesan and incorporated it right into the breading.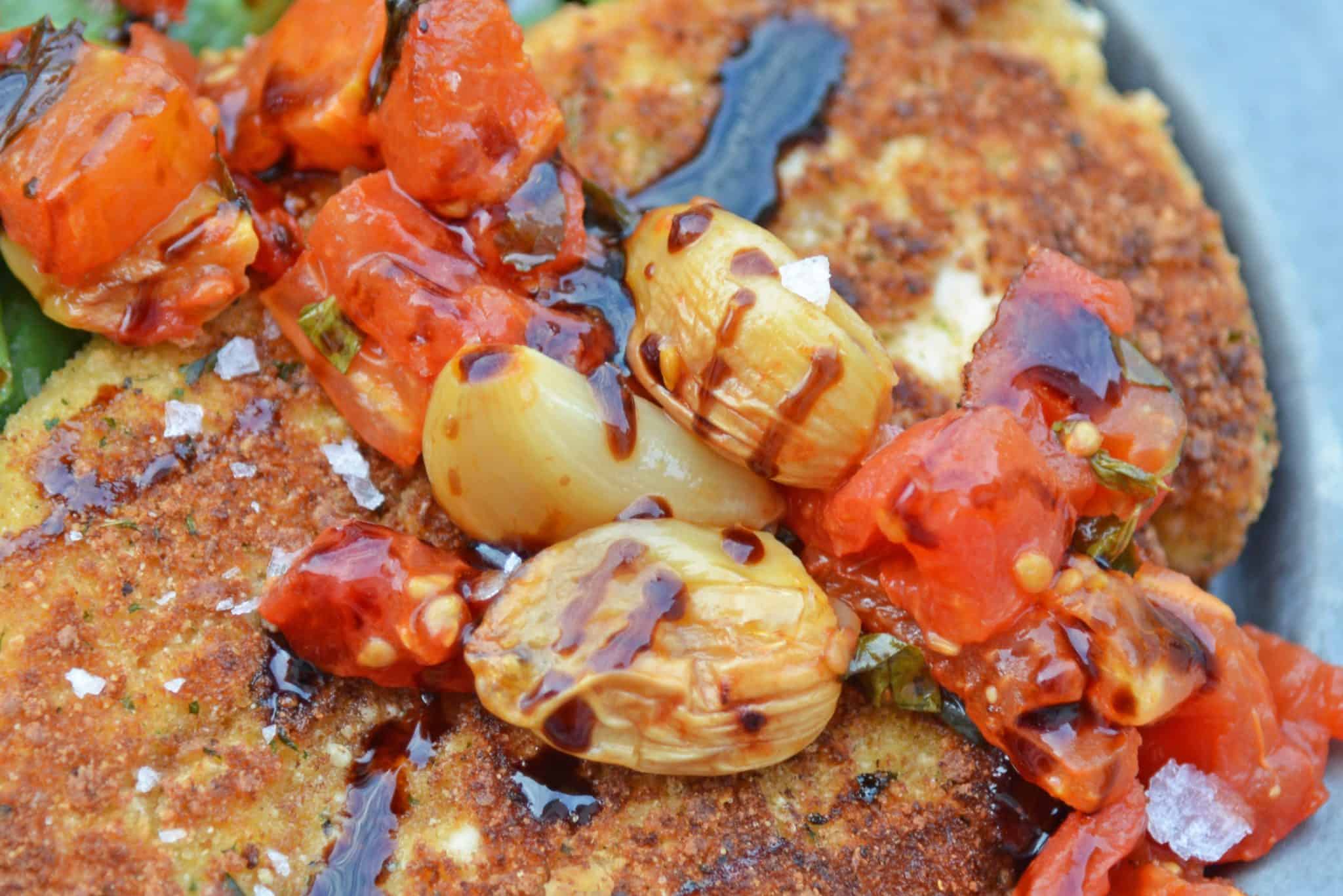 Parmesan fries up to a crunchy crust with a nutty flavor, so a dab of nutmeg helps amplify the flavor. To top, I used a roasted tomato sauce seasoned with basil and olive oil. Slow roasting vegetables brings out a unique smokey flavor that can not be achieved by a mere baking or stewing.
I serve mine over a bed of arugula, an idea I borrowed off of a famous underground (literally) Italian joint in Atlantic City called Chef Vola's.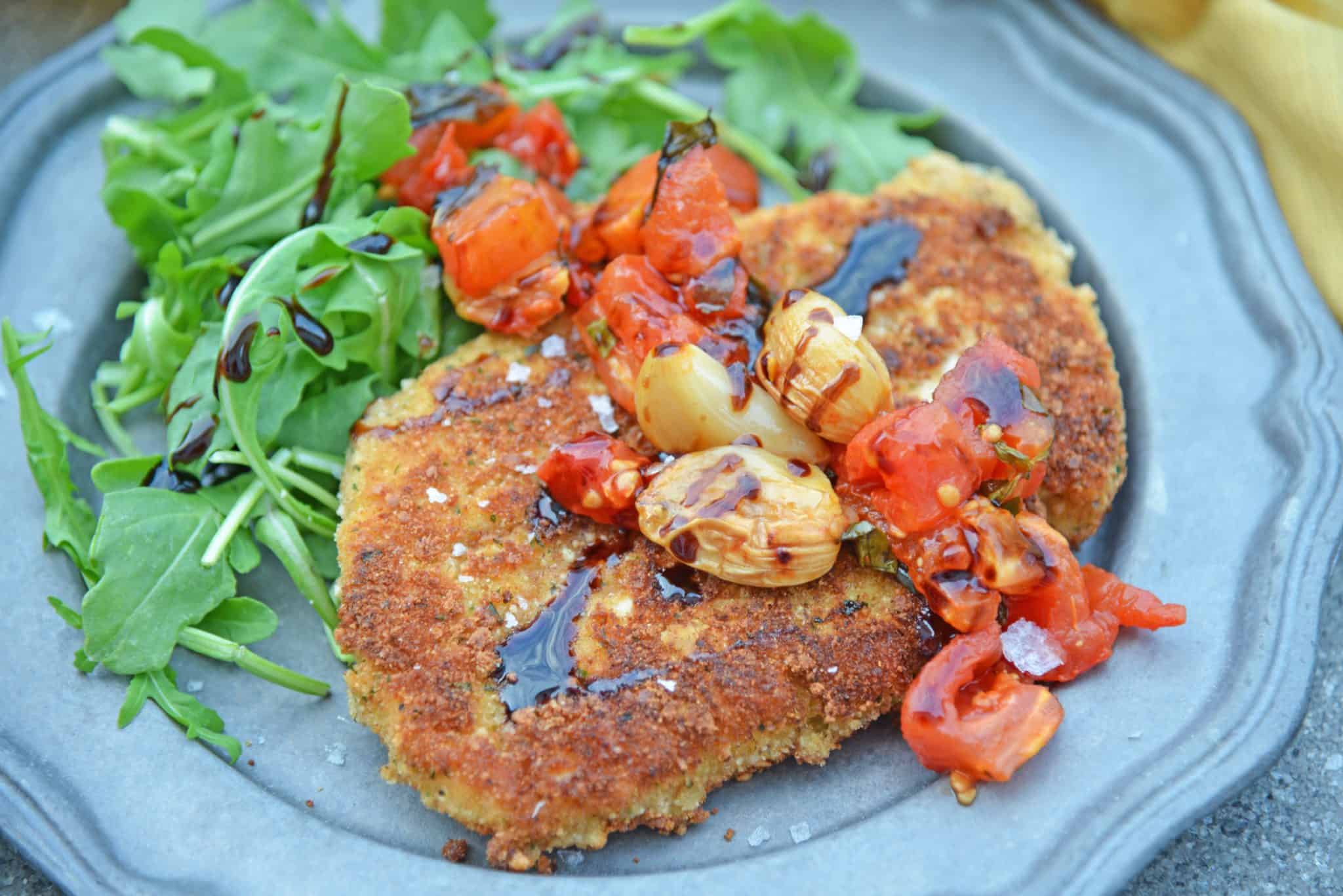 I rarely order chicken out, but their Chicken Milanese is a force to be reckoned with. I don't gamble and don't care for most of the things in AC, but I'll make the trip if bribed with a spa day and Chef Vola's.
This is my small way of bringing chef back home with me.
Godere! (Enjoy)
If you liked this 
chicken parmesan recipe, be sure to check out these other easy chicken recipes: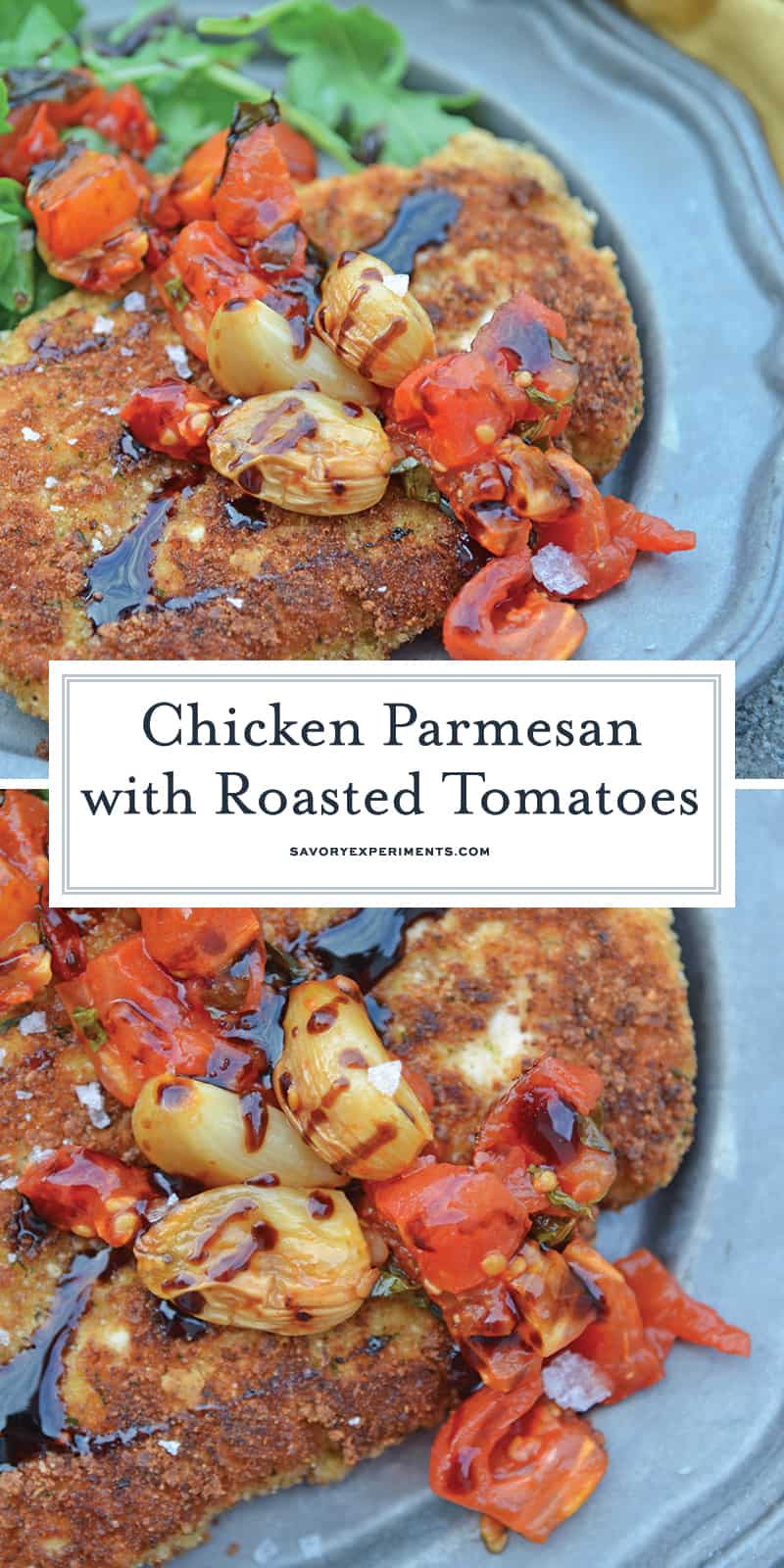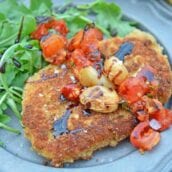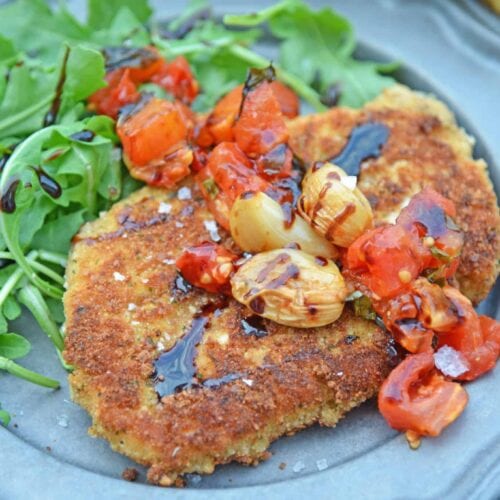 Print Recipe
Chicken Parmesan with Roasted Tomatoes
Chicken Parmesan with Roasted Tomatoes is an amazing way to make chicken parmesan because it comes with a savory roasted tomato sauce!
Ingredients
Roasted Tomatoes:
12

beefsteak tomatoes

, peeled

10

whole garlic cloves

, peeled

1/4

cup

light extra virgin olive oil

1

tablespoon

kosher salt

1

teaspoon

ground white pepper

1/2

cup

fresh basil leaves
Chicken Parmesan:
4 

chicken breasts

, boneless and skinless

1

cup

flour

1/2

teaspoon

nutmeg

Salt and pepper

2

eggs

, beaten

1 1/2

cup

bread crumbs

1/2

cup

Parmesan cheese

, finely grated

1/4

cup

butter

, divided

3

tablespoons

extra virgin olive oil
Instructions
Preheat oven to 300 degrees.

Cut tomatoes in half, remove woody stem and using your fingers, push out pulp and seeds.

Line a large rimmed baking sheet with aluminum foil. Toss whole garlic cloves and tomatoes with light extra virgin olive, kosher salt and white pepper. Spread in a single layer on baking sheet.

Roast for 60 minutes, opening the door every 10 minutes to release built up condensation.

Dice tomatoes and transfer whole garlic cloves, basil and remaining liquid in the baking sheet to an airtight plastic container. Set aside.

Lower oven temperature to 200, just warm.

Place one chicken breast between two sheets of plastic wrap or wax paper on a cutting board. Using a tenderizer, pound the chicken breast until it is a uniform thickness, about 1/4 inch or a tiny bit thicker. Continue with remaining breasts. If necessary, cut in half to make cooking more manageable. This really just depends on the size of your chicken breast.

Grab 3 shallow dishes or pie plates. In bowl #1, mix flour, nutmeg and season with salt and pepper. In bowl #2, beat two eggs. In bowl #3, mix bread crumbs and Parmesan cheese.

Heat 1 tablespoon butter and 1 tablespoon olive oil in large frying pan over medium-high heat.

Working briskly, dredge chicken in flour mixture, then egg mixture and finally bread crumb mixture. Pressing bread crumbs into the breast.

Place into hot frying pan. Fry for 3-4 minutes on each side or until medium brown. Place on a paper towel lined jelly roll pan and place into the oven to keep hot.

Continue with remaining breasts. If the frying pan gets dry, melt an additional 1 tablespoon butter and 1 tablespoon olive oil. The liquid will absorb into the breading (adding flavor!).

Place completed chicken breasts into the oven while you continue to fry. When complete, remove from oven.

Plate chicken and top with roasted tomatoes and garlic.

If you tried this recipe, come back and let us know how it was!
Nutrition
Calories:
995
kcal
|
Carbohydrates:
96
g
|
Protein:
49
g
|
Fat:
48
g
|
Saturated Fat:
14
g
|
Cholesterol:
193
mg
|
Sodium:
2558
mg
|
Potassium:
3029
mg
|
Fiber:
15
g
|
Sugar:
29
g
|
Vitamin A:
9260
IU
|
Vitamin C:
144
mg
|
Calcium:
369
mg
|
Iron:
7.5
mg