If you enjoy chicken pasta recipes, add this one to your list. Slow cooked balsamic vinegar creates a tangy and sweet sauce that coats the pasta, chicken and tomatoes. A decadent dish all prepared in a slow cooker.
Crock Pot Chicken Recipe
You know my slow cooker rules- everything must be in the pot in under 10 minutes, and Slow Cooker Balsamic Chicken Pasta fits the bill. This recipe stands true as you pile everything in, SET IT AND FORGET IT!!!! A healthy and inexpensive option for any busy weeknight meal.
The only exception is the pasta, but of course that shouldn't be too hard.
I used chicken breasts, but chicken thighs are also an option that will provide even more flavor to the completed dish.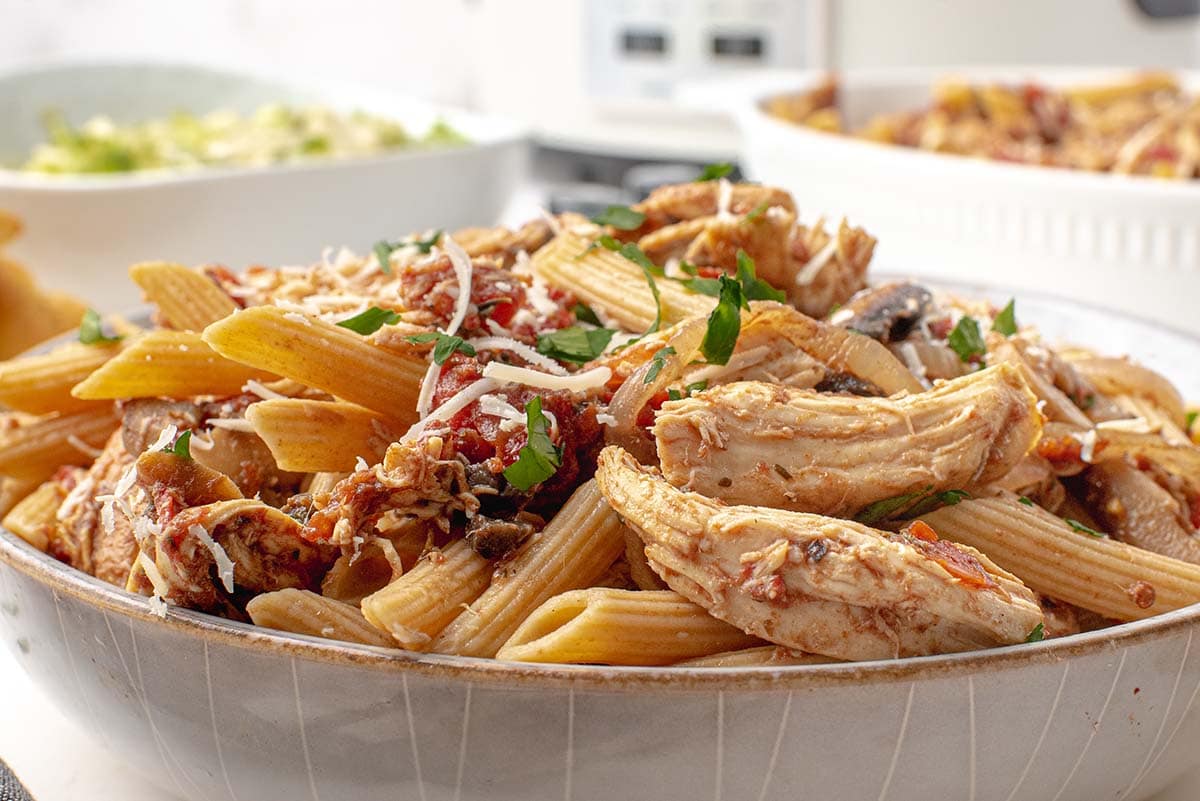 Ingredients
The list is small, but mighty!
Boneless Skinless Chicken Breast– Also feel free to use boneless skinless chicken thighs.
Canned petite diced tomatoes- Yes, I used canned instead of fresh tomatoes. Petite diced are great for bite-sized bits and to evenly break up into the sauce. If you can't find them, regular diced is perfectly fine. Make sure to drain the tomatoes first otherwise there will be too much liquid.
Balsamic Vinegar– This is really the star of the dish and can not be swapped or substituted. See the entire section below on what balsamic vinegar to use.
Sweet onion- While I usually want a pungent onion, this recipe really blends best with a Spanish sweet onion. White or yellow is an option if you want a more onion-y flavor.
Dried Italian seasoning- just the jarred stuff, I make my own.
Fresh garlic cloves- Fresh is always best for true garlic flavors. Bottled is great for ease, but commonly has a sweet taste.
Canned mushrooms– Another time saver is canned mushrooms. Freshly sliced is also an option and won't change the recipe. I usually have these on-hand in my pantry, so it is easy to toss in.
Pasta- For a rustic pasta dish like this one, you'll also want a hearty pasta like rigatoni. We also went for whole wheat pasta since this qualifies as one of my healthier dishes.
Parmesan cheese- Nothing beats a nutty, aged parmesan cheese. Freshly grated means it isn't dried out and will give a creaminess along with the crunchy little cheese crystals.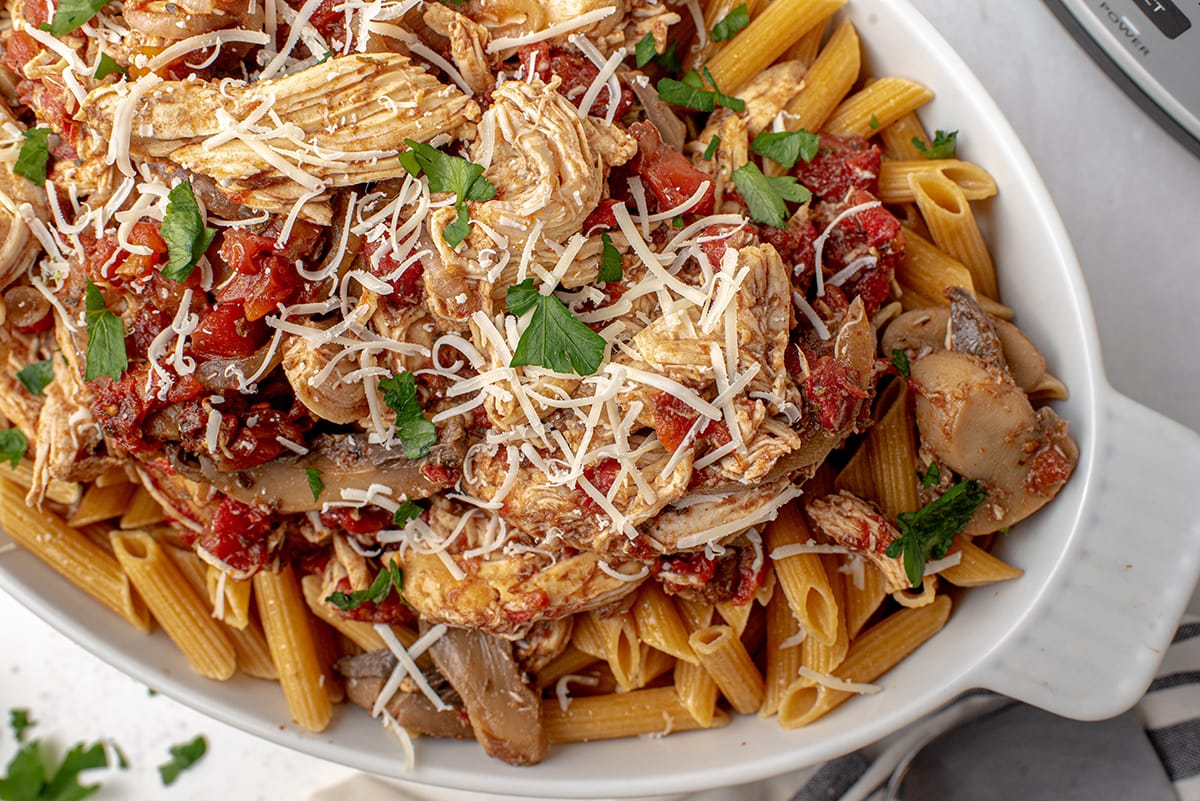 Make It
This is the easy part. It should literally take 10 minutes or less to pile it all in the crock pot. And then relax knowing dinner will be ready shortly!
Combine the chicken breasts, tomatoes, balsamic vinegar, onion, Italian seasoning and garlic into the bowl of the crock pot and give it a stir to make sure everything is evenly coated.
Set it on low for 5 hours. While high might get dinner on the table faster, low will give you the best results. The chicken will juicy and shred easily, while the vinegar has enough time to reduce and caramelize.
As soon as you take the lid off, ladle off any fats that floated up from the chicken. Remove chicken and using two forks, shred. If you want a quick trick, place the chicken in a large mixing bowl and give it a few blitzes with an electric hand mixer.
Return the chicken to the pot along with the drained, canned mushrooms. Cover and turn off for 10 minutes to rest.
Serve over your pasta of choice and top it with parmesan cheese.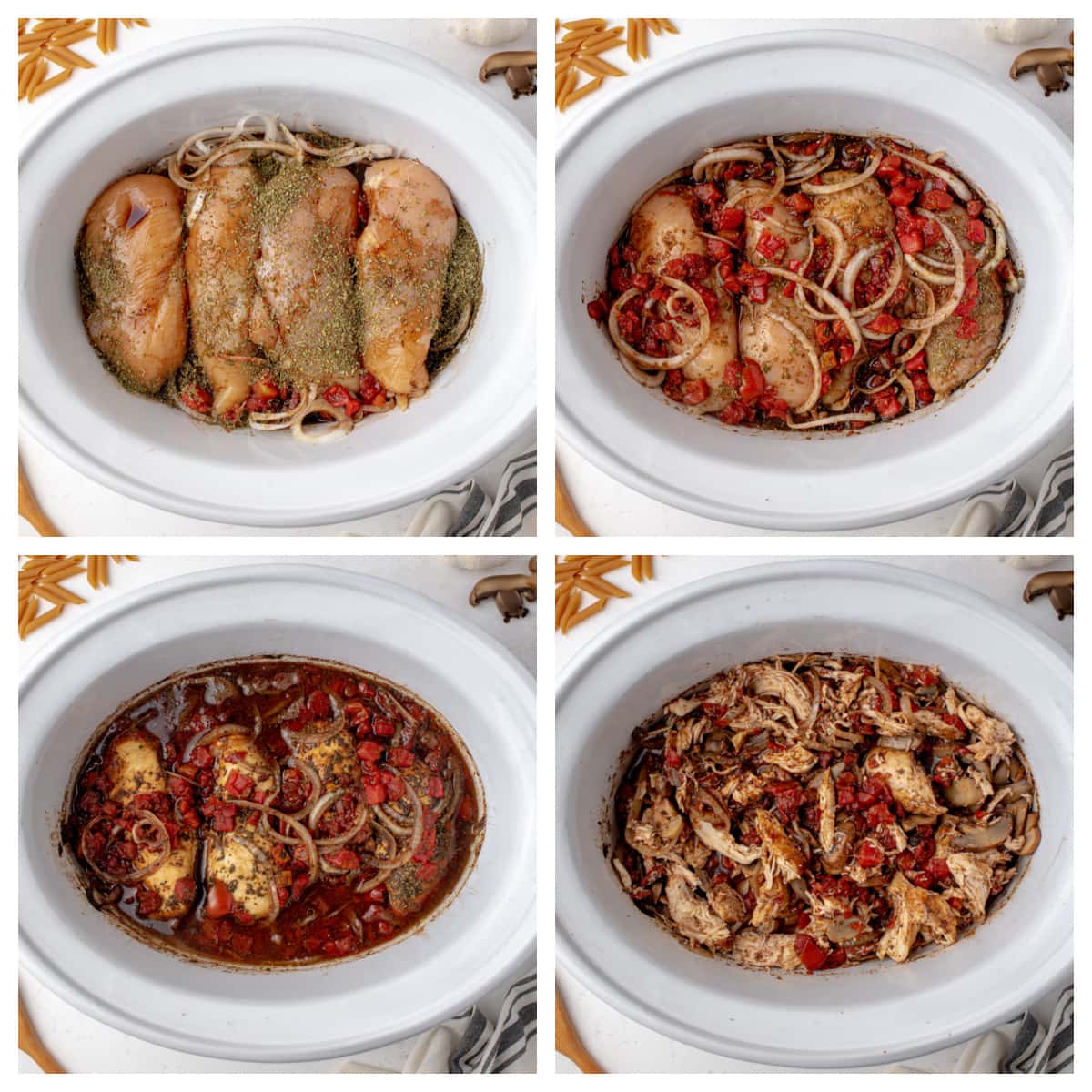 How to Buy Balsamic Vinegar
For something like balsamic reduction or salad dressing, you want a good, quality balsamic vinegar. But for this, go for the cheap stuff. It is mixed with so many other things that the quality won't really shine through. In fact, it might be overwhelming.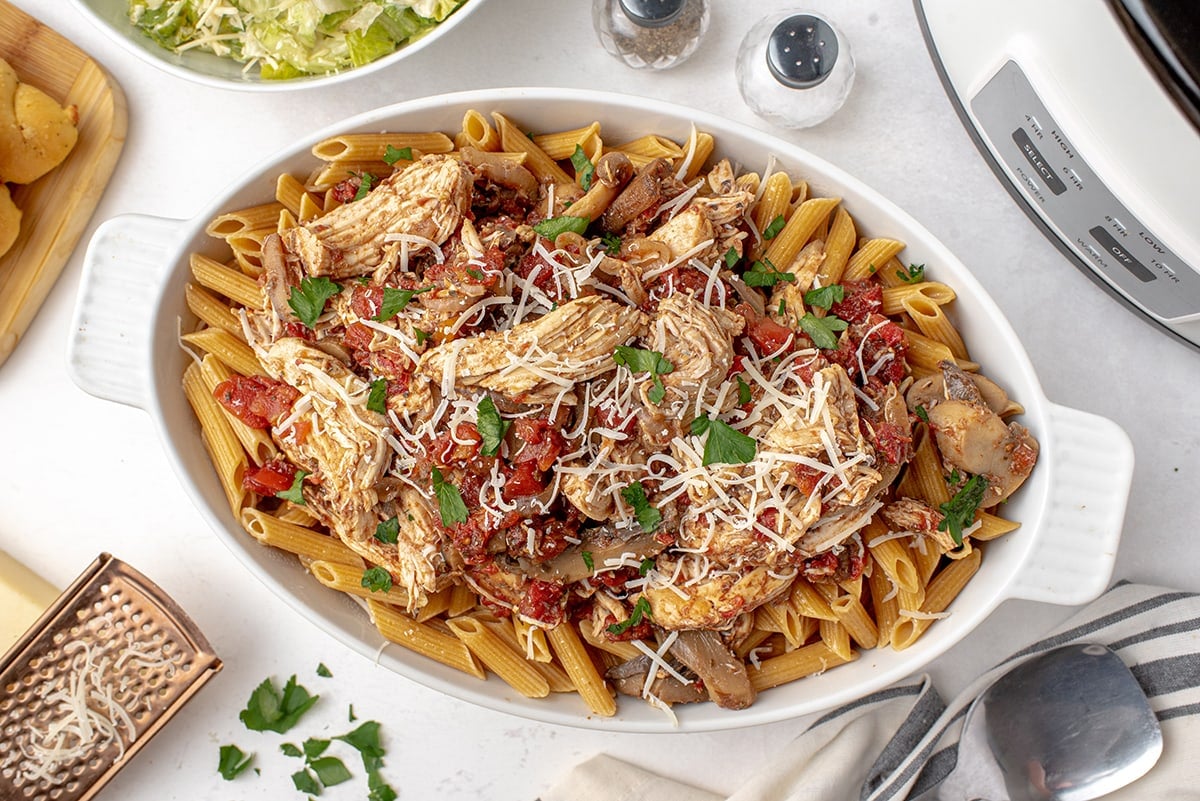 So what makes it so good? The original balsamic vinegar is made from reducing white Trebbiano grape juice. The original process is still in practice, the product that it produces is very expensive going for up to $200 per ounce!
That is SO out of my budget! The cost comes from aging the product to reduce and thicken for a period of 12 years or more. This will be labeled as Aceto Balsamico Tradizionale. Chances are you won't find it at your regular grocery store, so don't worry about accidentally buying it.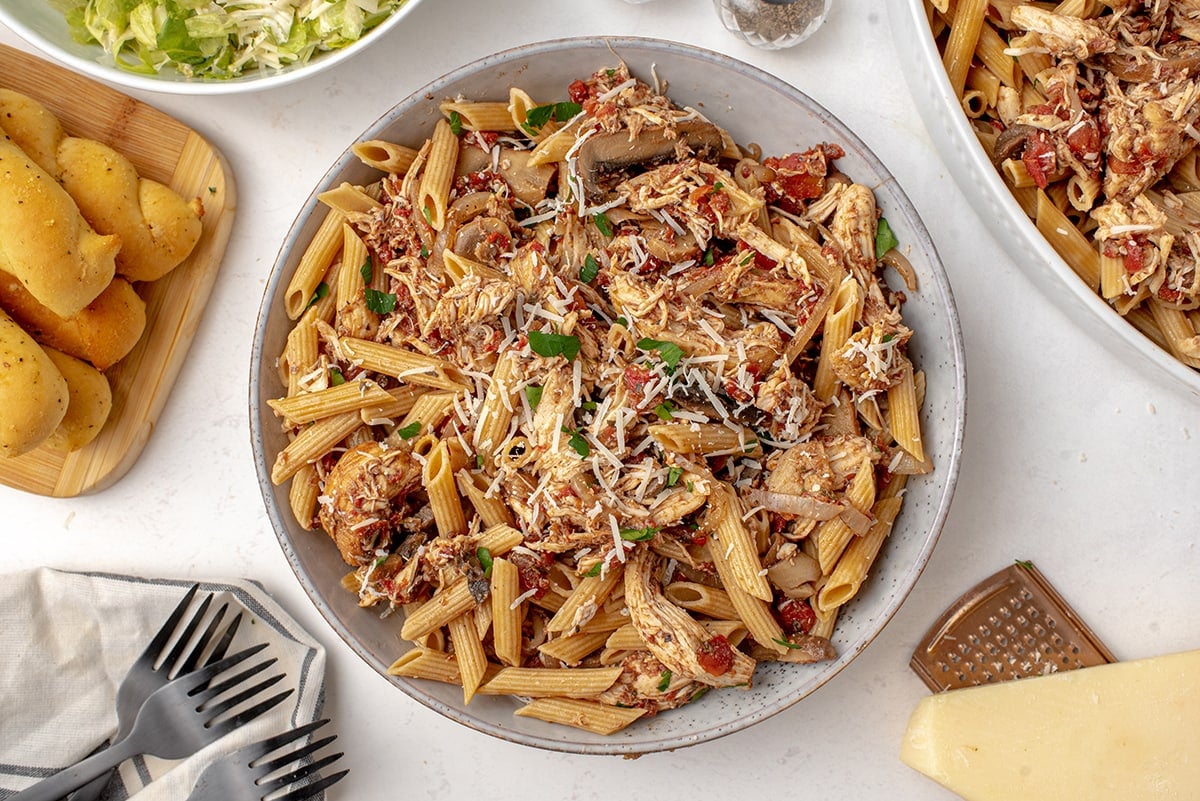 Regular store-bought balsamic vinegar is a combination of wine vinegar and other ingredients to simulate the taste and texture of the real (and expensive) stuff. This is the stuff you want to use for Slow Cooker Balsamic Chicken Pasta.
The third type of balsamic vinegar will be labeled condiment grade balsamic vinegar, which is aged less than 12 years and usually combination for the regular store-bought stuff and the traditionally prepared. This is the "good" stuff I keep on hand for salads, finishing and reductions.
Come your cheap balsamic vinegar with a handful of ingredients you probably already have in the pantry and you are all set. Balsamic Chicken Pasta is also a freezer-friendly recipe, so make double!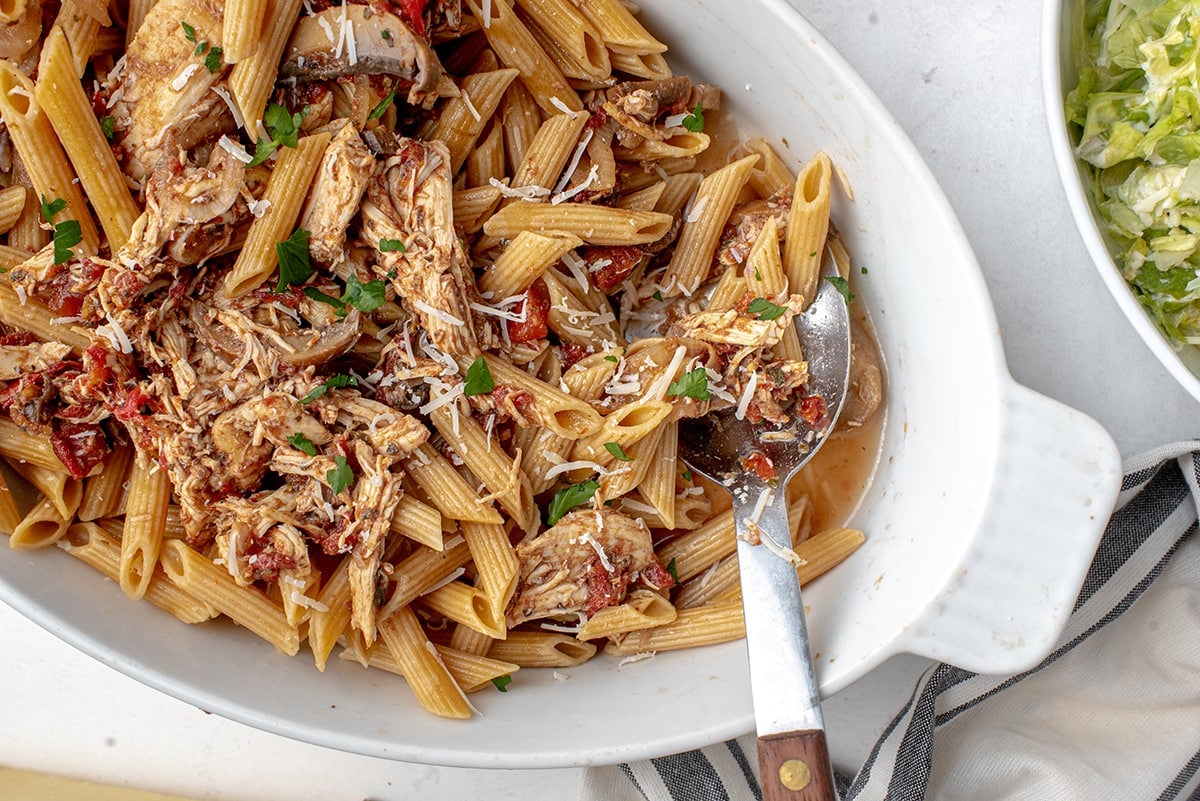 Make Ahead, Storage & Freezing
To Store, place shredded chicken in an airtight storage container in the refrigerator for up to 4 days. Gently rewarm in the microwave until hot. You can also reheat it in a saucepan over medium heat.
To freeze, store shredded chicken in an airtight freezer-safe storage container in the freezer for up to 3 months. Do not freeze with pasta, only the sauce.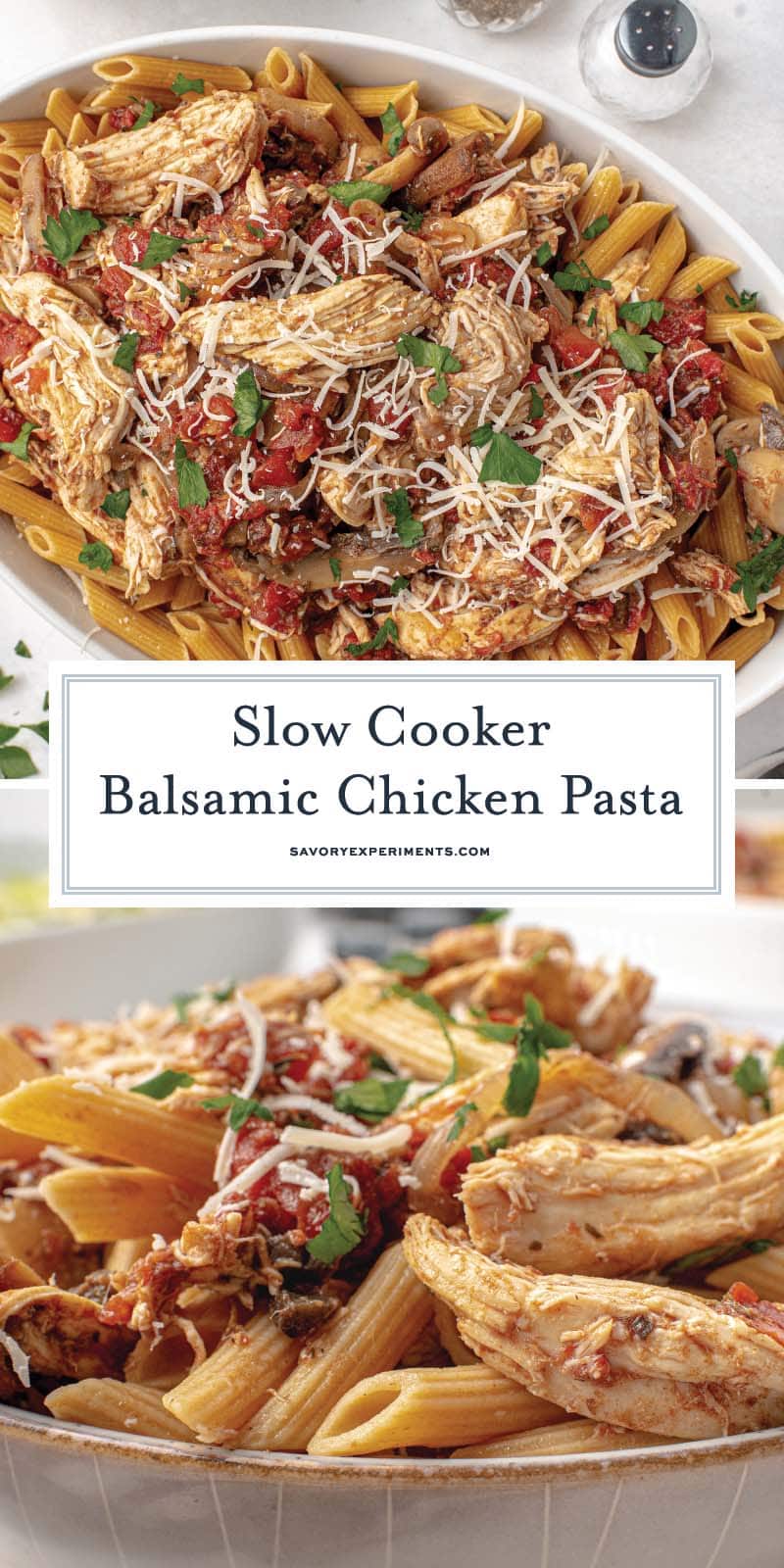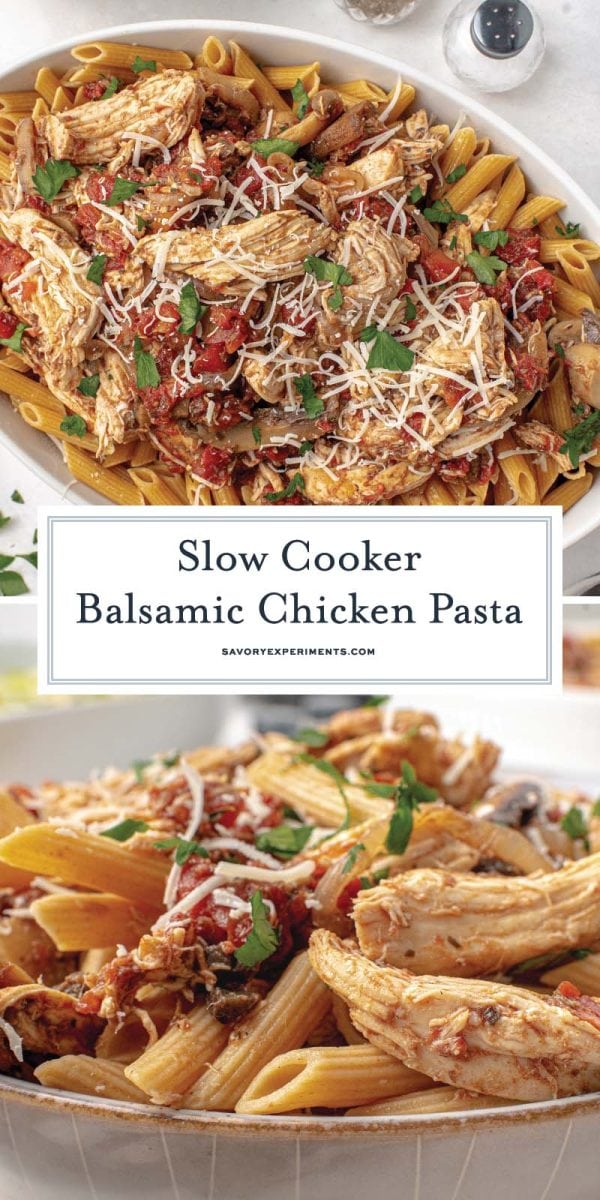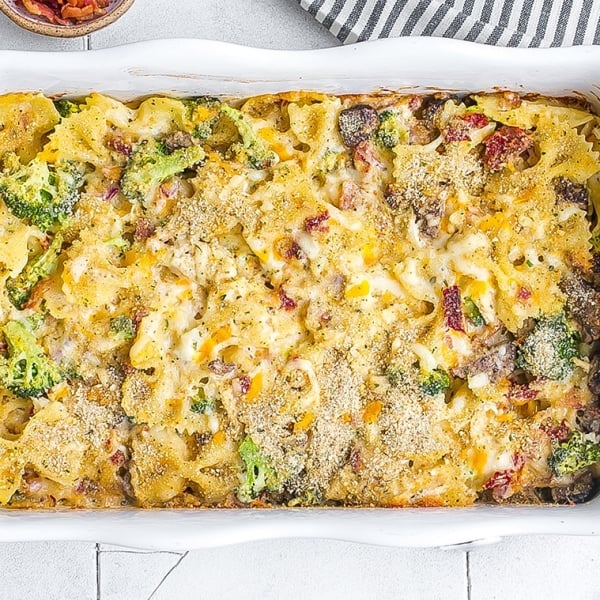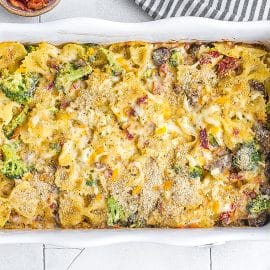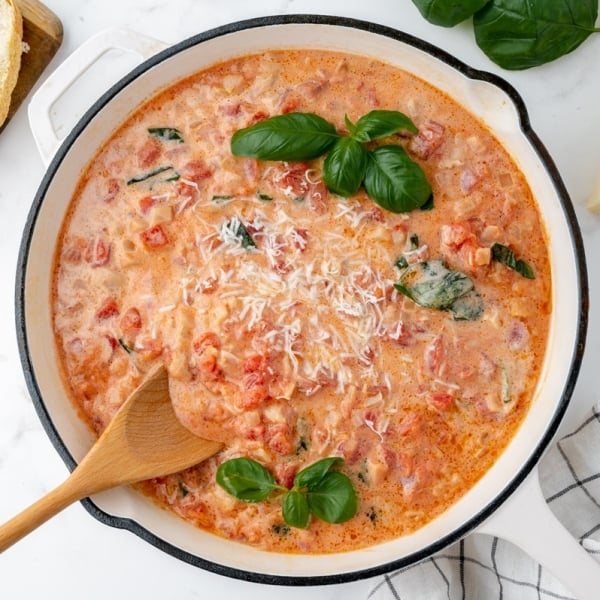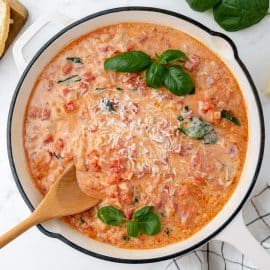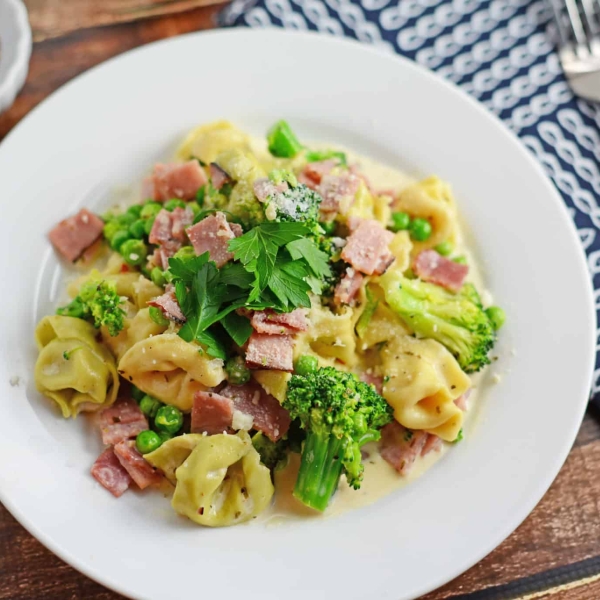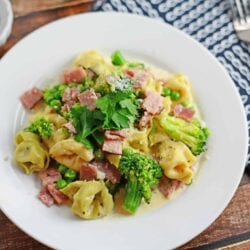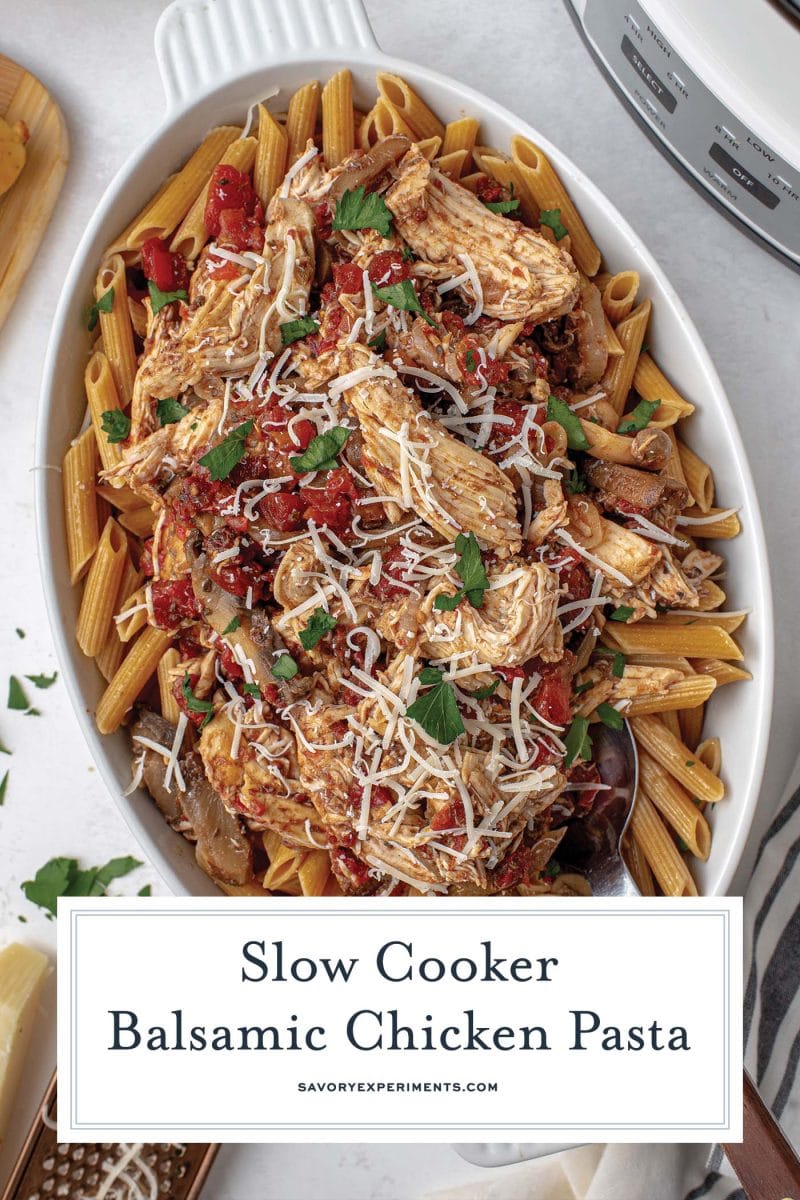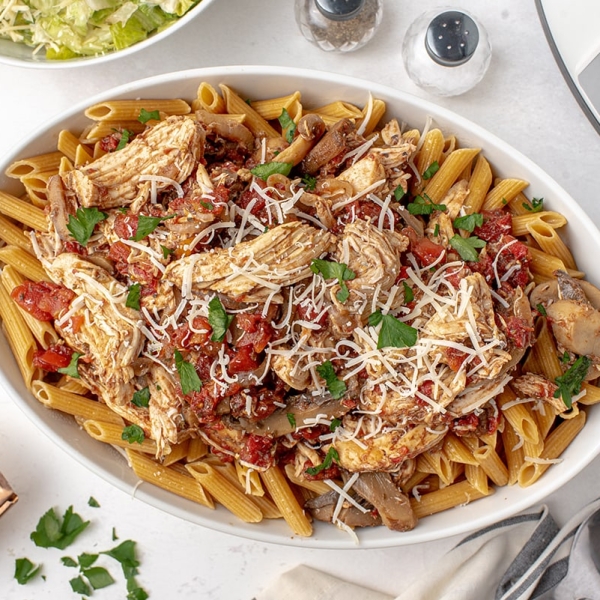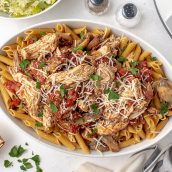 Slow Cooker Balsamic Chicken Pasta
This Slow Cooker Balsamic Chicken Pasta is an easy chicken recipe using balsamic reduction, tomatoes and mushrooms over pasta.
Instructions
Combine the chicken breasts, tomatoes, balsamic vinegar, sliced onion, Italian seasoning and garlic. Give it a quick stir to coat the chicken.

Cover and set the slow cooker on low for 5 hours.

As soon as you take the lid off, ladle off any fats that floated up from the chicken. Remove the chicken and shred with two forks.

Return the shredded chicken and mushrooms to the pot. Cover and turn off. Allow to rest for 10 minutes.

Serve over your favorite pasta and top with Parmesan cheese.

If you've tried this recipe, come back and let us know how it was in the comments or ratings.
Nutrition
Calories:
593
kcal
,
Carbohydrates:
100
g
,
Protein:
43
g
,
Fat:
5
g
,
Saturated Fat:
1
g
,
Cholesterol:
72
mg
,
Sodium:
601
mg
,
Potassium:
1436
mg
,
Fiber:
6
g
,
Sugar:
14
g
,
Vitamin A:
450
IU
,
Vitamin C:
31.7
mg
,
Calcium:
208
mg
,
Iron:
9.1
mg