Two classic Italian dishes come together in my Sausage and Peppers Stuffed Shells. All you need are eight ingredients and 40 minutes for a show stopping main course.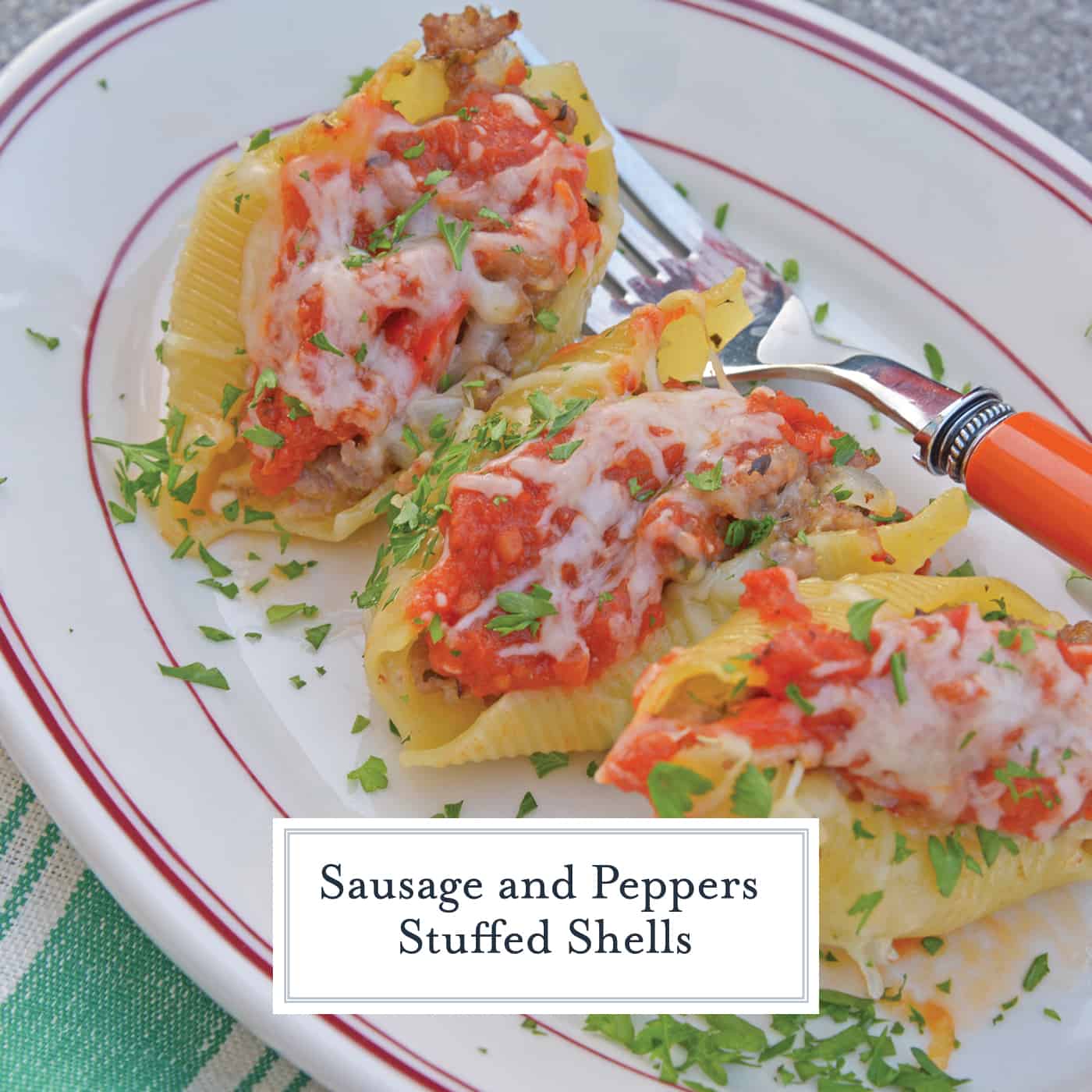 These Sausage and Peppers Stuffed Shells are a mashup of two fan favorites and are a fun way to spice up any weekday meal.
This is a stuffed shells recipe, but with a twist. Instead of the plain old ricotta stuffed shells, I fill mine with sausage and peppers. Don't worry, there is plenty of cheese still in them even if there isn't ricotta.
Stuffed shells with sausage, marinara sauce and delicious shredded cheese makes for the best new stuffed pasta shells.
So how do you make this stuffed shells recipe? It's easy and broken into 4 basic steps.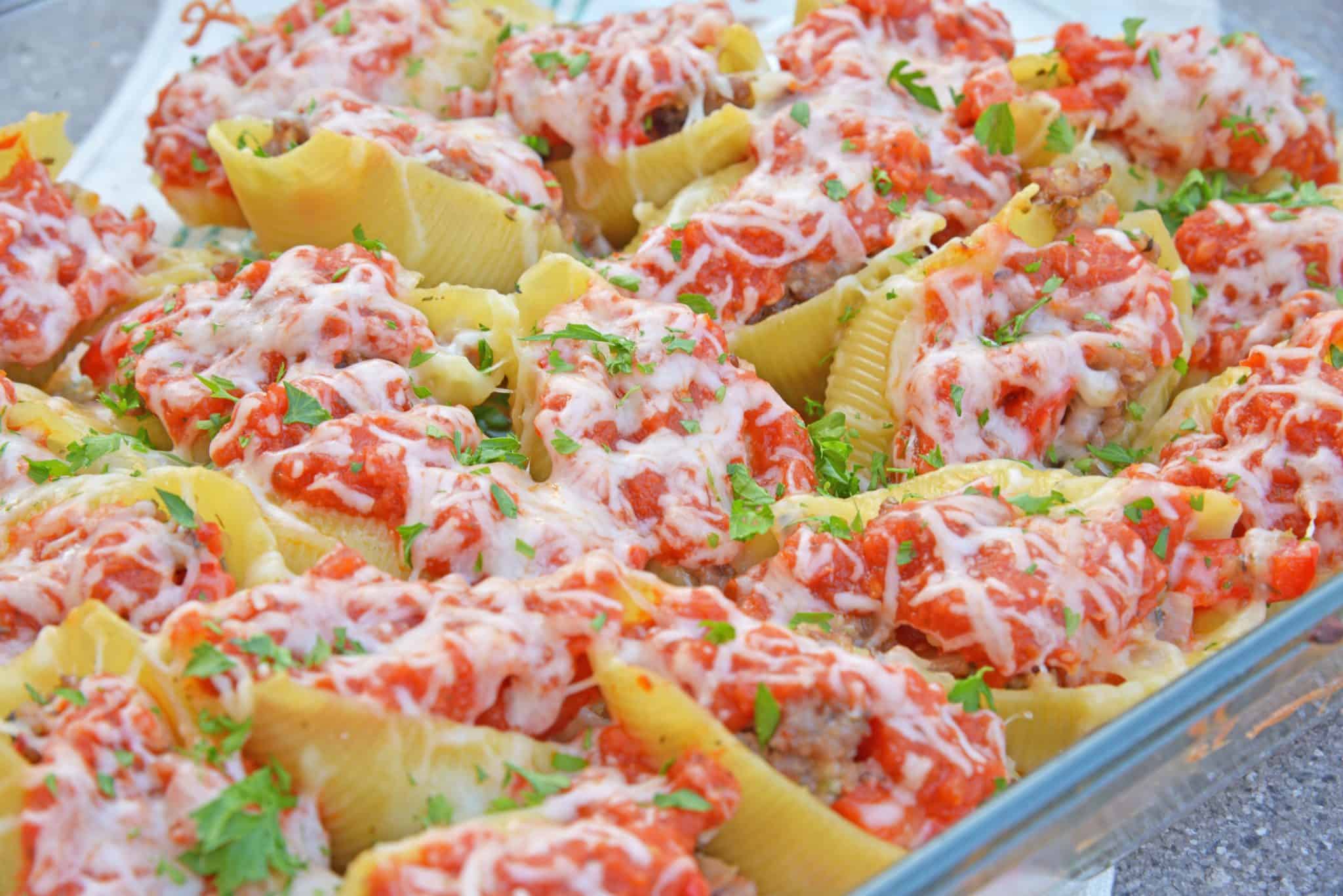 ONE. Boil the shells. You want them to be cooked al dente because when you bake them in the oven, they will cook just a little more. They also need to be taunt enough to handle and stuff without breaking.
I like using jumbo shells, but they do come in varying sizes. Cook according to package directions and don't skimp on salting the water! The pasta is shocked in cold water to stop the cooking process and drained.
TWO. Make the sausage and pepper filling. You can use whatever type of Italian sausage you'd like My family likes it hot, hot, hot, so we use a spicy sausage, but feel free to use mild or even sweet Italian sausage.
PRO TIP: Use freshly grated cheeses right off the block. Pre shredded cheese is tossed in some sort of starch (commonly potato or corn starch) and this can reduce the gooey, cheesy factor when melted.
This combined with lightly sauteed onions and bell peppers will make up the base filling and be tossed with shredded cheeses and Italian seasoning.
You can use your favorite Italian cheese. I used a combination of parmesan, pecorino romano and mozzarella. You can also use just one if you prefer.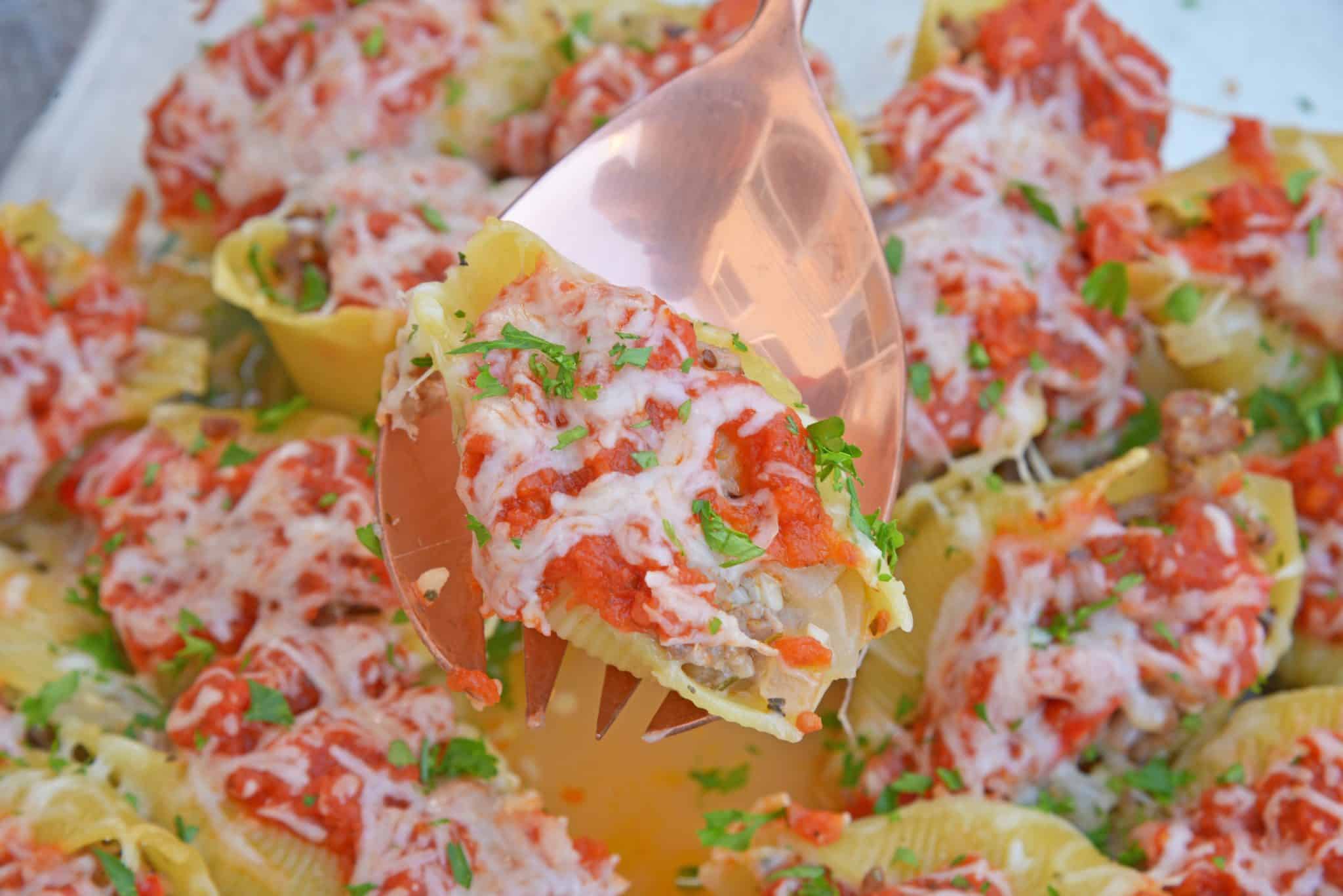 THREE. To make stuffed shells with meat, you have to, well, stuff the shells! Equally divide the sausage and pepper mixture between all the shells.
I like to use a light coating of cooking spray in a 9×13 baking dish, but also a thin layer of marinara sauce. It prevents sticking, but also absorbs into the pasta, adding even more flavor for these magnificent stuffed shells.
PRO TIP: Because these shells have so much flavor in their own filling, I don't use a hugely flavorsome sauce. A basic tomato sauce or basil sauce will do just perfectly. You can also use a meat sauce if you'd like.
Top the shells with marinara sauce. Make your own or use a jarred sauce, whichever you prefer. I don't heat the sauce before topping since they are going to be heated in the oven.
FOUR. Bake your shells! All of the elements are already cooked and should be fairly warm still, so baking is the quickest and easiest of the steps. You really can't hurt them at this point.
Word to the wise, let them cool a few minutes before digging into your stuffed shells, they will be HOT! If you want to serve your sausage and pepper stuffed shells with a side of bread, these are my favorites.
I also like to make a nice leafy green salad with homemade Red Wine Vinaigrette.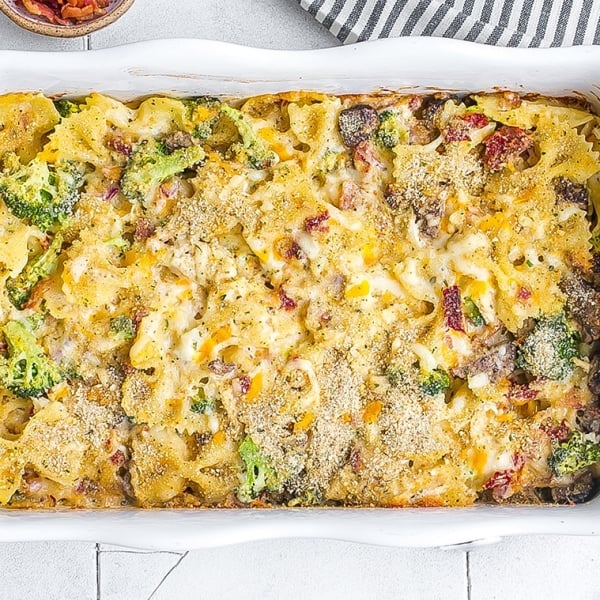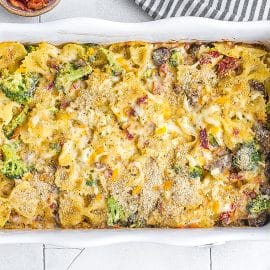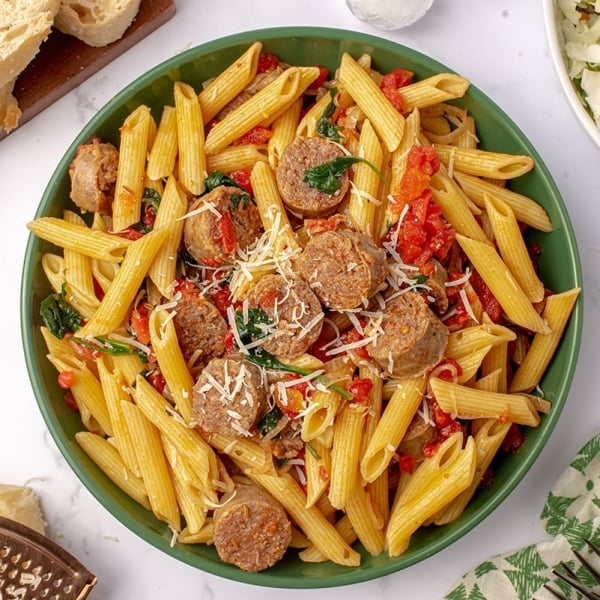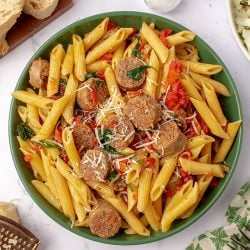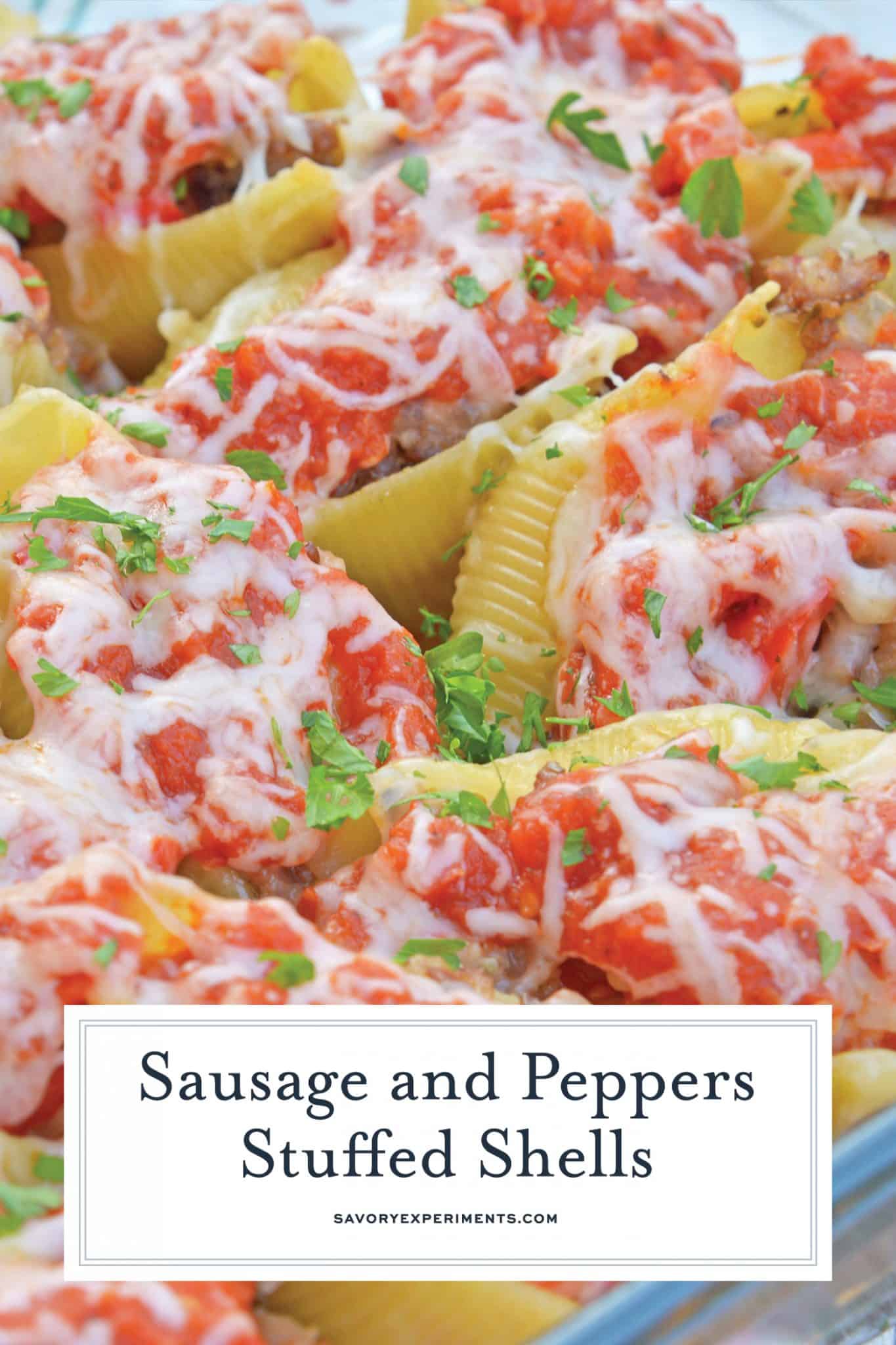 Tools for making stuffed shells with sausage:
9 x 13 Glass Baking Dish– an absolute essential for any kitchen! Use it for baking, marinating or storing. Get one with a lid, you'll thank me later.
Heavy Bottom Frying Pan– this will be one of your most used kitchen tools. Having something that is heavy bottom will distribute heat better and prevent burning whether you are using an electric or gas range.
Good Extra Virgin Olive Oil– A good olive oil will taste like, well, olives, while a poorly made one will taste like vegetable oil. Gross. While people tend to favor Italian and Greek olive oils, I prefer to buy mine domestically. They are some great ones out there from all over the world, but the reporting of ingredients isn't always the same and you could find that your super expensive olive oil was actually cut with vegetable oil.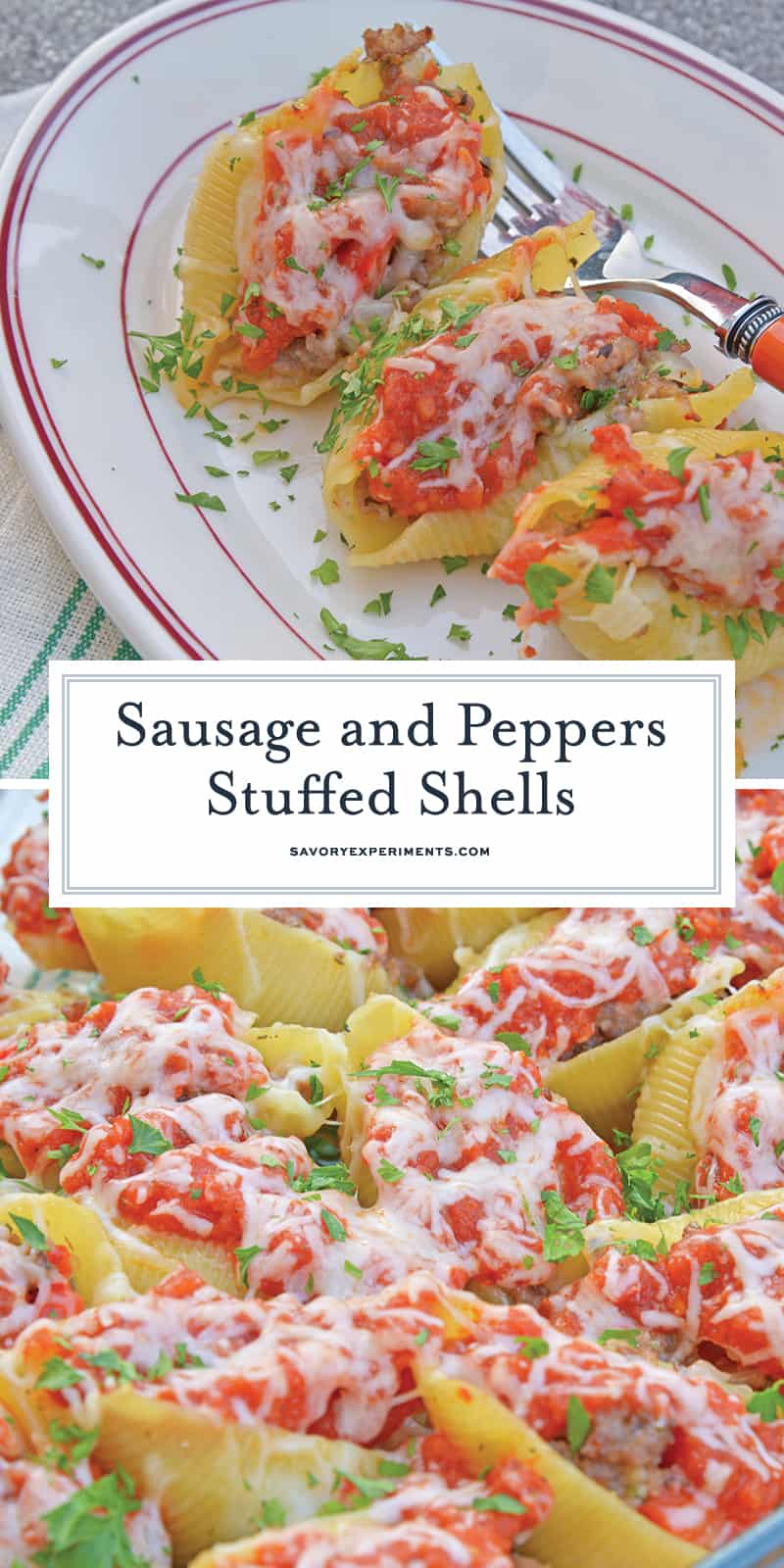 Questions you might have about how to make stuffed shells:
Can I make this into a vegetarian dish? Yes! Simply omit the sausage and triple the bell pepper, onion and cheese mixture. If you need more vegetarian ideas, check out my dinner ideas section!
Can I make these into ricotta stuffed shells? You surely can. Instead of using the shredded cheese, substitute a whole milk ricotta cheese. I like to drain the ricotta first so they don't get all watery when baked.
Can stuffed shells be made ahead? Stuffed shells can be made ahead of time. Cook the shells, sausage and pepper filling, stuff the shells and top them with marinara sauce. Cover with well and refrigerate until ready to cook. I would say no more than 24 hours in advance.
Can I freeze stuffed shells? You can freeze stuffed shells. Follow the same directions above about making stuffed shells in advance, but prepare for the freezer. If packaged correctly, they will be good for 3-4 months.
If you package them in a baking dish, go ahead and top with marinara sauce, but if you have them in an airtight plastic bag as just stuffed shells, then don't add marinara until ready to bake.
You can thaw the shells first or bake them from frozen at 350 and double the cooking time.
What color bell peppers should I use? You can use any color you'd prefer. Green, red, yellow, orange or a mixture, all are acceptable!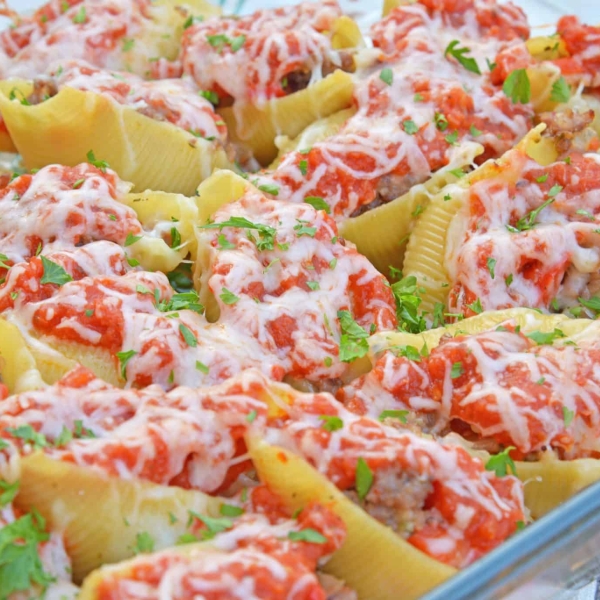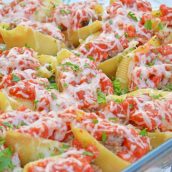 Sausage and Pepper Stuffed Shell Recipe
These Sausage and Peppers Stuffed Shells are a mashup of two fan favorites and are a fun way to spice up any weekday meal.
Equipment
Heat Resistant Rubber Spatula
Instructions
Preheat oven to 350 degrees. Boil a large pot of water, preferably a Dutch oven and add a small amount of salt (optional.) When the water comes to a rolling boil, add shells and cook according to package directions, minus 1 minute. Drain and rinse with cold water immediately. Transfer to a paper towel lined cookie sheet with shells placed upside down to drain excess water.

While shells are boiling, brown sausage in a large skillet over medium-high heat. Cook for 5 minutes, or until brown, breaking up with a spatula or spoon. Remove sausage to a paper towel-lined plate to drain excess grease. Add olive oil, bell peppers, and onion to the same hot skillet. Saute for 5-7 minutes or until soft. Transfers to a mixing bowl.

Add browned sausage, Italian seasoning and 1 cup shredded Italian cheese to bell pepper mixture. Toss to mix.

Spread a few spoons of marinara sauce in the bottom of a 9×13 dish. Carefully fill each pasta shell with sausage mixture and place into the dish, fitting tightly so they are upright. Cover with remaining marinara sauce and 1 cup shredded Italian cheese.

Bake uncovered for 15 minutes. Remove and allow to cool for a few minutes before serving. Enjoy your Sausage and Peppers Stuffed Shells!

If you've tried this recipe, come back and let us know how it was!
Nutrition
Calories:
643
kcal
,
Carbohydrates:
78
g
,
Protein:
30
g
,
Fat:
24
g
,
Saturated Fat:
4
g
,
Cholesterol:
25
mg
,
Sodium:
885
mg
,
Potassium:
785
mg
,
Fiber:
6
g
,
Sugar:
11
g
,
Vitamin A:
1730
IU
,
Vitamin C:
58.2
mg
,
Calcium:
173
mg
,
Iron:
3.2
mg