Truffle Aioli Sauce is an easy-to-make condiment that's perfect for dipping french fries, adding to sandwiches, and so much more.
This aioli sauce is made with truffle pate instead of truffle oil and contains no raw eggs, unlike most aioli sauces. So yummy!
This Truffle Aioli Sauce is an easy, stand out condiment made using black truffle pate. You'll never want to dip your fries in anything else again!
Before I jump right into the recipe, I want to clear some things up for those looking at this recipe with question marks in their eyes, like what is a truffle and what does a truffle taste like?!
There are two types of truffles. Those that are chocolate and delicious and those that grow in the ground that are equally delicious. This recipe makes use of the latter variety.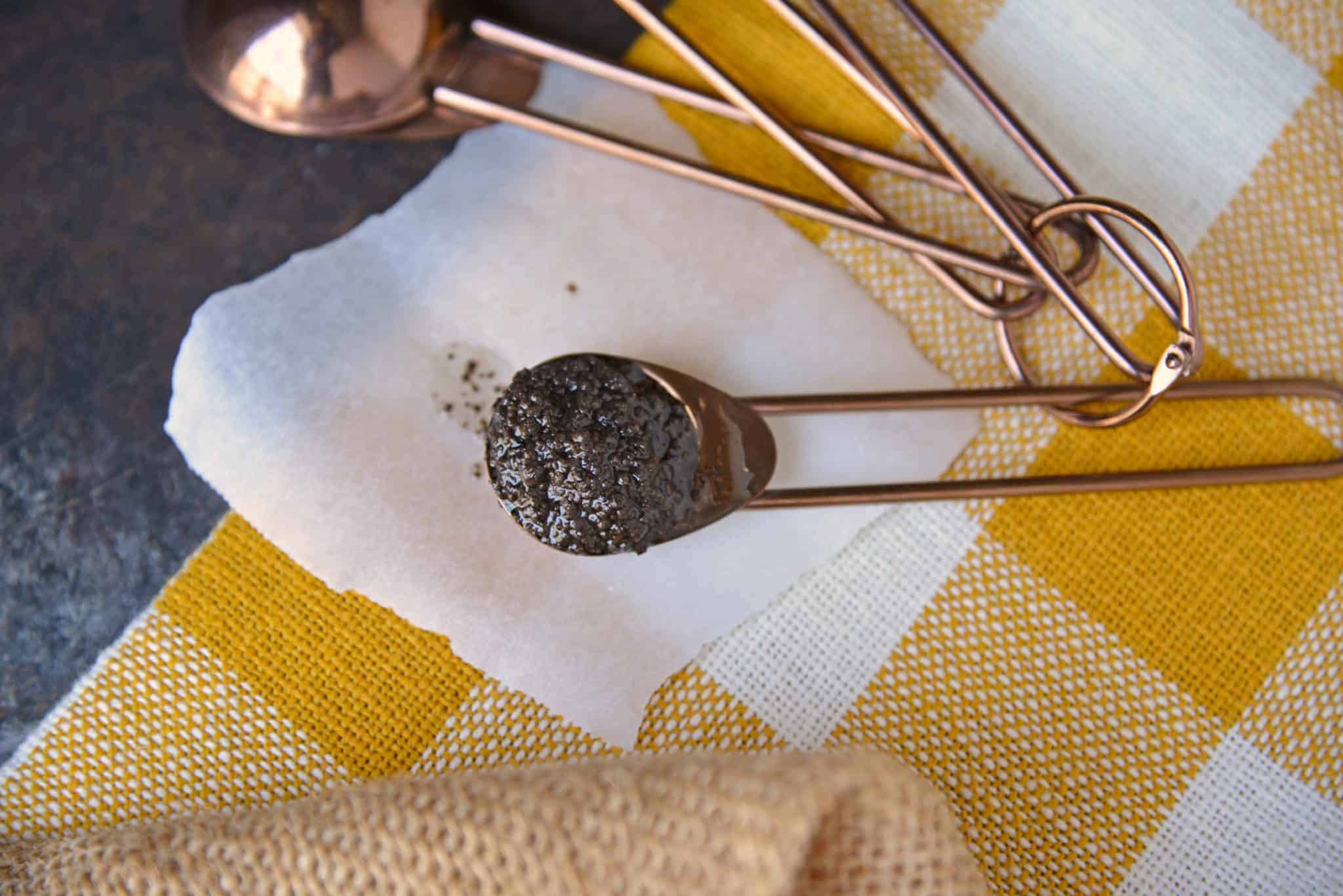 Truffles are actually subterranean fungus found in and around tree roots. I know, I know, stay with me. There are white truffles, burgundy truffles, and black truffles. We are using black truffles for this aioli but any variety would work.
What do truffles taste like? Not chocolate! 😉 Black truffles taste a bit garlicky a bit earthy, and a little musky. Basically, they are intriguing and those attributes make them perfect for aioli.
Their unique, delicious flavor that makes them a great accent to many dishes as well. In fact, black truffles have become my secret ingredient in many recipes!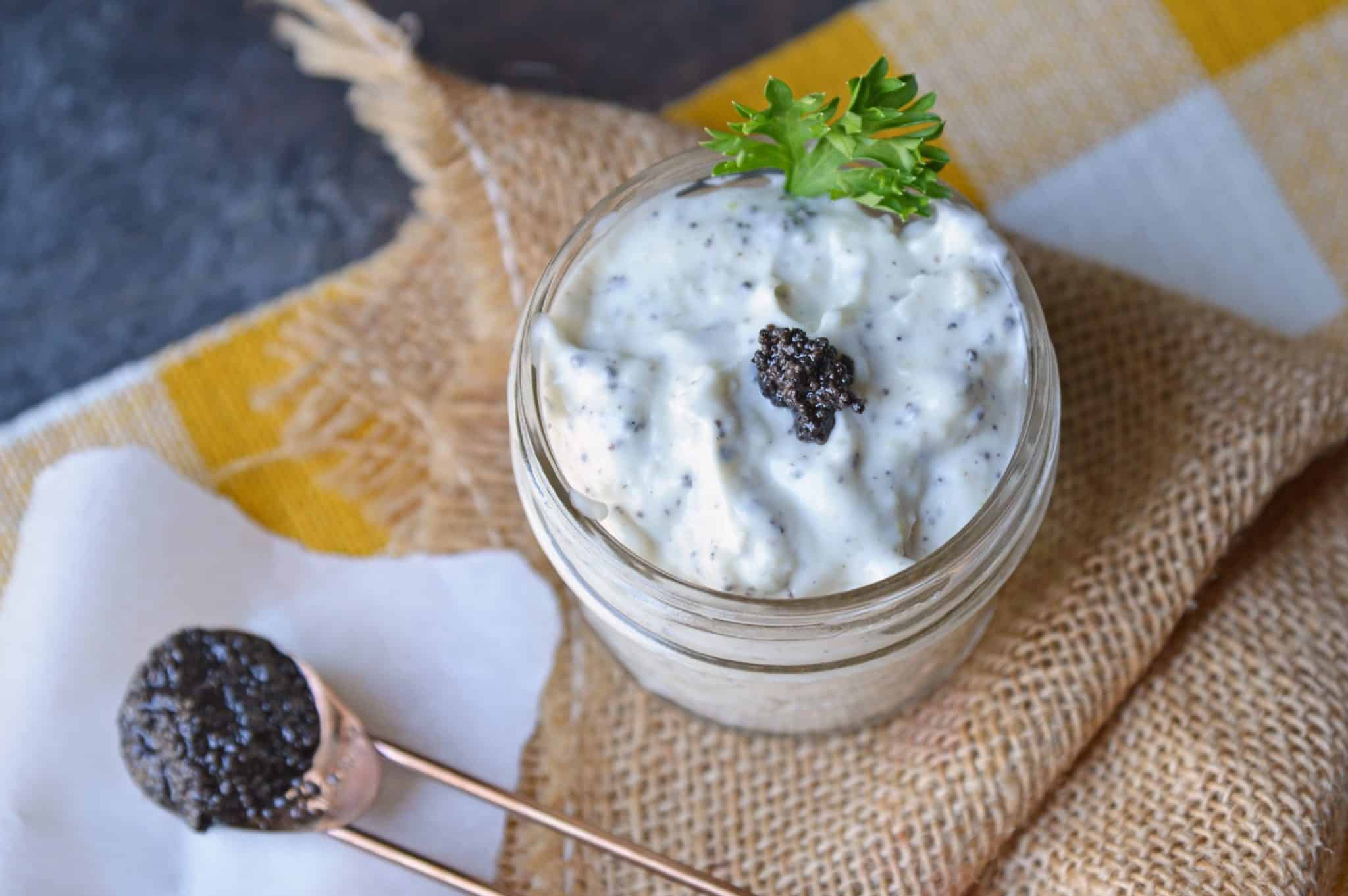 Truffles and truffle based products do tend to be expensive. They are a highly seasonal ingredient and because they are next to impossible to farm, you have to forage for them. Hunting for truffles is not an easy endeavor and it makes them all the more special.
When they are in season, you can often see fresh truffles shaved on top of dishes at higher-end restaurants. If you want to cook with them at home, you could, in theory, buy fresh truffles, but you are better off buying truffle products.
At your grocery store or a specialty store, you can find all sorts of goodies. There is truffle butter, truffle salt, truffle oil, and as you can see in this recipe, truffle pate.
Now, back to the recipe…
Aioli is one of my favorite things to dip french fries into. It's also delicious on sandwiches or with garlic potatoes. This Truffle Aioli Sauce is my twist on a traditional aioli sauce and the black truffle pate truly makes it a stand-out condiment!
While many truffle aioli recipes use truffle oil, this recipe uses black truffle pate. You may need to order it online as it can be a little hard to find. If you don't have time to order it or can't find it locally, you can substitute 2 tablespoons truffle oil.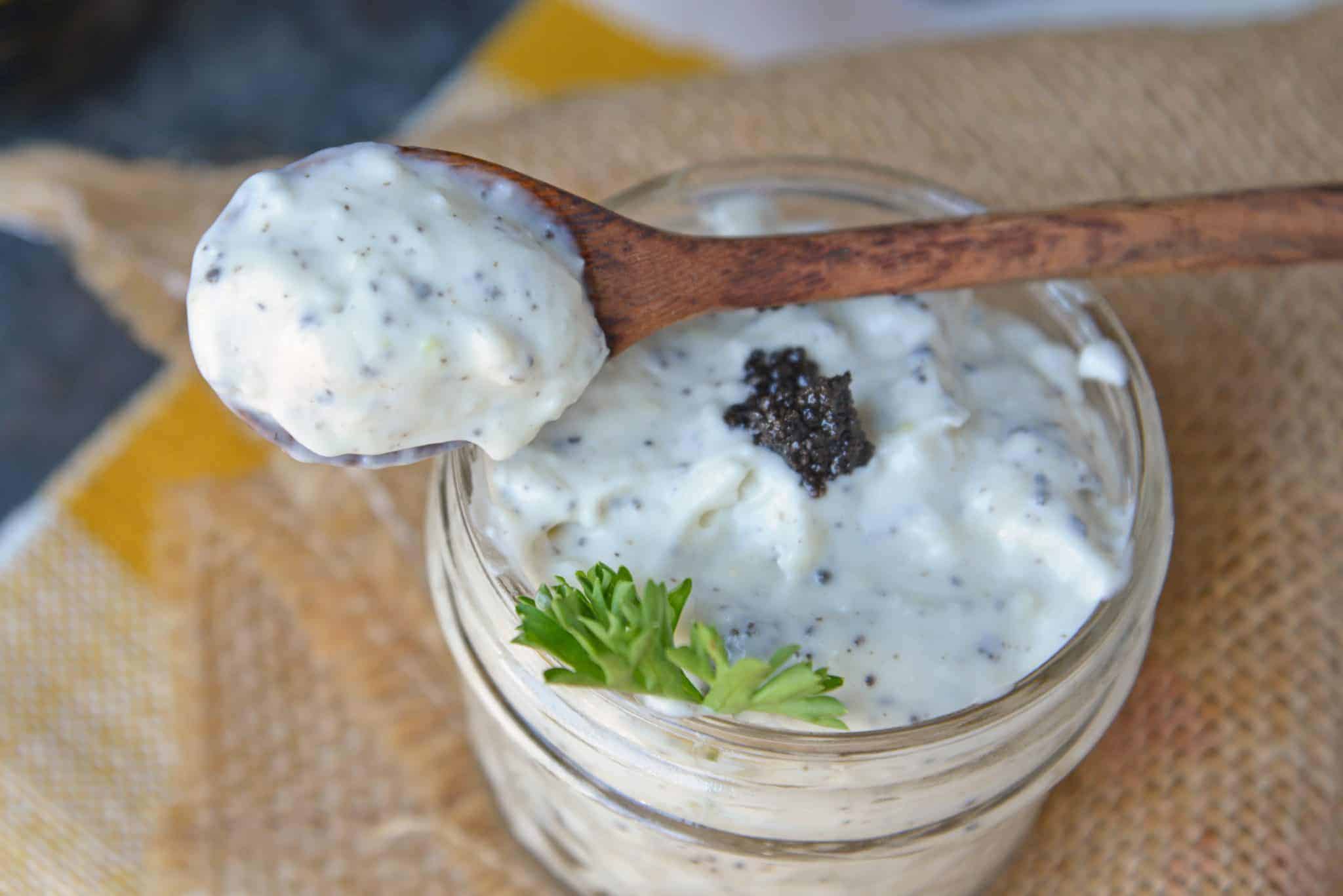 Make sure to fold in truffle pate by hand instead of throwing it in the food processor. You'll end up with a muddy gray sauce instead of a delightfully speckled sauce.
Once made, this sauce will keep for 5 days in an airtight container in the fridge. I am sure you will find plenty of things to pair with it. Enjoy!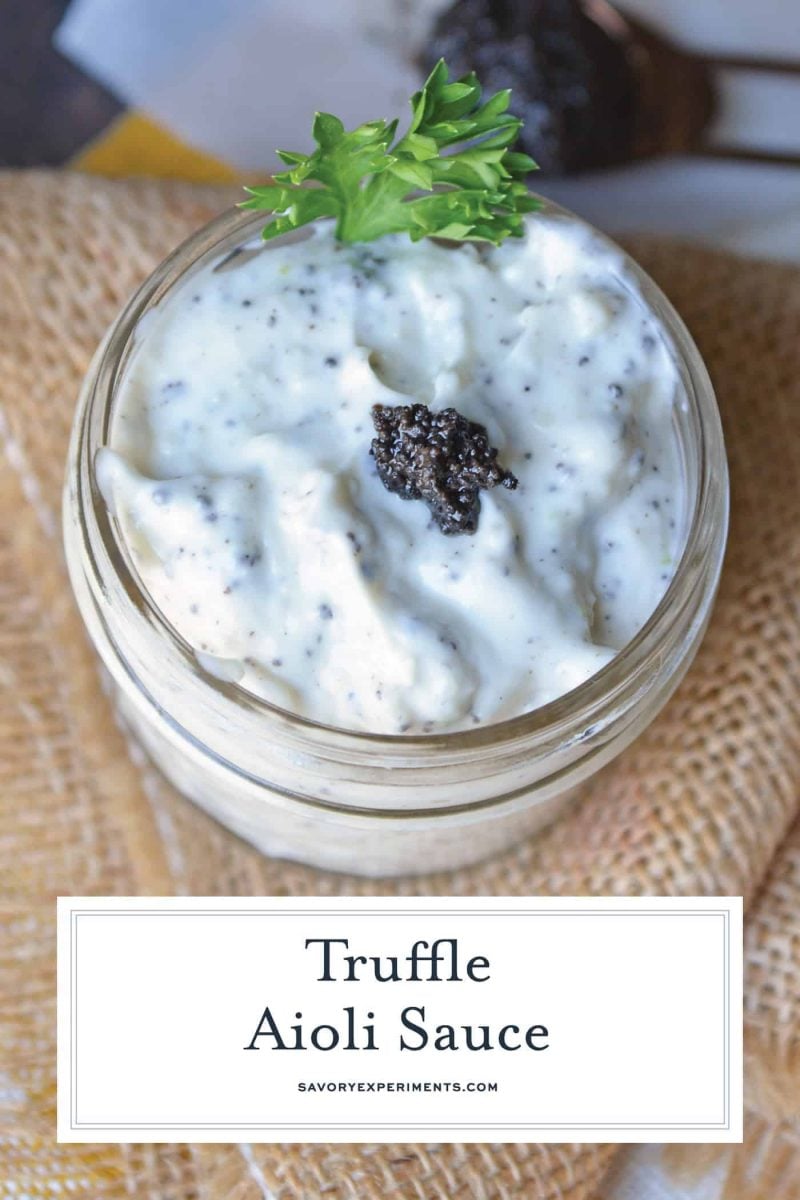 Since you like this Truffle Aioli Sauce, you may like these other easy aioli sauce recipes:
Tools for making Truffle Aioli Sauce:
Mini Food Processor– I use this thing daily! It is by far my most used kitchen appliance, it is small and I throw all the parts into the dishwasher, well except the base and cord, of course!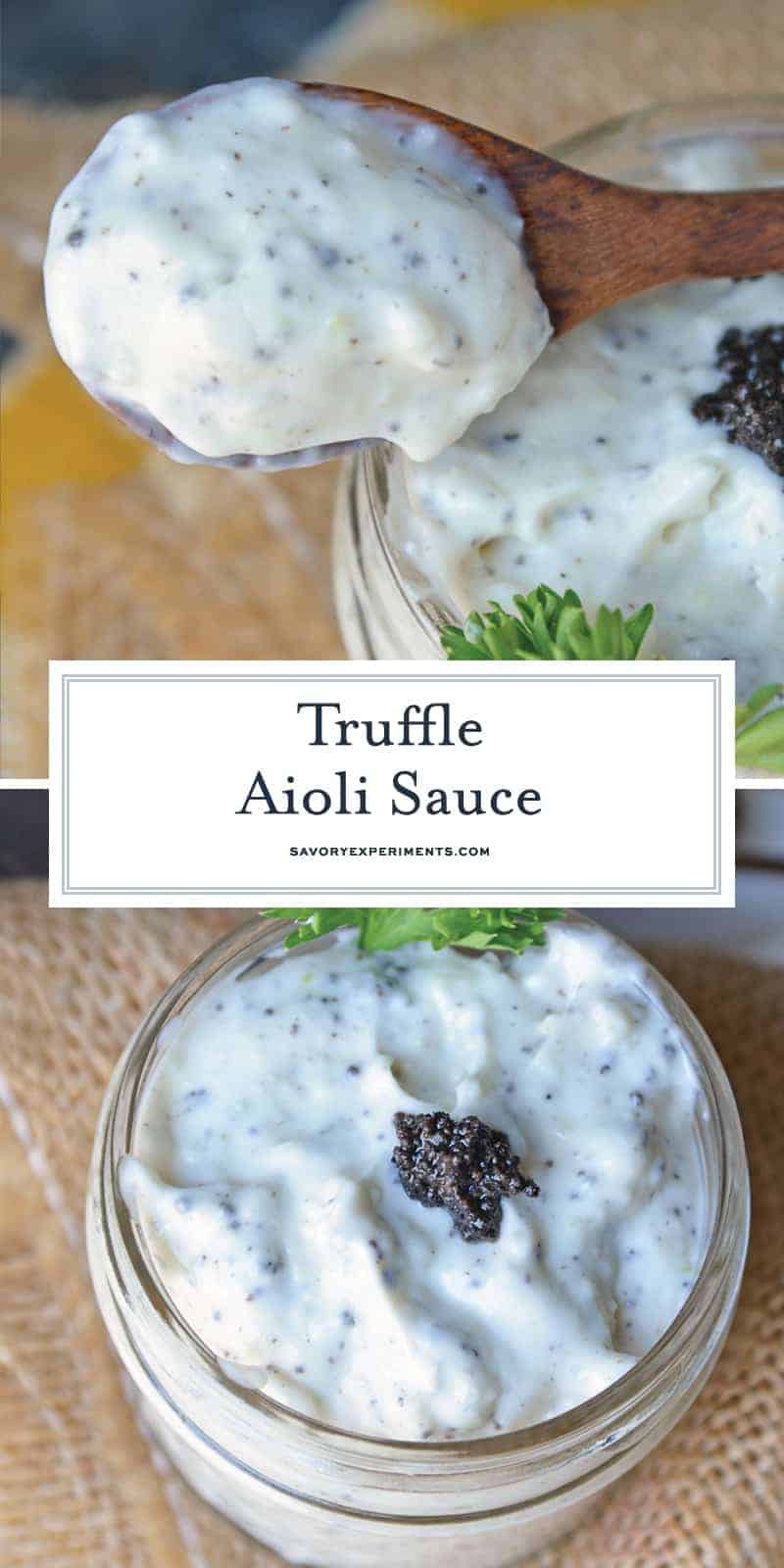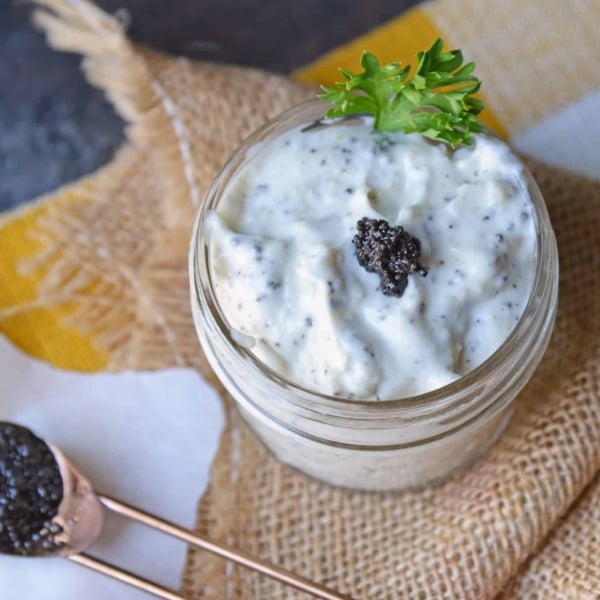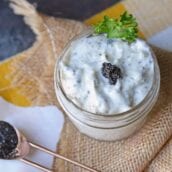 Truffle Aioli Sauce
Truffle Aioli Sauce, made with black truffle pate, is a delicious, easy-to-make condiment you'll want to add to everything. As addicting as it is delicious!
Instructions
In a small food processor, pulse garlic cloves until finely minced.

Add mayonnaise and salt. Blend until smooth.

By hand, fold in black truffle pate.

If you'v tried this recipe, please come back and let us know how it was!
Nutrition
Calories:
256
kcal
,
Carbohydrates:
1
g
,
Fat:
27
g
,
Saturated Fat:
4
g
,
Cholesterol:
15
mg
,
Sodium:
432
mg
,
Potassium:
24
mg
,
Vitamin A:
25
IU
,
Vitamin C:
0.7
mg
,
Calcium:
7
mg
,
Iron:
0.2
mg