I'm going to let you down easy before I start getting hate mail again (yes, someone was SO angry they actually emailed me a few obscenities). This is NOT a recipe from the Cowboy Chicken restaurant.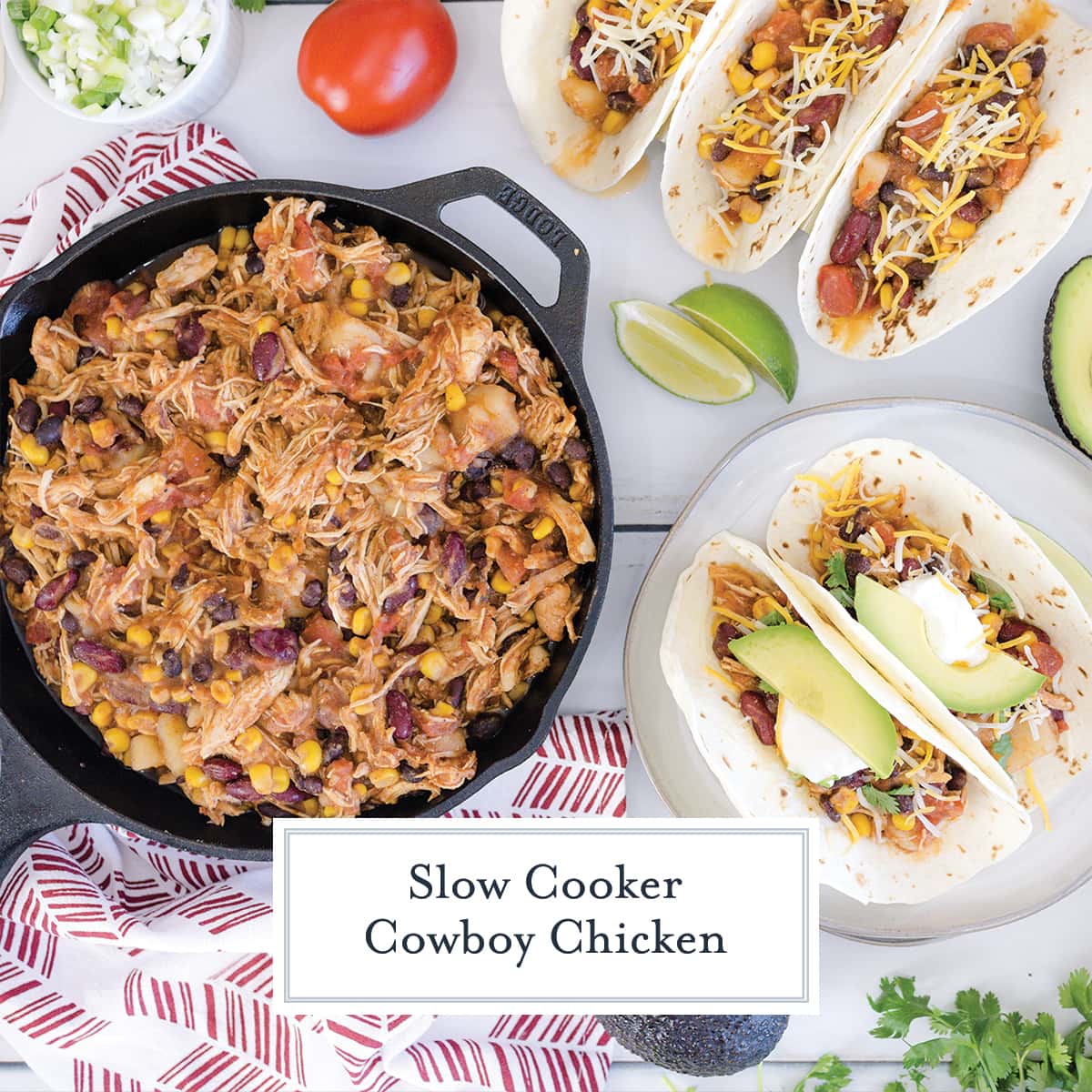 I had no idea that restaurant even existed and have never visited. It is also not a cowboy chicken casserole, which is also apparently a thing. What it IS, is a delicious and easy family meal that can be easily customized and is also freezer friendly.
Cowboy Chicken Recipe
My version of cowboy chicken came from one of those days when you took stock of what was in the pantry and fridge and then I threw it all in a crock pot. The ingredients, being mainly canned or shelf stable potatoes, seemed like a likely chuck wagon type of meal, minus the slow cooker, of course.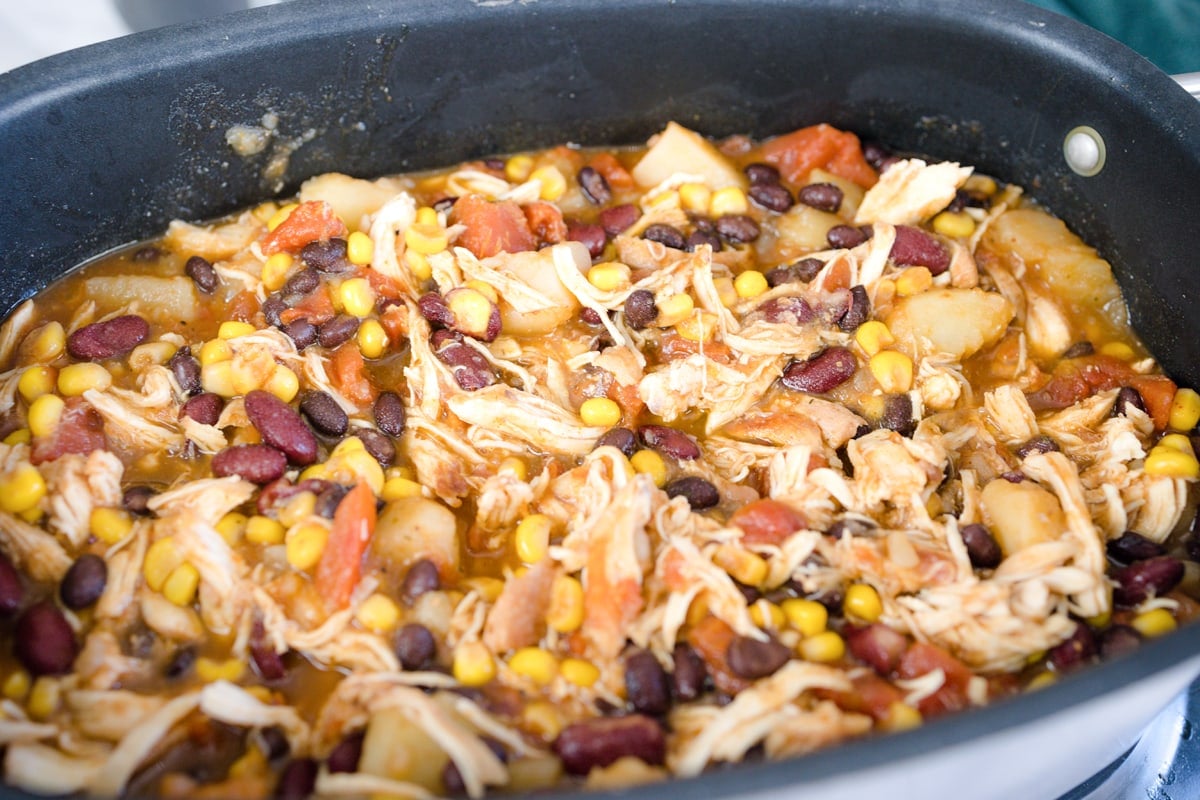 Beans, corn, tomatoes and potatoes along with zesty taco seasoning make up the base of this super tender base. It is easily customizable meaning you can omit or even double of on nearly any of the ingredients and still end with a winning and tasty rendition of Cowboy Chicken.
How to Serve It
Is it a stew? A chili perhaps? Maybe you wrap it up like a burrito? Dip it with a tortilla? Pile it onto a bun as a sandwich or top off a hot dog? Serve over rice or even a salad.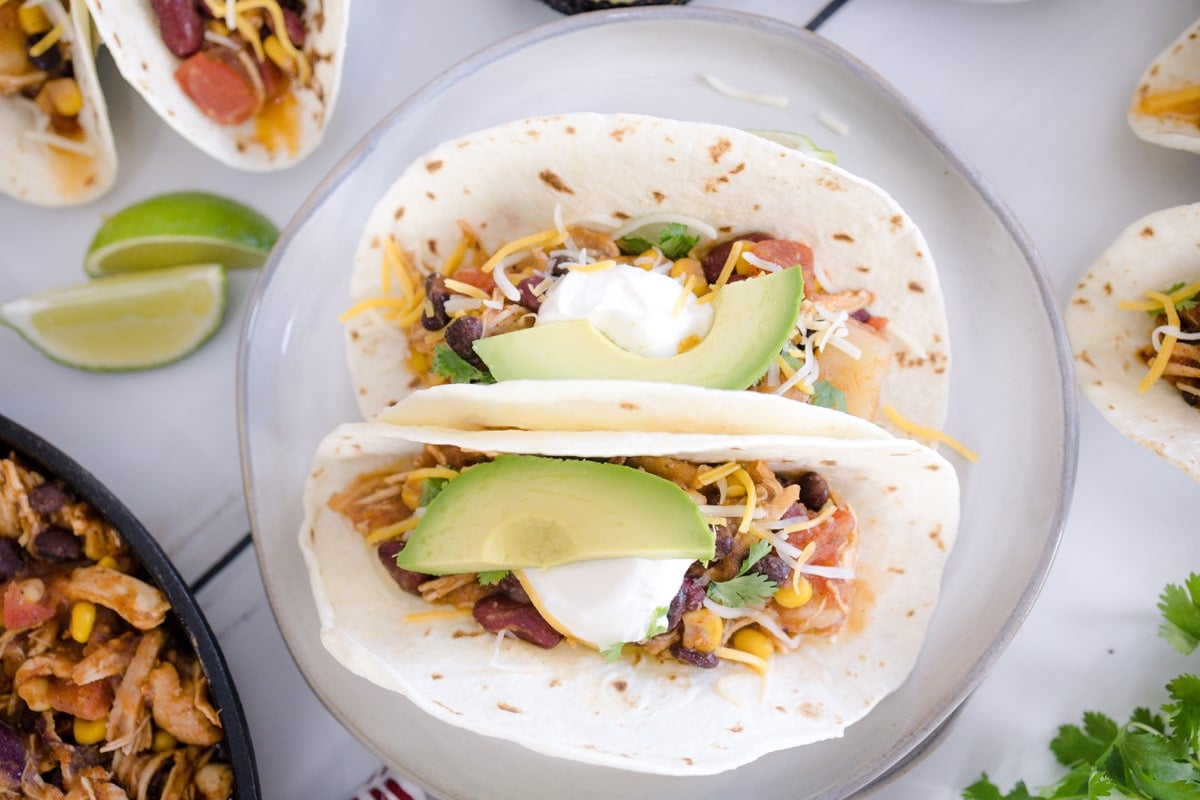 It can be all of the above! This recipe is SO versatile, everyone in the family can eat it a different way. Call it whatever you want, it is good stuff!
Them of course, add your favorite taco toppings. Here are our favorites:
Avocado slices
Sour cream
Cheese
Fresh or pickled jalapenos
Shredded lettuce or greens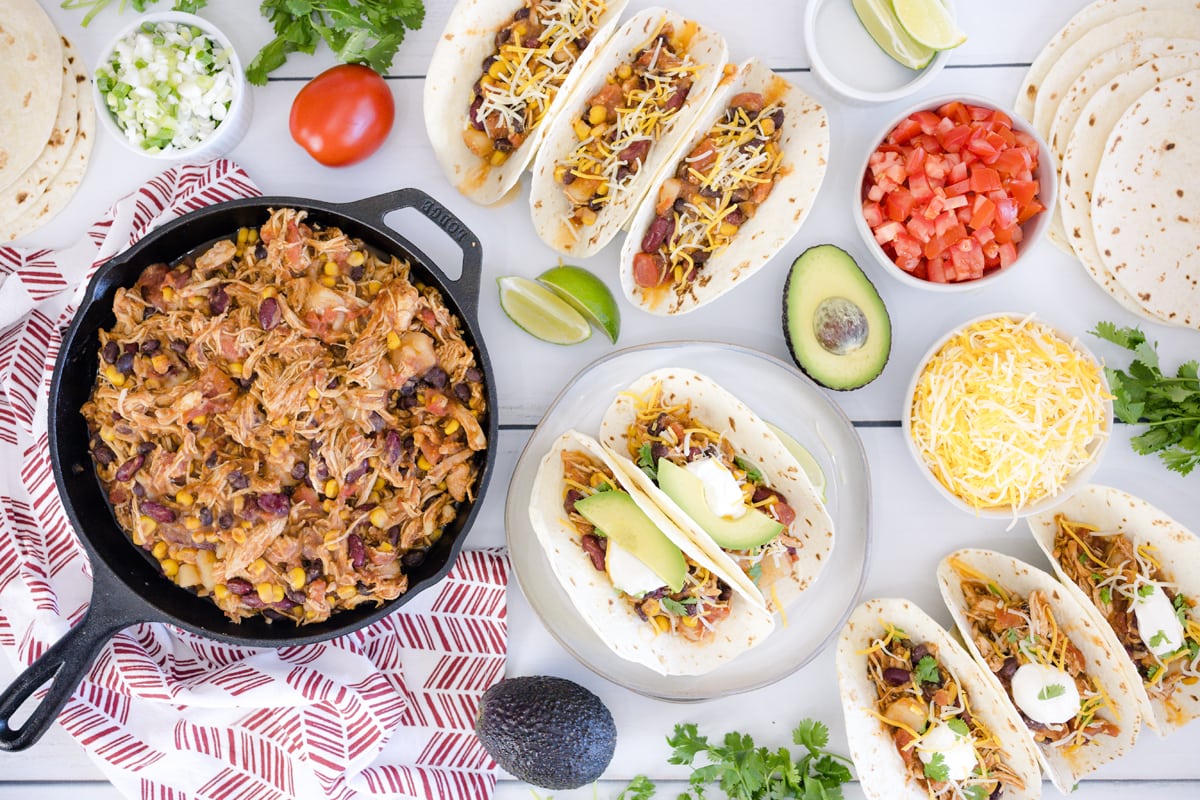 Made in the Crock Pot
Next question… but it is shown in a cast iron skillet. Yes, it is, for pictures because let's face it, slow cooker images just aren't that pretty. But rest assured, we DID make it in the slow cooker.
Slow Cooker Cowboy Chicken follows my strict "10 minute rule". We are all busy, which is why crock pots have been the saving grace for busy families over the decades.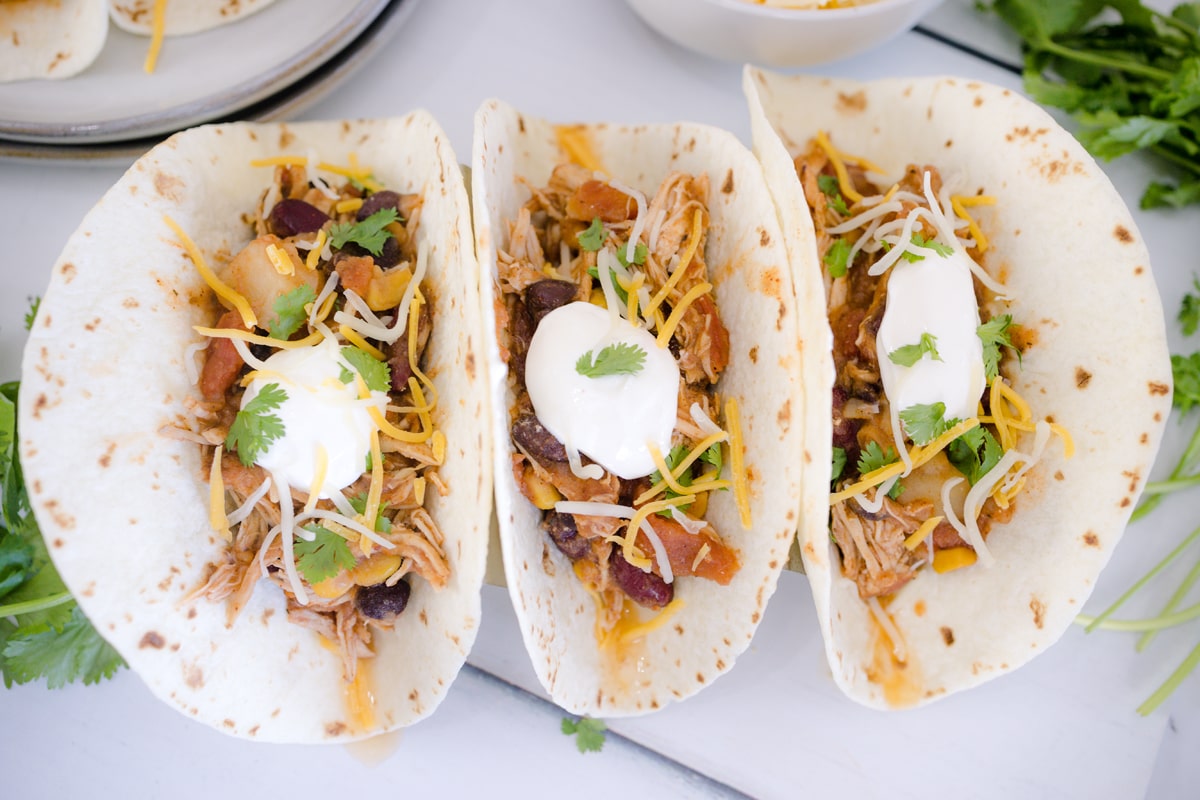 But does it really save you any time if you have brown meat and do a lot of chopping, or even check on it throughout the cooking process? No!
Chicken in the Slow Cooker
Chicken is ideal for quick crock pot recipes because it takes a while to cook, needs to be cooked all the way through and when cooked slow and low, shreds beautifully. I tend to shy away from cooking chicken breasts because they are so uneven and overcook on one end before the center it done, but the slow cooker is the solution to this problem.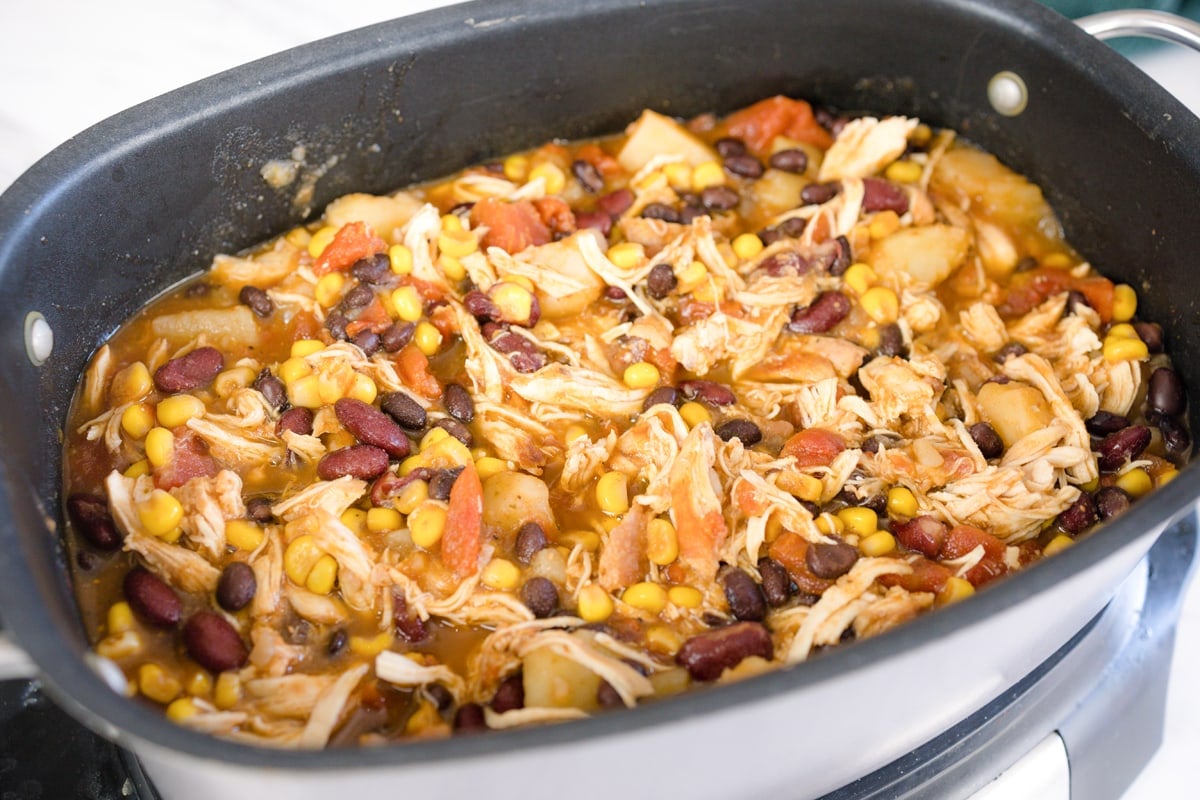 As long as it is in a tenderizing sauce, it is really difficult to hurt it. So even if the slow cooker ends up going an hour past when it is done, chances are, your Cowboy Chicken will be just fine. Any chicken in the crock pot, really.
Storage & Freezing
This is a make-ahead and freezer friendly meal. Store covered in the refrigerator for up to 5 days. Reheat in the microwave or on the stove top.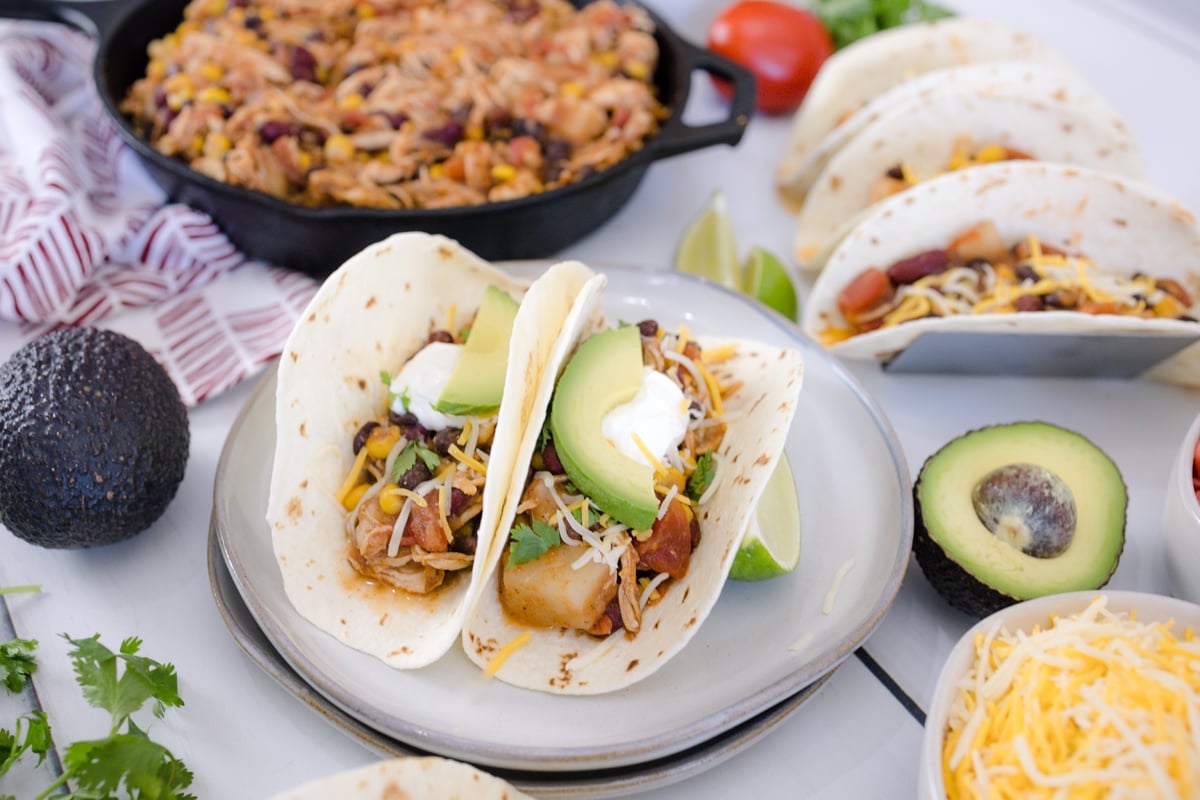 To freeze, place in an airtight bag or container and freeze for up to 3-6 months. This will depend on how much air it to exposed to as to how fast those pesky ice crystals form.
Thaw in the fridge overnight and reheat on the microwave or stove top or throw the whole frozen brick back into the slow cooker on low for 1-2 hours, stirring occasionally.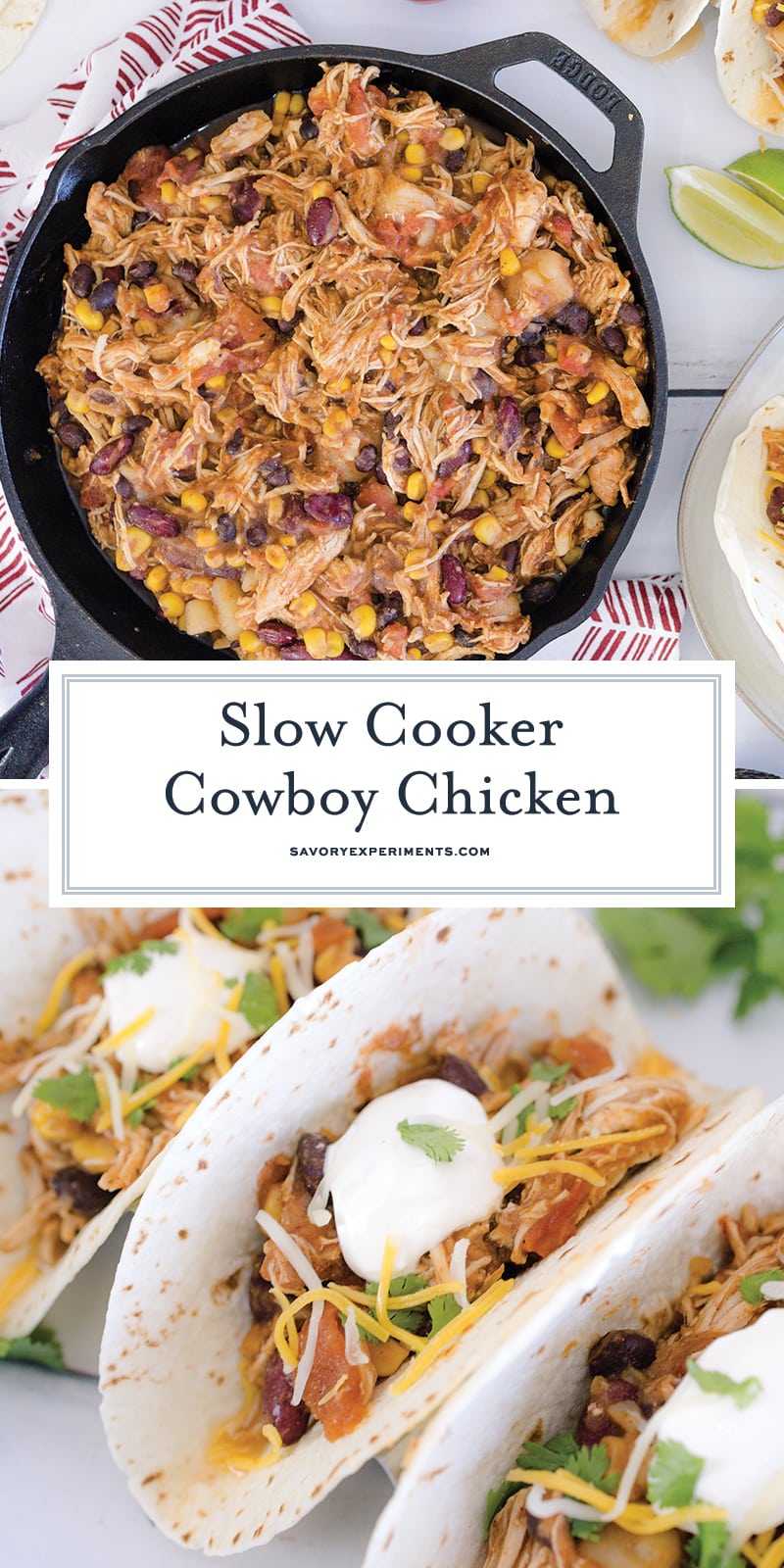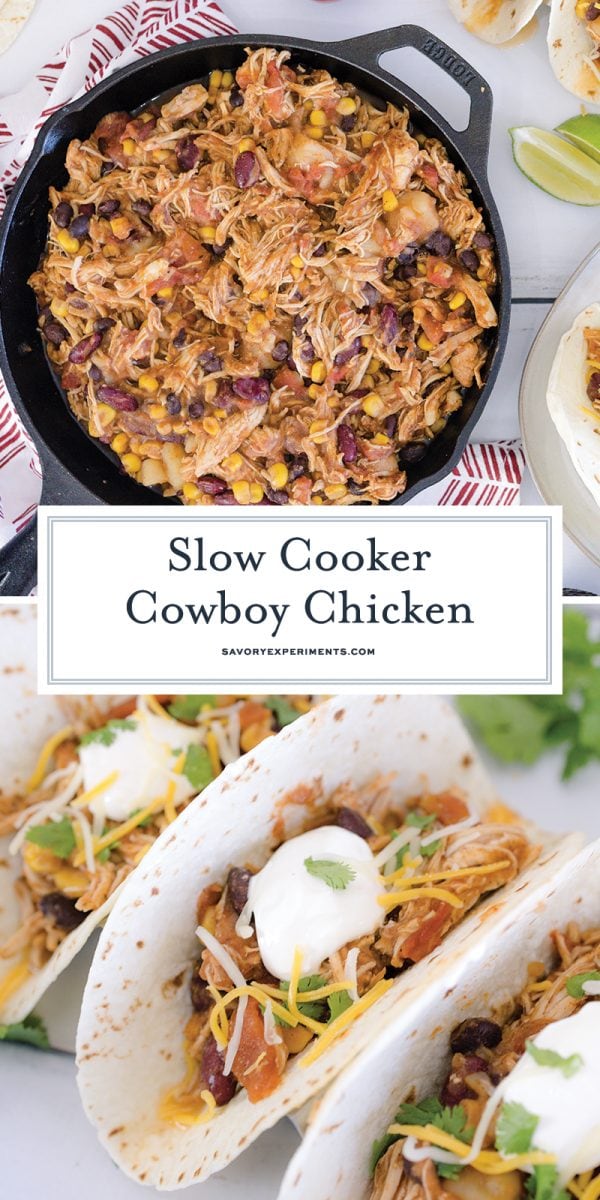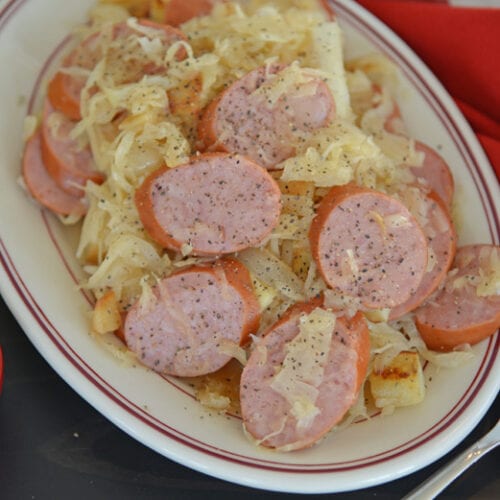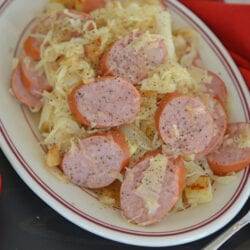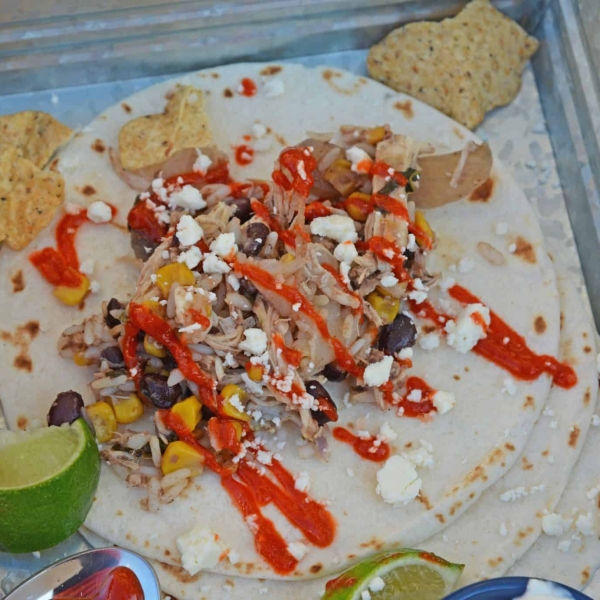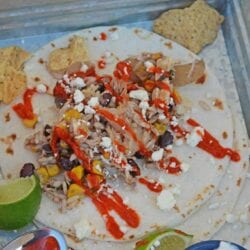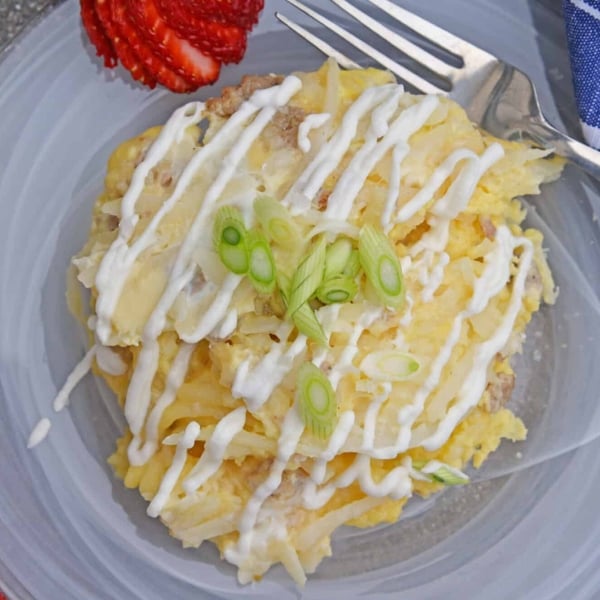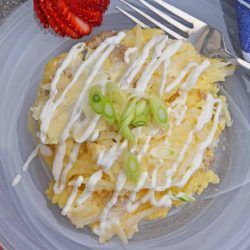 Tools:
Slow Cooker– This is my favorite slow cooker
, I like that I can set it for later in the day and it automatically turns off. It also has clasps for the lid so when I travel to parties or potlucks, I can take it with me without channeling my inner MacGyver to make some for the lid.
Instant Pot– I have adapted all of my slow cooker recipes for the Instant Pot, which is my new favorite thing. Just think, all of those slow cooker recipes ready in just 30 minutes! See instructions on how to make it in the Instant Pot in the notes section below the recipe.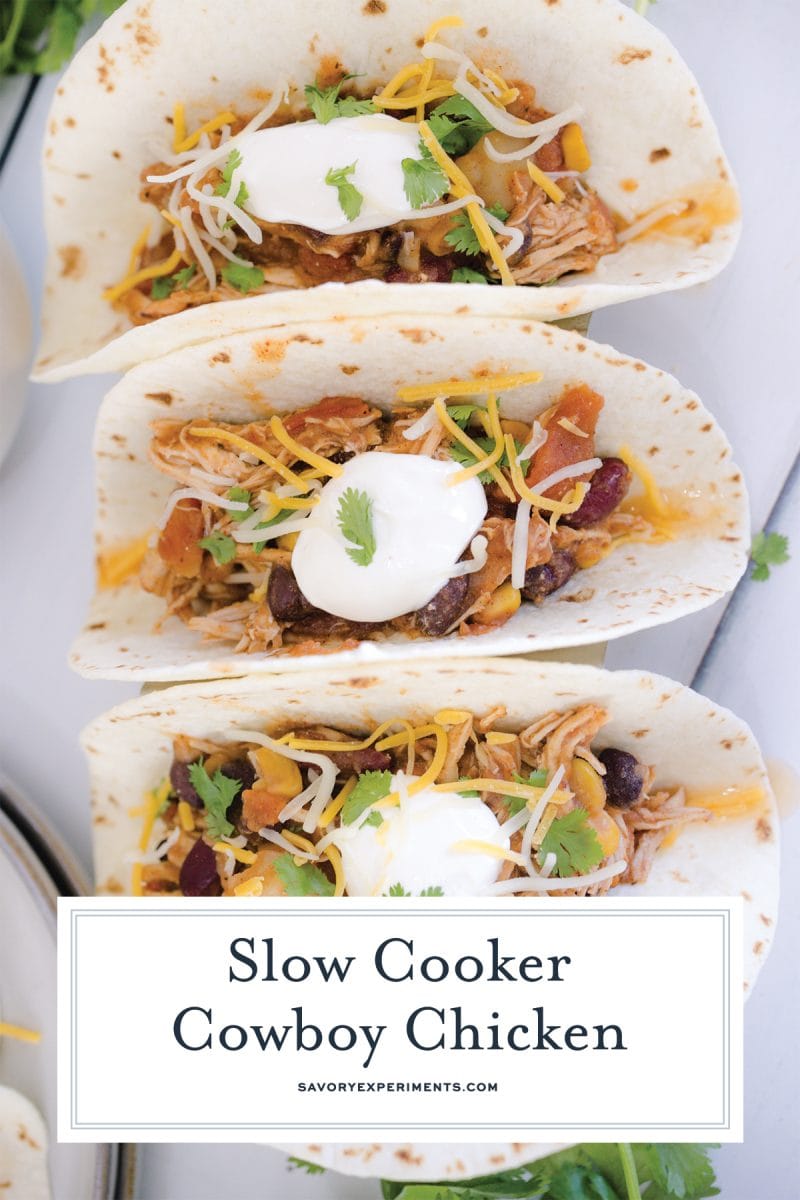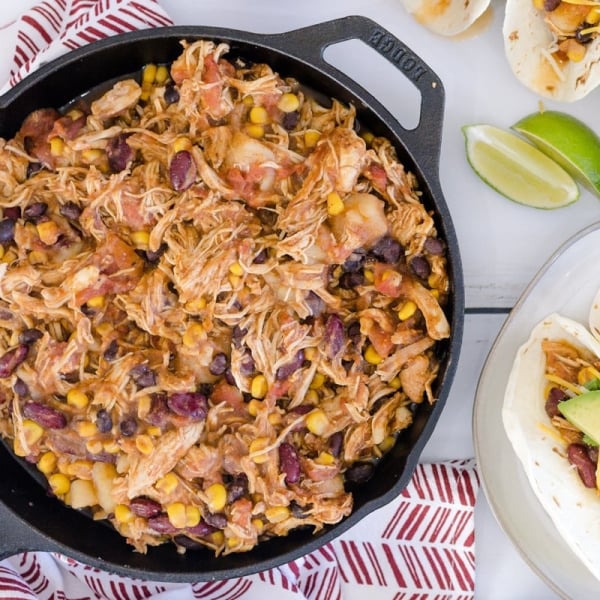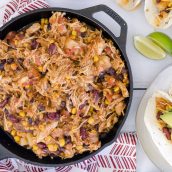 Slow Cooker Cowboy Chicken Recipe
Slow Cooker Cowboy Chicken is an easy chicken recipe your whole family will love packed with corn, potatoes, bean and a zesty taco seasoning! Serve over rice or as tacos.
Instructions
Place the chicken breasts, taco seasoning, beans, corn, tomato sauce, diced tomatoes, potatoes and hot sauce into the slow cooker. Stir it to coat chicken and mix up a bit.

Cover and set on high for 3 hours or on high (or 5 hours on low) or until chicken reaches an internal temperature of 165°F.

Serve with tortillas, as tacos or over rice with favorite toppings.

If you've tried this recipe, come back to let us know how it was in the comments or ratings section!
Notes
For Instant Pot: Follow the same directions, but set to manual high pressure for 10 minutes, using quick release.
Nutrition
Calories:
489
kcal
,
Carbohydrates:
64
g
,
Protein:
49
g
,
Fat:
6
g
,
Saturated Fat:
1
g
,
Polyunsaturated Fat:
2
g
,
Monounsaturated Fat:
2
g
,
Trans Fat:
1
g
,
Cholesterol:
96
mg
,
Sodium:
974
mg
,
Potassium:
1712
mg
,
Fiber:
16
g
,
Sugar:
11
g
,
Vitamin A:
710
IU
,
Vitamin C:
24
mg
,
Calcium:
99
mg
,
Iron:
7
mg