With only 6 ingredients, this Slow Cooker Sauerkraut and Sausage recipe is EASY to throw together! Add everything to the crock pot, set it and forget it!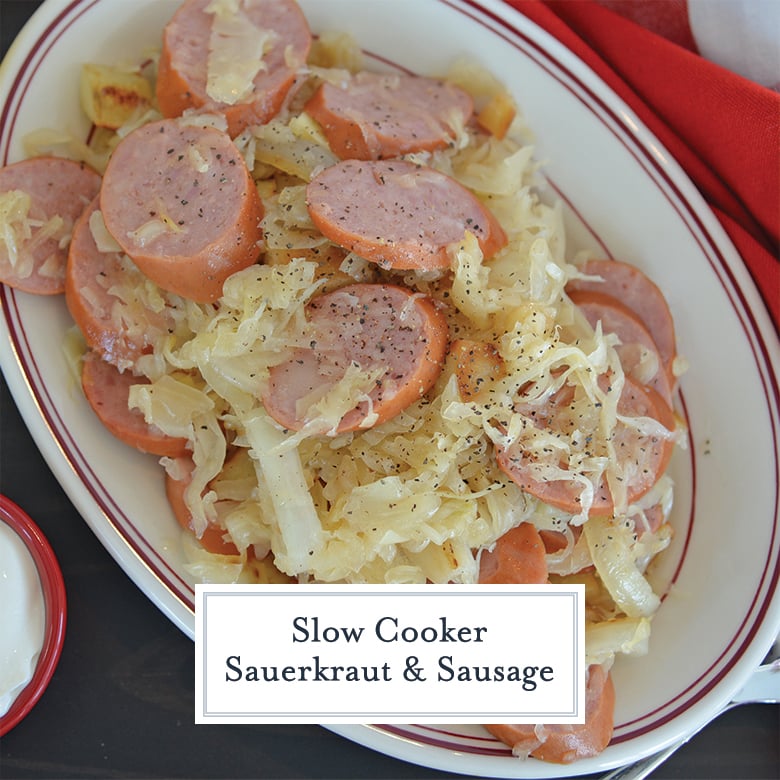 Whether you call it sauerkraut and sausage or kielbasa and sauerkraut, this crockpot version simplifies the recipe making it both delicious and easy!
Kielbasa and Sauerkraut to Polish people is kind of like Spaghetti and Sauce to Italians. Everyone's grandmother had their way of making it, every family recipe is different, but they all have one thing in common: they are delicious.
Before I set out telling you about my recipe, I am not going to claim it is the best. What I will say is that it is darn good and there are A LOT of darn good sauerkraut and sausage recipes out there.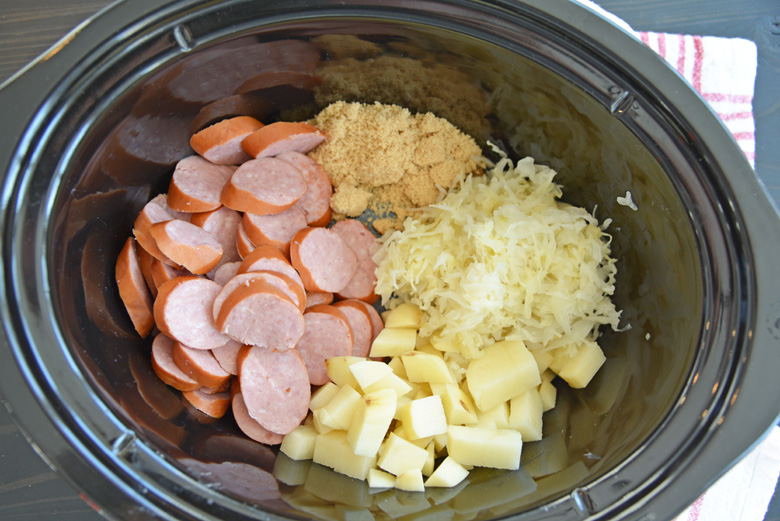 You'll even seem them called pork and sauerkraut or sausage and sauerkraut. Not all use kielbasa, but I like the smoky flavor and texture best.
PRO TIP: If you can't find kielbasa, use a different type of smoked sausage or even cooked sweet Italian sausage.
Some even add bell peppers and refer to it as "sausage and peppers" which to me is also a baked Italian dish.
Polish sausage and sauerkraut can be baked, made on the stove top or in this case, in a slow cooker. The slow cooker option really allows flavors to blend, but doesn't allow any of the liquid to cook off, so your best bet is to use a slotted spoon to ladle out the food to a serving dish.
PRO TIP: Make this dish a day ahead of time to give it even more time to develop flavor!
Alternatively, you can keep it on warm at a party and the liquid will prevent your dish from getting dry or burning.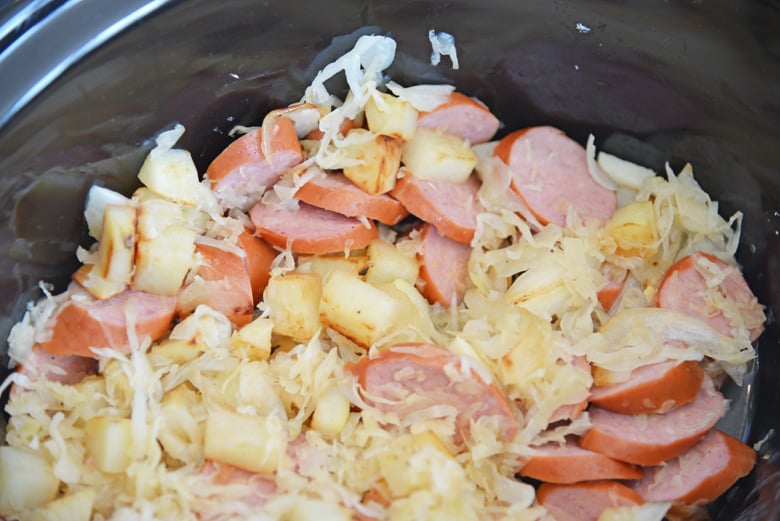 This recipe for kielbasa and sauerkraut is pretty basic and does not use peppers. Instead it uses:
Kielbasa- Polish pork sausage
Sauerkraut
Onions
Potatoes
Brown Sugar
Apple juice
Which usually brings non-Polish readers to asking the next question…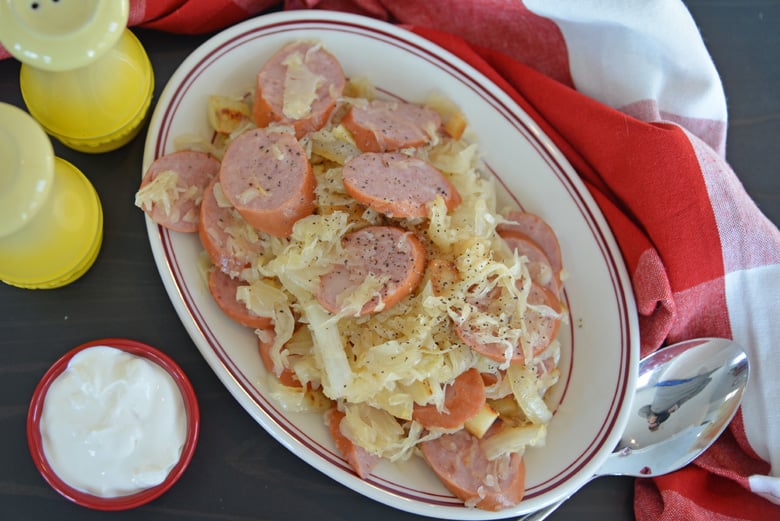 What is sauerkraut?
Sauerkraut is simply fermented cabbage, basically pickled. It is best to be rinsed and drained before cooking otherwise you might get a super vinegary flavor.
It would be like using pickles and not draining them… which some pickle fanatics probably would do! I won't judge.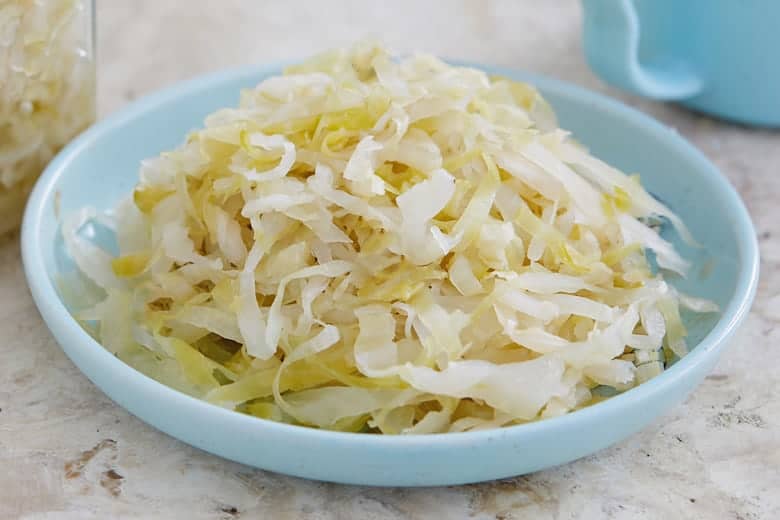 It is also fairly easy to make at home. I made it once a few years ago and the batch was so good that it was gone by the time I went to go take pictures and post the recipe. If you want to give a whirl, this is how to make homemade sauerkraut.
You can also buy store bought sauerkraut, no one here will judge you for not wanting to commit to a week or two of sauerkraut fermenting.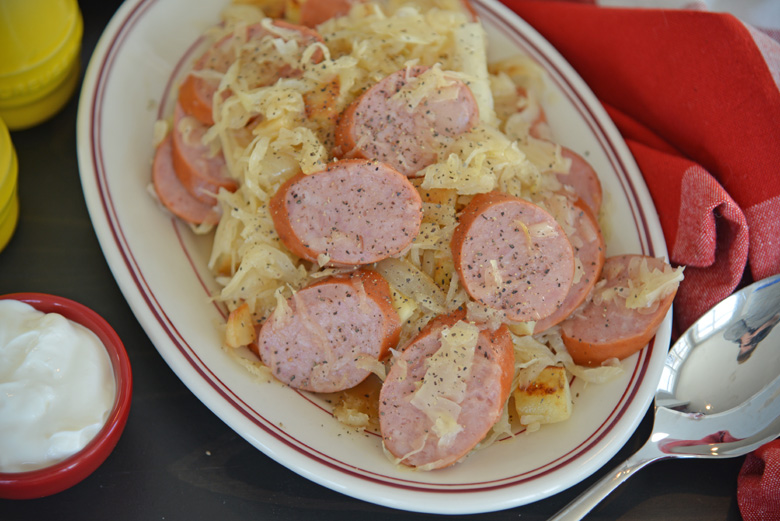 This Slow Cooker Sauerkraut and Sausage is the best, but here are some of our other favorite sauerkraut recipes:
If you liked this sausage and sauerkraut slow cooker version, check out these other easy slow cooker recipes: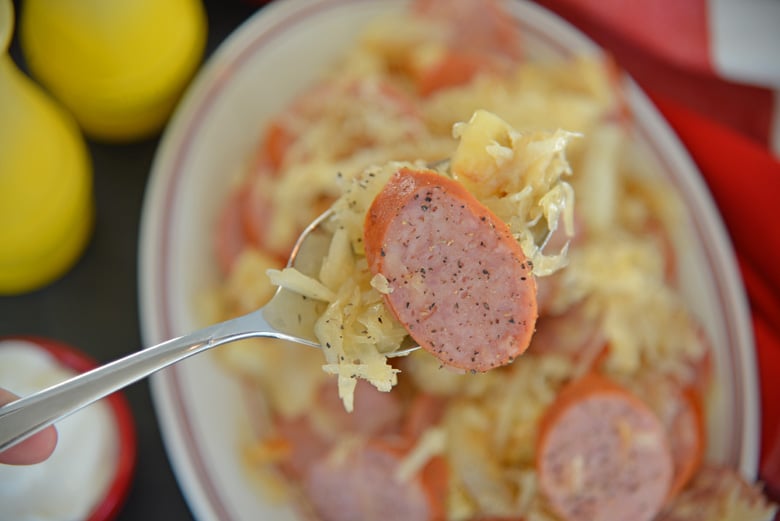 What is kielbasa?
Kielbasa is a seasoned Polish sausage, so a tubed meat, made from pork. It is generally smoked and contains garlic, among other proprietary blends of seasonings.
What do you serve with kielbasa and sausage?
You can serve it with anything you'd like, but here are the most common items.
Some people say cornbread, but I'm on the fence about this one….
Boiled Potatoes
Rye and other types of bread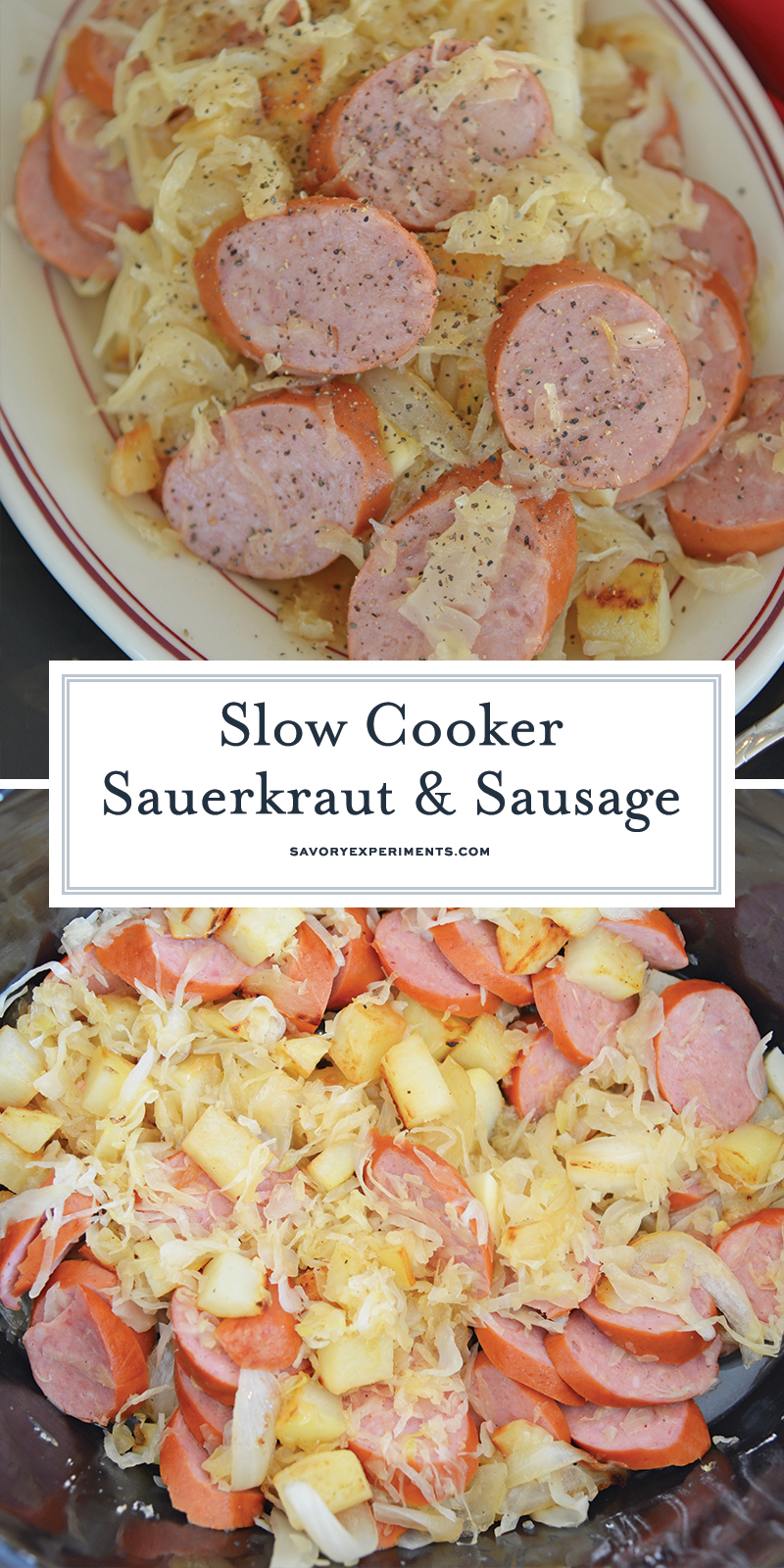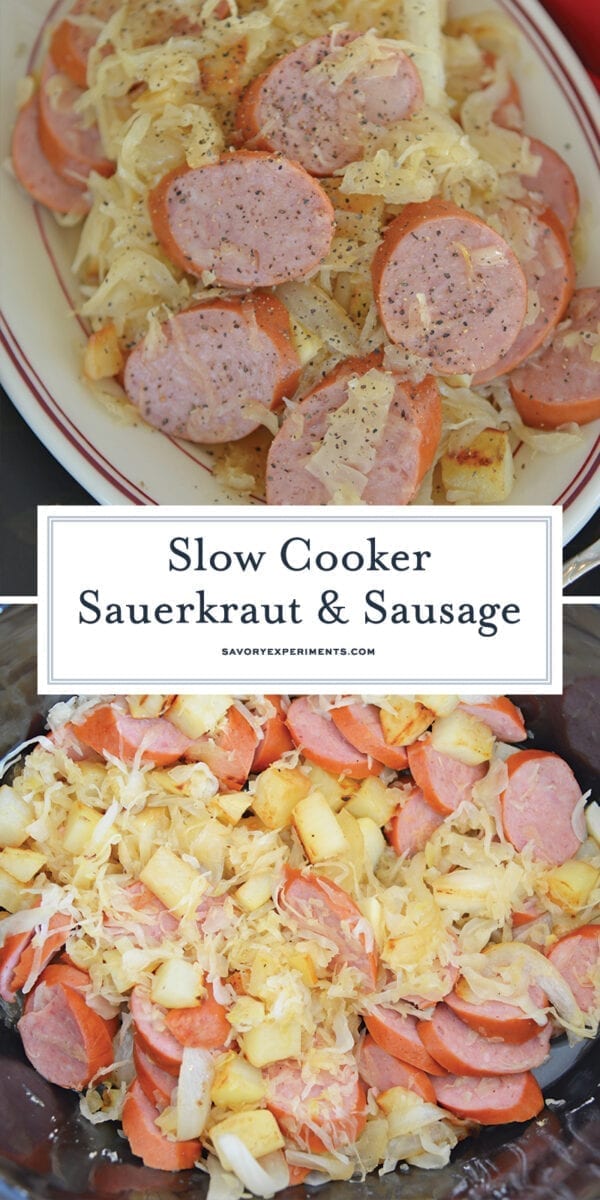 Can I freeze pork and sausage recipes?
You can, but it tastes best if in vacuum bags. You can use plastic bags, just make sure you get out as much air as possible.
Tools for making sausage and sauerkraut:
Wood cutting board – wood won't dull your knives like plastic and if treated properly, has natural antimicrobial properties.
Good knife – Global is my favorite! They are worth the price, I promise. I am kind of obsessed with them and store them tucked away so no one else can use them. Including hubby. Hands off my good stuff!
Slow Cooker– You'll need a slow cooker for a SLOW COOKER recipe, LOL. Crock Pot is great, but there are a lots of other options. And now many Instant Pots and pressure cookers also have the slow cooker feature.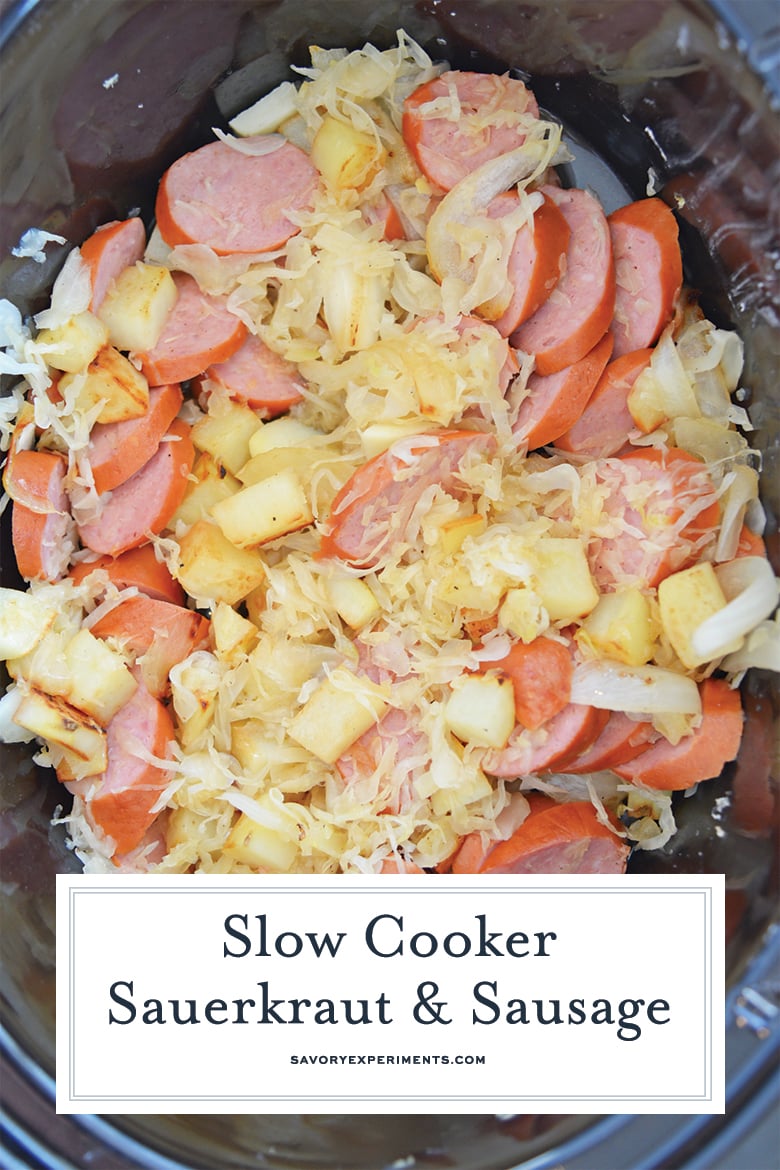 We'd love to hear about how your family makes their sausage and kraut. Leave us a comment and tell us your tips and secrets.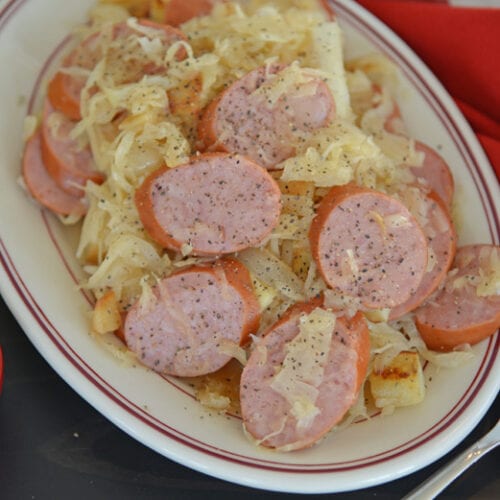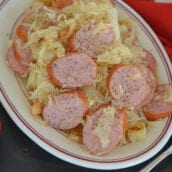 Slow Cooker Sauerkraut and Sausage Recipe
With only 6 ingredients, this Slow Cooker Sauerkraut and Sausage recipe is EASY to throw together! Add everything to the crock pot, set it and forget it!
Ingredients
1

large Russet potato

, peeled and cut into small cubes

1

small onion

, thinly sliced

1

pound

kielbasa

, sliced in 1/4 inch pieces

1 1/2

cups

sauerkraut

, rinsed and drained

1/4

cup

brown sugar

1/4

cup

apple juice

Freshly ground black pepper & fine sea salt to taste
Instructions
Add all ingredients to a slow cooker and stir to combine until sugar has dissolved.

Heat on low heat for 3-4 hours.

To serve, ladle out kielbasa and sauerkraut using a slotted spoon or leave on warm to keep moist during a party. Offer tongs or a slotted spoon for your guests.

If you've tried this recipe, come back and let us know how it was!
Nutrition
Calories:
492
kcal
,
Carbohydrates:
32
g
,
Protein:
18
g
,
Fat:
33
g
,
Saturated Fat:
12
g
,
Cholesterol:
79
mg
,
Sodium:
1354
mg
,
Potassium:
655
mg
,
Fiber:
3
g
,
Sugar:
17
g
,
Vitamin C:
14
mg
,
Calcium:
54
mg
,
Iron:
3
mg