We are at an impasse at my house. I love the crunch of nuts in savory dishes, while hubby loves nuts, but hates them in any "hot meat". I've created this easy Slow Cooker Cashew Chicken Recipe that makes the chicken fork tender, keeps the veggies snappy but also adds the nuts right at the end to please us all.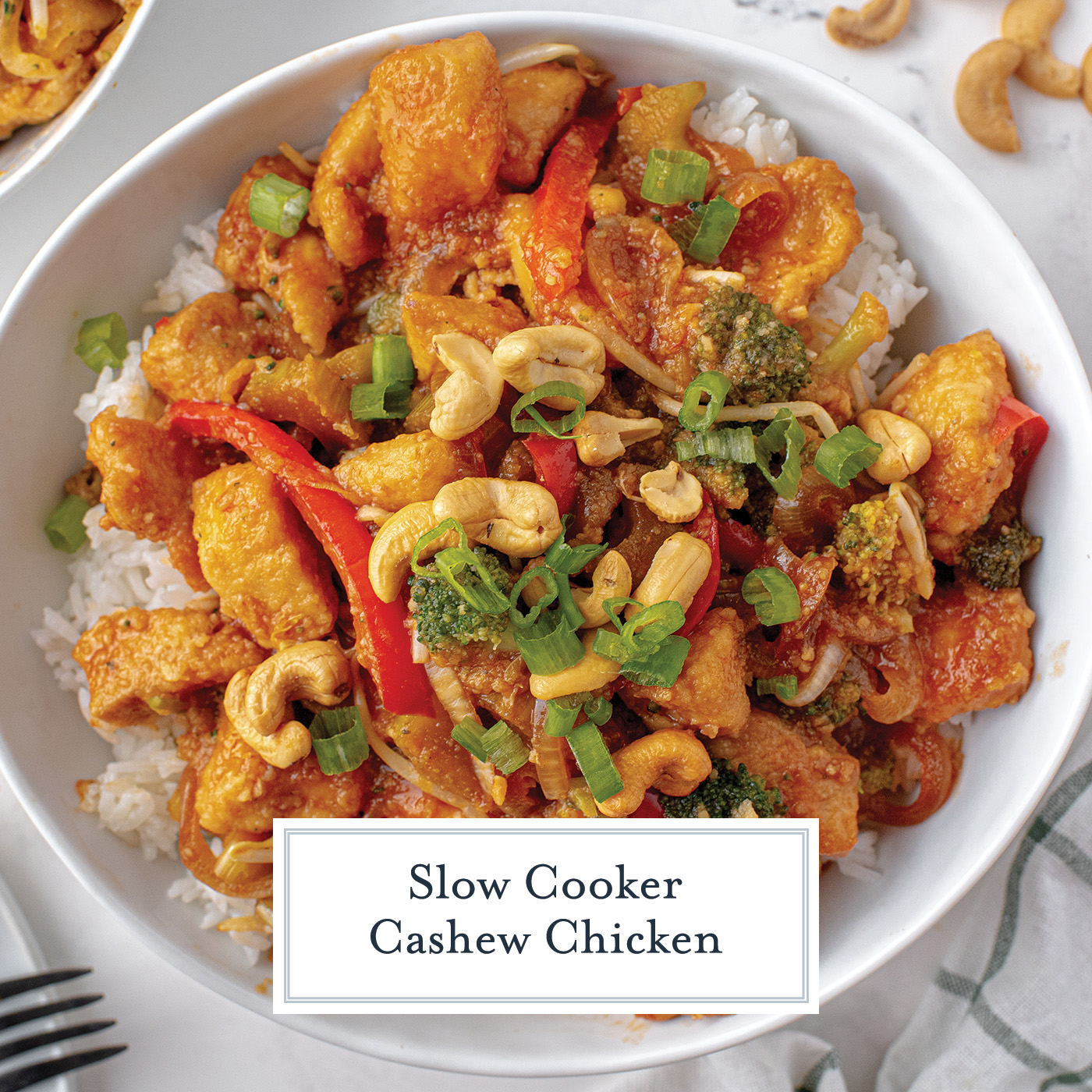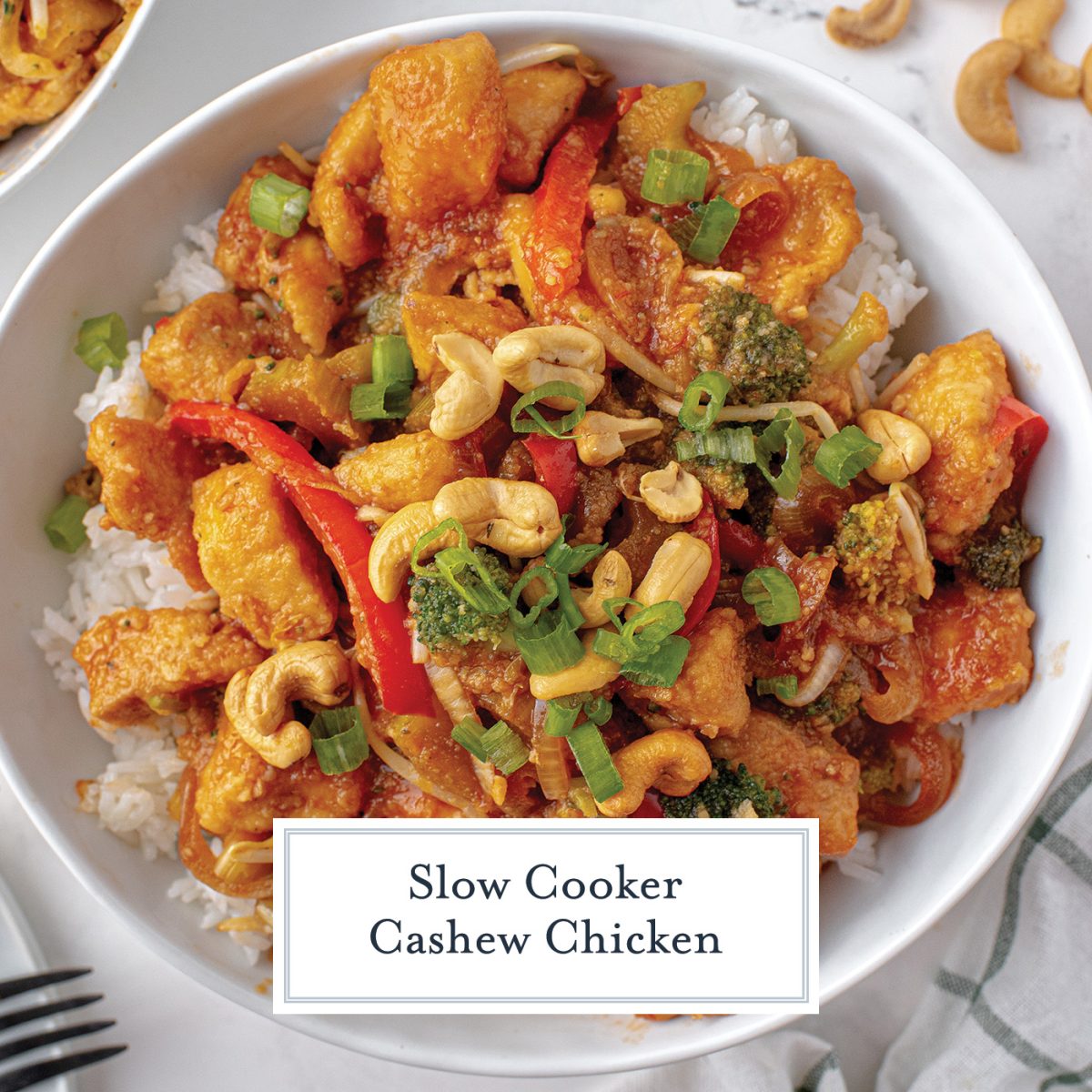 Chunks of browned chicken tossed in a savory sauce and mixed with bell pepper, onions, broccoli and bean sprouts, it is a one dish meal that covers all the bases. Serve it over 90-second rice and and you are good-to-go.
Crock Pot Chicken Recipes
A crock pot is great. It saves time, creates tender meats and flavorful meals. The only issue I take with slow cooker meals is that sauces tend to be watery and sometimes need to be over seasoned to make up for lack of evaporation during the cooking process.
When I made this Cashew Chicken Recipe, I had to throw a few of my rules and beliefs about slow cookers out the window. I also made this recipe as part of my 30-day recipe challenge with a few blogger friends, make sure to scroll all the way down to see what creations they shared!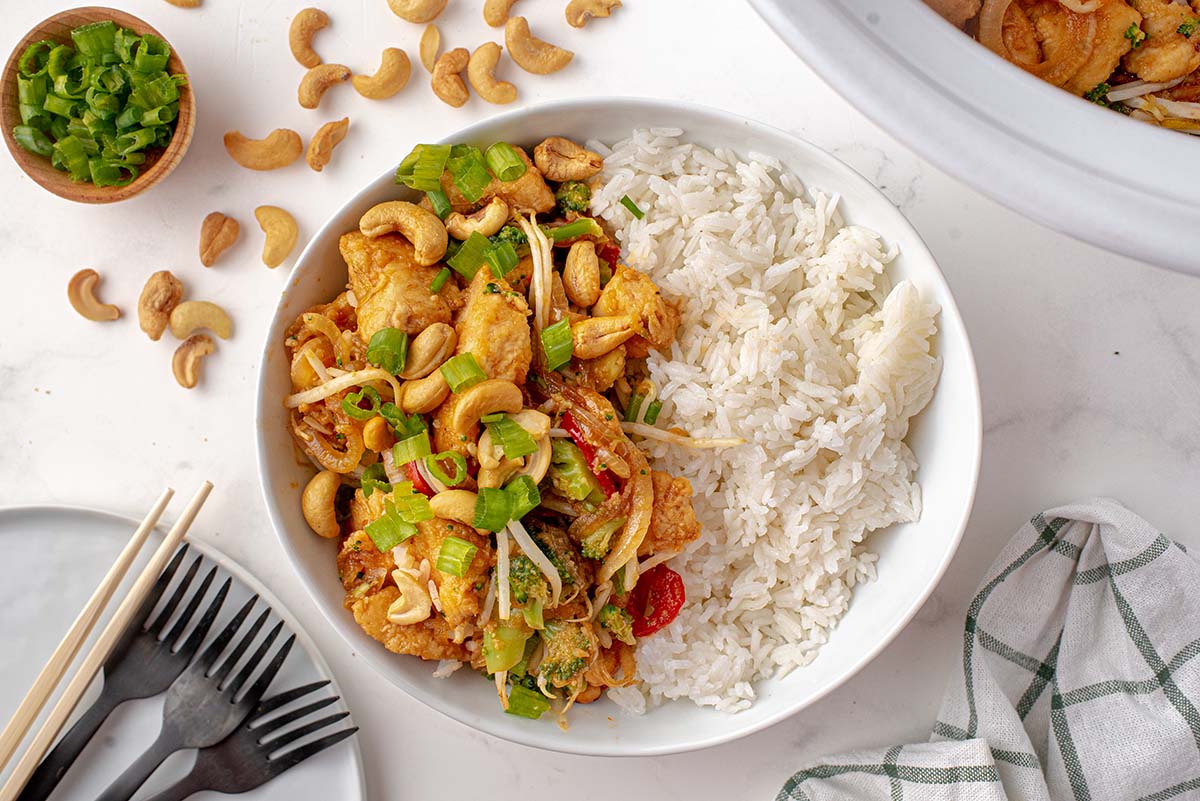 First, I generally have a "10 minute" rule. Meaning that if it takes more than 10 minutes to load everything into the pot, then it defeats the purpose. Cashew Chicken gives you the option to brown your chicken before setting in the slow cooker or just throwing in without the breading saving time (and calories), but losing a small amount of flavor development.
Secondly, that sauces need to be doctored before serving. Instead of the objective of the slow cooker to be ease, I used it as a tool to braise, essentially.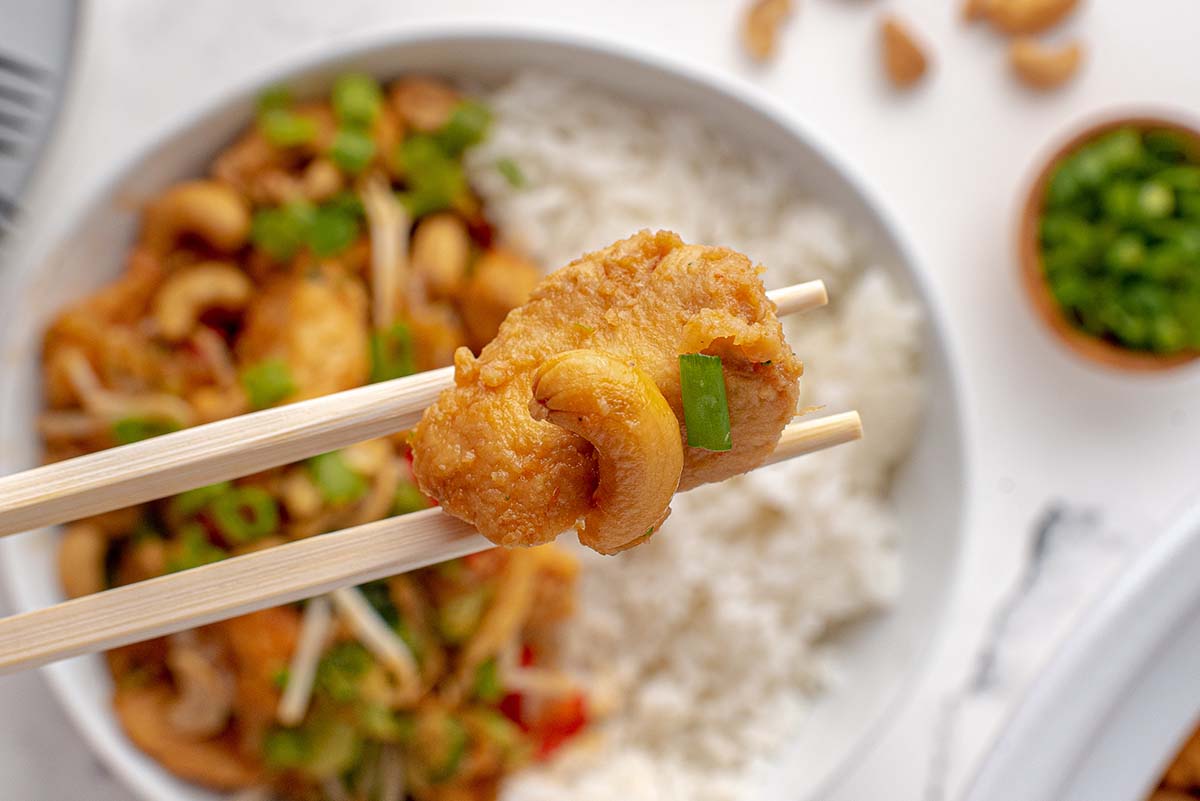 Ingredients to Make Cashew Chicken
I know, I know- you are looking at this recipe list and it's lengthy, but a lot of it are things you likely have in your pantry with the exception of maybe Chinese Five Spice Powder, but don't worry, I've got a swap for that!
Chicken- Use boneless skinless chicken breasts or chicken thigh. The amount is easily adjusted if you want more protein.
Chicken Flour- The combination of cornstarch and flour make a coating that seals in the chicken and helps it stay juicy while sitting for a long period in the slow cooker. Seasoned with garlic powder, salt and pepper, it is just amplified that much more.
Vegetable Oil- Or any other neutral oil with a high smoke point like canola oil.
Veggies– I love any dish that is colorful and also takes care of my vegetable servings. Also feel free to adjust or add any veggies you might need to use up from the vegetable crisper. The actual cashew nut chicken recipe calls for garlic, celery, onion and peppers. I used a red bell peppers, but green bell peppers, yellow or orange are also acceptable.
Sauce ingredients– Low sodium soy sauce is the base and then blended with seasoned rice wine vinegar (or plain rice vinegar if you have it), ketchup to thicken, sweet chili garlic sauce, brown sugar to balance the acidity and fresh grated ginger.
Spices– Chinese five spice powder is made of cinnamon, fennel seed, star anise, and cloves and some sort of pepper. It is potent and a little flavors a long way! The best substitutes are gram masla or ground allspice.
Red pepper flakes– This isn't enough to be super spicy, but it does give it a slight kick. Leave them out if your family doesn't like heat.
Broccoli & Bean Sprouts– To keep them fresh and snappy, these get added last and barely have time to warm through before serving. Both are also optional.
To serve- Pick your rice: brown rice, white rice, cauliflower rice or even fried rice. And then top with crunchy cashews and scallions (green onions) which are traditionally served with chicken cashew stir fry, though ours is clearly not stir fried.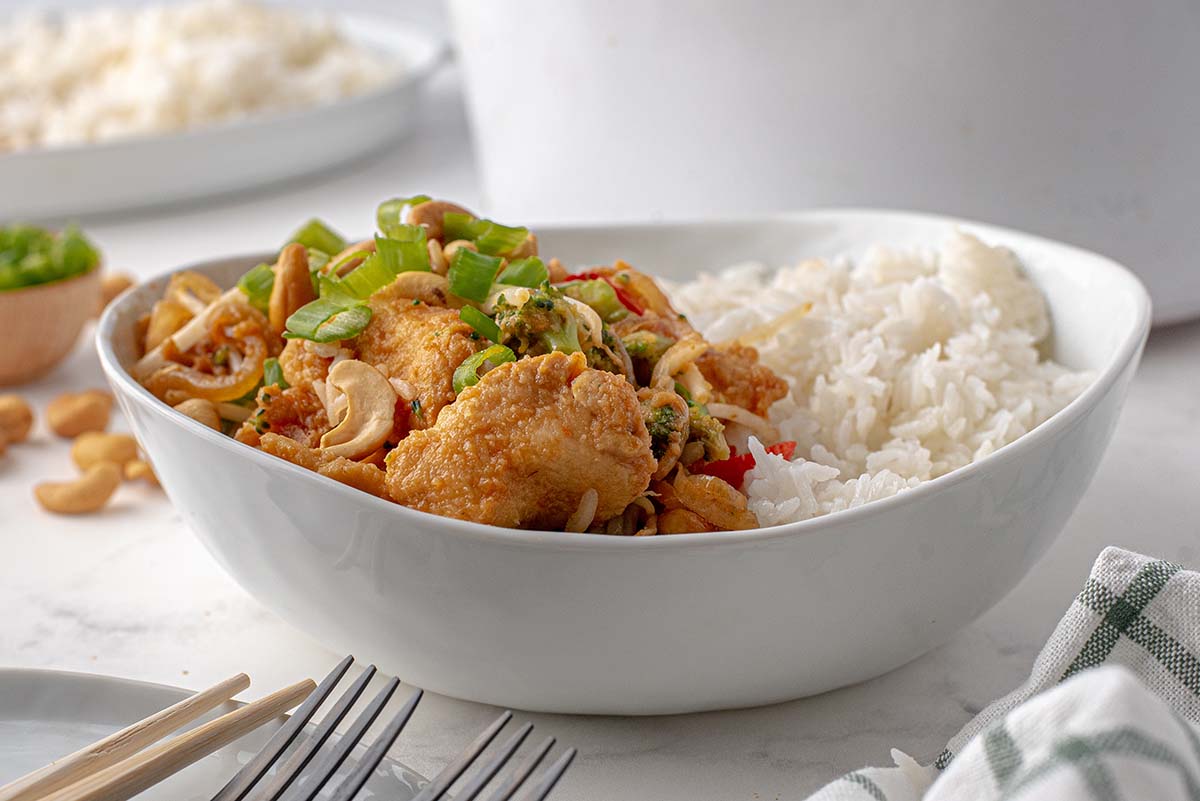 Variations include adding mini corn ears, water chestnuts, snap peas, carrots, zucchini cubes, straw mushrooms, a splash of oyster sauce, fish sauce or even a drizzle of sesame oil at the end. Some like toasted sesame seeds, but that reminds me too much of sesame chicken.
How to Make Cashew Chicken in the Slow Cooker
Life is full of choices and here is a tough one. Take the time to bread and brown the chicken before placing it in the crock pot or throwing it all in too cook. Both have pros and cons.
For my homemade cashew chicken, I prefer to flour and brown it because it brings depth and flavor to the chicken and the sauce and only takes about 10 additional minutes, most of which I can use to whisk together the sauce and chop the veggies. There are instructions on how to make it by skipping this step in the recipe card notes.
Whisk together the cornstarch, flour and seasonings and toss the chicken pieces. This is a process called velveting. It is common in Asian cooking to flour and flash fry proteins before adding them to the sauce. The breading not only protects the protein, but thickens the sauce and makes it shiny. Try to dice the chicken in uniform sizes so it all cooks at the same rate.
Heat the oil in a large skillet and then cook the chicken. Depending on the size of the skillet and how much chicken you are using, you may need to do this in batches. Cooking too much at once will steam the chicken instead of allowing it to brown. Remove it to a paper towel lined plate until you are ready to put everything in the pot.
While the chicken browns, whisk together the sauce ingredients and chop the veggies, putting it all in the slow cooker pot. Add the chicken and toss to coat. Cover and cook for 3 hours on low heat. Since the chicken is par-cooked and cut into small pieces, it doesn't take that long. This will also let the veggies remain snappy instead of limp.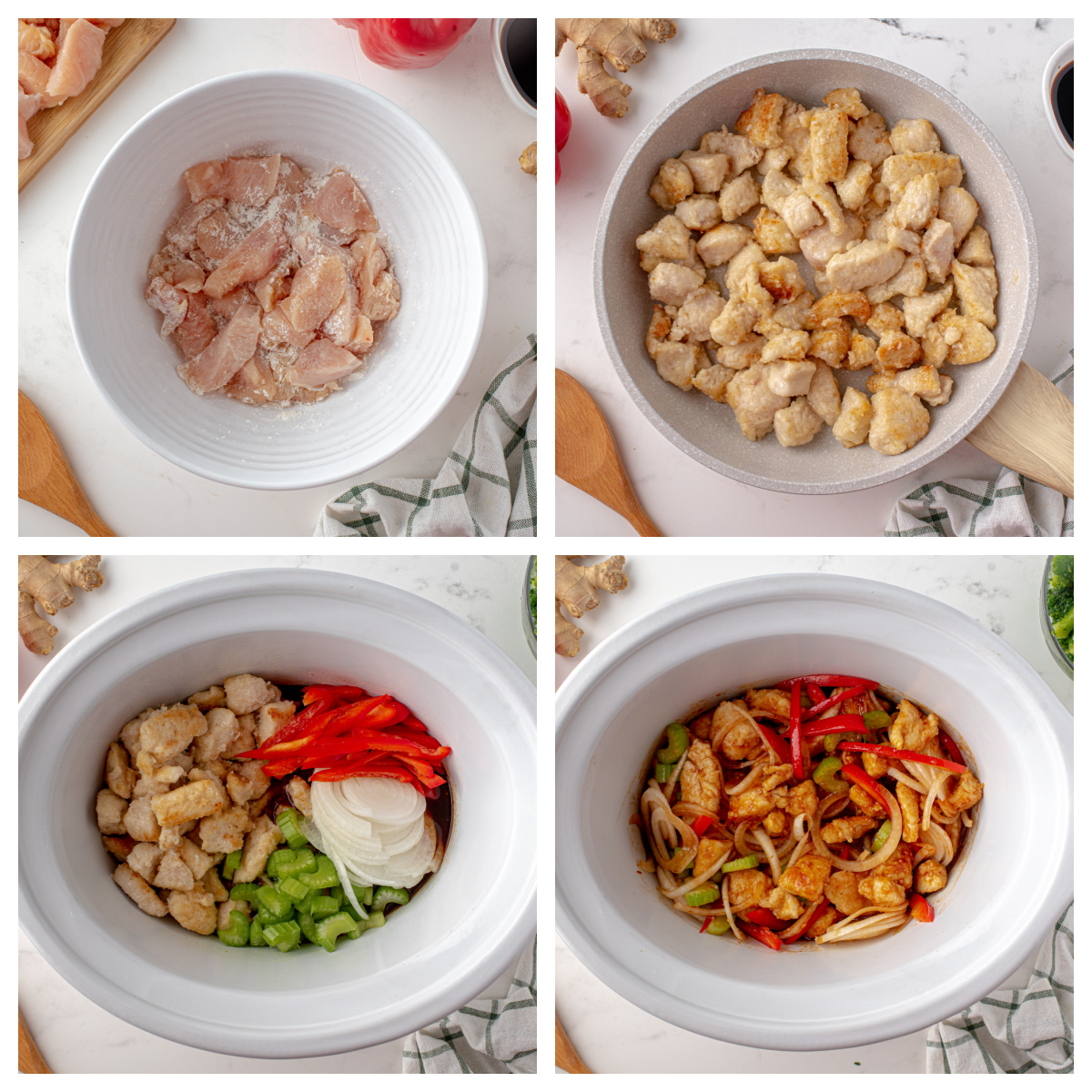 At 3 hours, add the frozen broccoli and beans sprouts, toss with the hot sauce and cover again for 5 minutes.
Serve over hot rice and top with cashews and scallions.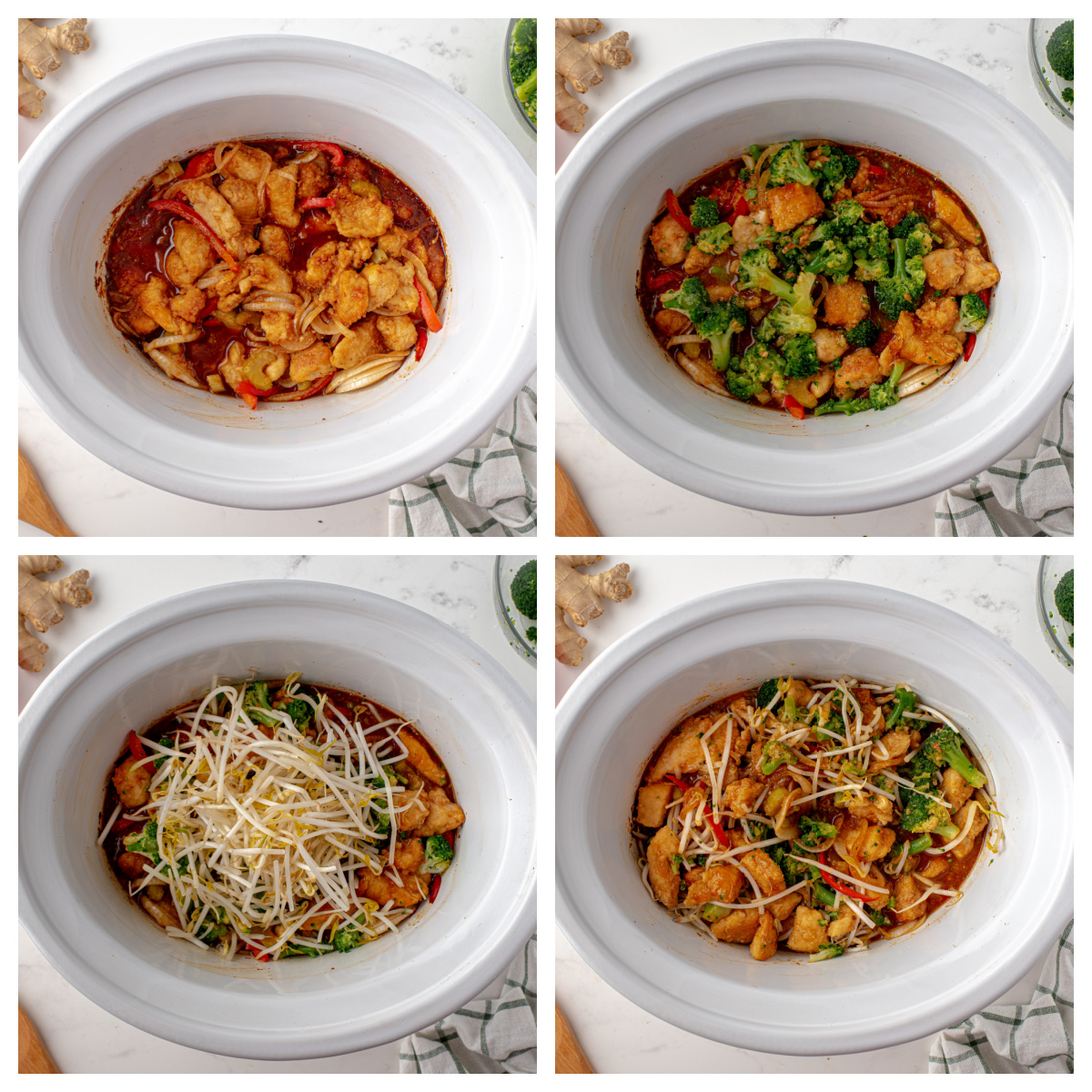 Make-Ahead, Storage & Freezing
Save time on the day you serve Slow Cooker Cashew Chicken, by preparing the chicken and sauce the night before, placing them in separate containers in the refrigerator and popping into the slow cooker 3 hours before I was ready to serve.
Cashew chicken can also be easily frozen after being cooked. Place it in airtight containers for up to 6 months.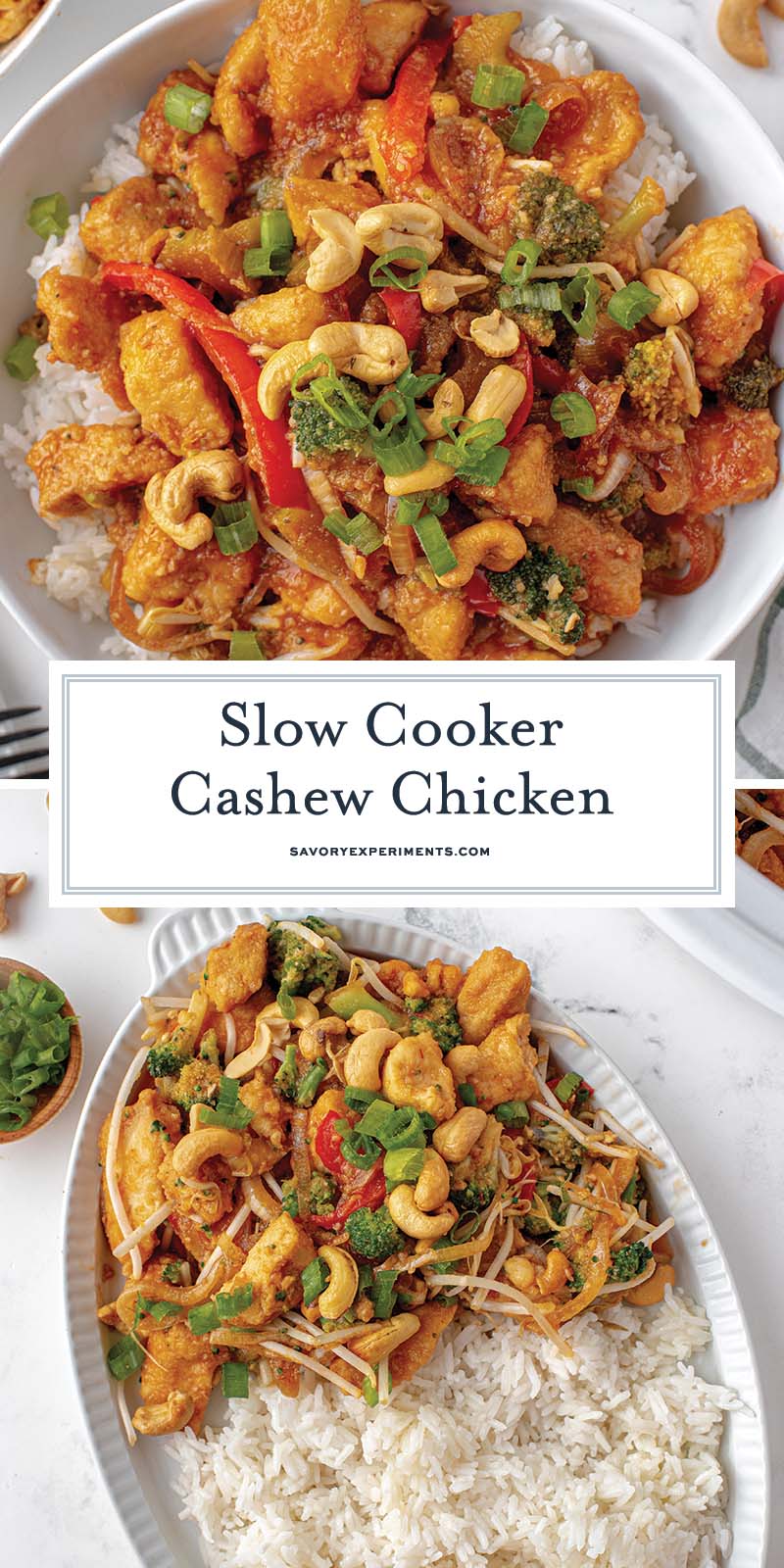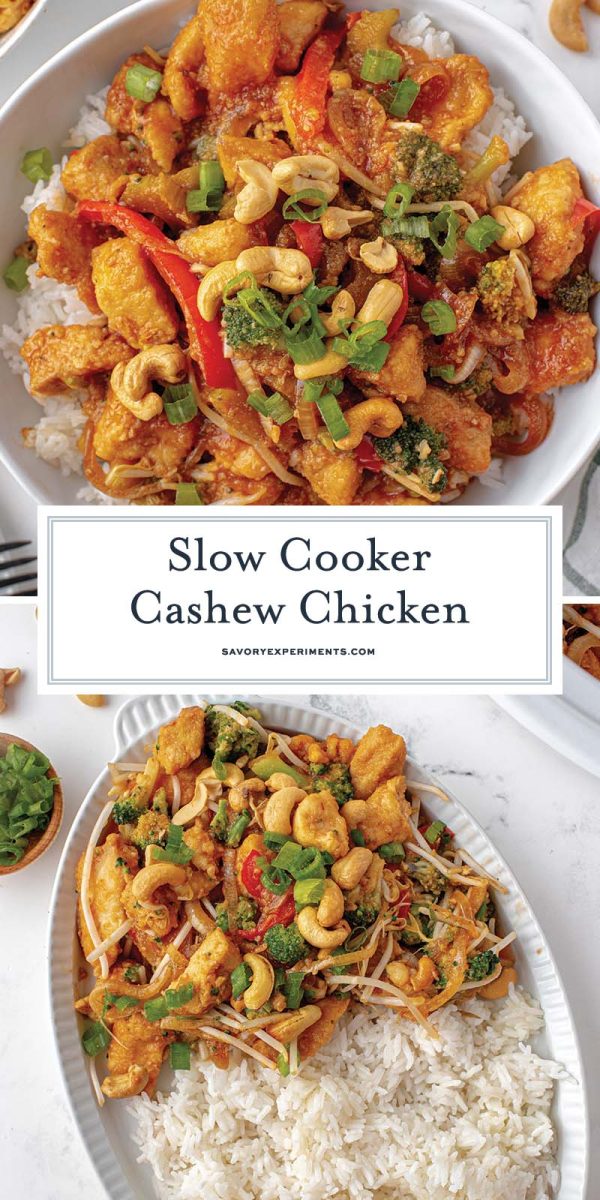 More Chinese Food Inspired Dishes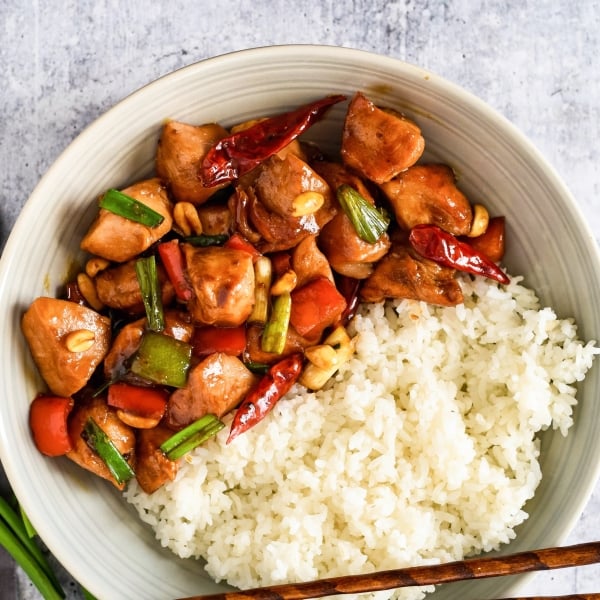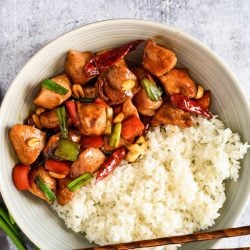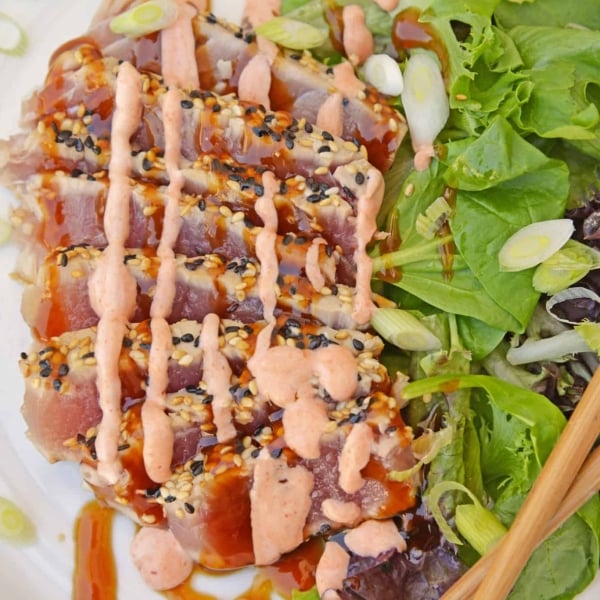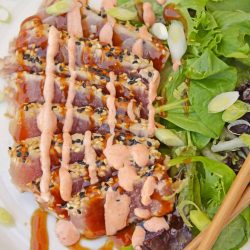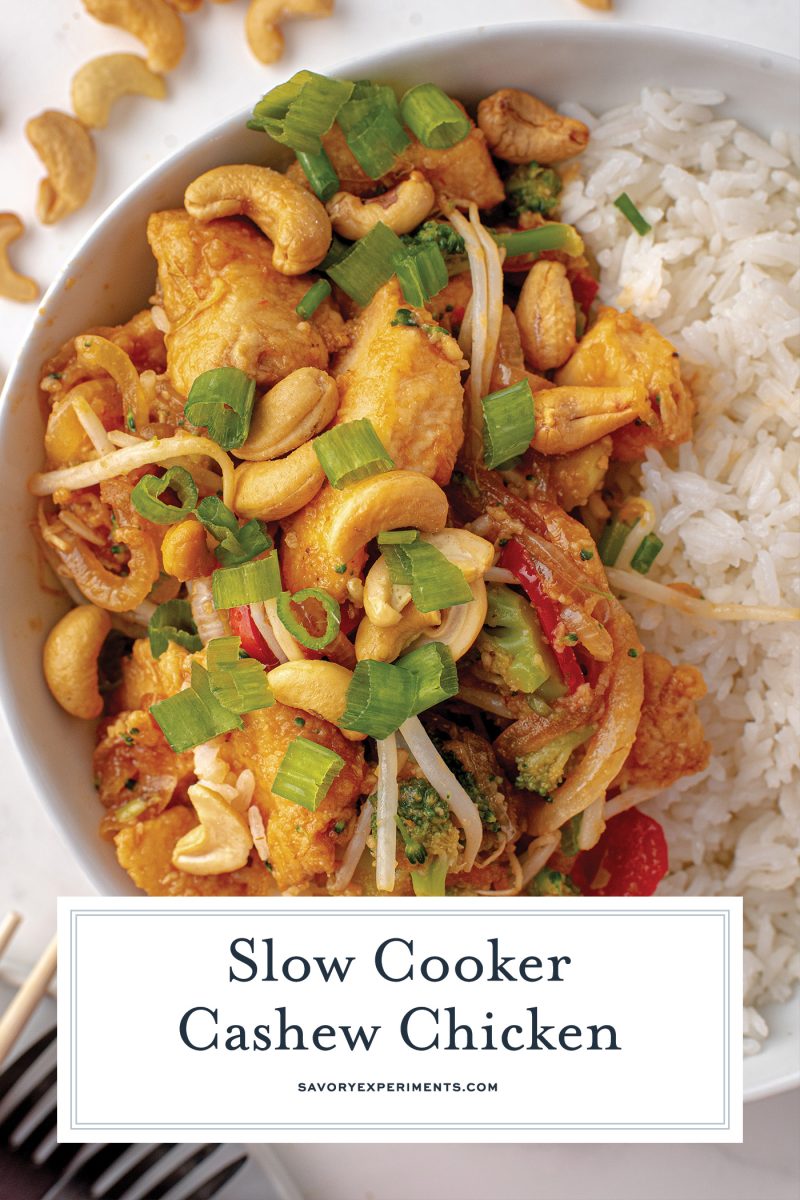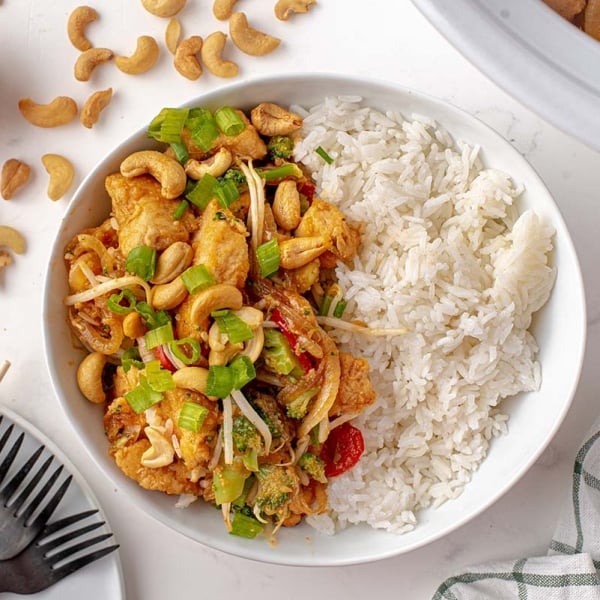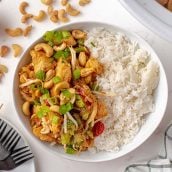 Slow Cooker Cashew Chicken Recipe
Slow Cooker Cashew Chicken is a favorite chicken crock pot recipe using lightly breaded chicken with a flavorful cashew sauce, celery, bean sprouts, onion and bell pepper!
Instructions
In a medium mixing bowl, whisk together the corn starch, flour, garlic powder, salt and pepper. Add chicken chunks, tossing to coat.

Heat the vegetable oil in a large skillet. Sift out chicken pieces, tapping off excess flour, and then add to the hot oil. Brown lightly, about 5-6 minutes. Remove to a paper towel lined plate. Chicken may not be fully cooked. Set aside.

Combine the garlic, celery onion, bell pepper, soy sauce, rice vinegar, ketchup, garlic sauce, brown sugar, ginger, Chinese five spice powder and red pepper flakes, stir to combine and coat. Add the cooked chicken and set to low for 3 hours.

Toss frozen broccoli and bean sprouts into the sauce, toss to coat, cover and continue to cook for 5 minutes.

Spoon over rice and garnish with cashews and scallions.

If you've tried this recipe, come back and let us know how it was in the comments or star ratings!
Notes
You can use raw, cubed chicken breast without breading, add to slow cooker with sauce and cook on low for 4-5 hours. Whisk together 2 tablespoons cornstarch with 2 tablespoons water and stir in before serving to thicken sauce.
You can use up to 4 chicken breasts OR 8 boneless chicken thighs with the same amount of sauce and vegetables. The cooking time may increase due to the increase in volume, please check chicken doneness before serving.
Nutrition
Calories:
764
kcal
,
Carbohydrates:
89
g
,
Protein:
39
g
,
Fat:
28
g
,
Saturated Fat:
11
g
,
Cholesterol:
72
mg
,
Sodium:
1951
mg
,
Potassium:
1078
mg
,
Fiber:
4
g
,
Sugar:
18
g
,
Vitamin A:
865
IU
,
Vitamin C:
32.3
mg
,
Calcium:
91
mg
,
Iron:
5
mg
Check out all the other lovely chicken recipes below from bloggers who took part in our 30 Day Chicken Challenge.