Looking for a quick and easy salad that requires minimal prep? You'll love this Crunchy Broccoli Slaw Salad!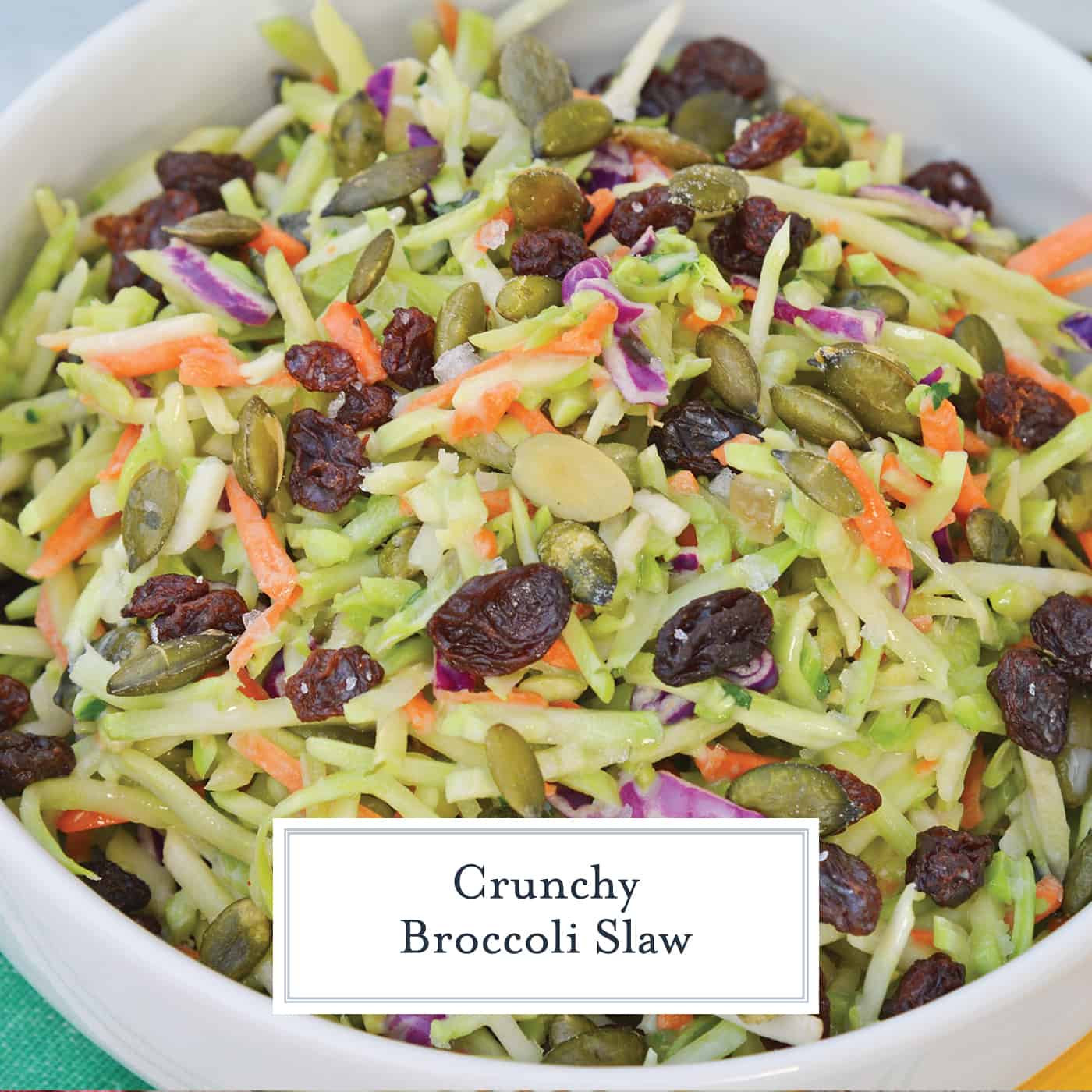 What's just as delicious as broccoli salad but easier and lighter to make? This homemade Crunchy Broccoli Slaw salad! It literally takes less than 5 minutes to make, with my super easy short cut….
Broccoli Slaw Mix
Instead of chopping my own, I usually just buy a bagged broccoli slaw mix. It is made up of raw broccoli, red cabbage and carrots.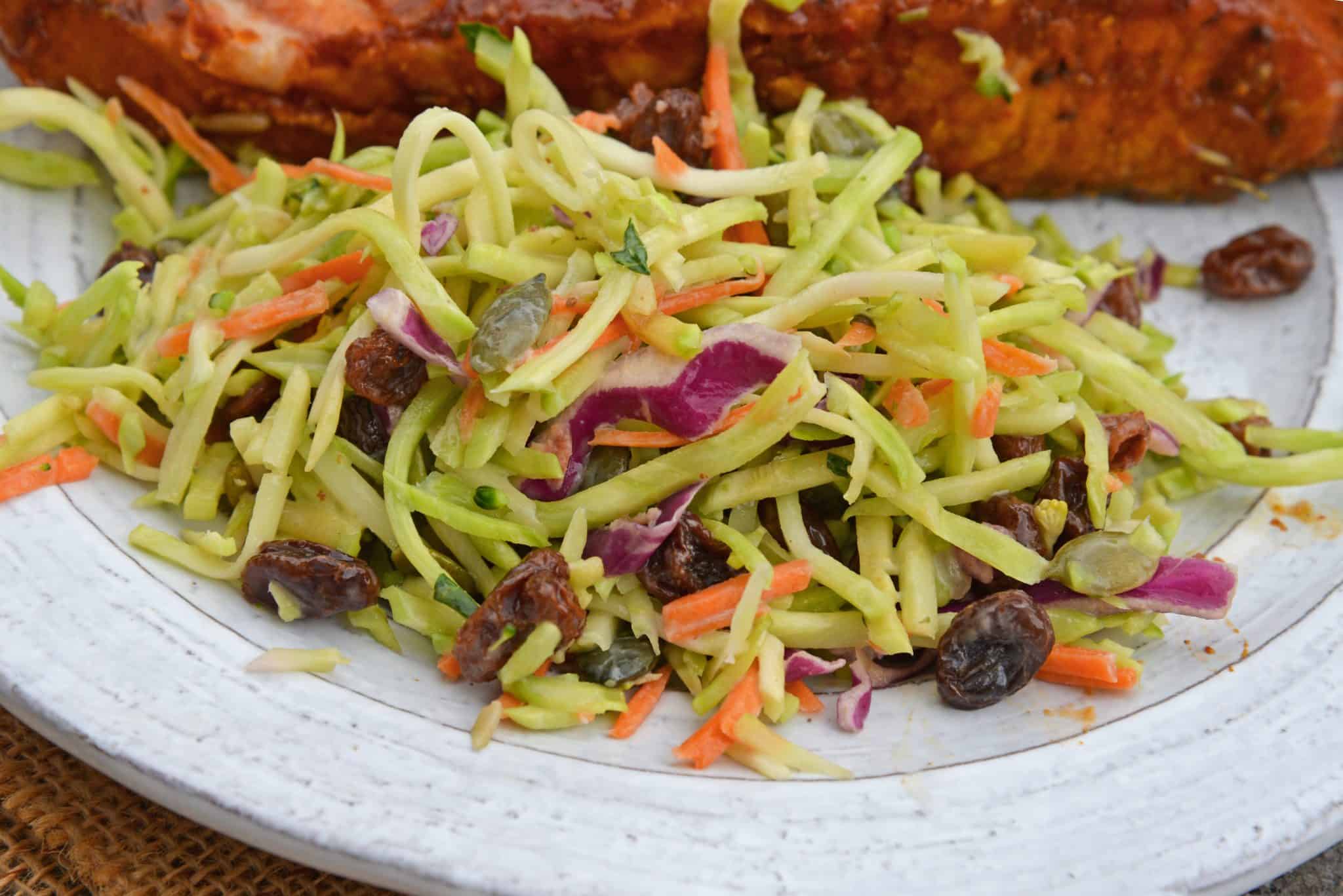 Some may call it cheating, but you know what? I don't have time to get out the mandolin slicer or food processor to shred each veggie. Bagged will do just fine.
Sometimes it even incorporates brussel sprouts too. But, you know what, you can use whatever slaw mix you want- even cabbage slaw.
One of the biggest issues with bagged slaw mix is that they look sad and dried out. But no worries, it is actually pretty easy to revive them.
Place your slaw mix into a large mixing bowl filled with ice water.
Allow it to sit for 10-15 minutes and then drain. Pat it dry with a paper towel before adding the dressing. If it has too much water on it, the dressing will thin out and not stick.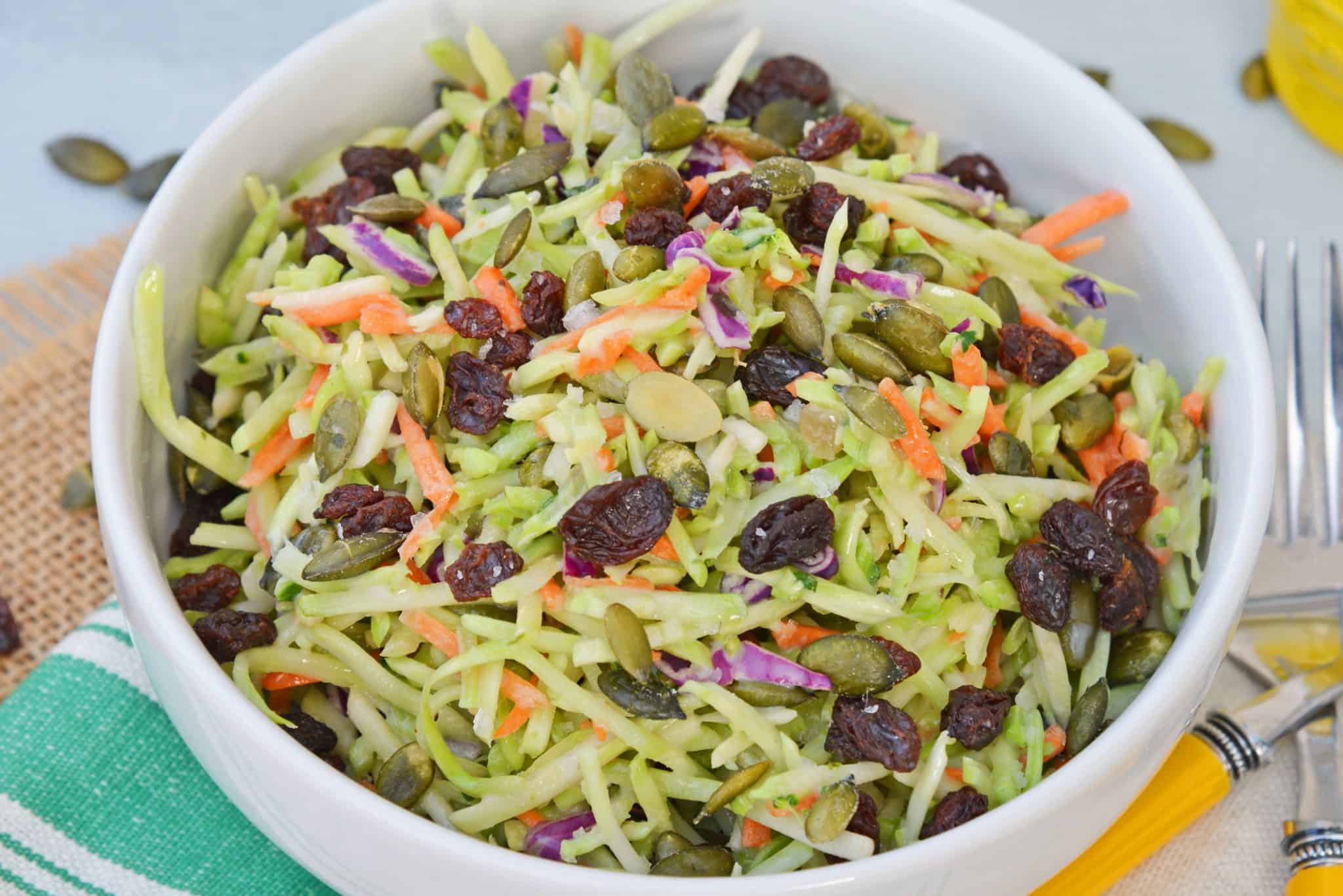 I used this technique on the slaw in the pictures and I think it looks pretty great!
Broccoli Slaw Mix-Ins
Then, to take this broccoli slaw to the next level, I throw in a fix extras, like pepitas and raisins.
Pepitas are one of my favorite seeds to use in salads. They are a vibrant green and usually salted. You can use any other type of nut too, this slaw also does well with slivered almonds.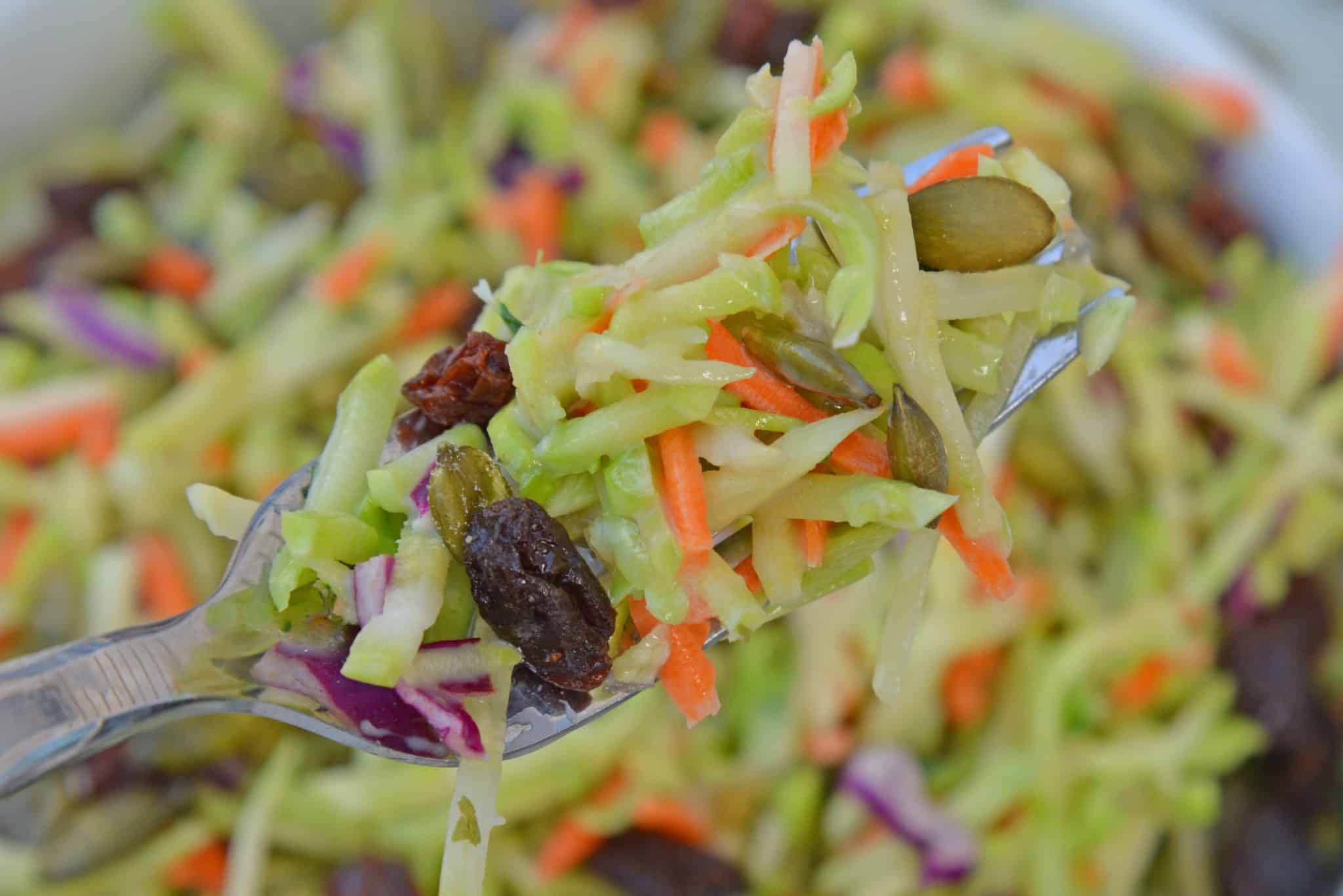 Raisins provide a sweet and soft contrast to the rest of the ingredients in this broccoli salad.
Dried cranberries are also a good pick.
Creamy Broccoli Slaw Dressing
Instead of a mayo and poppy seed dressing like traditional broccoli salad, I top this with a creamy honey mustard.
Mustard adds some acidity while honey balances out the other ingredients. It is still creamy, as this honey mustard sauce uses mayo.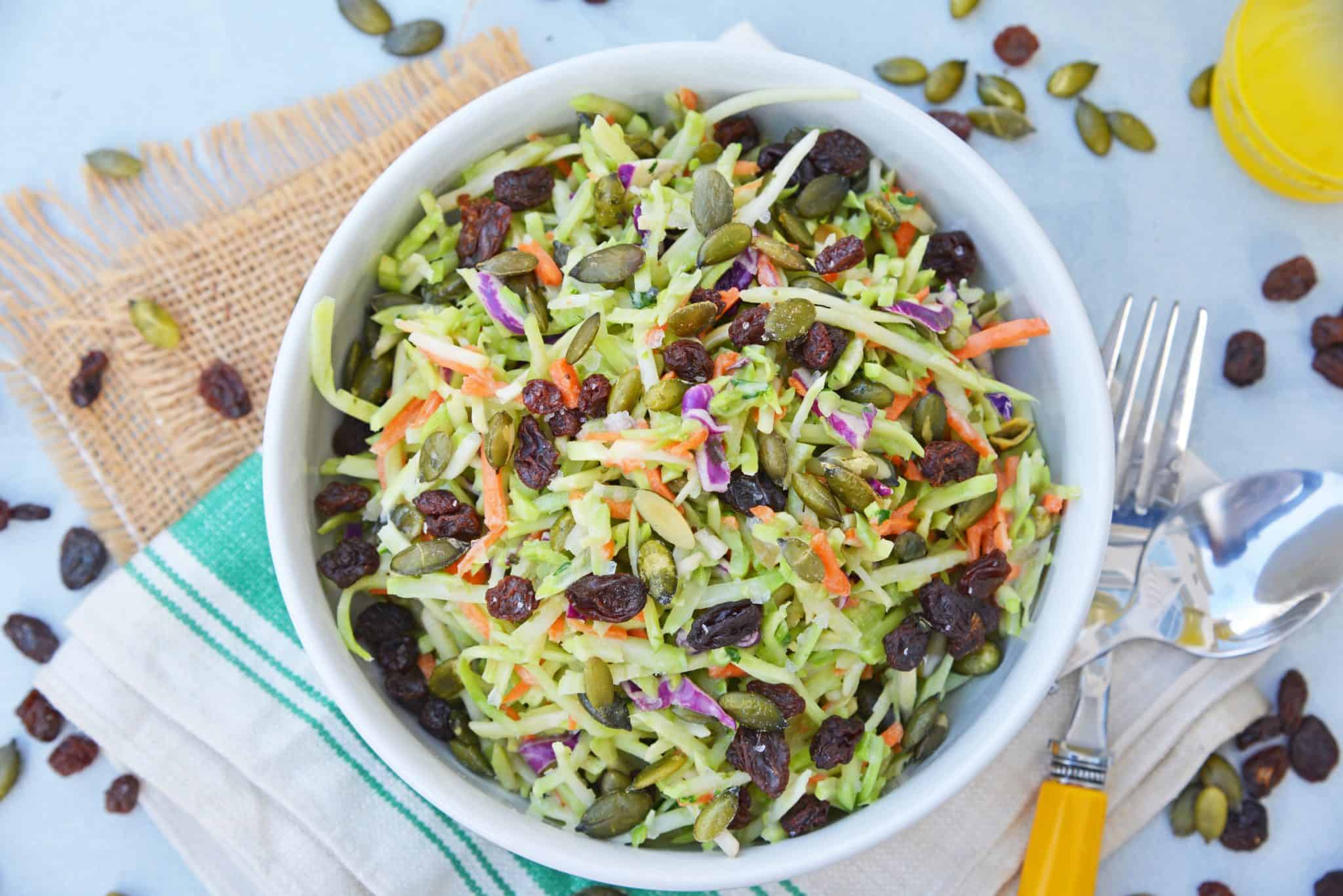 I don't like too much slaw dressing, but if you prefer to a creamier version, double the honey mustard sauce.
It tastes so yummy with the broccoli mix but can also be used to baste chicken, fish or pork and as a dipping sauce.
Light Broccoli Slaw
It is easy to convert this broccoli salad into a light version. Simply substitute the mayo in the dressing with plain Greek yogurt.
You can even try making your own!
Also look for unsweetened raisins or cranberries to further cut down on the sugar.
Make Ahead & Storage
This dish is perfect for making ahead up to 24 hours. Leftovers can be stored covered in the fridge for up to 5 days. Just give the salad a quick stir to revive it.
I do not recommend freezing broccoli slaw. It thaws all soggy and mushy. Yuck.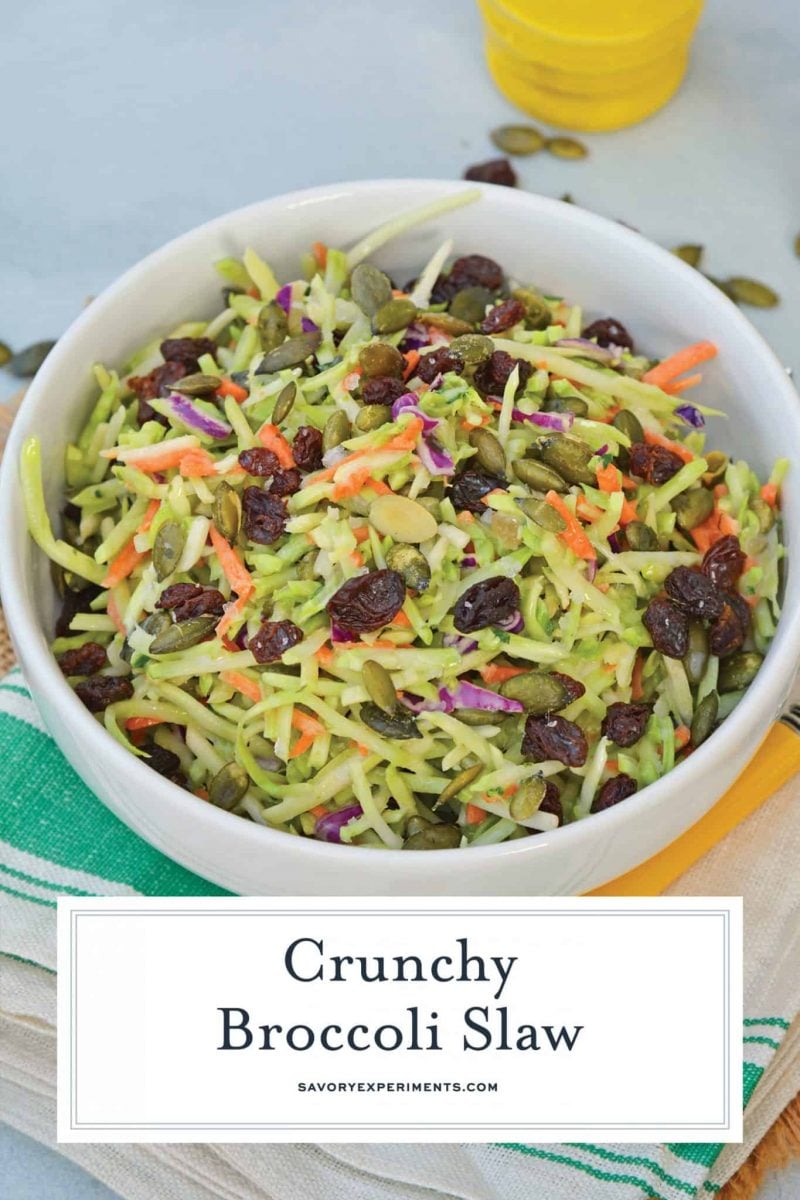 Picnic Side Dish
This Broccoli Slaw Salad makes a great dish for summer cookouts and is so much easier to make than broccoli salad. Everyone devours it just as quickly too!
I also like to serve it at home when I need a quick veggie or side dish and don't feel like cooking. It's a great side for chicken, fish, pork or burgers.
Here are some of my favorites: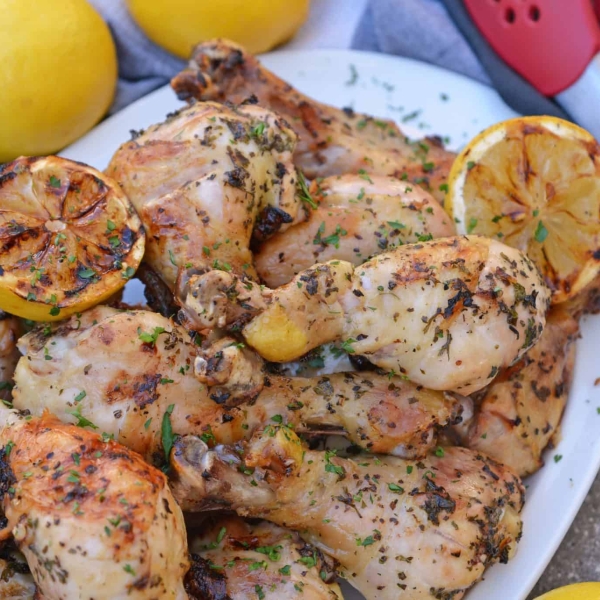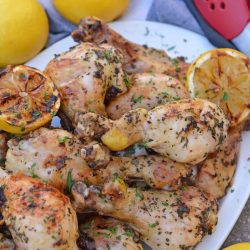 Grilled Lemon Pepper Chicken Recipe
Grilled Lemon Pepper Chicken is made up of a simple chicken marinade for foolproof chicken on the grill every time.
View this recipe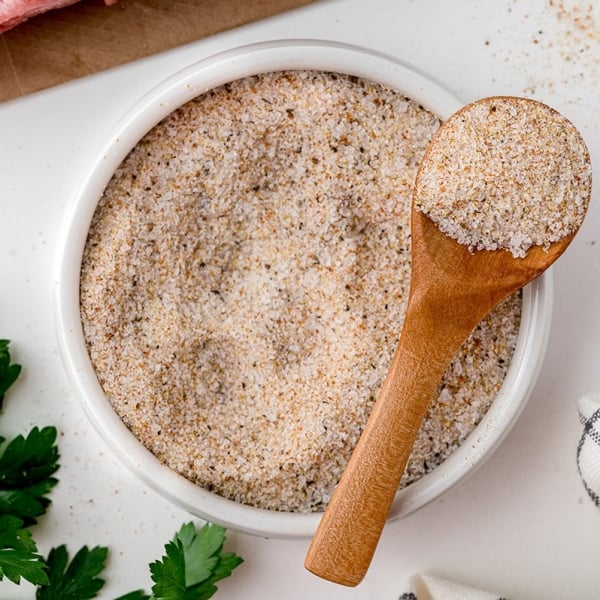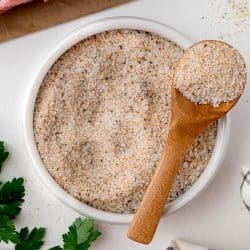 Steakhouse Steak Seasoning Recipe
This Steak Seasoning is a secret recipe that I received from a friend at a 5-star steakhouse- the perfect balance of spices, a hint of a sweet and secret ingredient "you can't quite put your finger on".
View this recipe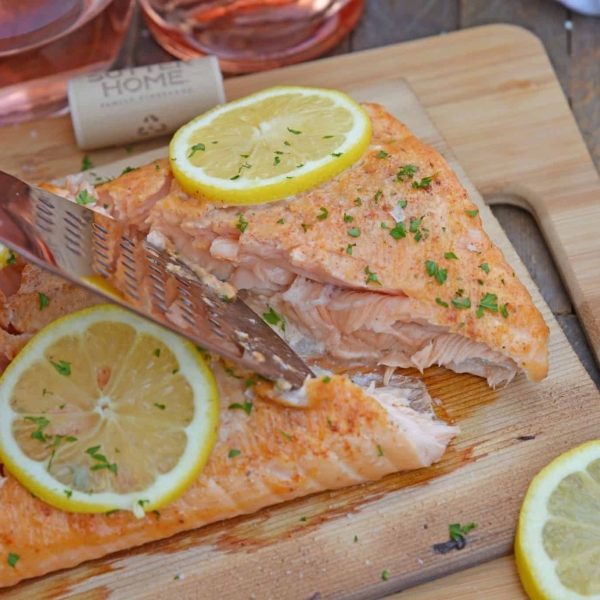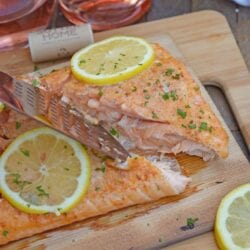 Spicy Cedar Plank Salmon
Spicy Cedar Plank Salmon is an easy grilled salmon recipe using a spicy salmon glaze. Perfect for a hot summer night and pairing with a crisp, sweet wine.
View this recipe
What You'll Need
Large Mixing Bowl– Use a mixing bowl a little larger than you think you'll need. There is less pressure to keep it in the bowl. You can always transfer it to a smaller serving bowl later. I personally look for ones with lids so I can cut down on plastic wrap and aluminum foil waste.
Mixing Spoon– Use a large spoon or even fork to do the tossing!
More summer sides: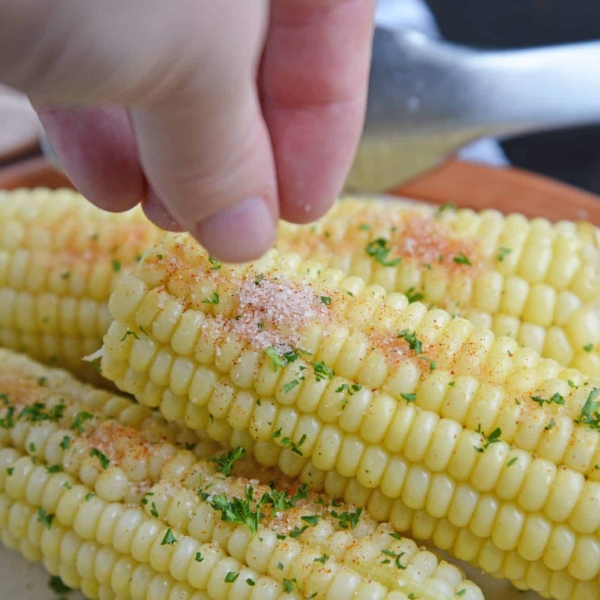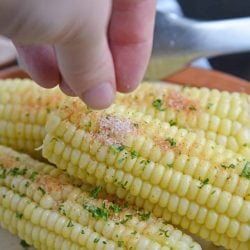 Best Corn on the Cob Seasoning
Corn recipes have never been more delicious than with this simple Corn on the Cob Seasoning! It's the best way to upgrade your summer corn.
View this recipe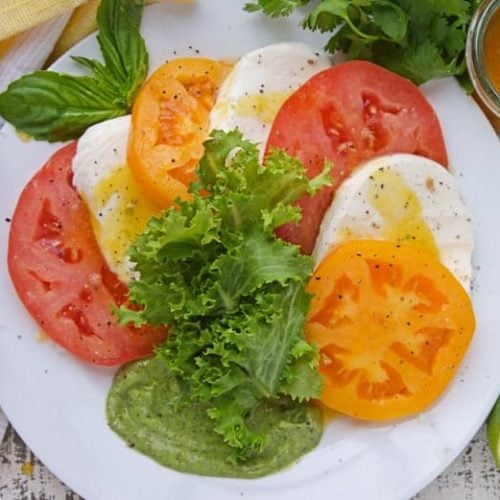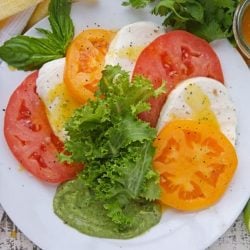 Passion Fruit Caprese Salad
Passion Fruit Caprese Salad, a summer salad offered by Omni Hotels & Resorts, combines a sweet and spicy serrano-passion fruit dressing and avocado spread with a traditional Caprese salad.
View this recipe
Gouda and Corn Salad
Easy salad recipes don't get much better than this simple Gouda and Corn Salad! It's perfect for a quick lunch, or even to bring to a potluck! #goudaandcornsalad #cornsalad #easysaladrecipes www.savoryexperiments.com
View this recipe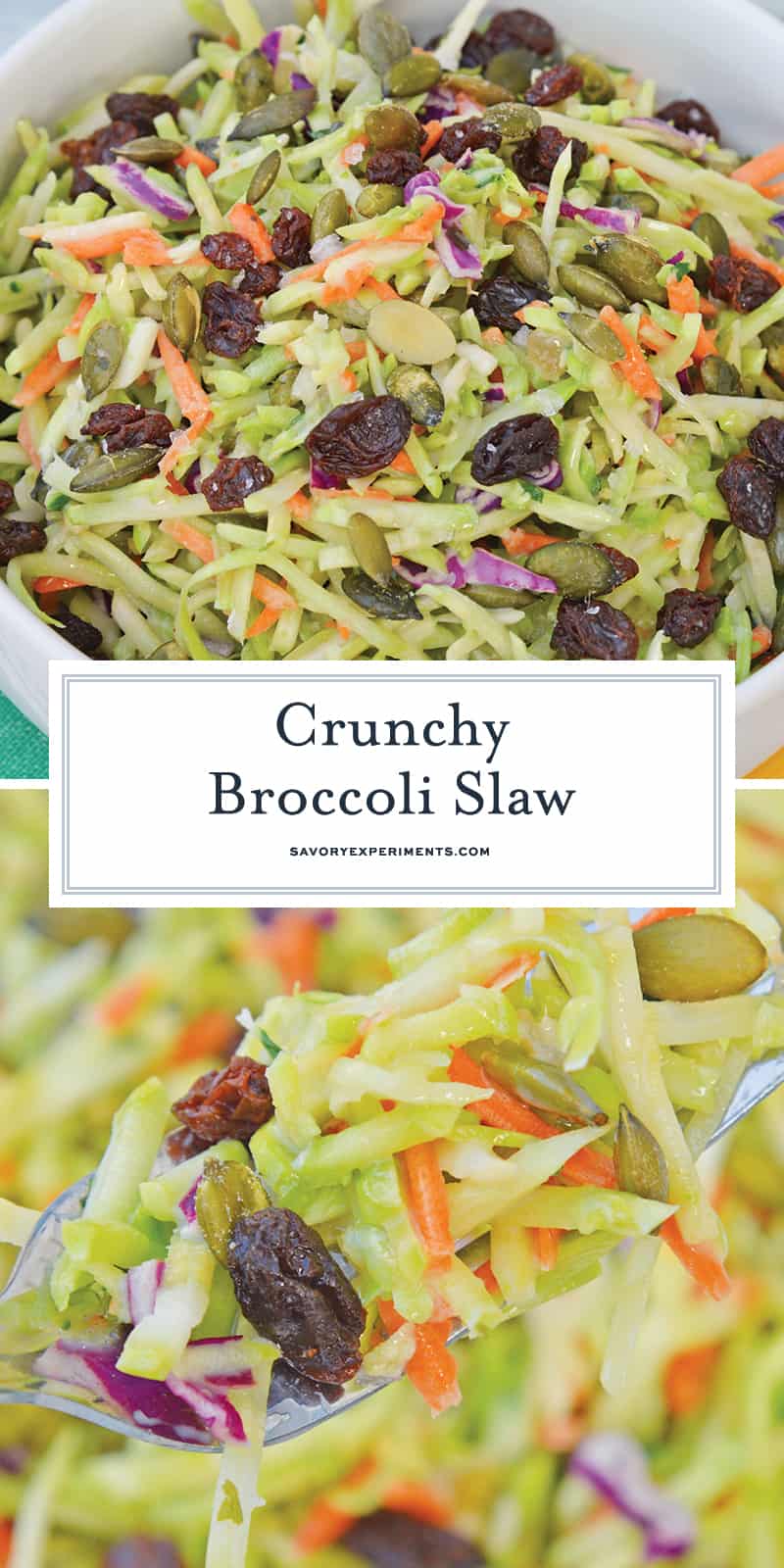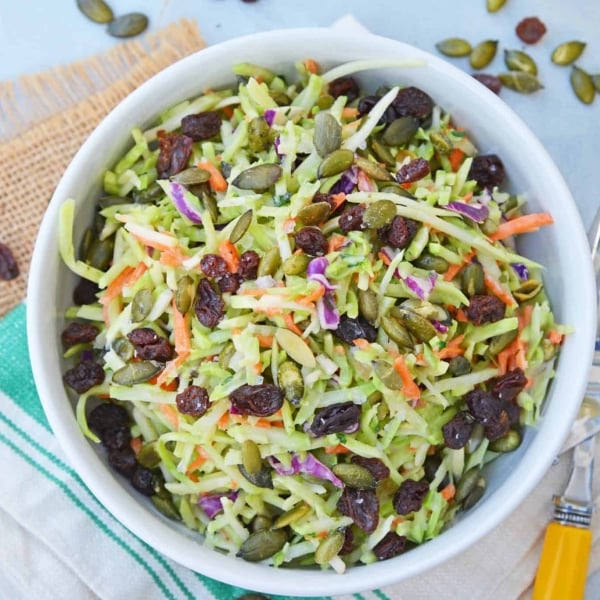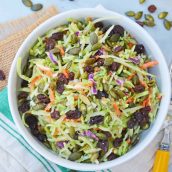 Crunchy Broccoli Slaw
This Crunchy Broccoli Slaw Salad is made with a bagged broccoli slaw and a few extra ingredients for a quick, easy and tasty side salad!
Instructions
Combine broccoli slaw mix, creamy honey mustard raisins, pepitas and Kosher salt in a medium mixing bowl.

Toss well, cover and allow to sit for 10-15 minutes before serving.

Toss again to revive.

If you've tried this recipe, come back and let us know how you liked it!
Nutrition
Calories:
112
kcal
,
Carbohydrates:
13
g
,
Protein:
4
g
,
Fat:
5
g
,
Cholesterol:
3
mg
,
Sodium:
487
mg
,
Potassium:
438
mg
,
Sugar:
1
g
,
Vitamin A:
450
IU
,
Vitamin C:
105.6
mg
,
Calcium:
56
mg
,
Iron:
1.4
mg