Chile Lime Butter is the perfect way to spice up your Latin food or any other grilled vegetables, sizzling steak, or basic bread.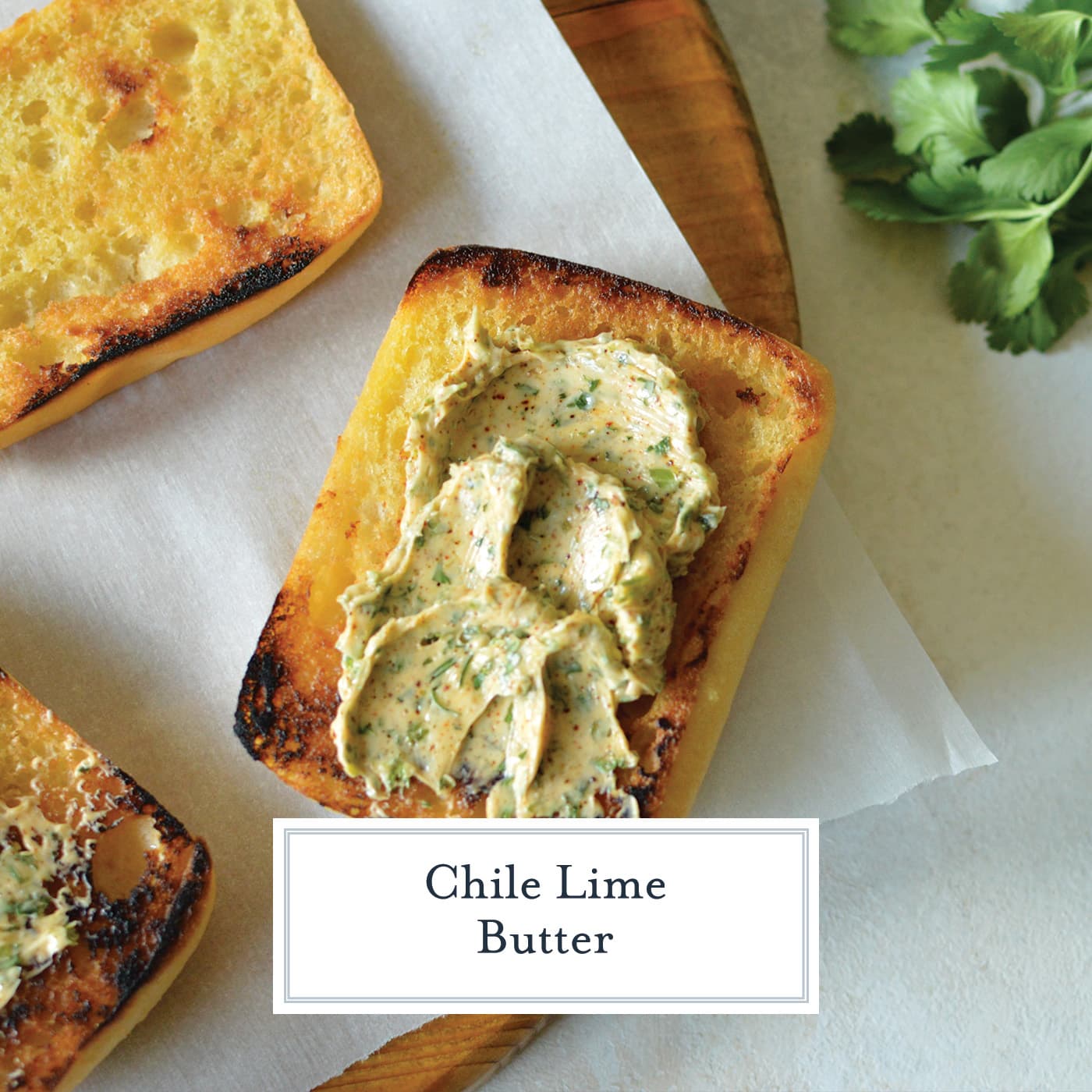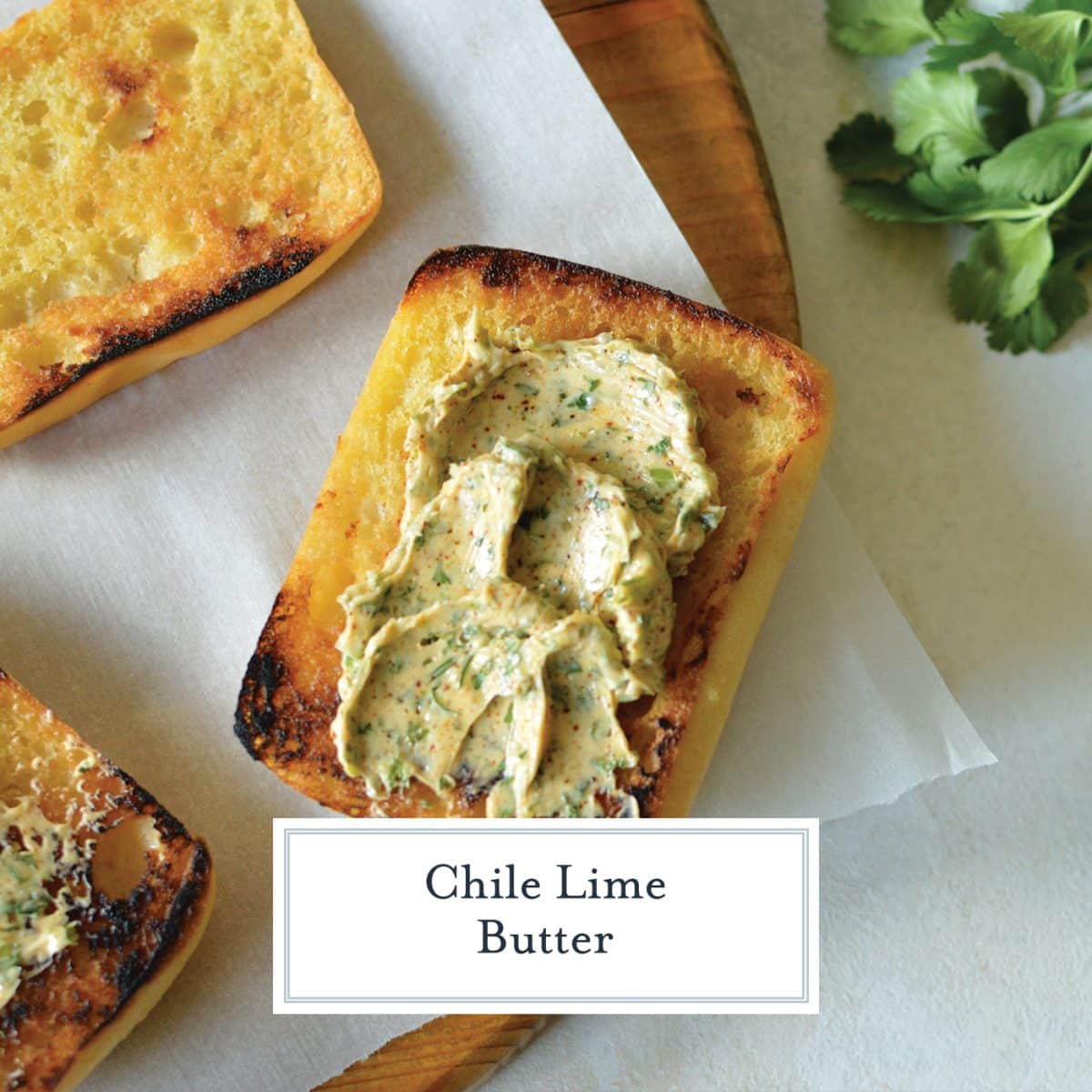 I've said it before and I'll say it again: I love butter! So much so that sometimes a slice of crusty bread is just a socially acceptable excuse to get butter from point A to point B (my mouth.) Nearly every meal I serve will include butter somehow, some way.
One of my secrets to being a great entertainer and hostess is to make small tweaks to recipes to create special bites and memorable meals. A simple step is to make a flavored butter also known as compound butter.
Herb butter, honey butter, even garlic bread butter are considered types of compound butter. Any meal can have its own butter tailored to the flavors you are serving.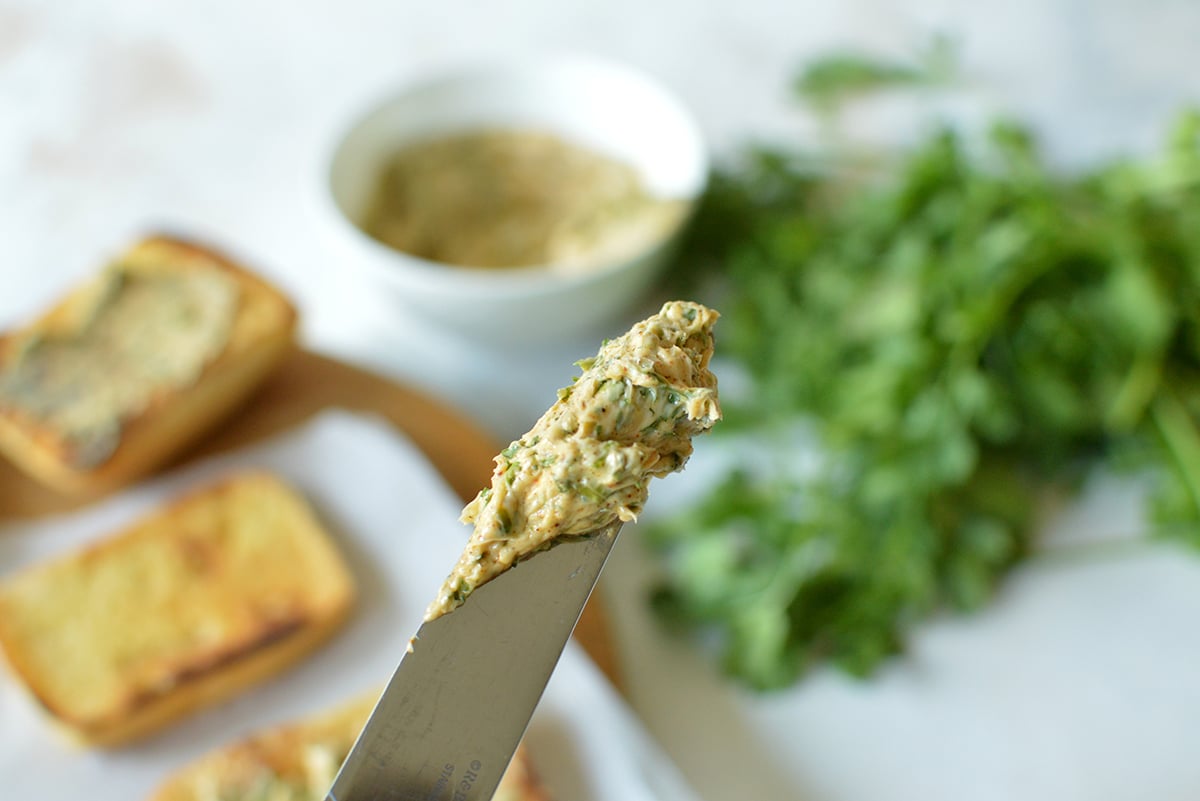 Flavored Butters
One of my go-to flavors is Chile Lime Butter. It features lime zest, chili powder, cilantro, and unsalted butter. Super simple and super delicious.
While the flavors are traditionally Latin leaning, they are also general enough to be paired with any grilled meal or steak. What doesn't go with the essence of fresh citrus, herbs and a touch of spice?
Melt Chile Lime Butter on grilled or roasted vegetables or use it to top baked chicken breasts to add back flavor and moisture. Use it while you are grilling corn on the cob or in recipes that require sautéing corn in the pan.
I typically add cilantro, but 50% of the population has a genetic abnormality making cilantro taste like soap or dirt, so if you are cooking for an unfamiliar crowd, just omit it.
These people have a variation in a group of olfactory-receptor genes that allows them to strongly perceive the soapy-flavored aldehydes in cilantro leaves.
No need to force dirt tasting butter down someone's throat and don't give them a hard time about not liking cilantro. It really is a genetic thing, not an, "I'm a picky eater" thing.
That said, bust out a loaf of bread, give it a quick toast, slather it with some Chile Lime Butter, and a pinch of sea salt and you are in business. Add chile powder for more pizzazz and ancho chile powder for smoke.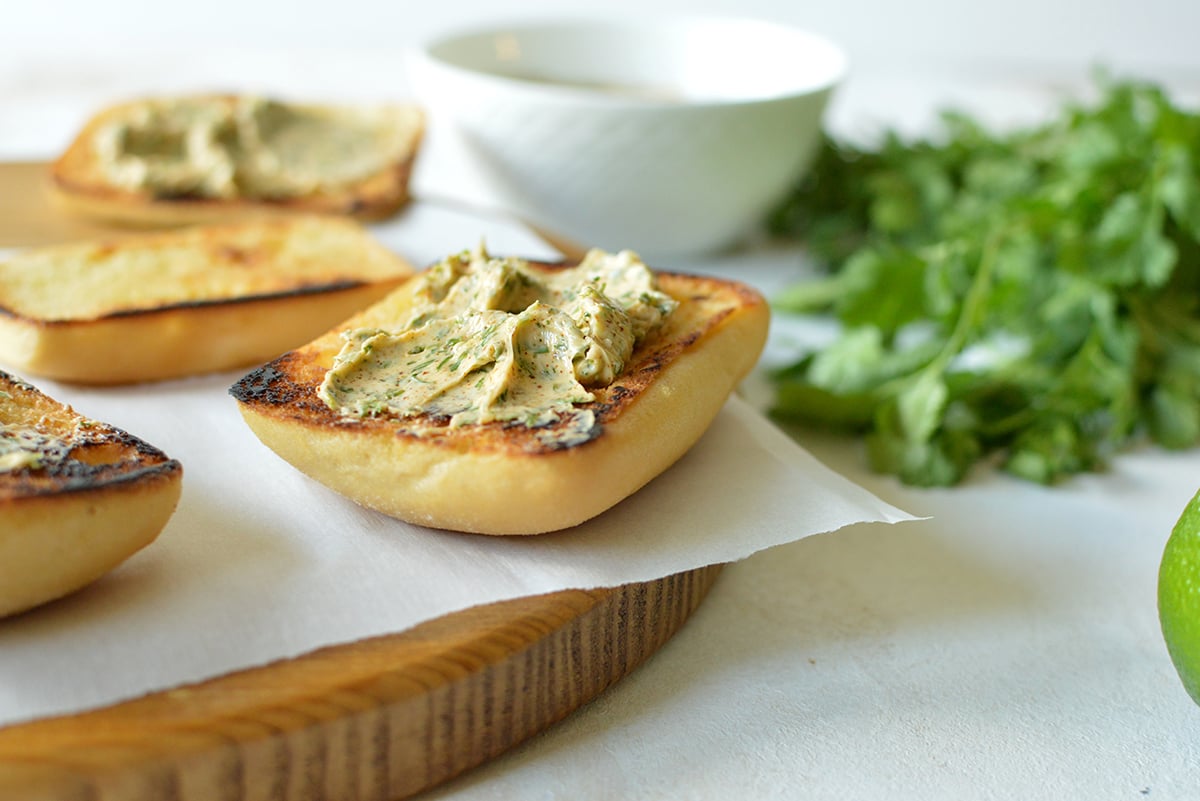 What You'll Need
Unsalted butter – If you've been around for awhile, you know I prefer to use unsalted butter and add my own salt into recipes. However if salted is all you have, just leave out the extra salt.
Fresh lime zest – If you like a lot of tang to your butter, you can also add a teaspoon or two of fresh lime juice to your butter mixture too. Fresh is always preferred over the bottled variety.
Cilantro – I love the flavor that cilantro adds to this chile-lime butter. Just make sure it is fresh and finely chopped so that there aren't huge pieces of it throughout the butter.
Red chile powder – I would describe this spice as having medium heat. You can always add more, or even some cayenne pepper so amp up the spice a bit.
Salt – If you used salted butter, leave this out. However, I like using a coarse Kosher salt when I make mine.
How to Make Chili-Lime Butter
Use the whisk attachment of a hand held mixer or stand mixer. Whip room temperature butter for 1-2 minutes, scraping down sides as needed.
Add lime zest, red chile powder and salt, continue to whip for 1 minute.
Fold in cilantro.

How to Use Chile Lime Butter
The uses for homemade butter are really endless, but there are a few things that these particular flavors do pair well with. Here are some of our favorites:
Grill corn and then brush corn with this butter
Use it to coat fresh vegetables (broccoli florets, cauliflower florets)
Slather on a grilled cheese sandwich
Use it to sauté chicken breasts
Storage
Store your chili lime butter recipe in the refrigerator in an airtight container for up to three days. Butter can also be frozen and thawed in the fridge or at room temperature.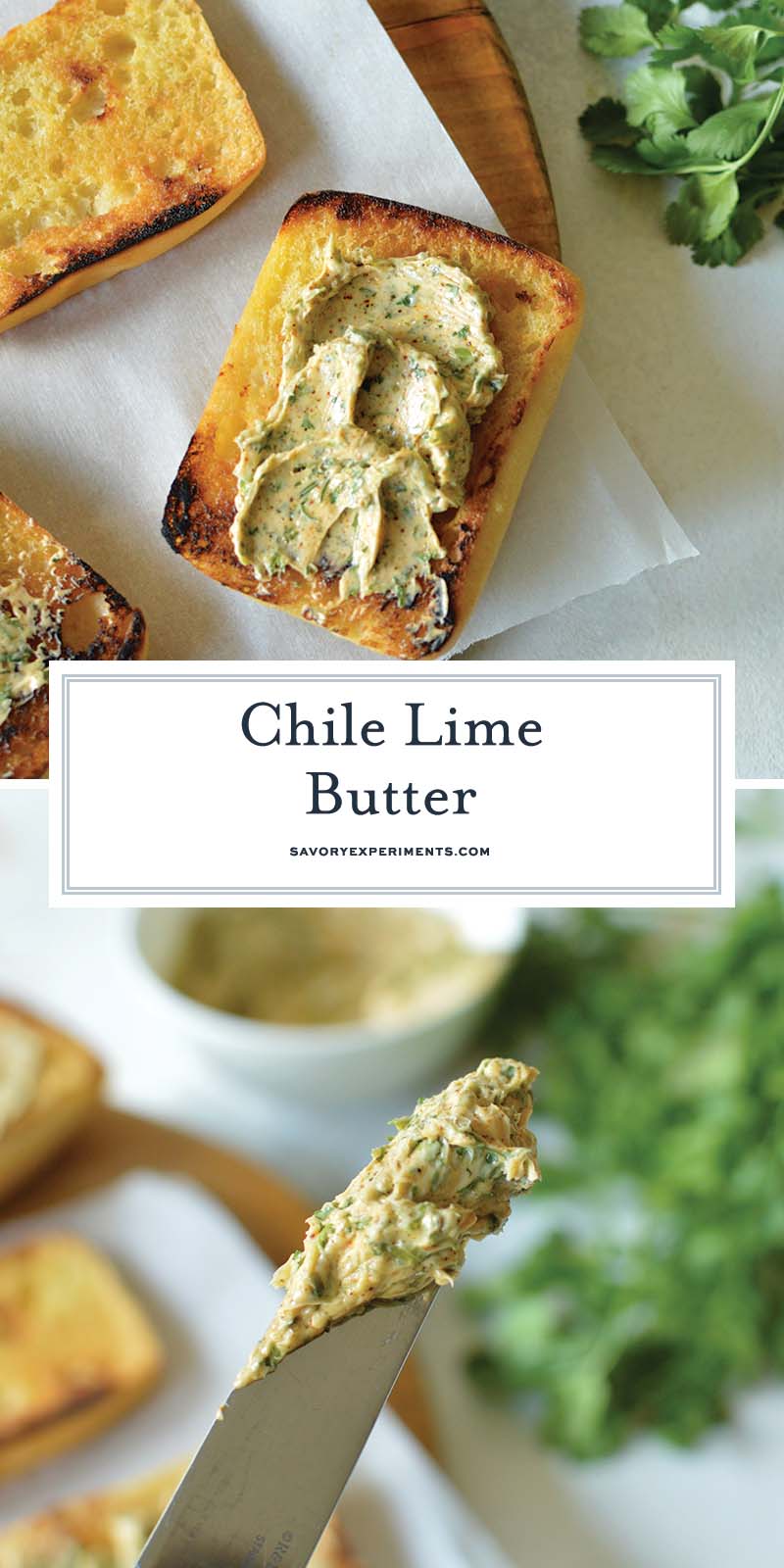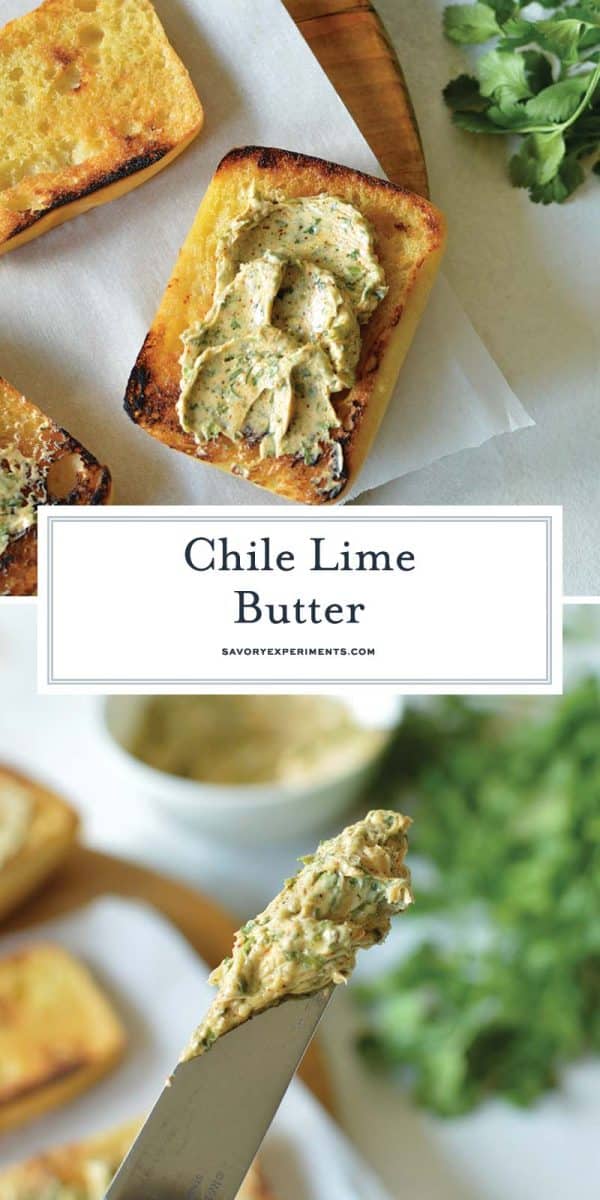 More Homemade Butter Recipes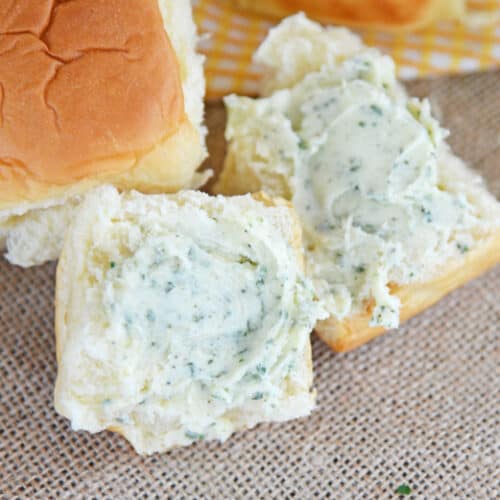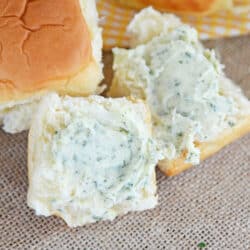 Ranch Butter
Ranch butter is easy homemade seasoned butter perfect for taking any dish using regular butter to the next level. Baked potatoes, pasta, seafood & poultry!
View this recipe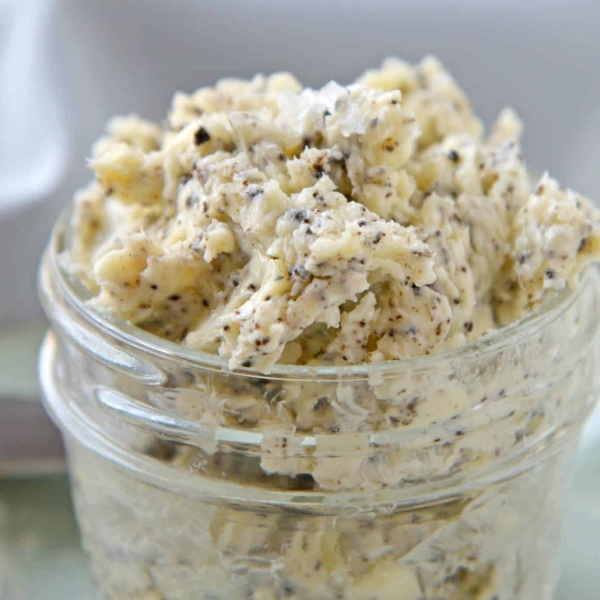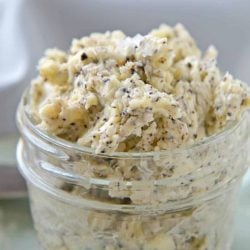 Truffle Butter
This Homemade Black Truffle Butter is so easy to make! Only 3 ingredients and a few minutes needed. You'll never get it at the store again!
View this recipe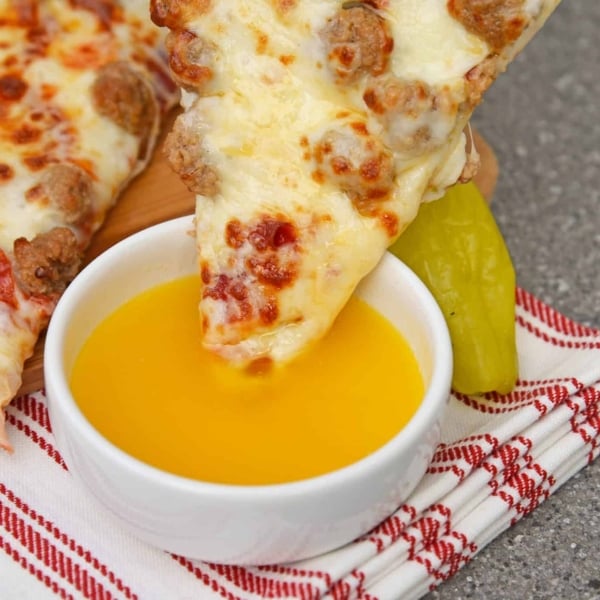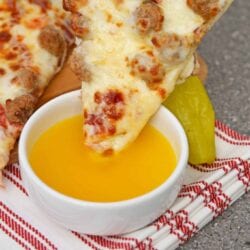 Garlic Sauce for Pizza
If you've ever wondered how to make garlic butter sauce for pizza, wonder no more. This recipe is just like the Papa John's dipping sauce for pizza or breadsticks!
View this recipe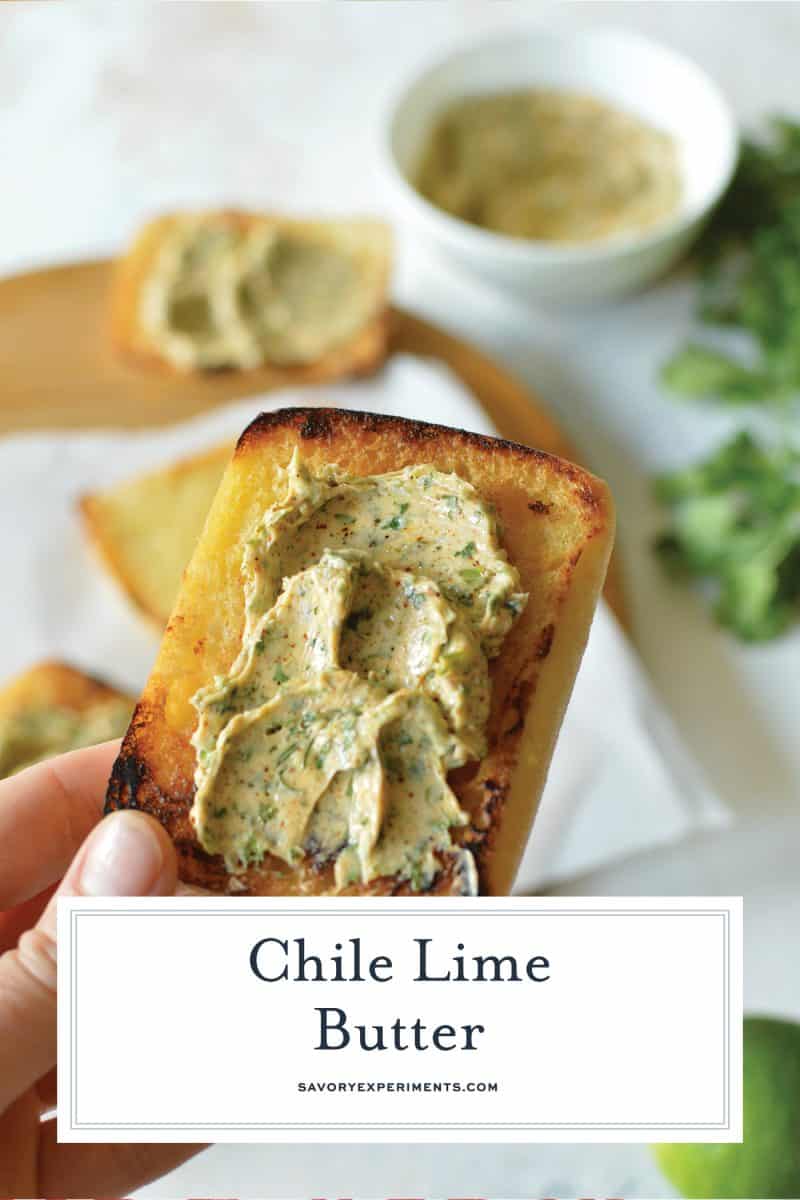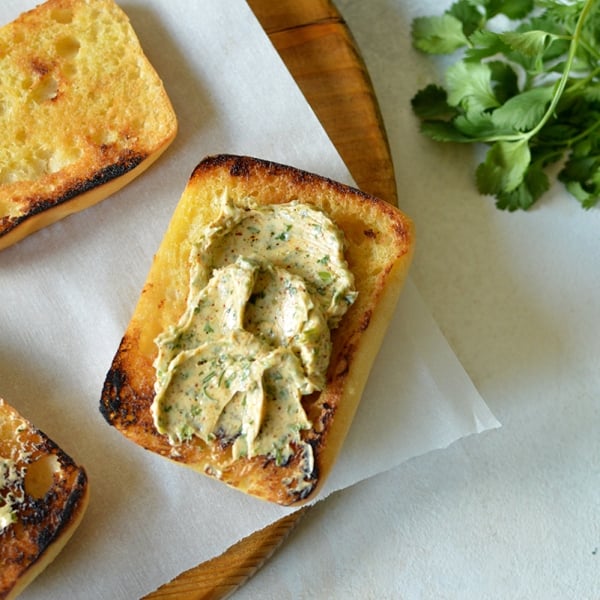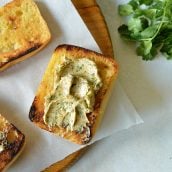 Chile Lime Butter Recipe
Chile Lime Butter is a flavored butter using cilantro, lime and chile powder. Perfect for spicing up a Mexican meal, baked potato or sauteed vegetables.
Instructions
Use the whisk attachment of a hand held mixer or stand mixer. Whip the butter for 1-2 minutes, scraping down sides as needed.

Add the lime zest, chili powder and salt, continue to whip for 1 minute.

Refrigerate for 15 minutes to 3 days.

If you've tried this recipe, make sure to come back and leave us a comment or quick star rating.
Nutrition
Serving:
1
tablespoon
,
Calories:
102
kcal
,
Fat:
11
g
,
Saturated Fat:
7
g
,
Cholesterol:
30
mg
,
Sodium:
294
mg
,
Vitamin A:
390
IU
,
Vitamin C:
0.4
mg
,
Calcium:
3
mg