Low carb side dishes that aren't JUST veggies are something I've been trying to make more of lately. Luckily, this Cauliflower Mac and Cheese is so much more interesting than your basic cauliflower side dish, but low carb and oh-so-good!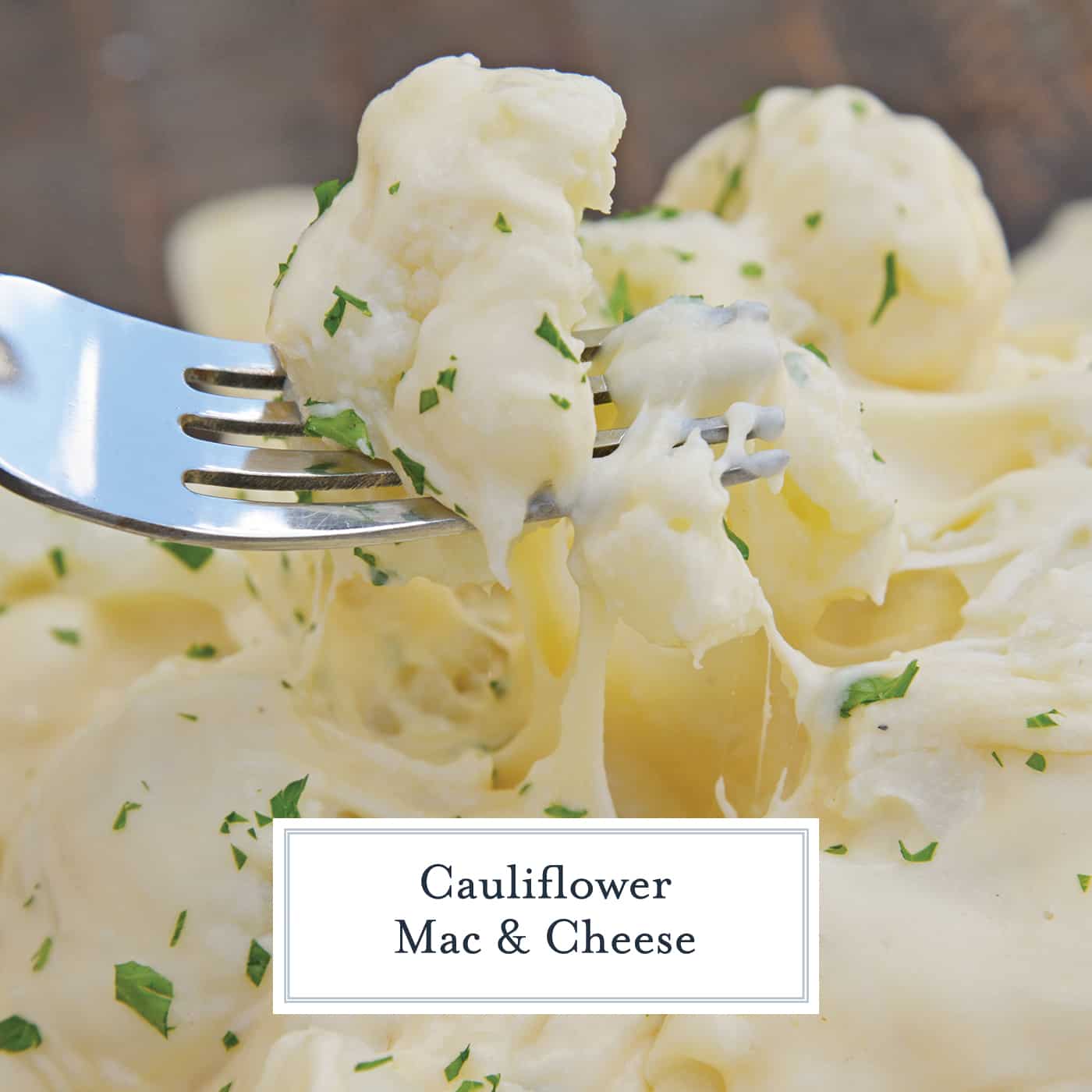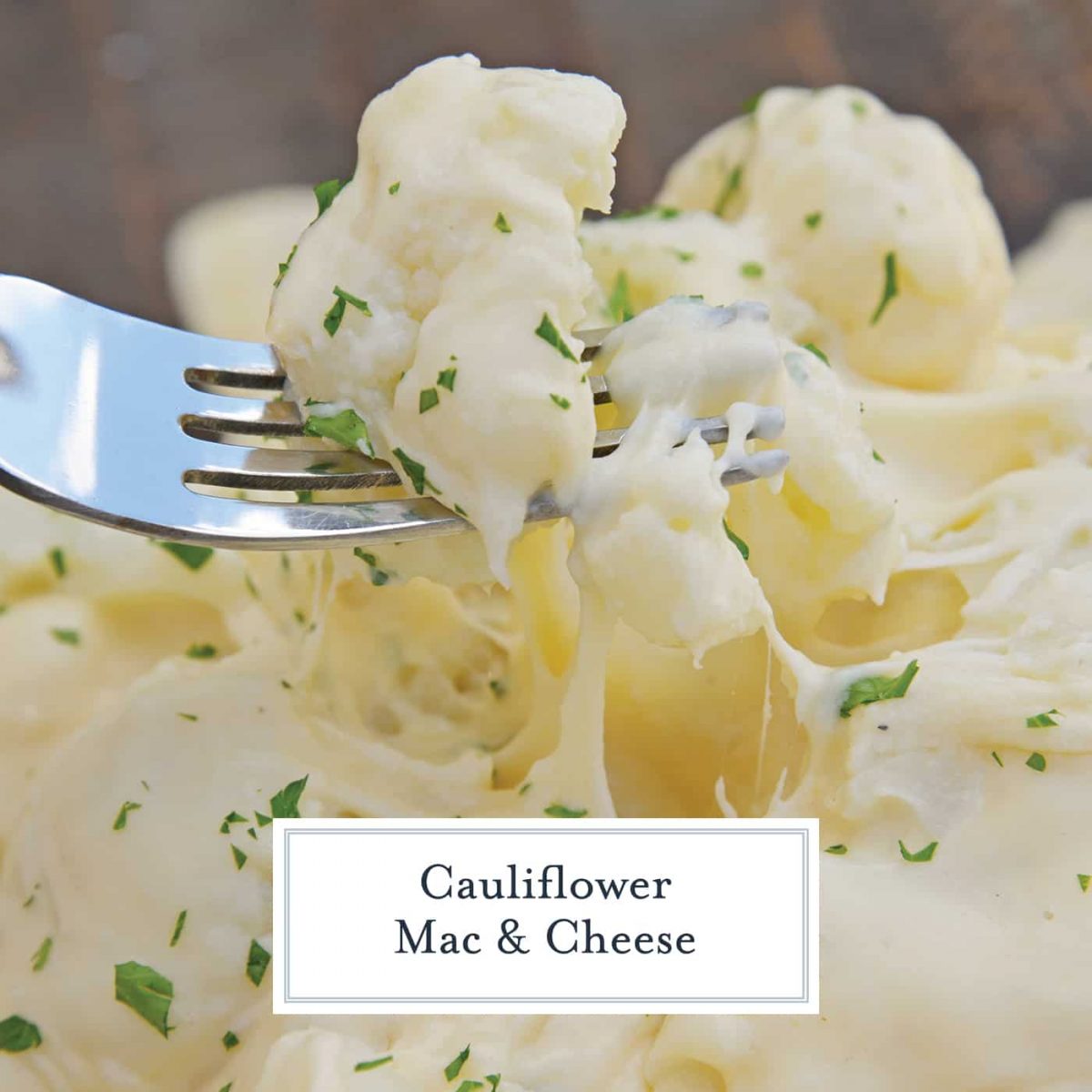 Cauliflower Mac and Cheese is an easy-to-make low carb mac and cheese that follows keto guidelines. A kid-friendly cauliflower side dish!
Let's be real, I have a really hard time calling this Cauliflower Mac and Cheese recipe healthy in way, shape or form.
And quite frankly, before all of these low carb diets like keto and Atkins came about, this would just be called cauliflower with cheese sauce.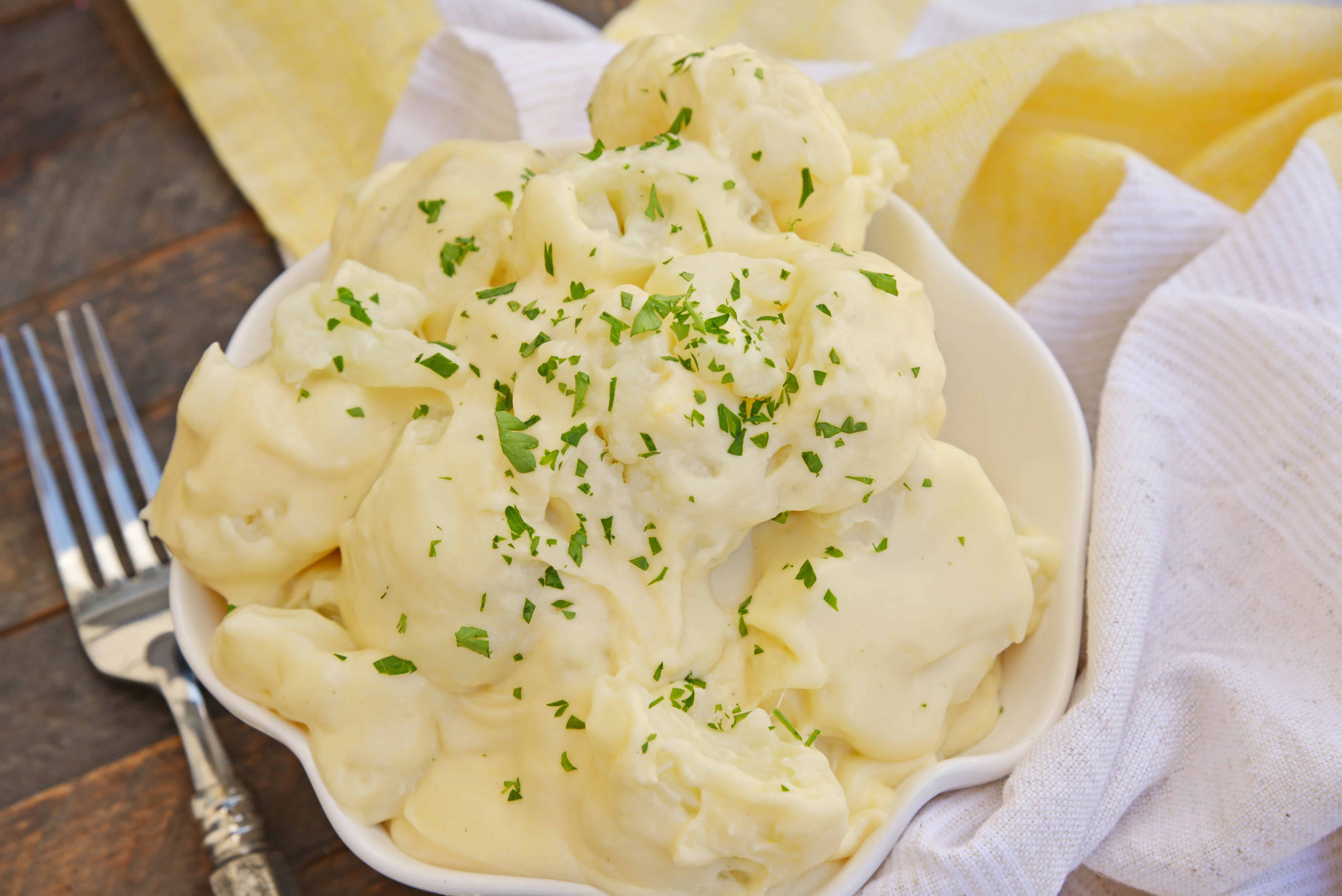 And in fact, it isn't even 100% carb or gluten-free because the roux contains a small amount of flour. What I will say is that no matter what diet you are following or not, this cauliflower recipe is darn delicious!
Many of the keto mac and cheese recipes use cream cheese to create the creaminess of a roux, but I just couldn't wrap my head around that. So while it isn't a fully carb-free mac and cheese, it is lower in carbs than the traditional.
Keto guidelines actually state that 5% or less of your diet should be carbs, so with only 3 tablespoons for the whole batch, you'll be safe.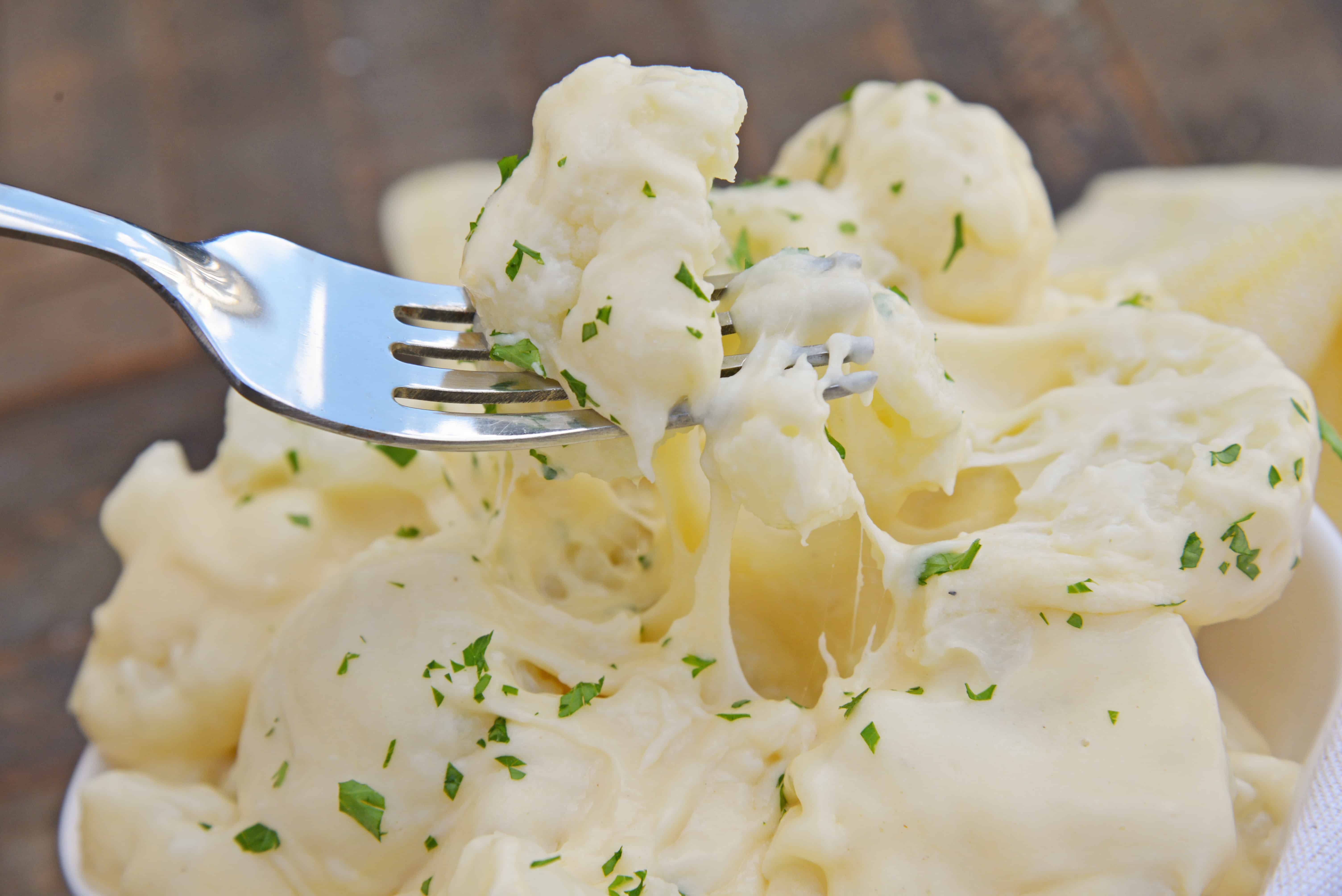 Though this is not 100% carb free, it still falls under the keto limit of carbs, making it a quick and easy Keto Mac and Cheese. Even though I don't follow keto, Keto Mac and Cheese is one recipe I can get behind! Kind of like Bang Bang Cauliflower.
It starts with a basic roux, as most cheese sauces do, and then mixes it with milk and cheese to form a thick and flavorful sauce that coats blanched cauliflower florets.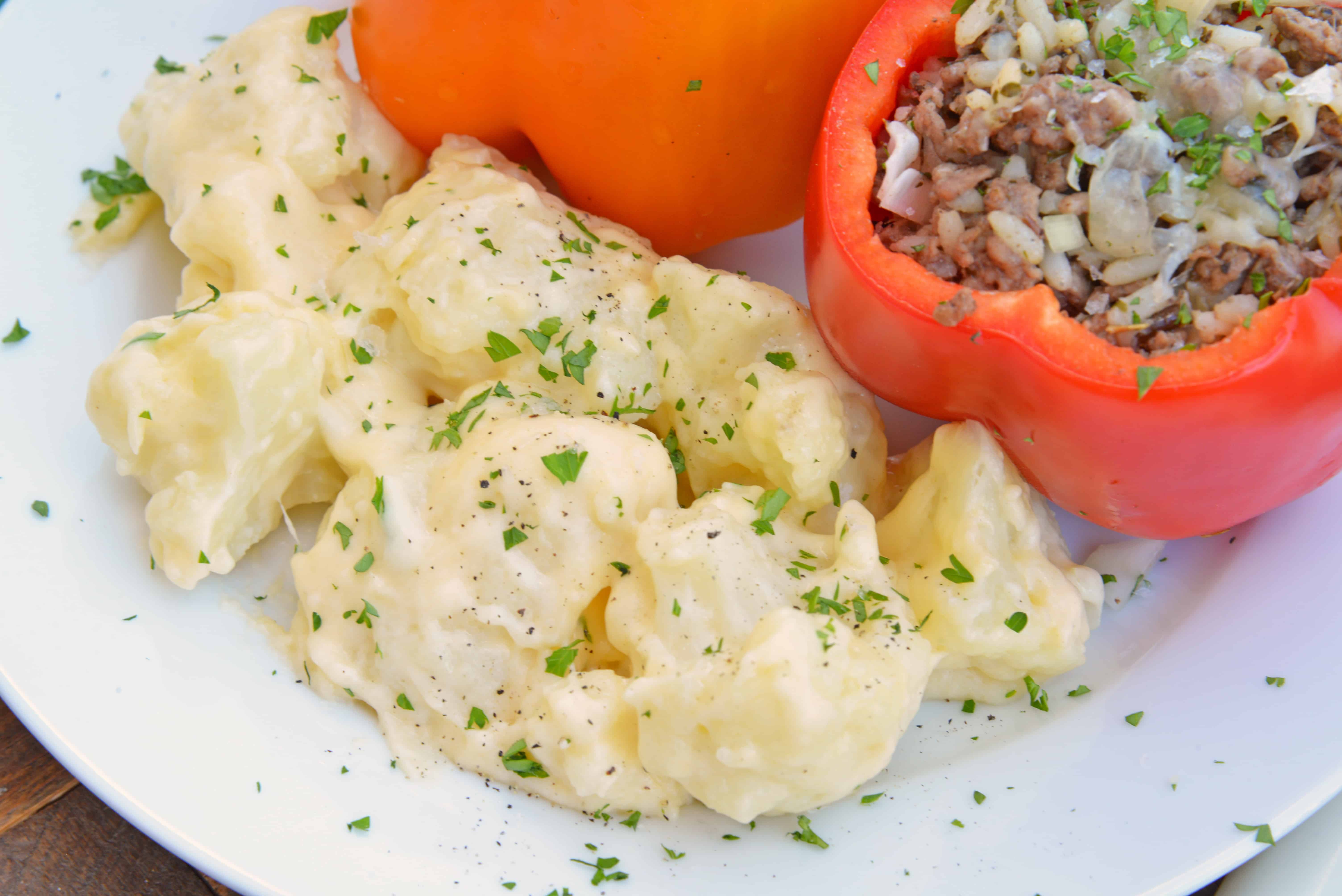 The cauliflower still has a little texture so it gives the illusion of an al dente pasta, which is partially how I justify calling this side dish low carb mac and cheese.
Low carb side dishes tend to be bland and boring. This Cauliflower Mac and Cheese is not, even though it's made with just a few ingredients.
The primary flavor is, of course, cheese which is why I love using several different varieties. The flavor of your Cauliflower Mac and Cheese will vary depending on what cheese you use.
My favorite cheeses to use are:
Smoked gouda
Sharp cheddar cheese
White Vermont cheddar cheese
Monterey jack
Pepper jack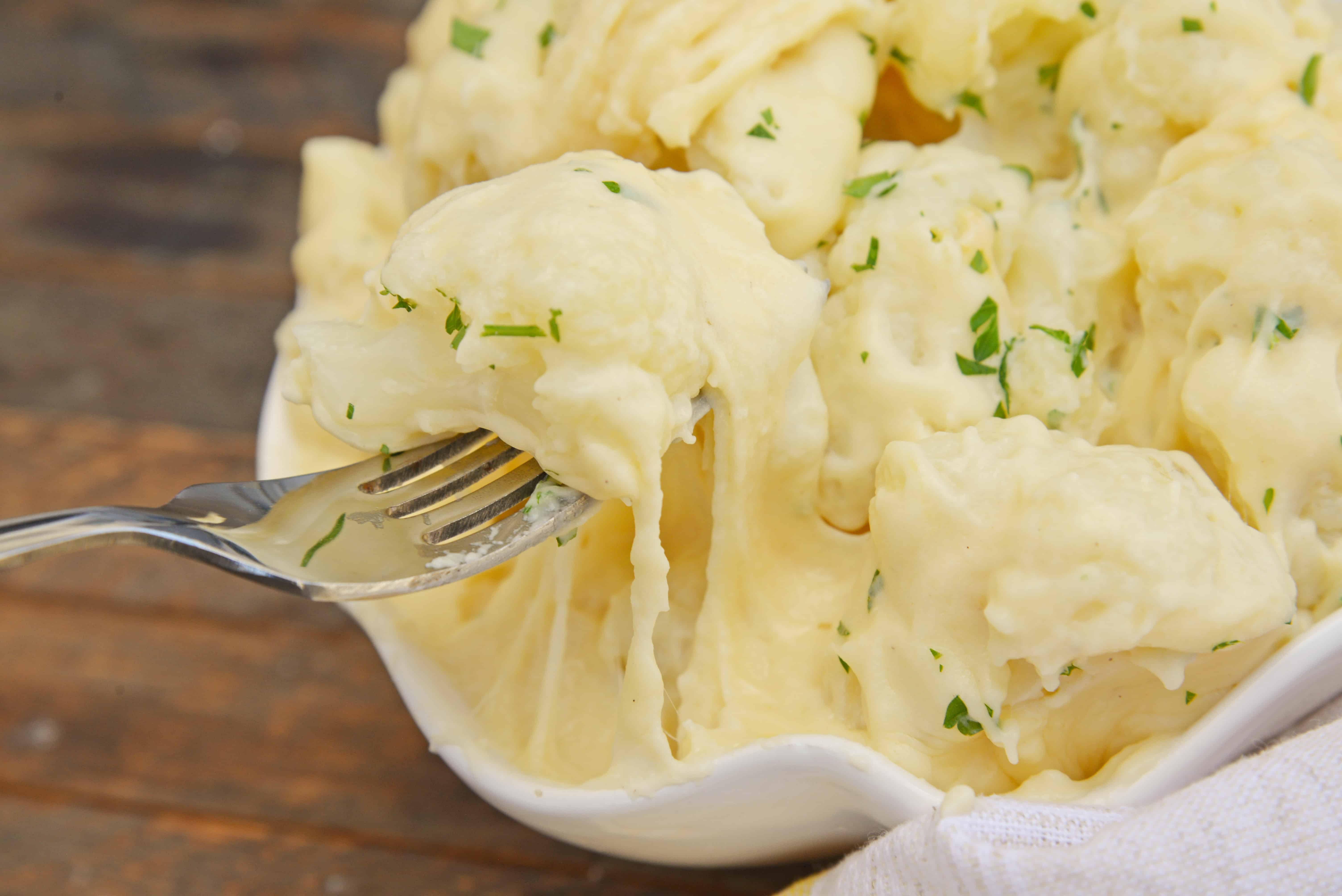 Though this is not necessarily a healthy cauliflower side dish, I will admit that it's an easy way to get veggies into non-veggie eaters.
Kids are often so distracted by the cheesy taste that they don't realize they're eating a vegetable they would normally leave on their plate! Better to eat cheesy veggies than no veggies at all, I guess?
Tips for Making Cauliflower Mac and Cheese:
Cut your cauliflower florets into bite-sized pieces.
Make sure your blanched cauliflower is very dry. Drain it well and then blot with a paper towel or even allow to sit in the fridge. Any residual moisture will water down your delicious cheese sauce.
Use a blend of cheeses. This adds depth and sophistication to your dish.
If you sauce is too thick, add more milk to thin it out.
If your sauce is too thin, add more cheese to thicken it up.
To make a double veggie mac and cheese, try my butternut squash mac and cheese sauce.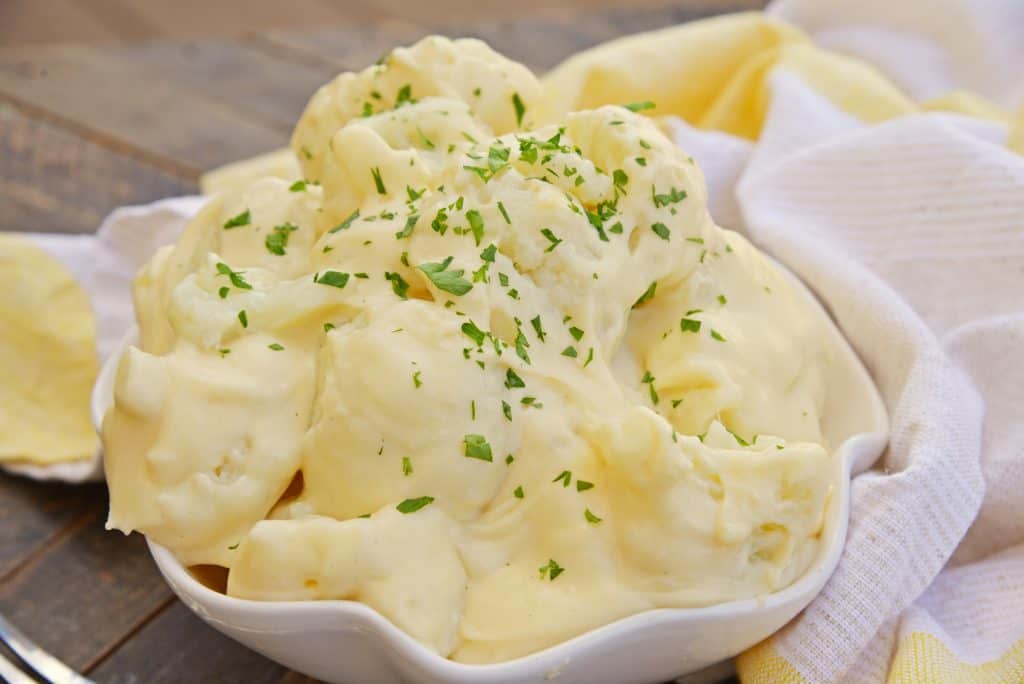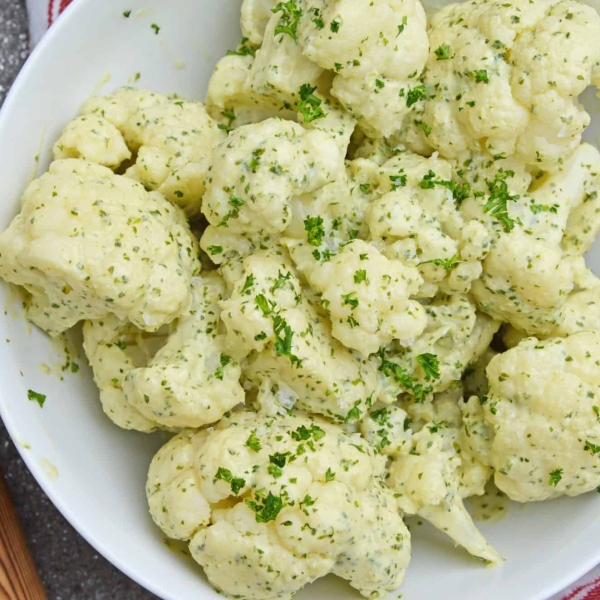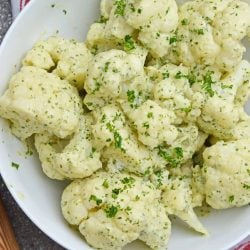 Green Curry Cauliflower
If you're looking for a roasted cauliflower recipe that doesn't lack on flavor, this Green Curry Cauliflower is it!
View this recipe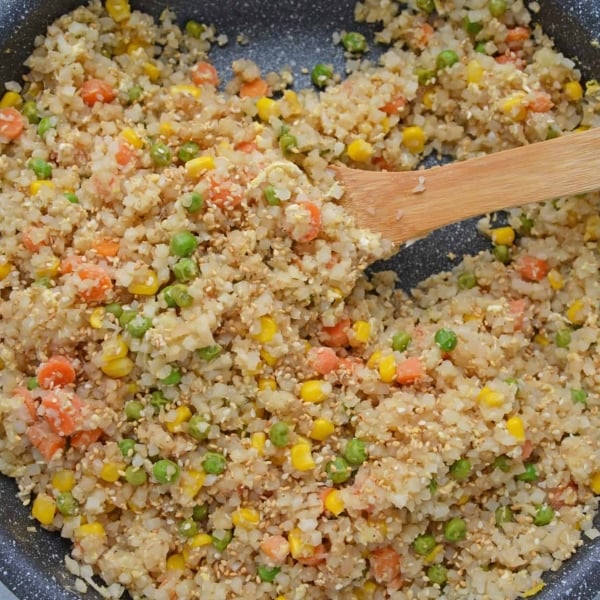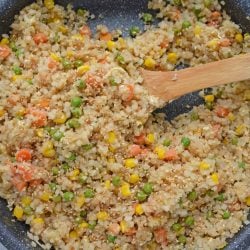 Cauliflower Fried Rice
If you've ever wondered how to make Cauliflower Fried Rice, look no further! This cauliflower fried rice recipe is the perfect way to cut down on carbs!
View this recipe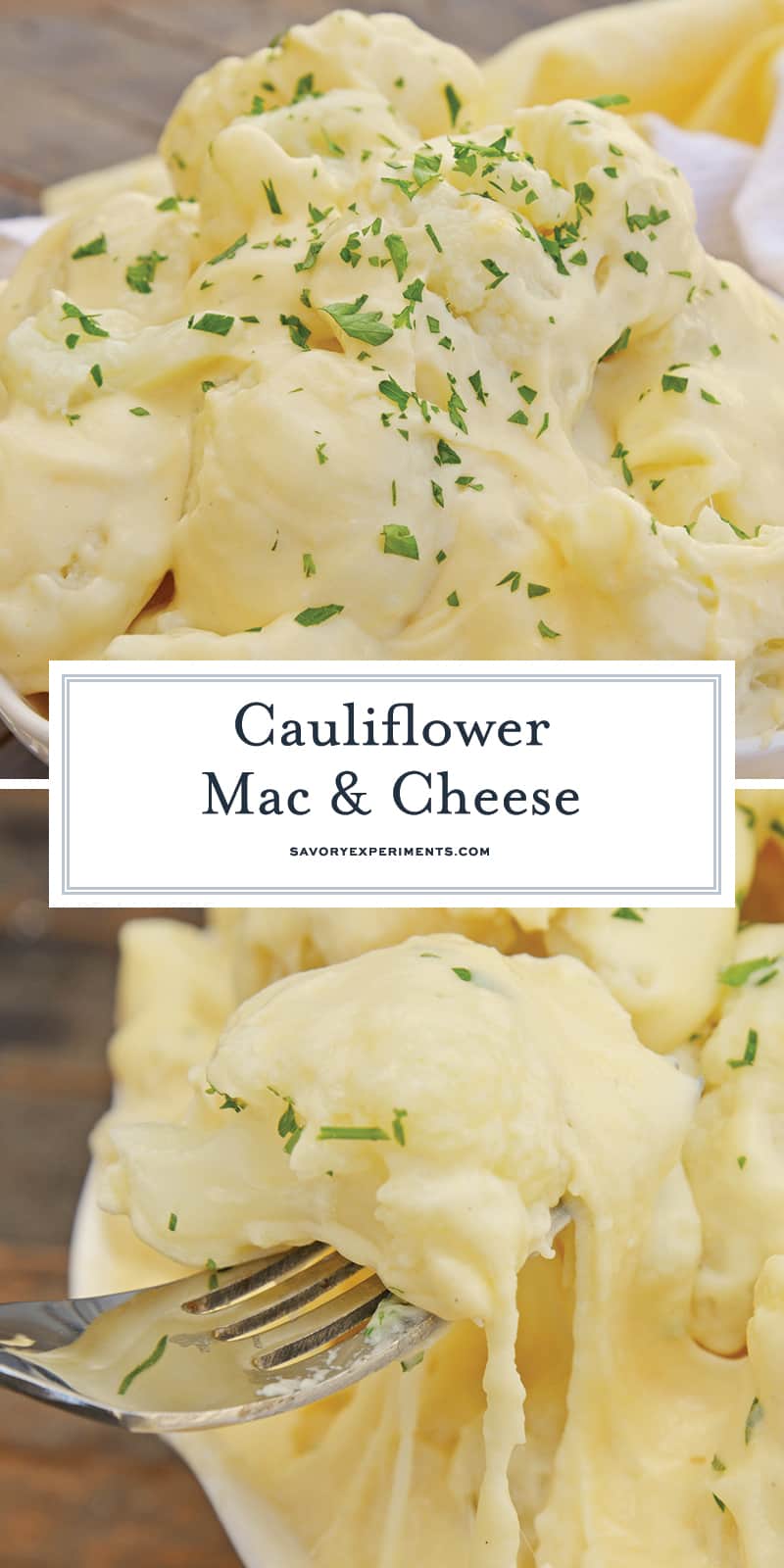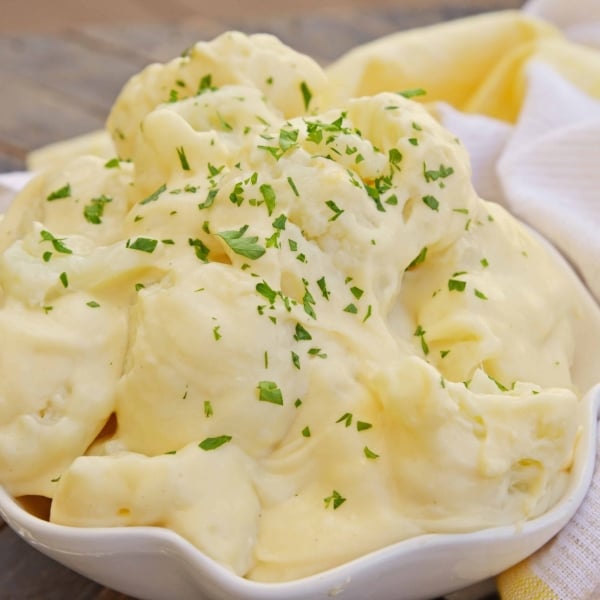 Cauliflower Mac and Cheese
Cauliflower Mac and Cheese is an easy-to-make low carb mac and cheese that follows keto guidelines. A kid-friendly cauliflower side dish!
Instructions
Fill a large saucepan with water and bring to a boil. Salt water and add cauliflower, cooking for 7-8 minutes or until soft, but still snappy.

Drain and rinse with cold water. Allow to drain well, blotting cauliflower dry. Place into the fridge until ready to use.

In a medium saucepan, melt butter. Whisk in flour until a paste forms and starts to brown, approximately 2-3 minutes.

Whisk in milk until all is incorporated. Whisk in Kosher salt and dry mustard, and lastly, cheese!

When the cheese sauce has formed, remove from heat and toss with cauliflower.

Serve immediately!

If you've tried this recipe, come back and let us know how it was!
Nutrition
Calories:
369
kcal
,
Carbohydrates:
9
g
,
Protein:
17
g
,
Fat:
29
g
,
Saturated Fat:
18
g
,
Cholesterol:
88
mg
,
Sodium:
1041
mg
,
Potassium:
215
mg
,
Sugar:
3
g
,
Vitamin A:
925
IU
,
Vitamin C:
12.9
mg
,
Calcium:
485
mg
,
Iron:
0.8
mg