A few months back, one of my co-workers visited Alaska for salmon season. He bought back an entire cooler of fresh salmon and halibut and was gracious enough to give me some.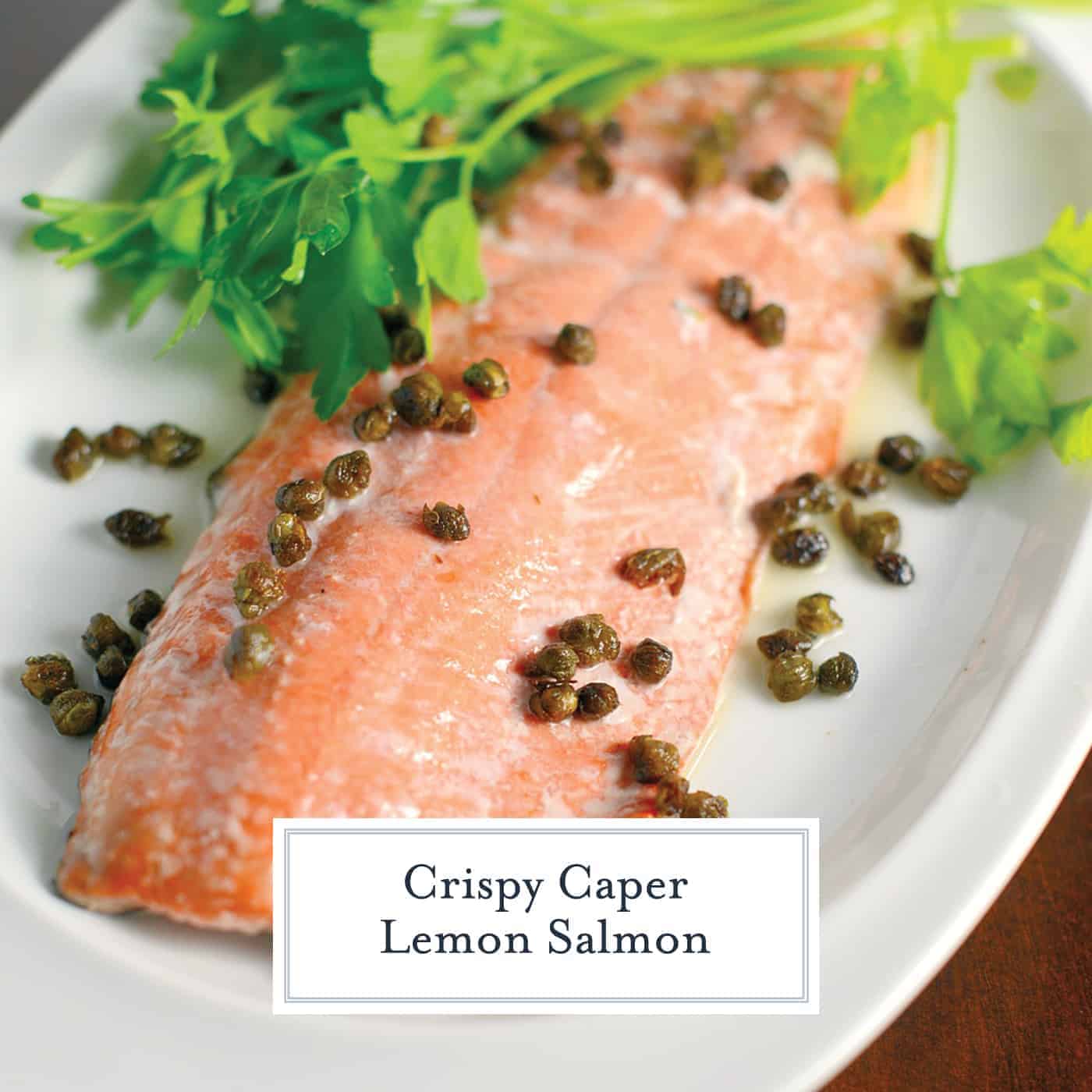 Crispy Caper Lemon Salmon is one of the best healthy salmon recipes. This lemon salmon is quick, easy and healthy! Crispy capers add texture sophistication to this easy weeknight meal.
To capture the full flavor of wild caught salmon, I wanted to accent without overwhelming. I created Crispy Caper Lemon Salmon.
It also happens to be super quick and healthy. Triple bonus!
Have you ever had an item that was so special you wanted to save it? Like a bottle of wine, smoked salt from a remote location or edible gold leaf (still in my pantry).
You tell yourself you are "saving it for a special occasion" but you never end up using it because nothing seems special enough? Well, I've decided to throw that rule out the door.
What good is wild caught salmon in air vacuumed packages in the freezer?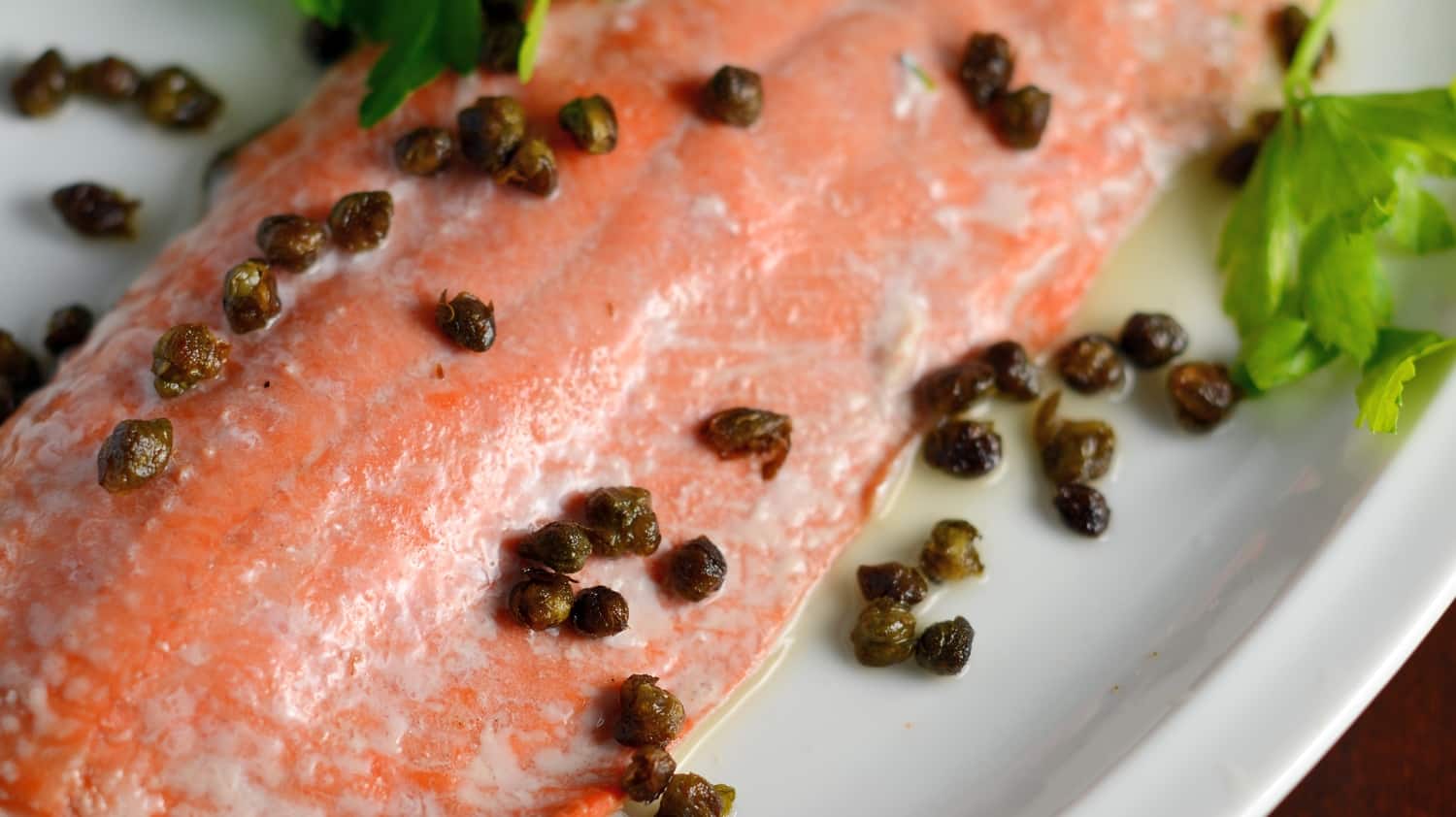 So instead of waiting for a special night, I decided a random Tuesday night was "the night". Lemon always pairs nicely with salmon, so that was an obvious choice. While I did season the salmon with a quality Maldon sea salt, I wanted a little more POW.
Brined capers had that factor, but instead of eating them soft, I wanted them to also add sophistication in texture. I bought brined capers, rinsed them to get rid of excess salt and then crisped them up in a small saucepan while the salmon was cooking.
Capers are one of those funny things I never cared for as a child, but all the sudden LOVE as an adult. My obsession has me asking… what is in the world is a caper?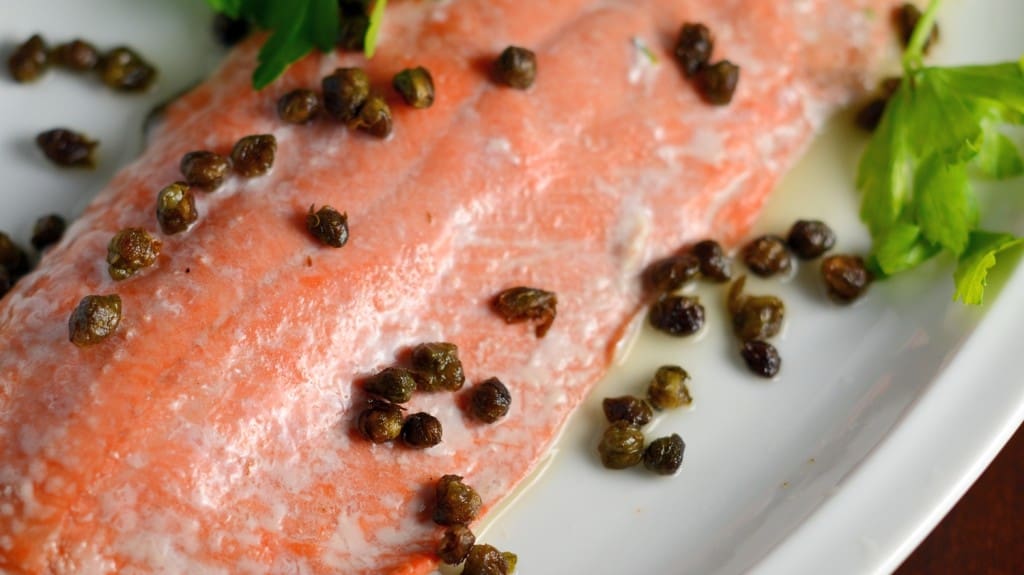 Capers come from the caper bush, as do caper berries, but they are not the same thing. Capers are the unopened buds and caper berries are the fruit the bush produces once the buds have flowered and then been fertilized.
Chicken Piccata or Steak Tartare are the most common places to find capers, while caper berries are a little more sparse. I use them in my Seafood Stew and they are fantastic!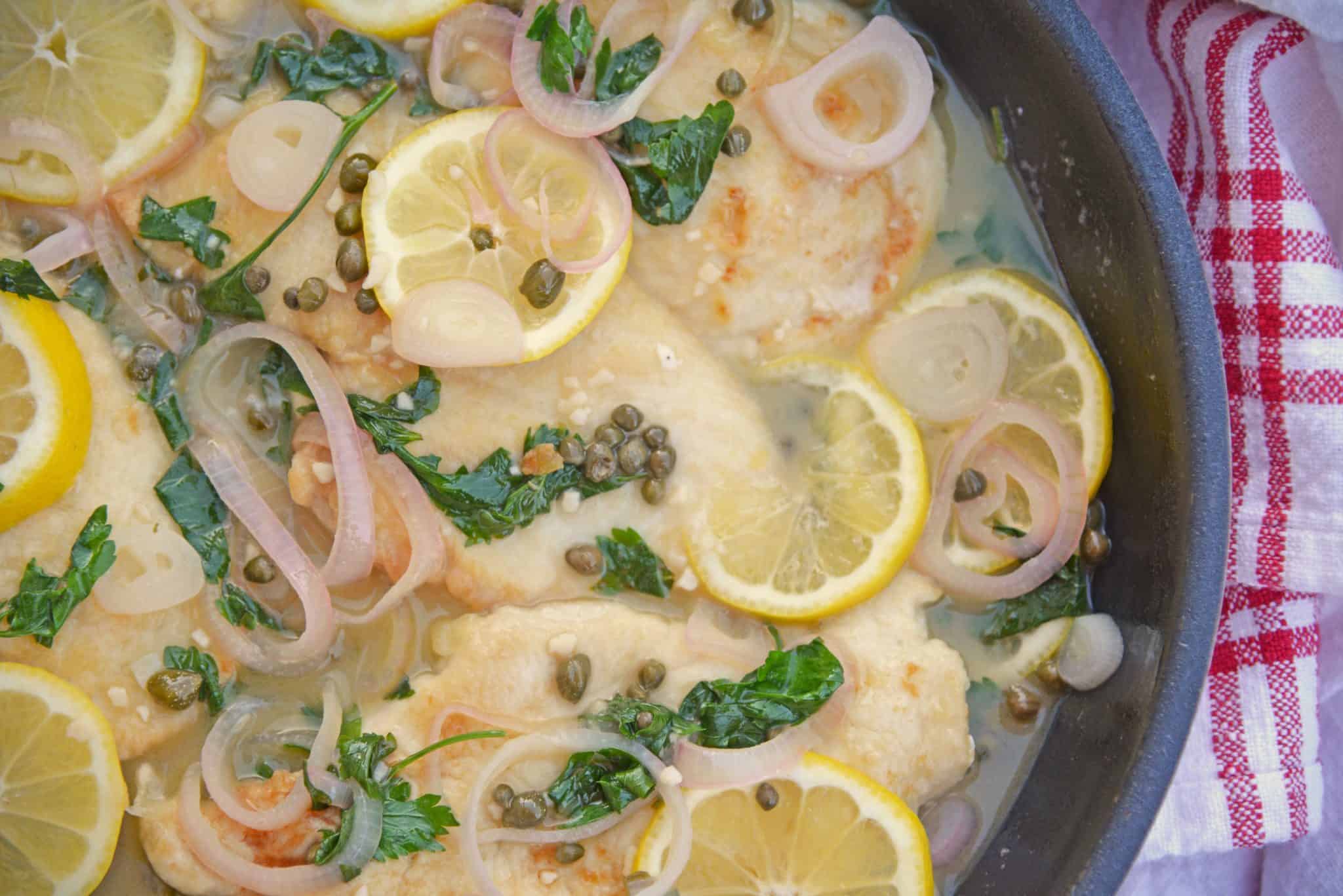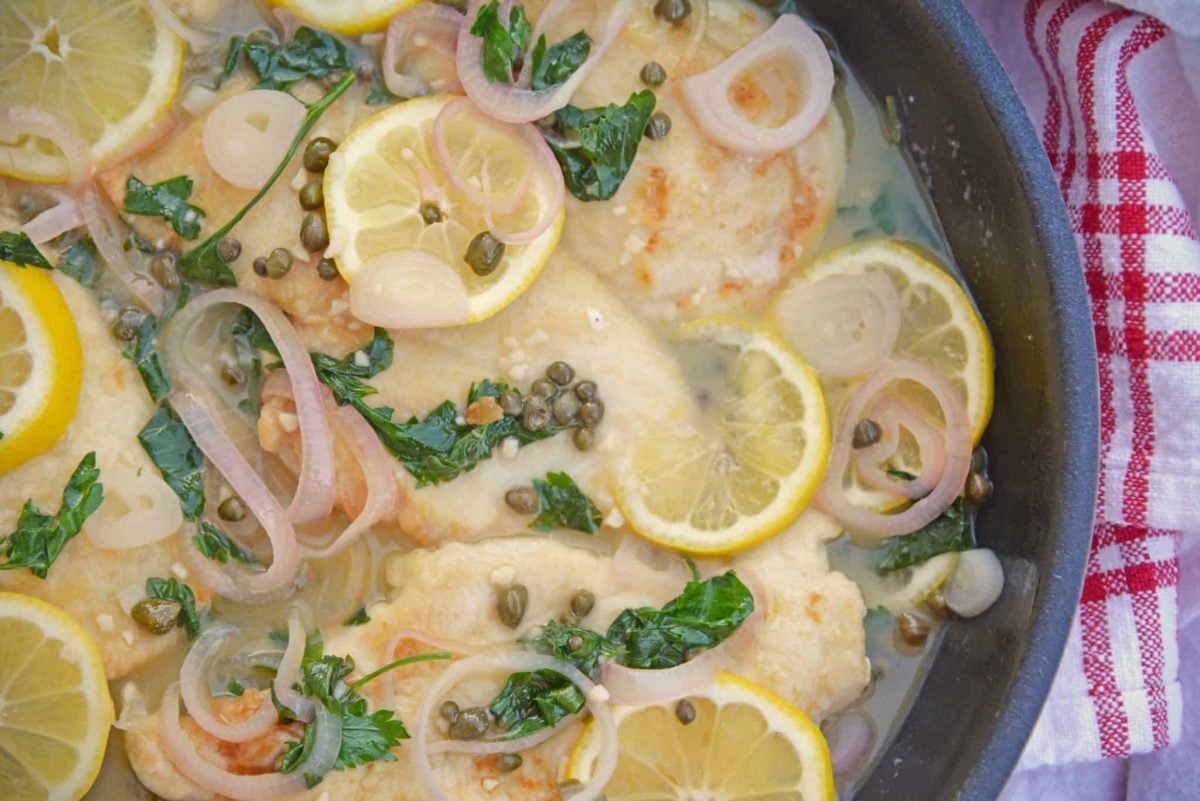 What do capers taste like? Some folks will tell you they taste like olives. However, I don't really care of olives and I wholeheartedly disagree.
What I do agree with is that they are a little pickly. When brined, they are soft, but supple, and when fried are crunchy and crisp.
Combine these simple ingredients and you have an award winning dish: Crispy Caper Lemon Salmon!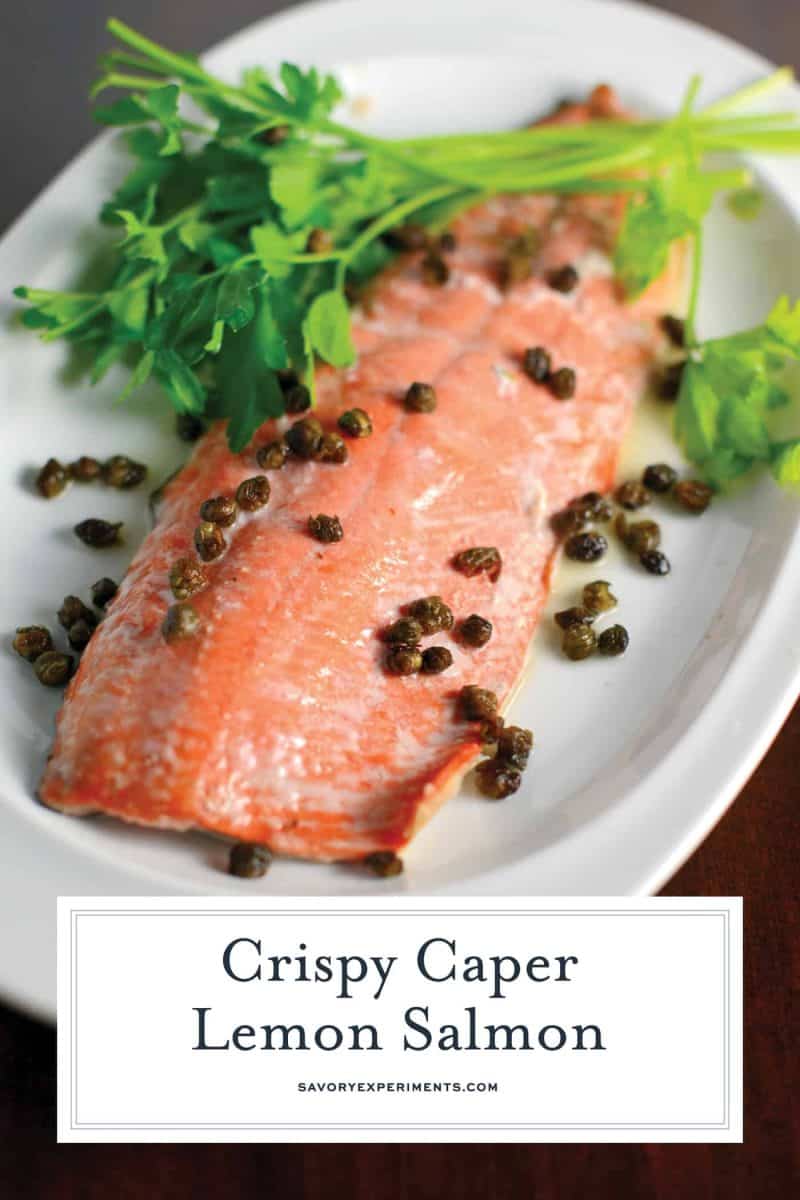 Serve your Crispy Caper Salmon with one of these side dishes:
---
---