This EASY Shrimp Pasta Salad comes together in less than 30 minutes! It's perfect for gatherings and potlucks, and you can even make it ahead of time!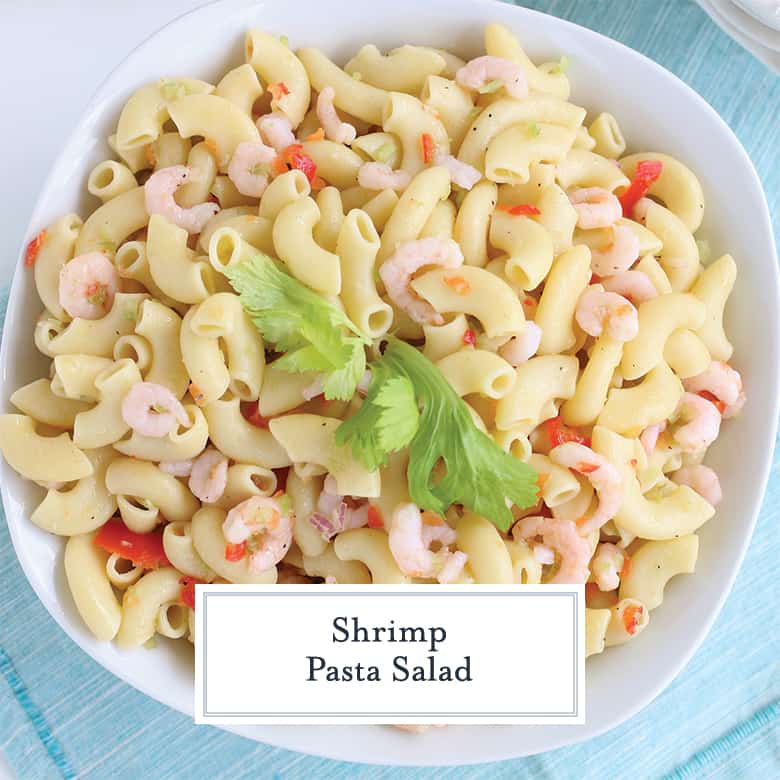 Shrimp Pasta Salad is the best dish to bring to any party. This dish has a zing to it that will help bring those family gatherings and neighborhood potlucks to life.
I'm always on the hunt for new sides dishes. Bonus points if I can make it ahead and it also serves as the perfect potluck recipe. Cold Shrimp Pasta Salad ticks all those boxes.
Another win for this dish is that if someone doesn't like shrimp, they can easily pick it out and enjoy the pasta. However, I've NEVER seen anyone NOT love this dish. So, you can have a lot of confidence in knowing this southern Shrimp Pasta Salad is a crowd pleaser.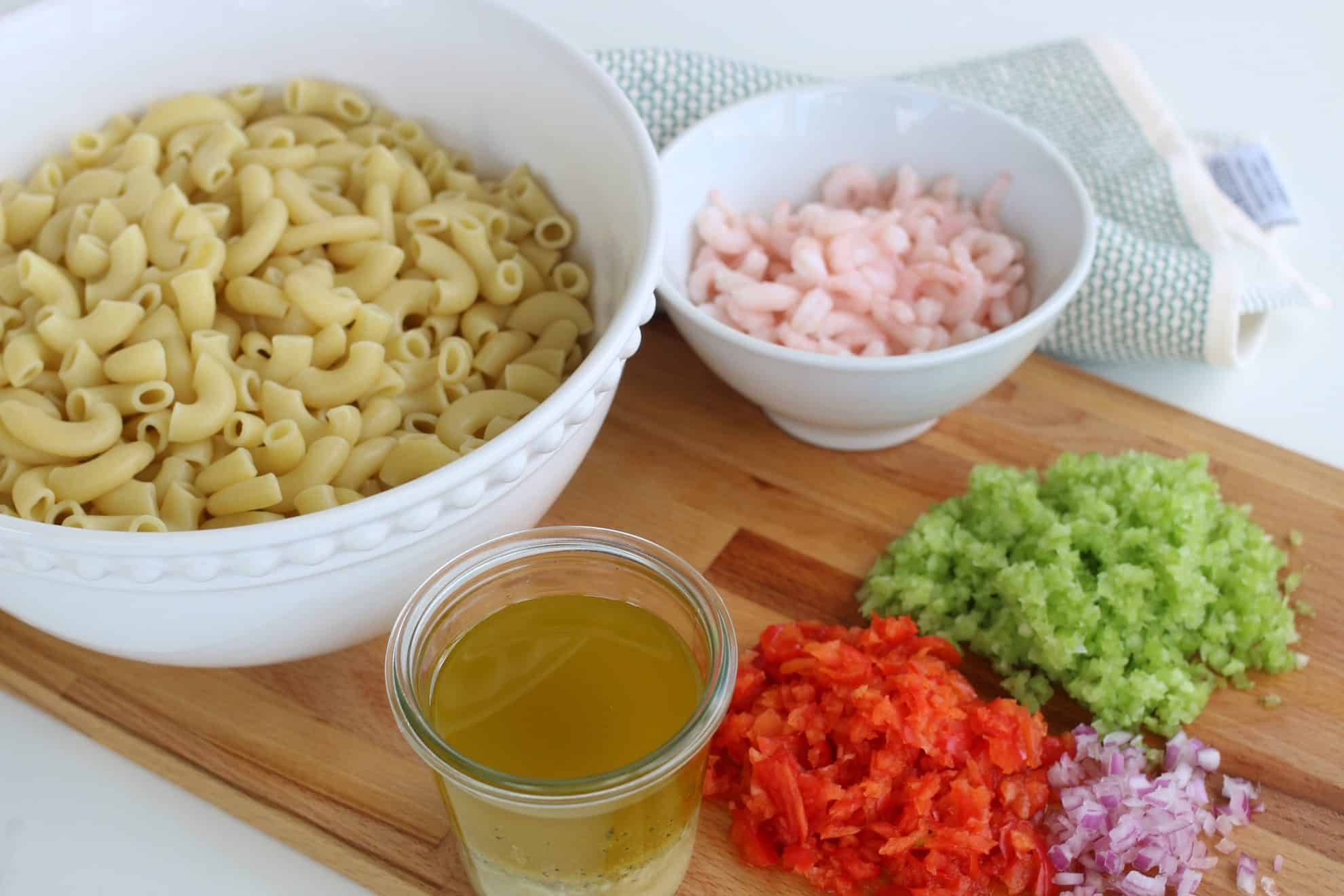 When life is busy or you're just plain short on time, you need side dishes that are going to not take you the whole day to make. Plus, there are times I don't feel like turning on the stove to cook.
PRO TIP: Fresh lemon juice packs a lot more punch than bottled. Use fresh and lemon zest for even more flavor.
If you can relate to these two scenarios, then this is the perfect summer pasta salad with shrimp for you. Bell pepper, red onion, celery and shrimp make this the perfect cold pasta salad.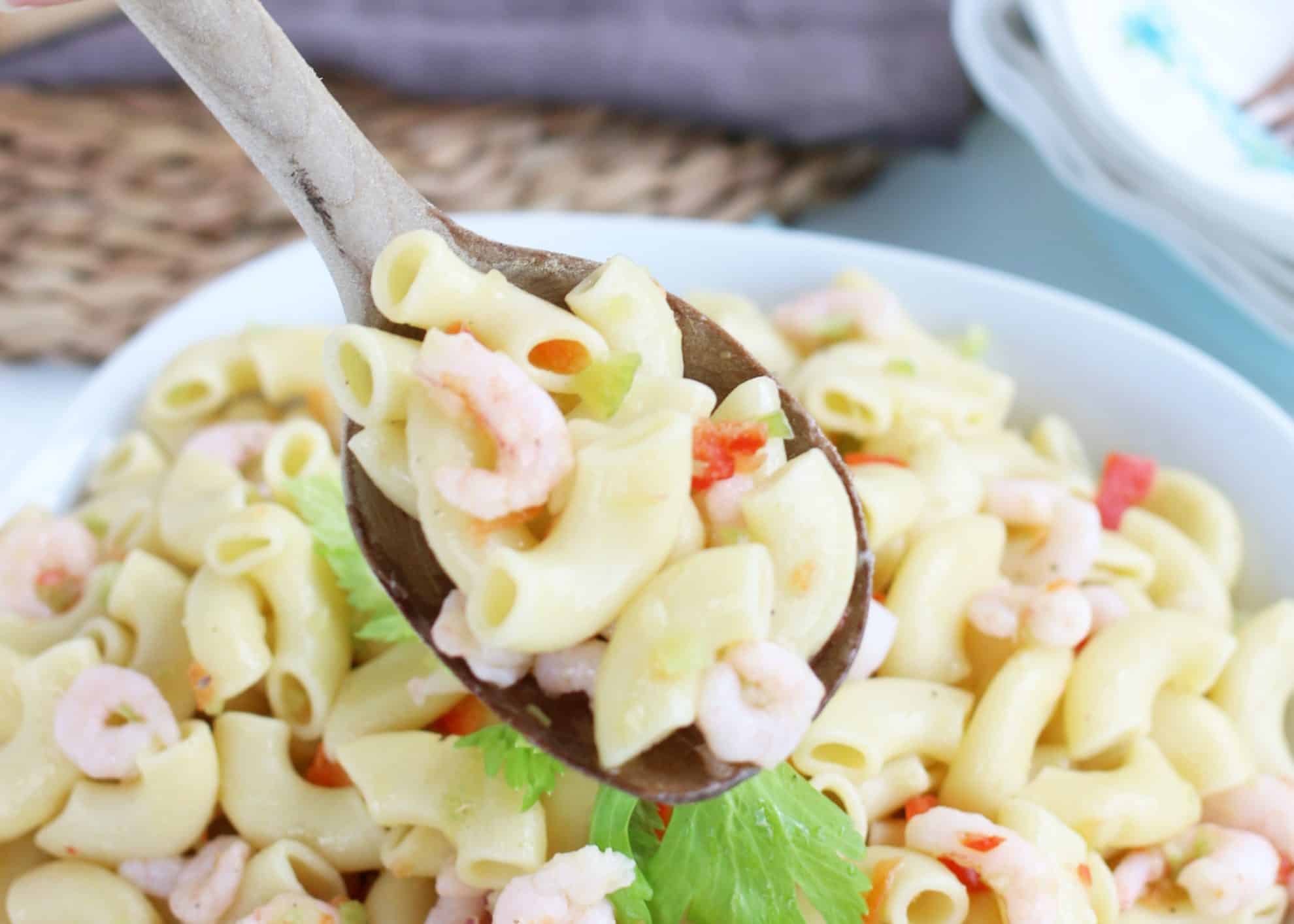 This recipe calls for using small shrimp. The reason for this is when you're serving pasta style type dish, you don't want HUGE shrimp. Smaller shrimp are bite-sized and just easier to have in a salad.
You can always use a larger shrimp, but I suggest cutting them into smaller pieces.
Using cooked shrimp for this dish is not only a time saver, but it goes perfect in a cold dish. This shrimp pasta salad recipe is a cold dish, which means pre-cooked cold shrimp rocks this dish.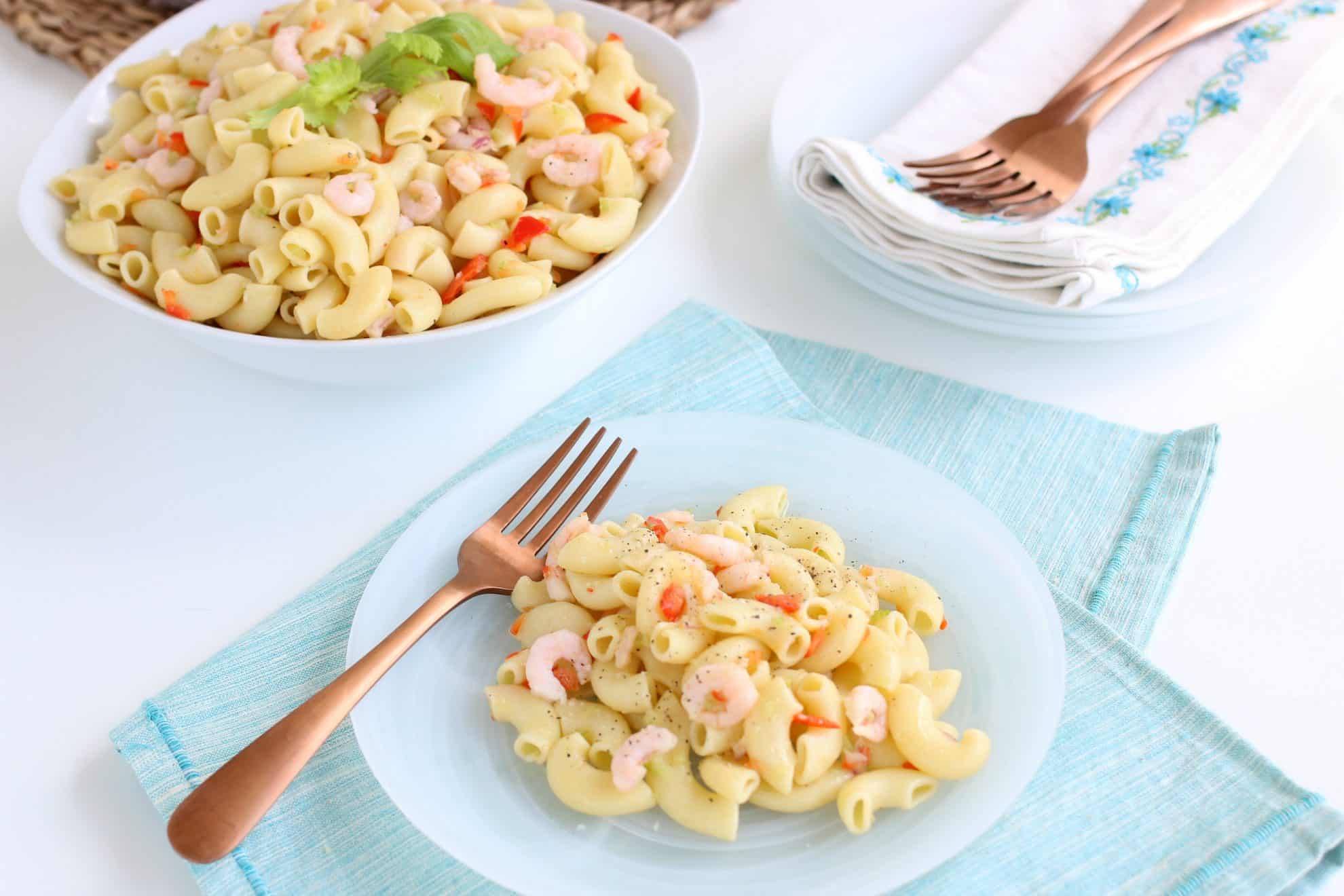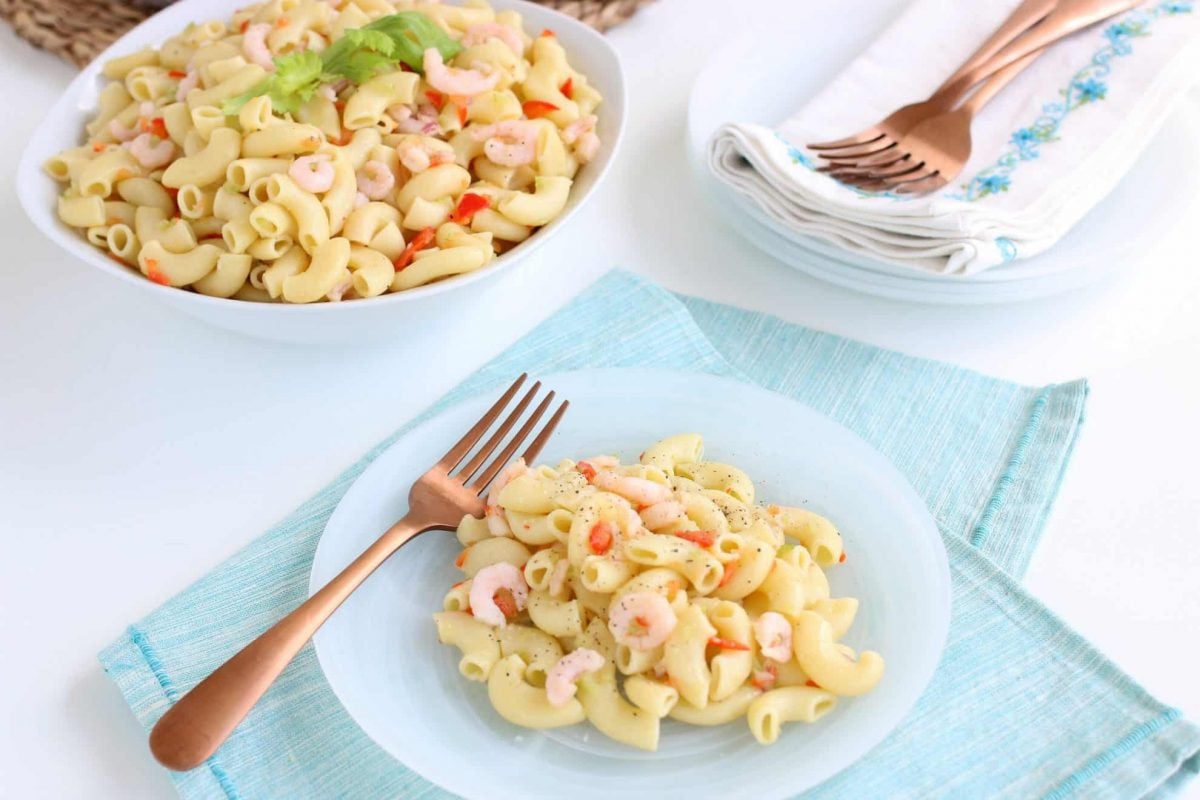 How to Make Shrimp Pasta Salad
Now that we've talked about the ins-and-outs and creating a delicious shrimp pasta salad, it's time to make it. You are only steps away from having a beautiful salad to take to all of those gatherings.
Cook the pasta according to the directions. While the pasta is cooking, you can dice the onion, celery, and red pepper, add to a large bowl.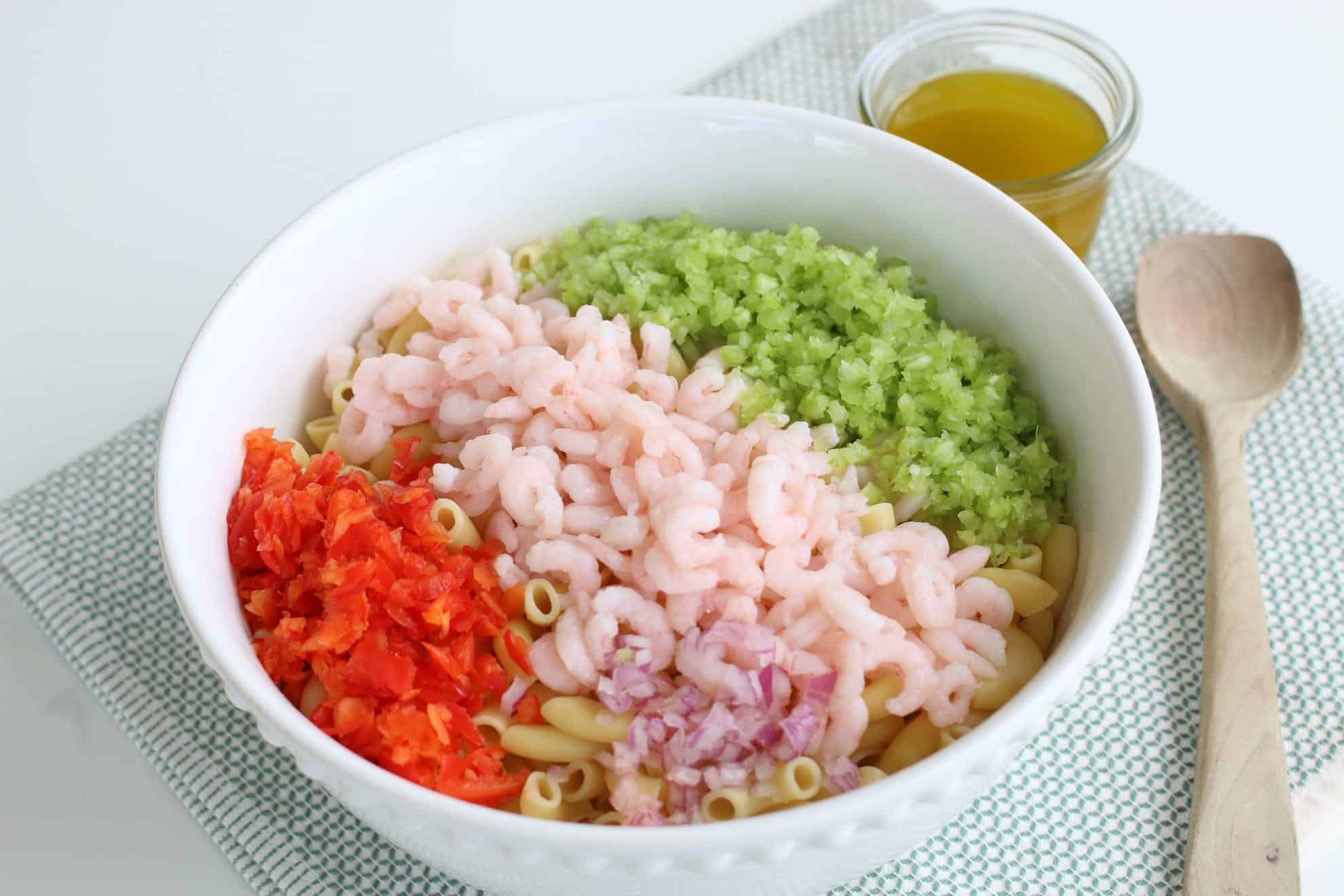 Set aside this bowl and begin the process for making the dressing. I think the dressing really brings this whole dish together. Once the pasta is done, you will add this to the large bowl that's full of onion, celery, and red pepper.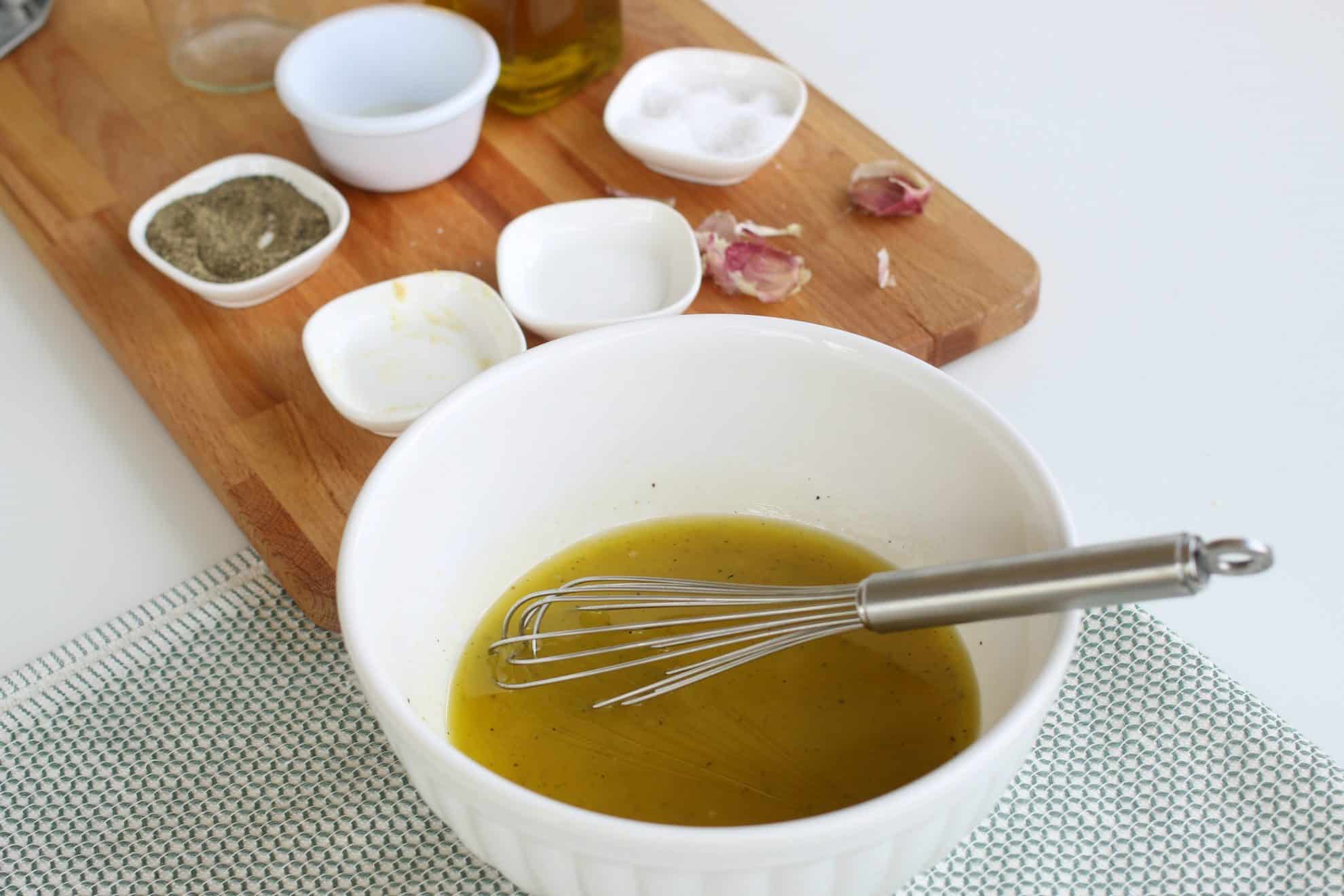 Add shrimp to the bowl and the wonderful dressing to the dish and toss. You will want to put the shrimp pasta salad in the fridge for at least 30 minutes before serving.
This makes an excellent main dish or side dish. There is only one thing left to do and that's to enjoy!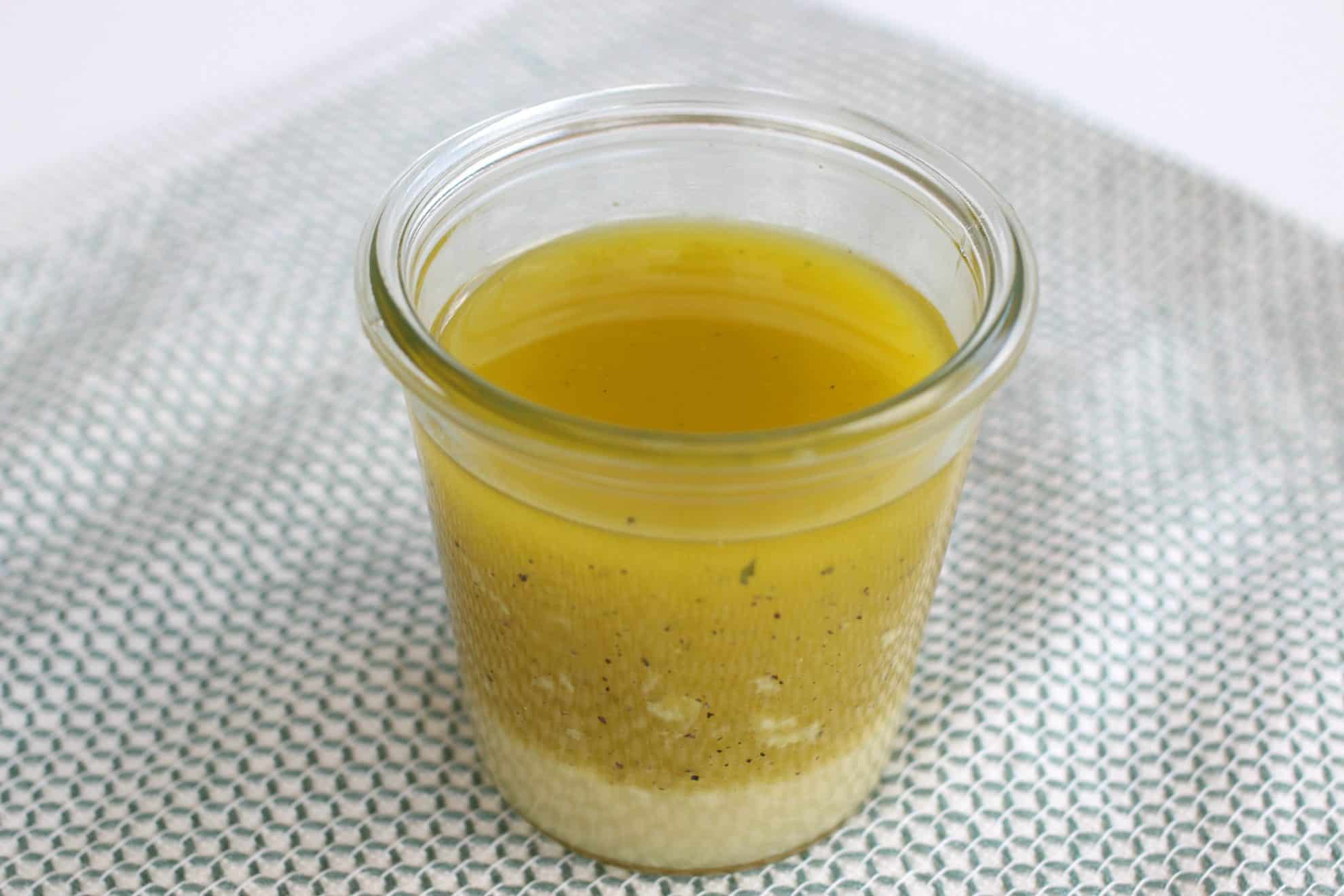 Questions you might have about how to make shrimp pasta salad:
How do I thaw frozen shrimp for this recipe?
Speaking of frozen pre-cooked shrimp, if you're unfamiliar with how to thaw this, I have a quick tip for you.
Grab a bowl and put the pre-cooked frozen shrimp in it. Place in fridge overnight and allow the shrimp to thaw that way.
Another way to thaw frozen shrimp is by opening the bag, placing the shrimp in a strainer. Turn on the cold water and allow this to run over the shrimp for about 10 minutes.
You don't want to use hot water because the shrimp is already cooked and you're creating a cold dish. Give one of these tips a try and it will make the process of thawing shrimp a lot easier.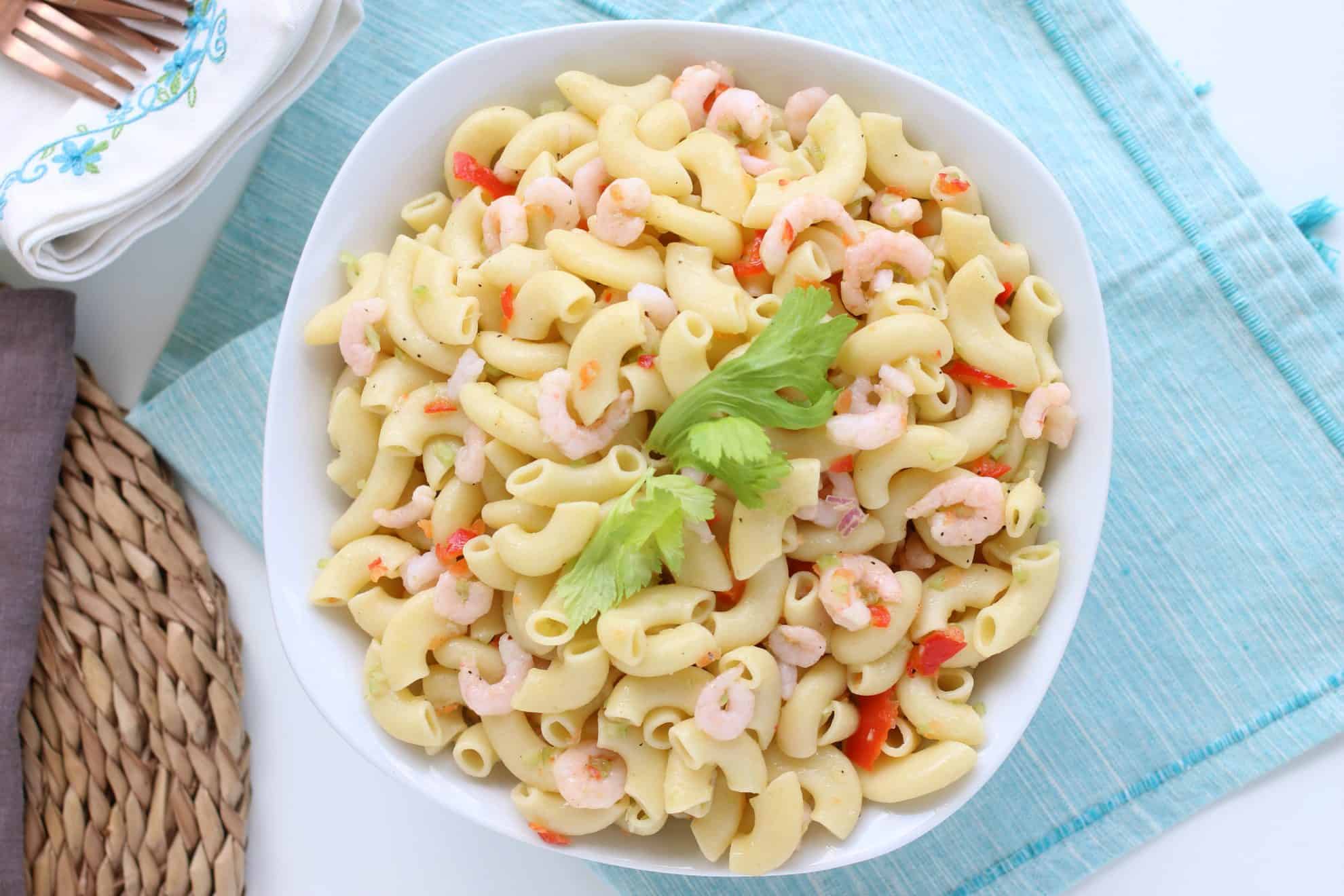 Why do I need to store shrimp pasta salad in the fridge?
Since this is a cold pasta dish, it needs to be in the fridge. If you will be serving this dish outside, then you will need to have a way to keep it cold.
A little secret for keeping this dish cold out in the hot heat is to fill a large bowl full of ice. Place the shrimp pasta salad on top of the other bowl. This will keep things nice and cold.
How can I tell if shrimp is bad?
I'm not sure if there is anything worse than bad seafood. You can easily tell if shrimp is bad by simply smelling it. You should be able to tell if shrimp is bad by the sheer smell of it.
If not, you can tell if shrimp is bad by looking at it. Lay it out so you can look at each one to tell if it's good or bad. While this can be annoying, it's better than eating bad shrimp.
One more tip for making this delicious shrimp pasta salad is that this dish can be made ahead of time. However, you will want to add the shrimp last. I've made this dish up to 24 hours in advance before.
Can I freeze shrimp salad?
I do not recommend freezing this dish. Chances are that the shrimp were previously frozen and the dressing, although free of mayonnaise, isn't the best frozen.
Can I use a different type of mustard?
Sure! Get creative and use a spicy mustard, yellow mustard, brown mustard… any mustard you'd like!
Can I just use Italian dressing?
You can, but homemade it so much better!
Can I use a different type of pasta?
Elbow pasta, also known as macaroni, is certainly the most popular for pasta salads, but you can use other shapes too. I would suggest a shape that is small and bite-sized that has lots of nooks and crannies to help hold the dressing.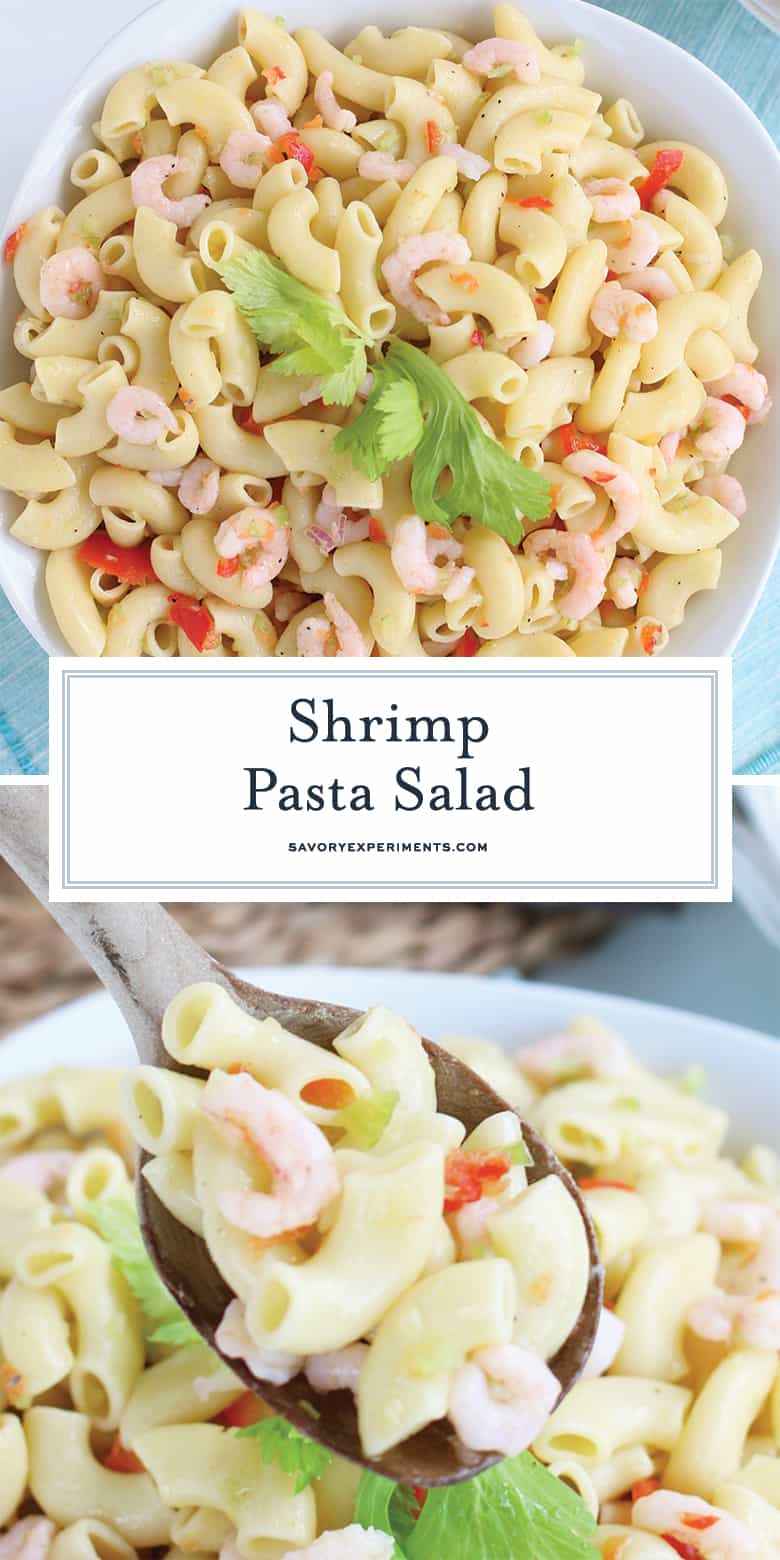 If you liked this easy side dish recipe, check these salad recipes out:
Tools for making shrimp salad recipes:
Wood cutting board – wood won't dull your knives like plastic and if treated properly, has natural antimicrobial properties.
Good knife – Global is my favorite! They are worth the price, I promise. I am kind of obsessed with them and store them tucked away so no one else can use them. Including hubby. Hands off my good stuff!
Good Extra Virgin Olive Oil– A good olive oil will taste like, well, olives, while a poorly made one will taste like vegetable oil. Gross. While people tend to favor Italian and Greek olive oils, I prefer to buy mine domestically.
They are some great ones out there from all over the world, but the reporting of ingredients isn't always the same and you could find that your super expensive olive oil was actually cut with vegetable oil.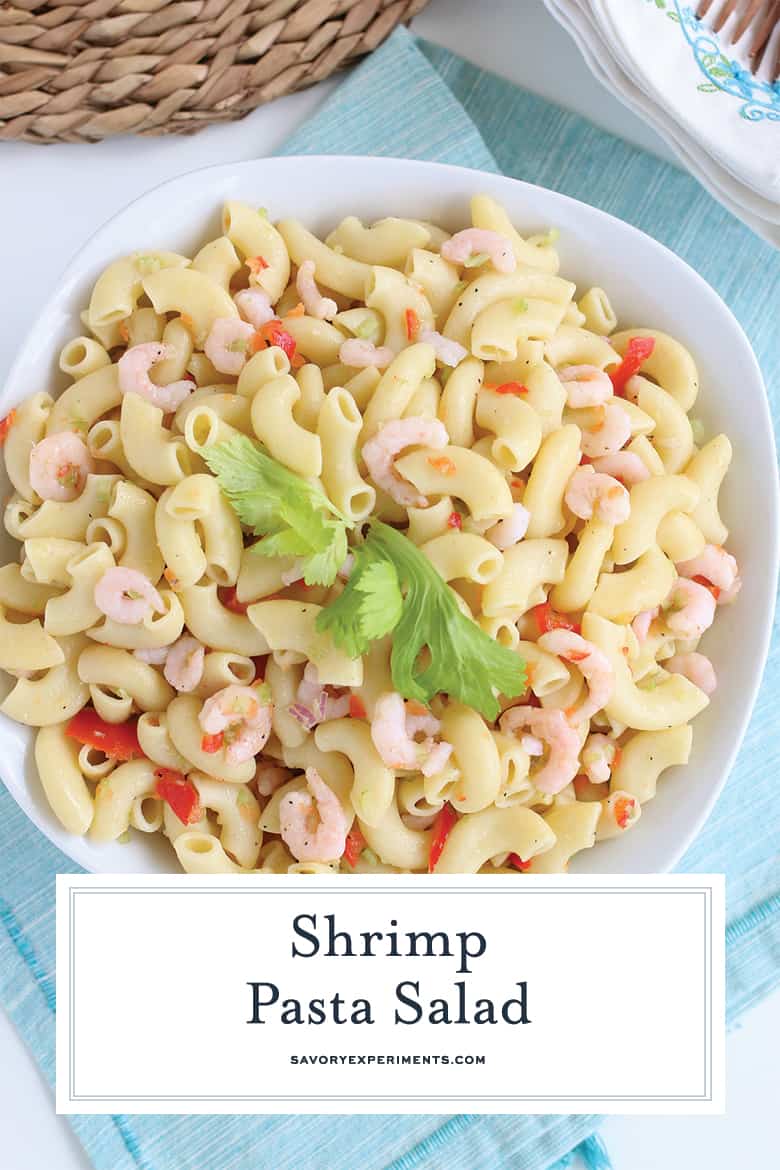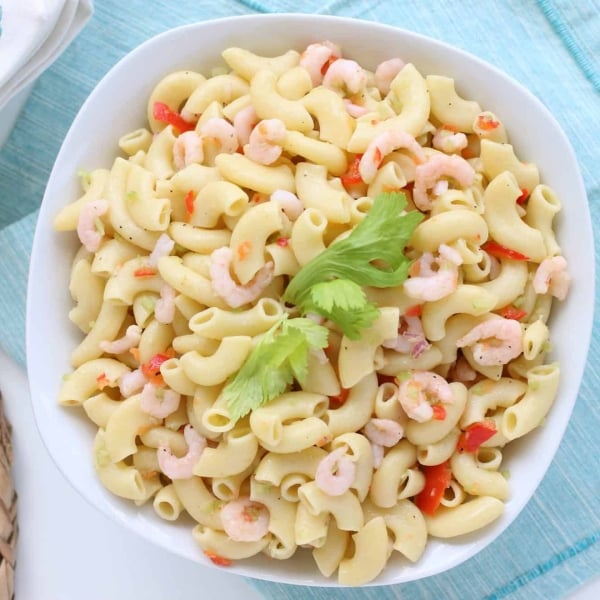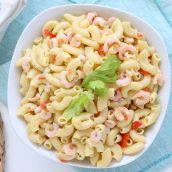 Shrimp Pasta Salad
Shrimp Pasta Salad is the best dish to bring to any party. This dish is has a zing to it that will help bring those family gatherings and neighborhood potlucks to life.
Instructions
Cook pasta according to box directions for al dente. Strain and run under cold water to stop the cooking process.

Meanwhile combine diced onion, celery, and red pepper to a large mixing bowl. Toss to combine.

In a small bowl, whisk together dressing ingredients including olive oil, lemon juice, sugar, garlic, Dijon mustard, salt and pepper.

Add cooked and cooled pasta to mixing bowl, toss to combine with chopped vegetables.

Add shrimp, stir to combine.

Add dressing and toss until well combined.

Place in refrigerator to chill for at least 30 minutes before serving.

If you've tried this recipe, come back and let us know how it was!
Nutrition
Calories:
242
kcal
,
Carbohydrates:
45
g
,
Protein:
12
g
,
Fat:
1
g
,
Saturated Fat:
1
g
,
Cholesterol:
54
mg
,
Sodium:
180
mg
,
Potassium:
196
mg
,
Fiber:
2
g
,
Sugar:
3
g
,
Vitamin A:
330
IU
,
Vitamin C:
17.2
mg
,
Calcium:
48
mg
,
Iron:
1.2
mg