Massaged kale tossed with olive oil, fresh garlic, Parmesan cheese and sundried tomatoes, this Kale Pasta Salad is the ultimate picnic side dish.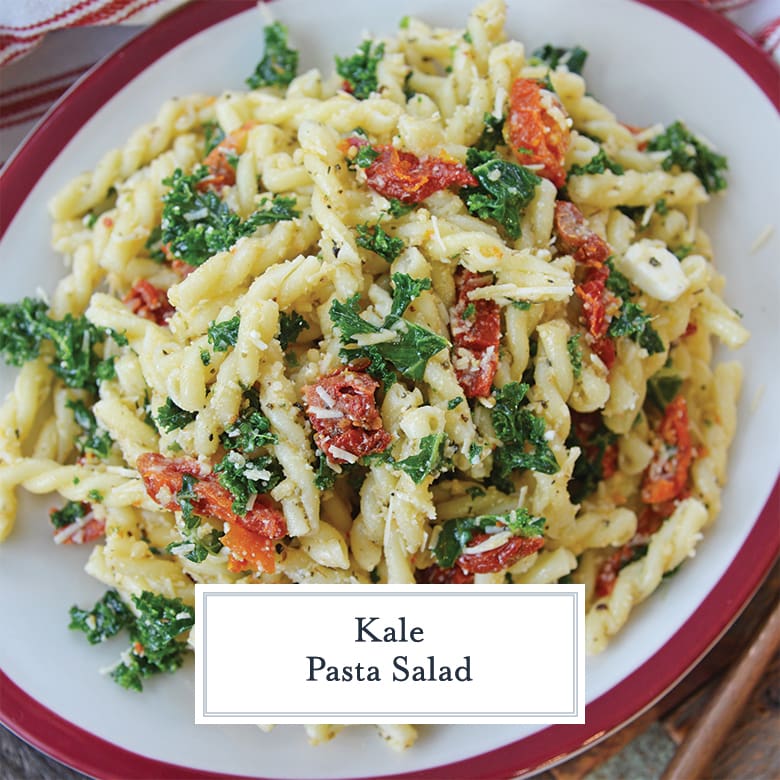 Kale Mac and Cheese
This pasta salad recipe is modeled after one of favorites from the Harris Teeter fresh foods bar. We used to have right down the street and at least 2 meals per week came from there prepared food section.
One of our favorites sides was one they called kale mac and cheese. But the name is a leading misleading because most people would picture a hot creamy cheese sauce with wilted kale.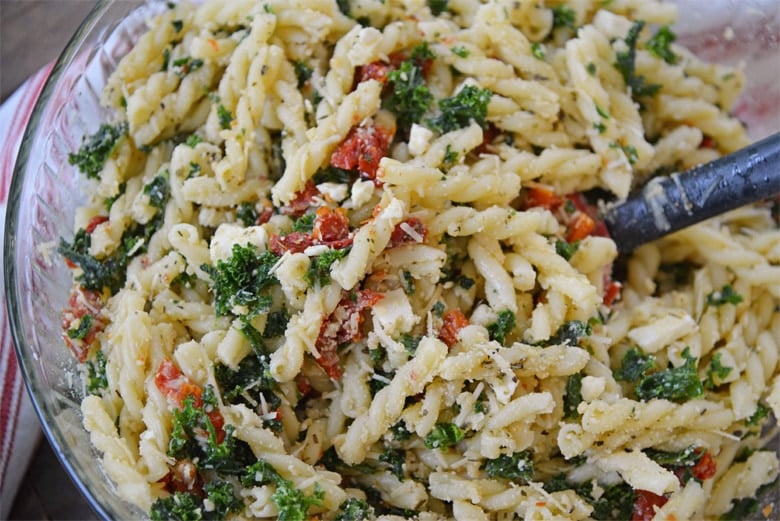 No, this side dish was a cold pasta salad with garlic and olive oil dressing. Simple and yet SO DARN GOOD!
Well, we moved and now we have no Harris Teeter down the street so I was forced to develop my own recipes to replace some of our favorites. Only I decided to rename it because mac and cheese still doesn't feel quite right and my readers love Antipasto Pasta Salad, Taco Pasta Salad and Greek Pasta Salad.
Poor Kale
Kale gets a bad reputation. Most people have a natural reflex that includes a guttural groan, shriveled up nose and look of disgust. Foodie friends, kale doesn't have to taste bad… or like nothing at all. It can be delicious, just like in this Kale Pasta Salad!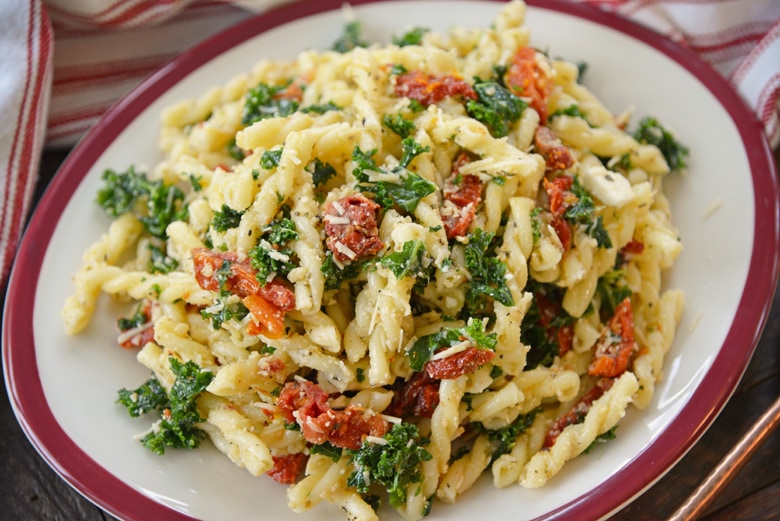 Besides putting in your green smoothie or eating it as salad, kale can be combined into nearly any recipe, even my slow cooker ragu! And why not? It is one of the most nutiriet dense foods in the world. You get a lot of bang for your buck.
Health benefits of kale include:
High in Vitamin K
High in antioxidants
Linked to lowered blood pressure
Linked to lowered heart disease
High in fiber
Massage Your Kale
Next question, so how do I make kale taste better? You are going to laugh out loud here. Brace yourself.
Massage it.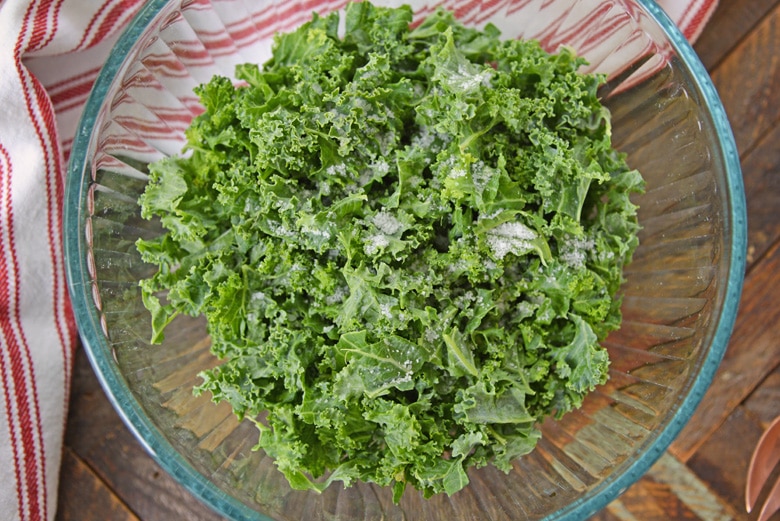 Yep, kale needs a good rub down before it can taste good in this Kale Pasta Salad. It is a little cardboardy and stiff, but if you give a good massage, this breaks down some of the tough fibers and tenderizes it, just like you would meat with a mallet. It is the Kobe beef of the vegetable world.
So break it into bits and give a good scrunch and rub before adding it to any recipe- cooked or raw.
Pasta Salad vs. Macaroni Salad
One of the biggest questions I get: what is the difference between pasta salad and macaroni salad?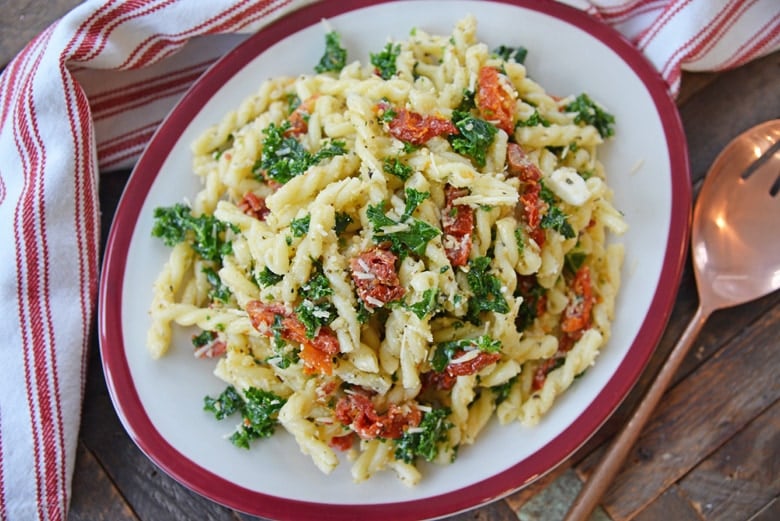 The largest difference is the dressing. Pasta salad typically has a vinaigrette dressing while macaroni salad is a creamy based dressing. Both can be served hot or cold. The creamy based dressing doesn't have to be mayo, it can also be Greek yogurt or avocado.
Kale Pasta Salad Ingredients
There are only a couple of ingredients for this kale pasta salad.
Kale– Obviously, LOL. Read above for tips on cooking with kale.
Pasta– I used gemelli pasta, but you can use any other pasta you prefer. Pasta salads do best with pasta shapes that have nooks and crannies and can hold onto the vinaigrette well. Also ones that are bite-sized and fun.
Garlic- This is one of the rare occassions I will tell you to use bottled minced garlic. Fresh garlic is much more potent and garlicky, while bottled is almost sweet. For this dish, sweet is actually better.
Olive Oil– A good olive oil will taste like, well, olives, while a poorly made one will taste like vegetable oil. Gross. While people tend to favor Italian and Greek olive oils, I prefer to buy mine domestically.
There are some great ones out there from all over the world, but the reporting of ingredients isn't always the same and you could find that your super expensive olive oil was actually cut with vegetable oil.
Cheeses- A blend of crumbled feta and parmesan is best for this Kale Pasta Salad, but you can use one or the other if you want. I highly suggest using a freshly grated parmesan instead of bottled or pre-shredded. It won't be as dry and have more flavor.
Sun dried tomatoes– I use jarred sun dried tomatoes in oil. If you use julienned that aren't packed in oil, you might need to add a little olive oil to the mix. Mine measurements account for the extra oil on the jarred kind.
Salt– Just a touch of Kosher salt brightens the flavors without is tasty salty. Oddly, this recipe doesn't call for pepper, but you can add some if you'd like.
Italian Seasoning– Just a small bit of dry Italian seasoning brings this dish to life!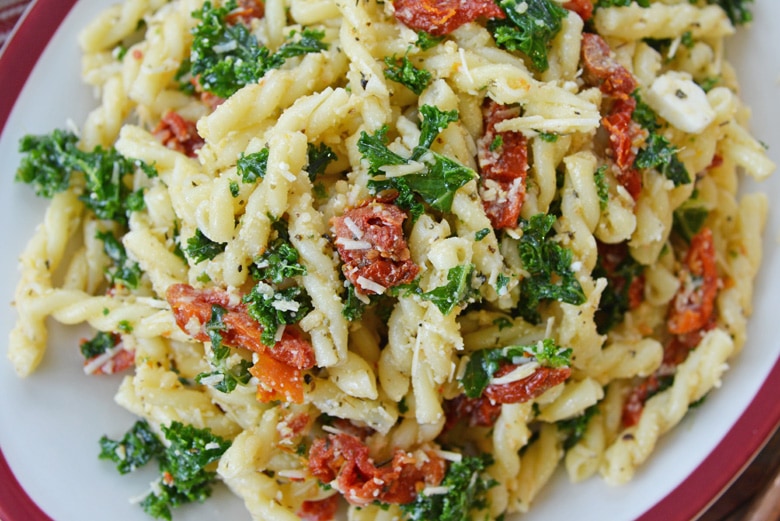 More ideas- Although I like this recipe just as it is, others have suggested chopped and drained artichoke hearts, olives and diced red onion.
Make Ahead & Storage
I actually prefer to make this pasta salad ahead of time, at least by a few hours, so the olive oil has a little time to sink into the pasta. You can make it up to a day in advance.
Toss is well before serving. You might even need another touch of olive oil if too much as been absorbed by the pasta.
Store, covered, in the fridge for up to 5 days. The CDC recommendations state to not leave a pasta salad such as this out at room temperature for more than 2 hours.
I do not recommend freezing your Kale Pasta Salad.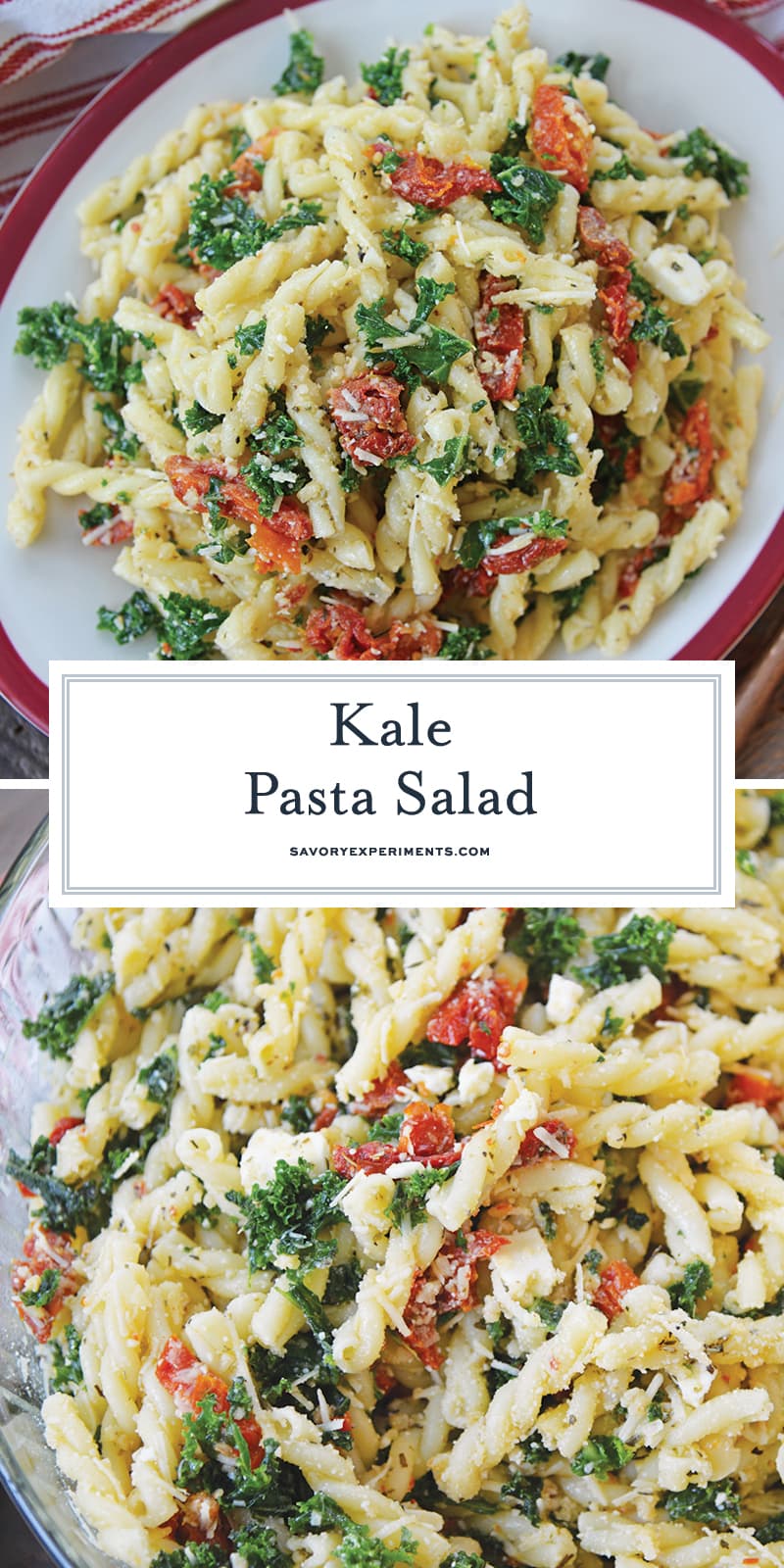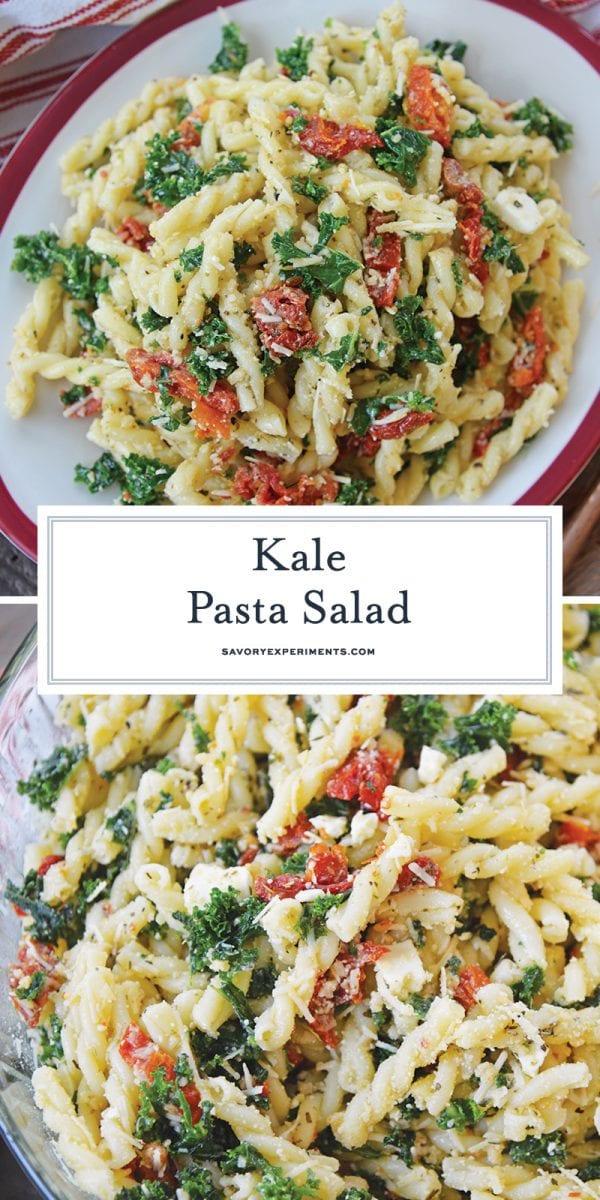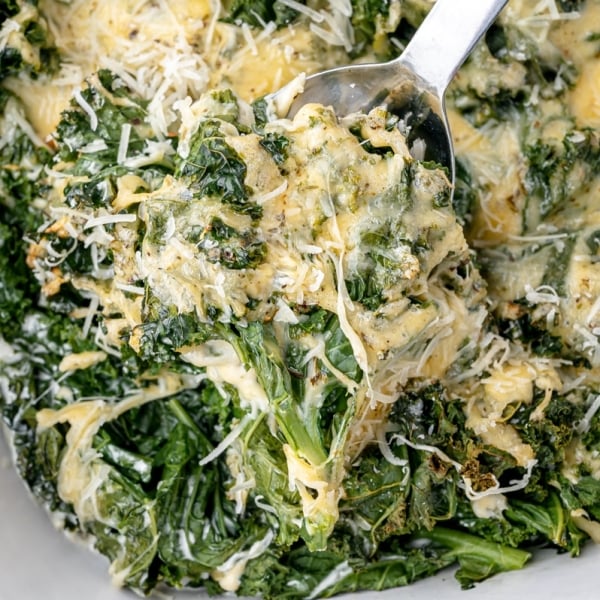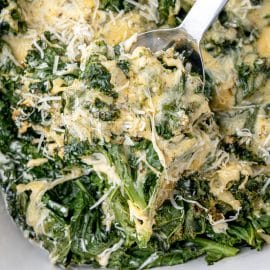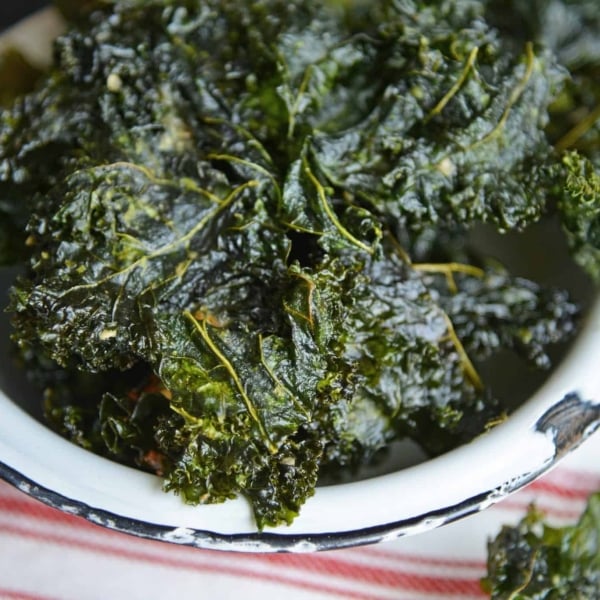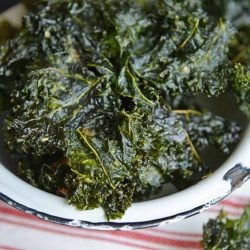 Ranch Kale Chips
Ranch Kale Chips are a quick and easy 3 ingredient kale chips recipe that offer a tasty and healthy alternative to other chips and snacks.
See The Recipe!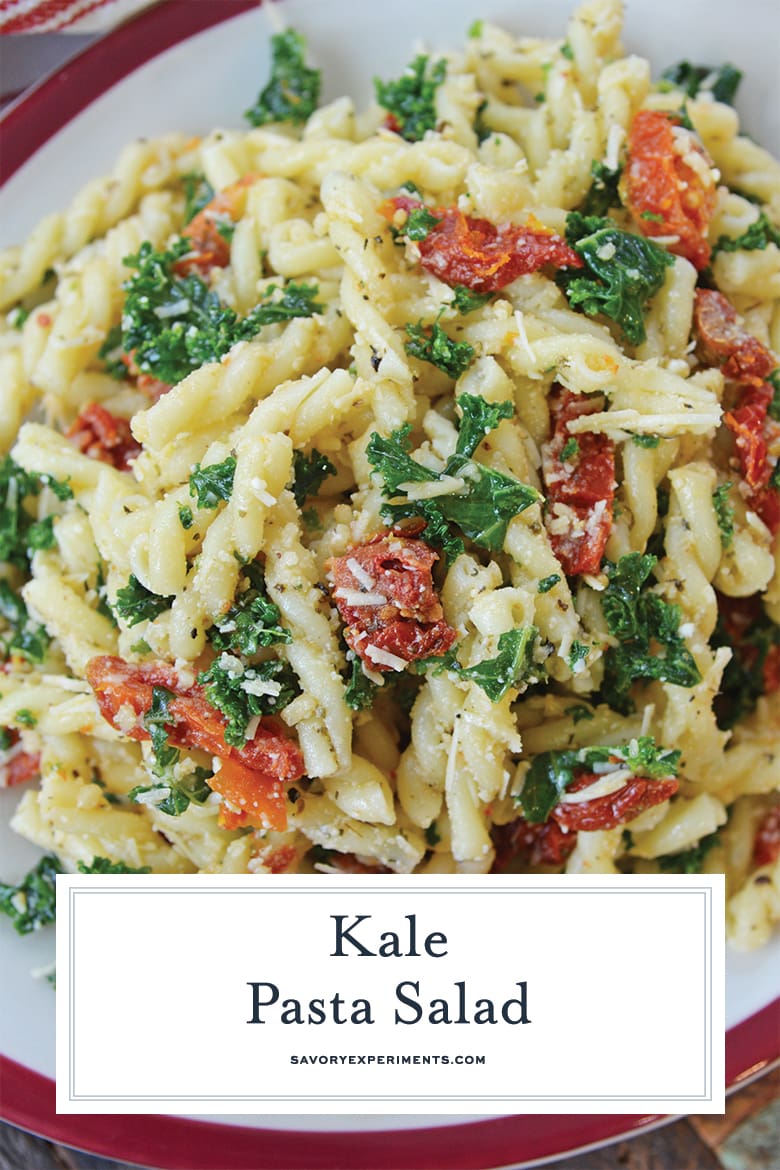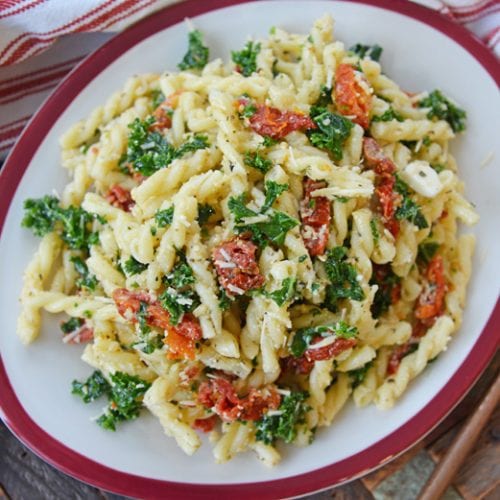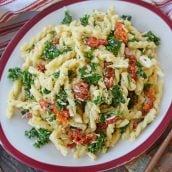 Kale Mac and Cheese
Massaged kale tossed with olive oil, garlic, Parmesan cheese and sundried tomatoes, this EASY Kale Pasta Salad is the ultimate side dish!
Instructions
Cook pasta according to package directions for al dente, drain, rinse quickly with cold water to stop the cooking process and set aside.

Tear kale into small pieces, removing the ribs. Place in a large mixing bowl (or serving bowl).

Sprinkle with coarse Kosher salt and then using clean hands, massage it well, breaking down the fibers so it is tender. The better you massage it, the easier it is to eat so don't skip or rush this step.

Add cooked pasta, olive oil, sun dried tomatoes, Italian seasoning, bottled minced garlic, feta and parmesan cheese to the kale, tossing to coat and combine.

Cover and refrigerate for 1-4 hours (up to overnight) before serving. Toss again before serving to redistribute the dressing. Serve cold.

If you've tried this recipe, come back and let us know how it was in the comments or ratings!
Nutrition
Calories:
272
kcal
,
Carbohydrates:
33
g
,
Protein:
9
g
,
Fat:
12
g
,
Saturated Fat:
3
g
,
Cholesterol:
8
mg
,
Sodium:
348
mg
,
Potassium:
308
mg
,
Fiber:
2
g
,
Sugar:
3
g
,
Vitamin A:
1220
IU
,
Vitamin C:
15
mg
,
Calcium:
116
mg
,
Iron:
1
mg