Nothing is more American than apple pie… well okay, maybe baseball. Just as American is quick apple CAKE!
Quick Apple Cake is an easy cake that uses crescent rolls and fresh apple slices with butter, cinnamon and nutmeg. Top it off with salted caramel sauce for a decadent treat!
Quick Apple Cake lingers between pie, cake and pastry. Instead of using classic, crumbly pie crust, I used buttery and flaky refrigerated crescent rolls and instead of canned apple filling, fresh cut apples.
I've seen (and made) Apple Poke Cake and even apple dump cake, but this version remains my favorite due to its uniqueness. 
I prefer Red Delicious because they bake well and I love the color, but you can use another more tart apple, like Granny Smith.
The beauty of Quick Apple Cake is in the gentle rippled texture resulting from the lack of uniform pieces of croissant dough and apple slices. Those ribbons of buttery goodness don't need to be packed in tight.
In fact, it will cook more evenly when it is loosely put together, allowing the croissant dough to fill out the spaces.
This easy cake recipe comes together in just 15 minutes. Top it off with melted butter spiced with cinnamon and nutmeg for an undeniably good treat.
Right before serving, drizzle salted caramel sauce into all the nooks and crannies. Serve with a heaping scoop of vanilla bean ice cream!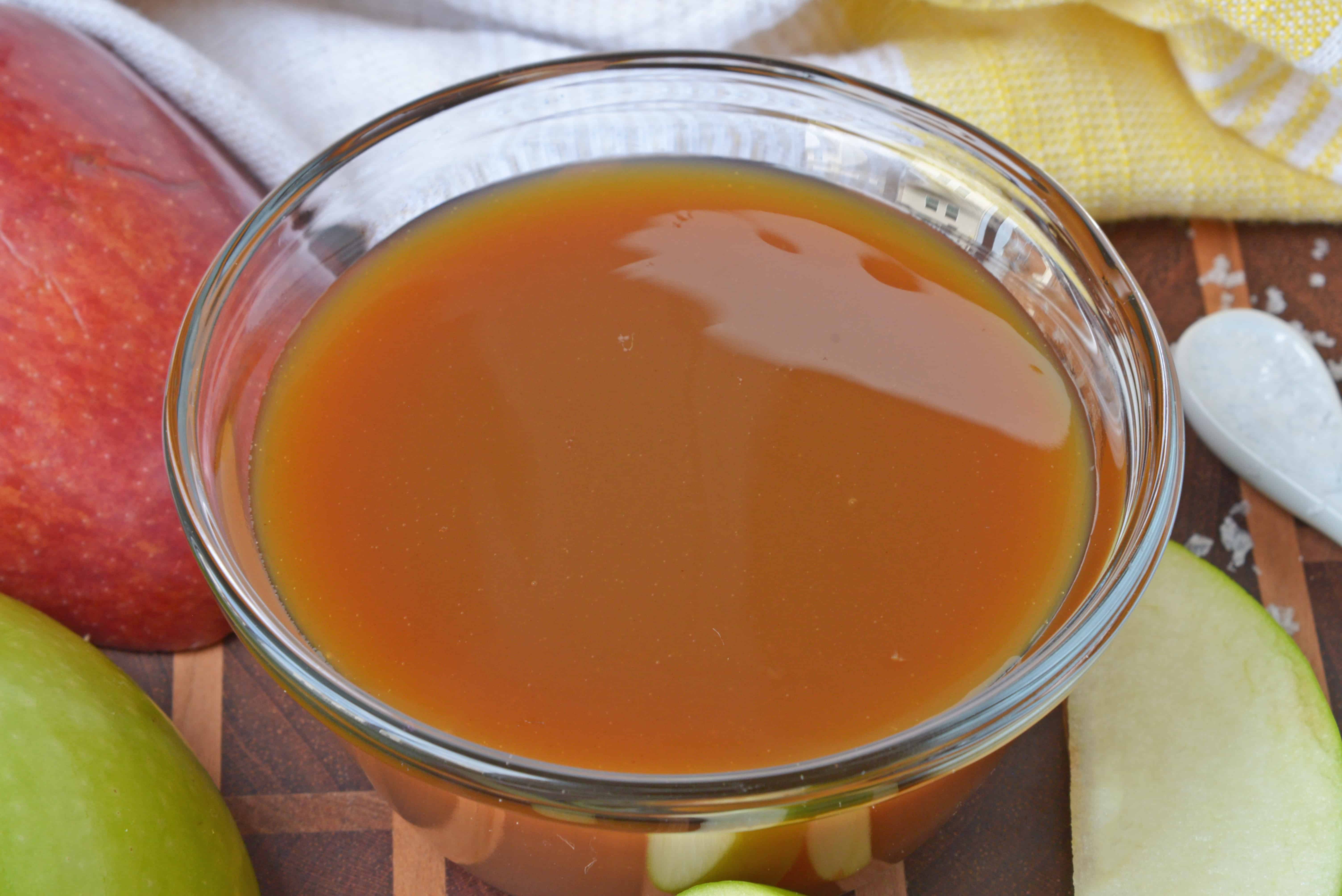 Tools for making Salted Caramel Apple Cake:
Wood cutting board – wood won't dull your knives like plastic and if treated properly, has natural antimicrobial properties.
Good knife – Global is my favorite! They are worth the price, I promise. I am kind of obsessed with them and store them tucked away so no one else can use them. Including hubby. Hands off my good stuff!
Mixing Bowls– make sure to check out my article on Using the Right Mixing Bowl, you'd be surprised how many people aren't!
9 Inch Springform Pan
– You can use a regular pie dish, but you won't be able to pop it out for display, so a springform pan is highly recommended.
Questions you might have about how to make apple cake:
Can I make apple cake ahead of time? You can certianly make the apple cake in advance, but wait to top it with salted caramel sauce until you are ready to serve. I prefer mine warm, so you can even heat it just a little in the oven before serving.
Keep it in the springform pan until ready to serve as well. The parchment paper should help it easily come free.
What if I don't have a springform pan? You can use a regular pie plate.
I would suggest a deep dish pie plate. There will be no need to use parchment paper because you won't pop it out. Just serve it straight from the dish with a cake server.
Can I freeze apple cake? You sure can! I freeze mine in single slices in airtight plastic bags so I can indulge in just a slice whenever I'd like.
What are the best apples for apple cake? This is a matter of personal preference. I like red delicious apples, but you can use Granny Smith for something a little tart or any other apple variety you'd like. Some folks even use a combination of apple types to further sophisticate the dish.
Can I use store bought caramel sauce? You sure can. I like making my own, but there are some truly fabulous bottled caramel sauces out there. Not all are salted, so if you prefer a salted caramel, add your own Fleur de Sel
.
Quick Apple Cake is an easy cake that uses crescent rolls and fresh apple slices with butter, cinnamon and nutmeg. Top it off with salted caramel sauce for a decadent treat! Click to Tweet