This is the best best coffee cake that you will come by! And you will love the cinnamon streusel topping!!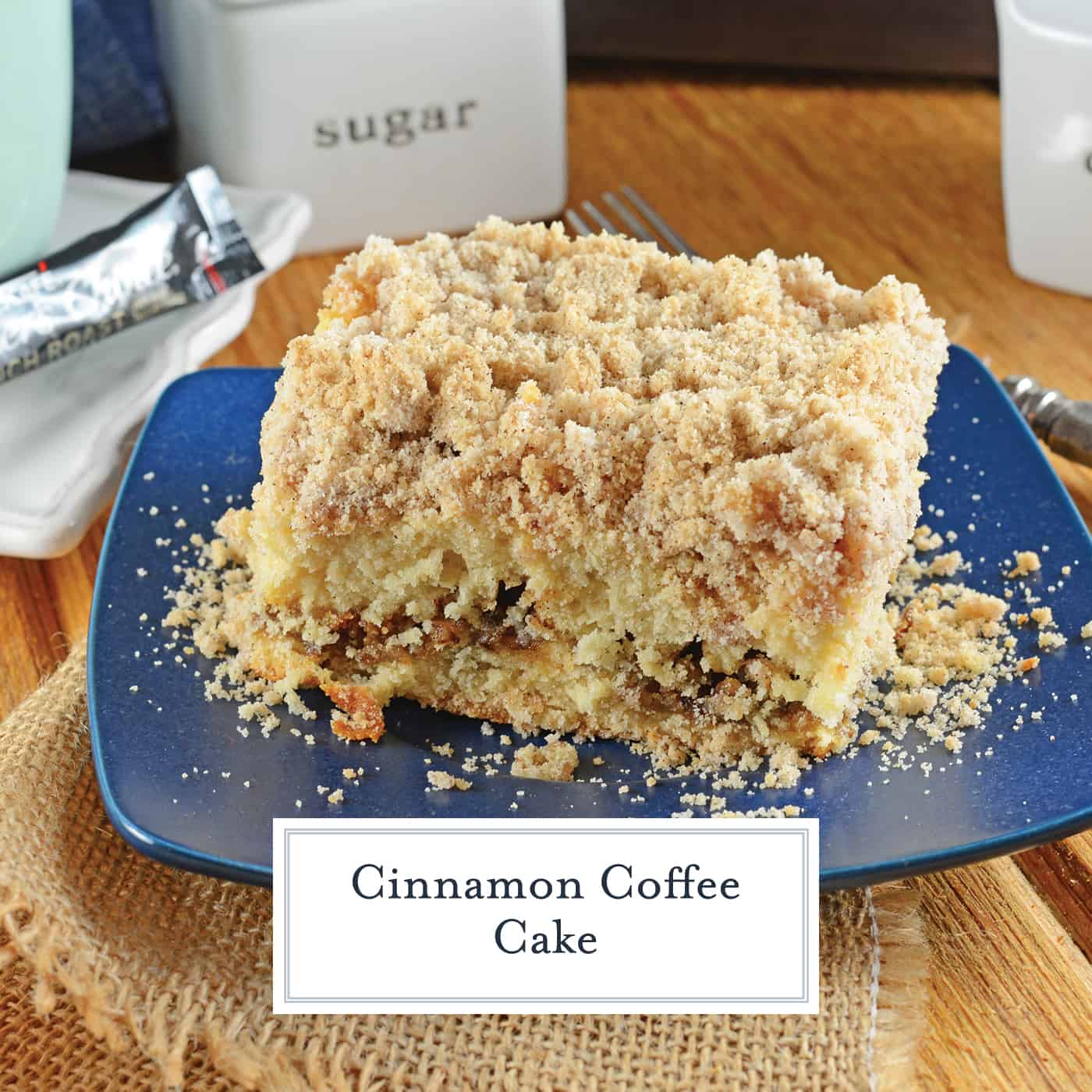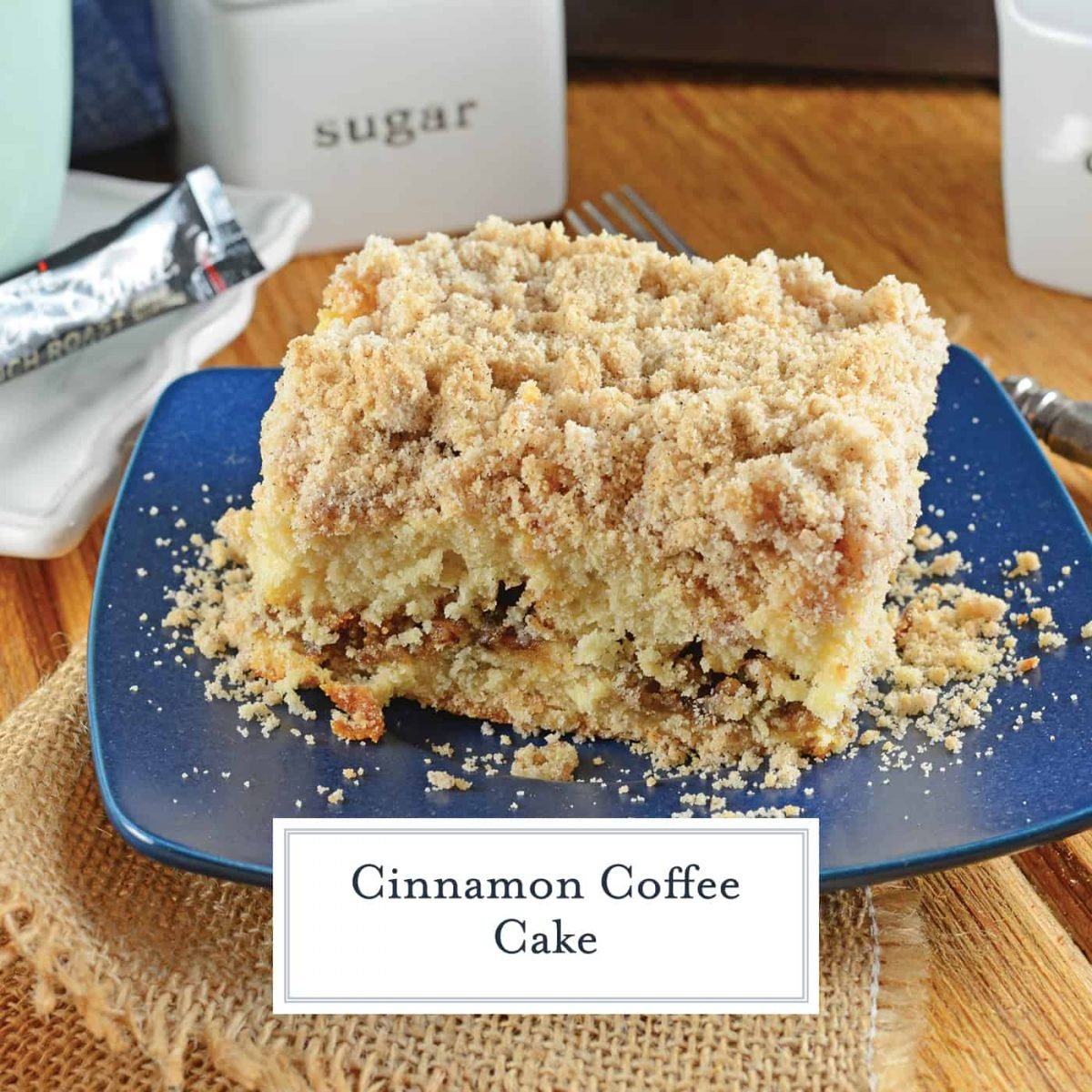 This is a classic Cinnamon Coffee Cake. Cinnamon streusel topping and a ribbon of brown sugar filling make this moist cake perfect for breakfast or brunch.
I recently took the NESCAFÉ® Taster's Choice® coffee challenge. For one week, I changed up my usual coffee routine. Today I made a delicious, soft Coffee Cake to munch on while I sit down to write all about it.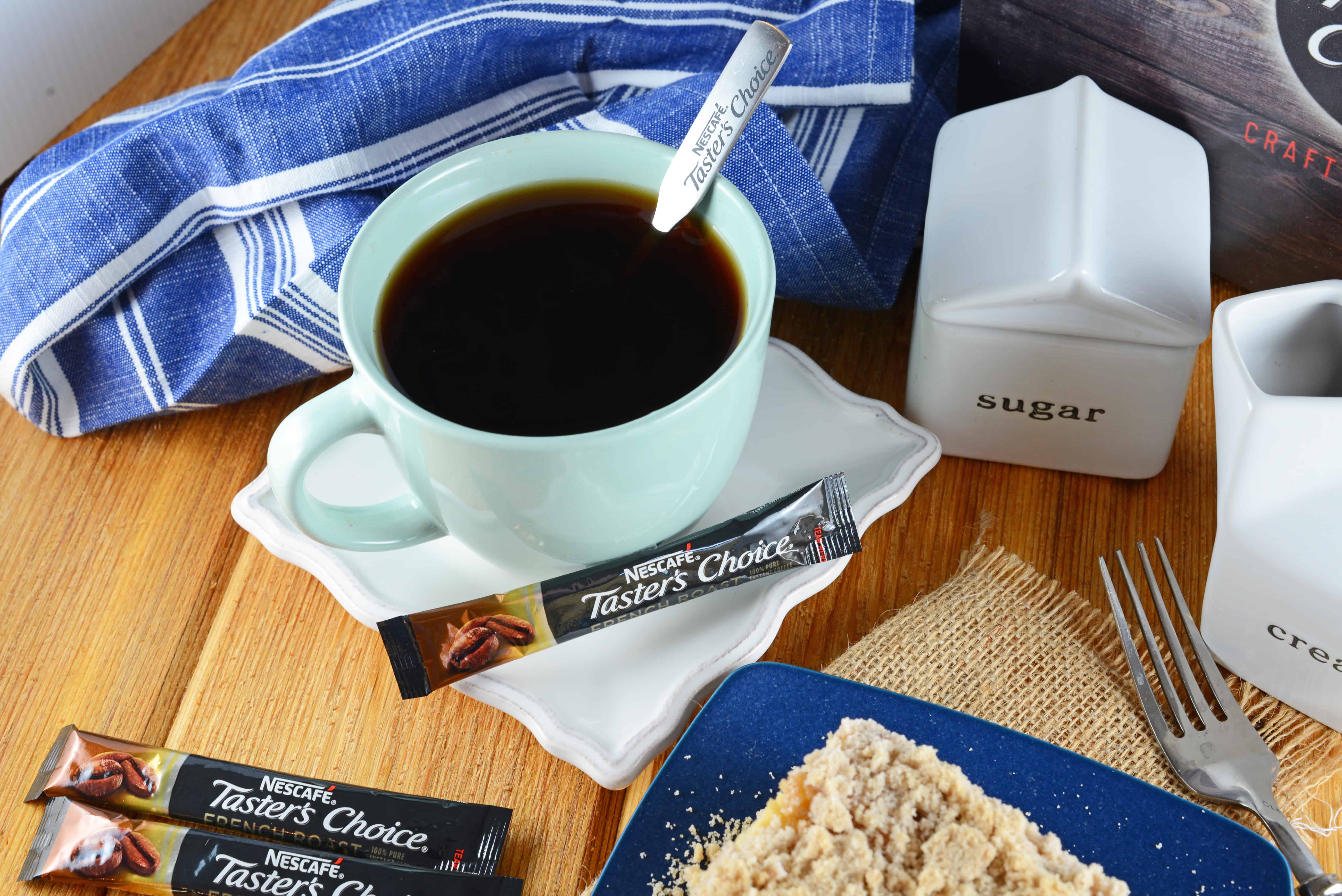 My mornings start at 5:30 a.m. and are usually pretty rushed… and zombie like. I try to get everything I need for the next day ready the night before so I can literally just jump into my clothes and make it into the office on time.
Do you know what the first thing I think of when my alarm clock goes off is? My first sip of coffee.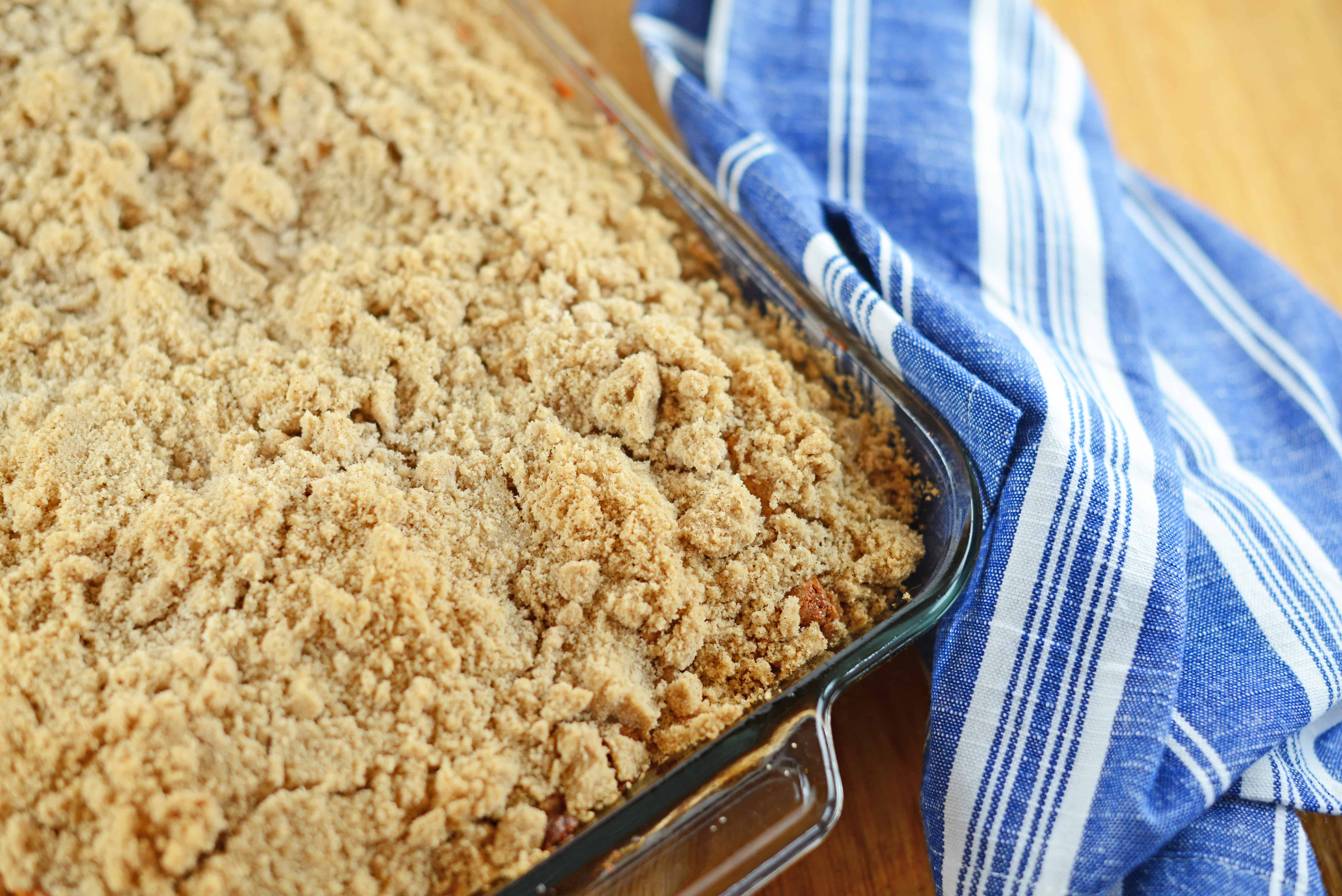 This wasn't the first time I've tried instant coffee, in fact I always have it around to make my Mocha Cream Pie, but I generally reserve it for cooking and now I'm wondering why I denied myself! NESCAFÉ® Taster's Choice® was richer and smoother than my old brewed coffee.
They only use responsibly sourced beans and then flash freeze them to preserve the robust coffee flavor.
Previously, my first cup of coffee didn't happen until I got to the office. Now, with NESCAFÉ® Taster's Choice®, I can easily and quickly prepare a to-go cup to sip on my way to work.
So when I get there I'm awake and ready to rock and roll. I also experimented with adding homemade caramel and even an iced vanilla frap.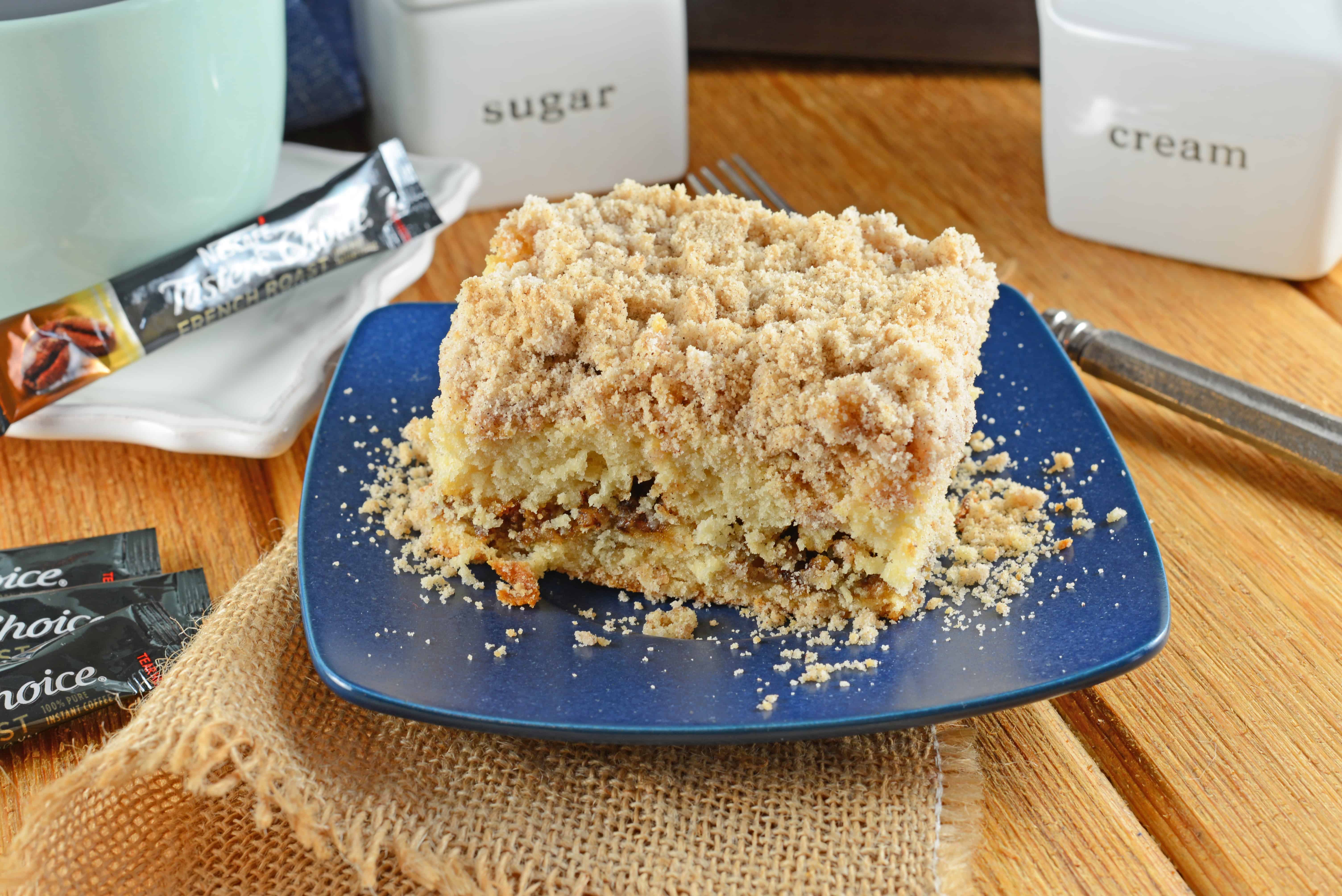 I'm also traveling with my coffee! I can always ensure that I get a quality cup of coffee by carrying my NESCAFÉ® Taster's Choice® in my suitcase when I travel!
The glass jar not only ensures freshness, but also packs easily. Now I'm challenging YOU to learn more about taking the NESCAFÉ® Taster's Choice® Challenge.
Switch your routine for one week and then come back and tell me how it went. I can't wait to hear from you!
I also hope you enjoy my classic Coffee Cake, which complements a cup of Joe perfectly.
M
ake sure you check out these other easy coffee cake recipes: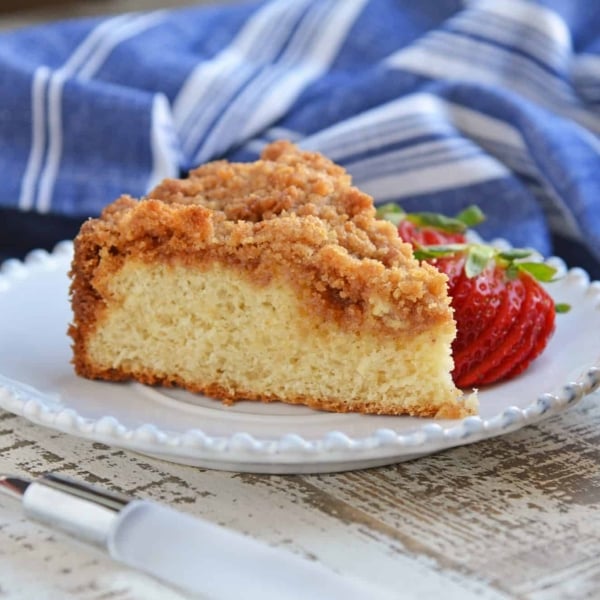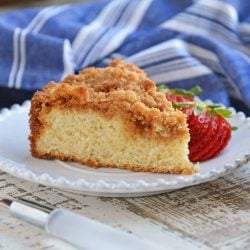 Maple Coffee Cake
Maple Coffee Cake is an easy cake recipe using real maple syrup and pancake mix for a quick and easy breakfast cake recipe.
View this recipe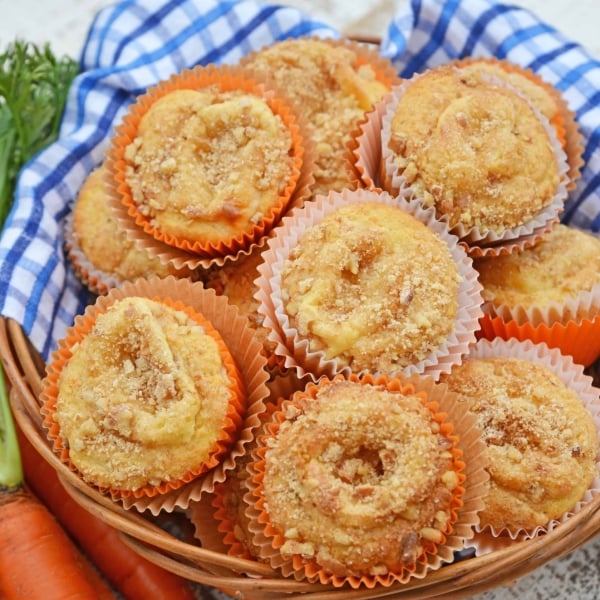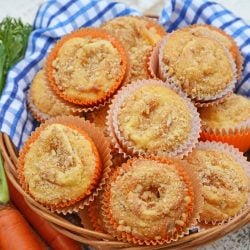 Carrot Cake Muffins
Carrot Cake Muffins are muffins loaded with carrots and stuffed with cream cheese frosting. Perfect for breakfast, brunch or a snack. Also freezer-friendly!
View this recipe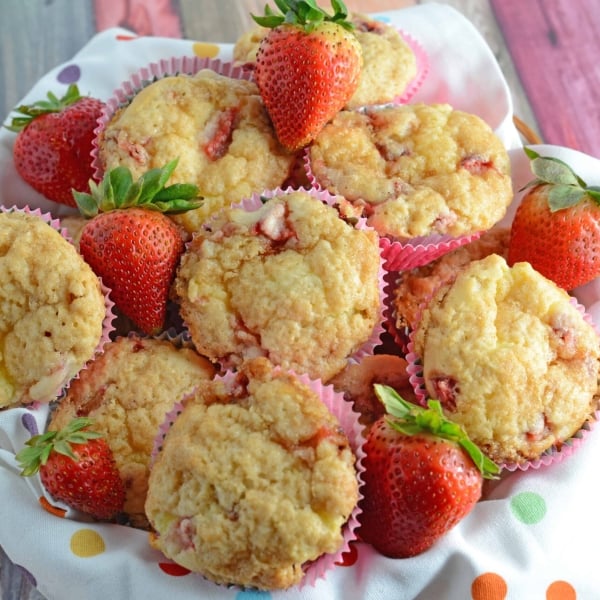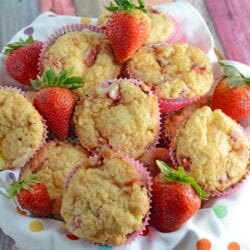 Strawberry Cream Cheese Muffins
Strawberry Cream Cheese Muffins are soft muffins using fresh strawberries, rich cream cheese and a brown sugar streusel topping.
View this recipe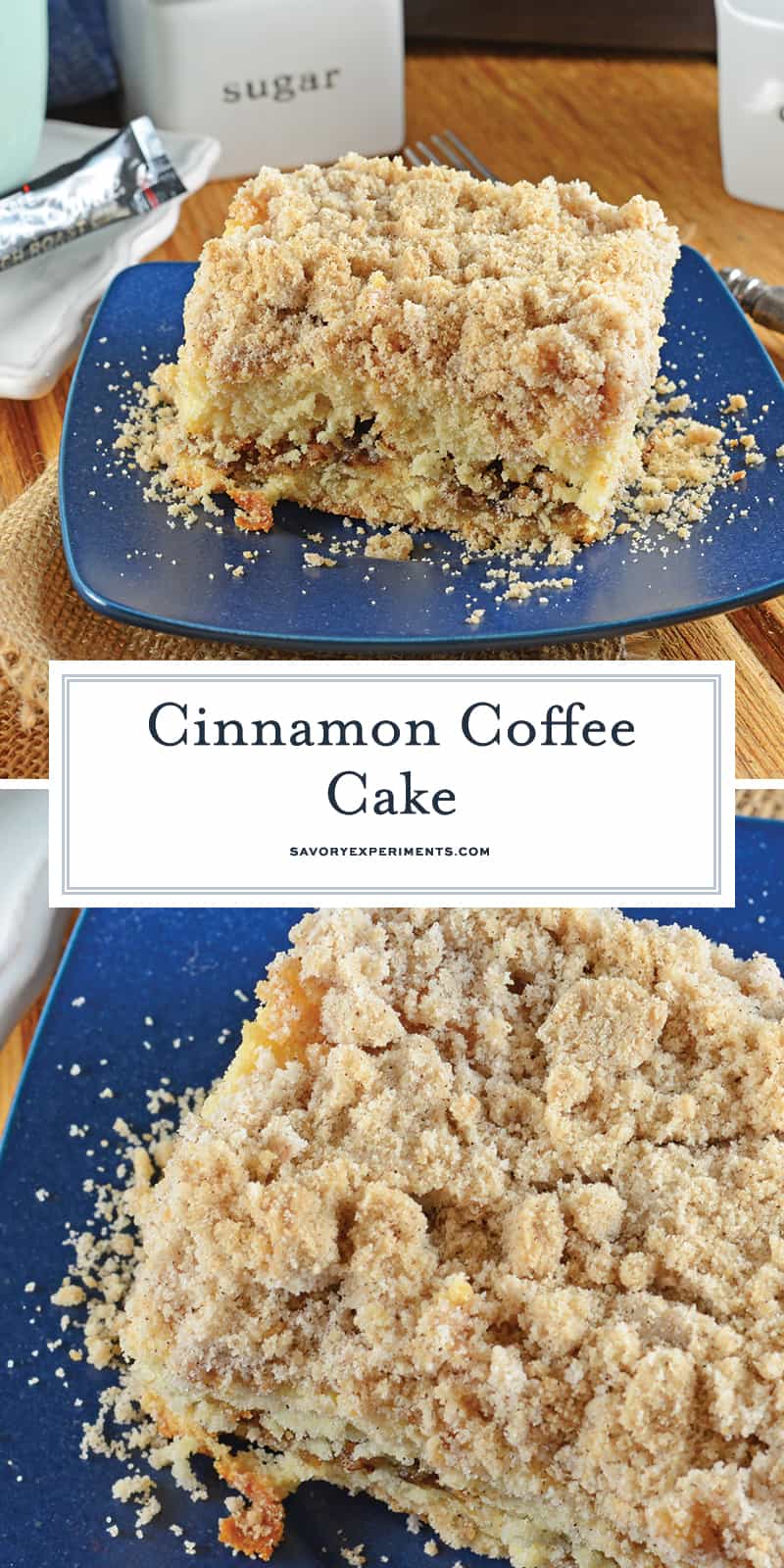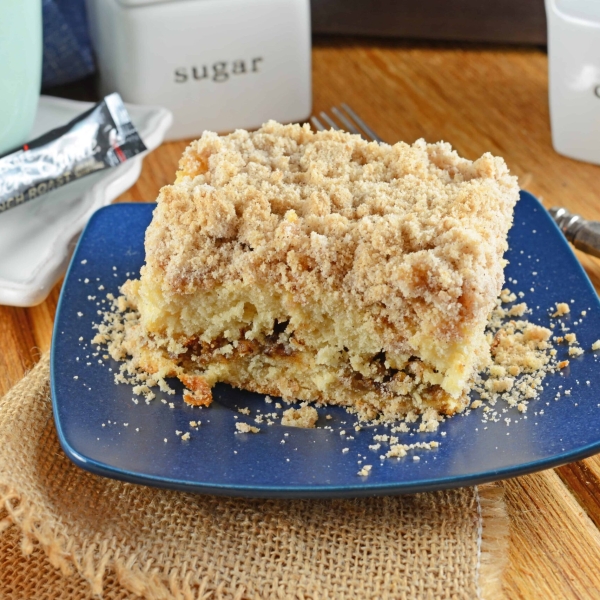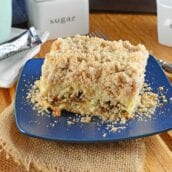 Cinnamon Coffee Cake
This is a classic Coffee Cake Recipe. Cinnamon streusel topping and a ribbon of brown sugar filling make this moist cake perfect for breakfast, brunch or serving with afternoon tea.
Instructions
Preheat oven to 350 degrees. Coat or grease a 9×13 baking pan.

In the bowl of a stand mixer fitted with a paddle attachment or large mixing bowl, whip butter until light and fluffy. Add both sugars and continue to blend well.

Add salt, baking powder and vanilla, mixing well. Add yogurt and continue to blend.

Add eggs, one at a time, mixing completely between additions.

Alternate adding milk and flour until fully incorporated. Set aside.

In a medium bowl, mix together all ingredients for filling. Mix will be dry and crumbly.

Pour 1/2 of cake batter into prepared 9×13 baking dish, spread evenly. Top with filling. Spoon remaining batter on top of filling. Gently spread out over filling.

Clean out and dry large mixing bowl for your stand mixer (or mix by hand). Combine all ingredients for cinnamon streusel topping, blend well until all dry ingredients have been moistened. Mixture will be dry and crumbly.

Evenly sprinkle over cake batter, patting down lightly.

Bake for 60 minutes, or until cake passes toothpick test. Allow to sit for 20 minutes before serving.

If you've tried this recipe, come back and let us know how it was!
Nutrition
Calories:
471
kcal
,
Carbohydrates:
84
g
,
Protein:
6
g
,
Fat:
12
g
,
Saturated Fat:
7
g
,
Cholesterol:
62
mg
,
Sodium:
253
mg
,
Potassium:
199
mg
,
Fiber:
1
g
,
Sugar:
54
g
,
Vitamin A:
450
IU
,
Vitamin C:
0.1
mg
,
Calcium:
110
mg
,
Iron:
2.2
mg