This Caramel Apple Poke Cake will be one of your favorite poke cake recipes! With plenty of apples, walnuts and caramel, this cake has all the best flavors of an apple pie wrapped up into one easy poke cake.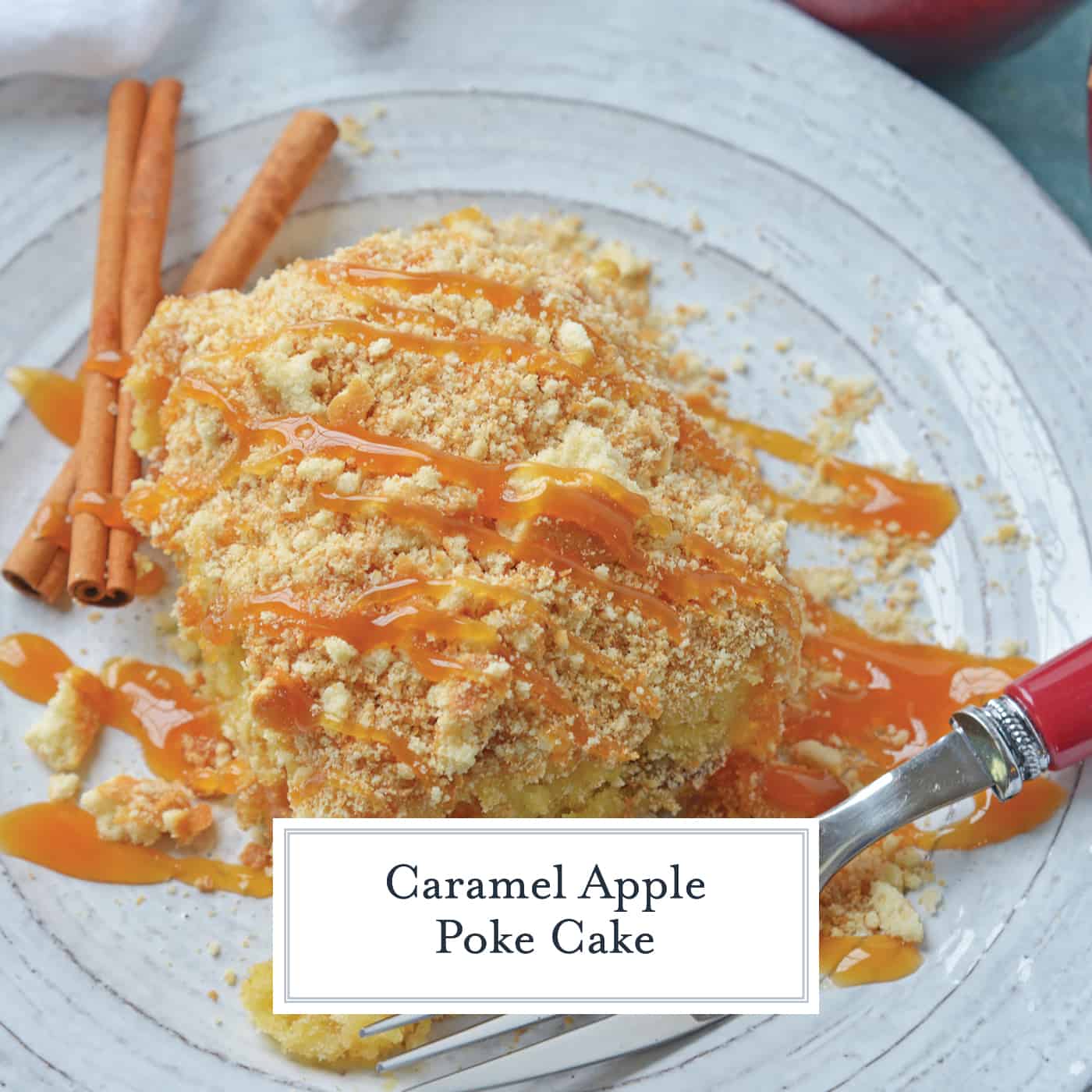 This Caramel Apple Poke Cake is one of the best recipes using boxed cake mix. Vanilla pudding makes this easy poke cake extremely moist, while the apples and walnuts provide a nice crunch.
When it comes to making desserts, we all have a favorite, right? For me, poke cake recipes are one of my favorites!
They are super easy, using boxed cake mix and there is something therapeutic about using a straw to poke lots and lots of holes into the freshly baked cake. The "poking" would be a fun way for the kids to help, too!
PRO TIP: Don't dis boxed cake mixes! In taste tests, similar homemade cake recipes failed miserably in the areas of taste, moistness and richness in comparison to boxed mix.
And then pouring the creamy pudding right on top is just so satisfying. There's nothing quite like watching it sink into all the nooks and crannies.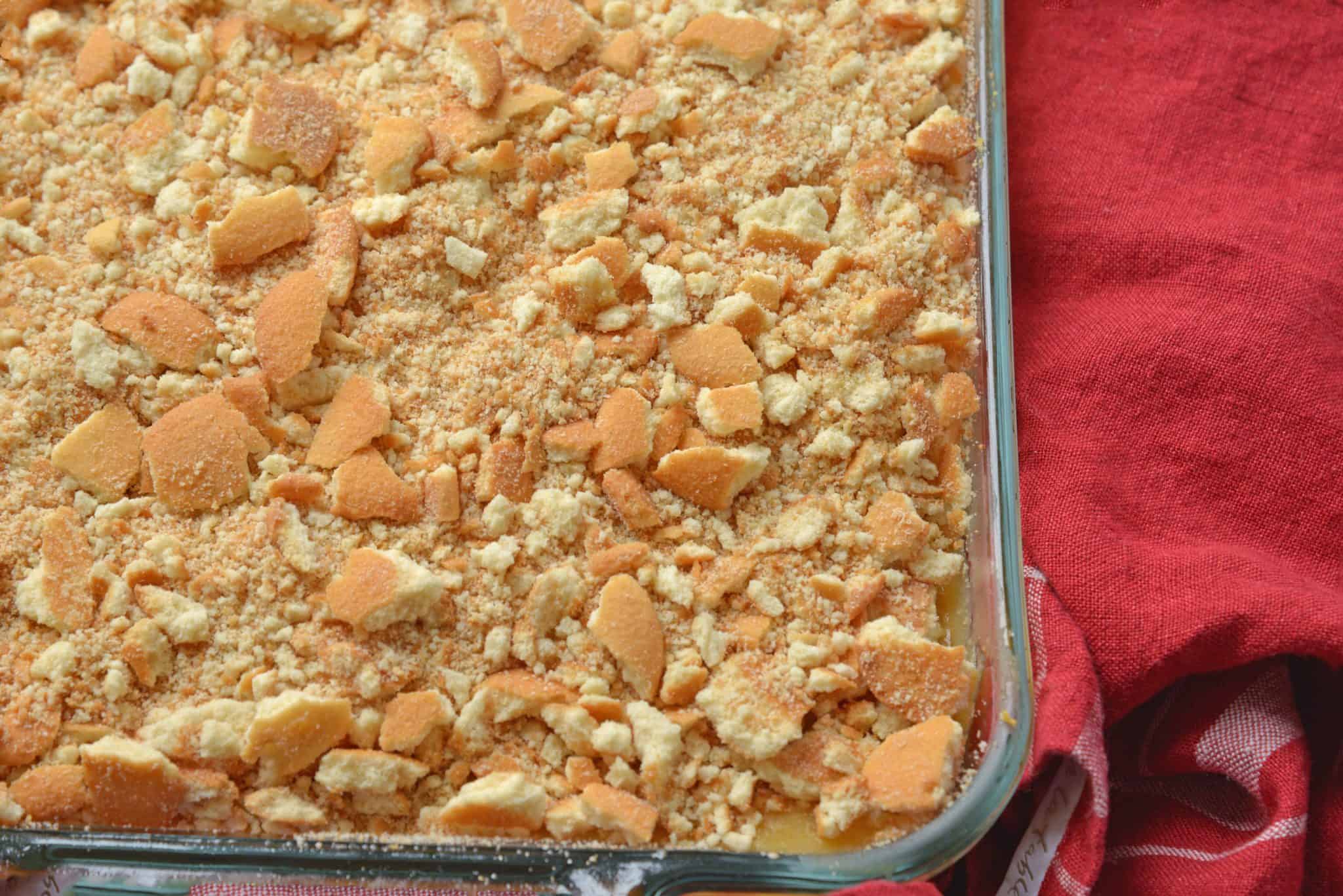 I love how poke cakes are so easily customized, too. From the cake type to pudding flavor, add ins and frosting, the flavor combinations of a poke cake are endless. The moist richness you get from pudding, while still getting a slight crunch from the toppings and add ins is to die for!
Caramel Apple Poke Cake has the perfect combination of textures, and also provides a wonderful apple pie flavor. The cinnamon, apple pie spice and caramel perfectly complement apples and vanilla pudding to make this delicious apple cake a true dessert win.
Topping the cake with crushed Nilla Wafers and walnuts provides a crunch to the otherwise soft and creamy cake. You can also add freshly whipped cream, if you choose.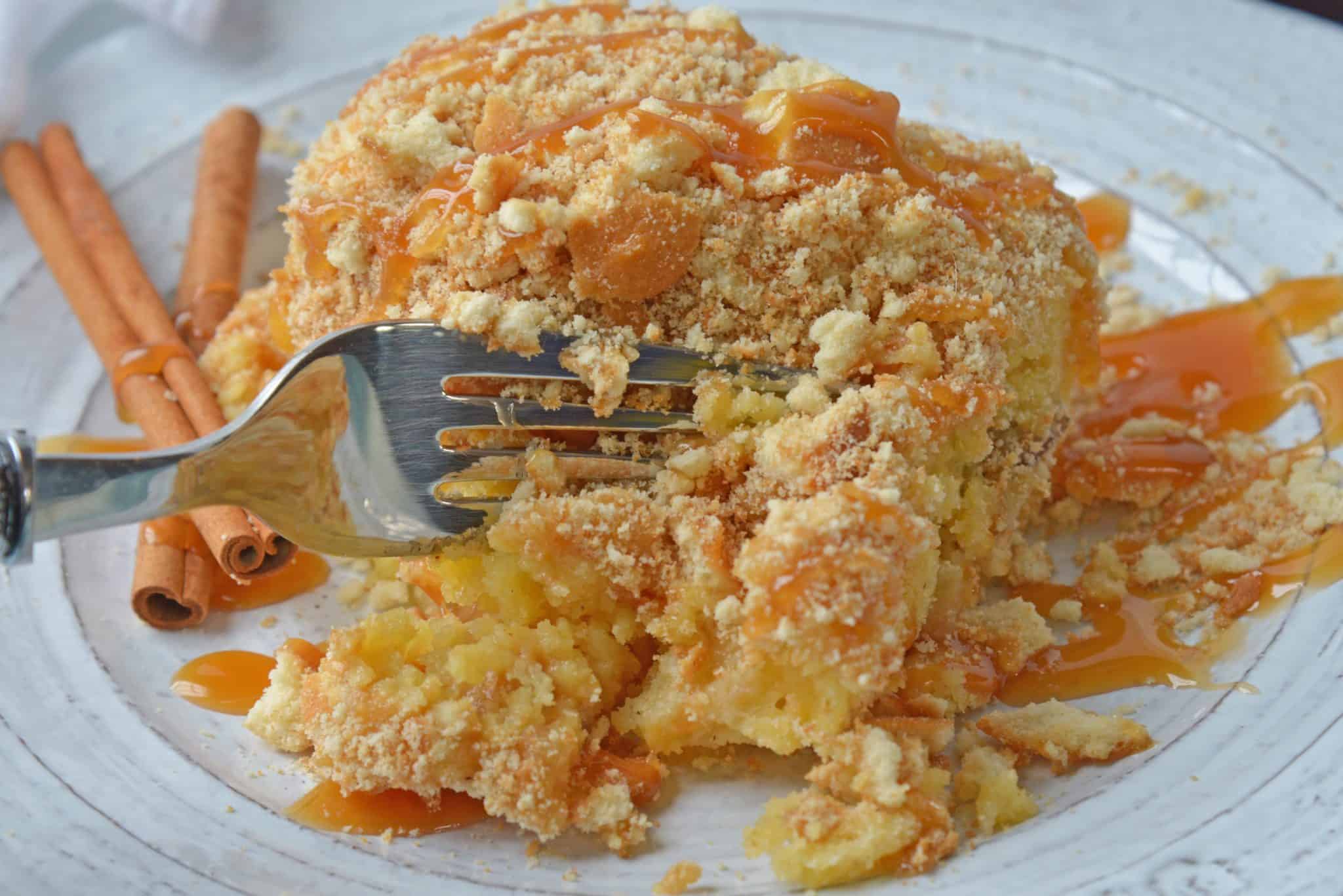 One of my favorite parts of this Caramel Apple Cake is that it uses a boxed cake mix. It simplifies your ingredient list, but still packs a huge flavor punch.
This particular recipe calls for a yellow cake mix, but feel free to amp up the flavor with a spice cake mix or any other flavor you see fit.

You are going to love these easy apple recipes too: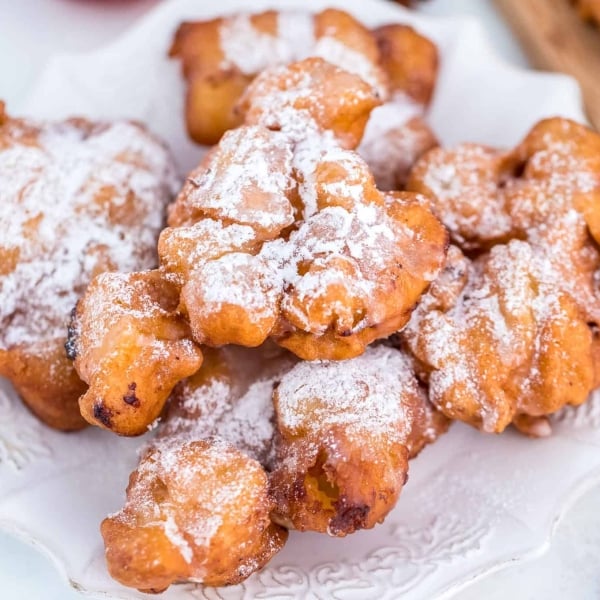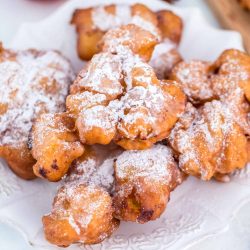 Apple Fritter Recipe
Homemade Apple Fritters have never been easier than with this apple fritter recipe! Surrounded by a cakey batter and drizzled with glaze, they're perfectly sweet and delicious!
View this recipe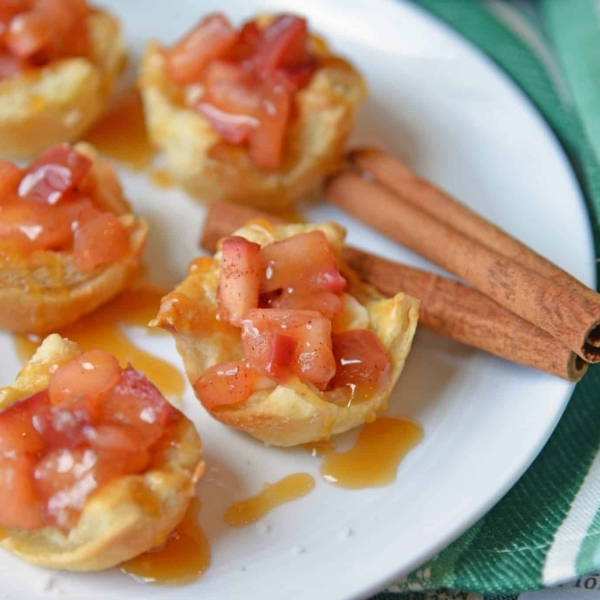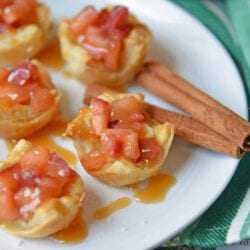 Caramel Apple Bite with Brie
Caramel Apple Bites with Brie are a quick apple tart recipe using puff pastry. The best mix between mini caramel apples and salted caramel apple pie!
View this recipe
Tools for making Caramel Apple Poke Cake:
9 x 13 Glass Baking Dish– an absolute essential for any kitchen! Use it for baking, marinating or storing. Get one with a lid, you'll thank me later.
Wood cutting board – wood won't dull your knives like plastic and if treated properly, has natural antimicrobial properties.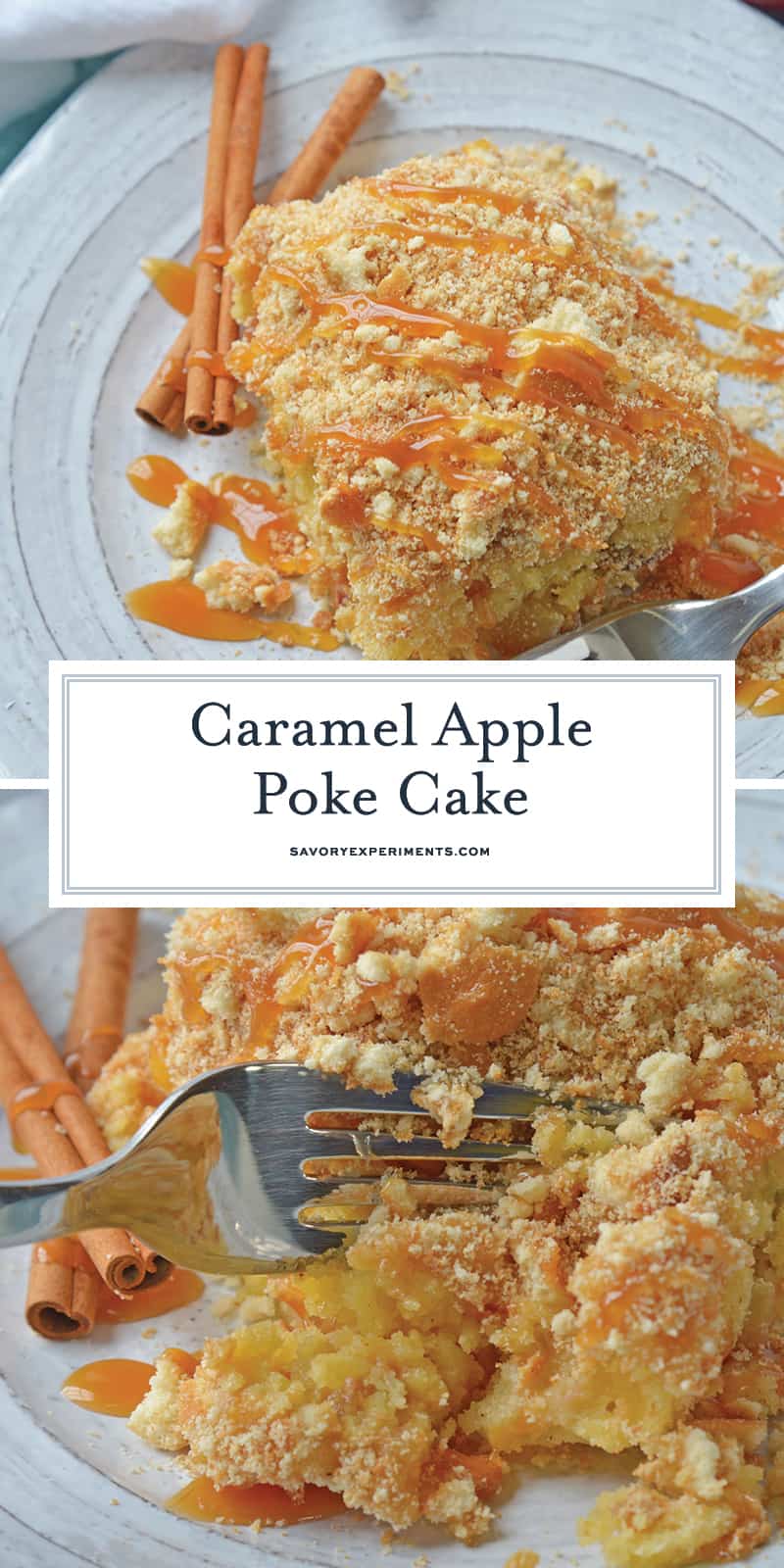 Questions you might have about how to make a poke cake:
Can I use a 9×9 pan? You can use a 9×9 baking pan for making a poke cake, however you might have more pudding than you need for a 9×13. Just set it aside in a little bowl and eat it by itself.
Can I use other cake pan shapes? I wouldn't necessarily recommend it. Part of the beauty of this cake is holes and getting pudding in them. Specialty shapes, charter shapes and even bundt pans might prohibit this from happening evenly.
Can I omit the crunchy topping? You sure can! Some poke cakes are just topped with a cloudy fluff of whipped cream or other whipped topping.
Can I make this a nut free poke cake? Simply omit the walnuts, it is that easy!
Can you freeze poke cake? You can! I would recommend freezing without the caramel drizzle or whipped cream. Store in the best airtight container you can find for 3-4 months.
Can I make poke cake the day before? Sure you can! In fact, the pudding will just have more time to sink in and make the cake get all delicious.
Can you make poke cake cupcakes? You sure can! They get a little messy if you don't eat them with a fork, but make them the same way, following directions for cupcakes on the boxed cake mix. You might use less pudding, too. Just set it aside and it is by itself.
Can I just regular frosting on a poke cake? Technically, yes, you can frosting a poke cake, however I will tell you from experience that it is challenging because traditional frosting doesn't stick or spread well over the pudding.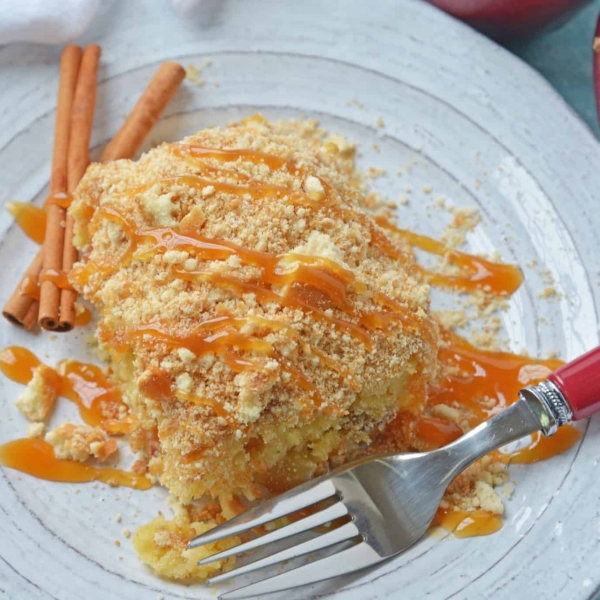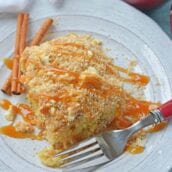 Caramel Apple Poke Cake
This Caramel Apple Poke Cake is one of the best recipes using boxed cake mix! With tons of apples, and cinnamon, this from scratch apple cake will become an instant family favorite!
Ingredients
15.25

ounce

box yellow cake mix

1

cup

water

1/3

cup

vegetable oil

2

cups

red apples

, chopped into 1 inch cubes

1/4

cup

sugar

1

tablespoon

lemon juice

1

teaspoon

ground cinnamon

5.4

ounce

box Instant French Vanilla Pudding

2

cups

cold milk

1

teaspoon

apple pie seasoning

20

Nilla Wafer Cookies

, broken into small pieces

1/2

cup

walnuts

, chopped, optional

1

cup

caramel sauce
Instructions
Preheat oven to 350 degrees. Coat a 9×13 baking dish with cooking spray.

In a large mixing bowl, combine yellow cake mix, water, vegetable oil and eggs. Mix until just combined.

In a separate mixing bowl, toss chopped apples with lemon juice and then sugar. Shake off excess sugar and fold into cake batter.

Pour into prepared baking dish. Bake for 25 minutes, or until cake passes the toothpick test.

Remove cake from the oven and poke with the end of a wooden spoon or a straw while still hot. Make many holes. The more holes, the more space for the delicious pudding to hide.

Allow the cake to cool slightly. Meanwhile whisk together French Vanilla pudding mix with milk. It will be liquidy, but will start to thicken as you whisk. It will take about 2 minutes. When you start to feel resistance allow to stand for 2 minutes. Fold in apple pie seasoning.

Pour pudding mix over cake, patting down into the holes. Use a toothpick and prick more holes into the cake and pudding. Tap the whole dish several times to allow the pudding to settle into the cake.

Top with broken Nilla Wafers and walnuts.

Cover with aluminum foil and allow to set in the refrigerator for at least one hour. Store refrigerated.

When ready to serve, drizzle with caramel sauce.

If you've tried this recipe, come back and let us know how it was!
Nutrition
Calories:
327
kcal
,
Carbohydrates:
55
g
,
Protein:
4
g
,
Fat:
10
g
,
Saturated Fat:
5
g
,
Cholesterol:
33
mg
,
Sodium:
362
mg
,
Potassium:
130
mg
,
Fiber:
1
g
,
Sugar:
29
g
,
Vitamin A:
125
IU
,
Vitamin C:
1.7
mg
,
Calcium:
110
mg
,
Iron:
0.9
mg