When I think fall, I think of candied apples and caramel apples. The two are commonly talked about interchangeably, but are actually very different.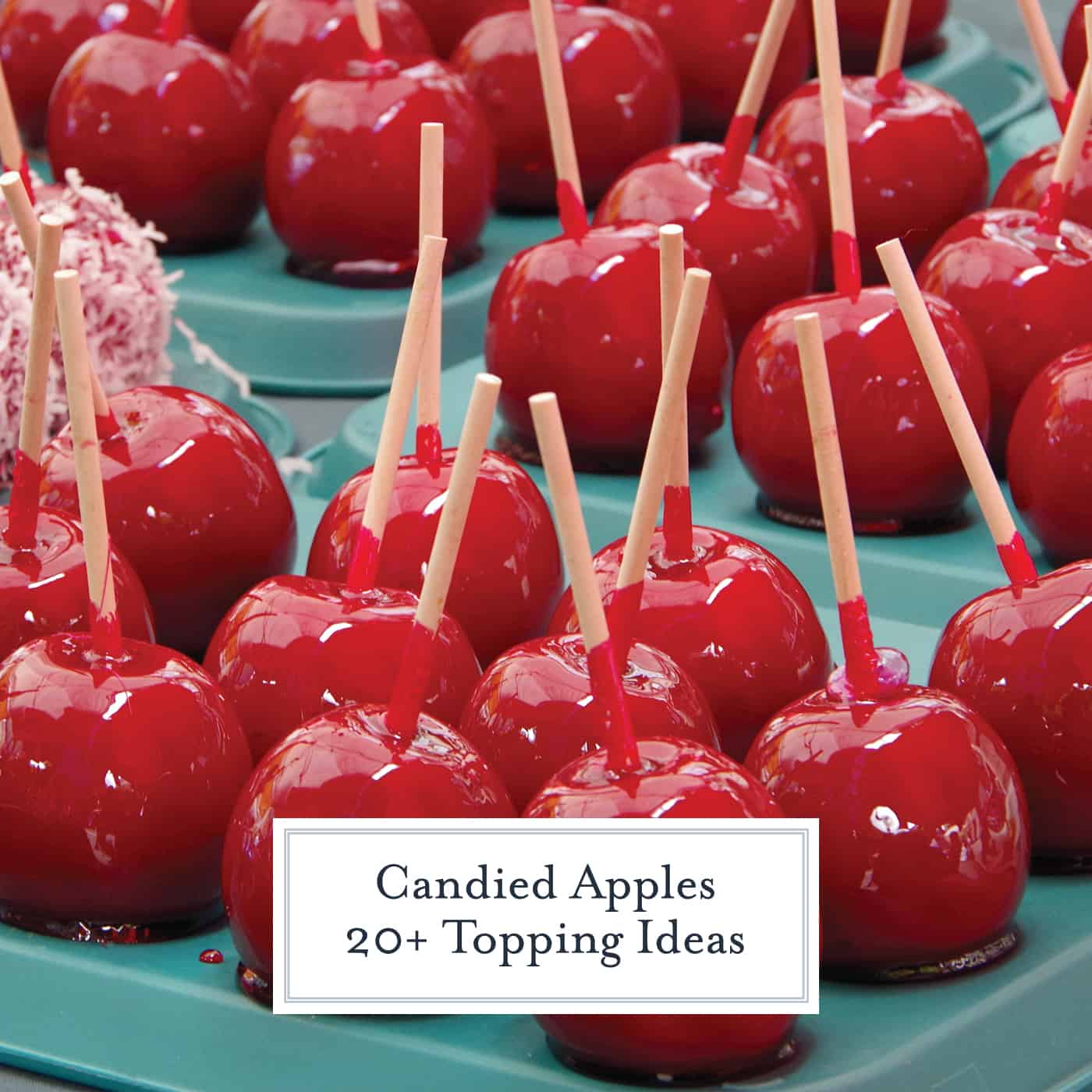 The classic candied apple is a beautifully colorful, glassy red apple. A lollipop candy coating with lush and slightly sour crunchy apple inside.
A candied apple is coated in a sugar candy layer similar to Red Hots candy, but without the cinnamon. The iconic candy apple is bright red; reminiscent of Snow White's poisoned apple.
Getting sugar to the perfect consistency can be tricky. It burns very easily. I was alerted to my first batch burning by the smoke detector. We've all been there, don't judge.
The mixture needs to get to the hottest stage of candy making- the hard crack stage. The sugar concentration is very high, about 99% sugar and 1% water, which reaches between 300-310 degrees on a candy thermometer.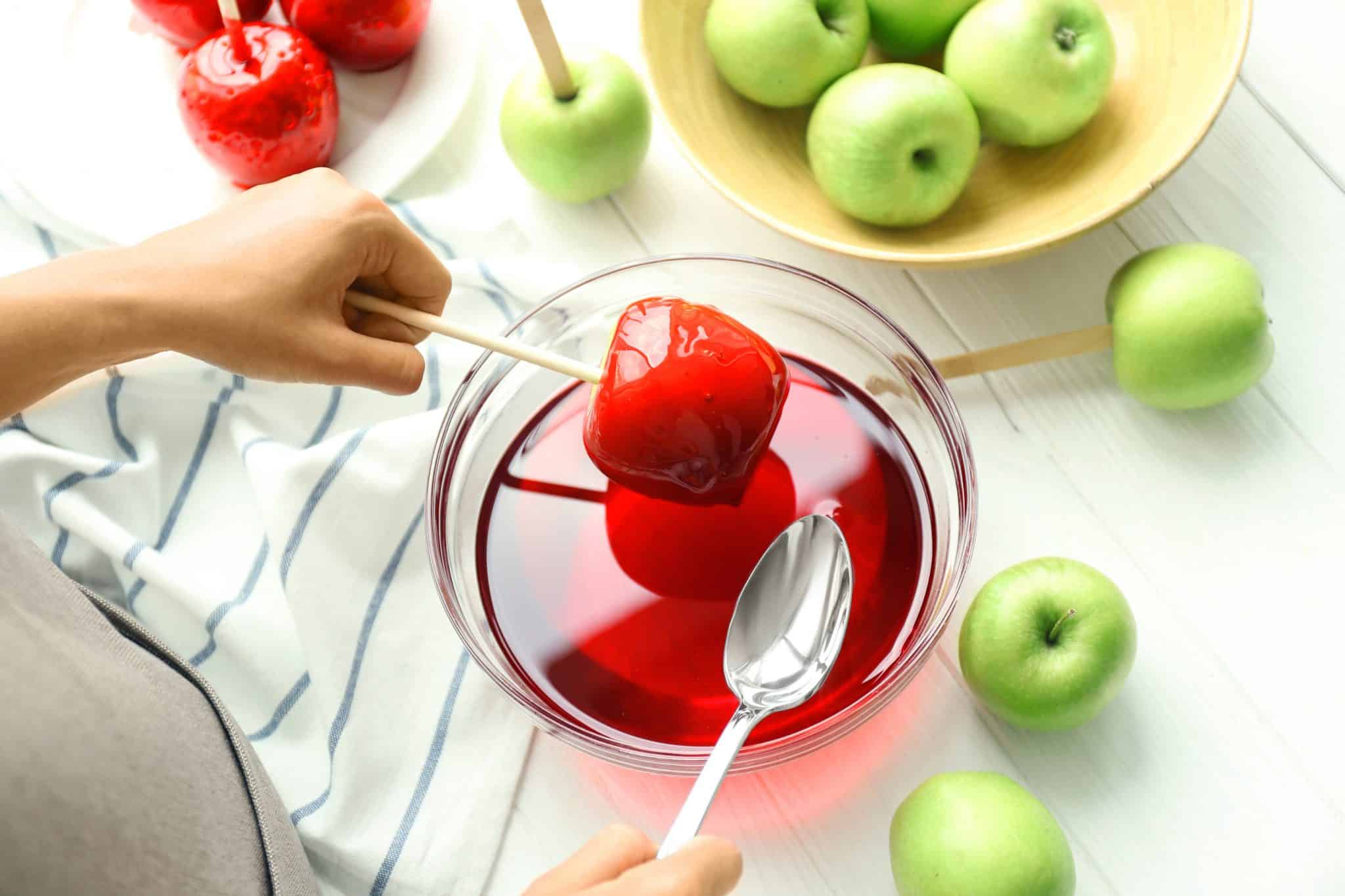 Do not worry if you don't have a candy thermometer. The mixture can easily be checked by dropping a glob of sugar into a bowl of cold water. At the hard crack stage the sugar will immediately solidify into hard threads. When bent it will snap and be as hard as a lollipop.
| | | |
| --- | --- | --- |
| Stage | Temperature | Concentration |
| Thread (syrup) | 230 to 234 °F | 80% |
| Soft Ball (fudge) | 234 to 241 °F | 85% |
| Firm Ball (caramel candy) | 244 to 248 °F | 87% |
| Hard Ball (nougat) | 250 to 266 °F | 90% |
| Soft Crack (salt water taffy) | 270 to 289 °F | 95% |
| Hard Crack (toffee) | 295 to 309 °F | 99% |
Beware of making these on a humid day or storing them in a humid area. The candy coating will not harden or will literally melt off. The same is true of making sure the apples are clean, but very dry. Wipe them off and let them dry even longer in the fridge.
PRO TIP: Do not make candied apples on a humid day!
Candied Apples are visually stunning and can be eaten or merely displayed. A cinnamon stick handle adds to the appeal. Try a new, dramatic spin by using black food coloring.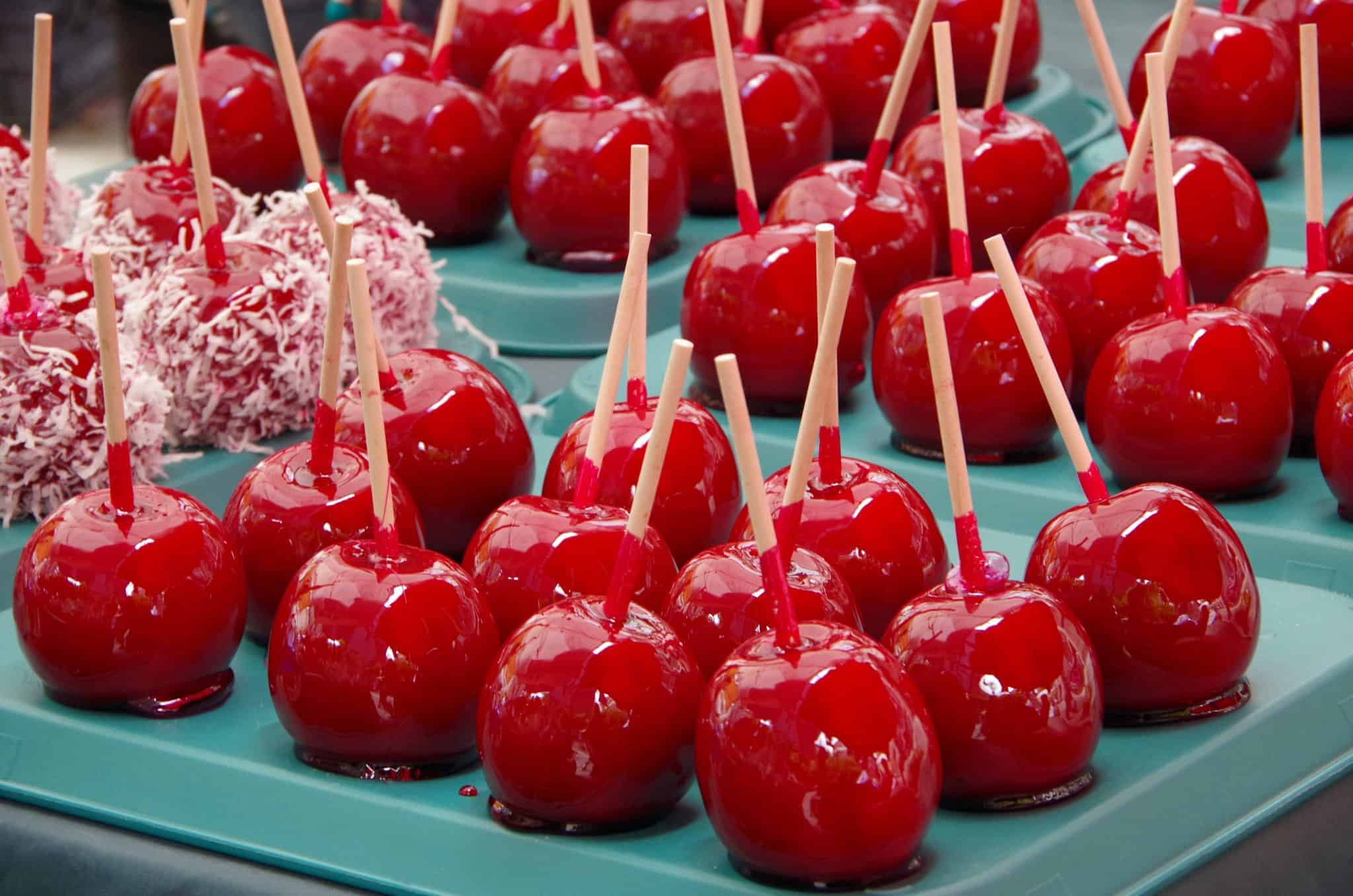 And for even more fun candied apples, try one of my favorite toppings! Get creative and come back and let us know what your favorite toppings are in the comments section.
20+ Ideas for Caramel Apples:
Flaked coconut
Reeses Pieces
M & M's
Dark Chocolate Drizzle
White Chocolate Drizzle
Freshly Popped Popcorn
Sliced mini marshmallows
Toffee Pieces
Graham Cracker Crumbs
Butterfinger Bar
Snickers Bar
Crushed Peanut Pieces
Sea Salt
Chopped Pecans
Chopped Walnuts
Chopped Macadamia Nuts
Decorate with Frosting (Jack-o-lantern Faces)
Crushed Oreos
Crushed Vanilla Wafers
Sprinkles
Mini Chocolate Chips
Cinnamon Candies (Red Hots)
Crushed Pretzels
White Chocolate Chips
Mini Chocolate Chips
Butterscotch Chips
Cinnamon and Sugar
Flaked Coconut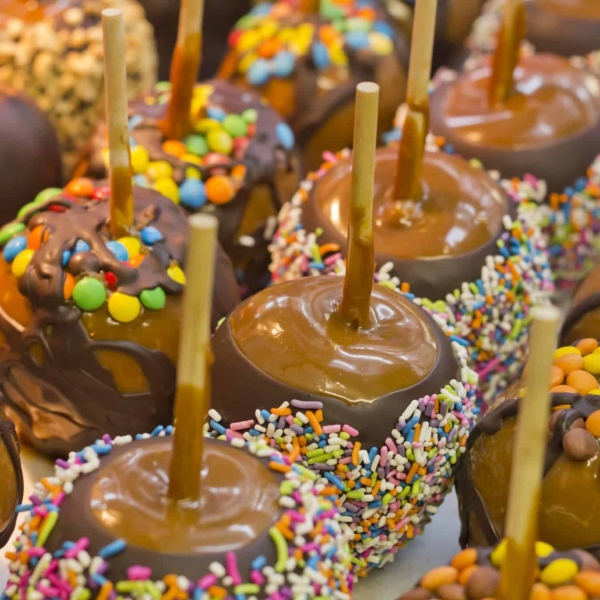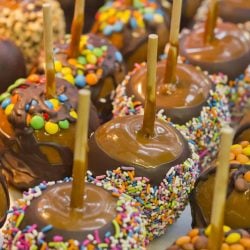 Classic Caramel Apples
Classic Caramel Apples recipe with 20+ ideas to roll them in. Perfect for fall parties or a Halloween treat!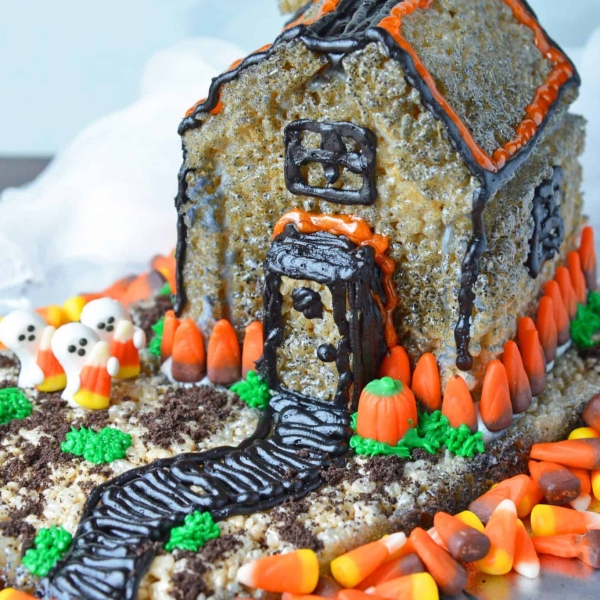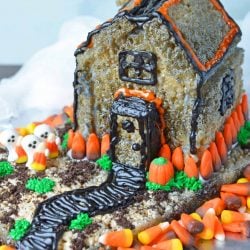 Rice Krispie Treat Haunted House
With this Rice Krispie Treat house template, you can make an adorable haunted house to display and then eat. Similar to a gingerbread house, this is part Halloween craft and party Halloween dessert. Fun and easy!
View this recipe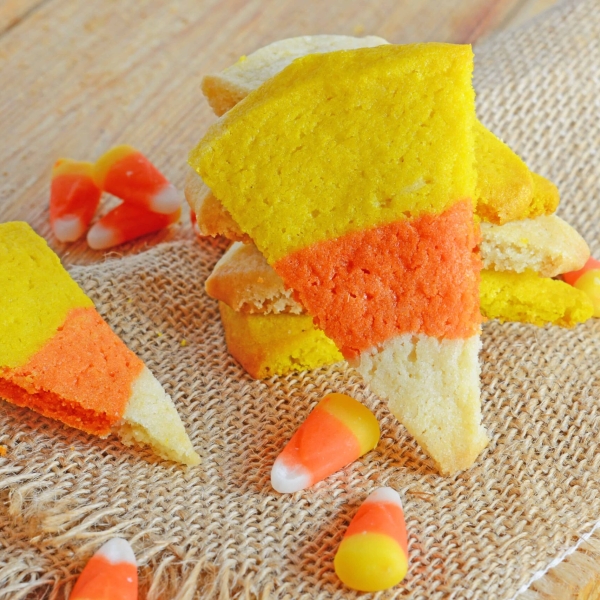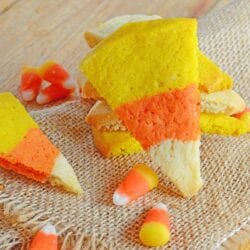 Candy Corn Cookies
Candy Corn Cookies are the perfect Halloween Cookie! These festive and easy to make Halloween treats are perfect for any costume party!
View this recipe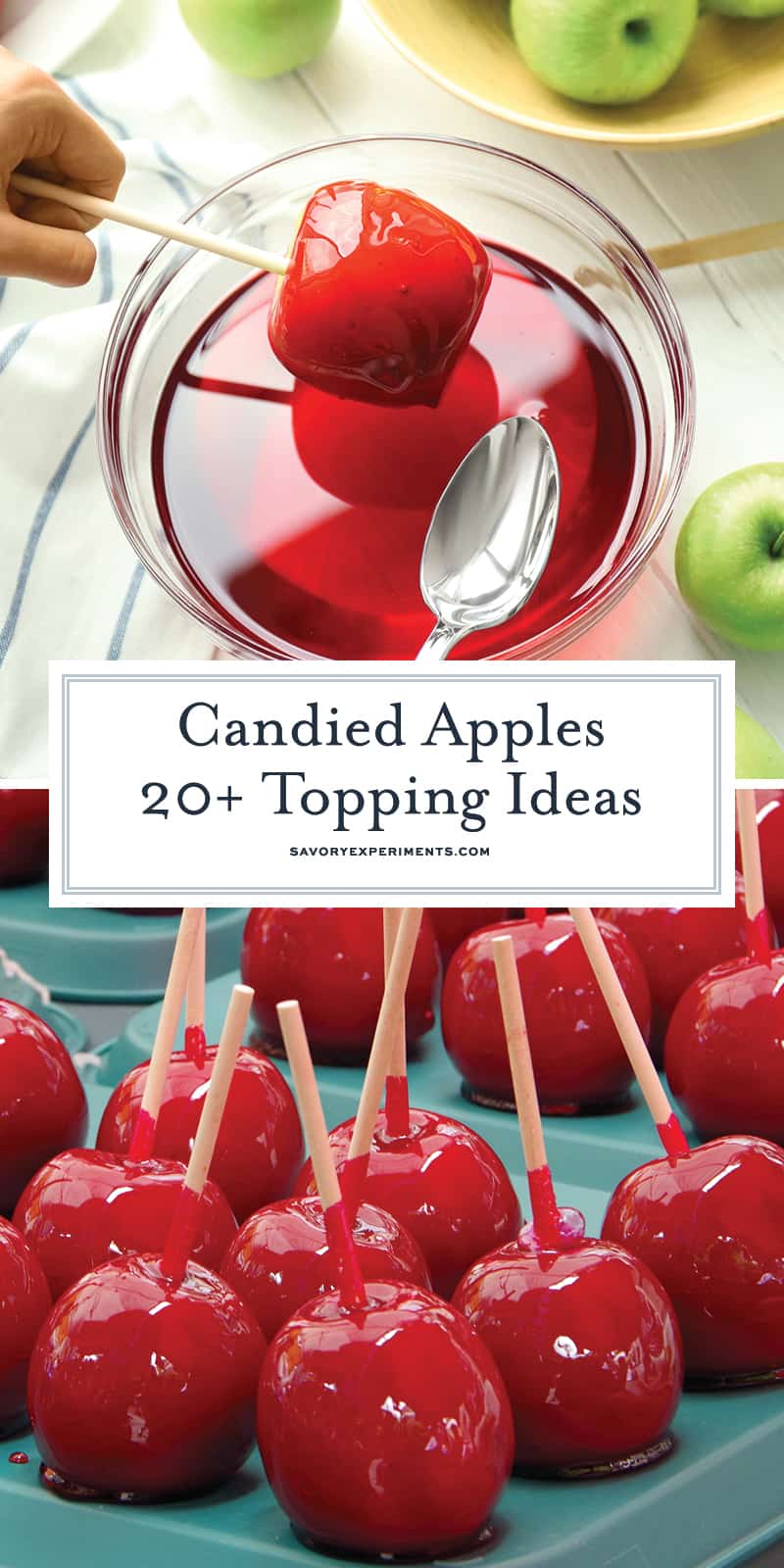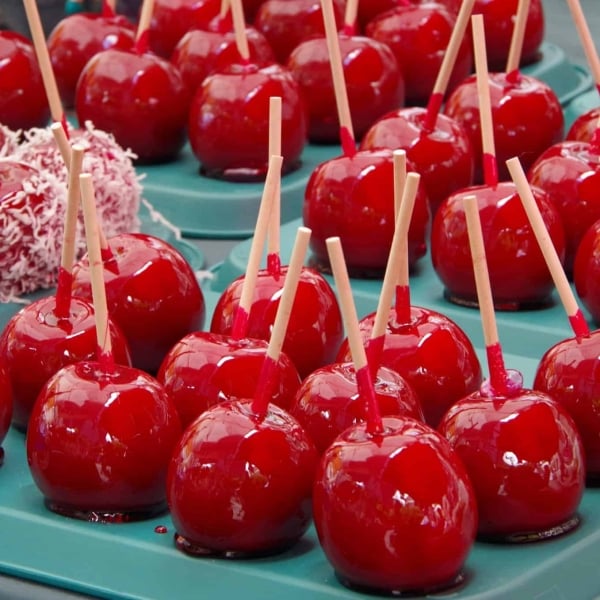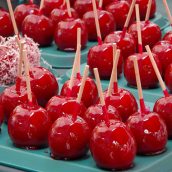 Candied Apples
The classic candied apple is a beautifully colorful, glassy red apple. A lollipop candy coating with lush and slightly sour crunchy apple inside.
Ingredients
6

apples

6

Cinnamon or Popsicle Sticks

2

cups

sugar

3/4

cup

water

1/2

cup

light corn syrup

1/2

teaspoon

red food coloring (possibly more depending on type)

1/2

teaspoon

cinnamon
Instructions
Wash and dry apples. Any moisture left on the skin will prevent the caramel from sticking. Insert Popsicle or cinnamon into the stem of the apple to use as a handle. Lay wax paper on a baking sheet and spray with cooking spray.

In a heavy saucepan combine all ingredients. Whisk until sugar is dissolved. When the mixture comes to a boil do not stir or whisk, only swirl the entire sauce pan every few minutes

Allow to boil over medium-high heat for approximately 10-15 minutes or until mixture reaches the hard crack stage. Use the cold water test described above to check the stage of your sugar.

Remove from heat and quickly dredge apples in mixture. set on baking sheet and allow to set.

Enjoy the same day as making. Humidity can impact the candy coating, preventing it from setting. For best results, make on a cool, dry fall day. Enjoy!

If you've tried this recipe, come back and let us know how it went!
Nutrition
Calories:
433
kcal
,
Carbohydrates:
113
g
,
Sodium:
21
mg
,
Potassium:
194
mg
,
Fiber:
4
g
,
Sugar:
107
g
,
Vitamin A:
100
IU
,
Vitamin C:
8.3
mg
,
Calcium:
15
mg
,
Iron:
0.3
mg