These Apple Dumplings are the perfect combination between apples, cinnamon, and sugar, all wrapped up in a perfectly flaky biscuit. They're the greatest comfort food!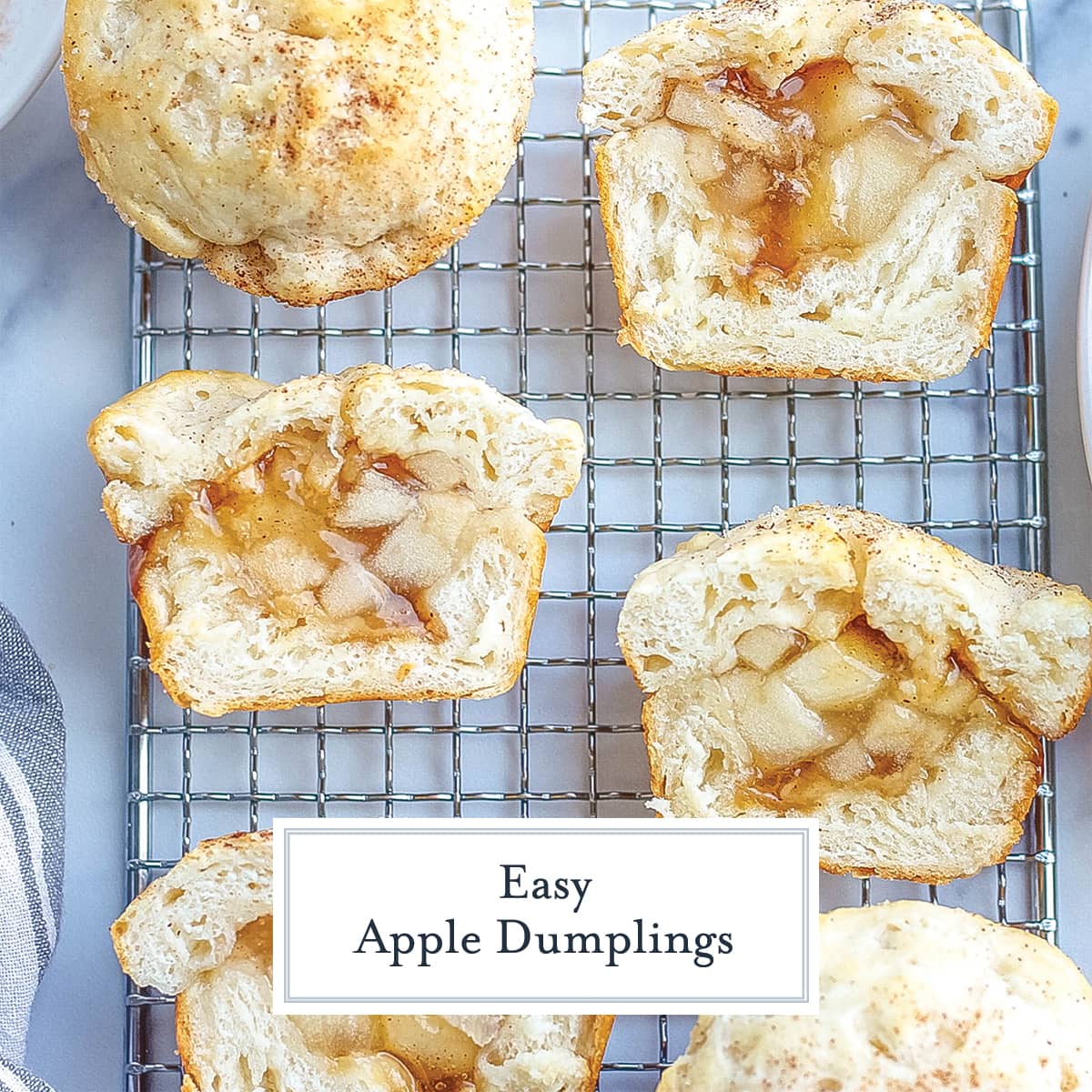 These are RIDICULOUS!!! I first made them after my husband and I took a last minute weekend trip to Nashville, Tennessee. One of the highlights of our trip was a delightful place called Monell's.
Tucked into a residential neighborhood off the beaten path, each room of an old house has a large farm table with seating for 10 or more. You are sat "family style" with strangers, forcing you out of your comfort zone.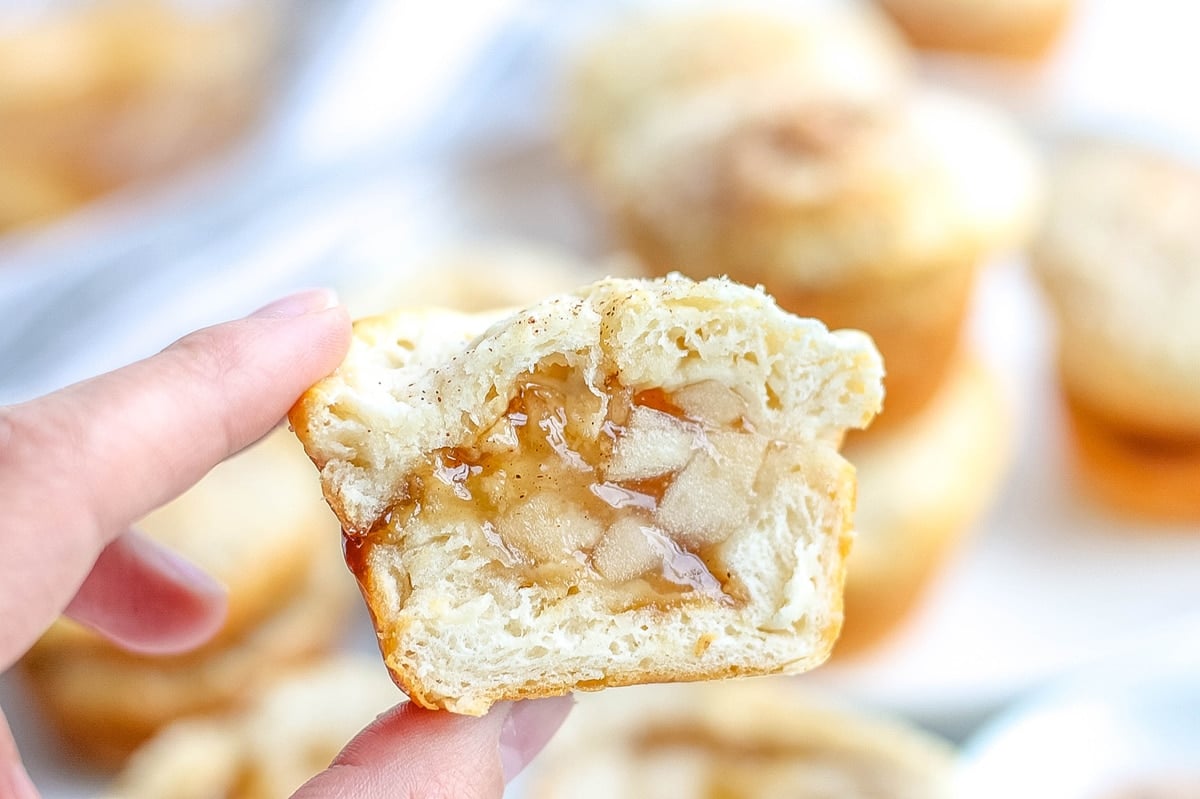 There is no menu, which is great because you get to try a little bit of everything and experience dishes that would have otherwise been off your radar, but they are known for their fried chicken.
What are Apple Dumplings?
At the broadest term, apple dumplings are some sort of dough wrapped around apple. Like most dumpling recipes, you'll find different variations of how to make them and even what they look like.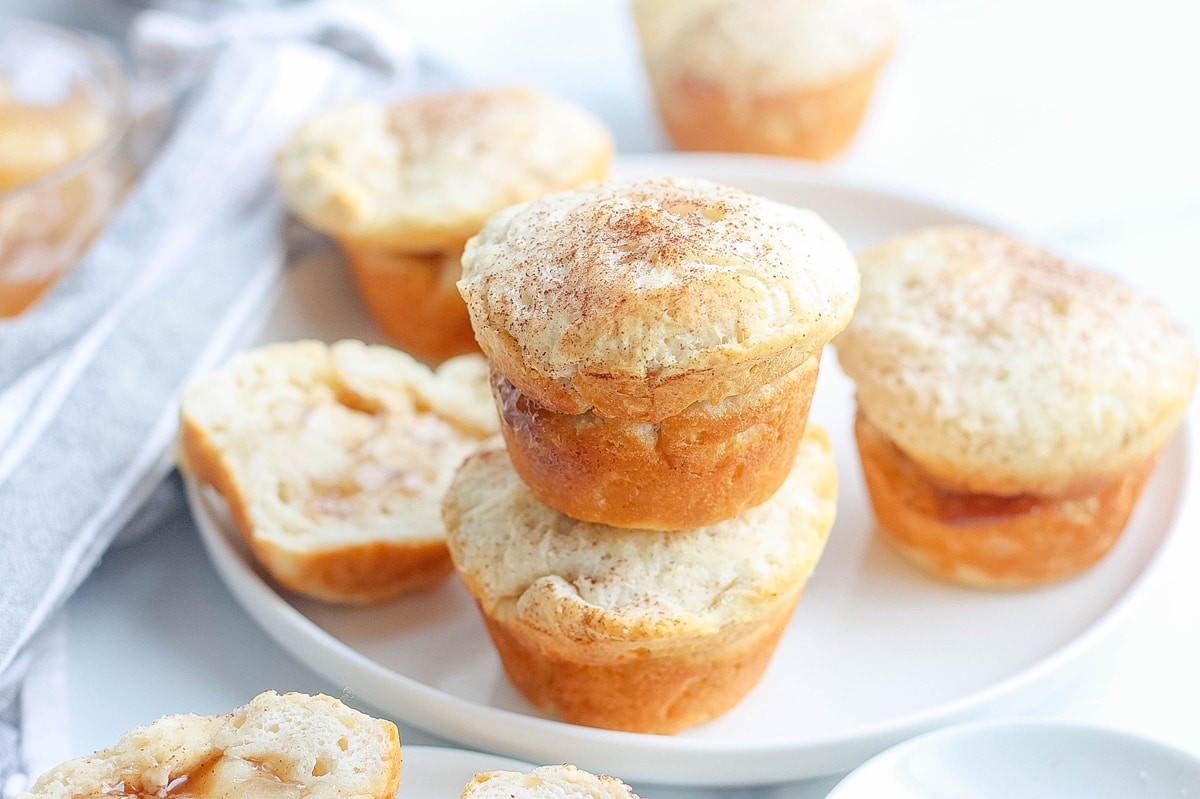 Some recipe are similar to my Cherry Dumplings and use crescent dough wrapped around an apple slice or apple pie filling. Others use a homemade pastry dough or pie crust with little sweetness doppled with apple pie filling and then topped with a sticky and sweet sauce.
This recipe is totally a hack on Amish Apple Dumplings, but instead of using homemade dough, like the Amish would, I've opted for a can of buttermilk biscuits. Some might even call them apple stuffed biscuit muffins.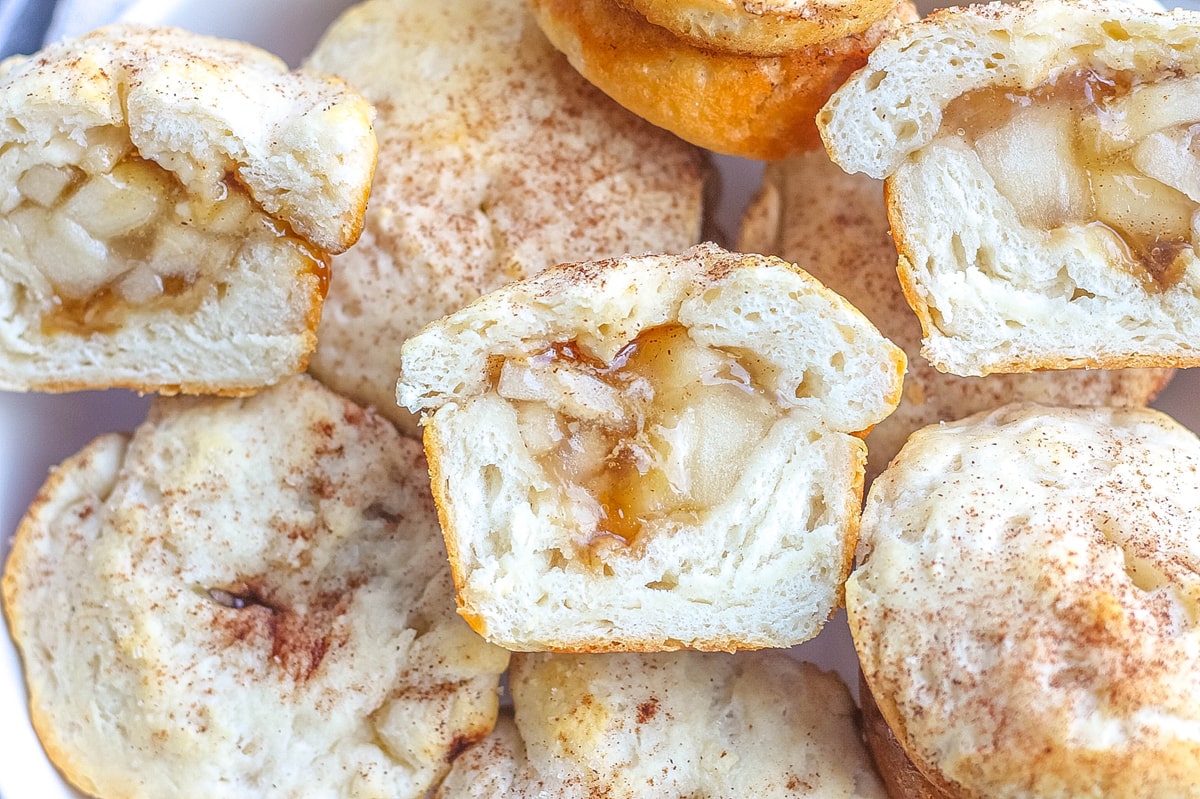 How to Make
The process for this apple dumpling recipe quite easy and the only thing you'll be doing from scratch is making cinnamon and sugar, although you can even buy that in a jar if you wanted.
ONE. Start by cutting each biscuit in half lengthwise. You'll have 16 thinner circles.
TWO. Grease your standard size muffin tin. These usually have 12 wells, so you'll have 4 free. I've recently started to use silicone muffin pans for stuff that doesn't use a cupcake liner and they work like a dream!
THREE. Using your fingers, press 8 of the halved biscuit doughs into the wells. Parcook these for 3 minutes. If you skip this step, the bottoms will be a little soggy. Remove from the oven.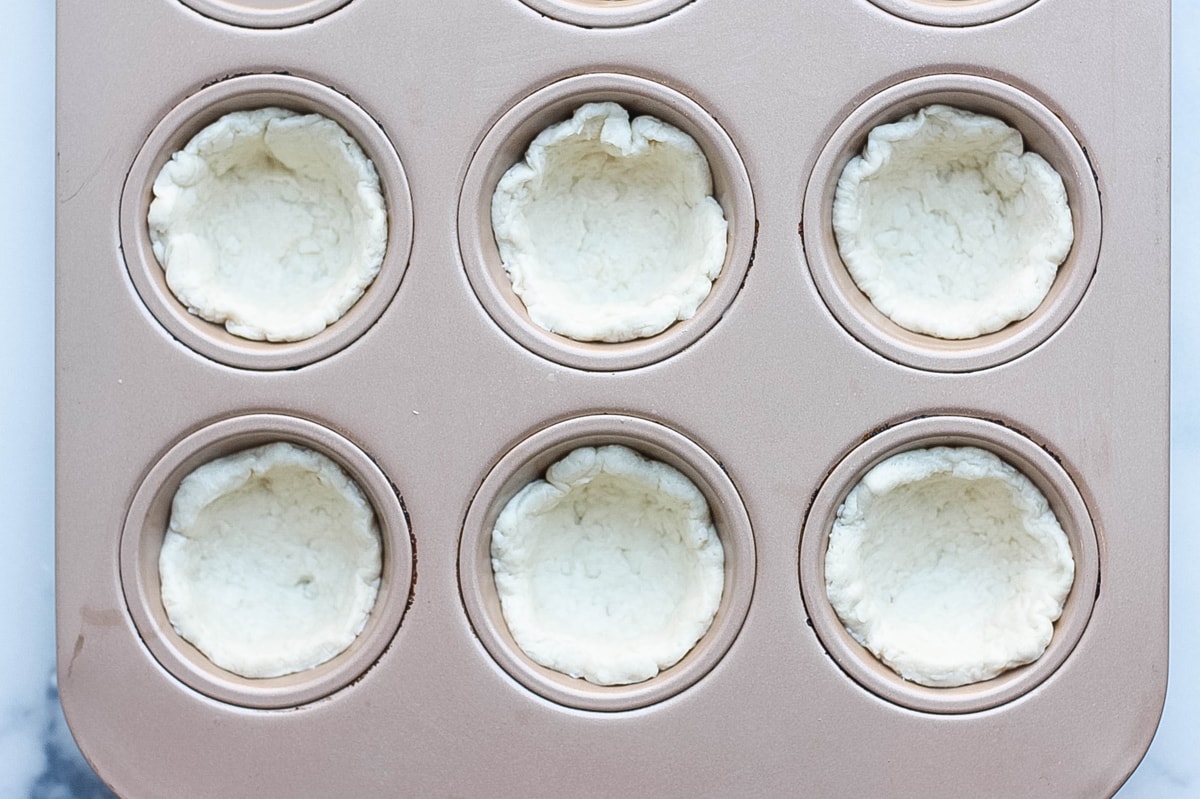 FOUR. Then we are going to place a small amount of butter, cinnamon and brown sugar in each muffin, topped with apple pie filling and another dose of butter, cinnamon and brown sugar.
The brown sugar and cinnamon will mix with the butter making a sauce right in the dumpling!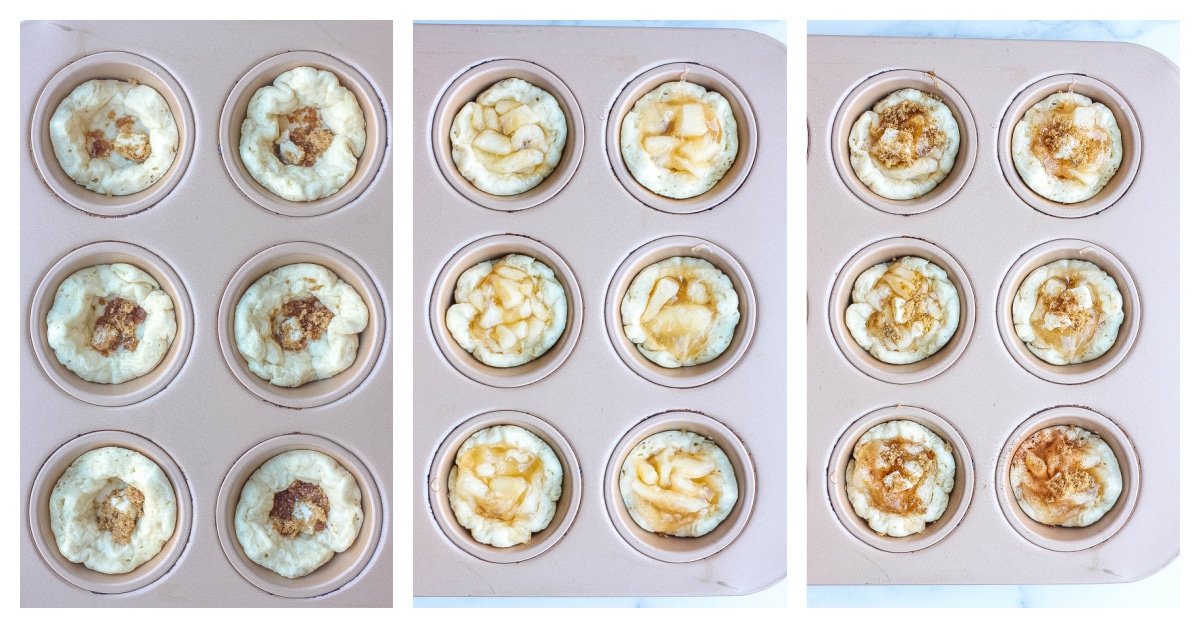 If your apple pie filling is from a can (or homemade) if might be whole slices of apple, chop it up into smaller bits so it fits better into the tin.
FIVE. Top each dumpling with the remaining 8 biscuits halves and try to pinch them together to seal. They should still be a tad gummy after parcooking. Poke a hole in each so the steam can release.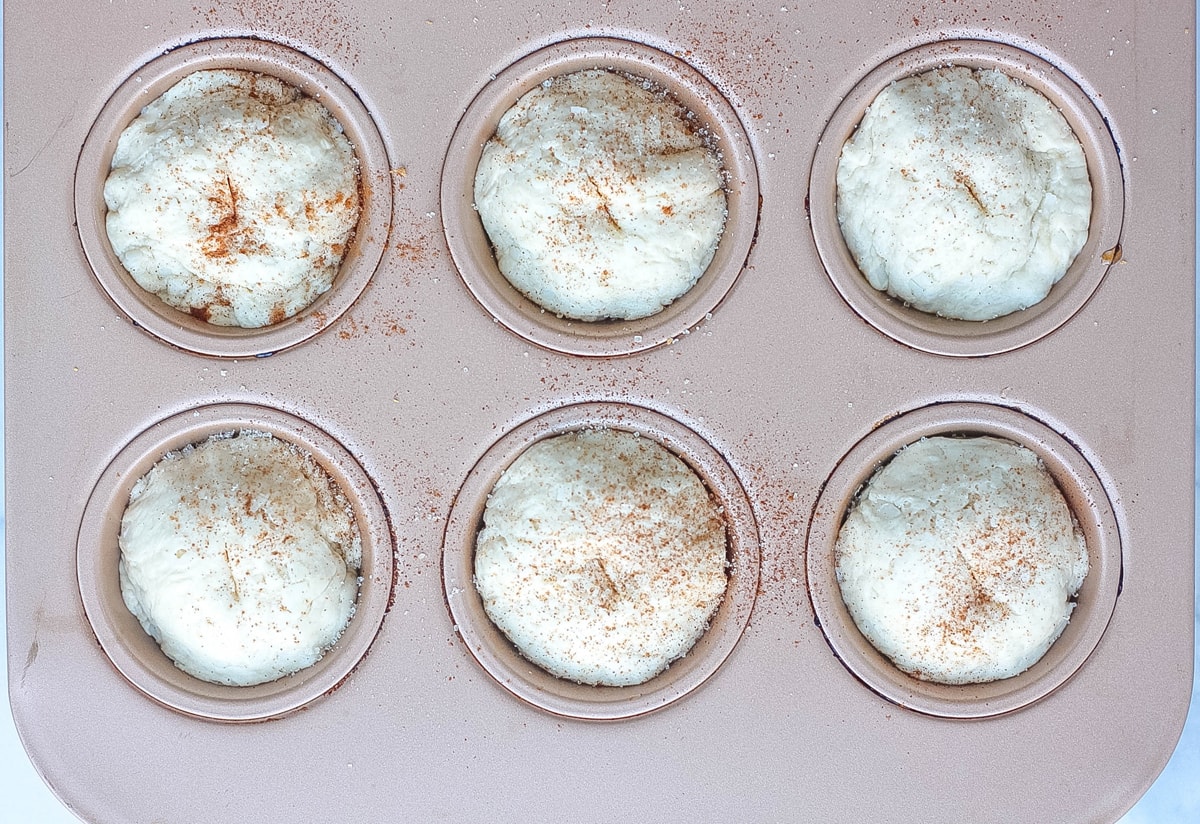 SIX. Top each with a sprinkle of ground cinnamon and turbinado sugar. If you don't have turbinando, regular granulated sugar will do.
SEVEN. Bake until the opts are golden brown in a preheated oven. Allow them to rest for 3-5 minutes before removing from the tin and serving.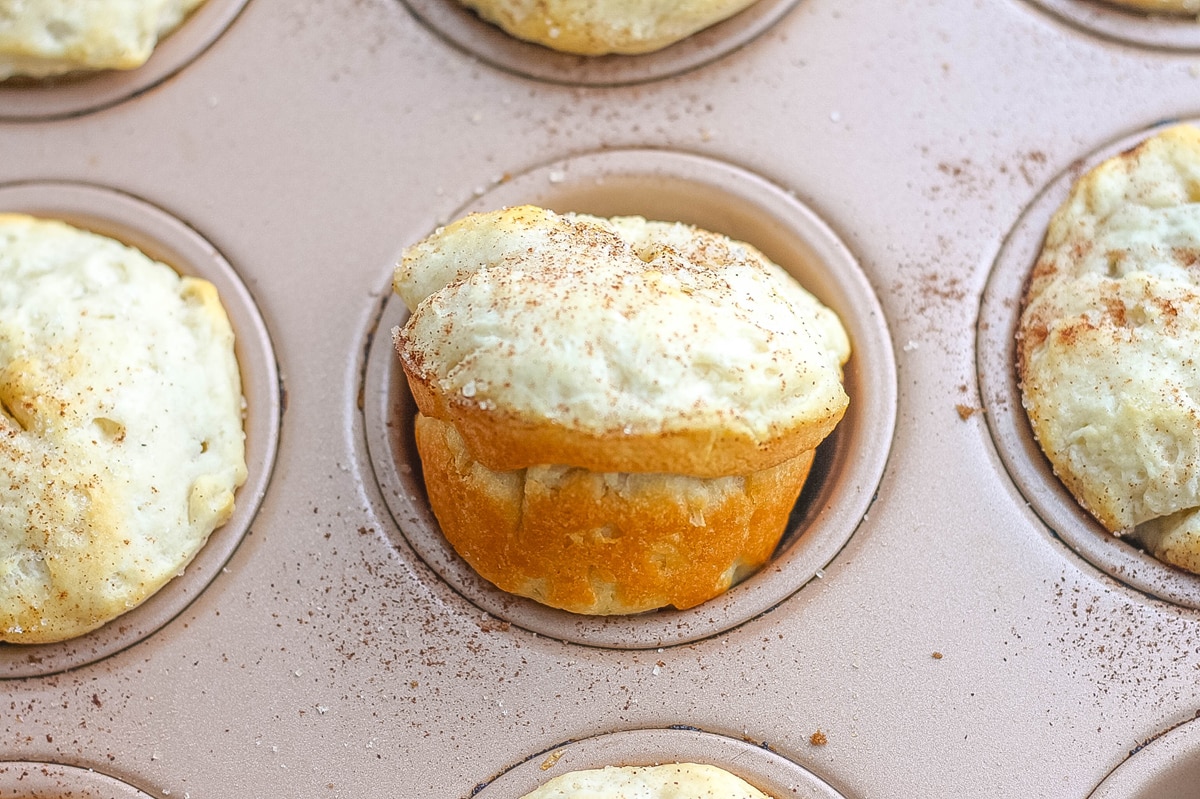 Apple Dumpling Sauce
Traditional Amish dumplings would be swimming in a pool of brown sugar syrup and eaten with a spoon. Personally, I like to eat mine with my hands and no syrup at all.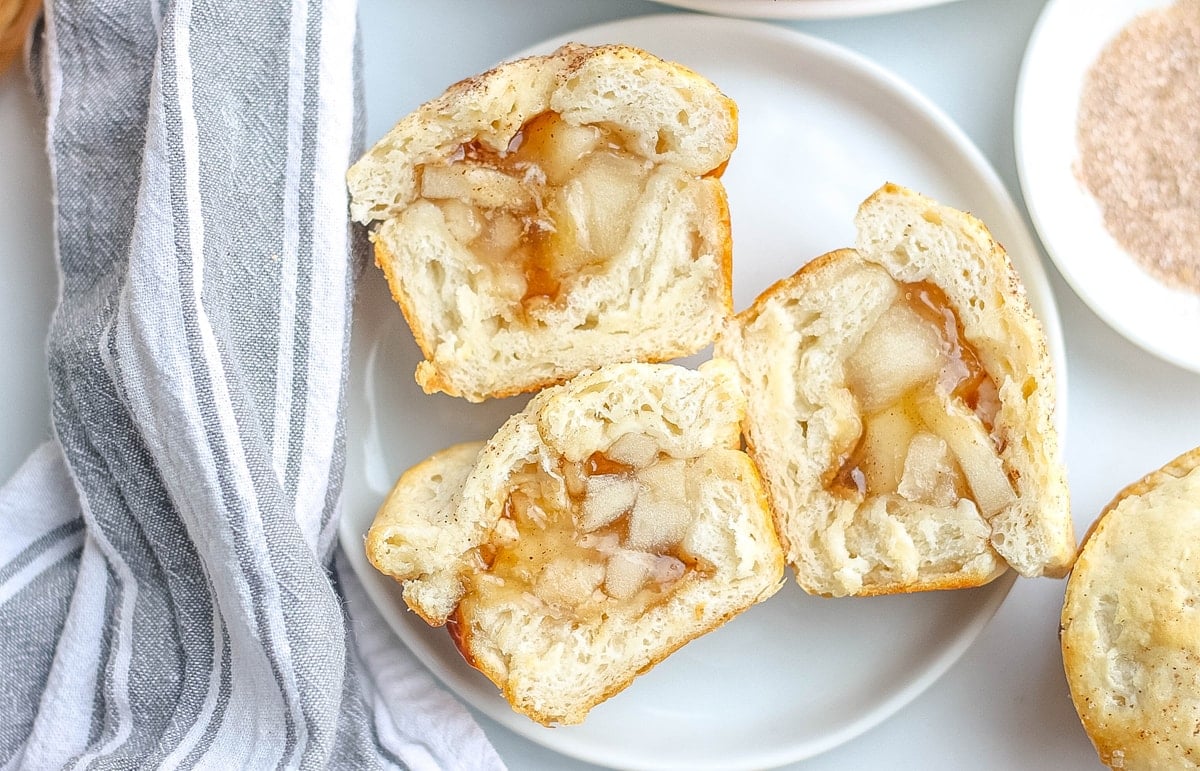 If you do opt for a sauce, try one of these. They have a little more body and flavor than just a brown sugar glaze.
Breakfast or Dessert?
The answer is either! I am always a fan of dessert items for breakfast. I mean eating all the sugar in the morning just gives you more time to burn it off, right?
The Pennsylvania Dutch do eat these for breakfast, so that is totally acceptable. As a dessert item it tastes great with vanilla ice cream and whipped cream.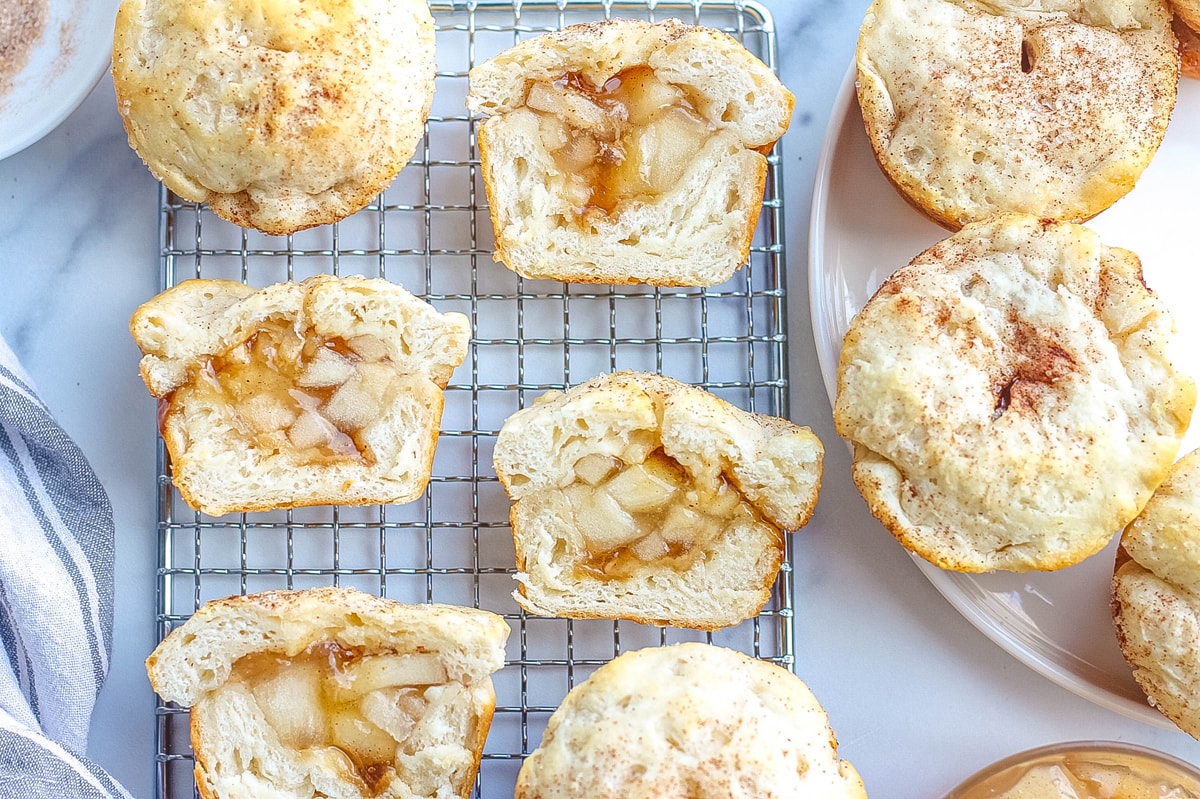 Make Ahead & Storage
These types of recipes almost always taste better fresh, so I highly suggest enjoying them fresh from the oven. But if not, allow to cool fully and store in an airtight container at room temperature. They will keep for 3-5 days.
If you want to reheat them, place in a 250°F oven for 3-4 minutes or wrap in a paper towel and microwave on 50% power for 20 seconds.
I do not suggest freezing apple dumplings. You can do it, but the biscuit dough doesn't defrost to a crispy, buttery flake.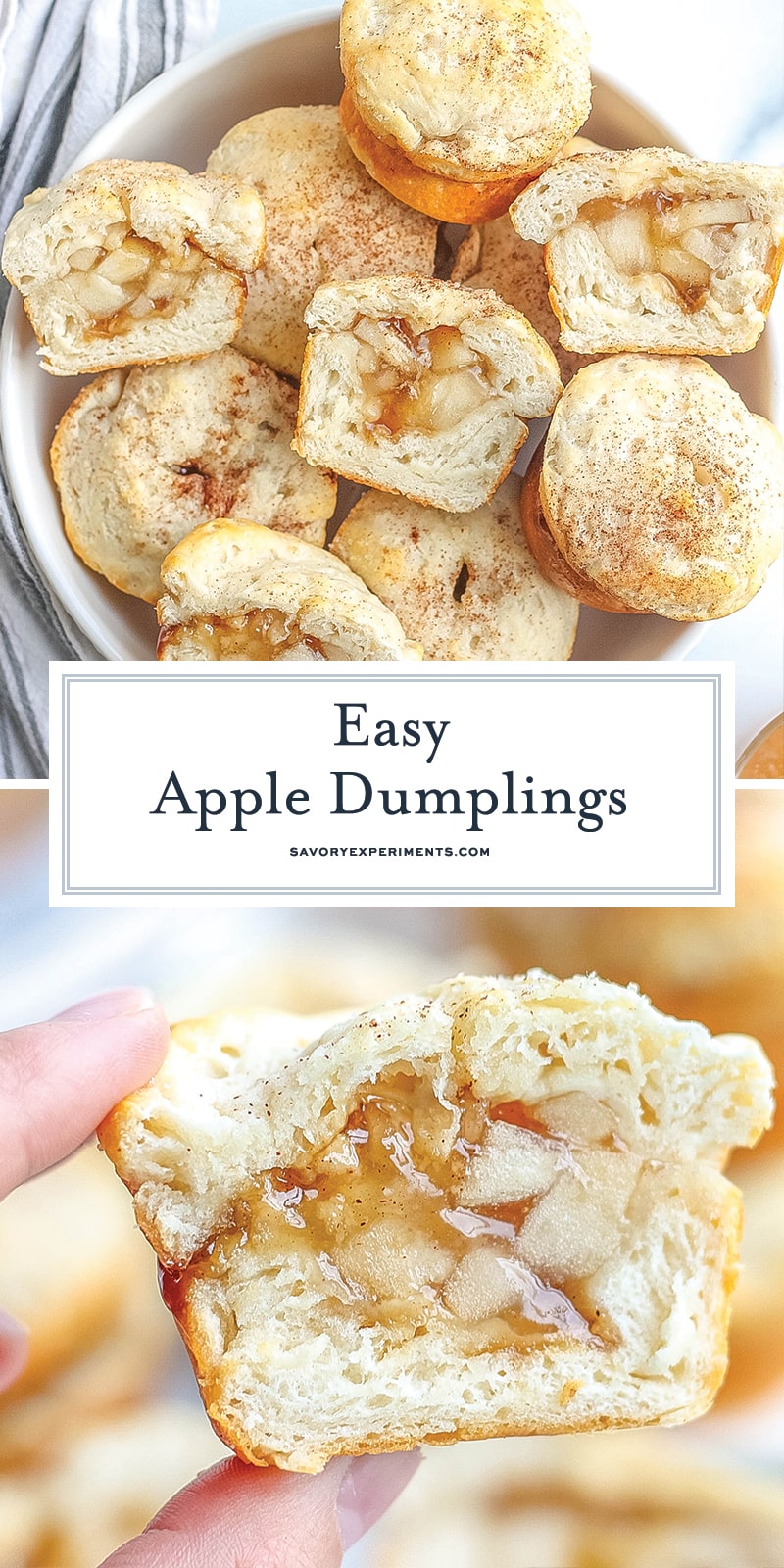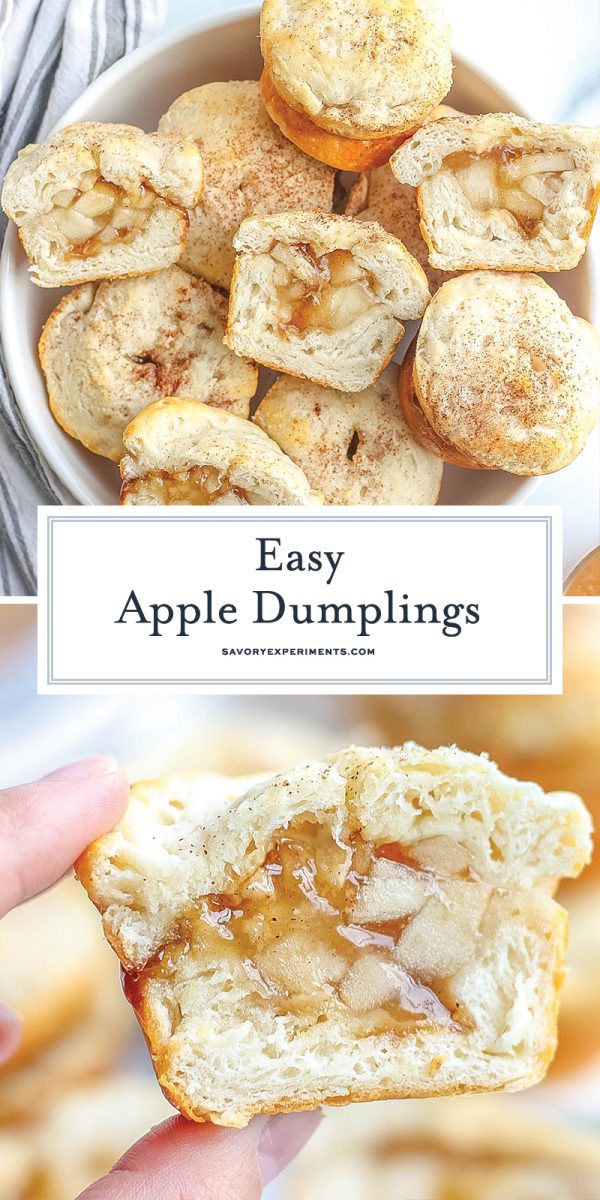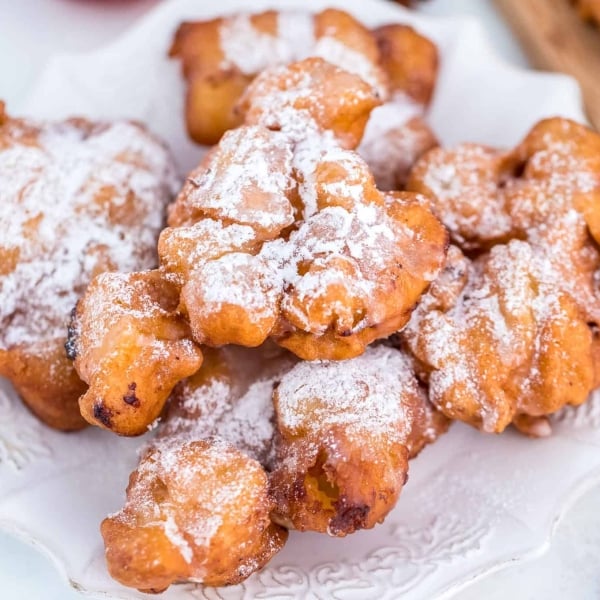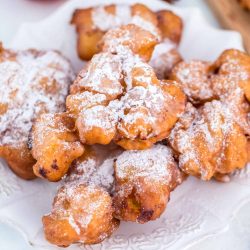 Homemade Apple Fritters
Homemade Apple Fritters have never been easier than with this apple fritter recipe! Surrounded by a cakey batter and drizzled with glaze, they're perfectly sweet and delicious!
See The Recipe!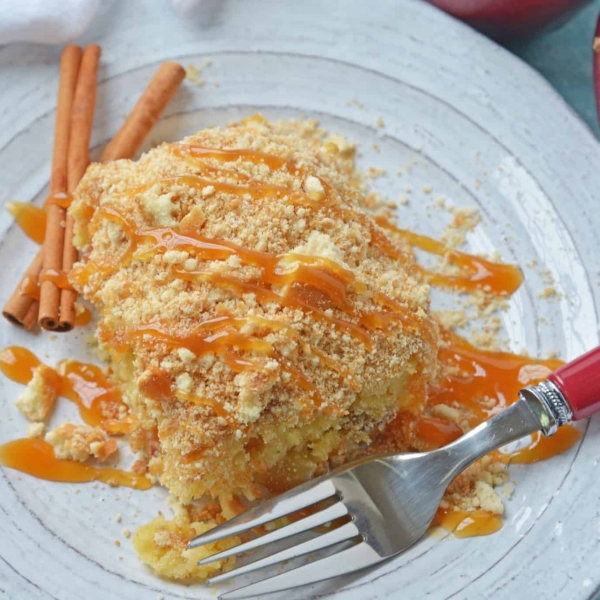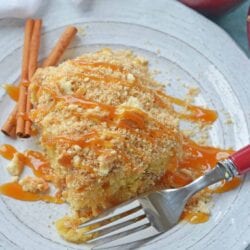 Caramel Apple Poke Cake
This Caramel Apple Poke Cake is one of the best recipes using boxed cake mix! With tons of apples, and cinnamon, this from scratch apple cake will become an instant family favorite!
See The Recipe!
Tools:
Wood cutting board – wood won't dull your knives like plastic and if treated properly, has natural antimicrobial properties.
Muffin Tin– I really suggest having two muffin tins. It makes life a lot easier than baking in two batches and double the cook time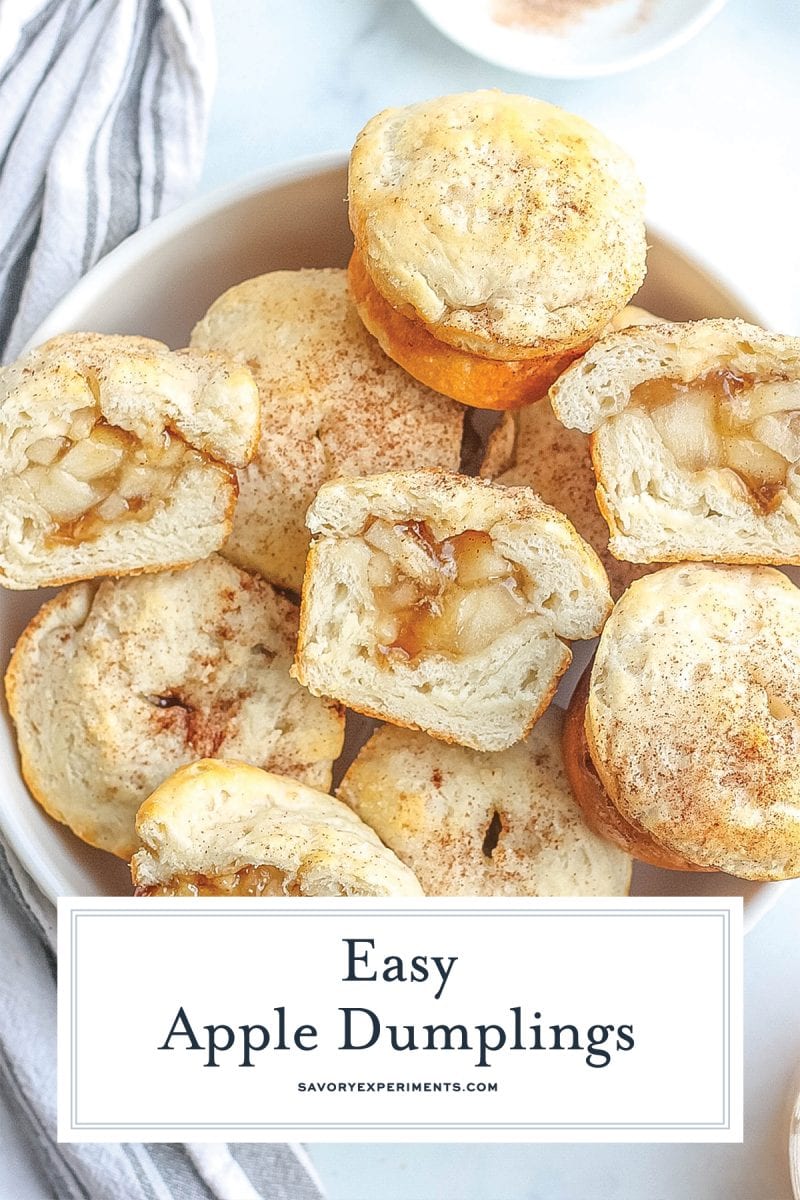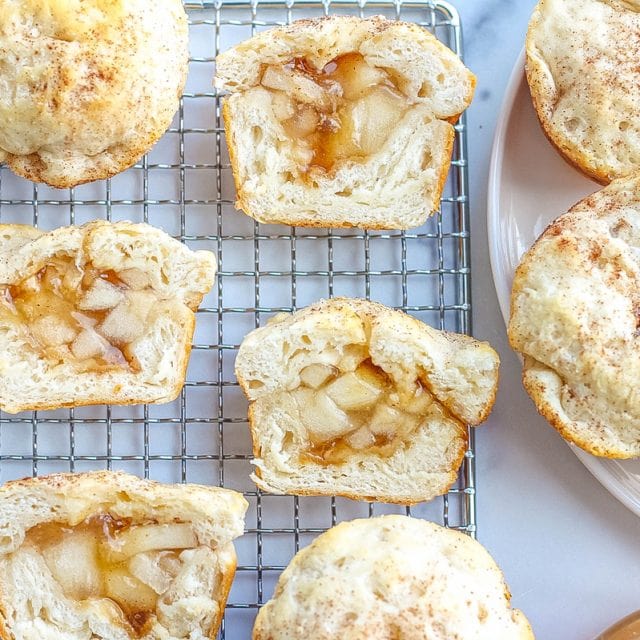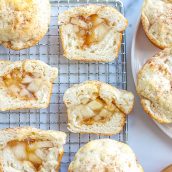 Easy Apple Dumpling Recipe
Easy Amish Apple Dumplings can be made for breakfast or as a dessert- easy recipe uses only 5 ingredients. Serve with caramel or ice cream.
Instructions
Preheat oven to 400°F. Unwrap refrigerated biscuit dough. Spray muffin tin with cooking spray.

Lengthwise, cut each biscuit in half. Take one biscuit half and flatten it down with your palm. Arrange and press into muffin tin. Continue with 7 other halves. You will have 8 disks of dough remaining for the tops of the biscuits. Parcook for 3 minutes.

Meanwhile, chop up apple pie filling into small pieces.

Remove the muffin tin. Place a small pad of butter (about 1/4 teaspoon, maybe a little less), a pinch of cinnamon and 1/4 teaspoon of brown sugar into the bottom of each biscuit mold. Fill each mold with apple filling. Top each with a small pad of butter (about 1/4 teaspoon, maybe a little less), a pinch of cinnamon and 1/4 teaspoon of brown sugar. Ingredients might mound over the top, that is fine.

Using the remaining biscuit halves, cover each mold and pinch (as best you can) the edges together. Using a sharp knife cut a small hole in the top of each biscuit for steam to release.

Return to the oven at 400°F and bake for 12-14 minutes. Biscuits will be lightly browned on top. Allow to cool for 2-3 minutes.

Serve with your favorite sauce or plain.

If you tried this recipe, come back and let us know how they were in the comments or ratings.
Notes
If you don't have turbinado sugar, use sugar in the raw or just white sugar. You can also omit it, they will still be sweet.
Nutrition
Calories:
338
kcal
,
Carbohydrates:
54
g
,
Protein:
3
g
,
Fat:
12
g
,
Saturated Fat:
3
g
,
Cholesterol:
8
mg
,
Sodium:
581
mg
,
Potassium:
171
mg
,
Fiber:
2
g
,
Sugar:
18
g
,
Vitamin A:
105
IU
,
Vitamin C:
1.2
mg
,
Calcium:
47
mg
,
Iron:
2.3
mg