Persimmons are in season every year from October to February. Which is a good thing because I love making this scrumptious Persimmon Pastry and eating it for breakfast or dessert.
The perfect combination of sugar and spice, add vanilla bean ice cream to make it even better!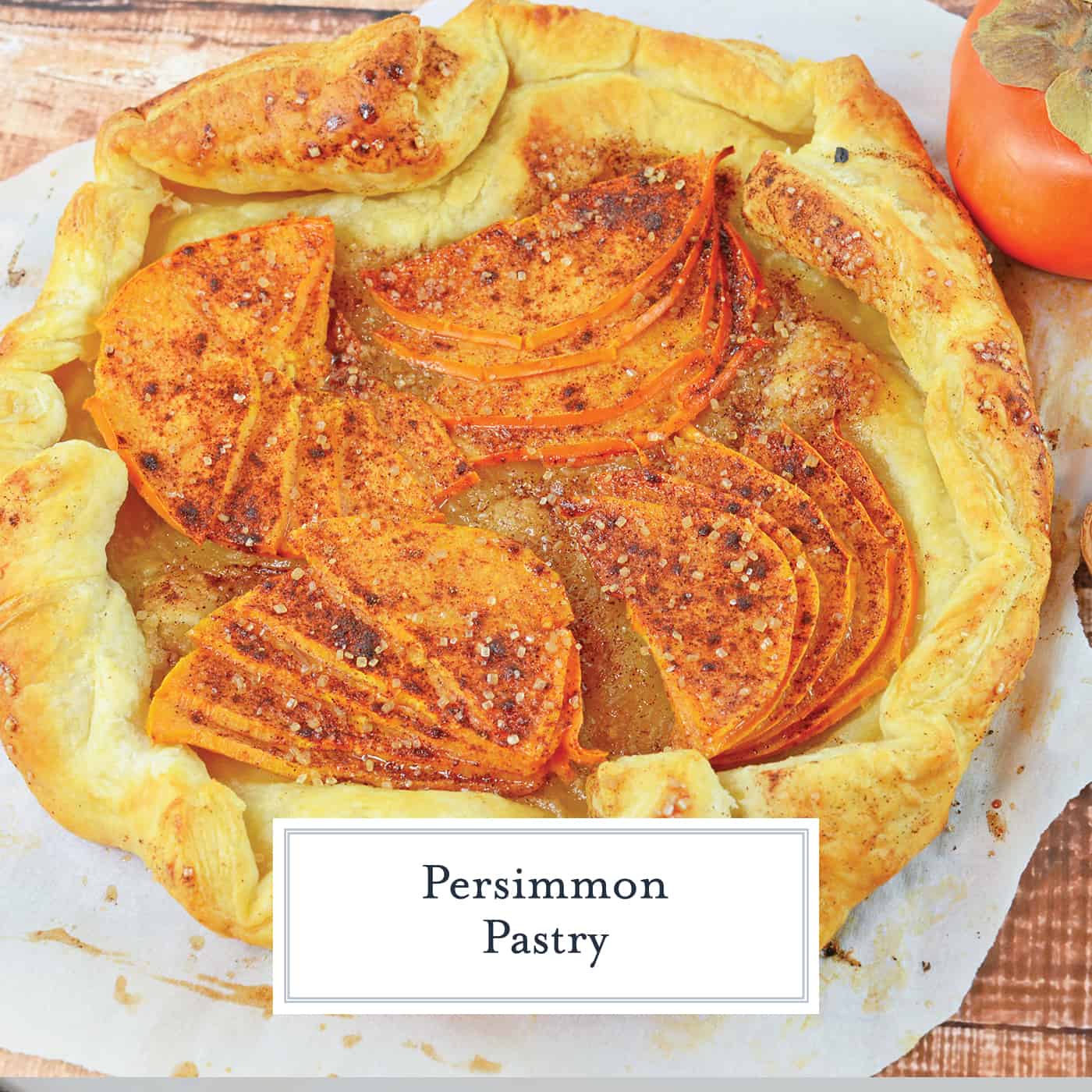 A Persimmon Pastry is an easy dessert or breakfast recipe! All you need is a bright orange persimmon, brown sugar, and buttery puff pastry!
Persimmon recipes are hard to find. Heck, persimmons can be hard to find! But when you do, you'll know. Just look for something in the produce section that you aren't too sure about.
If you aren't even sure what is a persimmon? Well they're native to Japan or China but now grow all over the world. They are positively beautiful. A bright and vibrant orange orb with squatty little stems. You've probably seen one and mistaken it for a tomato.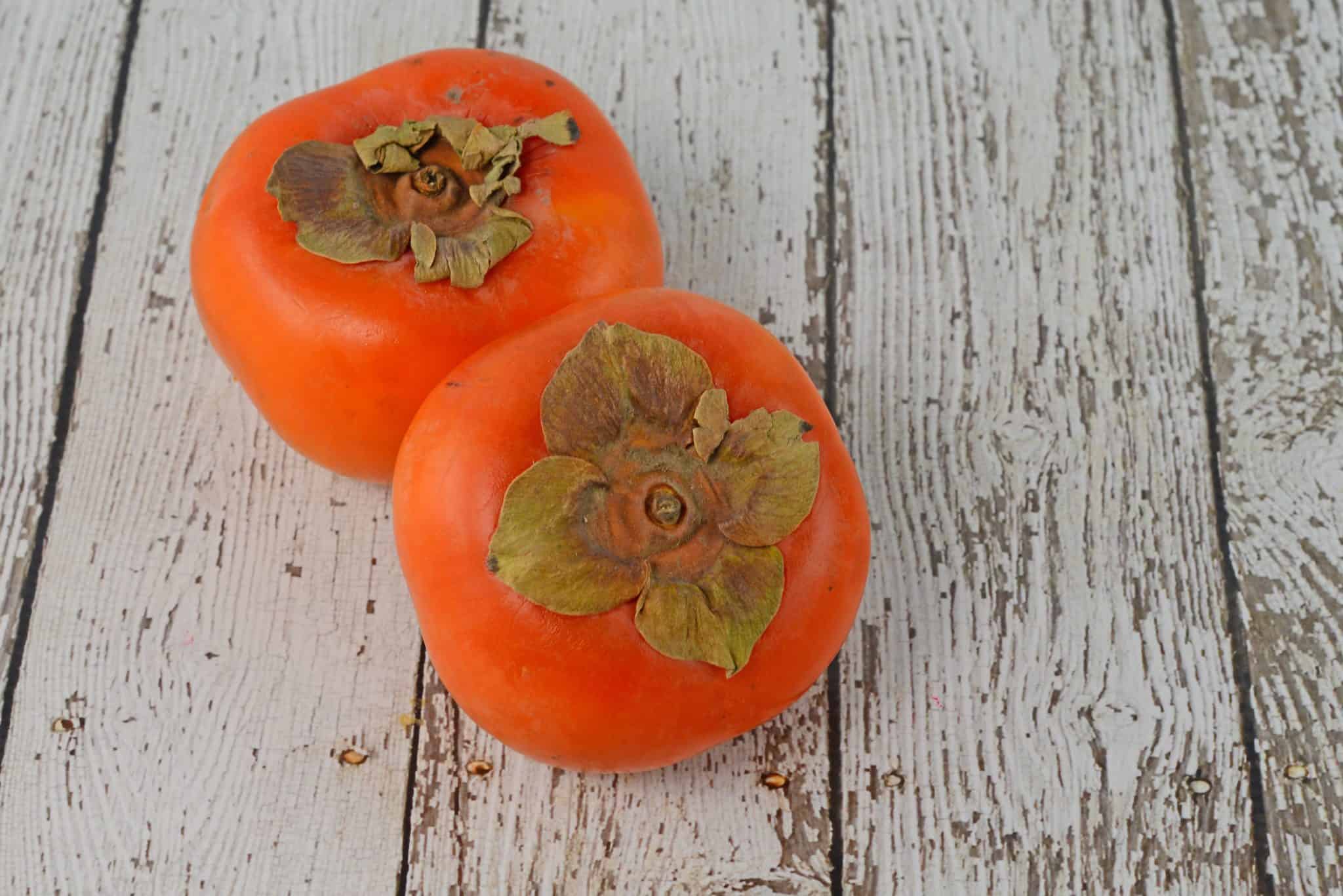 Persimmon Pastry was a spur of the moment recipe. I was perusing the produce section when these gorgeous persimmons caught my eye. A ripe persimmon will be a deep orange color, slightly firm, but starting to get mushy. If you're wondering dhat does a persimmon taste like? The flavor is mildly sweet.
I substitute persimmons in many recipes that call for apples. They are about the same size and texture and it adds a level of uniqueness to any meal.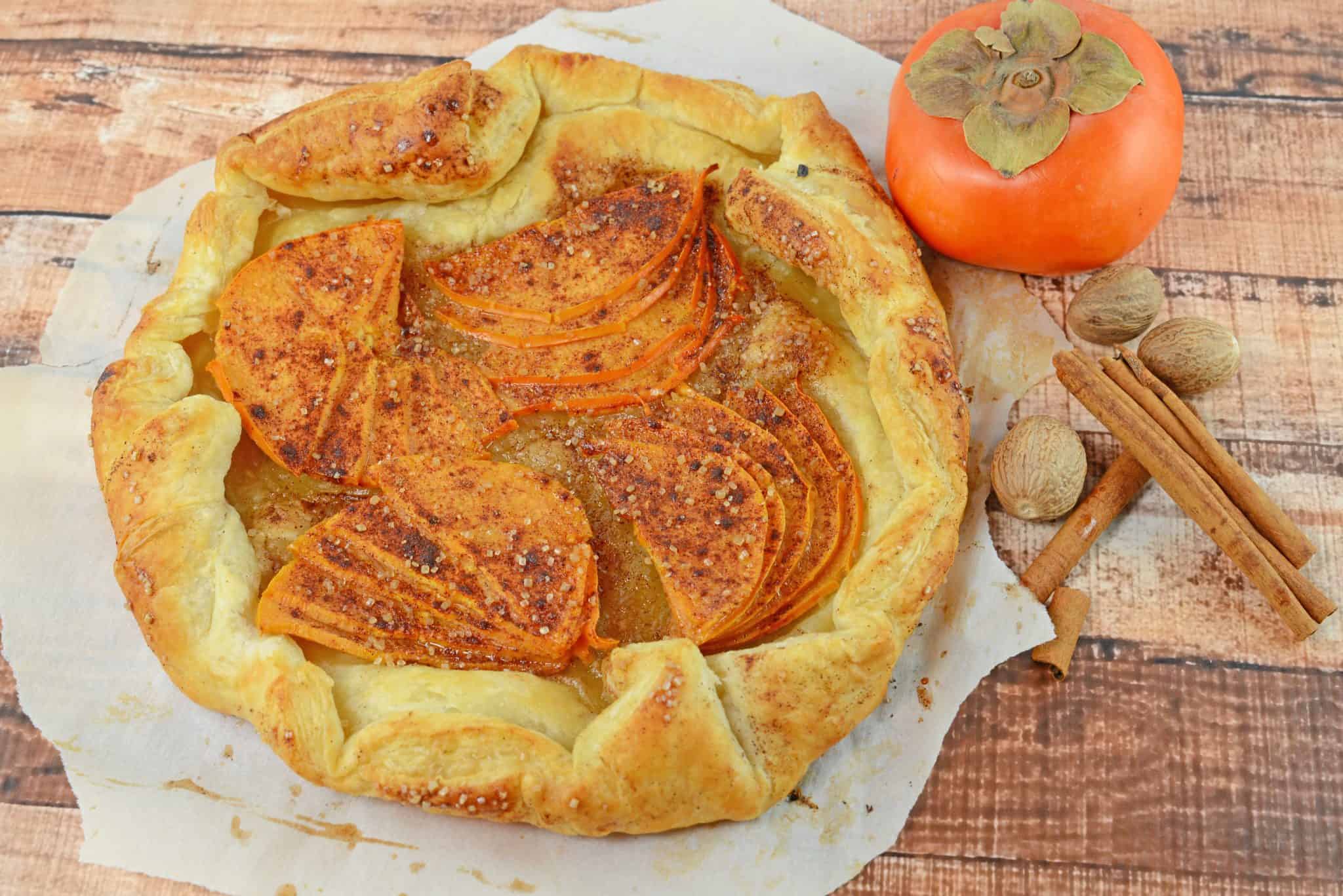 It is amazing how many people have never tasted or experimented with this luscious fruit! Persimmons are most commonly made into jam or marmalade, tossed into salads or eaten raw.
This Persimmon Pastry recipe was based on an apple tart I had seen that was almost too pretty to eat. I made up my own version and here it is. I hope you enjoy this recipe as much as I do!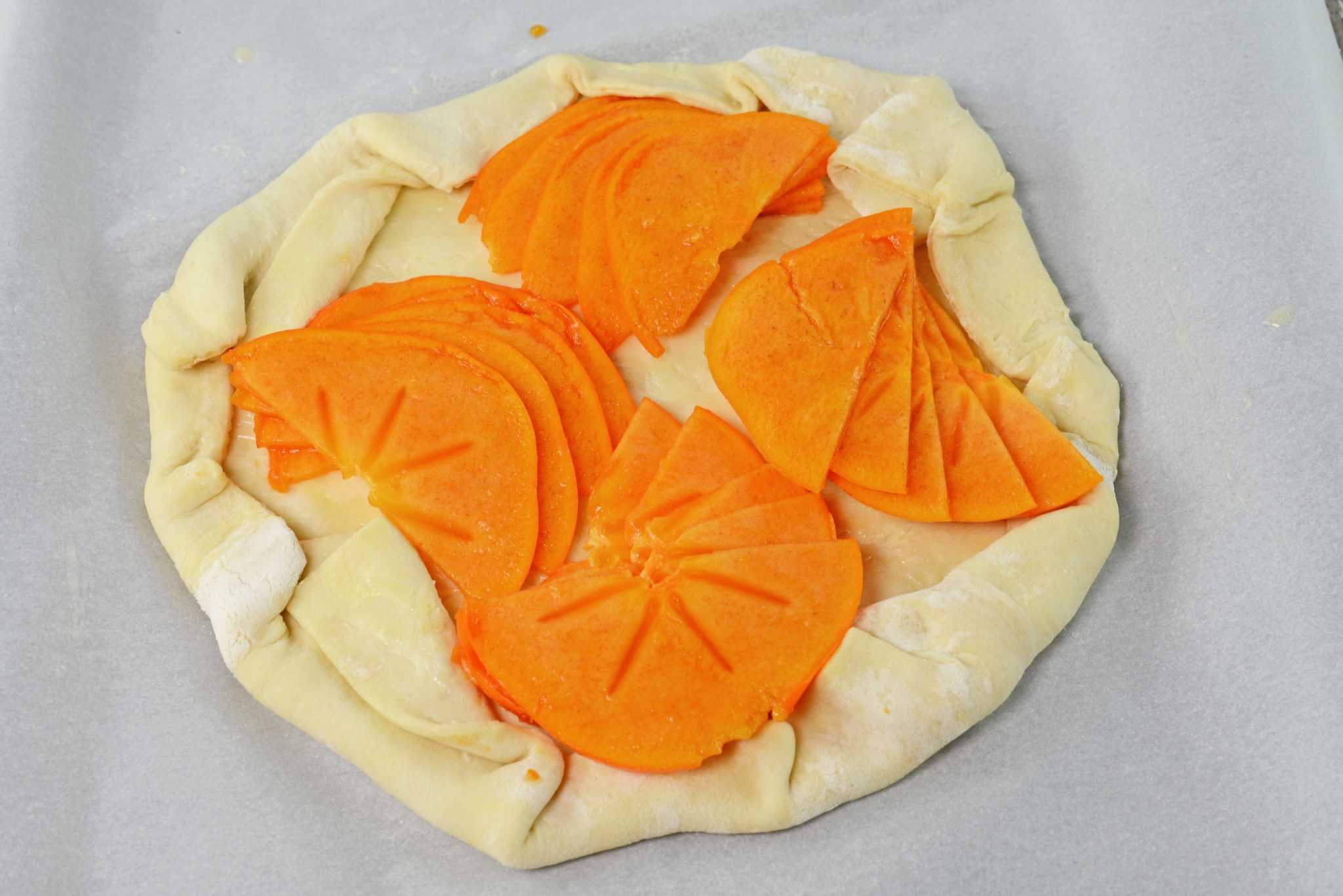 If you liked this Persimmon Recipe, be sure to check out these other easy pastries: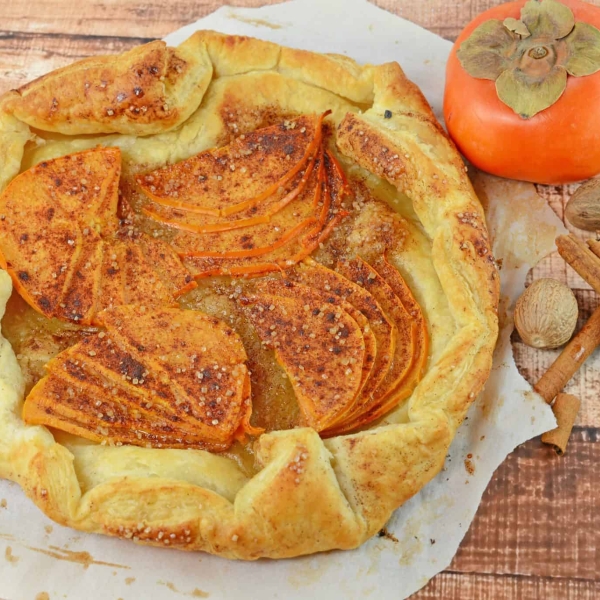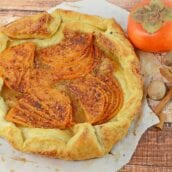 Persimmon Pastry
A Persimmon Tart is an easy dessert or breakfast recipe using bright orange persimmon, brown sugar and buttery puff pastry.
Instructions
Preheat the oven to 400 degrees. Cover a large baking sheet with parchment paper.

In a small bowl, stir together brown sugar, cloves and cinnamon.

Cut off the tops (stems) of persimmons and thinly slice vertically. Slices should be about 1/8 of an inch thick. Colorful skins can stay on.

Roll out puff pastry directly onto parchment paper and gently pull ends to make a rustic circle. Fold up edges to form a rim.

Baste butter onto base of pastry. Arrange sliced persimmon.

Bake for 13-15 minutes or until edges of pastry are lightly browned and brown sugar has melted. Brown sugar may bubble over the edges; that is okay.

Remove and serve immediately with vanilla bean ice cream.

If you tried this recipe, come back and let us know how it was!
Nutrition
Calories:
459
kcal
,
Carbohydrates:
46
g
,
Protein:
4
g
,
Fat:
29
g
,
Saturated Fat:
9
g
,
Cholesterol:
15
mg
,
Sodium:
207
mg
,
Potassium:
61
mg
,
Fiber:
1
g
,
Sugar:
18
g
,
Vitamin A:
175
IU
,
Vitamin C:
0.3
mg
,
Calcium:
26
mg
,
Iron:
1.7
mg