A week before Thanksgiving I called my mother looking for a Danish Pastry Wreath recipe. I hadn't seen her make it in years… like maybe 25… but the moment I said "do you remember that pastry wreath?" she knew exactly what I was talking about.
Danish Pastry Wreath is a buttery, flakey pastry stuffed with almond filling and gently glazed with a powdered sugar frosting and candied cherries.
I asked her why she stopped making it and her response was "It was too much work. All of the rolling, folding and chilling and then repeat."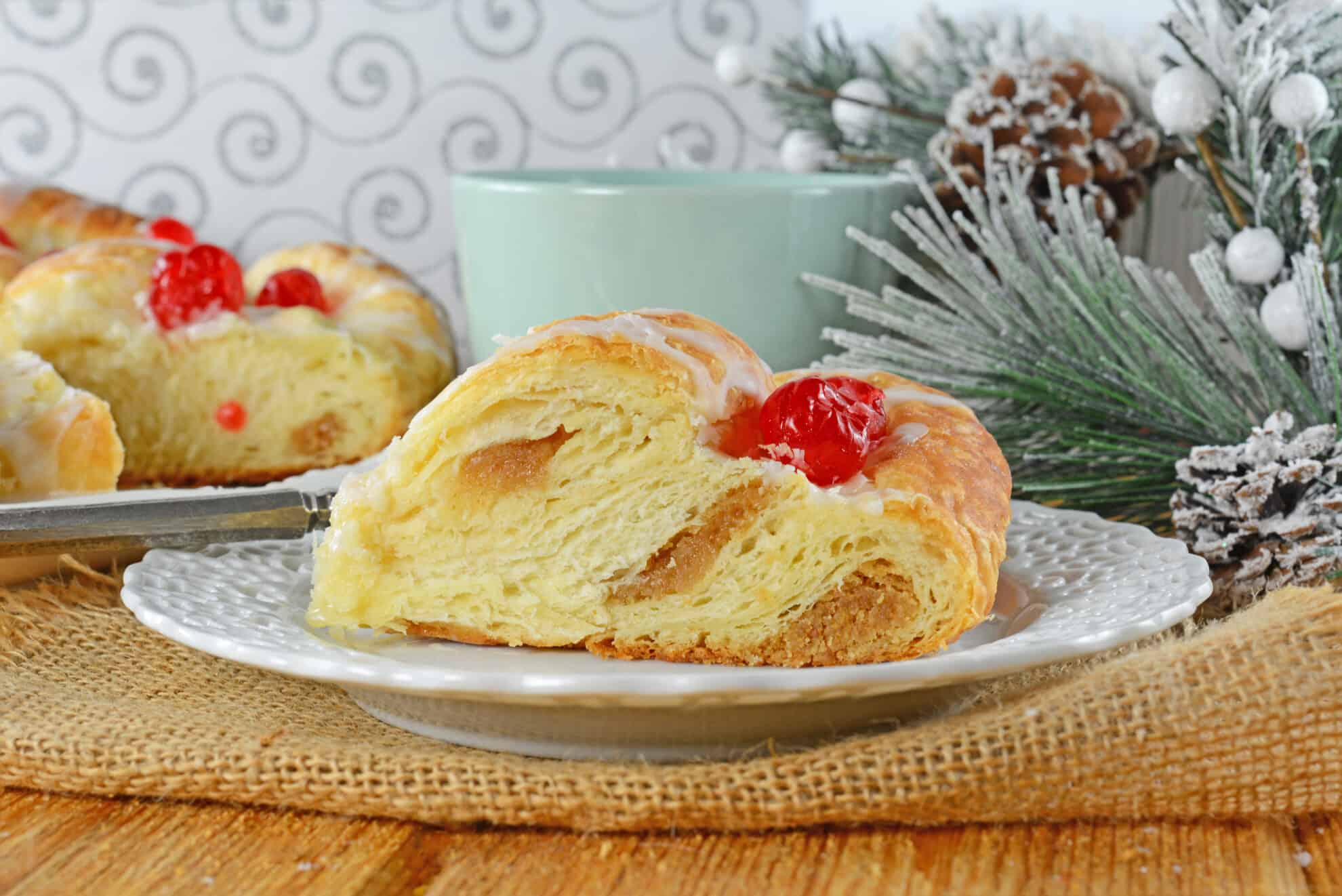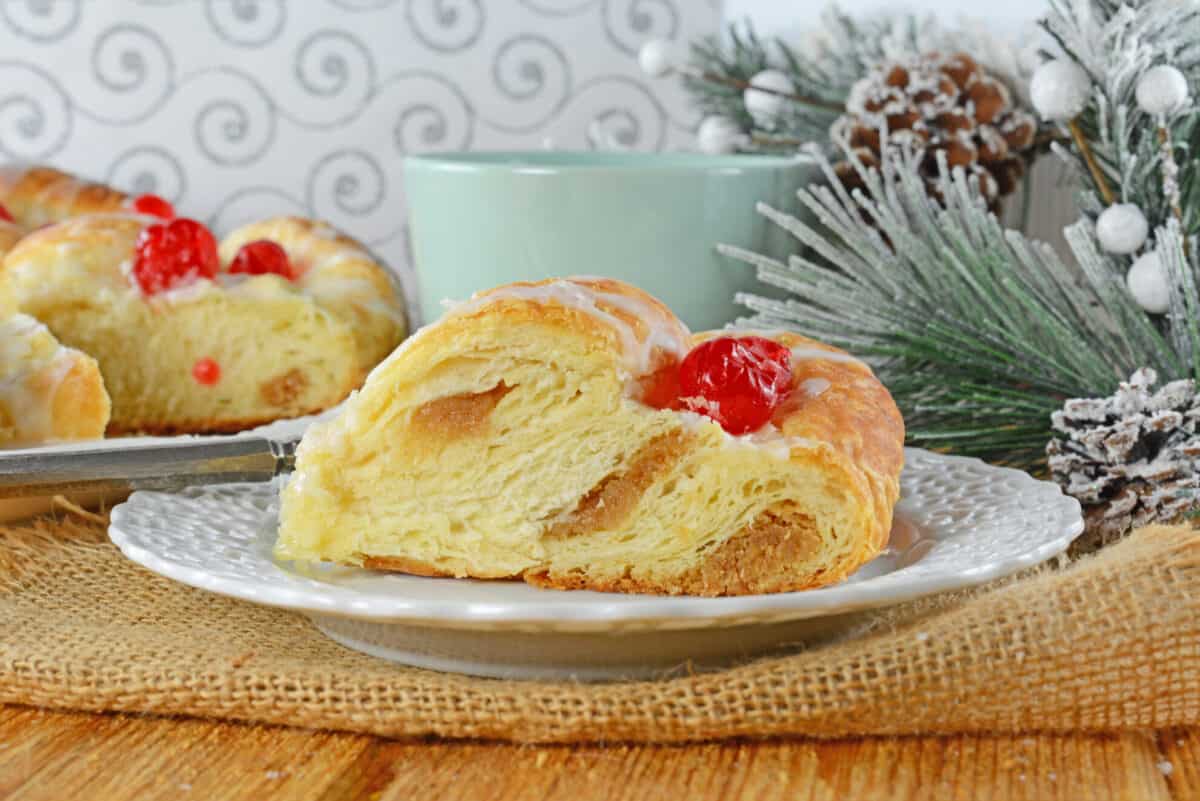 I am always up for a challenge and there it began. While at that time she couldn't find the tattered pages torn from an old McCalls magazine, she did find what seemed to be the same Danish Pastry Wreath online and promised to mail me the photographs from the original after she located it.
In the meantime I searched for the ingredients; one of which was hard to find.
Remember Zwieback cookies? The biscuits marketed for teething children? The ones that also tasted good enough for mom to snack on? Well Nabisco discontinued them.
After 4 grocery stores I learned this and needed to find a substitute. I used graham crackers and it tasted just like I remembered.
On the day before Thanksgiving I had not received my mother's letter containing the helpful photographs (darn pony express), but that didn't stop me from starting the process.
The key to making a delicate Danish pastry is the fragile layering of dough with butter. In order to prevent sticking there is a good amount of chilling time and flouring. Do not skimp on the number of rollings and chillings- each one is another layer of scrumptious pastry.
This version is filled with an almond paste that is light enough to not take over the pastry, but flavorful enough to not be missed. Instead of blending butter directly into the flour, you will combine them by rolling it out in layers.
You will also need to scald the milk, which is an easy process. Click on over to see how to scald milk and also read about why you should scald milk for pastry and baking.
This recipe makes 2 buttery wreaths. You can freeze one for another date. I will tell you that on Thanksgiving Day… about the time I had almost put these bad boys in the oven… my husband says "did you see this envelope from your mother?"
Of course it was the one containing the helpful photographs. So while I was able to do this from memory, I do hope the pictures will assist you in the process. Also, you will need a tape measure (yes, seriously).
EASY Fruit Pizza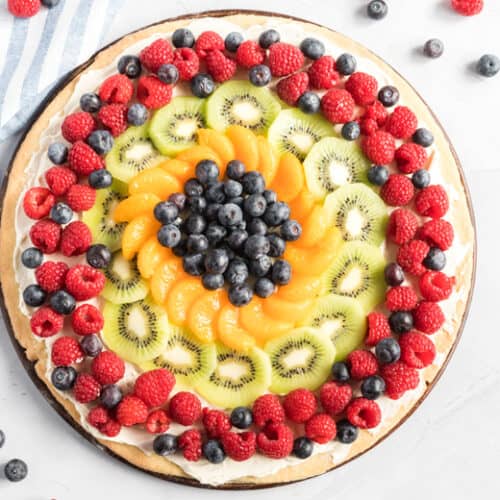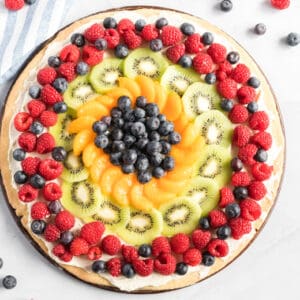 This Dessert Pizza with fresh fruit, cream cheese frosting and a crispy cookie base is a fun and tasty treat the whole family will go crazy for!
Lemon Poppy Seed Pancakes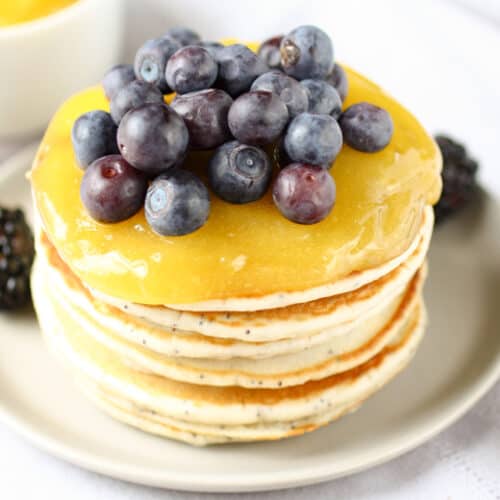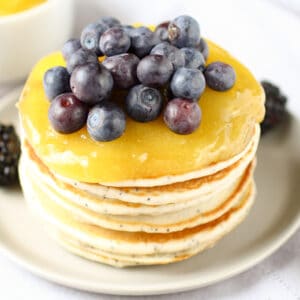 Add something light and fresh to your brunch menu with these Lemon Poppy Seed Pancakes!
CONNECT WITH SAVORY EXPERIMENTS!

Be sure to follow me on social media, so you never miss a post!

Facebook | Twitter | Youtube
Pinterest | Instagram
Get our FREE 8 Day E-Course on How to Be a Better Home Cook. Sign up HERE!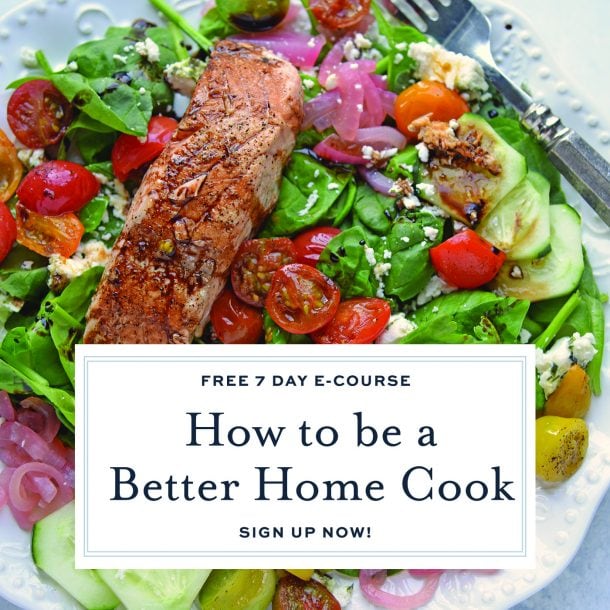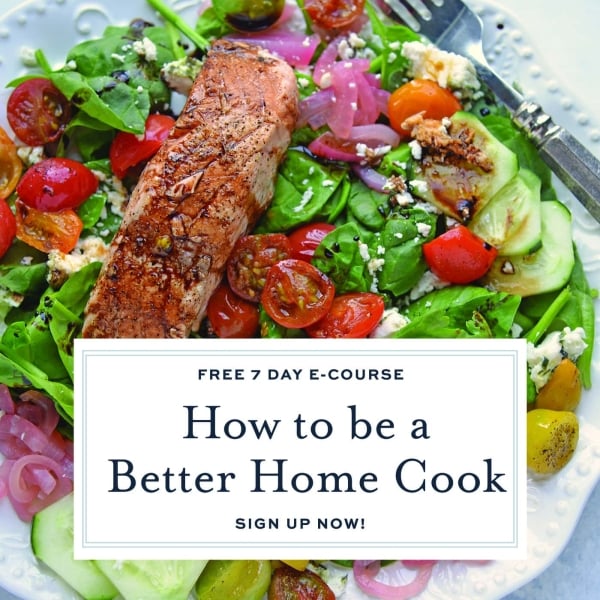 Danish Pastry Wreath
Danish Pastry Wreath is a buttery, flakey pastry stuffed with almond filling and gently glazed with a powdered sugar frosting and candied cherries.
Instructions
In a medium bowl, beat butter and 1/4 cup flour until smooth, fluffy and butter lightens one shade. Wet a medium rimmed baking sheet and cover with wax paper. The moisture will help it stick while you spread out the butter mixture. Mark a 12×8 rectangle lightly with pencil or eyeball it. Fit butter mixture into this shape. I happen to have a baking sheet exactly this size, but otherwise do your best. Place in the refrigerator. It will need to chill for a minimum of 1 hour to re-firm to the typically butter texture.

After milk scalds, decrease heat to low and stir in sugar and salt until dissolved. Remove from heat and set aside to cool.

Place yeast and 1/2 cup warm water in a large mixing bowl. Allow yeast to become active by letting it sit for 10 minutes. Stir in milk mixture, egg, and 3 3/4 cups flour. Beat until smooth. Dough will be soft. Cover and refrigerate for a minimum of 30 minutes.

Turn dough out onto a well floured surface. Flour rolling pin and flatten into a 12×16 rectangle. Remove cold butter mixture from the refrigerator and set onto one half of the dough. It will look like an open book. Carefully pull up non-butter side of dough and cover (like you are closing a book). Press edges together with your finger tips so it resembles a closed book.

Continue generously flouring rolling surface to prevent sticking. Roll out again to a 16×8 rectangle. Fold this rectangle into thirds, pinching edges together. Wrap dough in wax paper and chill for 1 hour.

Remove dough and roll again to a 16×8 rectangle. Fold into thirds and chill again for 30 minutes. Roll out one more time, fold into thirds one more time, then wrap dough in aluminum foil and refrigerate overnight.

Combine graham cracker crumbs through almond paste in a bowl. If you have a stand mixer, I highly recommend using it. Blend until smooth and soft, which can take up to 5-7 minutes. Set aside at room temperature.

Remove dough and divide into two equal portions. Return one half to the refrigerator. Roll remaining dough into a 22×9 inch square on a floured surface. Cut dough lengthwise into 3 equal strips, 3 inches wide.

Spread 1/3 cup of almond filling down the center of each strip.

Fold over and pinch all edges together.

Braid strips. Gently form into a circle with a 6-inch diameter center. Pinch ends together so filling does not escape. Place on a baking sheet lined with parchment paper, cover with a slightly moistened towel and set aside to rise for 45 minutes. Continue with second set of dough.

Preheat oven to 375 degrees. Place danish wreath, without moistened covering, into the oven. Bake for 30 minutes. Every so often, spray a water bottle into the oven, but not directly onto the pastry to create steam. If the top starts to brown too fast, place a leaf of aluminum foil over the top.

Remove from oven and allow to cool.

Mix powdered sugar and 3-4 tablespoons milk in a small bowl until it is a drizzling consistency. Drizzle over cooled Danish. Place candied cherries throughout

If you've tried this recipe, please come back and let us know how it was!
Nutrition
Calories:
3904
kcal
|
Carbohydrates:
429
g
|
Protein:
49
g
|
Fat:
226
g
|
Saturated Fat:
123
g
|
Cholesterol:
663
mg
|
Sodium:
1593
mg
|
Potassium:
919
mg
|
Fiber:
13
g
|
Sugar:
203
g
|
Vitamin A:
6095
IU
|
Calcium:
449
mg
|
Iron:
15.7
mg