There is nothing quite like the smell of fresh banana nut bread baking in the oven. It is probably one of my first memories of cooking with mom. Making this easy quick bread and then smothering a warm slice with a thick layer of melty butter.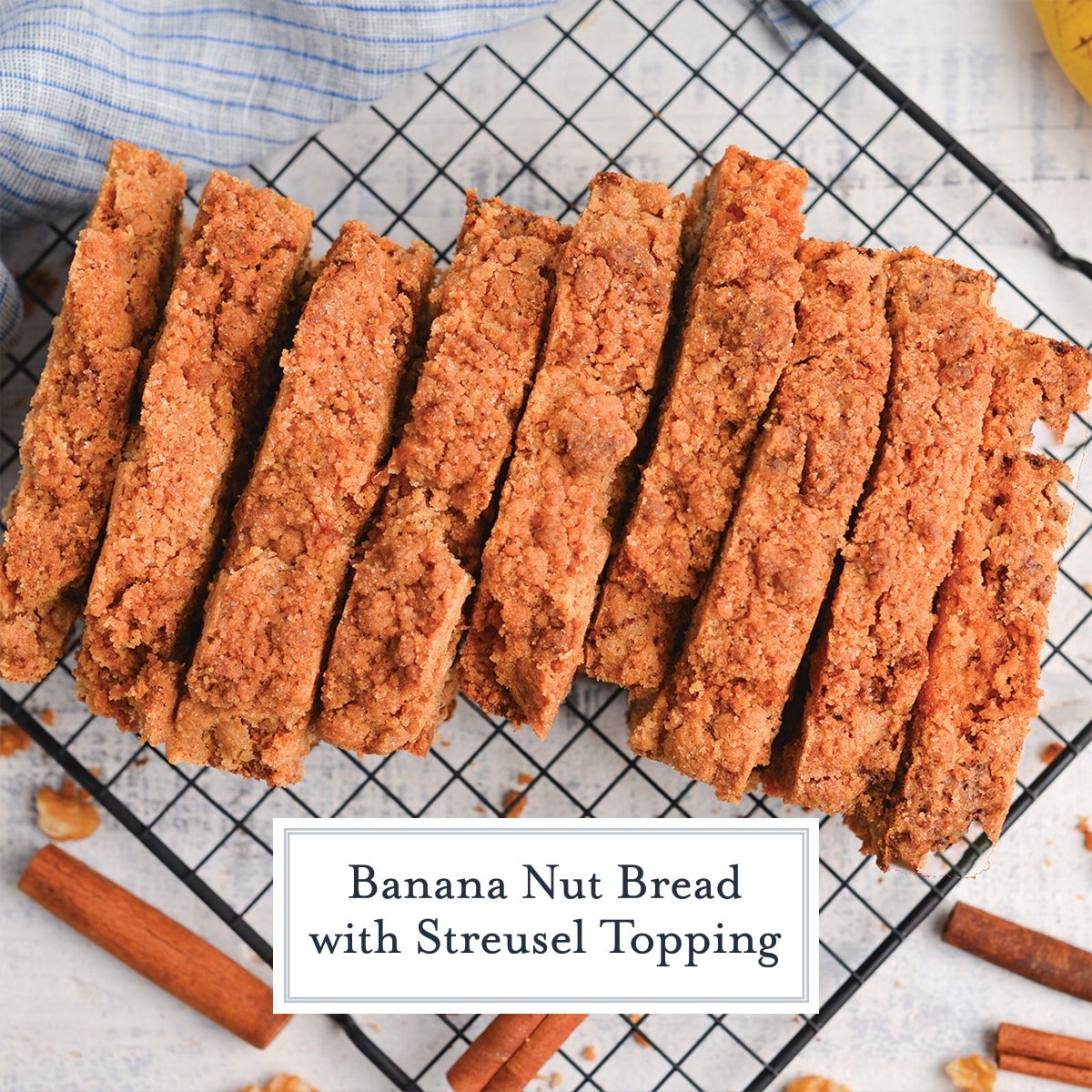 This original recipe is my mom's banana nut bread recipe, but with a few tweaks from me, like an optional streusel topping, the addition of nutmeg and a tad more rich flavor with vanilla.
Why Are Ripe Bananas Best for Baking?
Ripe bananas are often preferred for baking due to their sweetness, flavor, and texture. Here are some reasons why ripe bananas are best for baking:
Sweetness: As bananas ripen, their starches convert into natural sugars, making them sweeter. This sweetness enhances the overall taste of baked goods, reducing the need for additional sugar in the recipe.
Flavor: Ripe bananas have a more intense and robust flavor compared to green or less ripe bananas. This results in a more pronounced banana taste in your baked treats.
Moisture: Ripe bananas are softer and moister, which helps keep baked goods from becoming dry. The moisture content in ripe bananas adds tenderness and moistness to your cakes, muffins, and bread.
Mashability: Ripe bananas are easier to mash and incorporate into batter or dough, ensuring a smooth and consistent texture in the final product.
Aesthetics: While brown bananas aren't pretty on the counter, their deepened hue is appealing for certain baked goods. They tend to create a more golden and attractive color in banana bread, cakes, and muffins.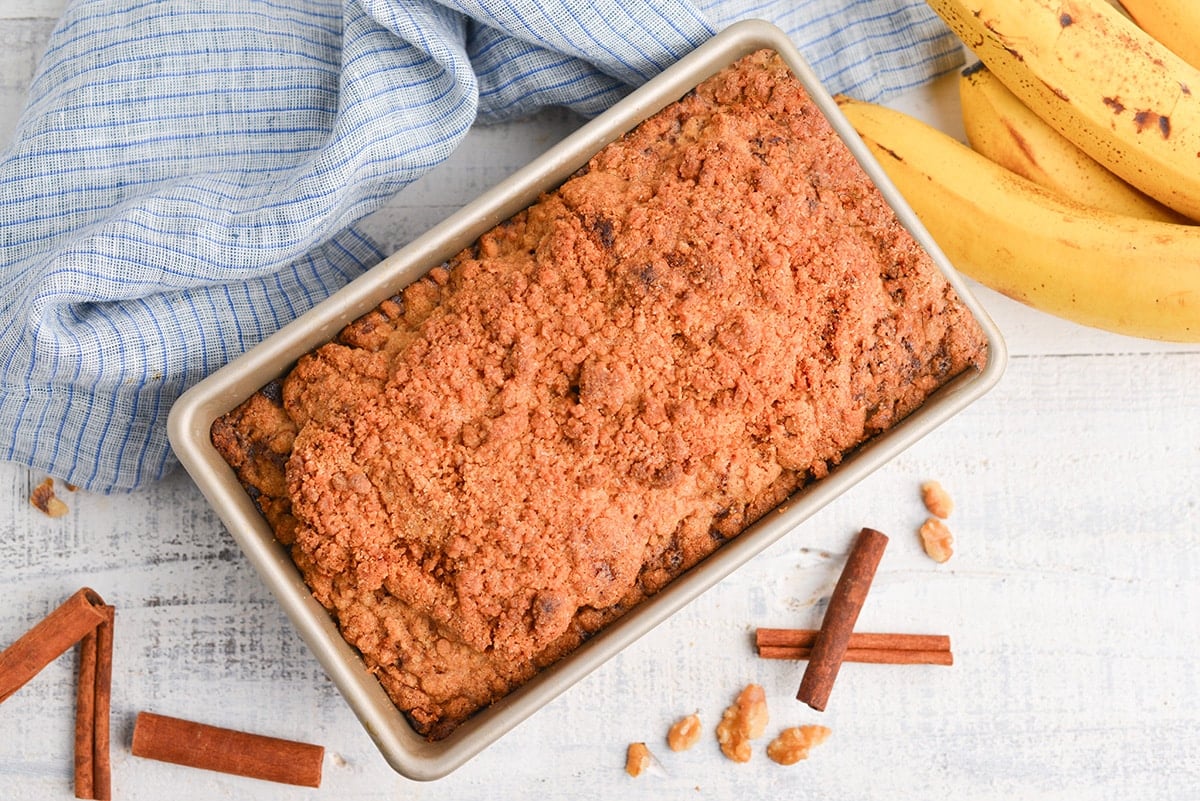 However, it's important to note that the ripeness preference may vary depending on the recipe and personal taste. For instance, if you prefer a less pronounced banana flavor, using slightly less ripe bananas might be a better option.
How to Ripen a Banana Fast
What if you want to make banana bread, but you don't have ripe bananas? Many times the grocery store will actually have a few singles set aside that are browning for just this purpose, but if not, we've got you covered.
Place the banana in a brown paper bag. Much like you do with avocado, the gases will build up and expedite the ripening process.
Keep your bananas in the bunch. Bunched bananas ripen faster, however, this still takes 24-48 hours, so plan accordingly. Reversely, separate your bananas to get them to last longer!
Place them in a warm place, like on a sunny window sill. Depending on the stage of ripening, this can take up to 24 hours as well.
The fastest way to ripen a banana is to apply heat. Pierce your banana all the way through several times, wrap it in a paper towel and place your banana in the microwave, peel and all, for 30 seconds. Heat at 30 seconds intervals up to 2 minutes until desired ripen-ness (I made that word up).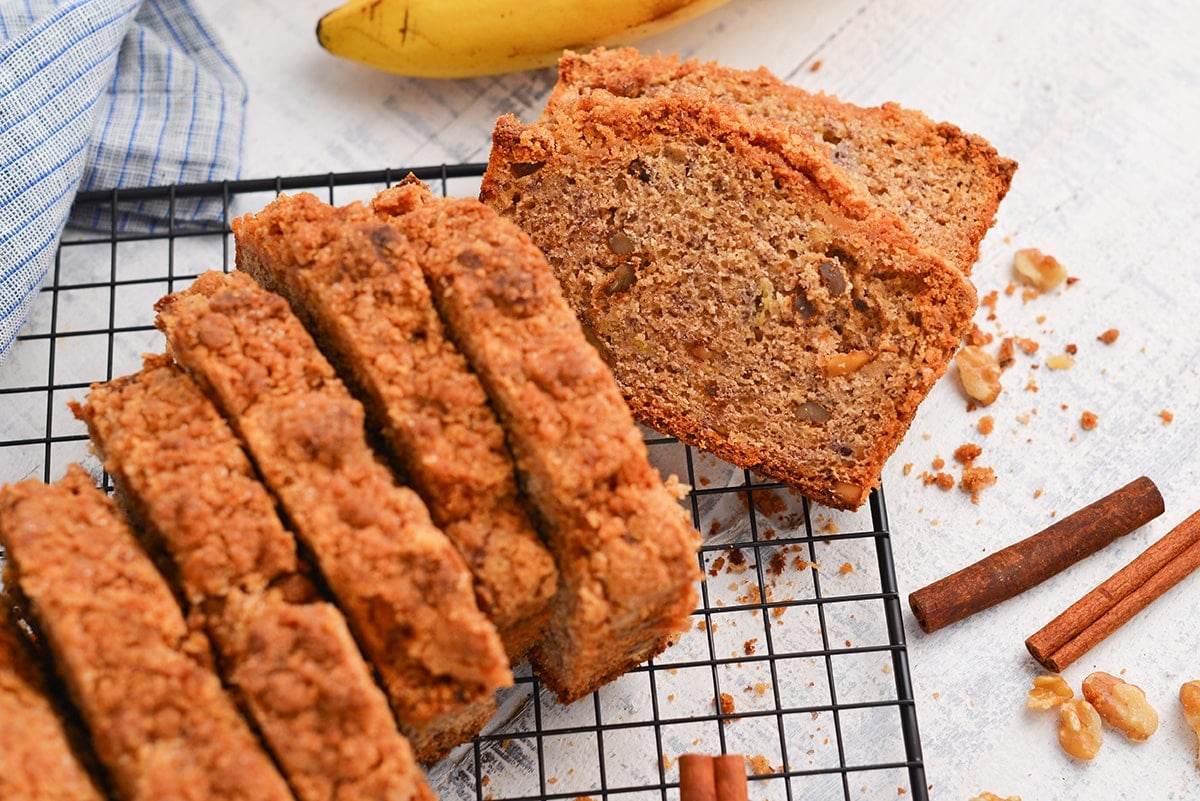 What Ingredients Do You Need for Banana Bread?
With these easy-to-find ingredients, you can whip up this irresistible banana bread.
Sugar: The sugar adds sweetness to this basic banana bread.
Shortening: The shortening helps to create a moist and tender texture.
Large eggs: Eggs provide both structure and stability to the bread.
Vanilla extract: The vanilla extract enhances the flavor of the other ingredients.
Overly ripe large bananas: The star of the show, overripe bananas, give the bread its flavor and contribute to the texture. Keep these in your freezer regularly so that you can bake up banana bread whenever you have a craving (just be sure to thaw frozen bananas).
Flour: All-purpose flour is all you need for this easy recipe. Whole wheat flour can be used, but we have not experimented with other types of flour.
Baking powder: This leavening agent helps the banana bread to rise and creates a light texture.
Coarse kosher salt: Salt elevates the flavors of the other ingredients.
Baking soda: Baking soda is another leavening agent that helps the banana bread rise.
Cinnamon: Cinnamon adds warm, subtly spicy flavor.
Nutmeg: Nutmeg also imparts a warm flavor and fragrance.
Walnuts: The chopped walnuts add crunchy nuttiness to the banana bread.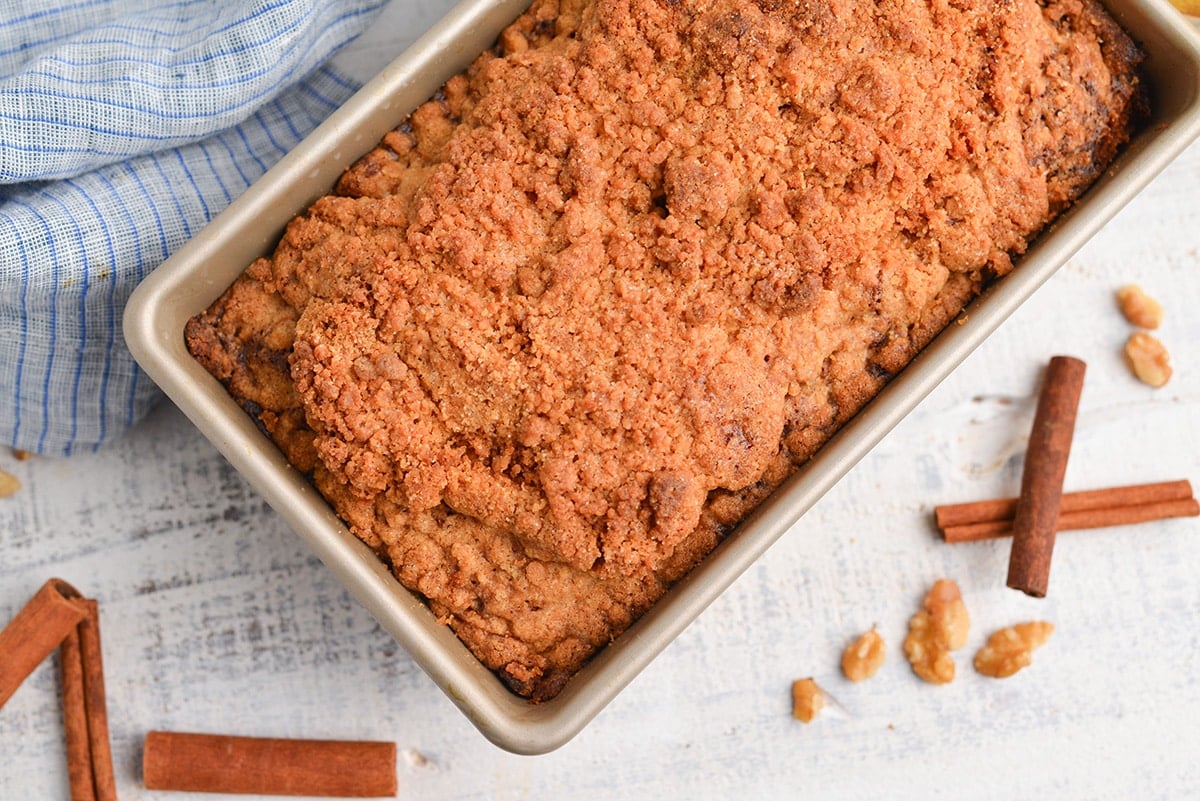 Streuel Topping
I can't resist a crumbly streusel on muffins, breads or coffee cake. If you are craving a bread that leans towards the savory side, just leave it off.
The streusel is added half way through the baking process. Putting it on initially landed me with a chewy topping and the bread over baking to overly browned sides. The perfect ratio was just 25-30 minutes of baking. To make it you'll need:
Flour– All-purpose or alternative flours can be used.
Brown Sugar– I went with all brown sugar for molasses goodness, but feel free to use white sugar or a blend.
Coarse Kosher Salt- this balances all the sugars.
Cinnamon– For more delicious flavor!
Unsalted butter– Brings the whole topping together. If using salted butter, omit the additional salt.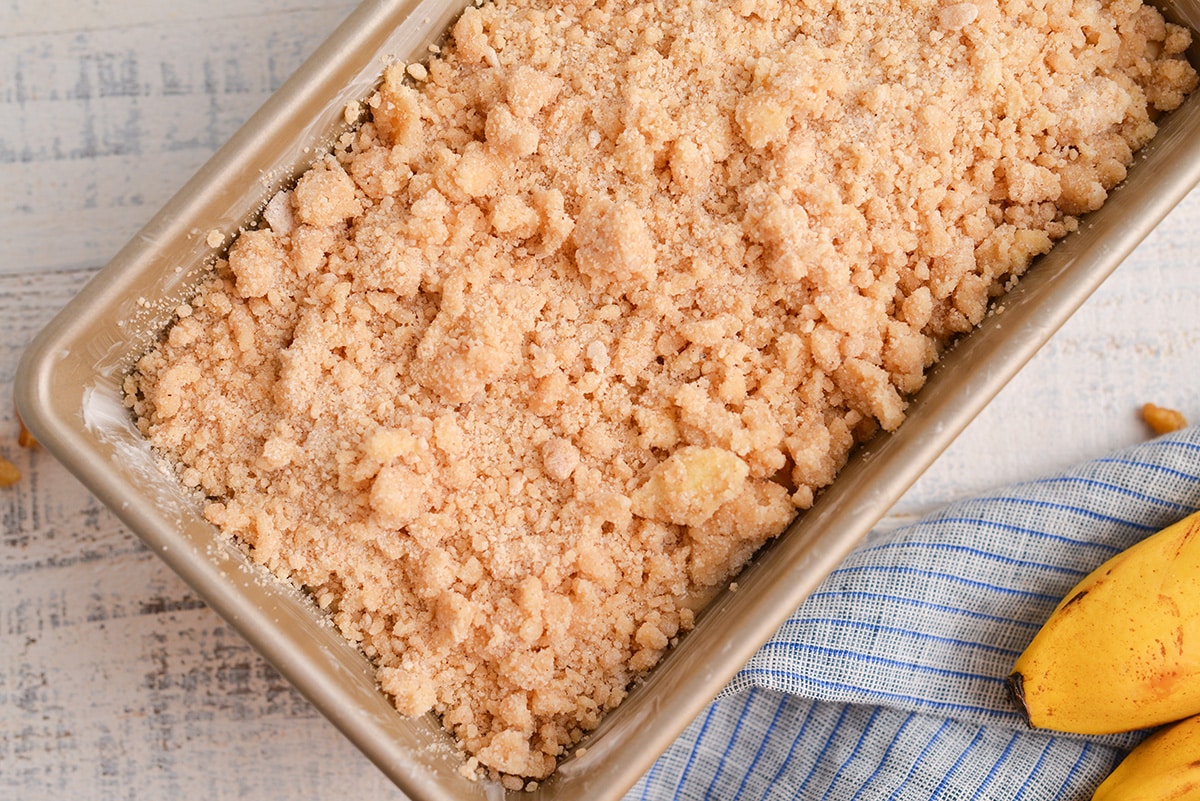 How To Make Easy Banana Bread
It's almost unbelievable how quickly this sweet, moist bread can be made.
Prep pan. Coat the loaf pan with shortening. I like to line the bottom with parchment paper as well. It just makes it easier to remove after baking.
Cream sugar and shortening. Add the sugar and shortening to a large mixing bowl and cream the two ingredients together using either a stand mixer with a paddle attachment or an electric mixer or even a hand mixer.
Add eggs, vanilla and banana. While blending, add the eggs, mashed bananas, and vanilla extract. Ensure that all ingredients are completely combined.
Sift dry ingredients. In another large bowl, using a sifter (or a whisk), combine the flour, baking powder, salt, baking soda, cinnamon, and nutmeg.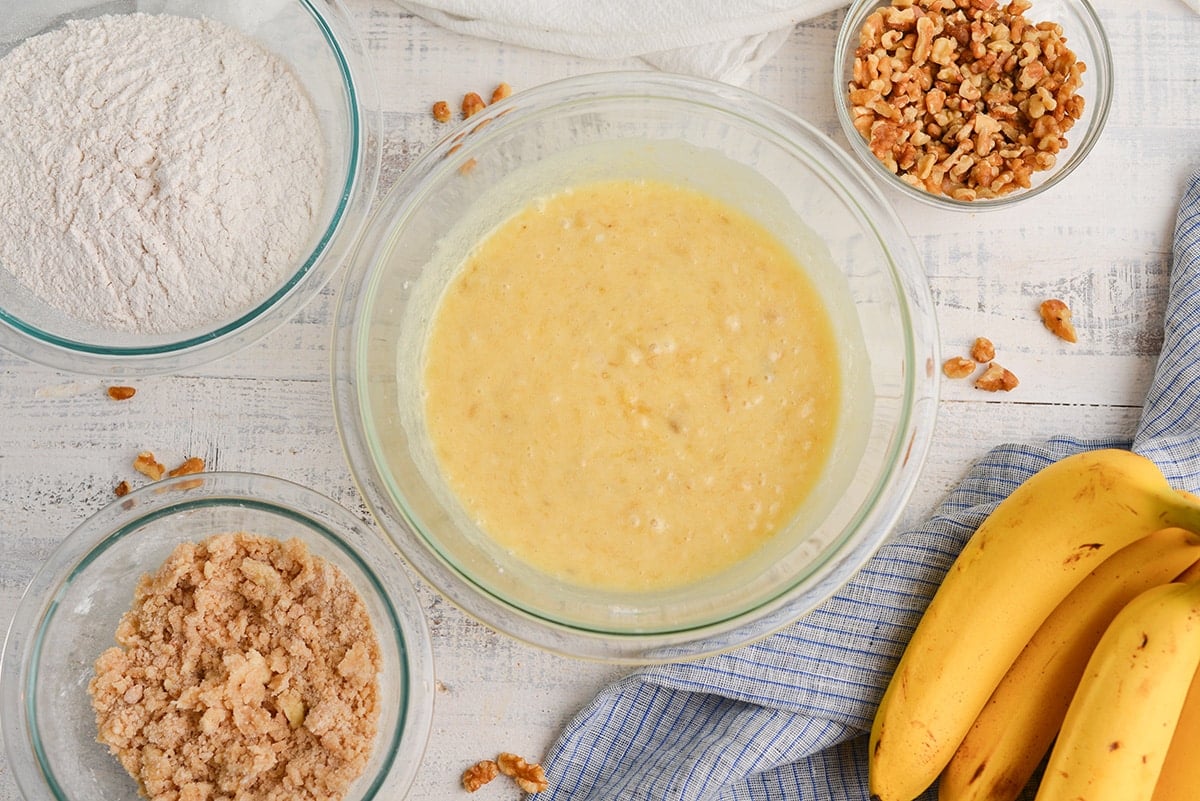 Combine. Slowly add the flour mixture to the wet ingredients and mix until entirely incorporated. Pro-tip: use a low speed when mixing to keep the dry ingredients in your bowl, not on your counter.
Fold in walnuts. With a rubber spatula, fold the walnuts into the mixture.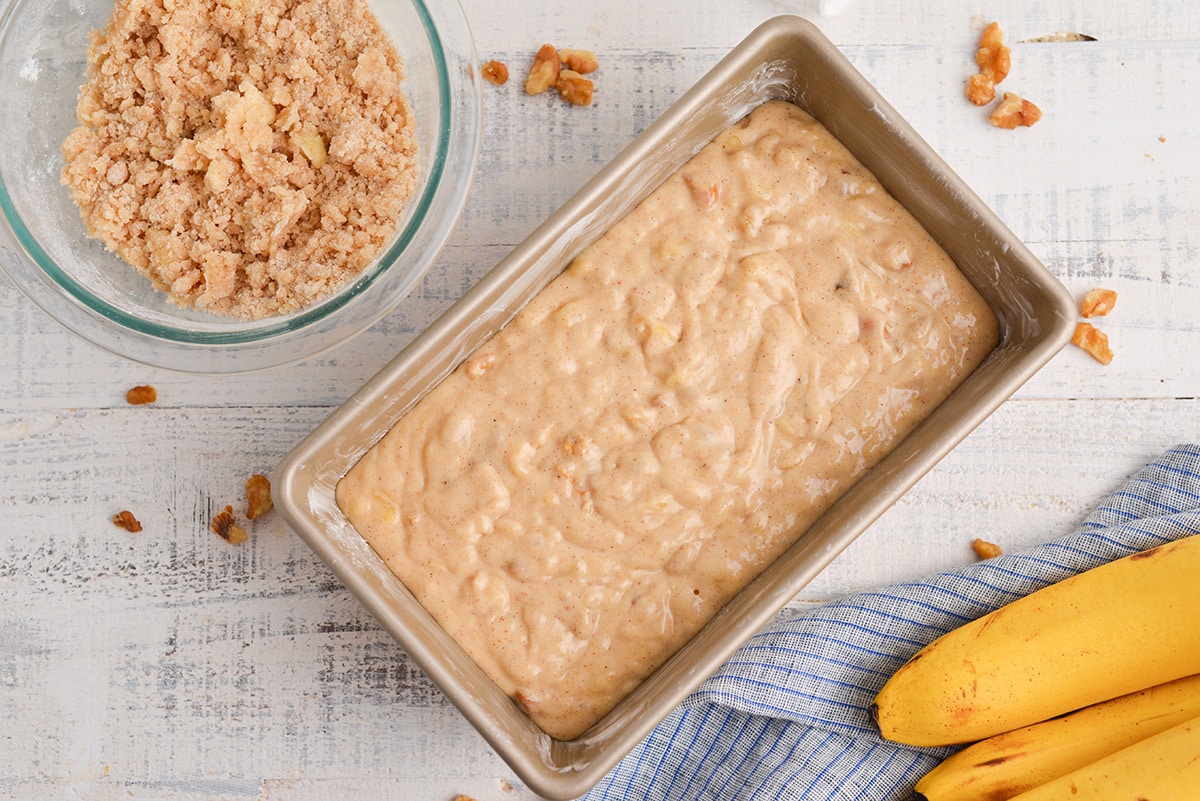 Add to pan. Pour the bread batter into the prepared loaf pan and bake for about 30 minutes. Add the streusel topping and bake for another 25-30 minutes until the top is golden brown. Take it out and use the toothpick test to determine doneness.
Cool. Let the banana bread cool on a wire rack before removing from the pan and slicing. Breads tend to slice the easiest with a gentle sawing motion and a serrated knife.
What To Serve with the Best Banana Nut Bread Recipe
If you want to pair sweets with this quick bread, you can top it with whipped cream or serve it alongside a scoop of ice cream. For healthy pairings, try serving it with a fresh fruit salad, applesauce, or Greek yogurt.
You can also spread butter, cream cheese, peanut butter, sour cream or homemade jam on a slice.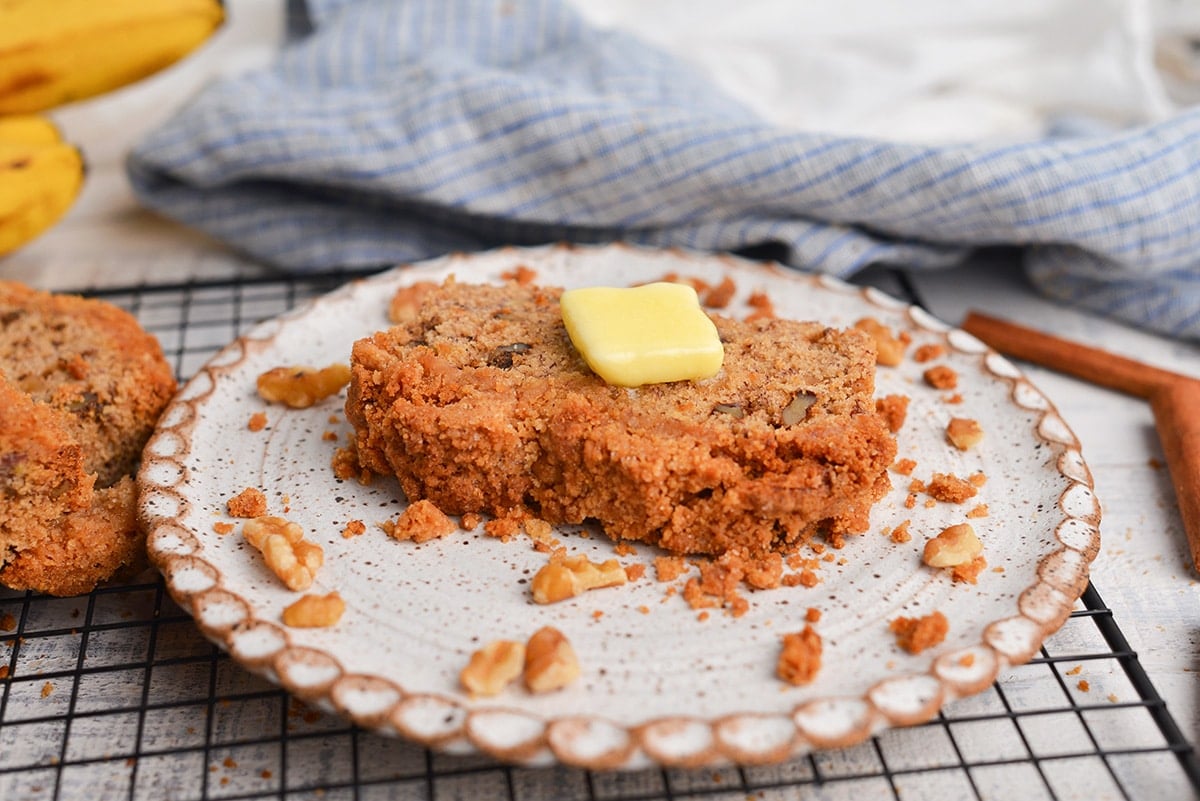 Banana Bread Variations
There are a few ways to switch up this easy banana bread recipe.
Topless: Get your mind out of the gutter! I just mean try baking it all the way through without the crumbly streusel topping.
Nuts: Instead of walnuts, try using other nuts like pecans or pistachios.
Extract: Substitute almond extract for some or all of the vanilla for nutty flavor.
Citrus: Add lemon juice or orange juice to the icing for a tart contrast to the mellow banana bread.
Icing: Try using a cream cheese icing instead of the streusel topping. Or, simply dust the top of the bread with confectioners' sugar.
Chocolate: Fold miniature chocolate chips into the batter before baking. Or, melt chocolate and drizzle it over the finished bread for extra sweetness.
Brown sugar: For a richer, molasses-style flavor, try substituting brown sugar for some of the white sugar in the actual bread or even swapping the light brown sugar for dark brown sugar.
Crunchy Sugar Topping– Swap out the streusel for turbinado sugar or sugar in the raw- crunchy brown sugar crystals that don't fully melt. Add these half way through baking just like you would the streusel.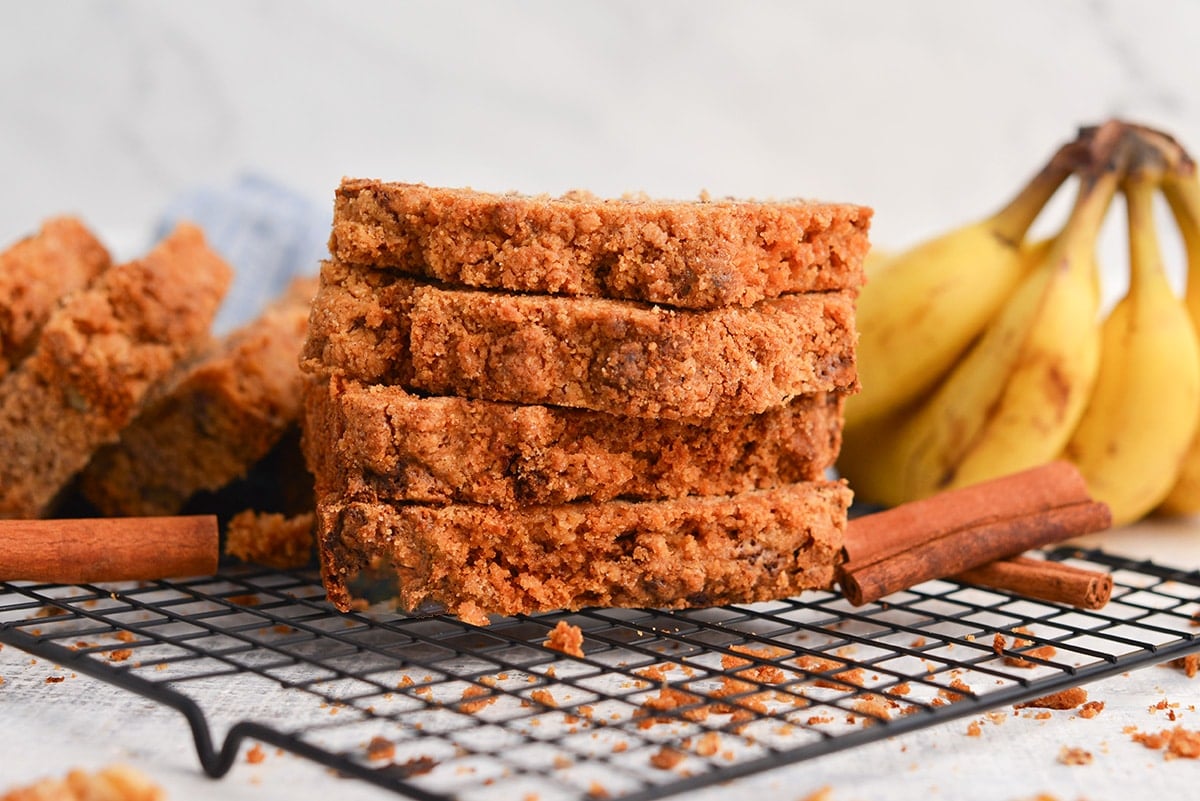 Make-Ahead, Storage and Freezing
Can you make banana bread ahead of time?
Yes, banana bread is perfect for making a day or two in advance for brunch, a snack, bake sale or potluck.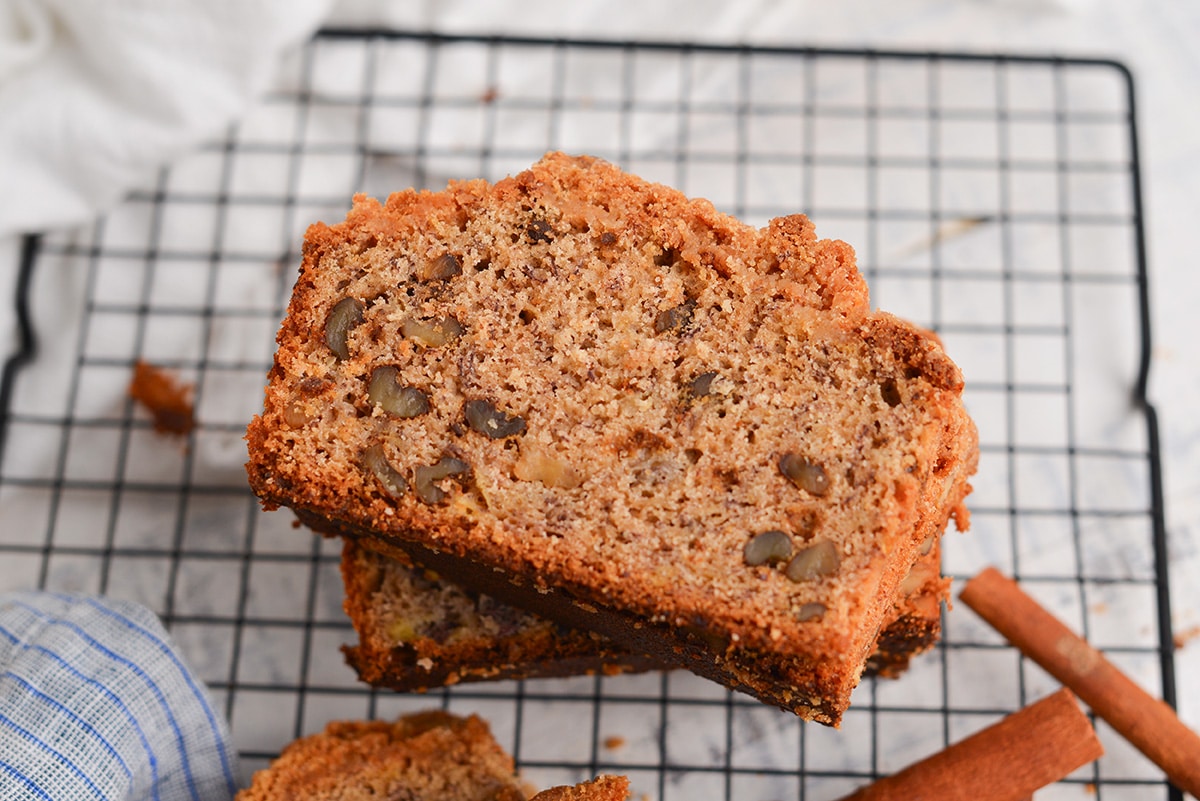 How Do You Store Banana Bread?
Allow the banana bread to cool completely after baking. This prevents excess moisture from building up inside the storage container. Then tightly wrap it in plastic wrap or aluminum foil. If you plan to consume the banana bread within 2-3 days, storing it at room temperature is acceptable. Keep it in a cool, dry place away from direct sunlight.
If you prefer not to use plastic wrap or foil, you can place the wrapped banana bread in an airtight container. Unless you live in a hot and humid climate you should store it in the refrigerator. However, note that refrigeration can dry out the bread a bit faster, so it's best to consume it within a few days.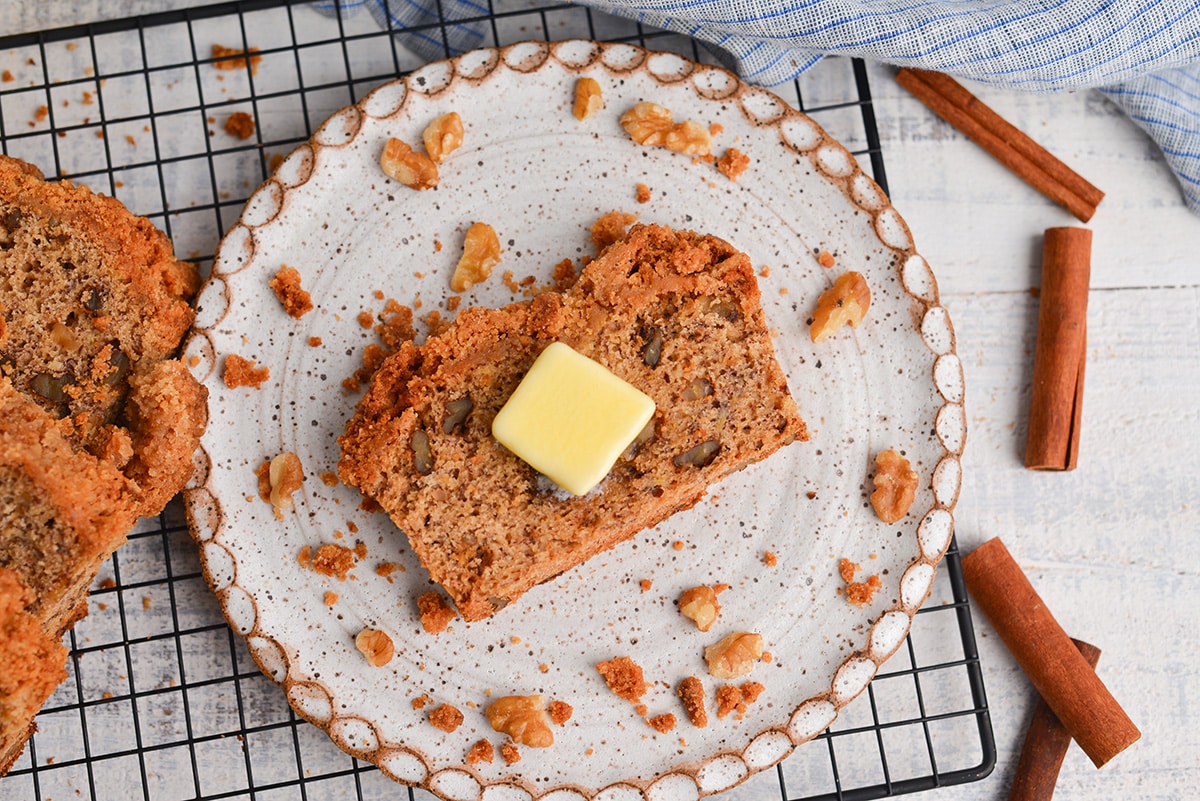 Can You Freeze Banana Bread?
To extend the shelf life of banana bread, you can freeze it. Wrap the loaf tightly in plastic wrap and then place it in a resealable freezer bag or an airtight container. Banana bread can be frozen for up to three months. When you want to enjoy it, let it thaw at room temperature or warm it up in the oven.
If you anticipate only eating portions of the loaf at a time, consider slicing the banana bread before freezing. This way, you can easily take out individual slices as needed, rather than having to thaw the whole loaf.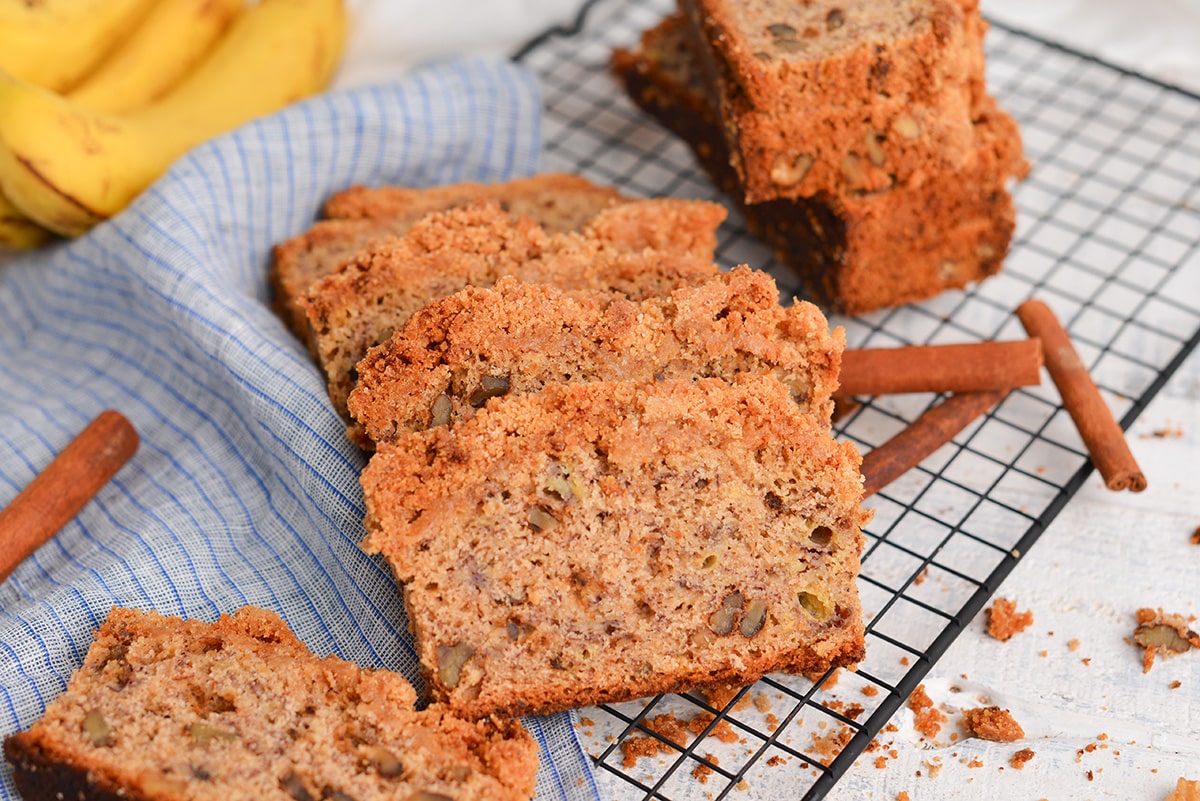 Commonly Asked Questions About Banana Bread
Should banana bread be eaten cold?
Should banana bread be eaten cold?Banana bread can be eaten either warm or cold. Just be sure to allow it to cool a bit after removing it from the oven.
Does frozen banana bread taste good?
Once thawed, the banana bread may have an altered taste or texture if not wrapped properly. To make sure you get the best results, be sure to tightly wrap the bread with plastic.
Why cool banana bread?
Cooling banana bread to room temperature after baking can help to make it easier to slice. Also, cooling it before wrapping helps to prevent mold from growing.
Can I use melted butter for the streusel?
Some recipes for streusel call for melted butter, but I find that using room temperature butter works better. If it is too hot, it melts the sugar and turns into more of a paste.
Can I use a 5-Inch Loaf Pan?
You can make two smaller loaves using a 5-inch loaf pan. The cooking times reduce to about 40 minutes, adding the topping at 20 minutes.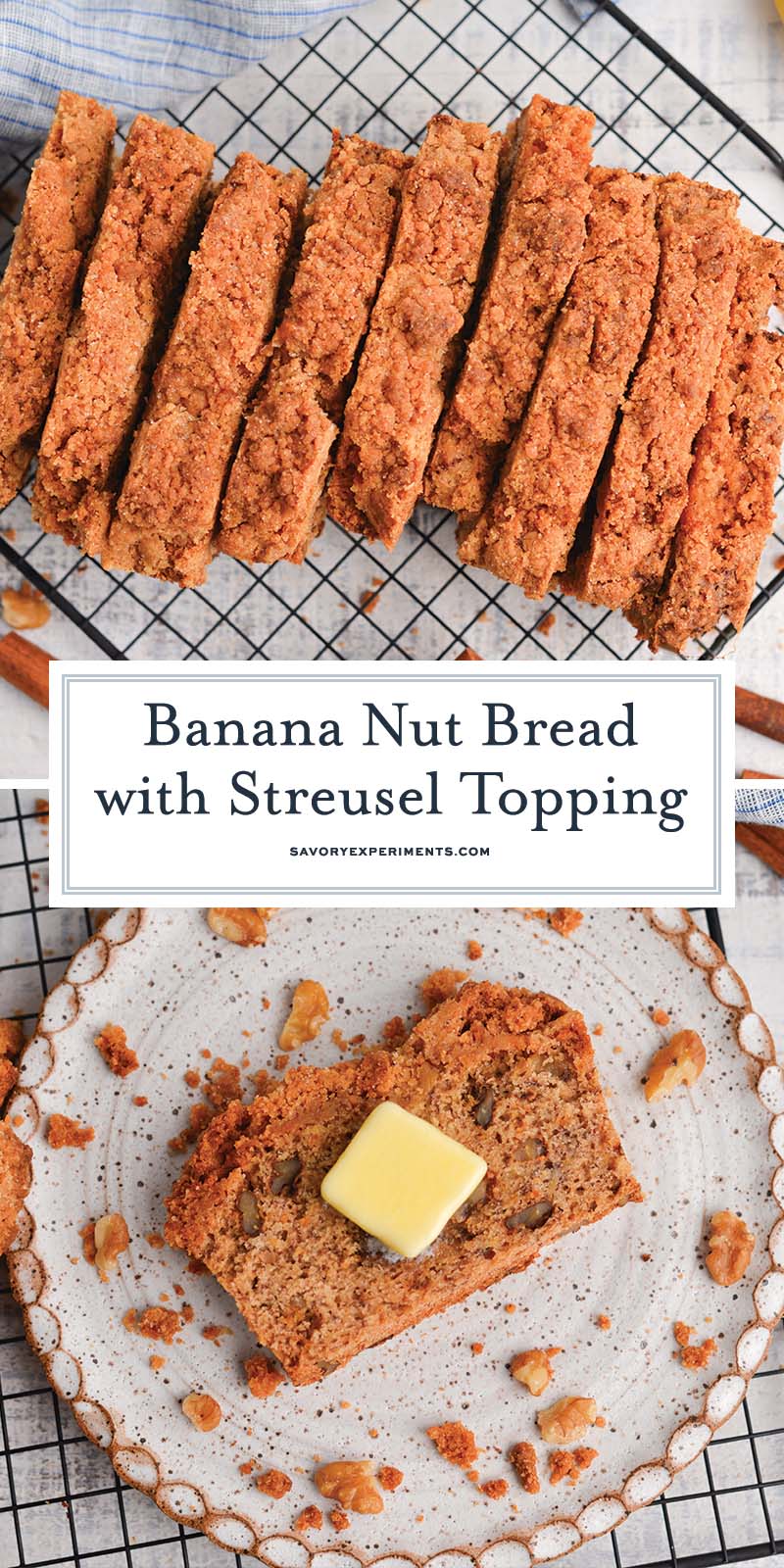 More Delicious Quick Bread Recipes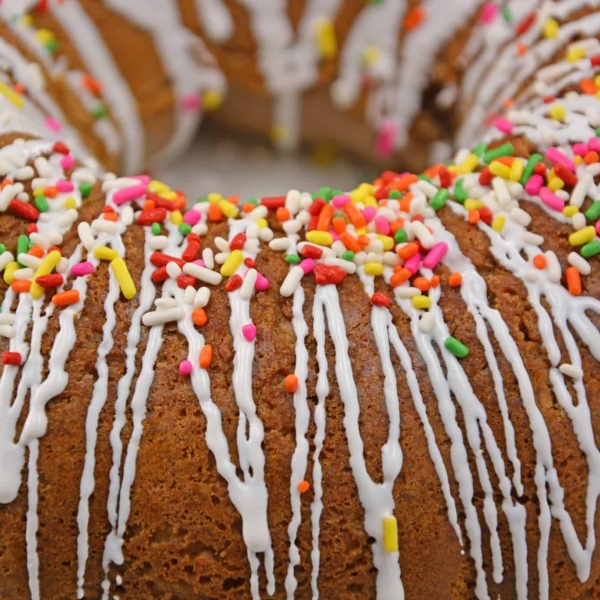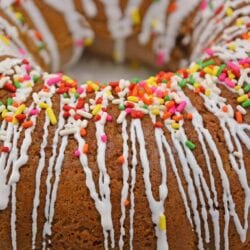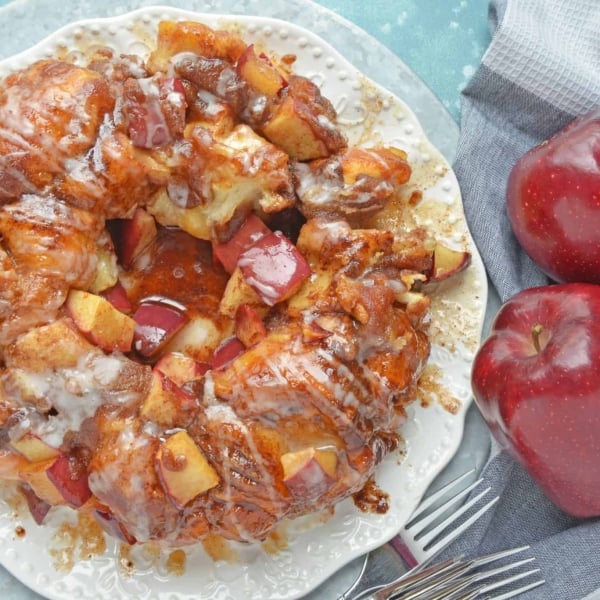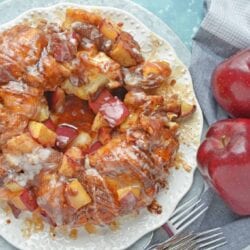 Apple Monkey Bread
Apple Monkey Bread is an easy monkey bread with canned biscuits and fresh apples. A winning brunch and breakfast recipe for special occasions.
See The Recipe!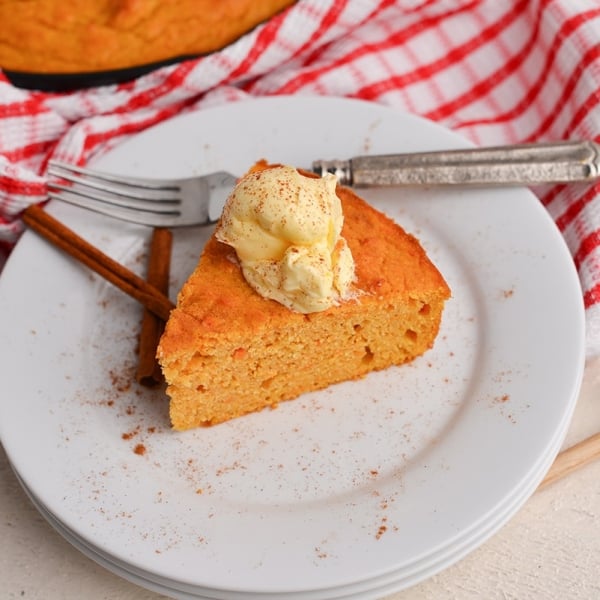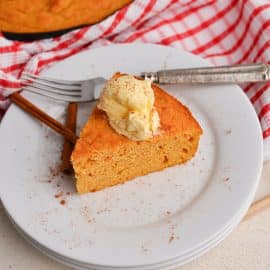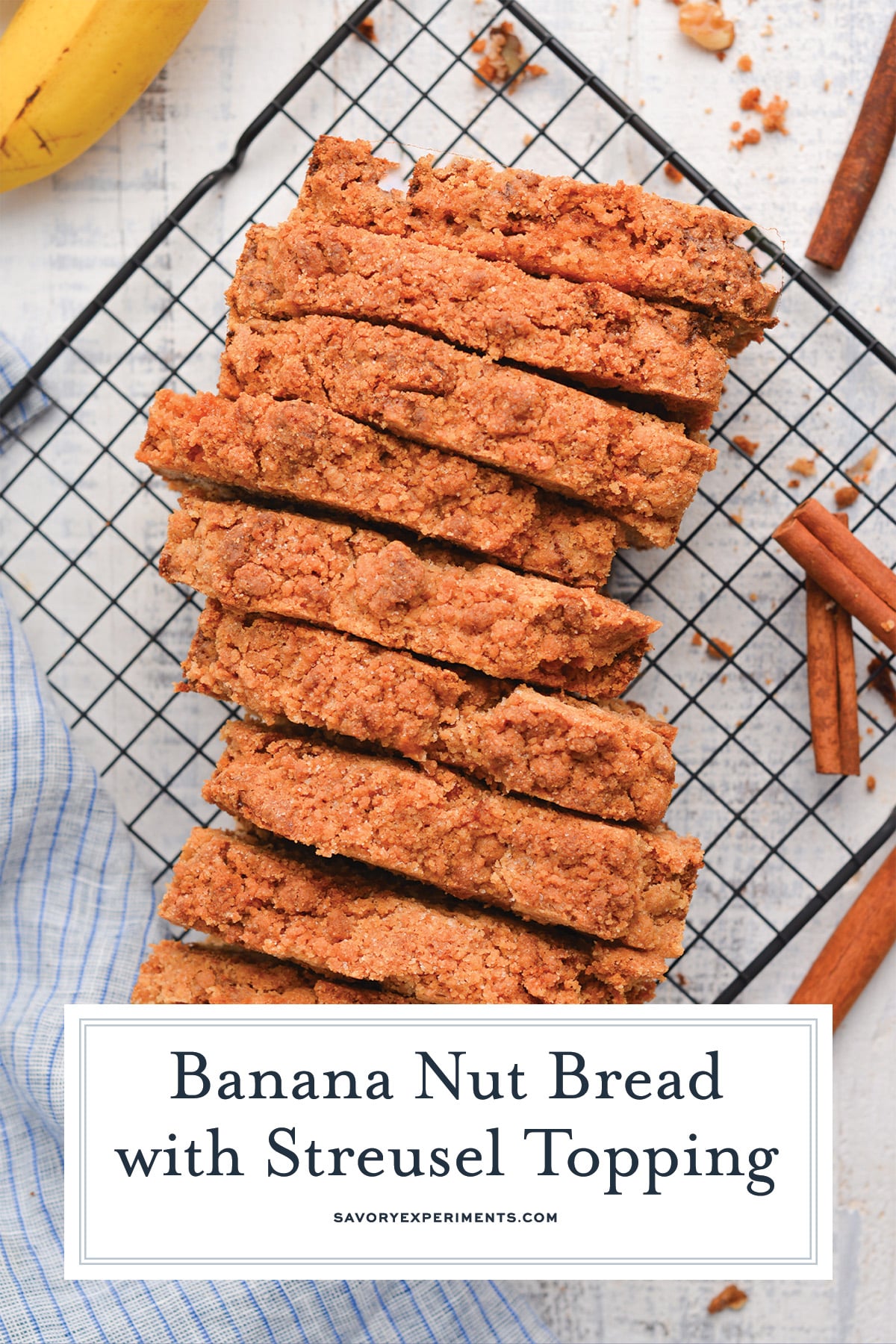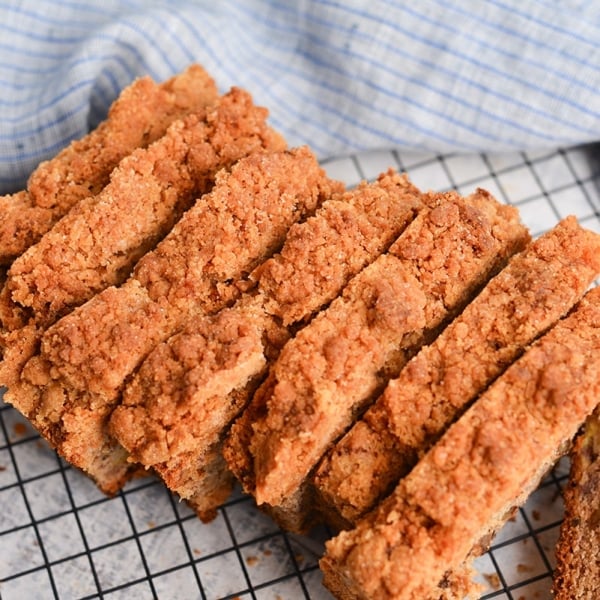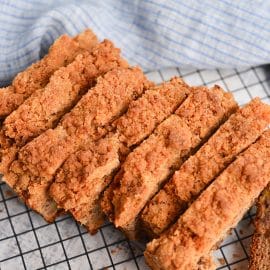 Banana Nut Bread with Streusel Topping
This Banana Bread recipe combines a moist quick bread with a crunchy streusel topping. It is a great way to use ripe bananas, is freezer friendly and always a winner.
Instructions
Banana Nut Bread
Preheat the oven to 350°F. Grease the loaf pan with shortening and then, if desired, the bottom with parchment paper. Set aside.

In a large mixing bowl or the bowl of a stand mixer fitted with a paddle attachment, cream together the shortening and sugar until light and fluffy. Add the vanilla, eggs and mashed bananas and blend on low until incorporated.

In a separate medium bowl sift together the flour, baking powder, baking soda, cinnamon and nutmeg. Gradually add the dry ingredients to the wet mixture until combined. Do not overmix.

By hand, fold in the walnuts. Lightly coat a 9-inch bread pan with cooking spray and line bottom with parchment paper for easy removal. Transfer batter into bread pan.

Bake for 30 minutes then remove to add the streusel topping. Return to the oven for an additional 25-30 minutes, checking for doneness using the toothpick test. If it starts to brown on the top, loosely over with a leaf of aluminum foil. Remove and allow to cool for at least 30 minutes before removing from the loaf pan and cutting into slices using a serrated knife.
Streusel Topping
In a small bowl, combine the flour, brown sugar, salt and cinnamon.

Using the back of a fork, blend in the softened butter until it makes large clumps. Sprinkle this topping over the top of the banana bread at the 30-minute marl.

If you've tried this recipe, come back and let us know how it was in the comments or star ratings!
Nutrition
Calories:
263
kcal
,
Carbohydrates:
36
g
,
Protein:
4
g
,
Fat:
11
g
,
Saturated Fat:
1
g
,
Cholesterol:
27
mg
,
Sodium:
131
mg
,
Potassium:
248
mg
,
Fiber:
2
g
,
Sugar:
16
g
,
Vitamin A:
60
IU
,
Vitamin C:
2.7
mg
,
Calcium:
49
mg
,
Iron:
1.5
mg